Now, I'd pre-prepared a little intro here which lead me into taking the piss out of Steve King and his departure from Whitehawk. Sadly, events at Hemel have surpassed this slightly so I've had to change it a touch to this, but we'll get to all that in a little bit. Am I still going to take the piss out of Mr King? You bet your arse I am.
As we well know, football can be the cruellest of mistresses. One minute you're the bollocks, the next you are bollocks. Both us fans and those people who attempt to make a living out of the game as there can be about as much job security as a temp in an Amazon fulfillment Warehouse a week after Xmas. As I mentioned above, the latest person who's found this out this week is our old friend Steve King. Who, having taken Sussex County League side Whitehawk to within 90 mins of the 5th tier last season and only a couple of months back was lapping up the plaudits on telly with a live FA Cup tie against Dagenham, has now been given the old Spanish Archer by his employers down at the Enclosed Ground after they lost to Eastbourne at the weekend leaving 'em 6 points off the drop zone.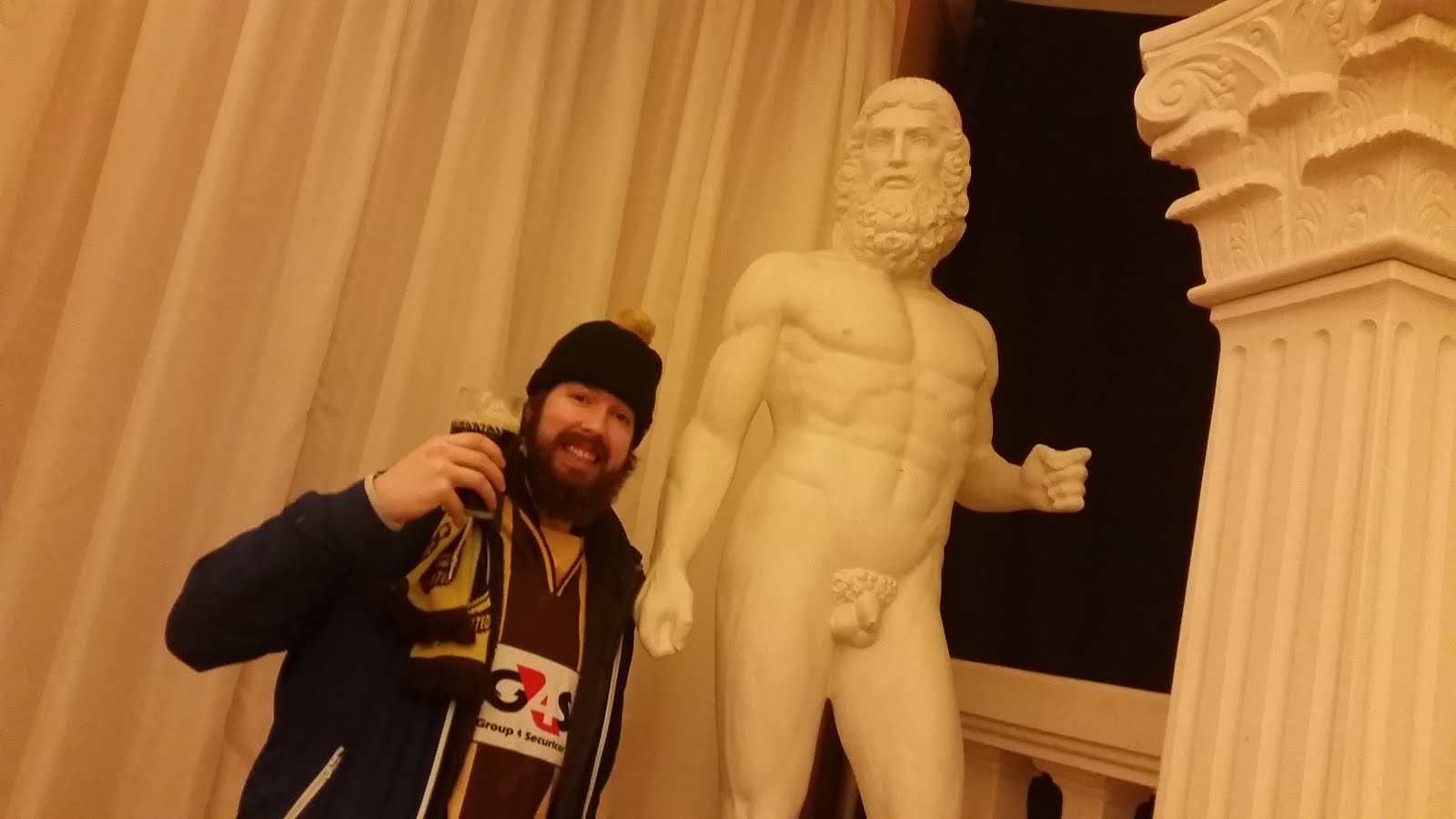 There's so much we could say to this one….
So, little Stevie is off updating his CV once more. Although I doubt he'll be asking PRoWS supremo Totts for references given his comment on twitter in the last couple of days. Still, at least now being out of work gives the little fella time to work on his tan some more and browse Jacamo's website properly for bargains.
Hey, maybe I should apply for the job? I'm available after all. And lets face it, even a trained monkey could get Whitehawk into the PO's with their budget.
Right, now we're on the subject of football being a bit of a twat, let's move swiftly onto our millionth game against Hemel in the last couple of years. Ok, it's only our 9th meeting in 3 seasons and we've won our fair share, but those we haven't have usually involved a wanky penalty or two for the oppo. Usually pretty late in the day. Plus the place isn't exactly a shining beacon of away day fun-ness. So you can probably understand our weariness toward the former Southen Leaguers a tad.
With this in mind, we can't be arsed so go with our tried and tested plan of boozing in Euston and getting a relatively late train up. Annoyingly though the superbly reliable and likeable train company known as Thameslink decide to have engineering works through the centre of town, so there's no direct service. Victoria and a tube it is then you French twats.
I make it to the high street earlier than expected and take the opportunity to pick up a little bit of morning sustenance for myself and Dukey. Here I have the usual rigmarole of trying to get across to the person serving me just how much pepper the boy has on his fucking food. This time round, the lady behind the jump holds up two tiny little sachets of the stuff. I laugh. No love, you're going to need a bit more than that. A LOT more in fact. With my fellow contributor's bacon roll adequately seasoned, I'm off to the station. In fact, I'm so early, the flat capped one is nowhere to be seen. Normally, he's leaning against something inanimate and puffing away on whatever obscure brand of duty free fag he's onto this week. Eventually though, with a few minutes to spare, he finally appears so I hand him his nosh and we head for the platform. He doesn't comment on the pepper content, so I can rest easy that the lass in the cafe has done the biz.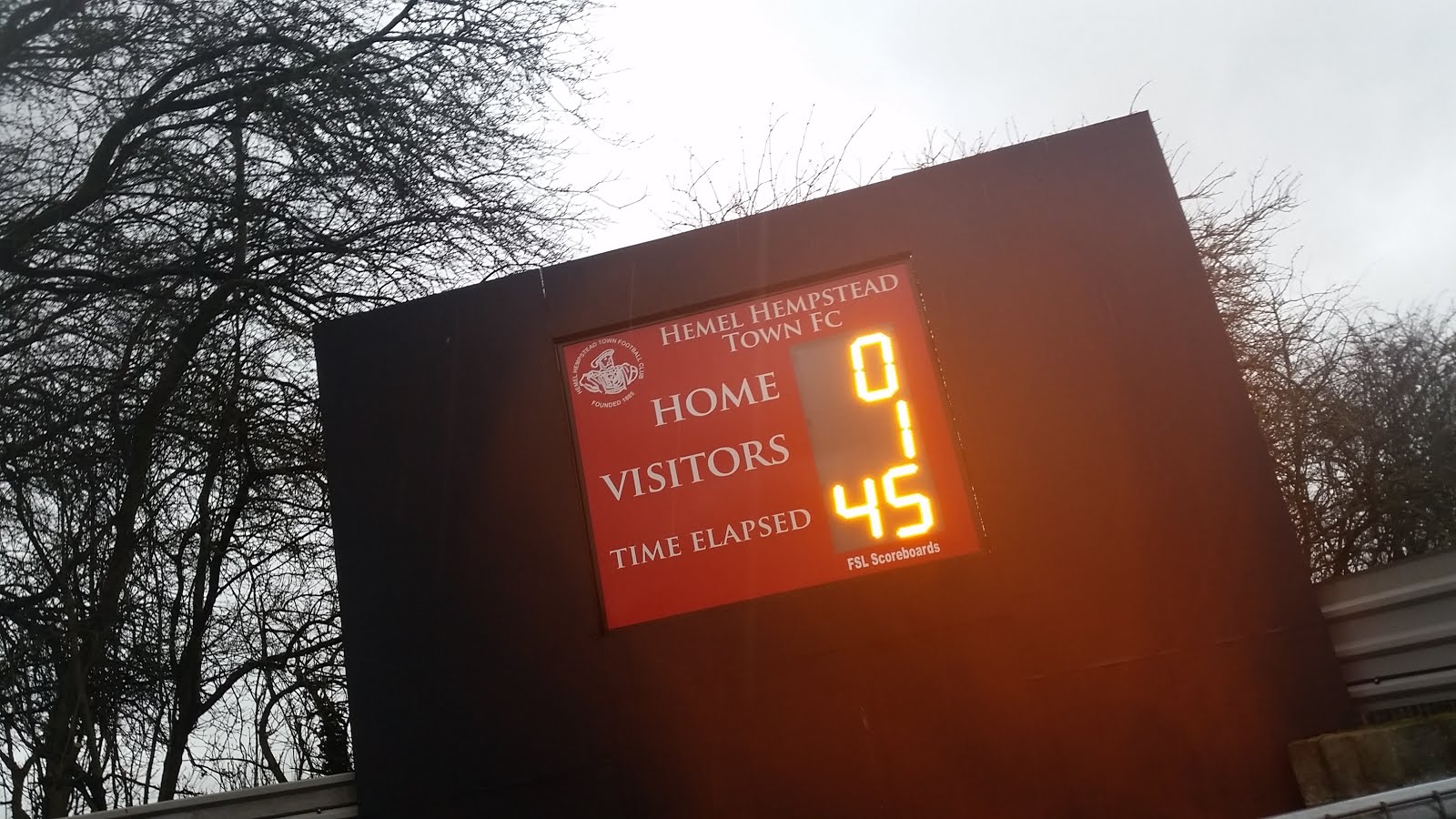 And it was going soooo well.
The train arrives and contains the usual twats, sat in the 2nd to last carriage rather than the last one. As always. Here I take the opportunity to present Wardy with the extra strong mints he'd left in my bag after Chelmo a couple of weeks back. His Scouse face lights up in delight at this as he's run out and hasn't had chance to top up his supply on the way to the station. Our journey up is strangely subdued, with little or no absurd chatter. This probably means there'll be an avalanche of nonsensical shite later on.
The underground is weirdly very busy and we get strung out amongst the crowds, meaning some of us miss the tube and I find myself at Euston with just Wardy and Mr X. Oh well, we may as well make ourselves useful and sort some tickets while we're here! By the time we're done, the others have caught up and it's time to hit a pub. With it just the other side of 11, we know there's one gaff that'll be definitely be open. The Royal George. It's not outstanding, but the staff are alright, they do ok beer and it's got plenty of televisual sport on to keep us entertained. Here Mr X starts complaining that he needs to have a poo and is wondering whether this is the appropriate venue. I can only advise him to check that the paper supply is accessible before seating given my own emergency here the last time we visited. So he disappears off. Coincidentally, at the same moment, another random bloke goes the opposite direction & into the ladies.
"Did that geezer just go into the birds?" equires Dukey, almost as an afterthought. Everyone saw him go in. Well, except from Mr X who was inspecting the facilities on offer in the correct bogs for his gender. No go by the way, no lock on the door. Poo denied!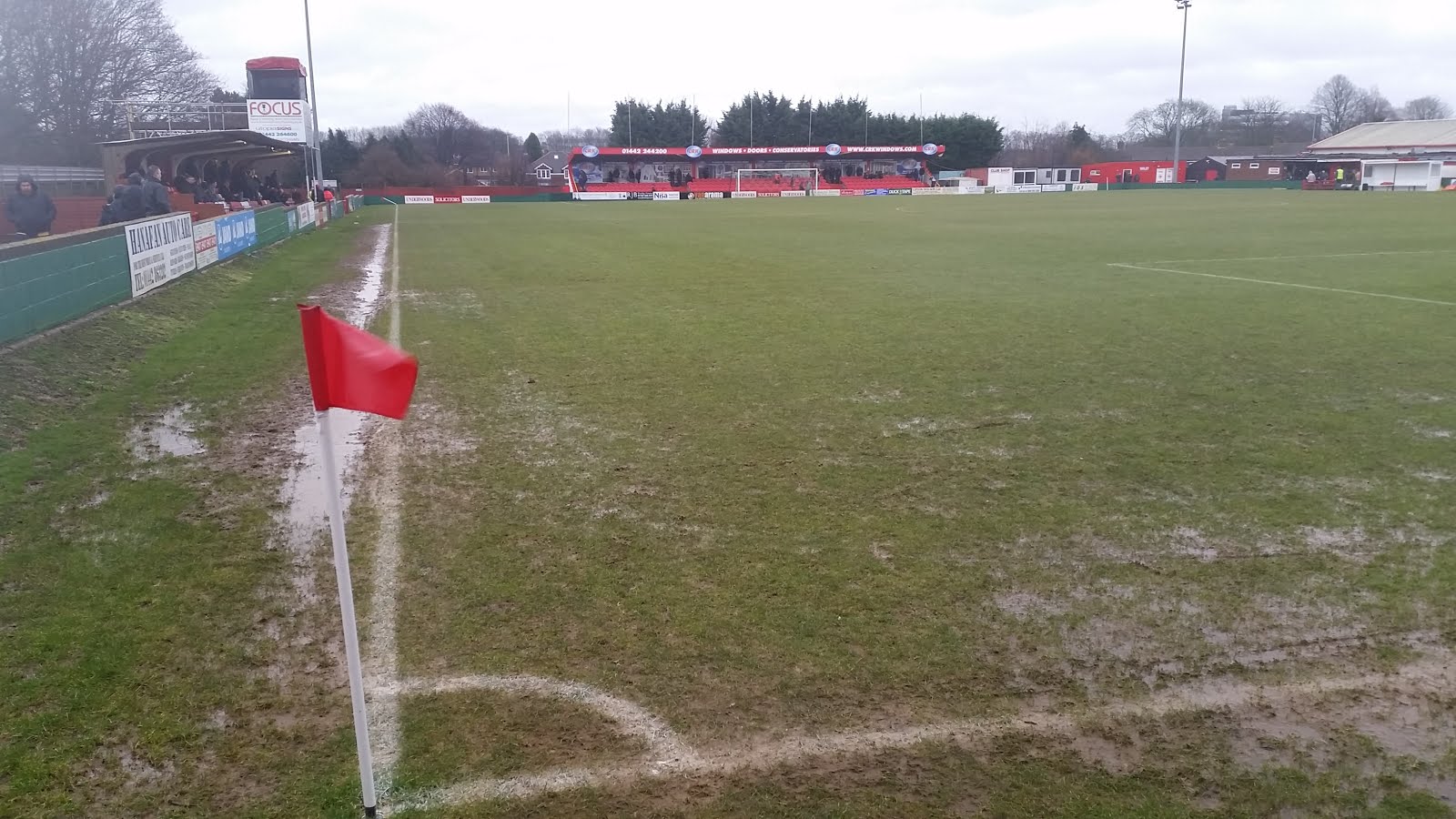 Bit wet down here in the deep end…
A couple of pints later and it's time to decamp to the Bree Louise on the other side of Euston. Here, Indy's 2 year out of date CAMRA card fails to get him a discount despite his protestations that they've never sent him a new one. Amusingly, we soon get talking to the landlord who's popped in on his way to some Rugby. "You lads CAMRA members? You can get 10% off you know!" he informs us. So we explain our slight card validity issues. "Ah, they never check 'em!" he exclaims. Yeah, except when we're in town. Fuck our lives.
We also chat to some Leeds lads who are off to Watford today. Well, when I say chat, they assume the yellow shirts are those of their oppo and start asking us where the best places are to drink up there. Shame Burgers ain't here, otherwise we might've been able to help 'em. Instead all they get is a shrug, a laugh and a "Fucked if we know!". Still, they take it well and we end up meeting an old boy who'd been a proper away fan at GGL in 1970. In the Bree, Mr X's search for a poo palace fails again due to security concerns with the single trap. No lock! Before too long, it's time to hit the rails. On the train, we once more have the pleasure of the company of the Leeds lads as far as Watford. Cabs from Hemel station are sorted and we're into the ground with enough time to once more fuck up the weird queueing system in the bar with a quick cheeky snifter before kick off.
Worner, Amankwaah, Wishart, Beckwith, Eastmond, Downer, Bolarinwa, Gomis, Dundas, Fitchett,Stearn SUBS: Fleetwood, Wright, Spence, Cooper, Shaw
With the rain falling steadily, we get underway shooting towards the clubhouse end 1st half. And very quickly it becomes apparent we're on dodgy ground. The flanks, especially in the corners are VERY wet. With water splashing up when the players run though them. This game really can't have been far from being off, surely? Still, despite the conditions, the lads start brightly and Wishart has an early sighter that drifts just wide of the mark. After a bout 10 mins, he drives forward again and plays a quick pass out to the far side for Tombo. Step over, a little skip past his man on the outside and he rifles a low shot through the keeper at his near post and into the bottom far corner. Boom. 1-0!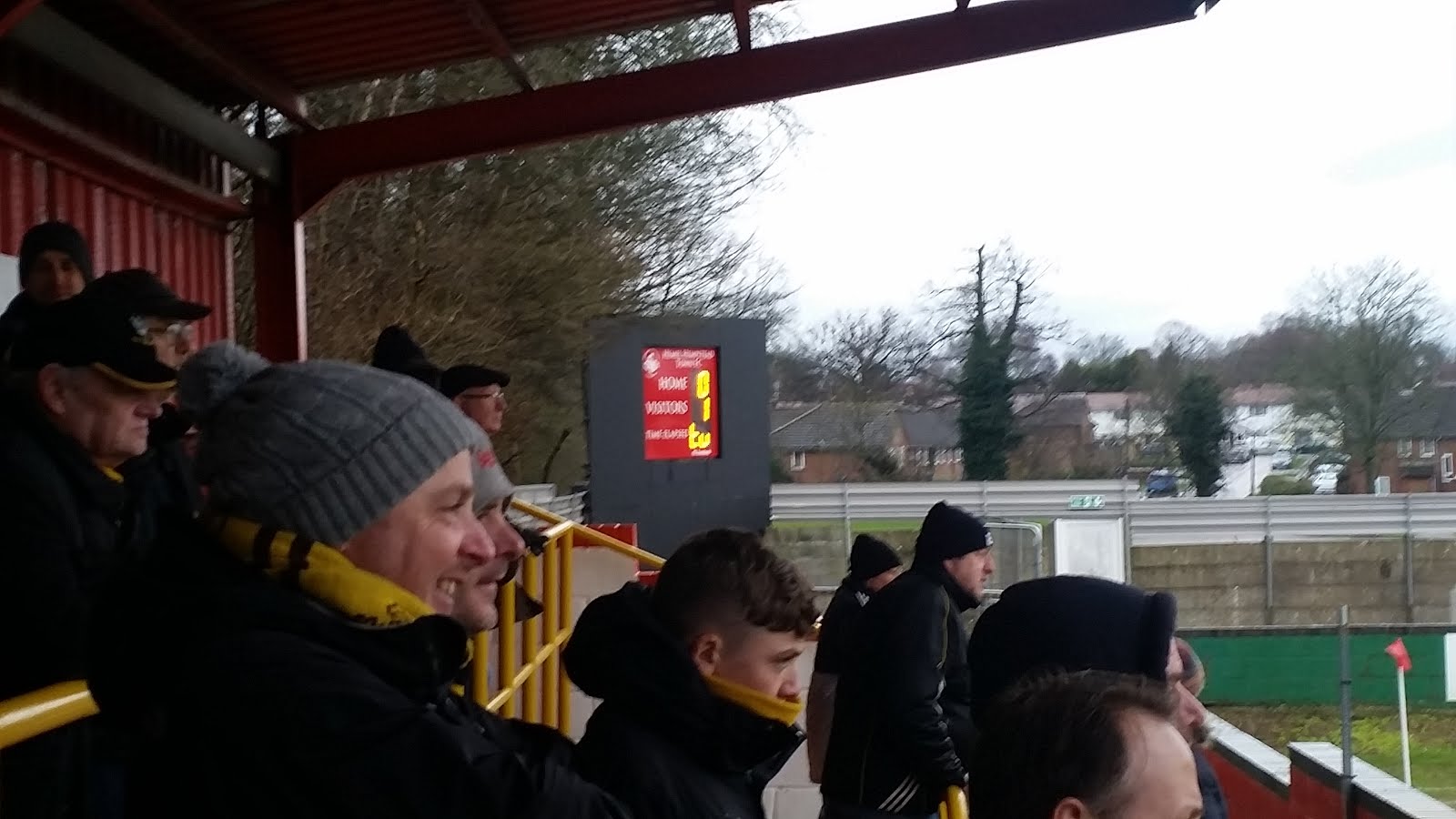 We think that's broken…
Despite the ropey conditions, both sides to be fair keep trying to play and produce a pretty to & fro game. The ref also shows some remarkable common sense and lets a fair bit go, including where the ball fails to run freely where the pitch is at it's wettest. Fitch has a chance for a second goal about midway through the half when the ball runs wide with the keeper scrambling. Dan needs to probably gamble on a first time hit to make it count, but given the conditions he takes the safe option of a touch and that allows the keeper time to recover his ground and it comes to nothing. Hemel aren't out of the game by any means, but whilst they're ok popping the ball about in midfield, they're getting almost no change at all in the final third. It definitely looks like they're struggling with the pitch which doesn't bode well for us second half, if there is a second half that is!
The first half closes with the ref again showing some common. A ball wide sends Fitch chasing and the keeper slides out just in front of him to claim the ball. Only with the soaking surface, he just keeps on going and winds up about 2 yards outside the 18 yard box clutching the ball. A free kick is given and the keeper avoids any further sanction.
As we stomp up to the other end at half time, the rain seems to be easing off which is a little promising. Less so is the amount of water sitting at the far end. The goalmouth, corners and touchlines are totally waterlogged. And as we wait for the restart, we note the two floodlights at our end aren't on either. I think it's safe to say hopes are not high for a conclusion to this game. On the upside, we have just managed to defend this for 45 minutes with no damage so fingers crossed. Elsewhere then news from Truro is good, Ebbsfleet trail 1-0 and we're currently as things stand 9 pts back with 2 in hand.
The change of ends helps the oppo and they have a couple of livlier moments early in the half, but their first shot on target is straight at Worns. Less positive is the home bench, who clearly don't like they fact they're behind on their rice paddy and are now starting to show a huge lack of class by crying to the ref everytime we put the ball in their half and it doesn't run. Just shy of the hour, they've really got something to cry about. For some reason, a defender tries a backpass from 30 yards out. It's never in a million years going to make it and Fitch darts in. Before he can shoot, he's poleaxed by a desperate last ditch challenge, but the ball runs out wide to Tombo. He collects and clips it to the near post where Fitch having picked himself up nips ahead of a defender and crashes a sidefoot volley high into the net. 2-0!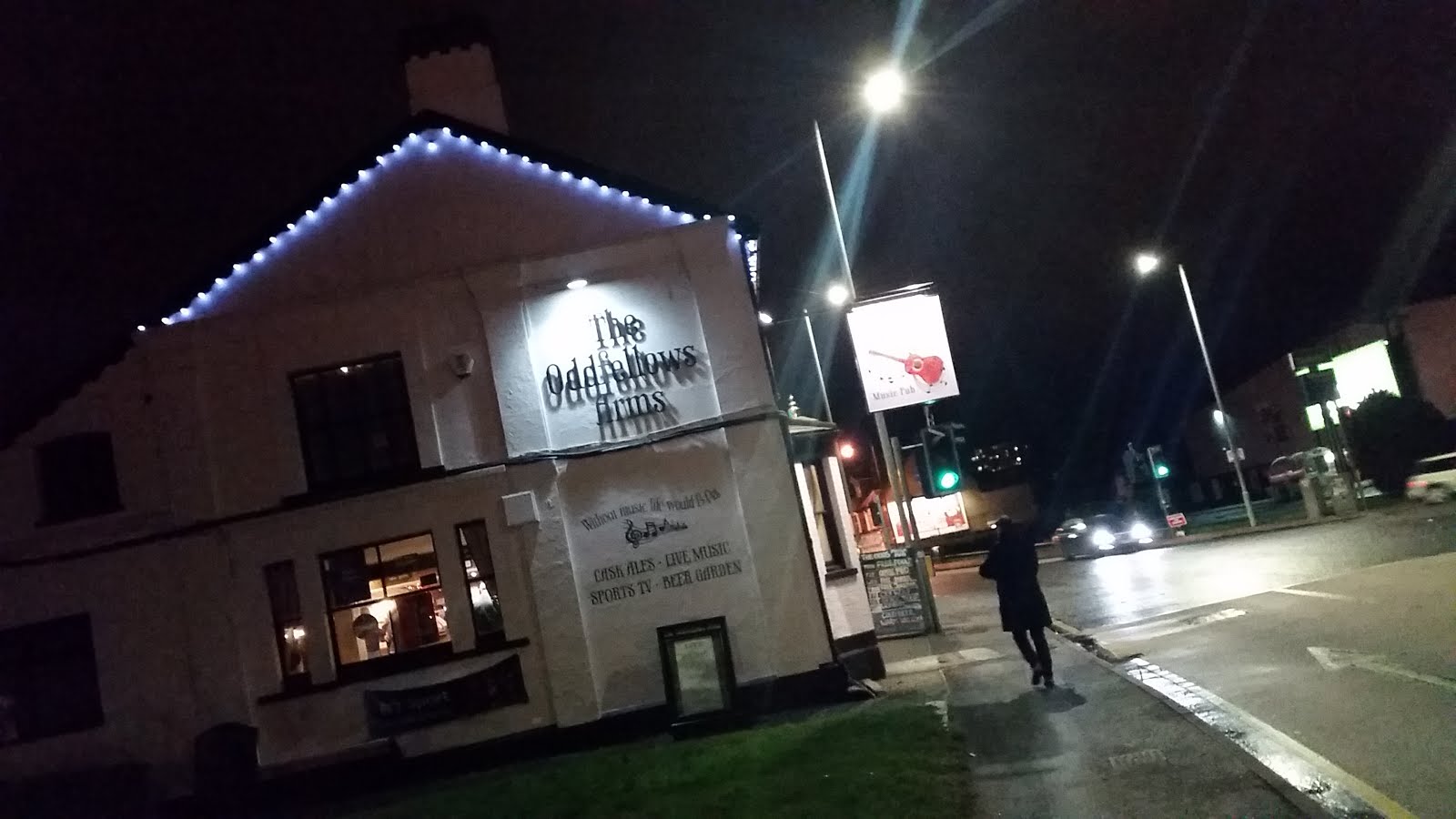 Only one thing for it. Pub.
Our hosts reaction to this is, to a man, to surround the ref and start trying to get the game off. Plus there's the bullshit from the bench. Classy lads, really fuckin' classy.
There follows a spell where Hemel seem more concerned by the conditions and getting the game canned than actually playing. Every time the ball hits their half, the bench is up "Ref ref!" and this trasmits to the players, none more so than the number 2 who spends more time trapping off than fucking playing. News also comes through that Ebbsfleet have levelled but are down to 10 men.
Sadly, we don't use the opportunity to finish them off. But then again, it's not like they're providing much threat either. It's not until with about 10 minutes to go, Hemel realise what a bunch of children they're being, sort their lives out and actually do what they're there to do. Play fucking football. One diving header is planted narrowly wide of Worner's goal and with time almost up, a corner from the left comes in to the near post. A flicked header leaves Worns standing and pings back off the base on the inside of the far stick and is hacked clear off the line. Looks like we might have got away with this!
Nah.
On time, a ball in from the right carries across the box. Under pressure, Downer clears but only as far as the edge and the midfielder whips a smart effort low beyond Worns. Consolation, surely.
Nah.
With time almost up and deep into additions, Wish launches the ball forward out of the paddy on his flank deep into the Hemel half. It holds in the wind and the keeper comes out and claims it in the air. In a hurry, he just launches the ball forward to try & set up one last attack. Again, the ball carries, bounces around the 18 yard line and for the first time in this half, it bounces like it's come off a rock hard pre-season pitch and loops over a backpedalling Worner and drops in just under the bar.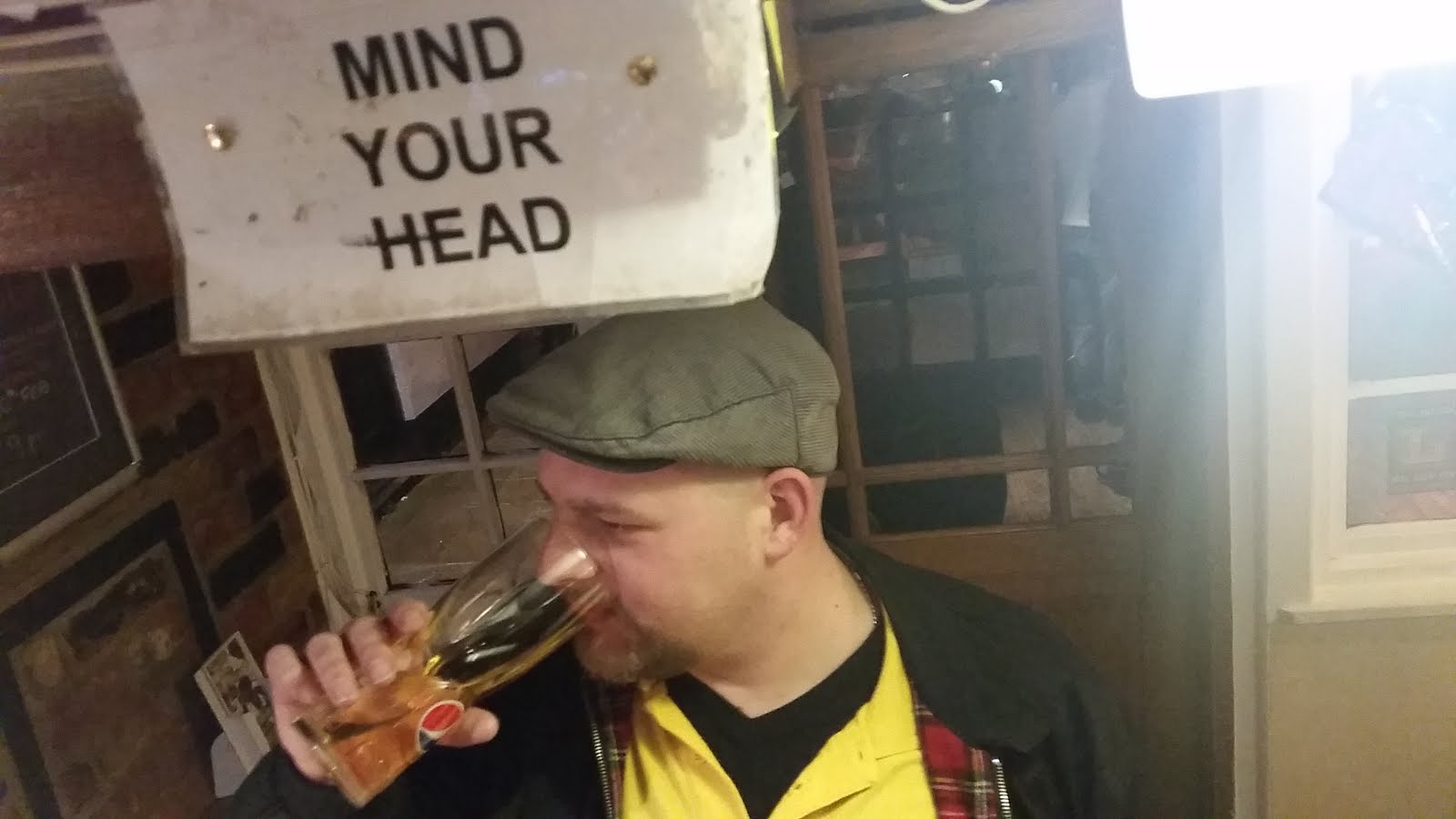 Why? It's full of shit football memories.
Yes folks. 30 years I've been watching this shit and I've never seen a goalkeeper score. Not once.
Naturally, their classless bench are delighted and suddenly don't seem quite so keen for an abandonment and all charge onto the pitch to mob their understandably delighted keeper. Funny that. Cunts.
Moments later, the whistle goes and we're robbed of 2 points by a total fluke from a side that whilst admittedly being in the game, hasn't frankly done enough to earn it. And that's before we even get to the fact they spent 45 minutes crying about how shit their own pitch was and trying to influence the official to call it off and get us back to this fucking shithole yet again. As I mentioned above. Football can be the cruellest of mistresses sometimes. Well, I'd like to revise that sentiment here and now. She's a fucking horrible old slag hag.
Pig sick at the result, we trudge into the car park for cabs straight back into town. Sadly the office there has sod all so I make a call and we have to wait, which is fun when you've got spotty little wankers walking past giving it large. Typically, having abused adults, they then start giving it the "I'm only 15!" when you tell them to fuck off or they'll get a slap. Fortunately cabs turn up and we end up with the same lad who'd brought us down and we'd entertained enormously with our peculiar brand of bollocks chatter. This trip is the same, as it's much the same albeit a bit darker than before given recent events.
We're soon back at the Oddfellows near Apsley station, pouring beer down our necks and sticking lots of crap on the jukebox to try & raise spirits. But it has little effect. Most people are just shell shocked at the complete robbery. The conversations turn a bit odd and Dukey starts talking about swastika dildo's or dildo swastikas or something. Like I said, odd.
Then Sean Connery asks "What's a dildo?".
Time to go.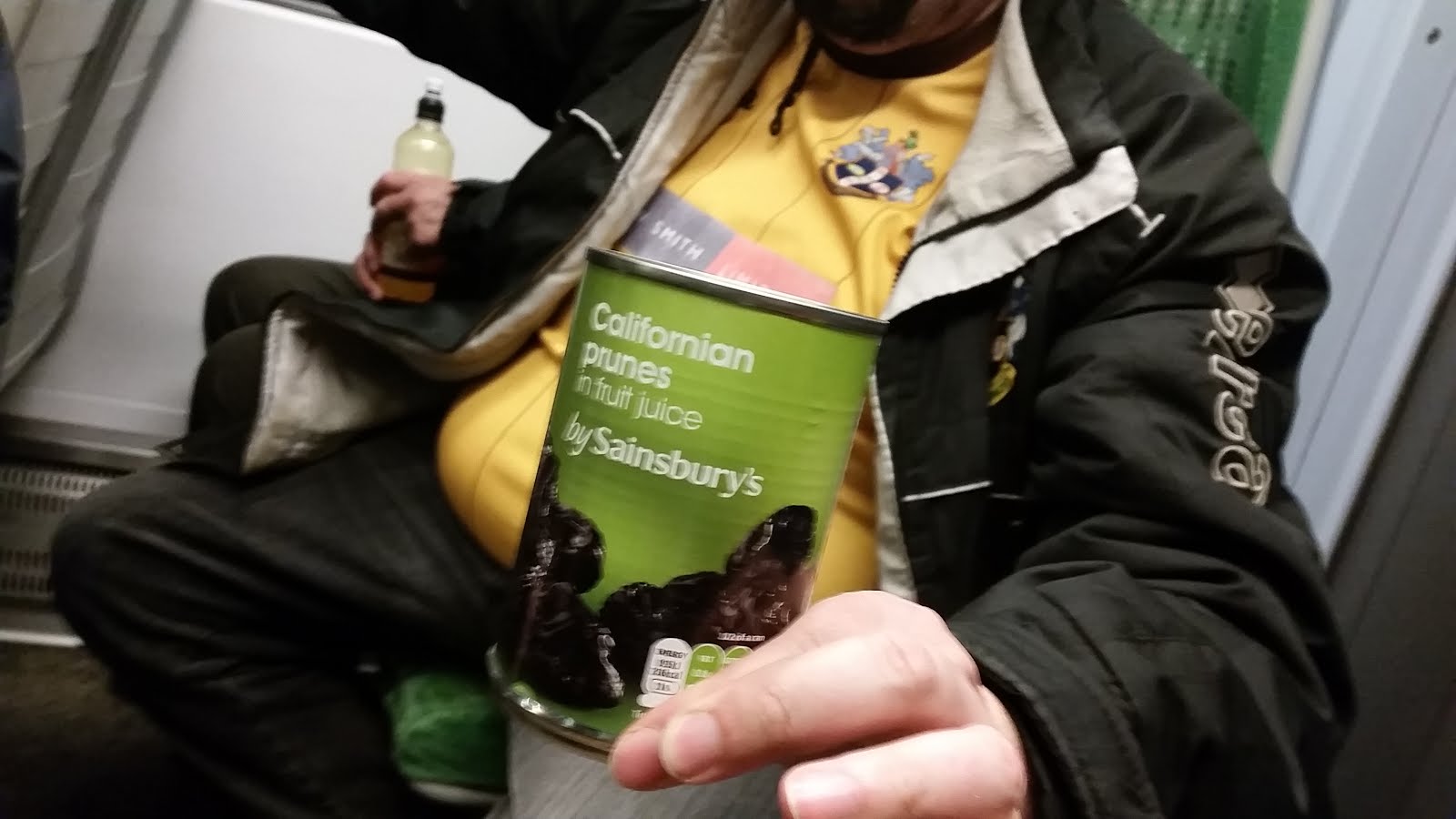 Mmmm. Prunes.
With goodies sorted from Saino's over the road (including a tin of prunes purchased by Wardy for Mr X to assist with his 'constipation'!), the train back into London is delayed but even with this hold up Wardy, Mr X, myself and Dukey still find ourselves in O'Niells back in the motherland by half 9. Where X finally ends his day long mission for the perfect poo site, by walking 2 minutes down the road to the Sutton Arms! Didn't even buy a drink either the cheeky bastard.
Now bring on the gin and lots of it please, I've got some memory cells to kill. Did that nonsense really happen? God I fucking hate football sometimes.
Taz