Injury crisis, what injury Crisis? In the aftermath of Bognor, the casualty list was so long that even Dukey fancied his chaces of getting a run out against Bath. There was even talk of loan players and maybe even a new signing, but nope. Nothing doing. Instead we put out a pretty familiar line up against the South West folks and got a point. Although the fact we ended the game with a front two who's combined age is less than my own does at least point towards the squad being a touch stretched.
As if having to be starkly reminded how bloody old I now am wasn't bad enough, my planned evening out with my significant other to eat food and watch a fillum went down the khazi thanks to a fucked fridge freezer. Now normally, this wouldn't be the be the sort of thing to cause much alarm. However when it's producing a nasty burning smell and a bit of smoke from it's rear then it's possibly best to knock one's plans on the head and deal with the issue at hand, lest you find yourself homeless due to a completely coincidental house fire on the very same evening an appliance just so happened to fart its way into the fridgey afterlife.
A months shopping was saved from the faulty white good, but sadly this tragedy means I'm now 250 sovs lighter thanks to a replacement being purchased from a currently very heavily advertised online retailer that mangles a well known Ramones track as their jingle.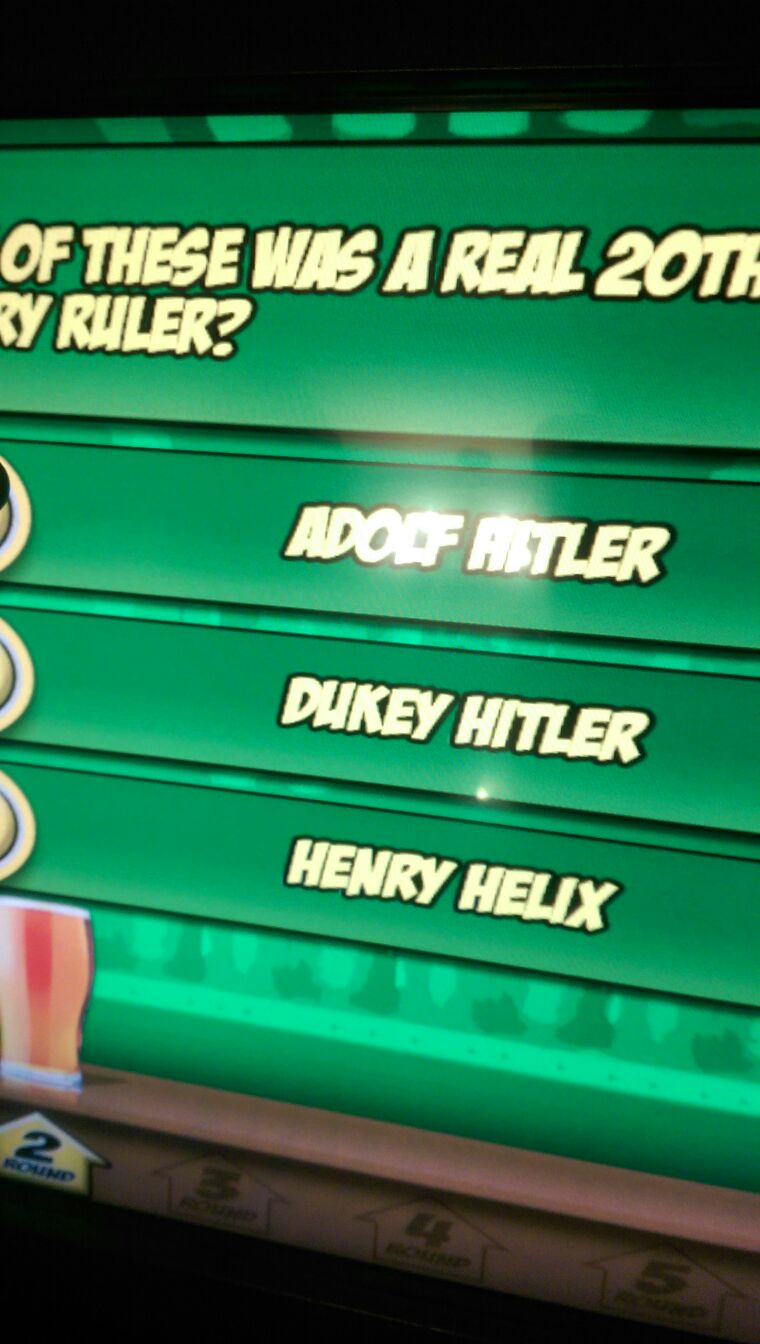 Well, that's awkward….
Unfortunately, the quickest I could get the replacement to HQ was Tuesday. Which is irritating as this also happened to be the date for our re-arranged trip to the 60's architectural show piece that is Basingstoke. And as you know, there's nowt worse sitting in all day waiting for someone to deliver some stuff to you when you've got other plans. Mainly as they'll almost certainly rock up at the latest time possible, causing much dashing about and stress on how to make non-league football matches in shit Hampshire towns. It also eats into the VDT a bit too.
However, I was able to select a suitable time slot of between 7am & Noon to ensure I was not only once more able to keep my salad cream chilled to perfection, but still have plenty of time for some beers in Clapham pre-football. Now, I think the depot for this large online retailer must be somewhere in the very near vacinity of Gandermonium HQ as I was woken at half bloody 6 by the driver telling me he'd be here in 10 minutes. Clearly someone's after an early finish today.
Appliance replaced & old appliance fucked off to that great landfill site in the sky, I can finally relax and turn my thoughts & dreams towards the football. Oh wait, scratch that, it's in Basingstoke….
Given that I am currently still temporarily sort of semi-retired, I am able to meet up with fellow dossers for midweek games. And as such, I make arrangements to catch up with 4 Days in the Falcon at Clapham Junction. Typically though, I'm delayed by trains and am treated to pained messages via WhatsApp about how fucking expensive a pint of Timothy Taylor's Landlord is in the aforementioned establishment. Eventually though, I've arrived, ordered some late lunch and am slumped comically low in a comfy wingback chair with the table level somewhere up around my chin.
That'll make eating easy then.
It's here that we discover that our choice of meeting point, is to put it mildly, shit. Despite it being home to one of the busiest fucking train stations in Europe, the direct services to Basingstoke completely skip stopping here. We guess to stop local commuters filling up the trains for the proper long distance travellers, which is bollocks really. So we skip a third pint and instead head for Waterloo to cut down on the pissing about. Having easily made our train of choice and even had time to pick up a beer for the trip, we settle into the quiet zone. Yeah yeah, we know.
Steve messages saying he's on the Waterloo & city, but probably won't make our train. He lied. Mainly as he trots on a couple of minutes before departure. He's even had time to pick up a couple of cans of Cider and a really expensive sausage roll. Pissed it! Dunno what he was so worried about. And he gets our sparkling company on the trip down. Bonus. We're also kept amused on the way down by Greek's travails on the M4 thanks to traffic. "My sat nav has just estimated my ETA as Friday" is one such message. Sounds about right!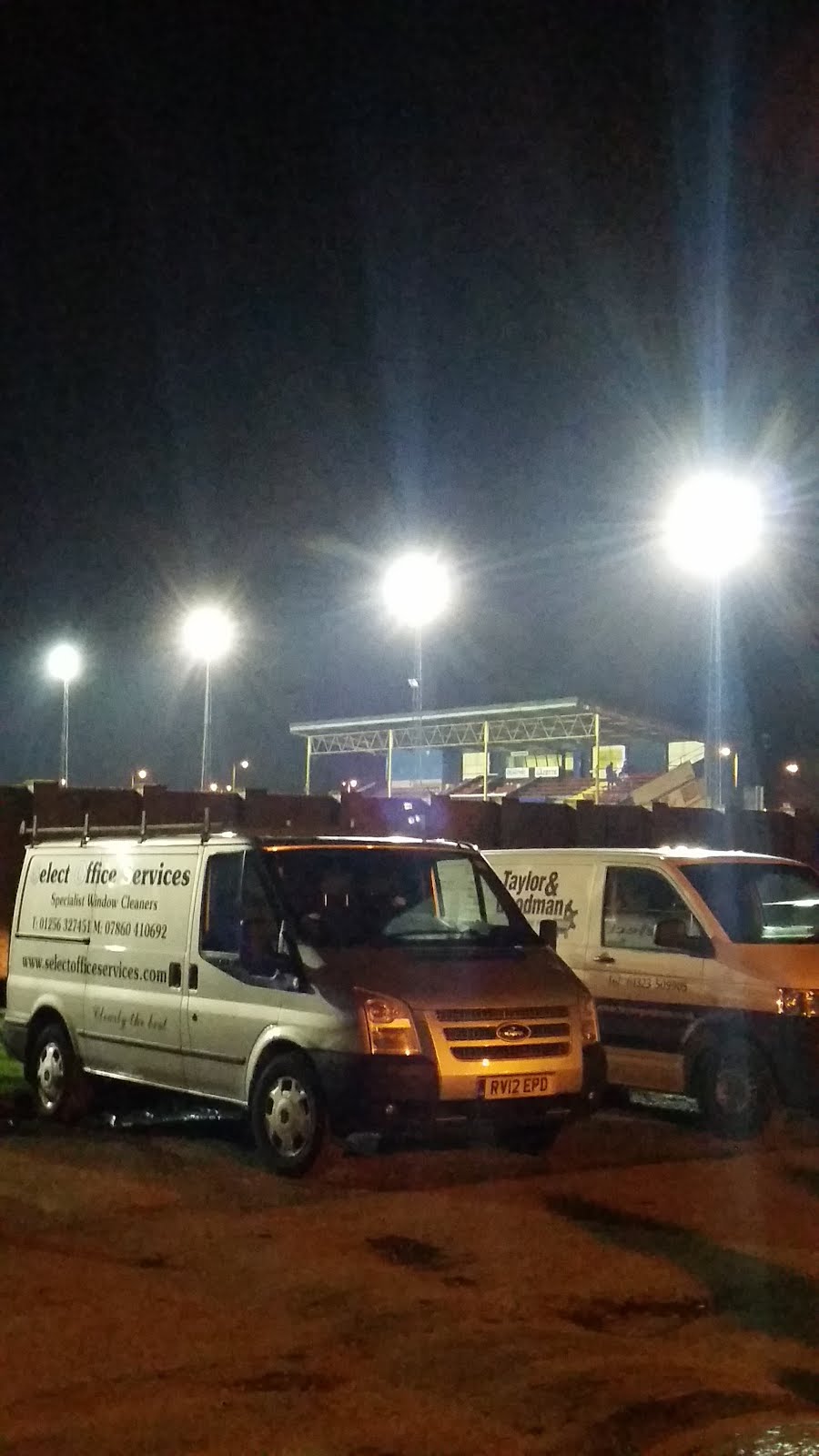 Camrose innit.
Finally in Basingstoke, we head for our usual haunt of the Queens Arms by the station for pints. Here we find Amber Aleman and are soon joined by Cathy. We spend most of our time supping and thanks to 4 Days, playing on the quiz machine in the corner which presents us with such brain teasers as 'Which of these are not Crisp Flavours' (see title!) to what was Millwall's record attendance at the Den and the Periodic Symbol for Strontium. We'll leave you to decide which ones we got right, however we did manage to win 3 quid, so we're not total 'tards. We dash out for cabs at half 7 and are deposited in the car park at the Camrose several minutes later. WE'd have got dumped right at the turnstiles, but our Cabbie's path is blocked as some dick abandons a total shitheap of a Citroen right in front of us. Some people! With time at a premium and not wanting to miss a single moment of non-league heaven, we forego the bar and head straight into the ground.
Tonight's clash sees our hosts having not budged from the 22nd & dead last spot they occupied when we last met at GGL back on Boxing day. That afternoon, it took us an hour to wear 'em down on the way to a comfortable 2-0 win. Since then, they've picked up a little in form thanks to a change in manager but it's starting to look iffy for 'em as the season runs out.
Worner, Amankwaah, Wishart, Beckwith, Eastmond, Downer, Bolarinwa, Gomis, Dundas, Fitchett, Stearn. SUBS: Bailey, Fleetwood, Wright, Dillon, Shaw
The game takes a while to come to the boil and whilst we look far superior in the middle of the park, it's the home team who have the first sight of goal. But their man shoots a good yard wide from the edge of the box when he probably should be hitting the target. It's as much as they can muster as we're soon on top, but without creating masses of chances. The best of them is Stearn once more using his head to flick on a long clearance from Worns to send Fitch clear. He gets his shot away from the angle, but it lacks conviction and the keeper is able to save with his legs. Around this point, Greek rumbles in and confesses he's ditched his motor somewhat haphazardly in the car park. "Although not as bad as this fucking shitty Citroen though" he adds.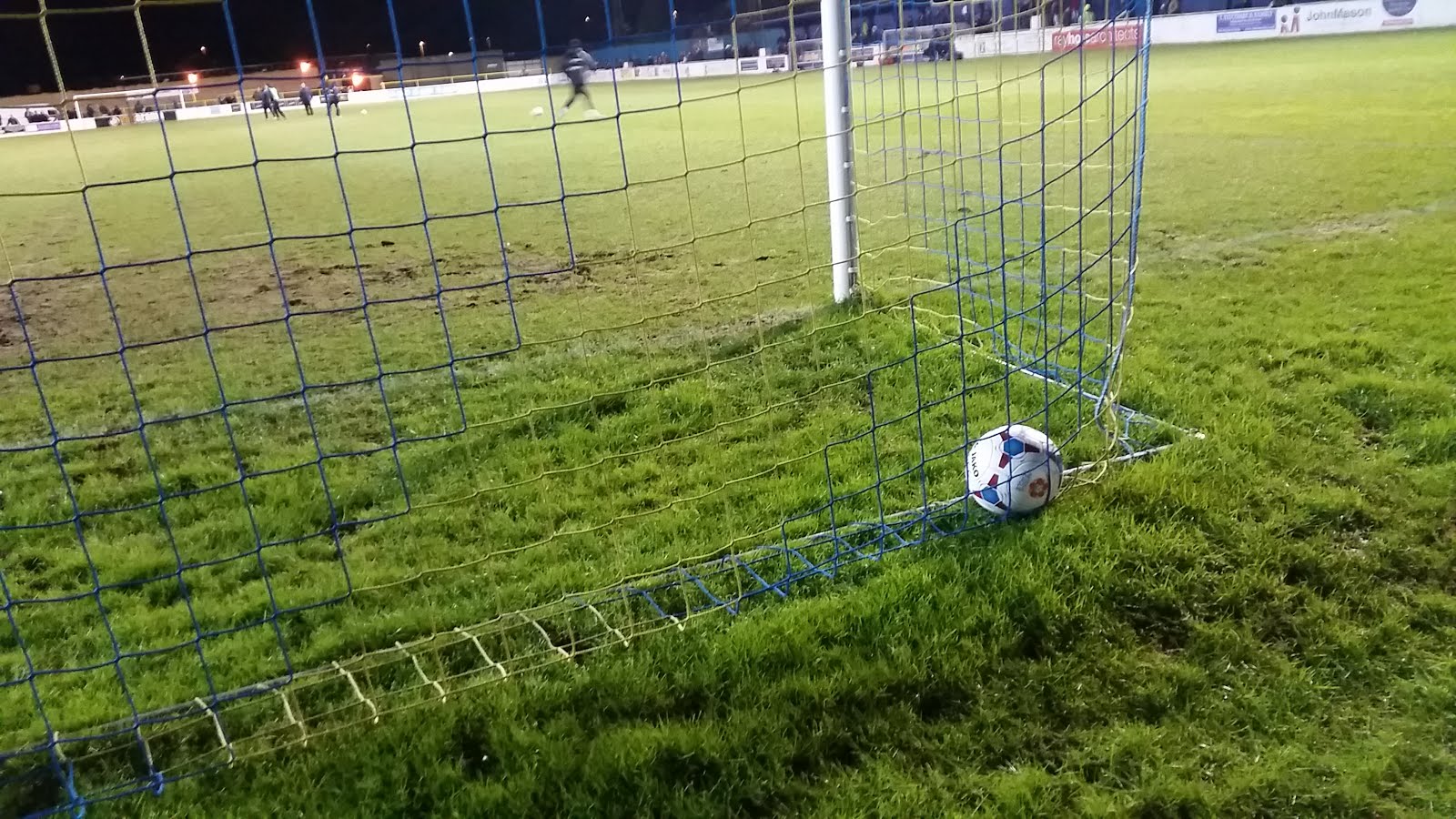 Awww, does no one wanna play with you?
As the half is starting to meander a bit, we finally get a breakthrough with around 15 mins left. A deep freekick is clumsily dealt with by the lumbering number 5, the keeper hesitates to come for the bouncing ball and the other centreback panics under pressure from Dundo, scuffing the ball to Stearn just inside the box. He shoots and it's got enough to squeeze between the keeper and his near post via his fingertips. 1-0!
We get to the break with no further change and I take the opportunity to take a much needed leak, having been dying for one since just before we'd scored. It's a welcome relief and I get a bit of sticker spotting in as a bonus, snapping a Clapton one I'd not seen before. As I leave, Dukey is going the opposite way with a cuppa in his hand. Selfish bastard, where's mine? It's freezing out tonight!
After the restart, the ponderous centre back pairing for 'Stoke is soon in trouble again. Fitch makes a direct dart for the box, neither deals with it and the 5 is left to make a clumsy challenge about 8 yards out with Fitch about to pull the trigger and only the keeper to beat. Penalty! Oh and ta-ra 5. Don't use all the hot water eh mate?
Staggeringly, whilst the pen is given, the 5 somehow escapes with only a yellow card. Erm, has anyone got a copy of the laws handy, as we're pretty sure that was about as blatant a denying a goalscoring oppo as it's possible to get. Which is a fucking straight red. The last time I saw a red card decision that shit was last year at a game in Berlin where the most obvious handball on the line by a TeBe player only got a caution as well.
Still, this is Conference South. Where it seems even the most obvious laws of the game don't apply. We can only hope Mr Parsons of Lymington was being assessed tonight and is safely back doing County football before you can say 'Law 12: Fouls and Misconduct'. Fitch dusts himself off and tucks the spot kick neatly into the corner with no fuss to make it 2-0.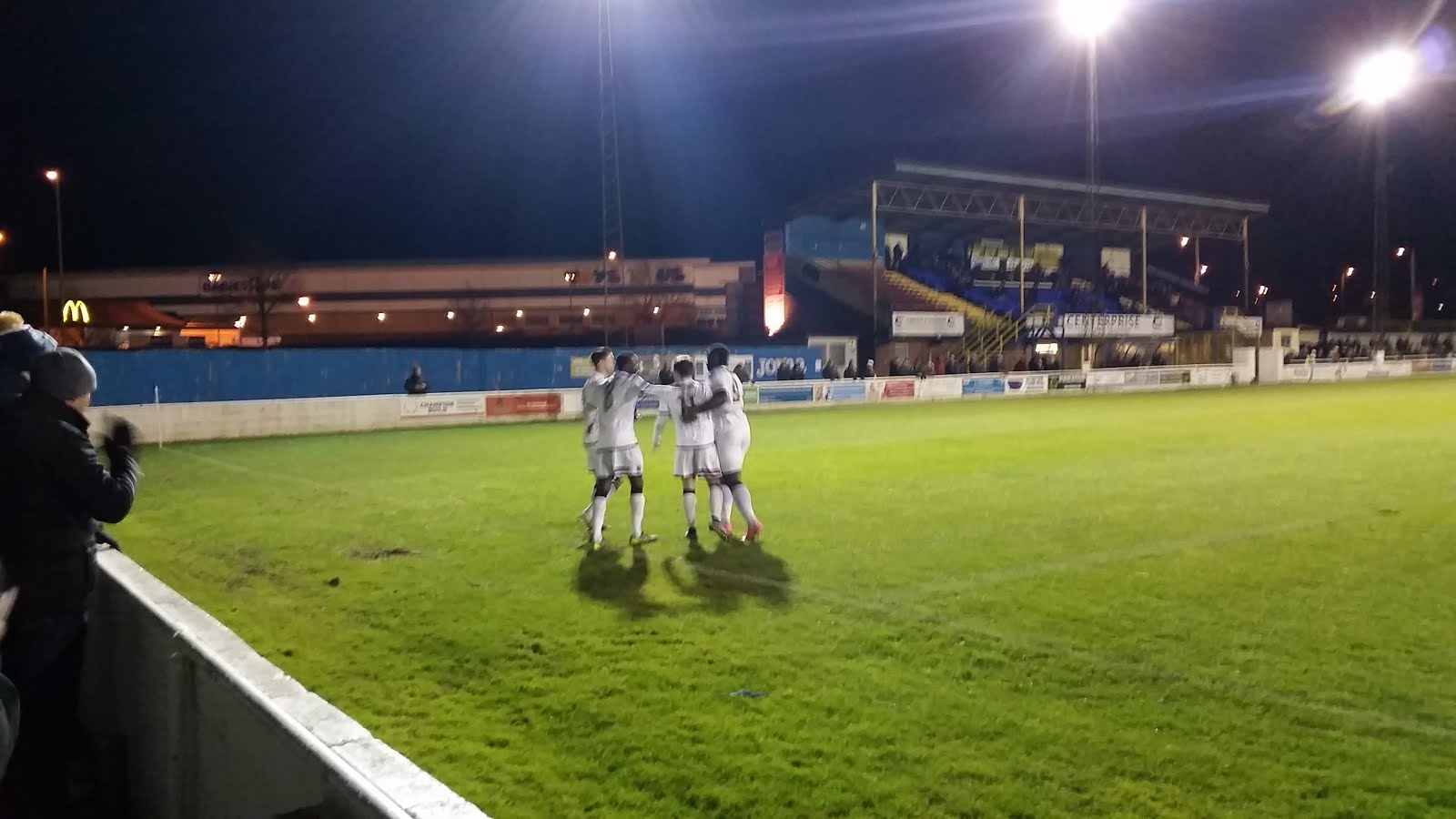 Goooooalazo!
Soon after, we nearly have a third and the points sewn up when Amankwaah drops a cross into the box that again the centre backs look less than convincing on. The ball finds it's way to Stearn and his shot from about 15 yards takes a massive deflection. It's dipping in under the bar, but the keeper backpedals quickly and acrobatically manages to push it over the bar and onto the roof of the goal.
From here though, we drop off a bit seemingly thinking the job is done. This gives Basingstoke more possession and invites pressure. Which means more work for old Worns between the posts and he has to make one smart double save, plus another decent stop soon after. We're not totally out of it though and Dundo causes problems with a shot that's blocked. It runs for Wish who darts past his man in the box and he goes down under a challenge. The ref has a long look and seems about to give us another pen, which looks about right given the oppo bloke hasn't got the ball and the clear sound of contact would indicate he'd got the man. Sadly, the ref once more decides none of this matters and shows a yellow for simulation meaning Dan's night is over as it makes a pair, with him having been booked not long before.
It's another criminal decision from a Conf South ref quite frankly. Just where do the league find these fucking imbeciles? It's hard being an official these days admittedly, but most just make their own lives harder by almost seemingly making it up as they go along.
With a little under 10 to go, it looks like we're in for a tough finish and Dos withdraws Fitch for Bailey to shore things up and Tommy Wright really should put the game to bed straight after as those two useless centre backs bumble into another error. The 5 chesting a ball down to absolutely no one and Wright nips in, but his finish lacks composure and is wide of the far post.
The hosts finally pull one back somewhat farcically in injury time when Worns launches a free-kick from near half way. It's immediately cleared straight back and with our keeps well out of his manor, a quick pass sends an attacker clear of Downs and then Worner, leaving him with a good 25 yard clear run on a completely open goal. He walks it in and immediately retrieves the ball to race back to the centre circle for the restart. Unfortunately for him, there's only moments left and the whistle blows soon after to end the game.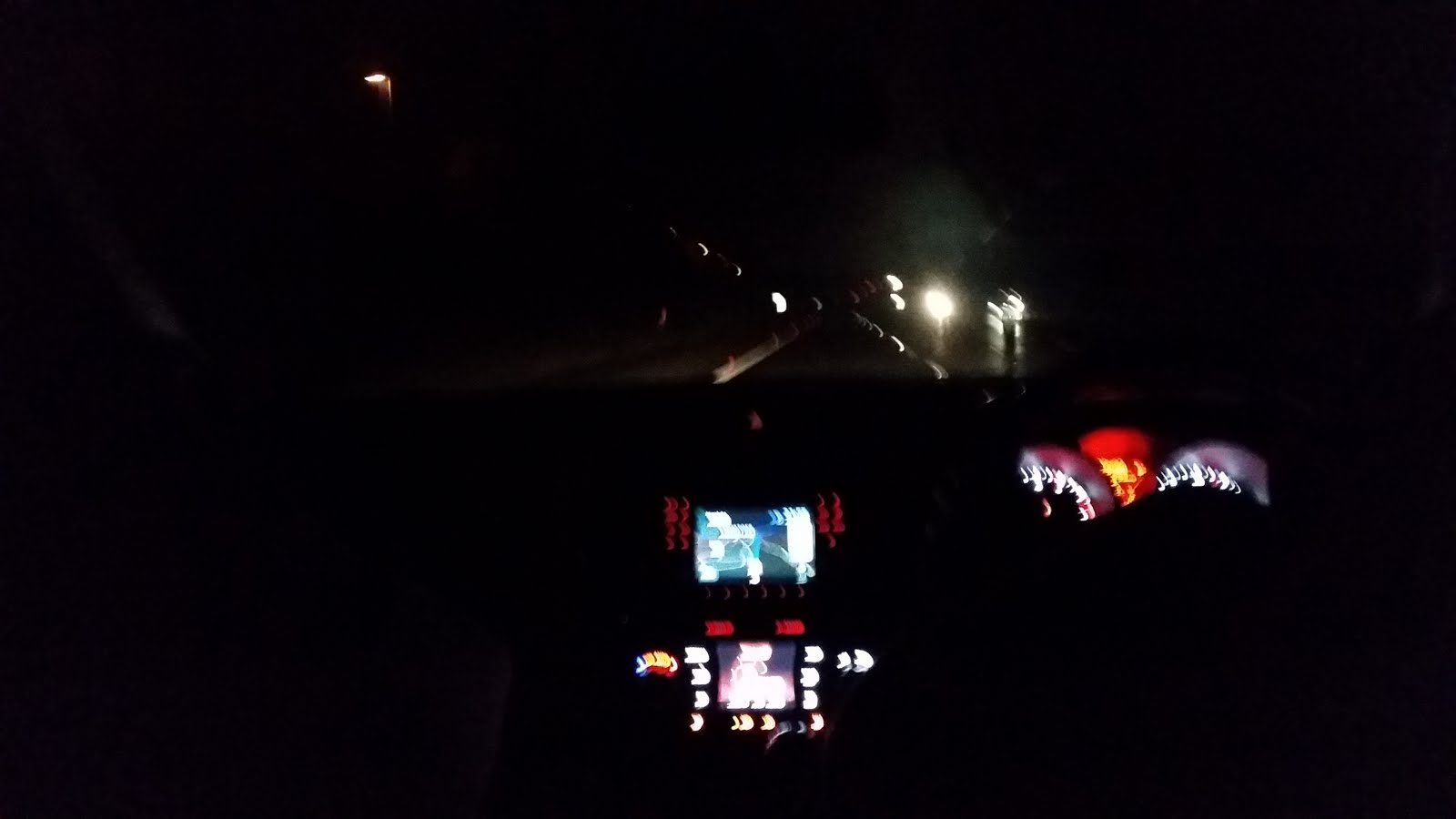 Homeward bound…
Lads applauded off, we head for the car park and transport home. Here Dukey & I have to wait for Greek to take a pre-departure piss. Whilst we do, two dopey birds trot out for a fag and ask for a light. Dukey obliges and they engage us in some startlingly daft football chat. One asking what 'the draw' was. Thankfully, our driver is soon on the scene and having said goodbye to Robbo & Natalie, we're on the road.
Sadly, we're now in that time of year where the authorities responsible for maintaining our nations highways are in full on 'dig fucking everything up' mode, lest they lose any unspent funds from next years budgets. This means the route home is a tad painful as the M4 is closed and having detoured over to the M25, find the access to the anti-clockwise side barred as well. In the end, we have to hike cross country to reach the A3. Still, we're kept entertained by a piece in the radiogram about now defunct crisp flavours, although Greek's not a fan. He changes his tune however when Coldplay comes on.
"And it was aaaaall Yellow….."
Taz