Greetings fellow readers of Gandermonium. I would like to take this opportunity to thank the guys at Gandermonium for allowing me to provide a guest appearance on their blog – although guess this may be the last! I always wanted to be a sports journalist of some calibre but ended up being a civil servant! It's fair to say I feel they have fully incorporated me into their group – cheers lads but I am sorry if this ends up being too corporate!
Looking back on the week for Sutton, I was disappointed to see our exit in the FA Trophy to Bognor – even as we were given a second chance and we gave it a good go; however this leaves us now to concentrate on getting promotion which with the squad we have we should be in with a good shout of.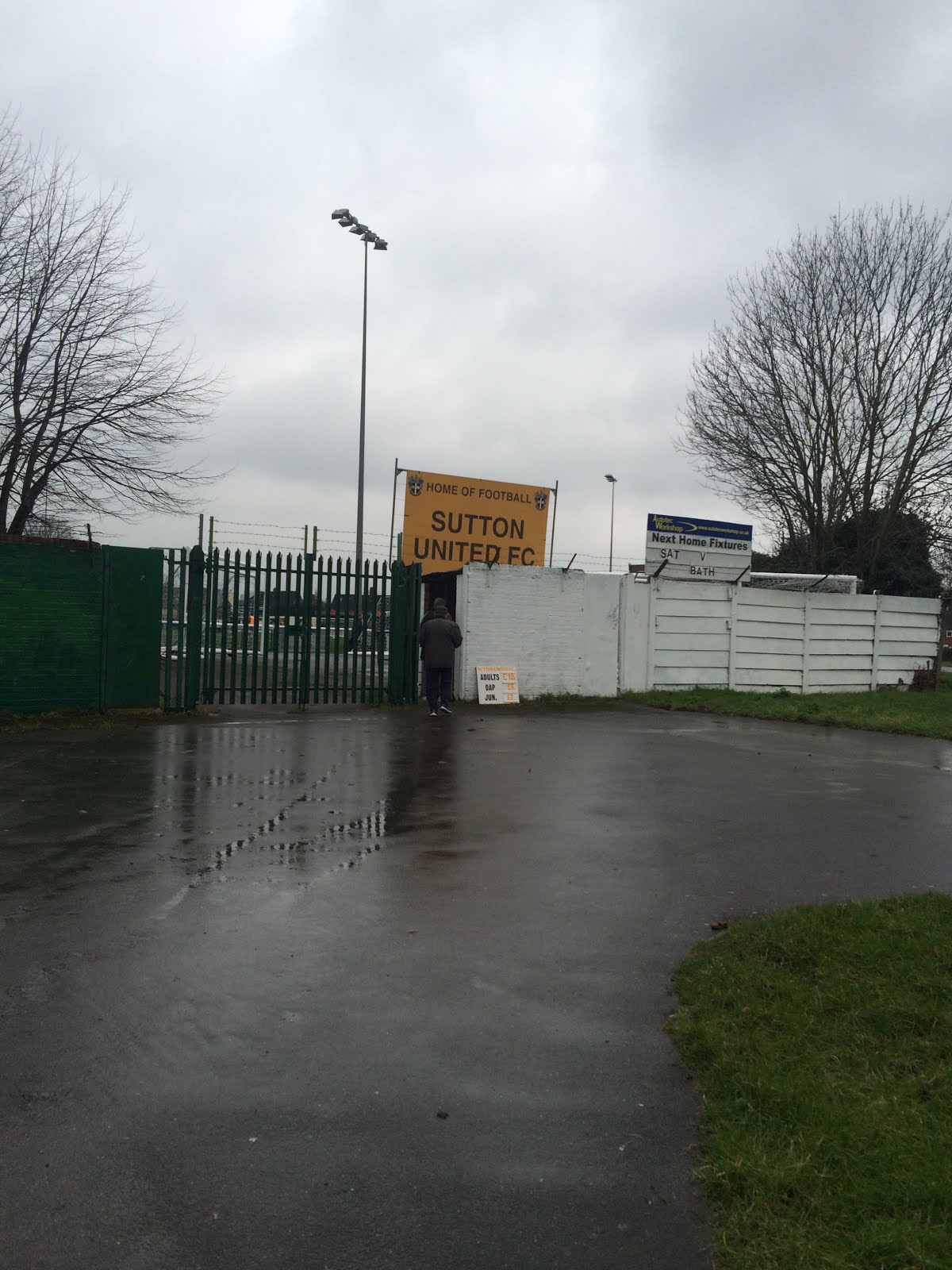 "You can enter via the Rec?"
On to the game versus Bath City. Let's just say how I made it out of bed and to Gander Green Lane (GGL) I will never know – I've always said I never go out the night before football but on this occasion I did. I was hanging proper hard and get laughed at straight away by Natalie (cheers!). Good job I was not going to Stamford Bridge, which is now a part of my former life – I am a true convert to Sutton now.
So today's opponents – Bath City – a club in which my favourite player used to play for – that's Ross Stearn if you didn't know. I note their current league position of 17th and having lost their last five games, their midweek game against Truro was cancelled. I also note their last win in the league was against Ebbsfleet – which could assist us in the long run but not hoping they come here to GGL and pick up a win! We of course needing to pick ourselves up after our exit from the FA Trophy.
The team is pretty strong considering how hard they worked at Bognor and of course losing players to injury. Team line up was: – Worner, Amankwaah, Wishart, Beckwith, Eastmond, Downer, Fleetwood, Gomis, Dundas, Fitchett, Stearn. As the teams kick off I had to pop to the lavatory where my first puke occurred – and of course, you knew it was going to happen – missed a goal for Sutton and by of all players, my mate Rossi Stearn in only the second minute assisted by Wishart, damn!!!! I was told it was a header from a corner, Sutton never score from corners so I definitely have missed a rarity here. Not the first time I have missed a crucial goal!
I make it to watch the game finally and again get laughed at! There didn't appear to be too much in way of chances although some decent passing football was being played. Ross Stearn on 15 minutes could have made it 2-0 however his shot was tipped over the bar by the keeper. Bath didn't create anything until two minutes before half time. Player runs into the box and is taken down by Worns – penalty to Bath; not only is it a yellow card for Worns but also lengthy treatment for a facial injury.
Sadly, the subsequent penalty is converted and its 1-1! Normally for half time I go to the bar early but not today. Half time was spent getting warm and of course a second and a third puke session – lovely!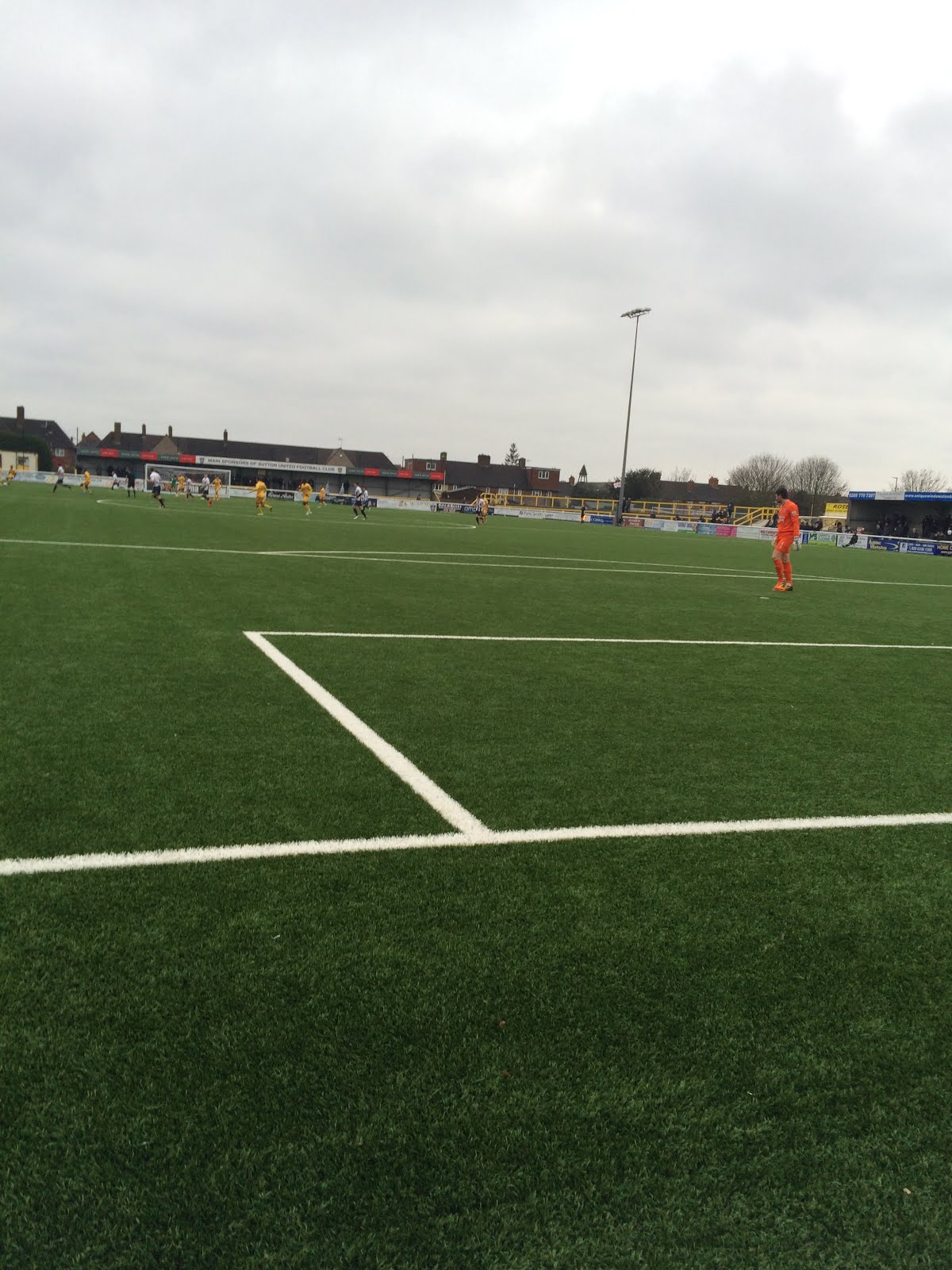 Standard action shot
Second half, and it's time to check if Natalie and I have been successful on the 50/50 draw – no surprises of course not and we take our places in The Shoebox with the rest of the Gandermonium crew. It's fair to say that not a lot happened in the second half, I just about managed to stay alive with a very comfortable "seat". Although Sutton did have a goal disallowed, Dundo ran to the by-line and haplessly the ball did cross over the line before he eventually crossed for young Tommy Wright to poke the ball into the net but no goal (sadly). Some of Bath's playacting and time-wasting was left to be desired and again the officials were very poor – then again nothing new there, feels as though they think they have to run the game! The following substitutions were made: – Bolarinwa for Fleetwood on 72 minutes, Tommy Wright for Fitchett on 75 minutes and Reyon Dillon for Gomis
on 85 minutes. Sadly I missed the final whistle as I was back into the lavatory once again puking up – number four! Attendance was 815.
Finding out Oxford City had got an equaliser against Ebbsfleet was good to hear however thus a missed opportunity for us to claw back some points. Still we are third in the table with some games in hand so it's still doable as we are yet to play Ebbsfleet at home. Of course the highlight of being in the bar after the game is the wonderfully atmospheric Strikers Are Key draw done by Mr Adrian Barry, or as Natalie and I once knew him as Mr Shouty Man (indoors) and Taz being Mr Shouty Man (outside). The prize fund on this day stood at £3,300 and it was the ball of Gareth Miller who was picked from the purple velvet bag. Cue silence, anticipation and everyone out with their phones videoing or photographing to see if Gareth will be celebrating or commiserating – thus to say it was the latter and its £3,500 as the prize for the next home game against Margate which I read is a record prize amount. Soon after this happens and the bar disperses, it's time for puke number five and this being the last thankfully of the night – think it was the smell of the pizzas that were ordered which did it.
I managed to survive, just, until the race night which of course saw me turn from feeling like absolute turd to feeling like an absolute legend – all thanks to the wonderful drink that is Southern Comfort. I had no winners on the horses; however yours truly did manage to win my first ever live auction, eBay of course being virtual, by winning a season ticket(s) for the 2016/2017 and who knows we could be in the National League Premier – here is to hoping. Seems a good night was had by all as Dukey and Greek were falling ever more so into drunken stupors; more importantly looks and sounds like a good amount of money had been raised for the club. Well done to all involved with the night.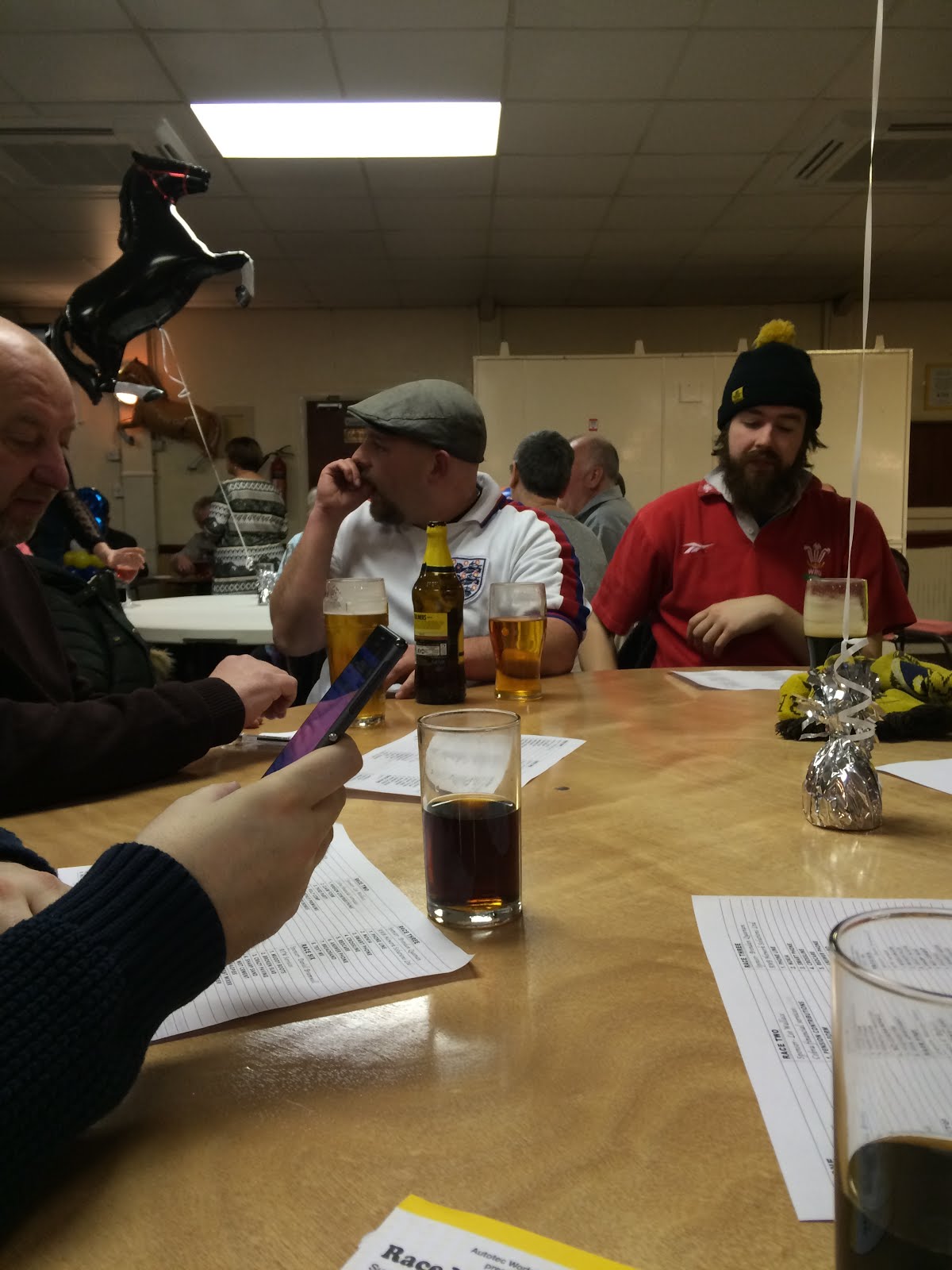 It's all going downhill…
So there you have it readers I managed to complete this blog even though I had my doubters! Good job there was not too many incidents of note during the game considering how rubbish I was feeling, but in life I have always been a battler and a fighter. In future, I pledge to not go out the night before a Sutton game unless it's something I simply cannot avoid; and if you see me like how I was at the Bath game you have every right to punch me!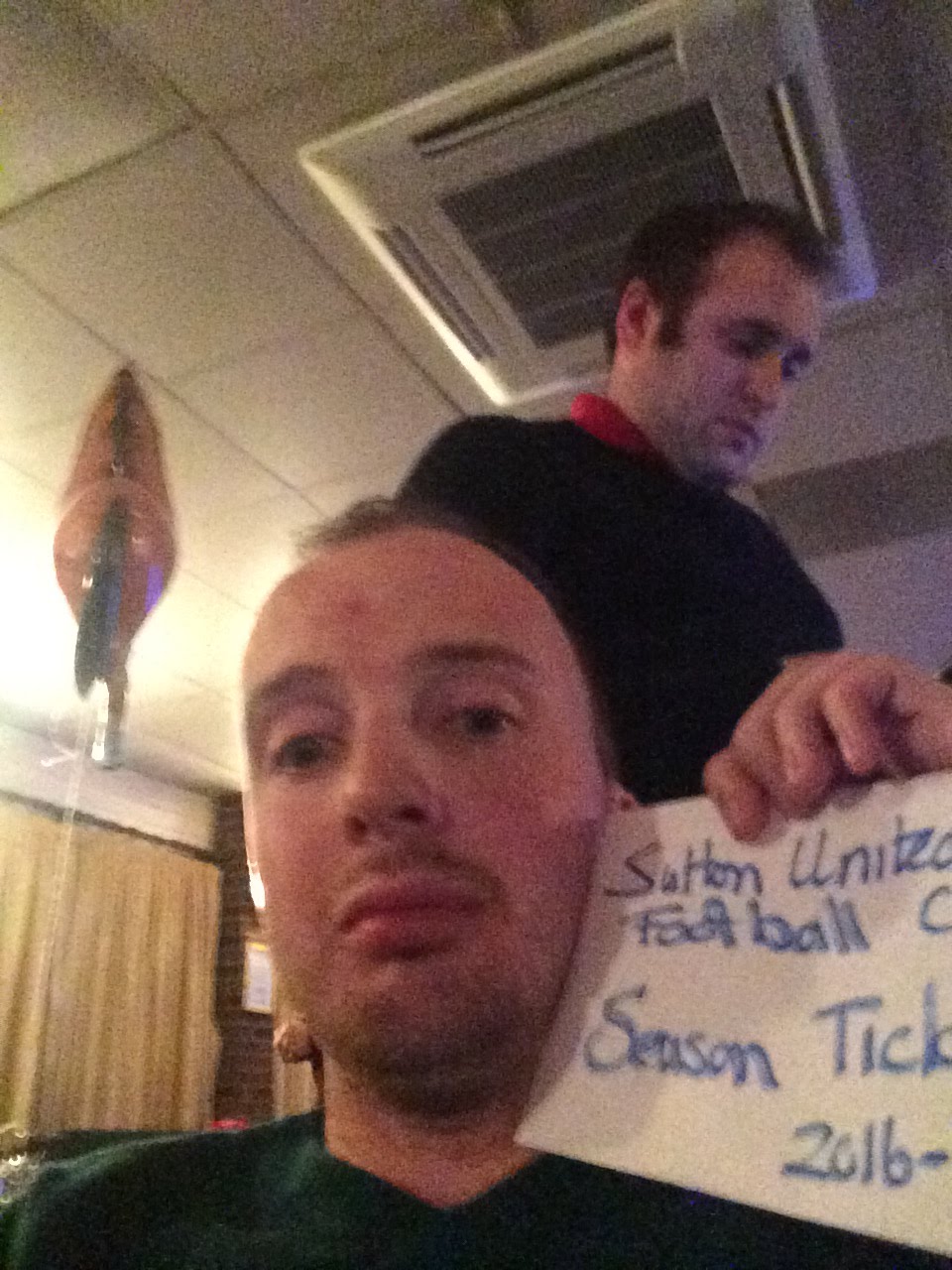 Happy winning bidder!
I now hand the reins of the blog over to Taz who will be blogging for the away game to Basingstoke on Tuesday – hopefully we will be back to winning ways. I sign off with "wise men say……." – come on you yellows!
Robbo