Oh well, another dream down the swanny. Just when you start to thinking about a "Tuesday night in Torquay", the thought is sent crashing against the rocks of a condom & needle strewn South coast beach. But don't worry this won't be a sulk (much) like if we lose at Knaphill for example. Or when we lost in the final of the Surrey Senior Cup and I cried for an hour after the game.
In all the boredom excitement that was Saturday's encounter, I may've gotten a little "tired & emotional" and mixed up my ride South. To me, I thought I'd arranged with Taz that he was going to pick me up (and he was going to do this blog). Of course this wasn't the case, arriving home after work I managed to fall asleep at the computer and totally miss the departure time that Taz didn't show up for. Luckily for me, Mr X was still about. Turns out that we agreed that he would take me, even though he doesn't remember agreeing this either!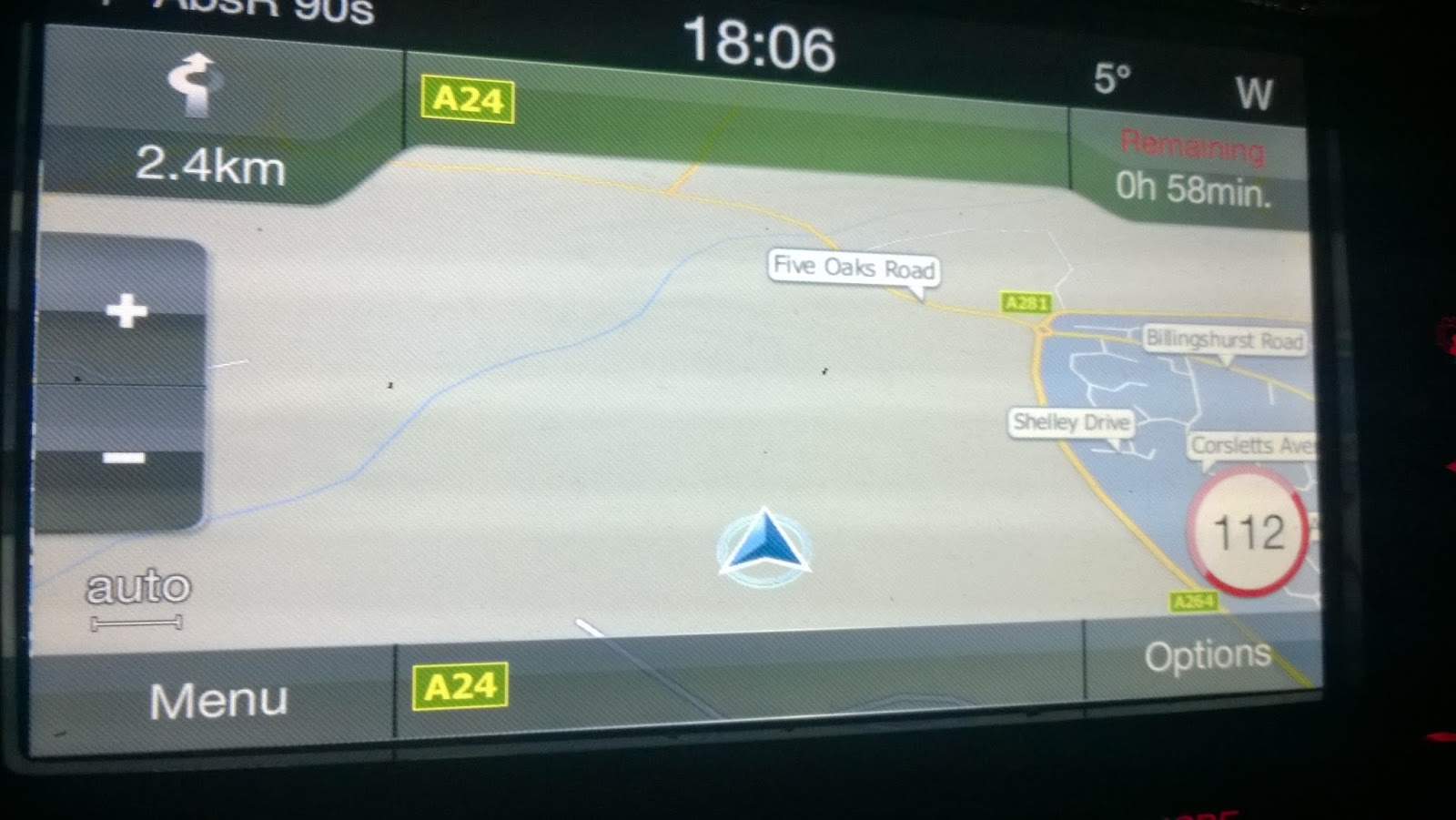 Roads? Where we're going, there fucking aren't any!
Running around for five minutes throwing on anything that was within arms length, I managed to be out the door and off to the rich part of Cheam sharpish. You know it's rich when Mr X has buys his food from no other than Waitrose (giving Burgers more money in his yearly bonus in the process). Thinking that this trip was going to be a quick breeze, we soon realised that the Satnav was quoting us at least an hour and three quarters for the journey and the Clock was reading 1710hrs, Jesus man lets go!
The plan was to pass through as many A-roads as possible. To name but a few, A24, A25, A27, A217, A264, A272. Well we say A-roads, but really they were country lanes that had been given more importance then they really deserved. What is it with Sussex and fuck all motorways? Three incidents to really report from the way down. One was just outside Dorking when we were flashed by an artic coming the other way. Didn't think much of it until around the corner we nearly slammed into the back of a white van man changing his tyre. He had his hazards on but you couldn't fuckin' see them as he had his back doors open (not a euphemism!).
The next was when we got the "Satnav hasn't been updated to include a new road" situation and it decided to go a little gaga. So, shock horror, we instead had to use the age old male utility of actually reading road signs. The final bollock-up was when out of nowhere we ended up bumper to bumper in traffic. So much in fact it took nearly half an hour to get through a 400yds stretch thanks to some poxy temporary lights.
We had so much time to kill that I managed to vacate the car, have a jimmy in a nearby bush and the thing hadn't even bloody moved an inch. If I'd thought about it earlier I probably could've read a few chapters of War & Peace under the glow of my Zippo Lighter. Eventually though, we made it to Bognor with a quarter of an hour to spare. A simple tenner for the ticket (what ticket?) and I took up a position surrounded by Bognor fans.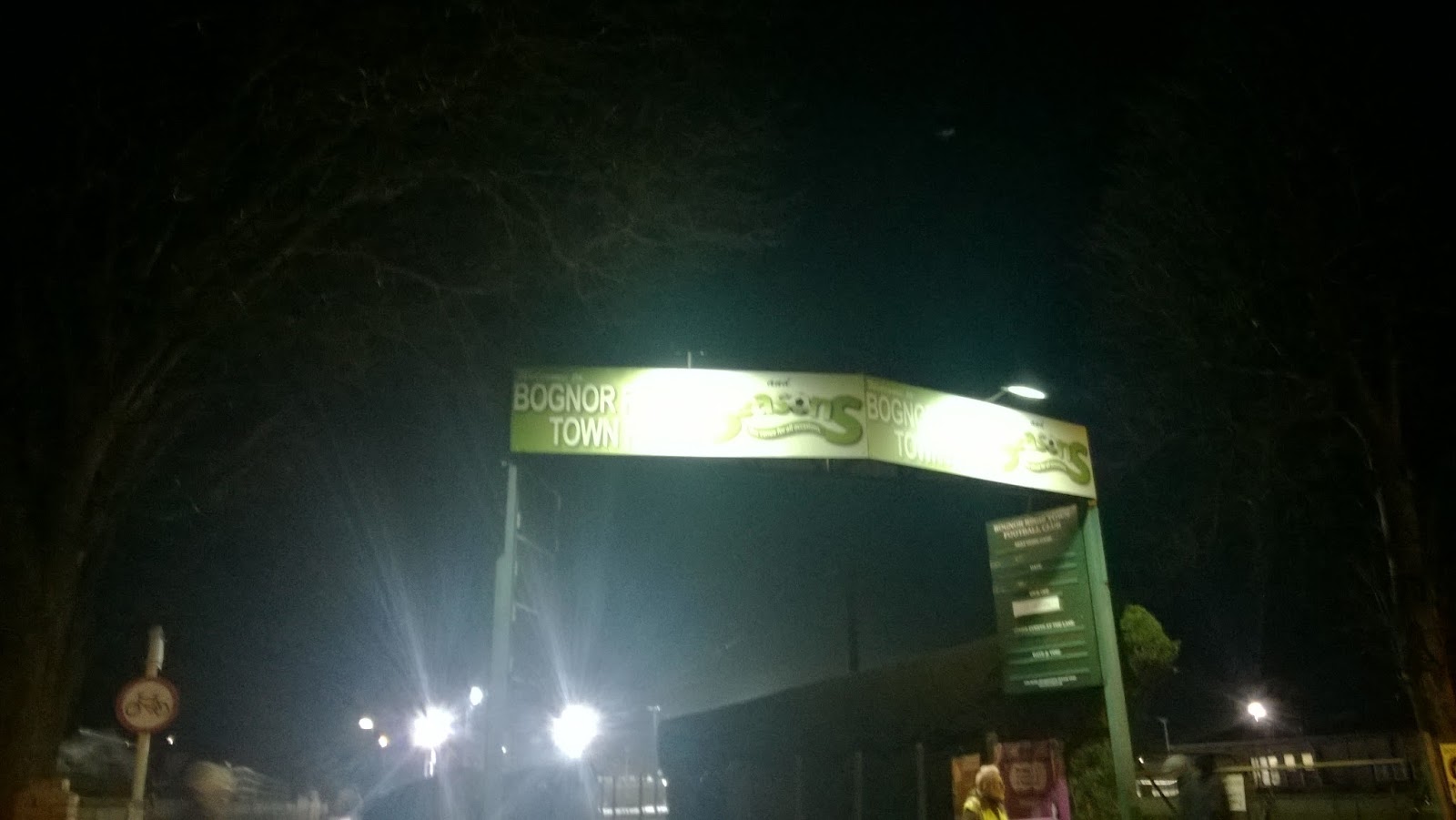 It's a gate innit.
Worner, Downer, Wishart, Beckwith, Cooper, Collins, Bailey, Gomis, Dundas, Fitchett, Fleetwood. Bench Warmers: Stearn, Dillon, Doswell, Munro, Eastmond.
What a minute, Bognor fans? Yes that's right. Bognor is another team now on the list of having wrong-enders. But if you can get used to six fingers, Mary Whitehouse's & Wrong-enders you can put up with anything. For the first ten minutes of the game, both teams tried to work each other out. For those of us behind the goal, it took a lot longer to work out what shape we was actually playing given the patched up side. I still haven't worked it out to be honest.
With the twenty minute mark fast approaching, Bognor took the lead. Not for the first time this match (and season), Sutton were once again at fault. Bailey managed to under hit a pass so much that it was a perfect through ball for the Bognor to attack. First cross was so over hit it fell to the right winger who smashed it back across the goal. The third cross managed to loop over Worner and come off the post. This left a simple unmarked tap-in for the home mob to go in front.
Sutton were still struggling to get into the game when we were given a God send. Fleetwood managed to take the ball into the box and tried to cut in. Just before he took another stride he was caught and landed just outside the box. His reaction and the fact that the ref didn't point to the spot very clearly, had me and others thinking that it was only a free kick. Hold up, he's only given a bloody penalty! Cue Fleetwood to "shake himself down" and fire us level with his first goal for the club. 1-1!
Pitch.
This gave Sutton a boost and had them attack with more confidence and there was even a strong claim for a penalty when Gomis was clearly swiped at whist trying to control the ball in the Bognor box. But alas the man in the middle (apparently a Conference National level standard wanker) gave us nothing despite it being a more nailed on pen than the one he fuckin' gave!
Second half had us stand without the wrong-enders and hope for a better second half. Without the doubt our best chance came from Wishart who saw his shot hit the outside of the right post. Our disciplinary record got an added boost by players picking up cards like it was their birthday. As usual they were for tame affairs that in reverse didn't even get a free kick when it was done by a Bognor player.
With time fast running out Stearn was brought on for an injured Bailey. Minutes later Eastmond was subbed for Dundo (still not too sure why), and we waited for the last minute winner from either team. There was still time for Jack Pearce to do a live raffle announcement whilst the game was still playing. Two further times he would do it, strange, very strange. Although he did thank everyone for coming before adding "It's a shame you're not here every week".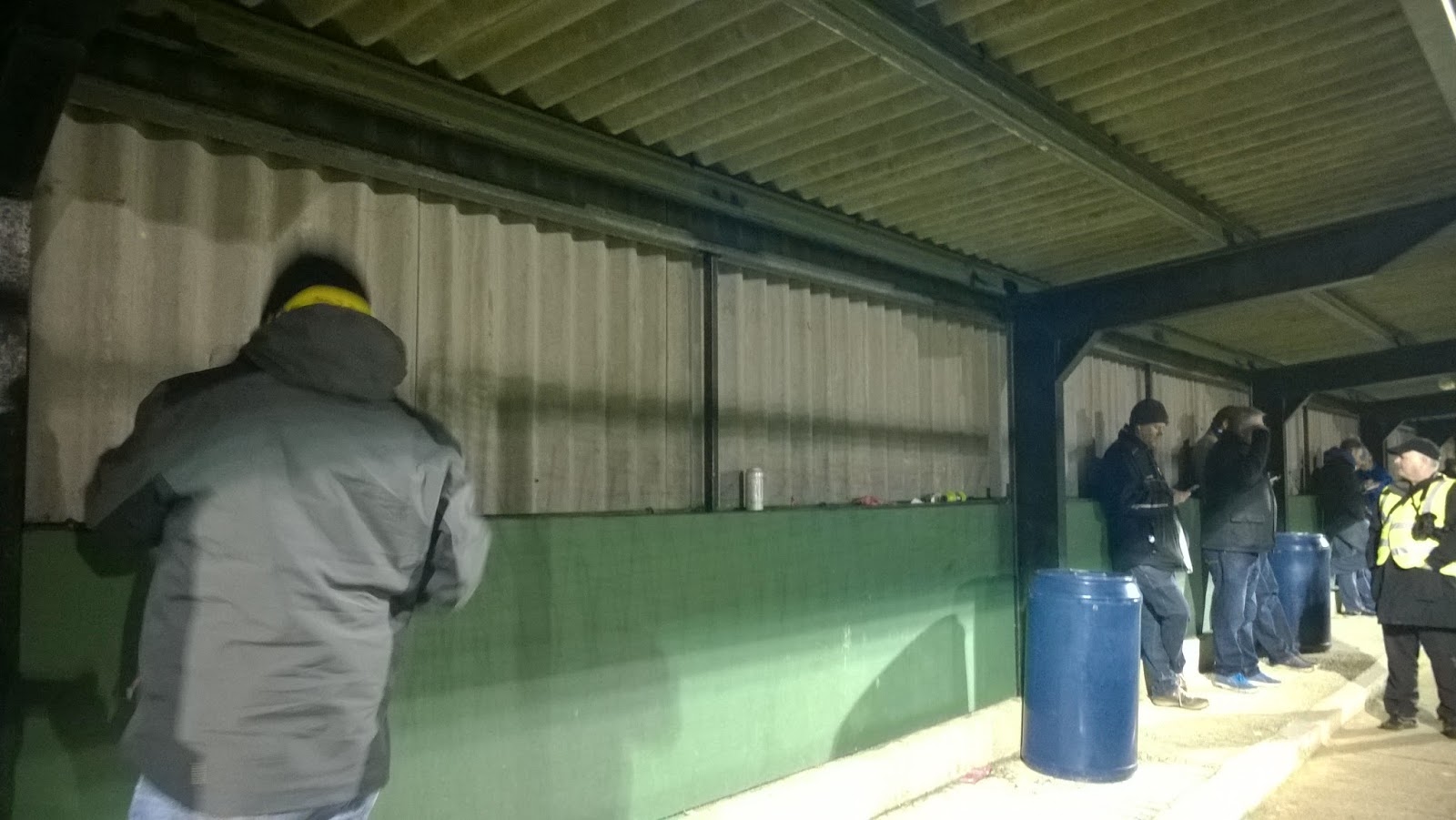 Wall.
For the first half of extra time we once again moved to the other end with the wrong-enders. You could tell it was a big game for Bognor because of the amount of people that stayed in the bar and try to watch it through the windows past the metal grill and the bank of supporters. Baffling. Most of the half saw Sutton having several shots form outside the box that dipped just over the bar each time.
A minute before half time it was goodnight Vienna. Stearn was at fault this time as his weak pass was easily intercepted. Wish is well out of his manor and the ball was quickly played out to the wing, then crossed into the box. Beckwith and the Bognor player went to meet the ball, Beckwith won. And seemly under minimal pressure he managed to rifle a lovely header past a stranded Worner. The looks between some of the travelling support showed that it was probably all over from here.
Second half back down the other end (after a trip to a shitter that had no lights working). With most of the players now looking like the walking dead it seemed that Bognor's two nights a week training was working better for them. Bognor tried to claim a penalty with a comical dive, but the fella got a yellow card for his troubles.
Injured in this challenge, we though that Collins was about to be subbed. Surprisingly Cooper was taken off for Dillion instead. This was a bit confusing as a couple of minutes later Collins hobbled off and we were down to ten men for the last few minutes. Worner managed to keep the score respectable with a one on one save at the death, but for the life in me I don't think we had a meaningful chance in the whole half. And so it ended 2-1 to the boys from Sussex.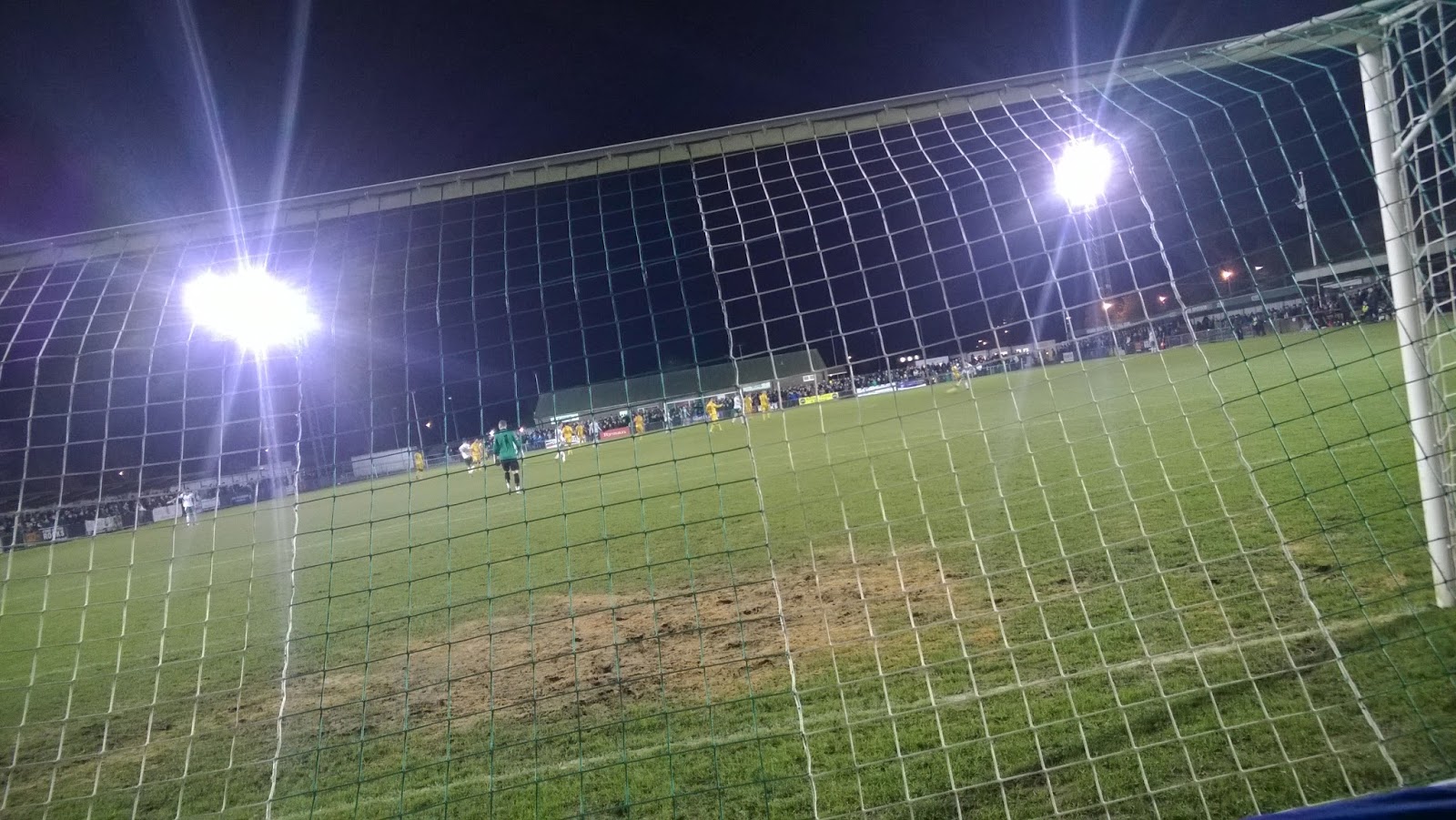 OUR pitch has got a slope has it?
So we are out. Shame that our best chance for a run has ended at lower opposition (Still at least we're still in the SSC). Overall they probably shaded it over the two games but you cant help think what the outcome would've been if we had a fully fit team to choose from tonight. I do hope they get battered in the quarters, just deciding whether because of their wrong-enders or the fact the players dived & cried themselves something rotten all night long.
Obviously, the trip home was quick & long. Quick in the sense that it only took an hour and a half to reach Cheam to pick up the executive car. Long in the fact that we'd just bowed out of the Sweet FA Trophy. As Chairman Totts commented "We should've won the tie in the first half on Saturday" because after this there seemed to be only one increasingly likely outcome.
So we must dust ourselves down and go again against Bath on Saturday. It will totally depend on who will be fit now as several players will be joining Bobby on the table at training on Thursday. We also have a secret guest blogger covering the game for us. He's even going out on the piss Friday to prepare properly apparently, top bombing our kid! There is also a little matter of a race night after the game, so sods law one of us wins the SAK draw and still won't go home with any money!
BTW, Those fuckers seemed to have nicked something. Wonder where they got that from…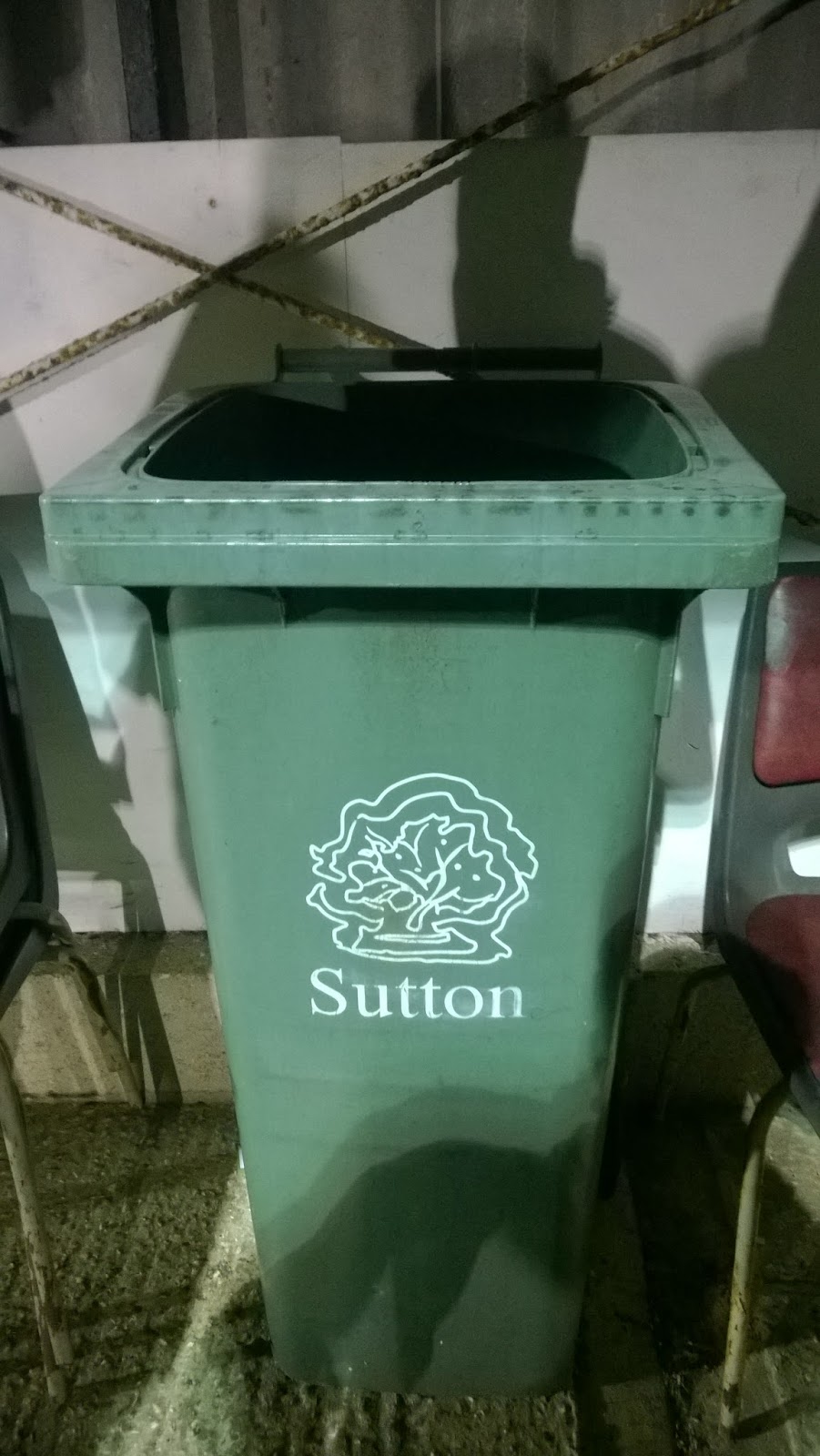 Thieving bastards.
Duke
Att. 914