They say you learn something new everyday. And it's total bollocks. In fact I am proud to say that I haven't really learnt anything since about 1978 and in the words of the late, great Lemmy "That's the way I like it baby, I don't want to live forever." But I may or not have learnt a couple of things on Saturday from the travelling Bognor fans but more of that later when I eventually get on to the matter in hand.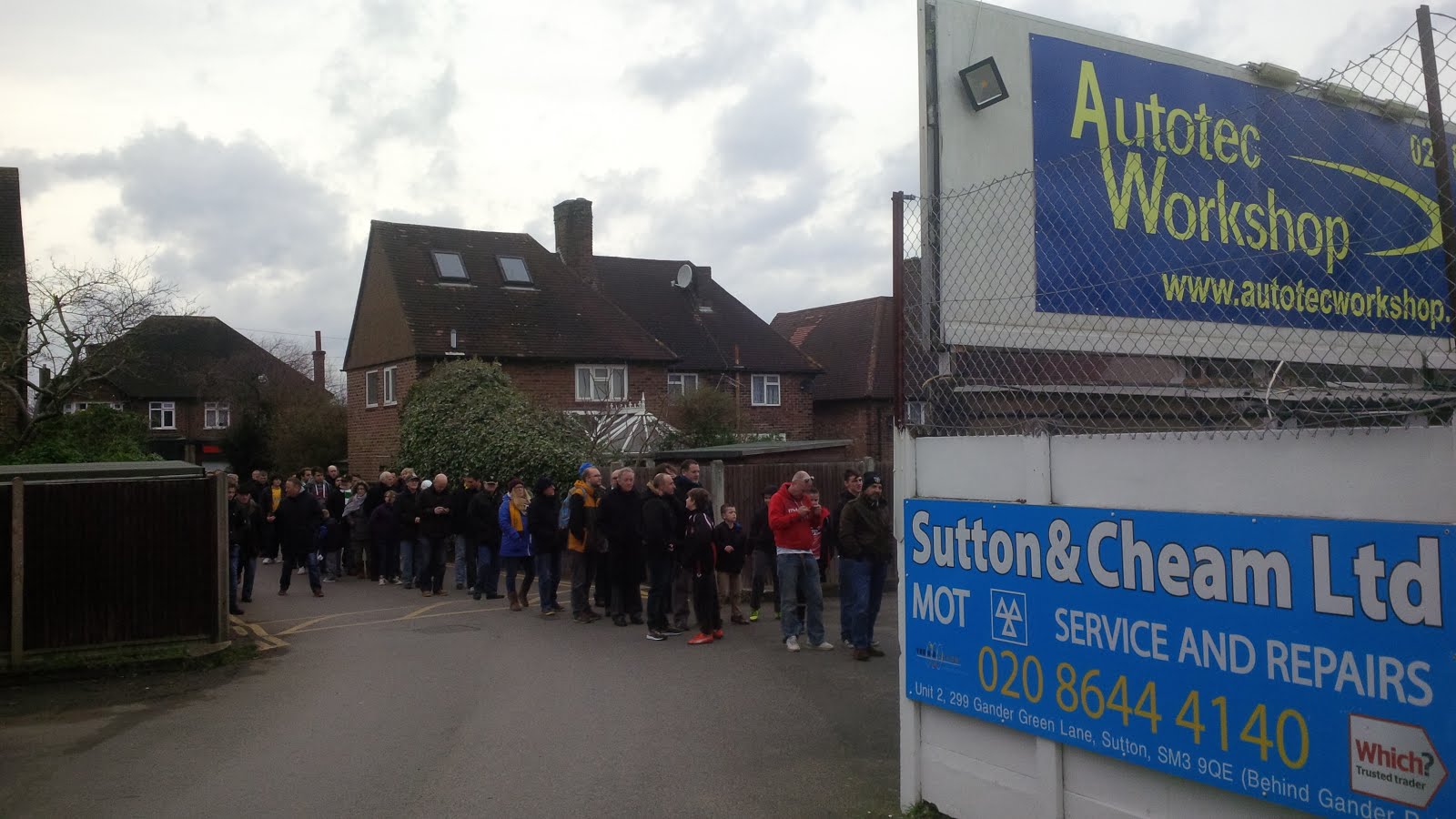 People? Here? Are Roses doing cheap chips?
But before all that old caper let's pick out a few footballing highlights in the week building up to what I like to call FAT SATURDAY. The reverberations from Dippy pumping the latest poor sap to drink from the poisoned chalice in the Occupied Territories over the Rose Hill border were still rumbling around when we heard that "the latest managerial casualty" (top sports hack cliche #1) was Goldberg down at Bromley. Apparently the big money backers down at Hayes Lane didn't think a fairly ropey run in the Conf Nat after he guided them to promotion last term was enough of a return on their investment. What the fuck is this? Dragons Den?
Then of course there was transfer deadline day. Nothing to do with us at this level but that wasn't going to stop me lurking about GGL with my collar up, yaddering into my mobey in the dark about how "the boy cheesey" was on his way for a fitness test. To be fair, even the Sutton Guardian didn't fall for that one but it was all over Radio Jackie and made about as much sense as the bollocks pumped out by Sky all day by a bloke clearly on amphetamines while some random joker jammed a dildo in his ear.
So, match day. I knew the wind was going to a factor when I got no further on my bike than the Savoy Grill just past the Gander before I was forced to turn back after a copper warned me that high sided vehicles were banned from the By-Pass due to the gales whipping in from the south. With Mrs Totts away for the weekend domestic chores were kept to the bare minimum of making sure there was a crate of Smirnoff Ice and a couple of sacks of Doritos to keep my girls fed and watered and I was off out the door.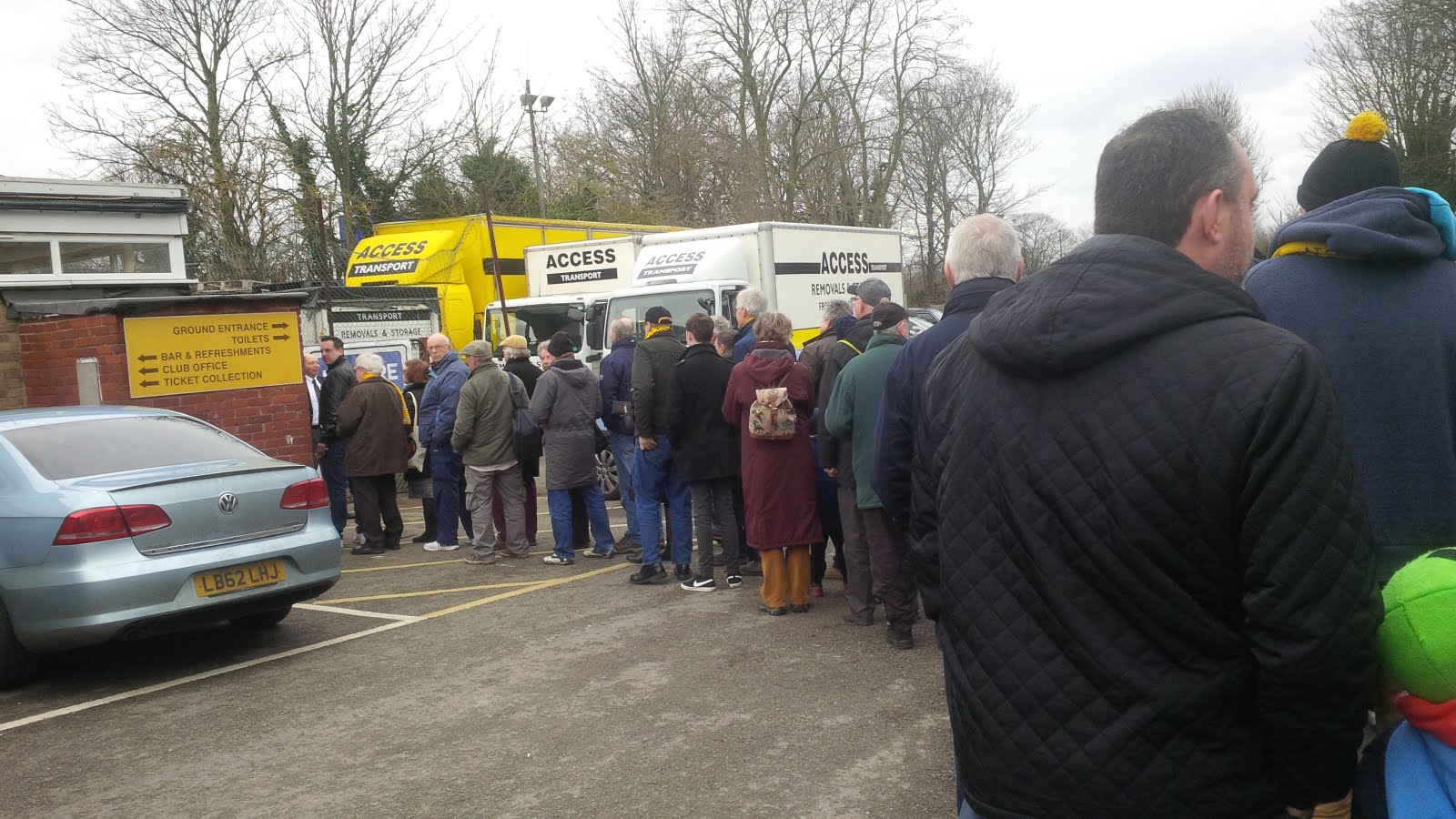 Busy busy busy.
I bumped into Paul from a couple of doors down on the pavement and we headed off up the Lane. I was surprised to see a fair old Bognor crowd outside the Plough who had clearly, and wisely in my view, ignored this Blogs top boy's guide to local boozers. Couldn't resist sticking my head round the door to see the place more packed than at anytime since I used to spin Angelic Upstarts tunes at the annual Valentines disco when Fat Ted was still the boss. Mad old days they were. Fearo will vouch for me.
And what a great sight the crowd queuing up all the way out the car park and onto the street nearly half hour before kick off. Lovely. I swerved past that and headed into the Alders Lounge to sign in for reporting duties with the Ed and grab a pint. Dukey had rocked up in his "pump up action man" get-up of work boots, camouflage pants and flight jacket. He'd even bought his "gripping hands" with him as he managed to get through pre match preparations without dropping a pint on the floor. Well done son.
Belly, who spent much of the day swigging from a hip flask full of some cough preparation containing anti-freeze and Babycham, offered the wise advice that "there will be no queue at the side entrance." Advice so wise that it was of course complete bollocks and there was a line longer than the one outside the Carshalton 99p Store on Black Friday. Luckily, club officials were knocking out fast track check-in briefs to anyone with the right money and having raided Greeks purse for a couple of sovereigns I was in and I was fucking pumped man I can tell you.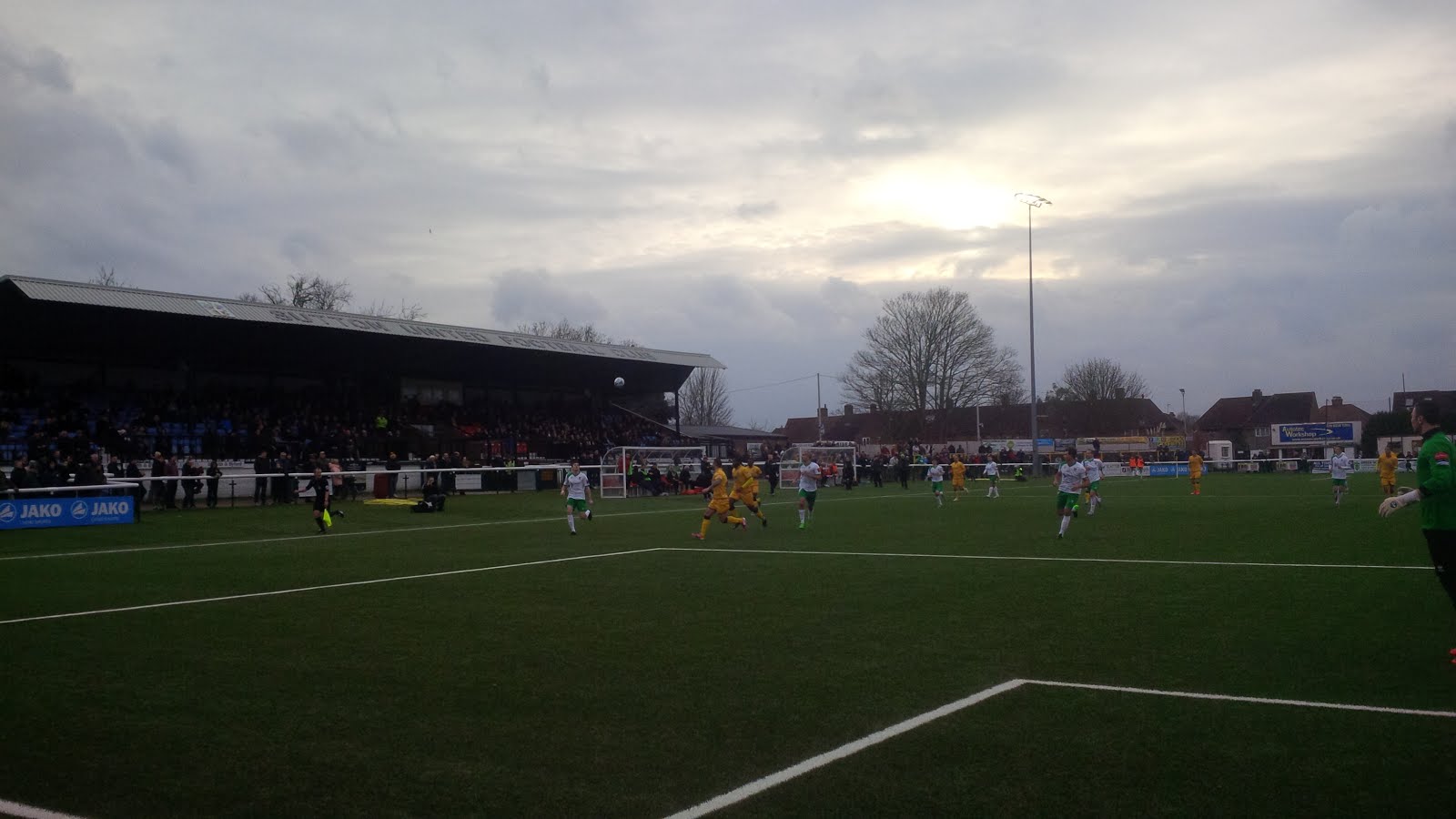 Gale Force.
Great atmosphere, couple hundred rockers and the place was buzzing. We probably had the best of the swirling wind first up and looked sharp enough although injuries had deprived us of Fitch and Macca and we had a makeshift frontline with Tombola pushing up with Dundo.
Best early chance game when Stearny did great work to chase down a ball heading for the goal line, hooked it back and a sharp volley from Dundo was just a bit to close to their keeper. But Bognor are a decent side as their form shows and after a great save from Ross at the other end we were all dead relieved to see their top striker bundle the ball wide when it looked nailed on for the opening goal.
But I think we deffo shaded the first half and should really have opened the scoring when Stearny blasted over just before half time when he really should have hit the target. So it was out the gate and back in the bar for a half time livener and the free "entertainment" of the rockers singing about how Bognor is wonderful and Worthing Town is full of shit. That was the new stuff I learned. Thanks for that lads.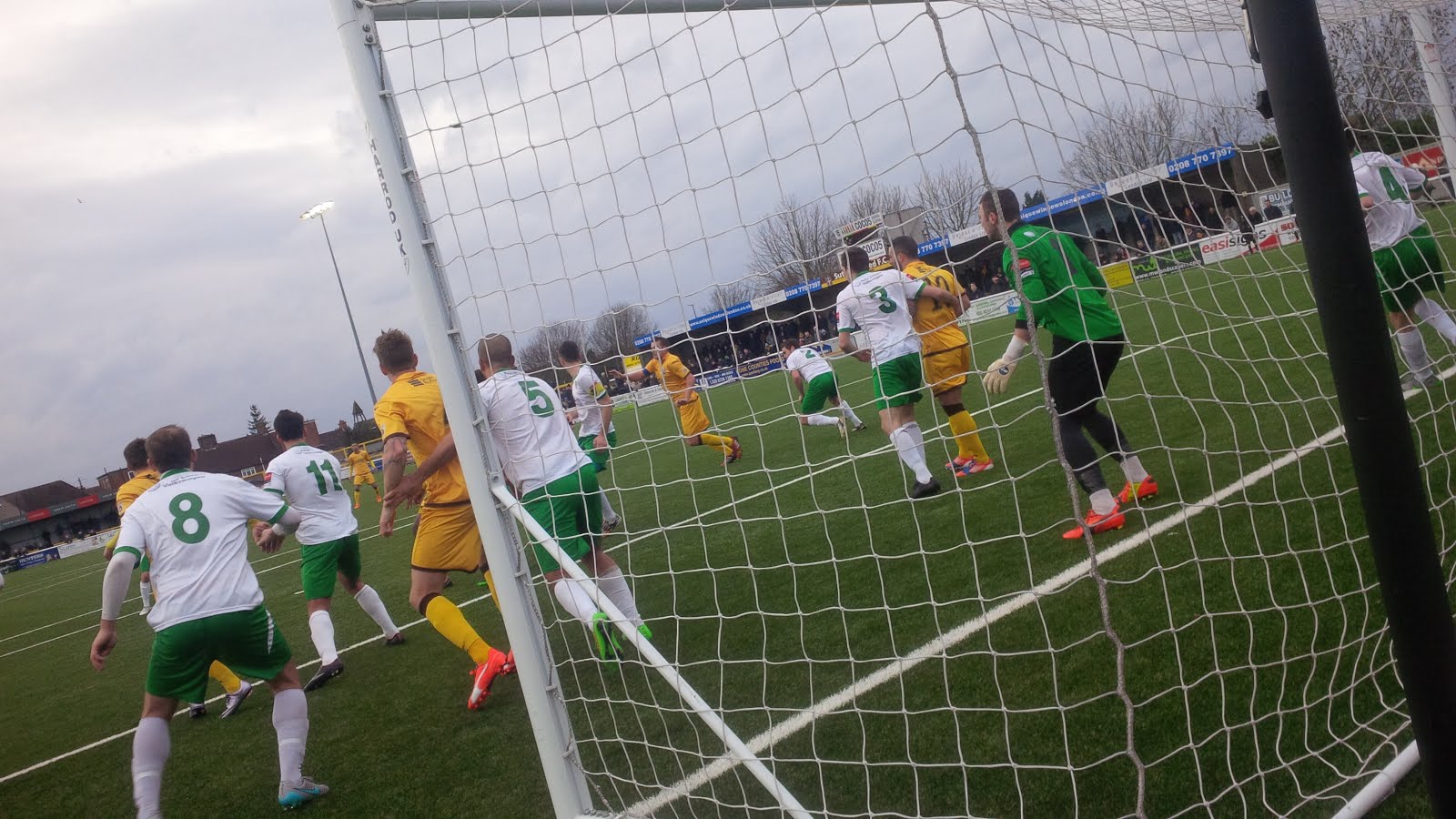 Actshun!
Second half and the wind had really got up and on the Shoebox we were literally clinging on for dear life. As was our team by the death. Bognor had the better of the second half as we just couldn't get the ball down and do much with it apart from a couple of brief spells when Tombola, moved back out wide with Fleets going up top, managed to skip through the defence but it was pretty meagre stuff.
At the other end Ross kept us in the game as Bognor sensed the chance of an upset and pinned us back, at times we found it damn hard to break out. Losing Eastmond was another knock we could have done without and Nicky Bailey, who had a superb first half, was fighting to hold the line against a strong Bognor midfield set up.
One ball that ended up over the bar at the rec end led to an interesting looking skirmish up on the bank with some little Herbert's who , from what I could see managed to leg it with the match ball despite sterling work from the Desert Boot King Marky N. Little buggers.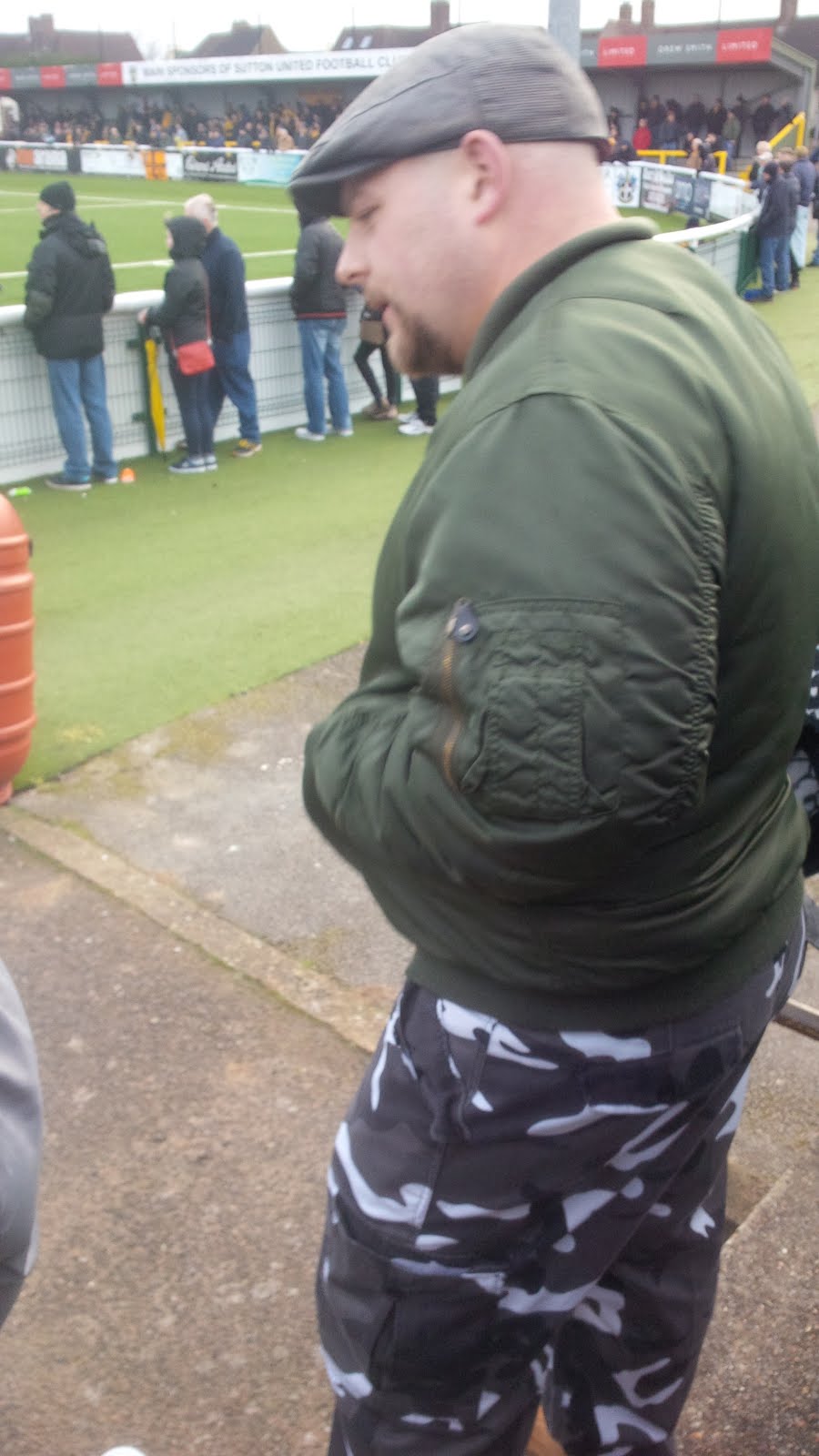 E17 had hit hard times lately…
Clinging on a bit? I think so and Bognor probably should have nicked it when they were gifted a free header that Dundo headed clear off the line. And that was that. Way short of a classic in the difficult wind and probably a fair result and it's off to the South coast Tuesday if the weather doesn't intervene. Thinking of getting a train down out of London after work so if anyone has got a spare seat in the motor back to the People's Republic after the match ping me a message via the old blog. I will see you right.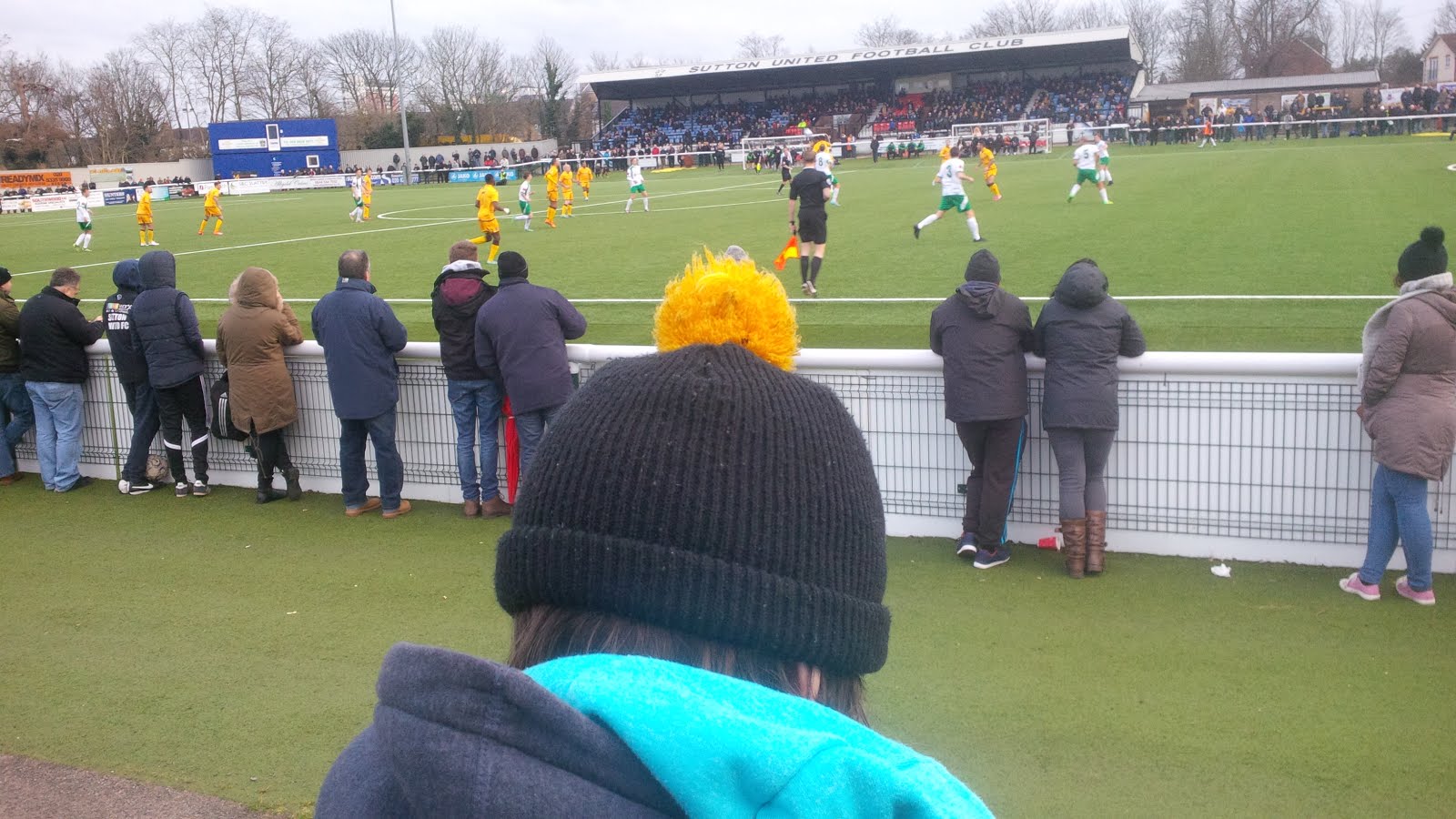 A terrible bobble
Sounds like we will be well stretched squad wise but on we go.
Totts