So, it takes us to the back end of February to finally see a new ground this season. I mean, it may be a poky little place in the arse end of nowhere (aka Woking), but it's somewhere new for us to go to. Oh but wait, two days before we are due to descend on Knaphill the game is reversed on account of the home team apparently being unable to hold the game on this new fancy surface called 'grass' they use. Well that's just fuckin' typical!
Do I mind? Well to be honest it's the Surrey Senior Cup and wherever that's being played I'll be there regardless. Fucked up my blog though, as I was going to give it large SSC-style and all that. Even had the unusual fact that, thanks to outsourcing by Woking County Council, the floodlights at Knaphill's gaff are allegedly controlled from a darkened room somewhere in the good old US of fuckin' A! How this is cheaper than a fella at the ground flicking a switch, I don't know.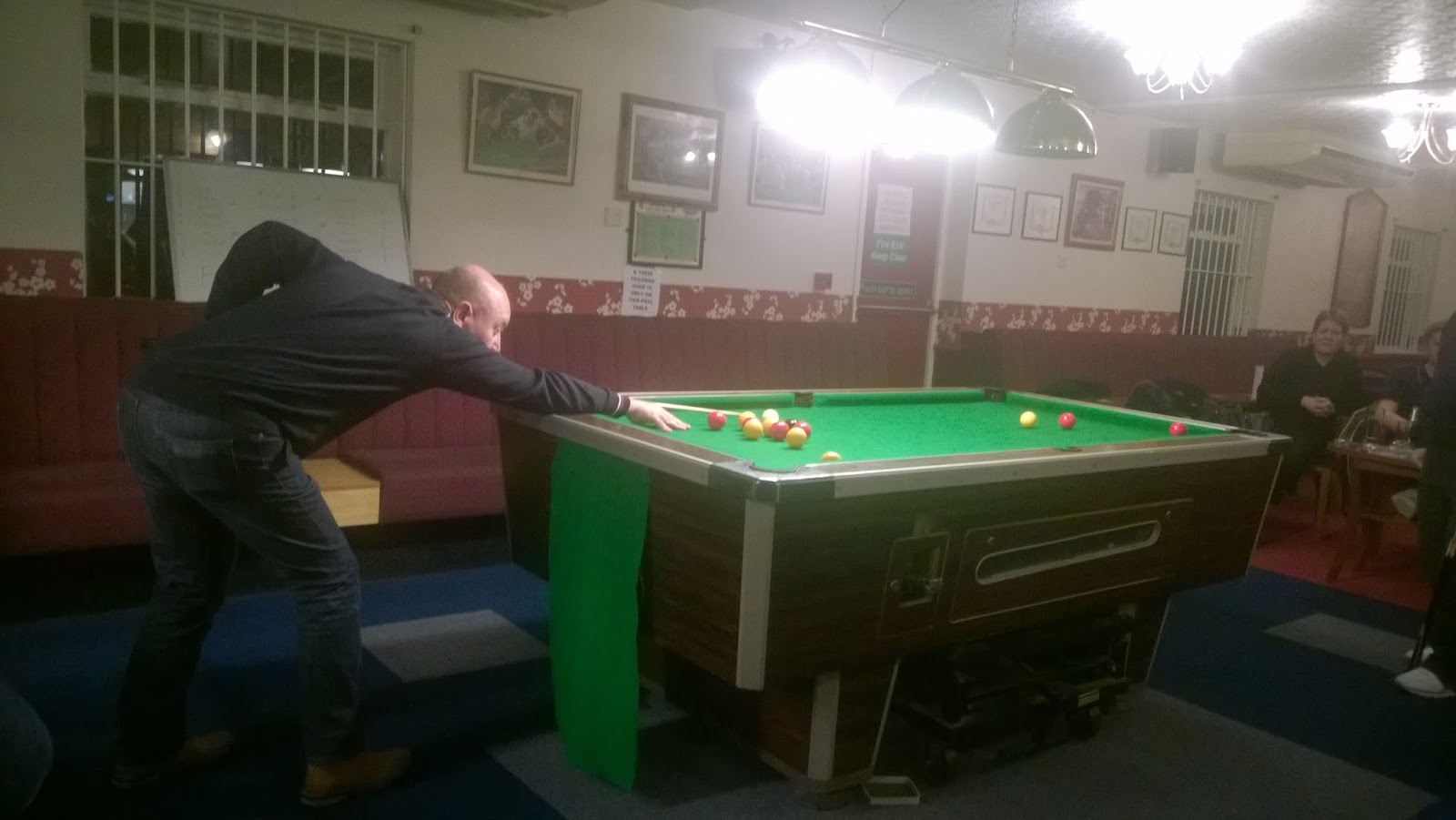 Failure in action.
After THAT goal on Saturday, the only two ways to prevent a spot of Hari Kari was to A: Get absolutely munted on Saturday night and B: Prevent another defeat against lower opposition on Tuesday. Needless to say part A was as successful as it was ever going to be and we had to hope that part B would go the same way as well. The only thing that stood in our was a club called Knaphill.
On Monday it was time again for some of the boys to embarrass themselves, their club and the proud People's Republic by losing at pool to the oiks from down the road. After a topsy-turvy match that swung both ways, it was down to Marky Mark & the Funky Bunch to seal a face saving draw in the final match of the night. And did he have good vibrations I hear you ask? Nope, lost it on the black!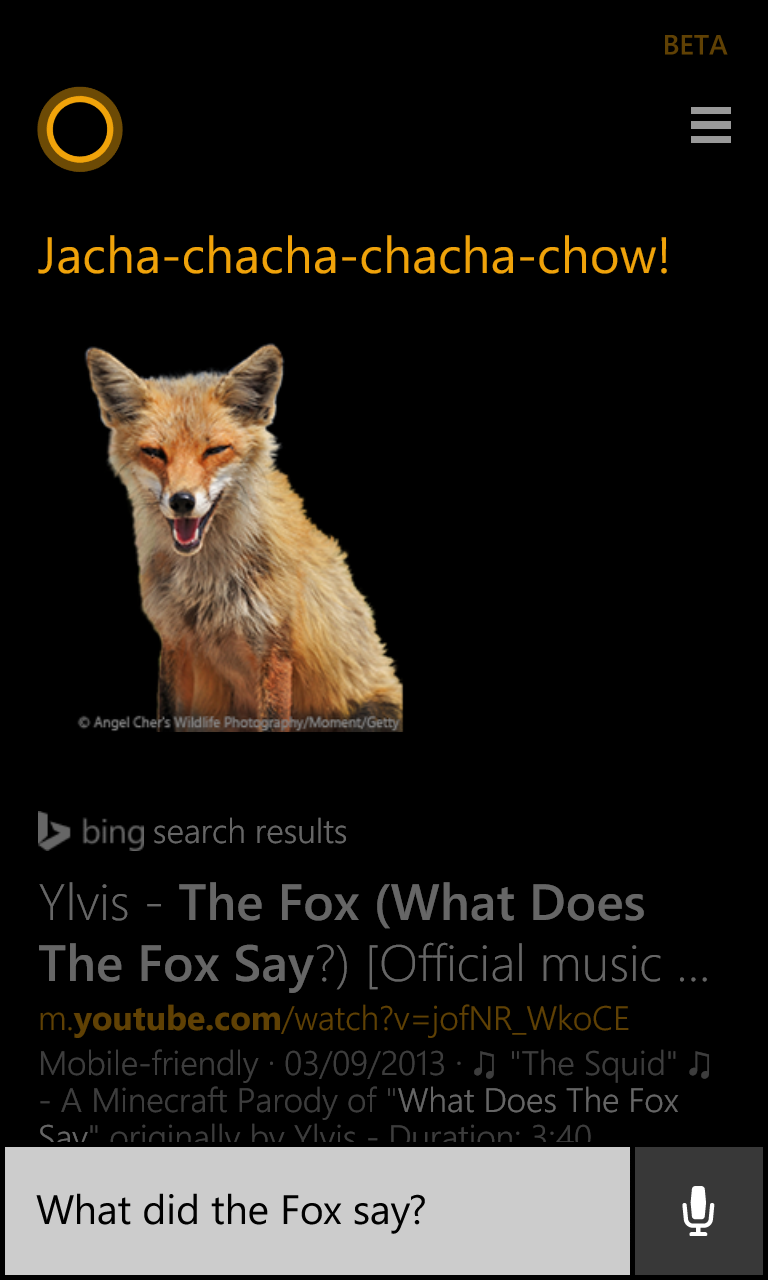 Just what we were thinking…
With the Firm Leader providing me with a lift to the match, all we had to do was an extra pick up in Sutton. As is always the case with The Firm Leader, the car conversation eventually descended into the usual debauched nonsense (and not before the usual Duke vs Cortana relationship chat). Tonight's Gandermonium business idea was as follows:
"The Duke's Pop-Up Karma Sutra! Now updated with all the latest positions. Those included range from the original 'Beached Whale' to the more experienced Flogging a Dead Horse"
With there no sign of Johnnie's Racket at the entrance of the car park we found a nice parking space close to the turnstiles and headed towards the bar. With only a quick drink allowed by the time, we took in the news of a stronger line-up than expected. Outside before the rest of the 126 other brave souls here tonight, I took in the atmosphere like a bolt of electricity.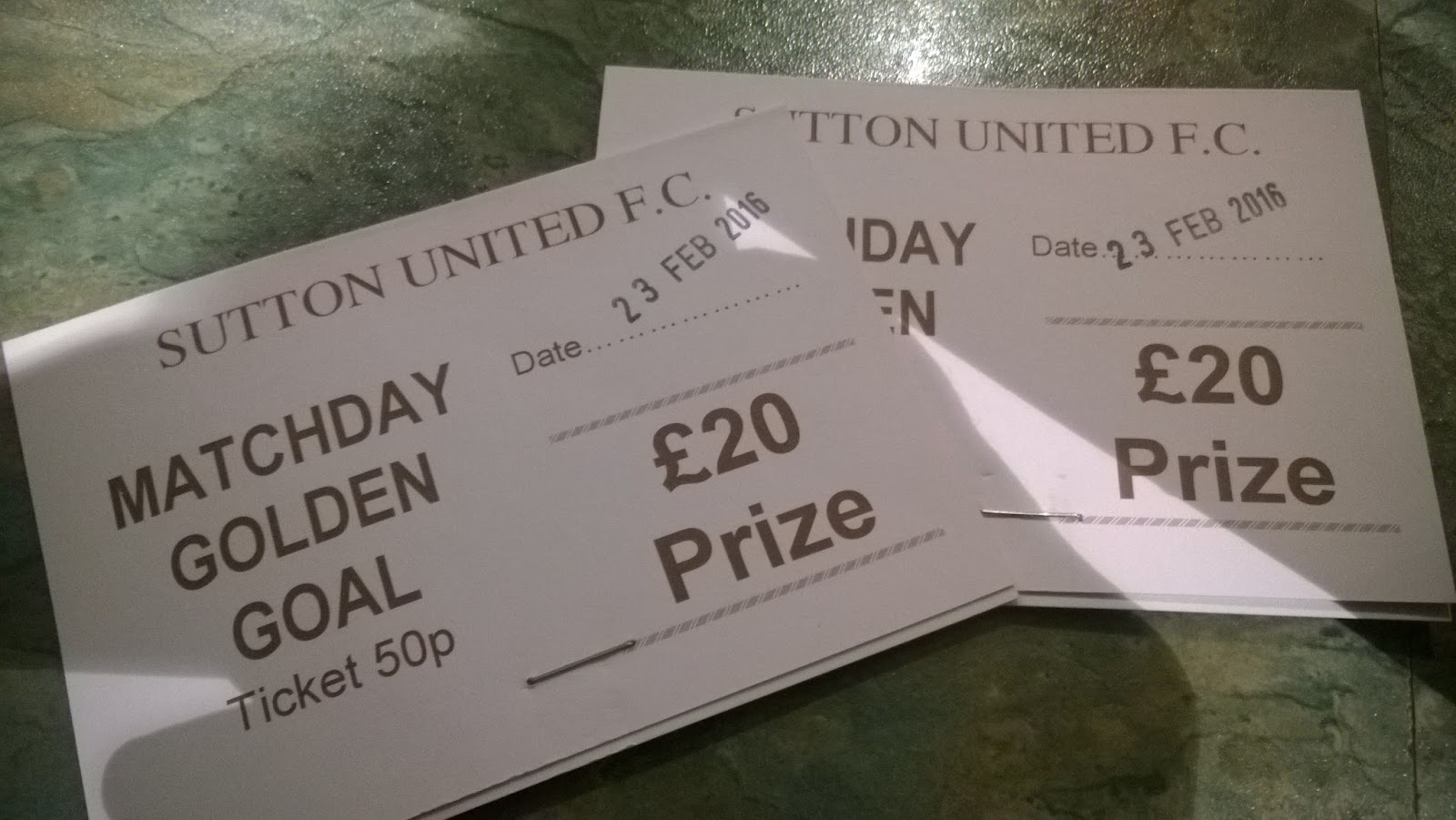 Didn't win.
Shaw, Spence, Wishart, Doswell, Cooper, Strange, Bolarinwa, Dillon, Dundas, Fleetwood, Wright. Bench Warmers: Anderson, Burke-Hamilton, Brown, Towner, Price.
Shooting down towards the Rec End, Sutton started like they meant business. With Bolarinwa doing most of the jogging, all the action came from down the right hand side. Several times he managed to shake off his marker only to see his ball either intercepted or over hit. Down the left Wishart seemed to struggle with his control.
With real chances far and few between, those in the crowd that were hoping for a good old morale booster after the weekend were sadly disappointed. With both teams defensively very tight and both attacks guilty of misplaced passes, a long night seemed on the cards. I don't recall Shaw having to make any real show stopping saves. Except for when he decided to showboat a back pass!
A couple of times Sutton got themselves into good positions with set pieces, Wright once again caused some problems with his pace and Fleetwood seemed to do everything except create the space for a shot. Even Dundas had two chances blocked as he tried to control the ball in a four man bundle a mere yard from the goal line.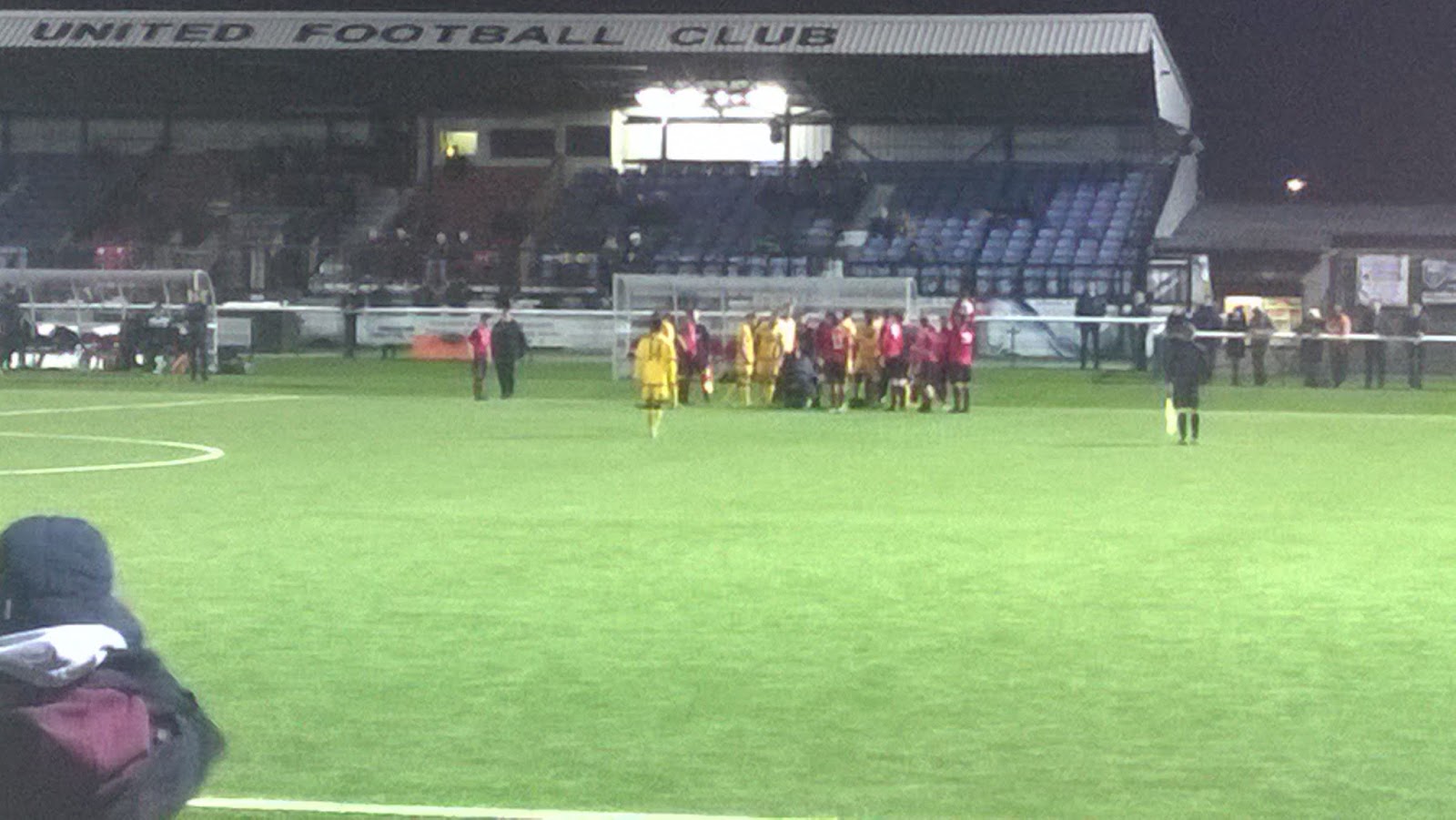 Hand. Bags.
Within seven minutes of the restart Sutton were ahead. Wishart for once managed to find a Sutton player with his corner when it was met by Doswell and his header sailed into the back of the net. 1-0! Eventually Wishart was replaced with Anderson and minutes later Bolarinwa was subbed for Burke-Hamilton.
The Knaphill number ten was a right little moaner and several times he winged just like the Bognor players from the other week. There was one little spot of handbags to cheer us up, when a Knaphill player kicked out. This started a 19 men pillow fight that only stopped once Shaw had strutted up all the way from his box. For our troubles Fleetwood got the solitary booking. The final Sutton sub was made when Dillon came off for Brown.
The best chance sine the goal eventually fell to the Legend that is Dundo. His quest for 100 Sutton goals continues but he very nearly had his 96th. I'm not too sure if either hooked the ball behind him, or turned and looped the ball. But either way, his shot managed to sail over everyone and hit the base of the far post, much to the surprise of those on the Shoebox. After this, the last few minutes petered out and the final whistle was met with a cheer from those still here.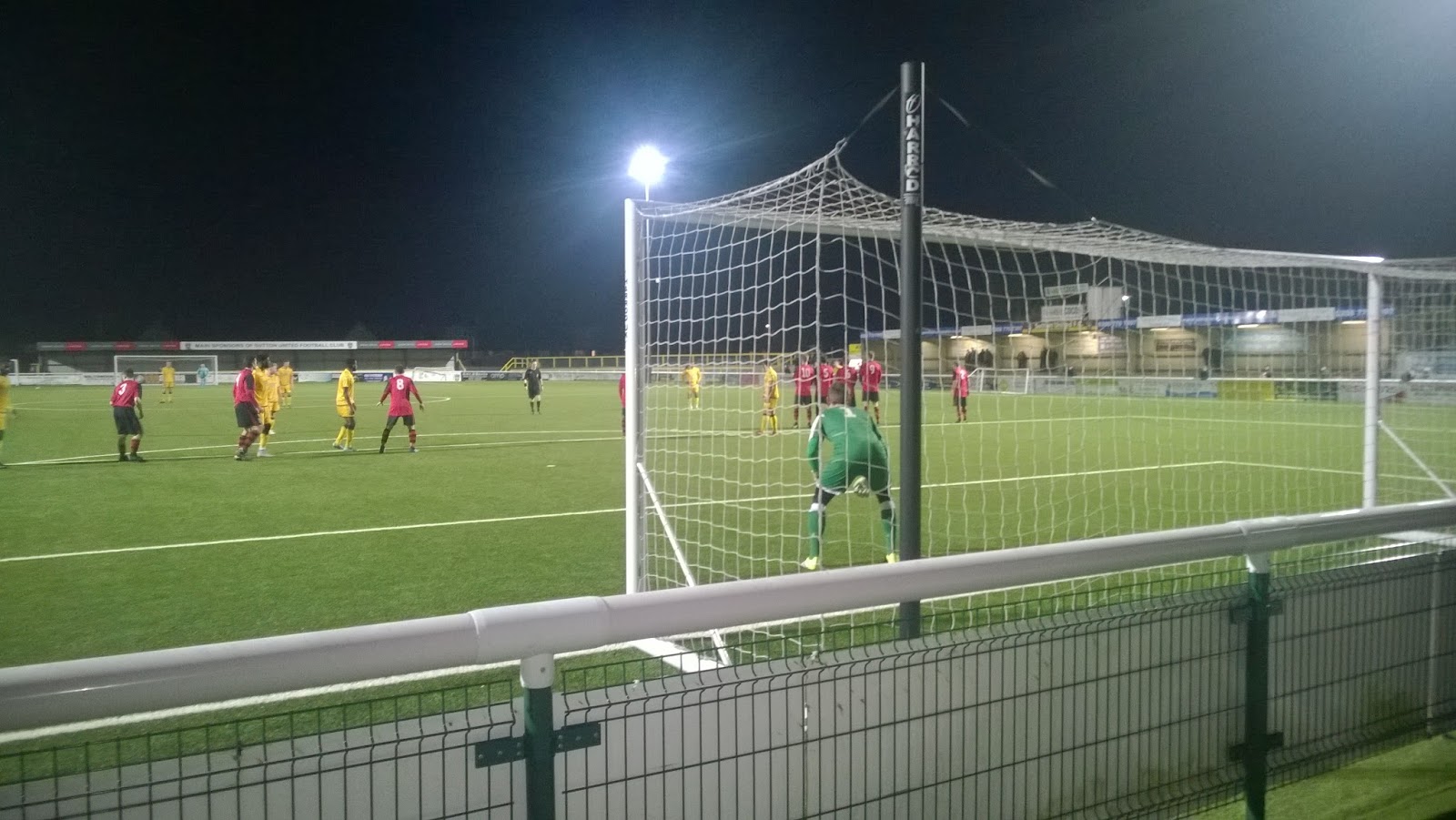 Action. Sort of.
After the game, and with no 4 Days present, I had to do the nets all on my lonesome but warmed myself up with several pints of the local house cider. Looking at the results from elsewhere we saw no one had really made up any ground so we can go into the game against Margate knowing exactly what we need to do. With Bishop's Stortford now postponed, and another round of the cup to squeeze in, its surprising that we are now running out of free weeks. Considering that we play on Fred Gee and we've only had two matches postponed away!
You would think that going from the ground back home would be quick enough. Well, usually it is except when you have to give a lift to Southampton "I play pool most weeks, yet couldn't win any of my matches against the Scummers" Steve back to his digs in Croydon. Still, the most important thing to know is the draw for the semi-final (I'll say that again!), the draw for the semi-final of the Surrey Senior Cup is next Friday. So that'll be Woking away then?
Now Cortana, What Did The Fox Say?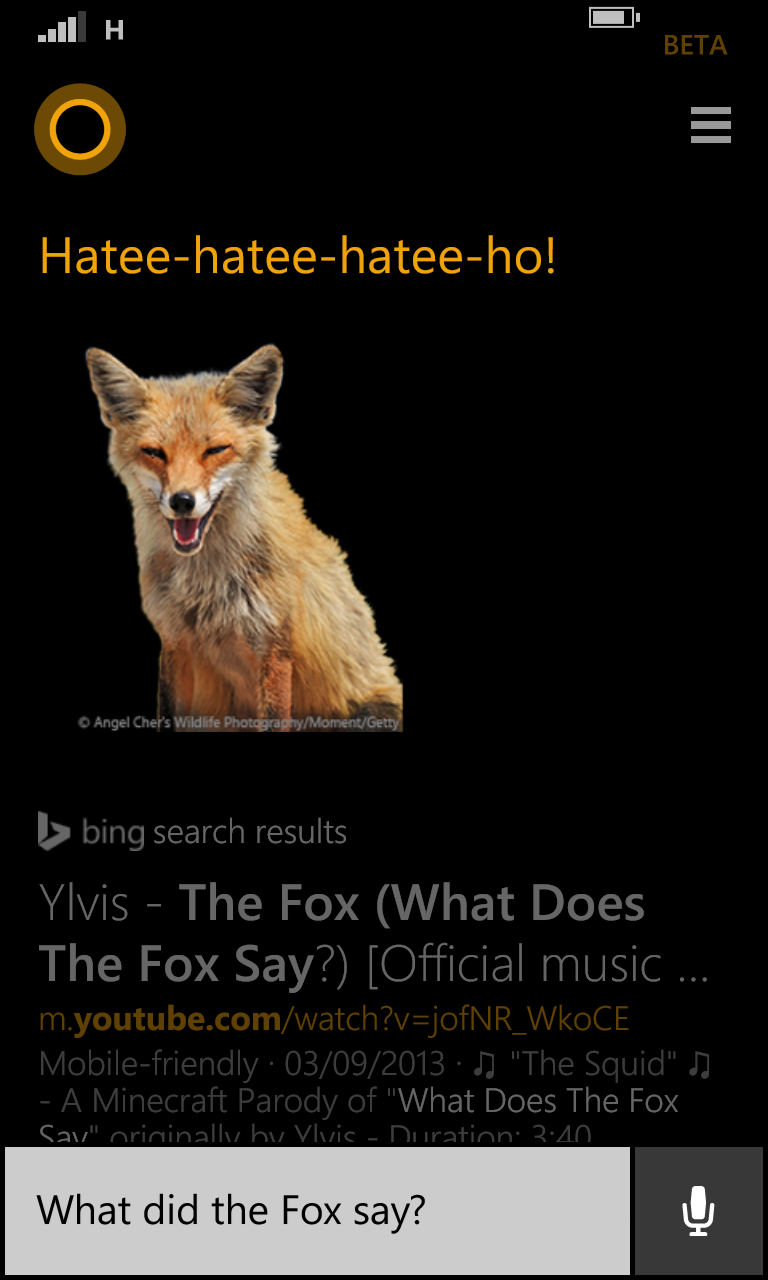 Is this shit still going?
Duke
Att. 127