And so another exit from the FA Cup. It is a shame that we didn't make the mighty first round and its also a shame we didn't play quite as good as we can. But unlike a defeat in the great Surrey Senior Cup, I cannot say that I was disappointed or disheartened. To be brutally honest I think I was more pissed at the stewarding than anything else.
Its always good to start a story from the beginning, because I don't know about you but I find it easier to understand it that way. The plan was simple, jump on the 0932hrs up to Clapham and then out to Farnham where we were to have a few cheeky jars. After last week's fuck up, the first thing I had to remember was my phone.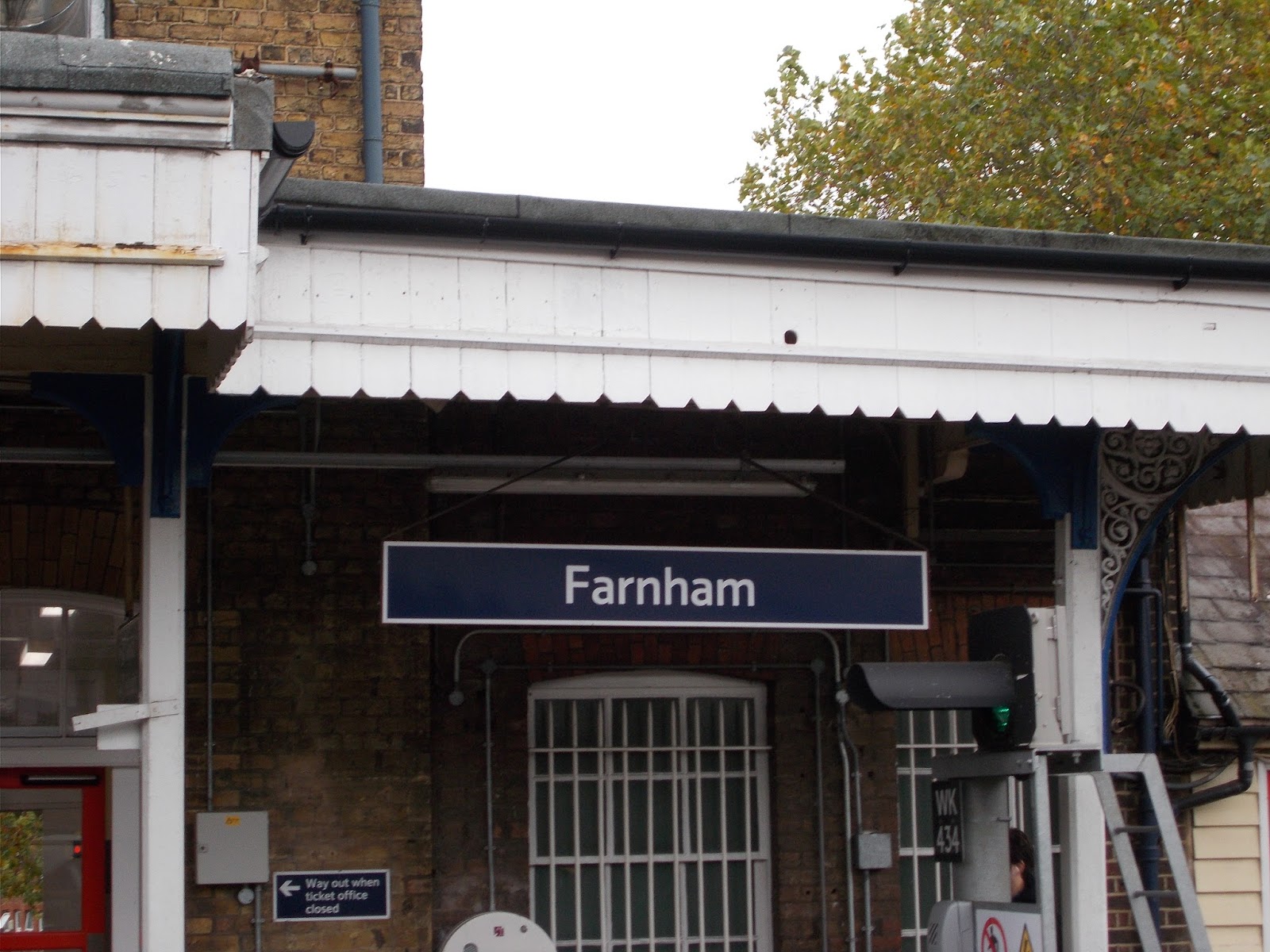 Poor, unsuspecting Farnham….
Surprisingly I did remember it this time. Arriving at the station first, I was soon joined by Taz, 4 Days & Little Chris. With tickets being sorted out at Clapham by Mr X, the only trip I had to sort out was to Clapham and back. Simples? Well lets see. On the train from Sutton was some of the usual faces. With another pick up at Hackbridge, Southampton Steve was due to jump on at Mitcham Junction. Did he make it? Did he fuck! Apparently missing trains was going to be a common theme for today.
As some of you are aware, last week had my half empty head filled with some early 90s rap music in the awful song "Short, Short, Man". Well, I managed to get something completely different this week inside me old nugget. Lets just call it a "Scandinavian Produced Novelty Electronic Song" and the only way to possibly describe it is for you to watch this video…
Of course I shared this with the group and infected their minds too. Now every once in a while throughout the day someone would announce "What did the fox say" or even hum some bars. We made it to Clapham with a few minutes to spare & Mr X was awaiting us with his two cups of Rosie & the tickets. For once we actually had some seats to sit on and the train left accordingly. Of course this mug had forgotten to tap out his oyster card and was forced to pay the maximum. Eight pound bleedin' nintey. Some of us aren't made of money!
As Farnham was our port of call we got pub expert and local lad Amber Aleman to show us the ropes. Of course we saw several different styles of battle cruiser on the way. The first Pub was "The Lamb", mainly as this was the only place open at eleven. Here was where Steve finally caught up with us. The next pub was the "William Cobbett" about 20 yards away which happened to be the first pub Aleman ever went to and where he had his first pint.
He even went further in this pub to regail us with a tale of his accusation of dabbling in a spot of Indecent Exposure by some of the boys in blue the night previously. If only it was true, but it was a case of mistaken identity apparently. Even Chalmers joined us here and after a couple of more pints we headed on to "The Queens Head".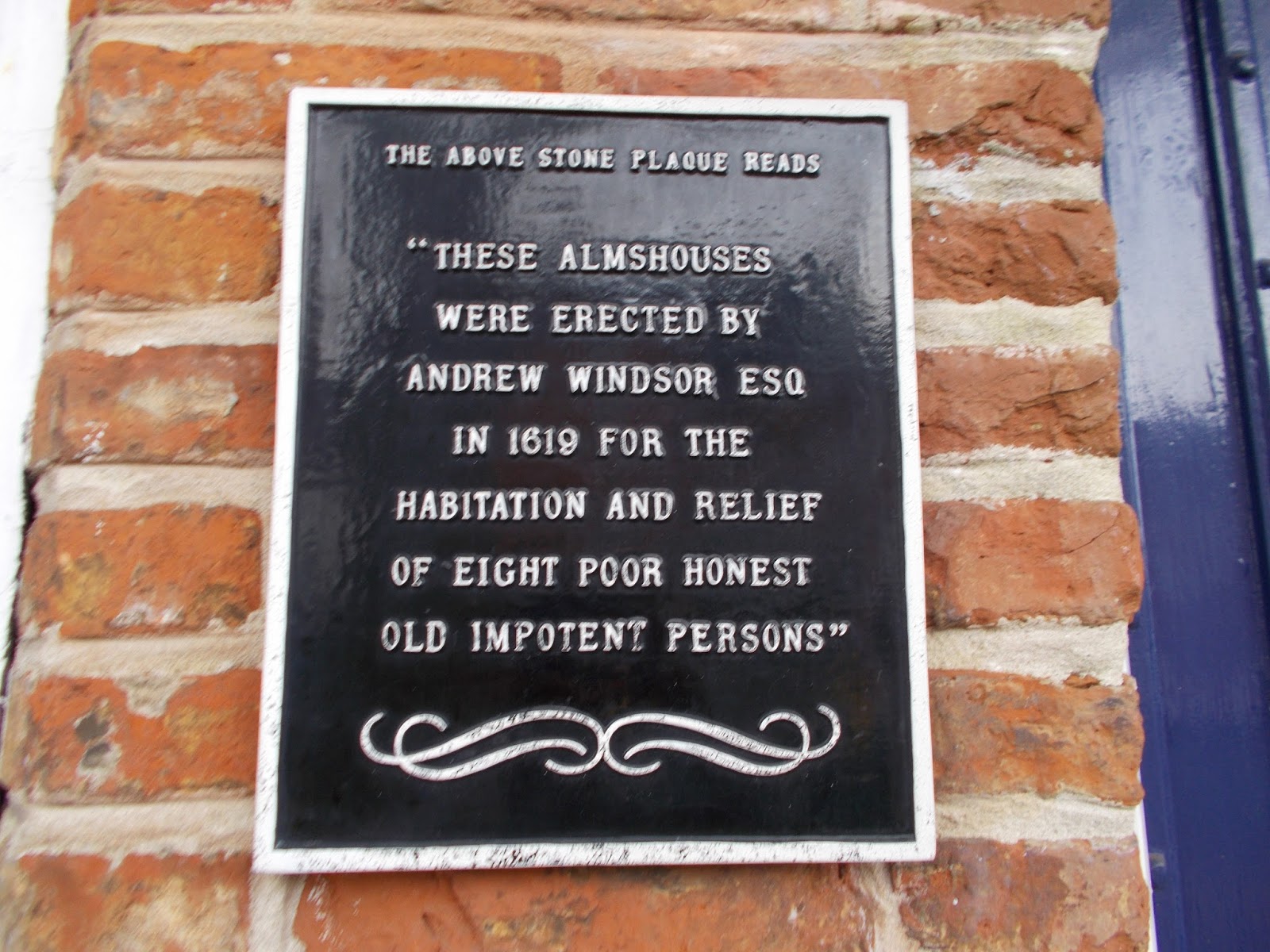 "Right, there's 9 of us. Who's missing out?"
The final stop of the day was the Nelson where we found out that we couldn't get a taxi for love nor money, even Aleman couldn't get a break despite all his local knowledge. The only option left was to hike back to the station and jump back on the train. This time we actually all made it and arrived in the pit that is Aldershot in good time. The ground isn't that far away and before long we approached turnstyle 4.
As we were told beforehand that we would get a sizable portion of the ground and one turnstyle for the away fans. However, news had begun to reach us earlier in the day from the advance parties that there was only one small section of seating and no terracing available to us. The first issue was that there appeared to be three turnstyles open and there were plenty of Sutton colours making use of 'em. Inside the ground, we made our way to the bar for a cheeky short while we decided what to do.
When we left we found upon entering the stand that the seating section was already filled before those in the bar had made their way out, it was clear that there wasn't enough room for the 211 (announced) fans that had made the trip. Lucky for them Gandermonium in association with a high ranking delegation from the People's Republic of West Sutton managed to get a head of steam around us and forced the stewards to open the terrace despite the terrible dangers of the deadly slippery moss on it. Within a matter of minutes that was filled as we awaited the game to begin.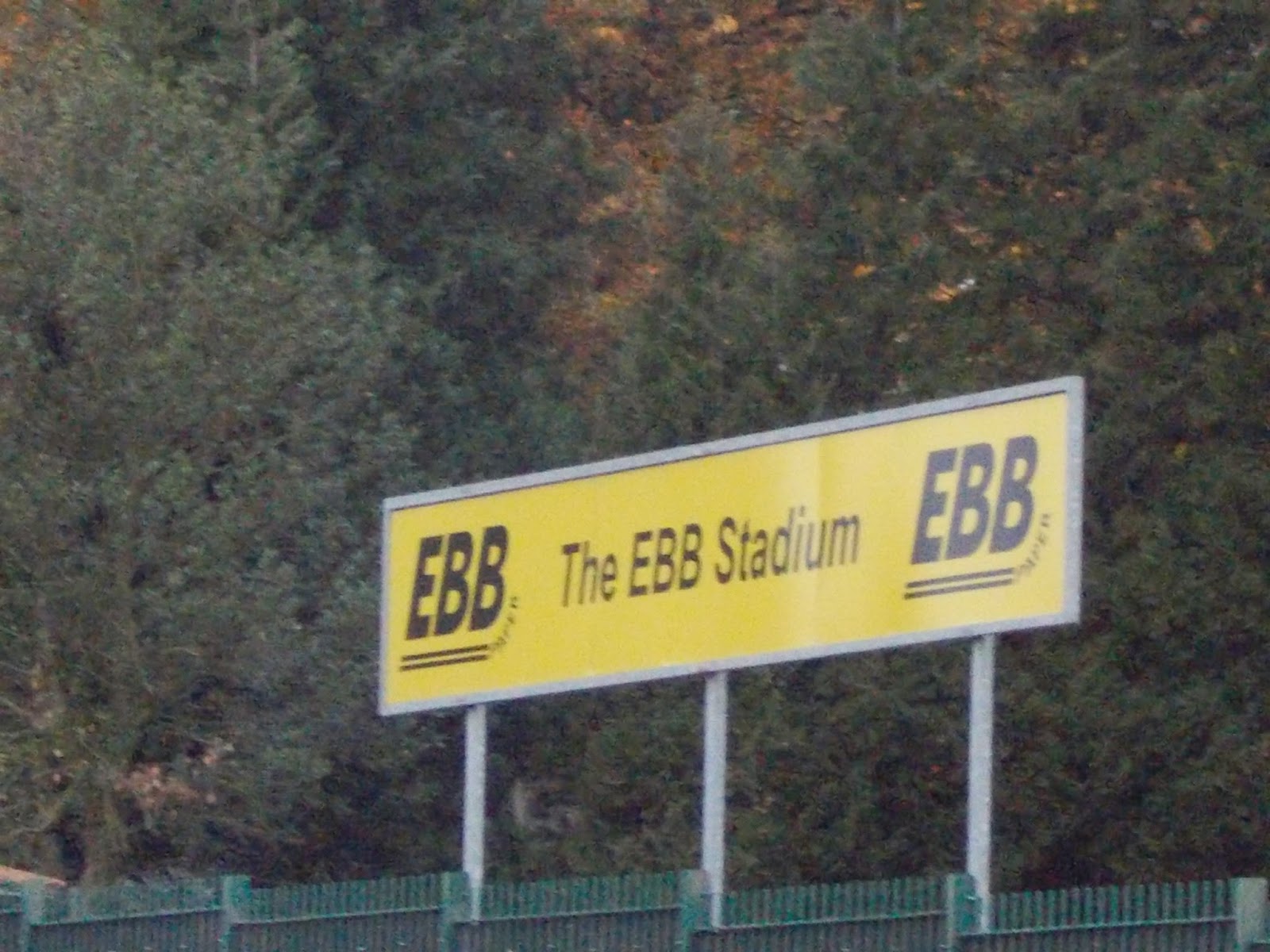 It's a sign! Again….
Worner, Amankwaah, Wishart, Beckwith, Eastmond, Collins, Bolarinwa, Gomis, McAllister, Fitchett, Stearn. Bench warmers: Fleetwood, Dundas, Cooper, John, Shaw
Lets face it, it wasn't a classic of a match. The fact that there was only two shots on target all game, and they came from the home team. Bolarinwa was a constant threat down the right hand side and only the final ball was missing. There was also several free kicks that were left wanting, with Stearn's being the closest in the first half.
There was also a worrying moment when Worner went down holding his back after taking a goal kick. Luckily for us he seemed to shake off that niggle and carry on in between the sticks. For the home team it was also a lacklustre affair. They too failed to produce any shots on target and they even made a change around the half hour mark to try & shake things up.
With half time fast approaching we sent Dr Bell off to the bar for the half time round. After asking for a Vodka & Orange, I got a Cider instead! And he calls himself a bleedin' doctor! Much of the consensus was that the game was evenly balanced and that if anything, we would be able to at least take Aldershot back to the Theatre of Dreams.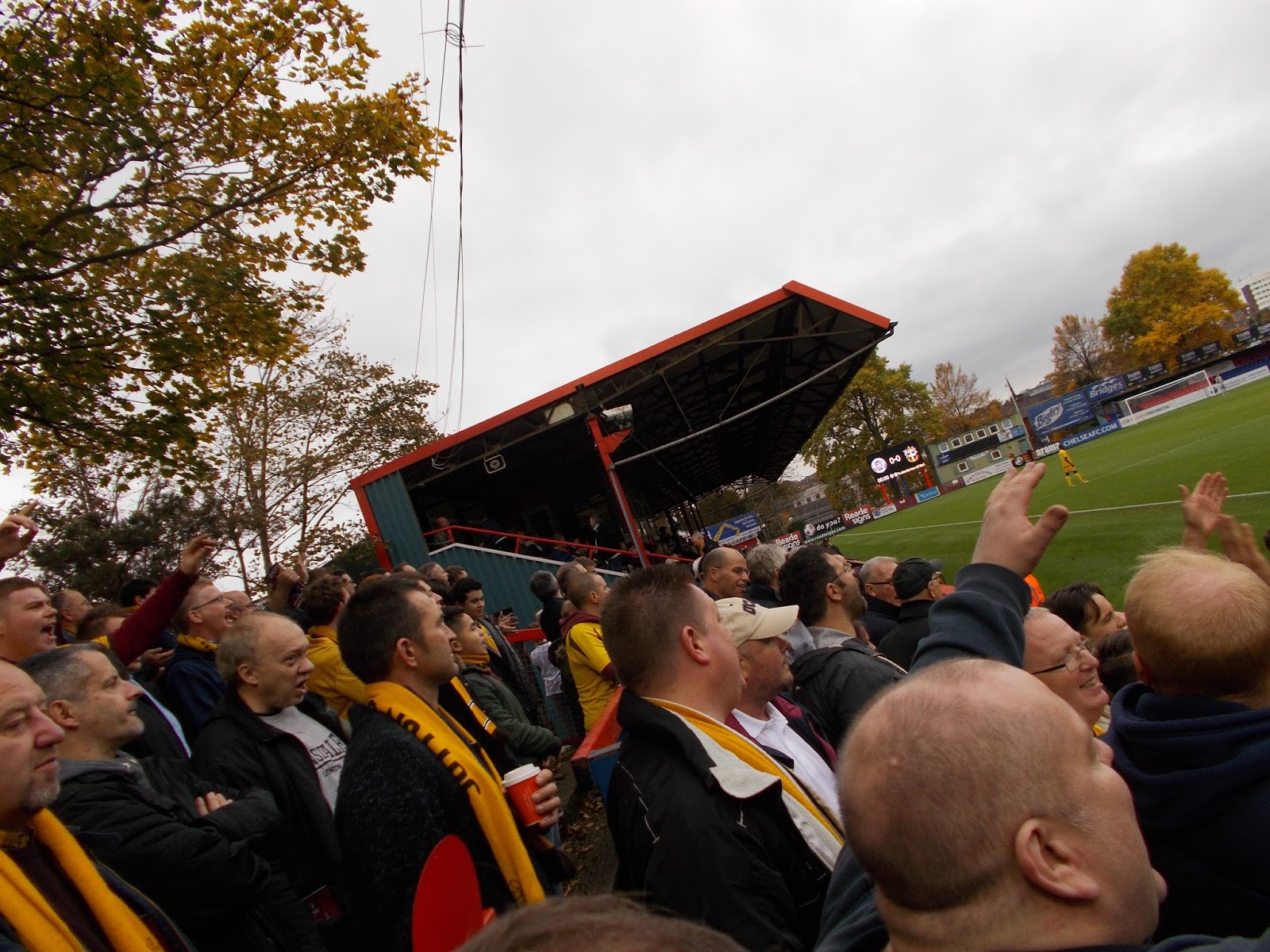 Lots of people standing on lethal moss!!
Taking exactly the same spot on the terrace, we got to watch the second half of the match from the wrong end. I can tell you that it is an unusual experience to watch Sutton defend. Aldershot seemed to be a bit more composed in the second half but for the first twenty minutes both teams cancelled each other out in an even midfield contest.
With a less effective Bolarinwa moved to the right of the field, we were somewhat surprised that Stearn was replaced with Fleetweed as we approached the last twenty minutes. Watching a Sutton attack fall apart, suddenly Aldershot were on the attack themselves. With no defender seemly wanting to close the ball down we gave the fella too much space to loft the ball into the back of the net. Although I think it got a bit of a deflection to help it past Ross.
I did feel that with that goal the game was over, but credit to the team they huffed and puffed and tried to get back into it. Dundo was brought on for Fitchett and we went for a more attacking line-up. Yellows for Gomis & Collins kept up our disciplinary record and we could've been two down but not for an excellent save from Worner in the last few minutes.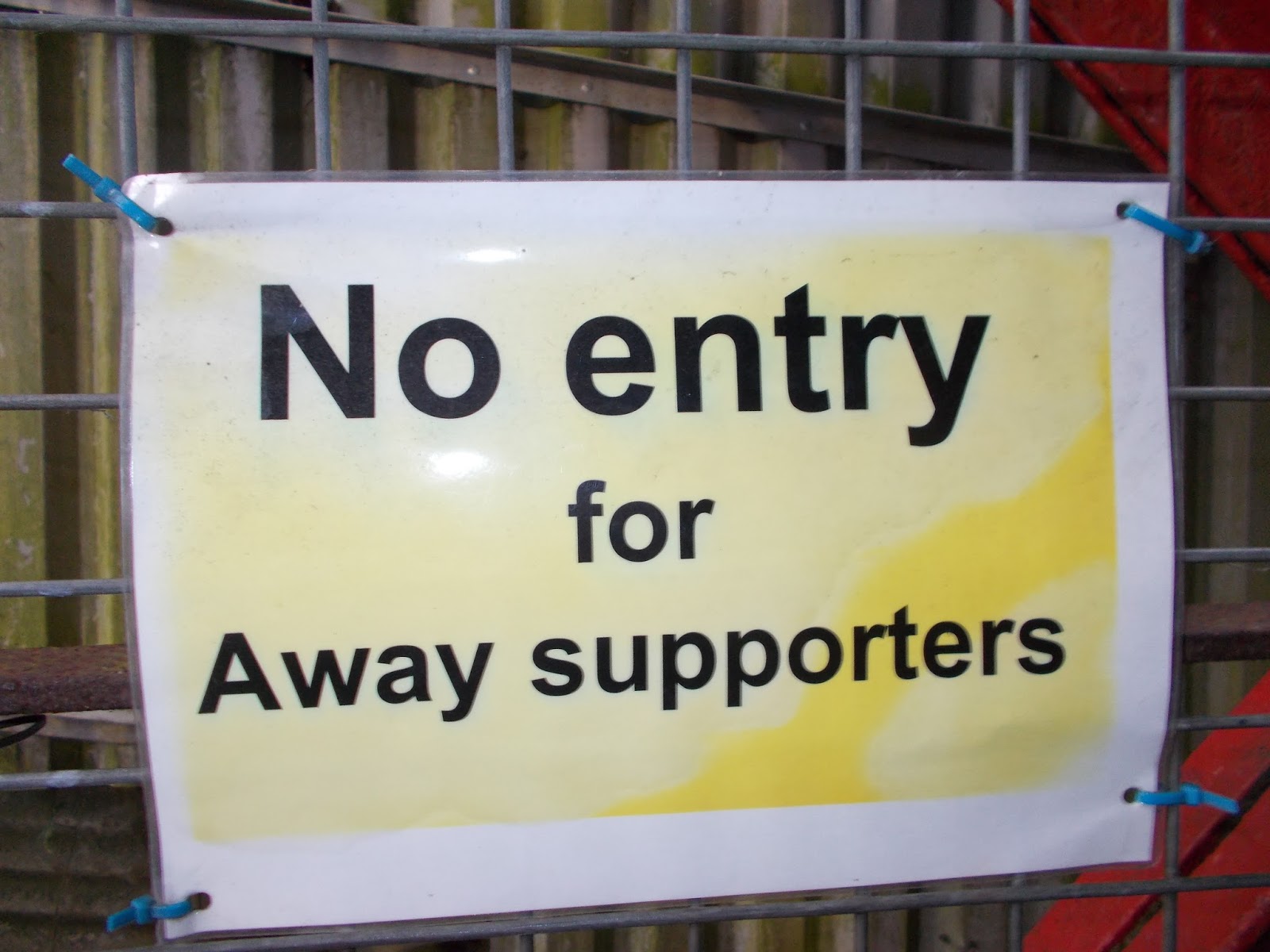 Wanna fucking bet?
After the match we had to get out of dodge. With a train due in 15 minutes time, we started to make the trip. After a quick piss stop, I managed to lose most of the Firm on the journey. Keeping Sean Connery company and meeting up with Totter, we headed towards the station. Taz soon caught up and when we hit the station, we then realised that we were on the wrong platform just as the train pulled out with everyone else on it.
Most Sutton fans were heading towards Waterloo, but the Firm was going the other way to Guildford. With twenty minutes to kill, there was but only one option but to hit up the local convenience store and grab a four pack of Totter's very own favourite Red Stripe. Sean managed to grab an export strength bottle of Stout and a packet of chocolateTea cakes. God knows what his guts are like in the mornings.
With the rest of the Firm waiting at the Guildford 'Spoons for us, we said goodbye to Totts here as he had to get back to the Republic sharpish to assist in the arrival of a VIP from abroad. The heavens had opened by the time we arrived and we of course got soaked making the quick trip around the corner to the boozer. There was time for a quick beer to discuss our plan of action and also for Chalmers to win a ton on a one arm bandit before we headed for a train to Wimbledon. A sign of the absurdity of the Firm is that one minute we are once again watching "The Fox Song" on a mobile and then moments later someone is having a watch of the live TV death of the late great Tommy Cooper. Youtube, you have much to answer for.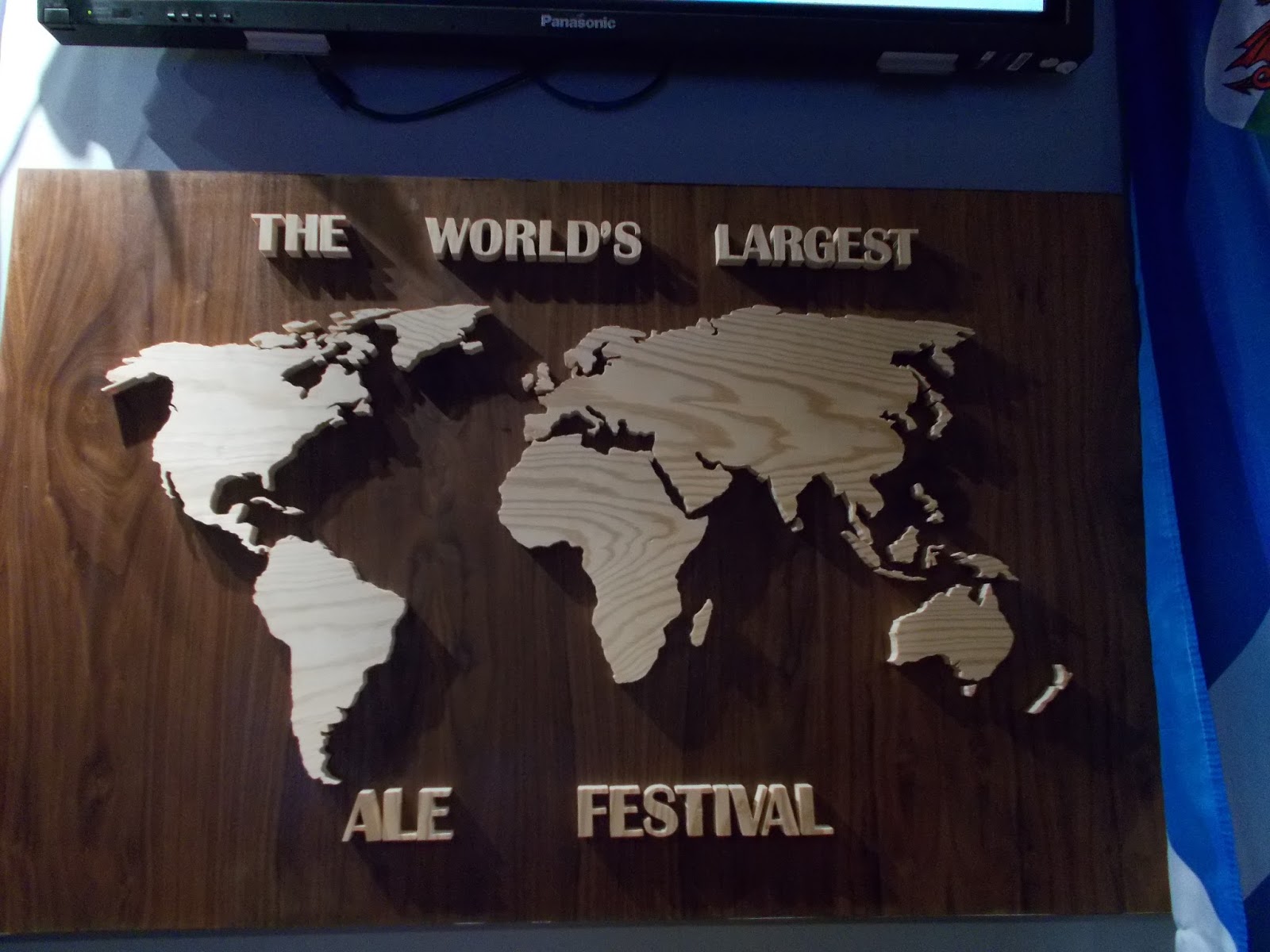 The world!
Most of the Firm left us at Wimbledon to head home when we got there but the four that remained headed for a spot of curry to line the stomachs. Surprisingly nice and cheap, there was some collateral damage to take as I got half of it down my top (as usual) and won a fiver off Mr X in a Lime Pickle challenge (the effects on Sunday morning were proof of this!).
It was decided to get back to Sutton from here & on the walk back to the station, Steve commented that we'd just missed the train. The only option after this news was to have a quick cigarette. Whilst doing this Mr X motioned to me to hurry up as he'd lost sight of the other two. Making it to the platform, We saw the red lights of the back of our train as it made its way off. Once again we'd missed a bloody train!
After a quick snifter in the Prince of Les, we did finally manage to catch up with the other two, who were themselves drinking in O'Neills. Whilst we were finishing our cigarettes outside, we were approached by two women seeking a lighter. After some discussions one noticed our tops. The next question to follow surprised even me. "Are you Gandermonium?" Wow I thought to myself, a genuine follower whom I didn't recognise!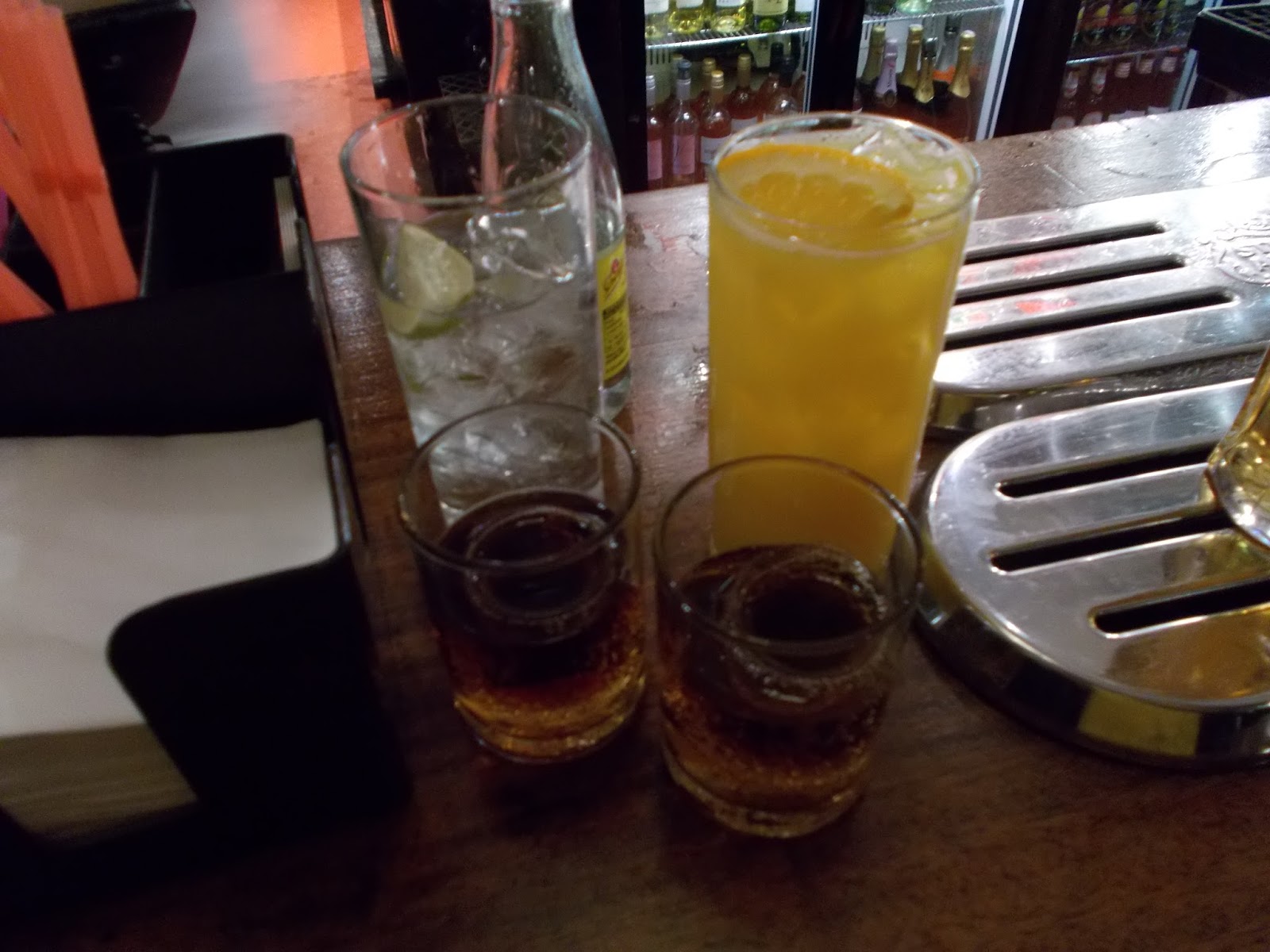 Light refreshments.
Further talk managed to reveal that she resided not too far from Mr X's humble abode and that she was a Fulham season ticket holder. I also promised her that she would get a mention in this here report as she was an avid follower, Or as she put it "a Gandermonium Groupie". She did have one question to ask us though, "Does what you write, actually really happen?". Well, everyone knows the answer to that!
So with the end of the night fast approaching and Taz laughing uncontrollably to a comment regarding 1970s pubic hair, we decided to call it a night. After seeing off Steve onto the last X26 back east, and copping a five minute speech from a fella who just wanted to ponce a couple of quid for a few tins, me & Taz finally made it to the cab rank. As like last week there was a sherbet ready and waiting for us. Well, we are regulars! It wasn't a surprise that most of the journey was used to discuss the going on's of 226 Carshalton Road. Sutton's premier adult entertainment and swinging establishment.
As always, after a defeat I will leave you with another classic from the Fast Show. Eastbourne away next week and you won't guess who'll be covering that match. Oh wait you will!
Duke
Att. 1471