Well where to start with this one then eh? First part of a double header
against Hemel (today's league game and then next Saturday in the F.A Cup up at theirs). Dukey needing a little bit of break from being a keyboard warrior and it was I who
was slung to the forefront to bring you this weekend's league fixture. Anyway
before all that guff, let me fill you in on some events in Juan's life in the past
week and trust me, they are as boring as ever.
As some of you know I spent the last year restoring the old
MK1 Golf. And well she's now gone. Sold up and off to a new home. So with money from the sale burning a hole in my back pocket I of course went out and got myself a brand spanking new VW.
Yeah perfect timing as always Juan. You must have seen the latest news reports on VW, seems they've had some 'emissions problems' you could say. And not like the ones Dukey has on a Sunday morning. So I'm sitting here
waiting on the postman to drop my VW recall letter through the post box any
day now! GREAT!
Any ways back to football stuff. Now, I've got the company of my young
niece and nephew for the day and seeing as my niece is not at all interested in Non-League football (sensible girl) she was left with Nanny to do whatever Nanny's do whilst myself, young George and the Old man headed off to the game.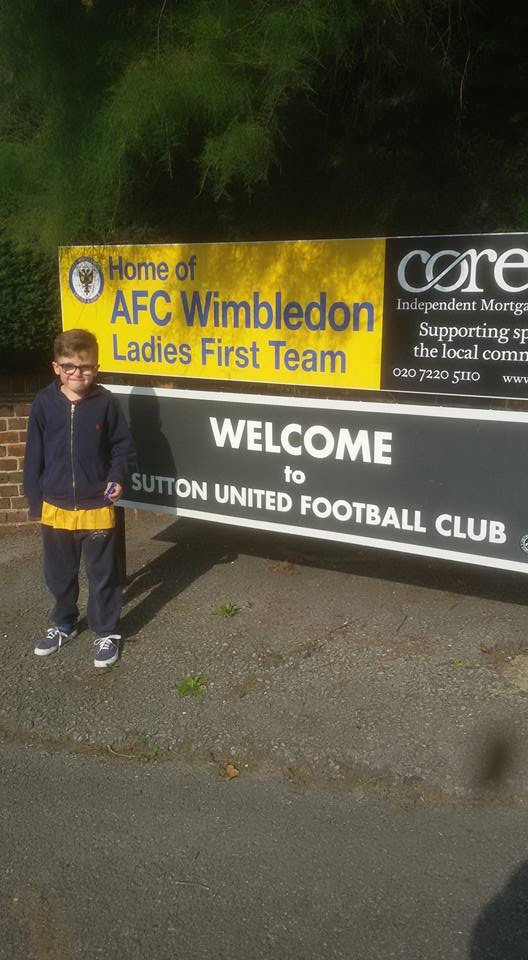 Only misery awaits you child.
The News came through on the Gandermonium WhatsApp
group that the kick off was going to be delayed due to the officials being stuck
on the M4 or some shit. Sounds to me like the ref fancied an extra hours kip this
morning. Weird how we've got a couple of players from down that way and they were at GGL bright & early though. So arriving down at the Lane with an hour longer than expected to kill, I now had to work out how you keep an
8 year old entertained. Well, you buy him a football, that's what you do. And you
teach him a few Dukey skills. Now I say 'skills', please be advised that's a
loose term. It's more what you could describe it as a Dukey SMASH tackle
technique. 30 minutes or so passed and with me starting to sweat out a bit
playing football against an 8 year old it was time to call it a day and try
and have a catch up with some familiar faces.
First up was old man Frank (aka. Dukey's
Dad) who had ventured down for another home tie (seems the home fixture bug has
returned to him after missing out on pretty much the whole season last year). Next I managed to catch up with Totts who'd appeared and had a brief chat
about the officials turning up late and how ironic it would be if they then turned
out to be utter shit (These are Conf South officials we're talking about here Juan FFS! – Ed). How true that bell rang during the game eh Totts? Any
chance you could also predict the Euro Million's draw for me on Friday please
fella?
With a further 15 minutes to kill until kick off, Frakey
popped up, and it was good to have a quick gas with the History Man before the
early signs of George's boredom kicked in, so it was off to Rose's Tea hut for a refreshing, low sugar, no E-numbers based drink.
With the coin tossed and the Shoebox again rammed to the
hilt, the game was underway. It took us at least ten or so minutes to get a
foothold as Hemel were keeping hold of possession well and we had a hard start chasing the ball down, not the best to begin with but it didn't take long until we finally got
hold of the ball ourselves, started to settle
and put together some quality passing and movement. You can see, well from my
perspective anyway, that the changes we have made in personnel have started to
gel together. At this moment in time Rob Oakes came past the Shoebox
with the Hemel Ultra's drum, which he'd just confiscated.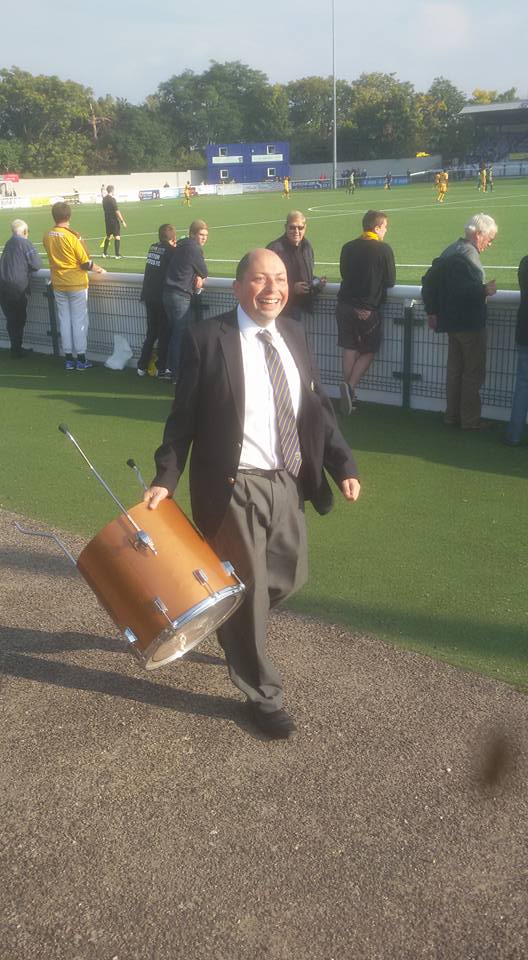 Getting 'drummed out'.
This was properly funny to one and all stacked up in
the Shoebox. Clearly the visiting chaps hadn't read the small print on the ground rules that we don't allow percussion down the Lane, so instead they took to smashing the shit
out of the back of the stand. But it's never a problem when you've got crack stewards like MarkyN
on hand to deal with these kind of idiots.
Back to the game, and It didn't take us long to create our
first good chance and chalked up our first goal on the board. A quality cross into the Hemel box and
Fitchy being the right place at the right time, losing his marker toe poked it
in. I think. (Look, fuck off. You try to keep an eye on an 8 year old whilst trying to remember key
info on a game. It's a challenge I can tell ya). Still it was a move of the highest quality and
the Hemel faithful went silent in response for a passage of time. Sutton back on the pitch really were taking control of the game and we were now bossing the majority
of the first half. So it's a given Fitchy's second goal wasn't far off. From right on the edge of
the box, he turns in to his left passed one Hemel and wraps his left boot round
it and curls it passed the Hemel keeper (who was appealing to the ref all game for anything
and everything). Great finish! Top notch in fact. So, first half over, we're two up and we were looking like holding it. Happy days.
Whilst the majority of the Firm went off to the
Bar I left the Old Man to look after the boy and I headed off to the Club Shop
to pick his Royal Dukey'ness a new car air freshener as he had been moaning to
me about the stink in there for weeks now. That's £1.50 you owe me Duke, this shit don't come for free fella!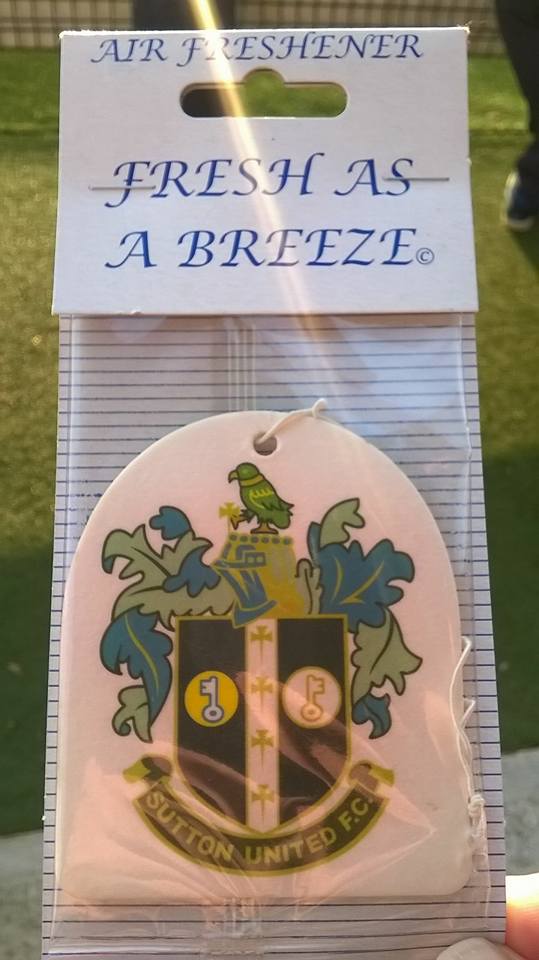 Smelly.
Second half under way, and we didn't quite look the same as
the first 45. We were playing deeper and having to chase the ball around
the pitch a bit more again. I don't quite know what was said in the break but we had taken our
foot off the gas and we seemed a bit too casual. Then about 20 or so
minutes into the second half the inevitable happens, a corner delivered in to
our box is half cleared away and crossed back into the near post. We've switched off, there's no man near and they tuck it in. Shit 2-1 and probably loads of pressure to deal with.
Even Stearny has a clear opportunity
but instead of going for the clear cut finish or laying it on a plate for Fitch, he opts for the chip of the
keeper instead. Easy save. Then our world implodes. Again. We give away a pen, which isn't
anywhere near one in my eyes. Amankwaah clearly wins the ball and comes away with it from the
Hemel striker, but for some reason the ref points to the spot. Spot picked and inevitably it's in the back
of the net. Suddenly it's 2 apiece and our heads are down. And it gets worse! Downer goes in
for a challenge, no studs raised nor two footed either. Was it a necessary challenge at
the time? Probably not, but it's a clear cut sign of Downers frustration and
well for his efforts he is shown a straight red by the ref who has clearly shown the reason why he rocked up a good couple of hours late. He's shit. There's some other yellows
show in the mix of it all, but we're down to ten. From flying high in the
first half to a total change in the second, I just couldn't believe it.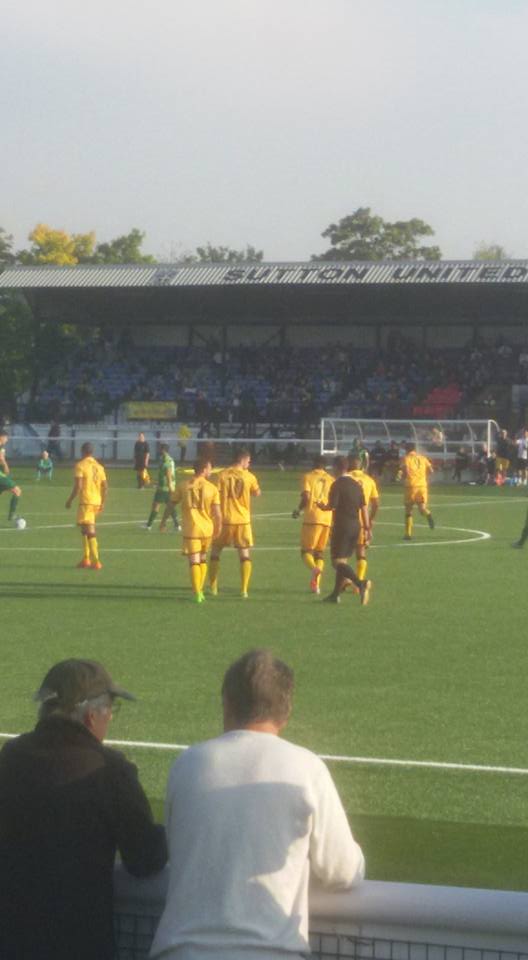 Nice of you to turn up ref!
We do have a go to try to hit Hemel on the break and win back those points we've dropped. Fleets has two clear chances but fails to hit the target with both and that's it. Game
over. Ok, a point's a point, but we should have won that by half time in my eyes.
Sadly I couldn't hang around with the boys after the game for refreshments as
I had somewhere I had to be. Plus the 8 year old thinks pubs are 'boring'. You've got a lot to learn kid! Still, I hear that Dukey's requests for the Shipping Forecast as an encore from the band in O'Neills that evening were ignored. So sounds like a standard saturday night on the gas for the rabble.
I think Dukey is back next week for the away F.A Cup fixture
at Hemel so I'm sure he will fill you all in on the pre and post match drinking
antics.
That's it from Juan!
*goes to check post box for letter postmarked 'Wolfsbug'*