Thank christ that's over. If we don't see Hemel sodding Hempstead FC ever again it'll be too soon. Of course, it's not really their fault, but those twonks at the our lovely governing body who've seen fit to give us them 3 years running in their poxy comps. And of course, with 2 of the ties going to replays, that's FIVE meetings in 3 years without even counting the league encounters. I think it's safe to say that if we get paired up again in the Trophy this season, both sets of fans will be sharpening up the pitchforks and setting course for North London to torch FA Headquarters and their stupid velvet bag.
That's the thing with cup comps. They're supposed to give you a bit of a break from the norm. Get you away from all the boring places you get to go to or host someone different from all the Hemel Hempstead's you get week in week out in the league. Sadly, with the FA regionalising the early rounds so much, it all starts to get a little bit predictable. And thus the magic that comes with knockout competition is lost somewhat.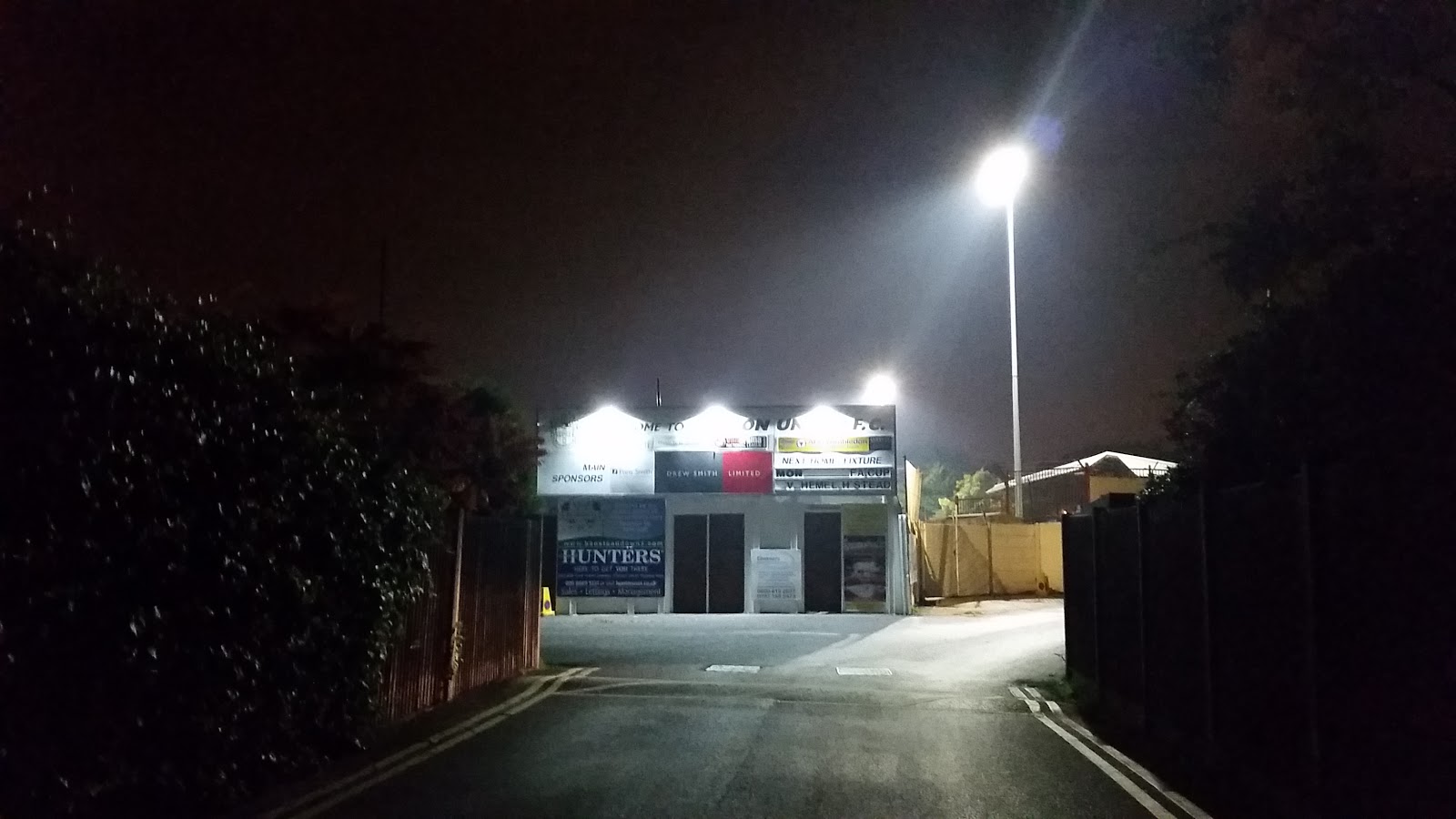 Bright lights.
Still, it's not quite as bad as that Conference League Cup from a few years back where we were, shock horror, paired with that bunch of knobbers down the road. And having knocked them out, then 'drew' Woking. Who having done us, got fucking Farnborough. As predictable events go, it was up there with a North Korean General Election.
With the draw made this morning, everyone was once again strapped in tight expecting the rollercoaster world of the FA Cup to deliver another wet fart. And so it proved! With Aldershot coming out of the hat. Away natch. Which is hilariously predictable given that some of the train journey into town on saturday was devoted to the subject of "When did we last play Aldershot?" given the Yoofs are off there next week, surprise suprise, the FA Youth Cup! That and Chalmers stating on WhatsApp "We'll get Aldershot away". Now, normally we wouldn't pay much attention to one of PC's predictions, but on this occasion we'll now be packing him off to the corner shop to do our lottery numbers this weekend. Just in case.
Facing such a big exciting game, the last thing I needed was a stupidly busy day at work. But sadly, such are the demands of the evil known as 'Human Resources' that having pretty much my whole team sat in bullshit meetings all day was deemed a great idea. This meant that I left a little later than intended and instead had to take a jog to Blackfriars to catch my train back to Carshalton so I could collect my car. Human resources. What a waste of time. I remember the days when they were simply 'the personnel department' who hired people and made sure we got paid. Now it's all fucking 'onboarding workshops' and other shit.
Thankfully, I make the train and am back in Scummersville in plenty of time. But there's still work to be done as I'm playing Taz Taxis tonight in transporting both Dukey & Greek to the game. It was the only way to answer the 'who gets to park across Mr X's driveway' argument the three of us were having. The argument starting because none of us have car park permits and none of us, least of all Dukey, will cough 2 quid for non-permit holders. In the end it was decided that me doing the driving was the answer, mainly as it meant the bastards got to have a beer.
Wardy, X & Burgers are propping up the bar when I arrive, with my passengers pausing outside to enjoy a smoke. Nick the Taff isn't far behind and he's bearing gifts. 400 dodgy Serbian smokes to be precise of the brand the lads had hoovered up at Belgrade airport last May for the princely sum of 9 Euros for 200. It seems Dukey had got a taste for 'em and requested his Welshness pick him up a new supply.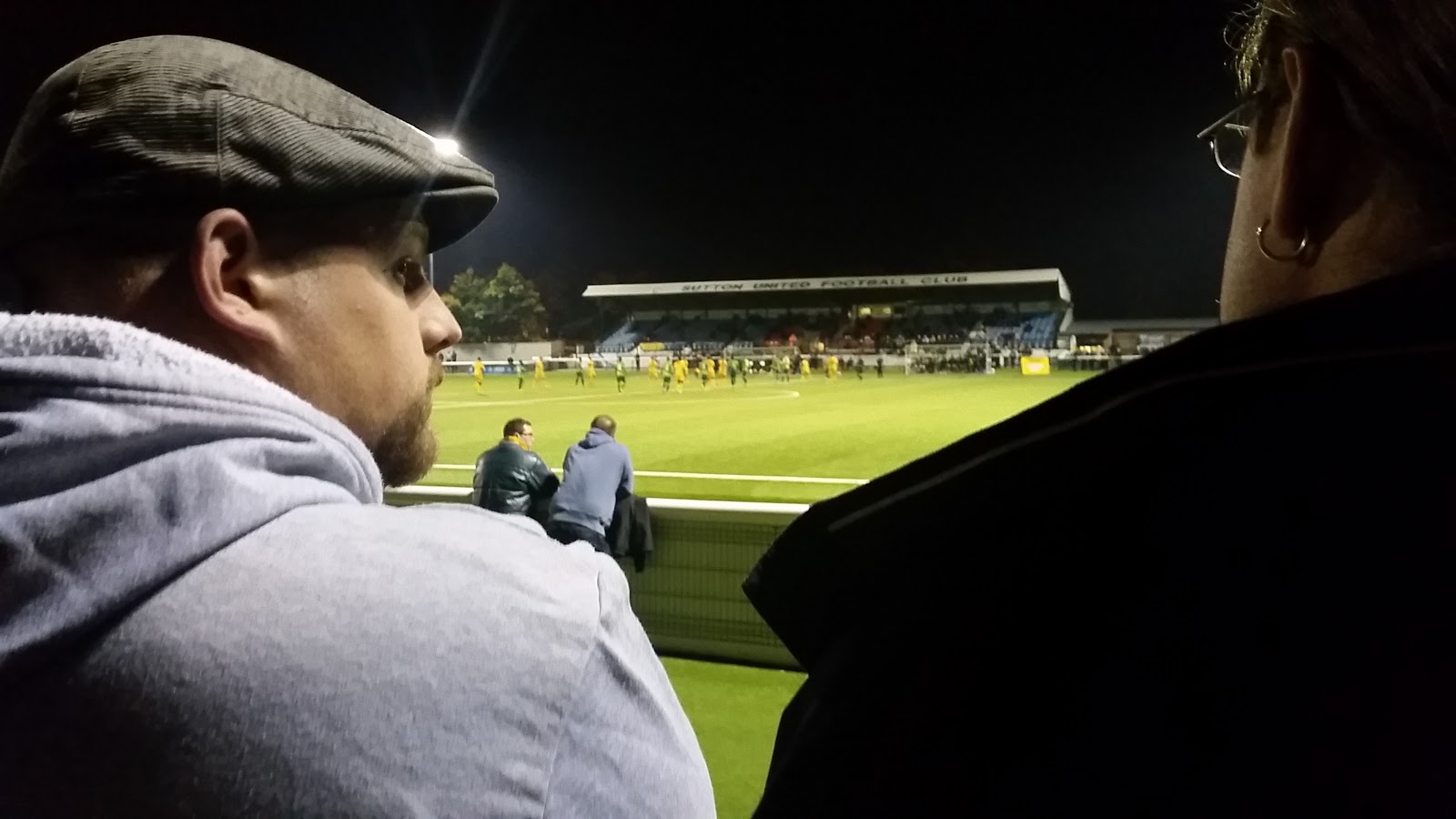 Packed crowd.
Worner, Amankwaah, Beckwith, Collins, Spence, Bolarinwa, Cooper, Eastmond, Stearn, Dundas, McAllister. SUBS: Fleetwood, Fitchett, Downer, Wishart, John, Wright, Shaw
With kick off close and my good self unable to partake in the 'cheeky pre-match short' order being placed at the bar due to my taxi duties, I head outside into the cold night's air somewhat pleased that I'd remembered to grab my sweater from the motor before strolling up to the ground. It's not freezing, but enough to remind you winter is coming. We spend a few minutes getting deafened by the new PA speakers at the Rec end (really, do they HAVE to be that fucking loud? I've had less hearing damage from Motorhead gigs) before we have to amble round to the Shoebox as we've lost the toss and attack the GGL end 1st half. That never ends well.
I go for an early munch from Roses Mk3 and settle in for the first half. Lurking at the back of the 'box is a special guest in Corinthian Casuals and U's yoof manager James Bracken, casting his gaze over what turns out to be probably one of the worst halves of football we've managed to produce this season. Hemel start brightly and enjoy popping the ball about on our luxuriant axminster rug. Sadly, we play like we've got the bumpy old worm house beneath our feet and for some reason spend a lot of the half lumping the fucking thing 60 yards at a time. Usually straight into touch or for a goal kick. Just dreadful.
However, despite having loads of the ball, the visitors never quite carve out a seriously good chance. Worner makes an early save pushing away a shot and one of their lads nods over a cross from that annoying little no.10 of theirs, but apart from that, what we thought was a slightly ropey looking defence keeps them at bay. Then with about 10 to go until the break, we get a break. A quick exchange leads to a ball in behind Amankwaah. He's trailing the attacker and just as he goes to pull the trigger, Kev appears to clip his heels in the box.
Oh for crying out loud lads! Another penalty? Oh, hang on. The ref's booking their lad for diving! What the…..
The Shoebox chuckles away heartily at this rather large turn up for the books and before the game can restart, we're chuckling even more when the ref decides the Hemel manager has argued the toss on the pen a bit too much and points him in the direction on the stand. Then there's a little bit of an exchange between him and Baird as he departs. This break in play seems to give us a bit of a foothold and Tombo starts getting a bit of purchase down the right. A couple of low balls in flash across the box but there's no final touch. Then, with time almost up, we get to do to an oppo what the oppo normally does to us. Be shit and hit them with our one decent attack on goal.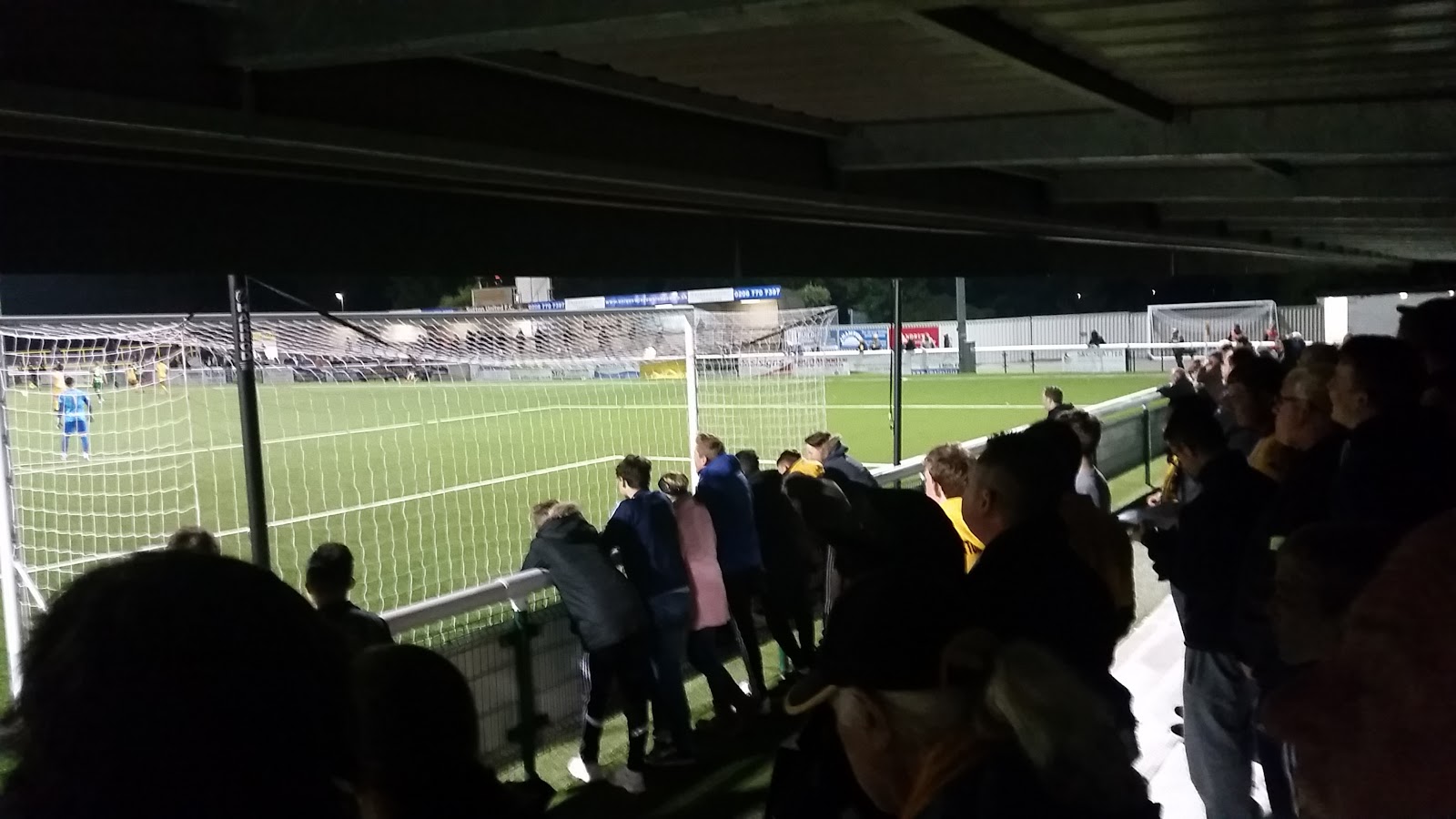 Under cover.
There's a bit of head tennis about 35 yards out from the Hemel goal and it eventually drops to Dundo who's already going towards goal as the defence comes out. And that's fatal. The big man bursts clear and bears down on goal, his shot is measured and is aimed to pick a spot in the far corner, but that bloody keeper is off his line quickly and beats away the effort one handed. Fortunately Stearn is following up and having steadied himself, rifles in off the recovering keepers legs. 1-0!
There's barely time to kick off again before the ref takes the sides in for half time and I head back round to Roses for a cuppa and a Bacon roll before strolling down to the Rec end. How the hell are we winning this one?
As the second half gets underway, the goal right on the break seems to have knocked the stuffing out of Hemel a bit and they seem to lack the same zip in their play in the second 45. We don't exactly play like world beaters either, but what we do, we do very effectively. The Hemel defence practically play up on the half way line, leaving their pound shop Neuer to sweep up in the space behind. Still, Dundo and Stearn both have efforts early before the little winger really should double his tally. The ball is won in midfield and played in acres of space. He's clear and really only has to add a finish with just the keeper to beat, but he overruns his final touch and the keeps is able to smuggle the ball away off his legs.
Bolawinra then has the opportunity to add to the lead when he tears down the left, beating 2 challenges and cutting in from an angle. But his curling rising drive crashes back off the face of the crossbar and is hacked clear.
Changes come, with Fitch and Wishart introduced. Fitch gives us a bit more threat behind that high line, but the lino on the stand side seems to have taken a dislike and a couple of times flags him for fouls when competing for the ball. Once when he's got the ball and in full control whilst fending off a defender. It's this stupid decision that proves too much for Dos and having been warned in the aftermath of the non-penalty incident in the first half joins us in telling the lino he's shit. This unfortunately means he gets to spend the last 10-15 in the stand with his opposite number.
A minute or so later, Fitch loops a header in off a super cross from Eastmond and predictably that lino again has his flag up. However, before you can say "Have a fucking word you jarzy bastard!", Wishart surges from his own half down the left, checks across the edge of the box past two tired challenges and drills a low shot under the keeper into the corner. It's a bit disappointing from him to be honest given the stops he's made, but who gives a shit. 2-0!
Both Bolarwinra and Fitch should add to the tally before the end, but final touches are lacking and we go into added time with just the 2 goal lead. So, must be crap goal time to make us bite our nails? Ah, yes.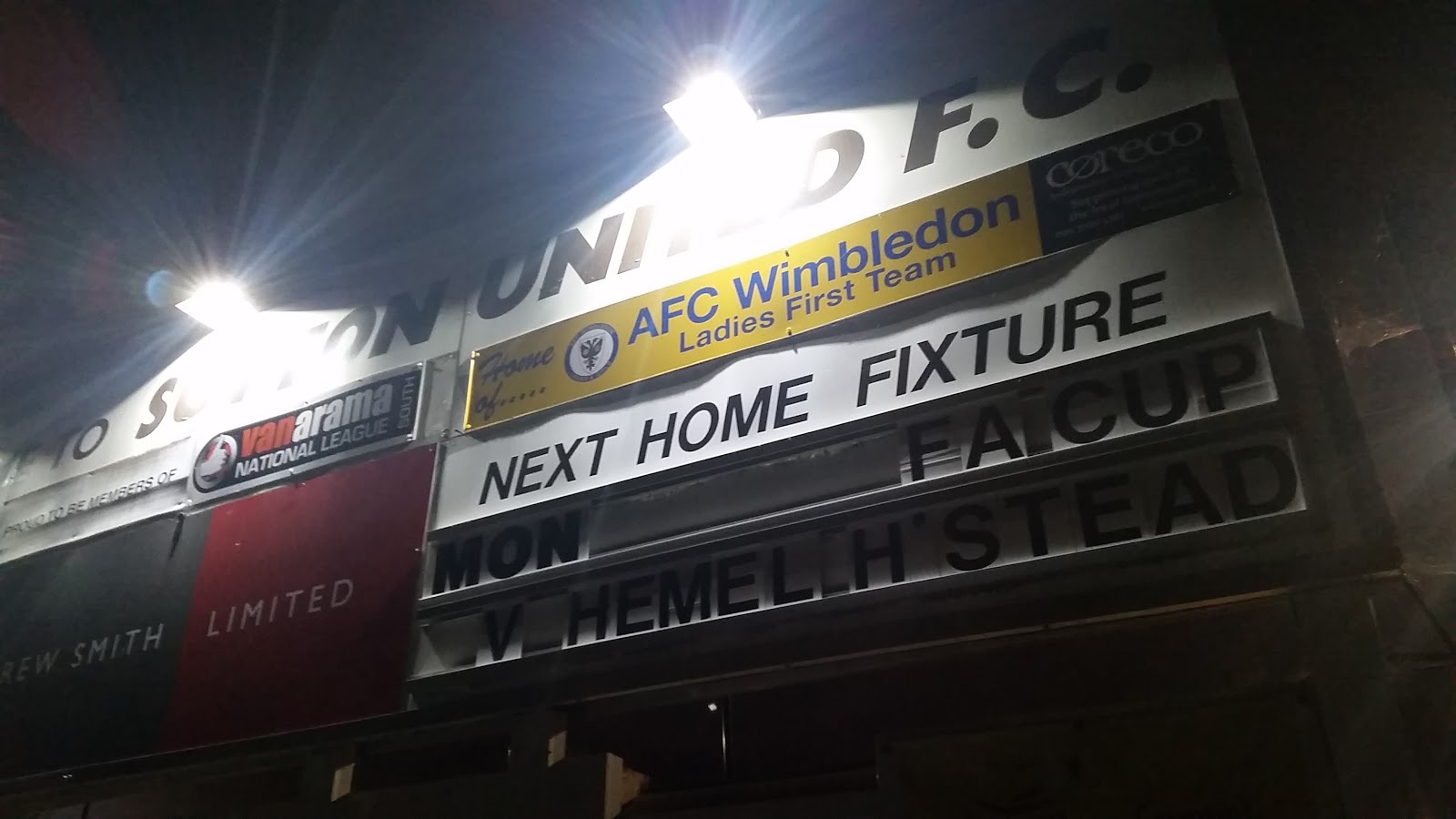 It's a sign!
A free-kick from wide about 30 yards out is pumped in, everyone misses it and the ball sneaks into the far corner.
Every. Fucking. Time.
Thankfully, we see out the last couple of minutes despite Hemel throwing everyone forward to try & force an extra 30 mins and the final whistle brings us a cheque for seven and a half grand and a glamour tie at Aldershot. Well, seven and a half grand at least. Back in the bar, everyone is just relieved to be through not only a tough cup tie, but the almost groundhog day stream of games against Hemel sodding Hempstead.
A quick shandy and it's time to ship all the idiots home. This time I've also got Mr & Mrs Burgers, who of course live not far from Gandermonium's top secret extinct volcano lair (just off the A232, Croydon Road). Typically, I get their block wrong as I always seem to and drop them a good 30 yards down the road from where they actually live. Ooops. What makes it worse is they've got a 'thank you' card for me & the missus indoors for the wedding gift we got them. So not only do they have to walk half a mile to their front door, they've then got to come all the way back again. They'll probably just get the bus next time.
Speaking of Thank You cards, I wonder if Greek got one? Do they do "Cheers for being being the drunkest man there!" cards these days?