It's Friday night and I'm on a train and heading over to
Leatherhead to see an old mate of mine who recently proposed to his Mrs, to discuss
some wedding plans as he has indeed appointed moi as one of his Ushers. Is this
a good idea? Only time will tell. I did however take to winding him up, by
telling him I only needed to memorize three critical words, Bride, Groom, and
Bar. That's all the key information you need to know when attending a wedding
right?
During my train Journey down to the Leather Head, I gave my old 27
year old (lies on the age there) Dukey a call like I always do. We always have
a little gas on the Friday night before a game to try and look at a potential
outcome and maybe, as we always do, discuss the way we play and where we stick
players. Of course the first thing we discussed was that performance down at
Whitehawk. The most topical point was that of Glen Southam and his past few
performances. I and Dukey both agreed that he had kind of looked off the pace
and there was clearly something affecting his performances. After chatting
about it for some time, and when the call finished the message came through on
the Whatsapp group that he had been released due to a good work offer. I think there's more to that than meets the eye, but we will
never know. A few of the group reckons he will rock up at another club in the
near future, time will tell I s'pose!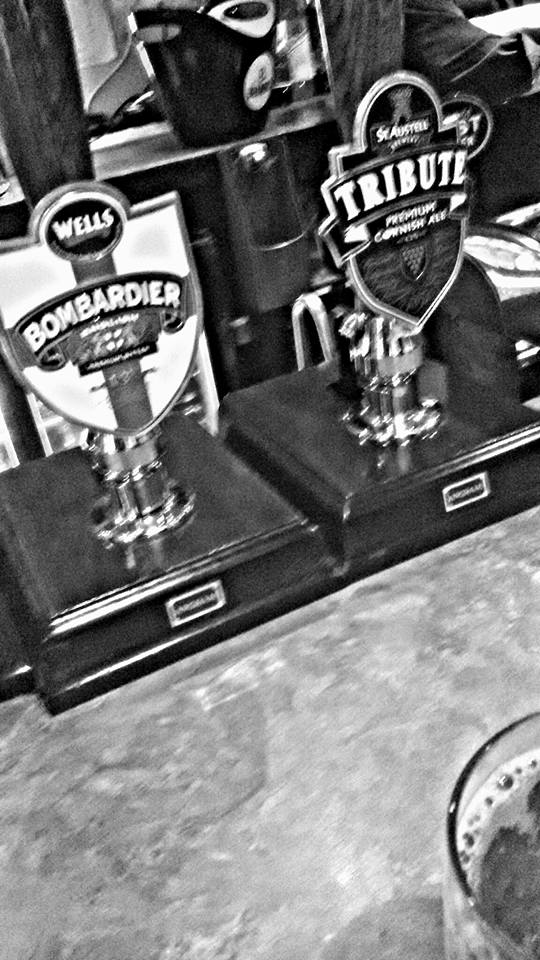 Beer time!
Saturday morning, and after a few cups of coffee, I thought I'd
better give Dukey another call as he had'nt bothered letting me know what time
he was heading down the Club. After a quick chat it was decided that I'd meet
him at Sutton, so off I plodded up to Banstead train station to jump on the faithful 12:37. Arriving into Sutton I had about 20 minutes to kill, so time for a trip to the hole in the wall for some dollar and grab a pack of smokes. I headed back down
onto the Platform to wait for the arriving train to take me to West Sutton and the beautiful Peoples Republic. Here I found one of the Concord lads that
clearly looked a bit lost. Being the helpful chat that I am, I gave him some accurate
directions when leaving West Sutton Station-a right and a right, you can't go
wrong! Easy fella, easy.
Stepping off at West Sutton with Dukey, but no Greek at this
point, I checked over my shoulder and there was no sign of this chap from
Concord. Maybe he knew better and decided against my clear and accurate
directions? Oh well! Arriving at the Club, MarkyN and Mr and Mrs Burgess were
already at the bar, along with our esteemed Editor in Chief, oh yeah and Mr X. For
some reason I stupidly offered to get a round in (stupid Juan, stupid). The discussion
turned to Mr X's week off the lazy git. However he filled us in on his new
purchase straight outta John Lewis (so upper class), which was a new 50 inch flat screen
telebox, for the princely sum of £800-odd sovs. What Mr X had failed to do, was remember that Mr and Mrs B actually work for for Mr Lewis and can get a very useful 12.5%
discount on electrical goods.
You should have seen his face drop when he realized
the scale of the fuck up. Oh well no matter. God loves those that try. Loffers and Greek eventually rocked up and the beers just keept coming for the next hour or so. The conversation then turned to that of
Loffers and Taz's train commute journeys into London every morning. It went a
little like this: Loffers saves a seat on the train for Taz by placing one of
her rather expensive and exquisite handbags on a seat next to her for Taz to
fill once he jumps on at Carshalton. Now then not only did Taz literally jump
on the train, but he threw himself into the reserved seat, nearly destroying
Loffers bag with his fat arse, much to Loffers disgust. Apparently her face was a picture!
For some reason the conversation then turned to it could have been worse if he had farted in the
bag. God knows where this shit comes from sometimes. "Have you ever farted in
Louis?" definitely wasn't nearly the title of this report.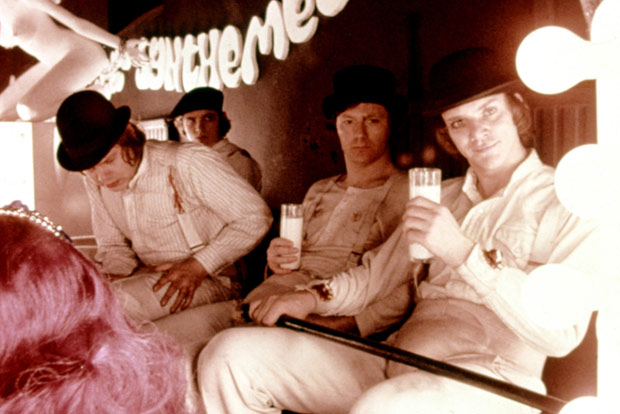 Just another night in the players bar at GGL.
The talk of the town was that of Greek and Loffers going out
Park running together and how Greek had smashed his PB. Then the topic of discussion
was that of the post Saturday morning run after Mr & Mrs B's wedding last
Saturday and how Greek did the same to sweat out those 3 bottles of red
wine from the night before, Mr X volunteering himself and his car to pick
up Greek after his run and then one week later having to get his car fully
valeted. Neither would admit if this was due to the stench of the sweat and booze or not!
If there was such a thing as Minority Report, you know the
film, then yeah all these weird things we talk about we would all probably be
locked up by now. Sometimes the feel of the conversation reminds me that of A Clockwork Orange.
Heading out for the game with my Beer Jacket well and truly
on, I strolled off to the new Rose's to grab a cup of tea and a Bacon and Egg
roll to wrap around the Bulmers. £1.50 for a cup of Tea at Rose's seemed a
little steep to me, but I guess if people like me pay for it they will keep it
going. Funnily enough though, you can walk round the other side of the ground and pick up a brew for
a quid, so not too sure I get the pricing structure.
Game wise we started off pretty strong , I missed an opening
chance from Wishhart standing in the bloody queue, apparently his shot just went
over, the crowd's reaction telling me something had gone on! For the next
40 odd minutes we were playing some pretty decent football and we were
creating a lot of chances, actually keeping hold of the ball and switching
it from left to right, one of chances even hit the bar. Still, we kept knocking on the
door until the 44th minute when a lovely ball from the middle of the
park was sent across to Fleets who checked his run, and slotted the ball nicely into the box for McCallister to place home.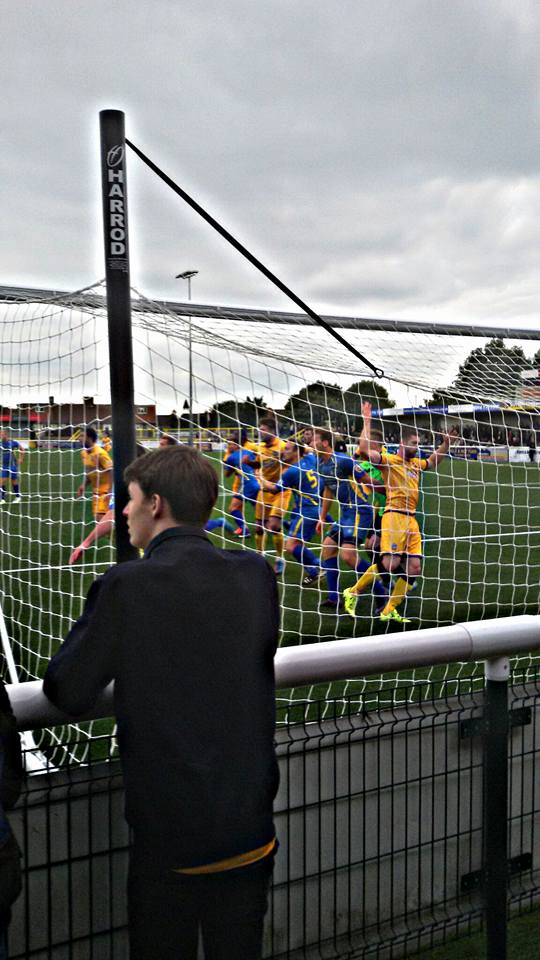 Action & stuff.
You could see that goal meant a
great deal to Macca. There's no taking that away from the team as we they
do work their socks off to create chances, but we always seem to manage to undo the hard
work. Clearly evident today, after giving away a real soft goal early on in the
second half to level things up. We really need to keep hold of a lead, and keep the concentration
going. Easier said than done I know. But at this level of football it's something
we really need to focus on. Concord's goal came from a right mix up between our
centre backs. At one a piece Concord were back in it and you could tell. We
gave them a lot more time on the ball and our midfield went a little AWOL for
a short space of time. However we kept on going and started to open up and
create space again. Spence created some for himself just on the
outside and let a shot go and it kind of trickled past the Concord keeper. Who wasn't one of the best I've seen at this level by any stretch. Leading at 2-1, once
again we go and give away another easy goal. And about 30 seconds after we've gone in front. It really makes me irate when we
give away silly goals, something I don't wish to get used to. I'm sure this
will change and improve on the training ground.
To be fair to us we did'nt give up, we kept going but just could'nt find
the net, even from a free kick 5 or so yards out for a blatant backpass gifted by that iffy keeper.
So another game we really should have
won and held onto rather than dropping two valuable points.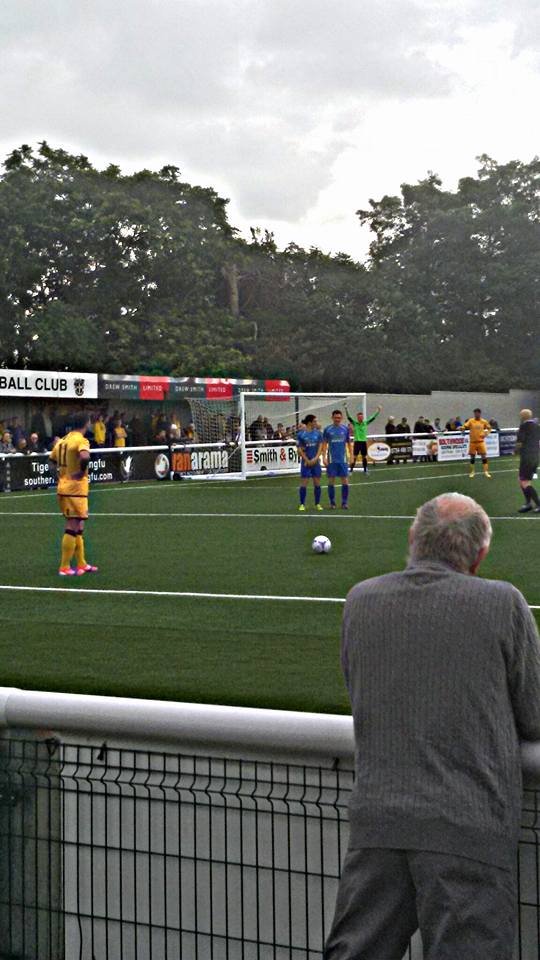 Set piece.
Post game, I was in net duty with Duke again. Whilst he went
off to get the tool for the job (send a tool to get a tool) I made use of the
time and de-clipped the nets and waited for him to sort out the nuts so we
could go and have a drink or 5. Rocking
up in the bar, the England game was ten minutes already underway, just in time to see some dodgy
pen awarded which Rooney took thus he was now level as one of the best all
time goal scorers or something. Can't say that these England games do much for
me if I'm honest.
Considering the game was on the box and to boot the SAK Draw at half time, the
place was pretty empty. With the England game turning into a
training exercise the conversation turned to what was we going to do tonight and having failed to go for a Mexican the week before (as Mr X tried to take everyone to a restaurant that no longer existed) we decided to try again. A cab was orded to take us 5 mongrels to North Cheam (no O'Neill's
action for me tonight sadly) myself, Taz, Mr X, Dukey and Greek summoned up our ride via the magic of Uber. So we proceeded to the front of the car park to await our ride. At this
point Greek was telling us all about his Holiday to Cuba and how he was
staying in the Hilton at Gatwick on Sunday night. He then told us that he had
also been preparing himself for his 2 weeks of sun by going for some sun bed action. What
a knob! Well he was full of excuses like "I'm English and I'll burn" and all
that chuff. Well it certainly made us all laugh for a few minutes. Then the cab turned up and
we were off, "Where to?" asked the cabbie, "Sutton United Football Club please
mate"
Haha aren't we a bunch of jokers! Well, we make ourselves laugh.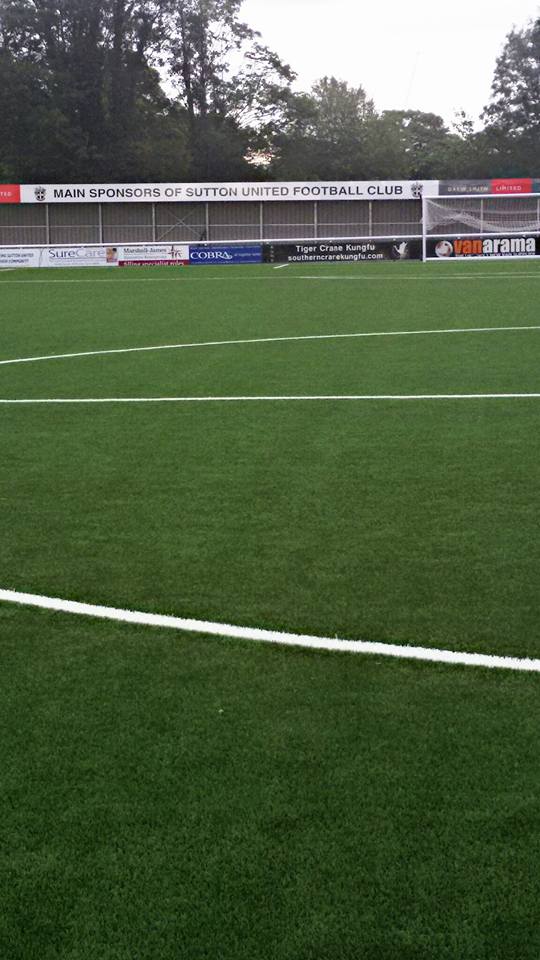 Pitch.
Arriving at North Cheam we headed off to the Mexican place
that Mr X had mentioned, and well looking through the window the place was clearly rammed out. No chance of a table whatsoever. So we went for a Mexican and
failed. Again. This was followed by even more disappointment as we walked round the
corner to a Turkish place called 'Tas', again here there no tables free. FFS! As a
group we decided to go back the way we had come and go for a Chinese across the
lights and down a bit that Taz vouched for. This gaff actually had a table free, so happy days. Thank you
very much Mandarin of North Cheam!
First thing ordered was a round of Tiger Beers (normally the
drinking choice of a pisshead out on a curry night), not knocking it as my
thirst was giving me a sore throat the first one went down like a school girl on prom
night! The choice of menu was extensive, so to keep things simple we all opted
for the Buffet Menu at £17.95 a head, not bad for the volume of food which
followed for this bunch of greedy fat wankers.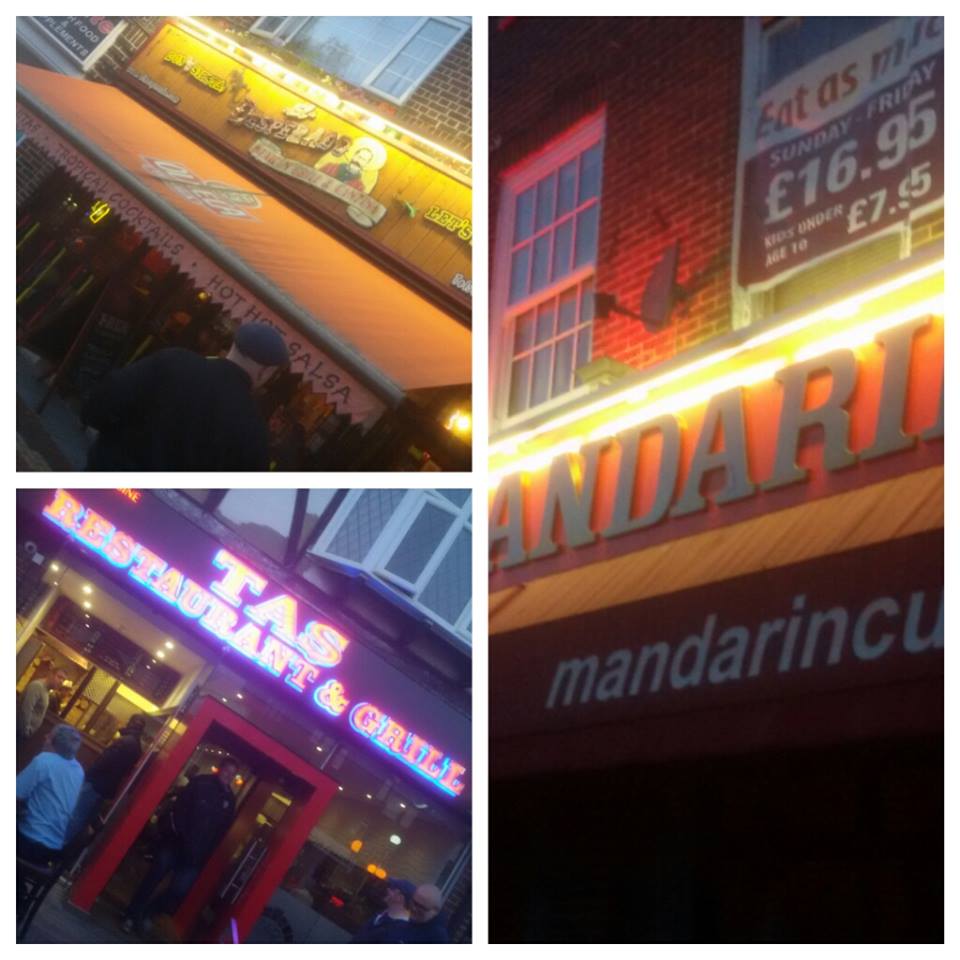 The may eateries of North Cheam.
After a hour and half and eating ourselves into a Chinese
food carb coma, we coughed up & left, heading off to North Cheam Spoons, seeing as it was Duke's
round the tight git! The walk was a slow one that much I can tell you as we were all suffering from eating way too much. A round of drinks was ordered
at the jump by Duke, and well, I tell you trying to knock this one back was
painful. Painful in the sense that it was either going to stay down, or come
straight back up as there was not an inch of space thanks to too much Chinese. Even Mr X
was suffering big time having ordered a pint, I think he managed about 3 gulps
before calling it a day on his Fosters and Dukey had to step in to finish it!
At this point we decided to call it a night and whilst Mr X got the
bus back, myself and Taz ordered cabs again via Uber. It's somewhat funny watching a
cabbie getting lost on your phone despite him having GPS, but it gave us a giggle. With Greek,
Taz and Dukey heading off in their cab, I made tracks in mine home and what
followed was rather amusing. Just as
Taz, Greek and Dukey were being dropped off, the cabbie got pulled over by the
local Old bill for some dodgy driving and clipping a kerb or something, it could
only happen to us.
We are so Non-League sometimes it hurts.
Juan