Just when you think you are having an excellent weekend, something always goes wrong. For us boys this weekend, it was once again a 90 minute performance from the lads on the pitch that seemed to hark back to the anguish and torment of last year. There seems to be a running pattern of not being able to string a set of decent performances together.
With the weekend starting in Putney with the ding dongs of one of the Firm, through to the Saturday where we demolished Wealdstone (for 45 minutes) we arrived at Monday, hoping for a least a point away down in Brighton. The only thing to stand in our way was Whitehawk, who we felt deserved a nice sound beating after the drubbing they gave us at home last season.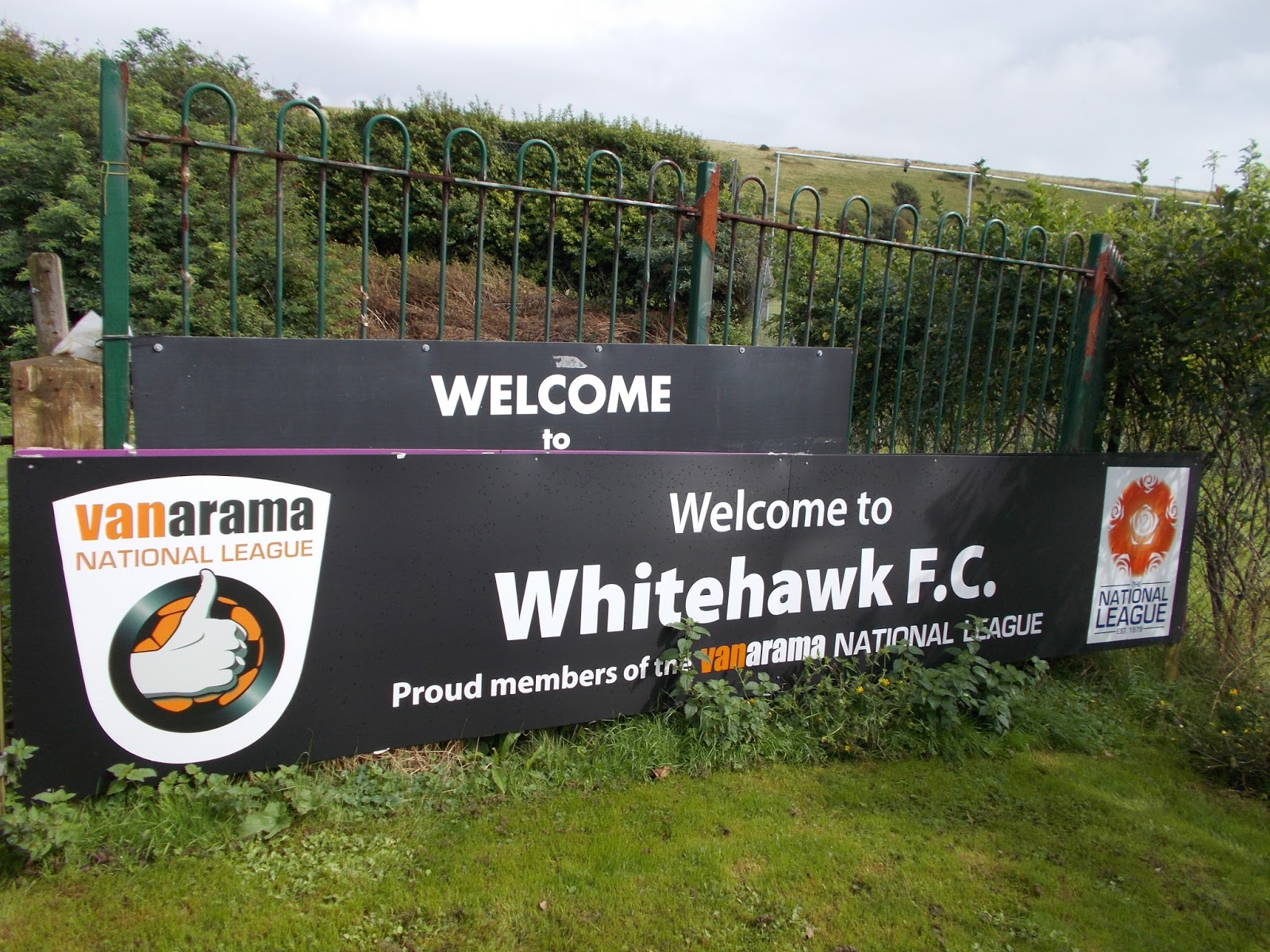 It's a sign, IT'S A SIGN!
The meet was due to be had at East Croydon for the 1023hrs express train southwards. No doubt still full of the effects of the weekends festivities, I forgot to turn of my usual Monday morning alarm. Awakened stupidly early I decided that with the time to hand. I would take a wander down to the station and renew my trusty old Railcard.
As the clock just passed nine, I was ready to catch the bus Eastwards. Suddenly a train arrived and I decided to instead hop on it to Sutton, before catching one to West Croydon. With plenty more time to kill, the temptation was to hit the local 'Spoons for an early livener, but I relented and walked up to East Croydon instead, being the first of the gang to arrive.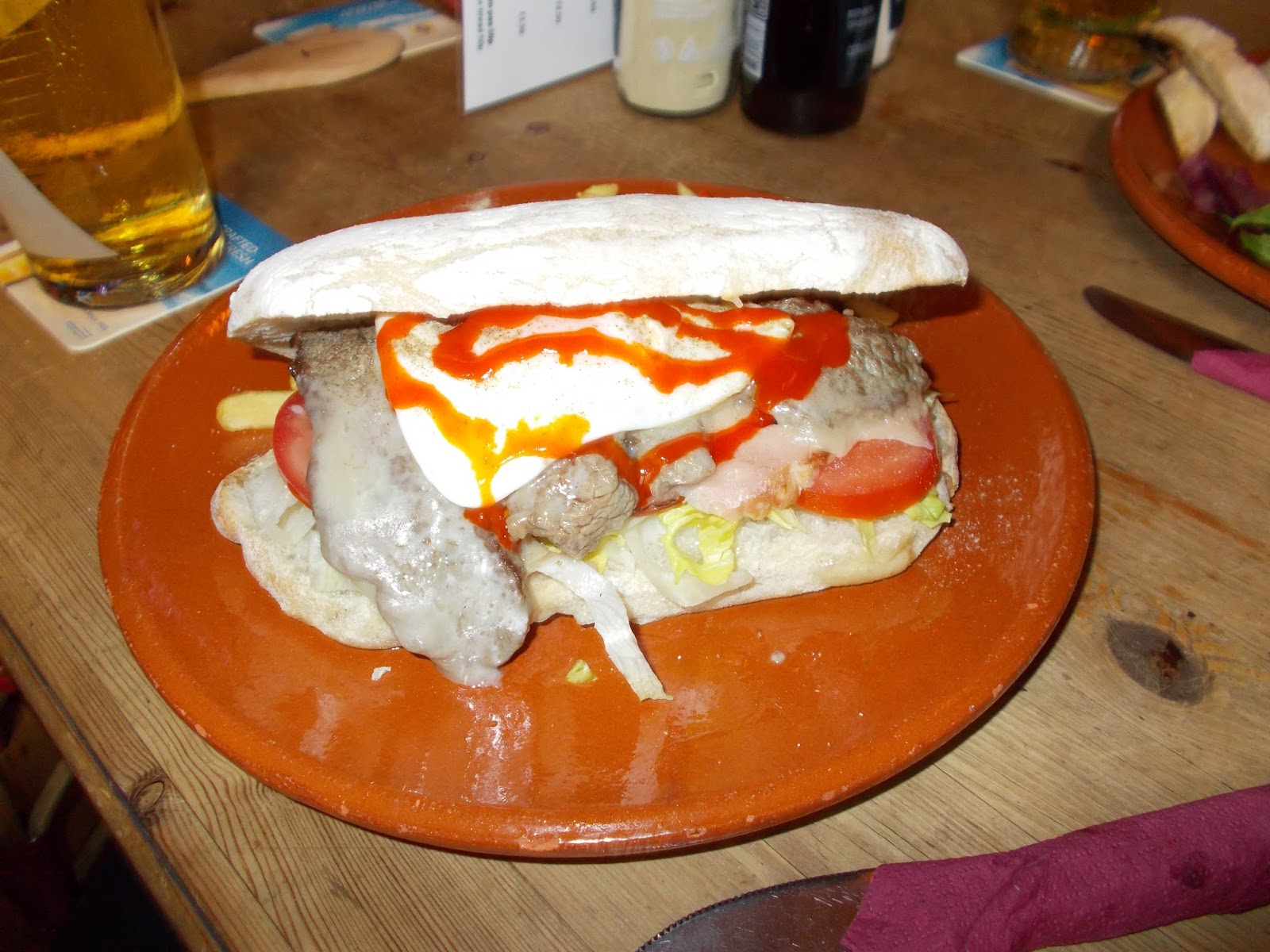 All the major food groups represented.
The weather was taking a turn for the worse when appearing off the bus was Mr X, Indy & Sean Connery. 4 Days wasn't far behind them and all that left was just Taz and we would be on our way. With Mr X purchasing the tickets, we waited for our Editor-in-Chief. Before it soon became apparent that the 1023hrs would be beyond us, as you guessed it, the old git was late! Fuckin' typical really, as he lives the closest to Croydon out of all of us!
He did eventually turn up and that forced us to get a slower train. After finding some seats we took the trip to the Sussex coast. Most of the journey was spent either dozing or looking at the latest top non-league scorers on Mr X's phone. I'm still surprised by the amount of old boys in the Ryman League who are still about & banging in the goals. Although one of these won't be Richard Jolly who's decided to knock it on the head again and left K's this week.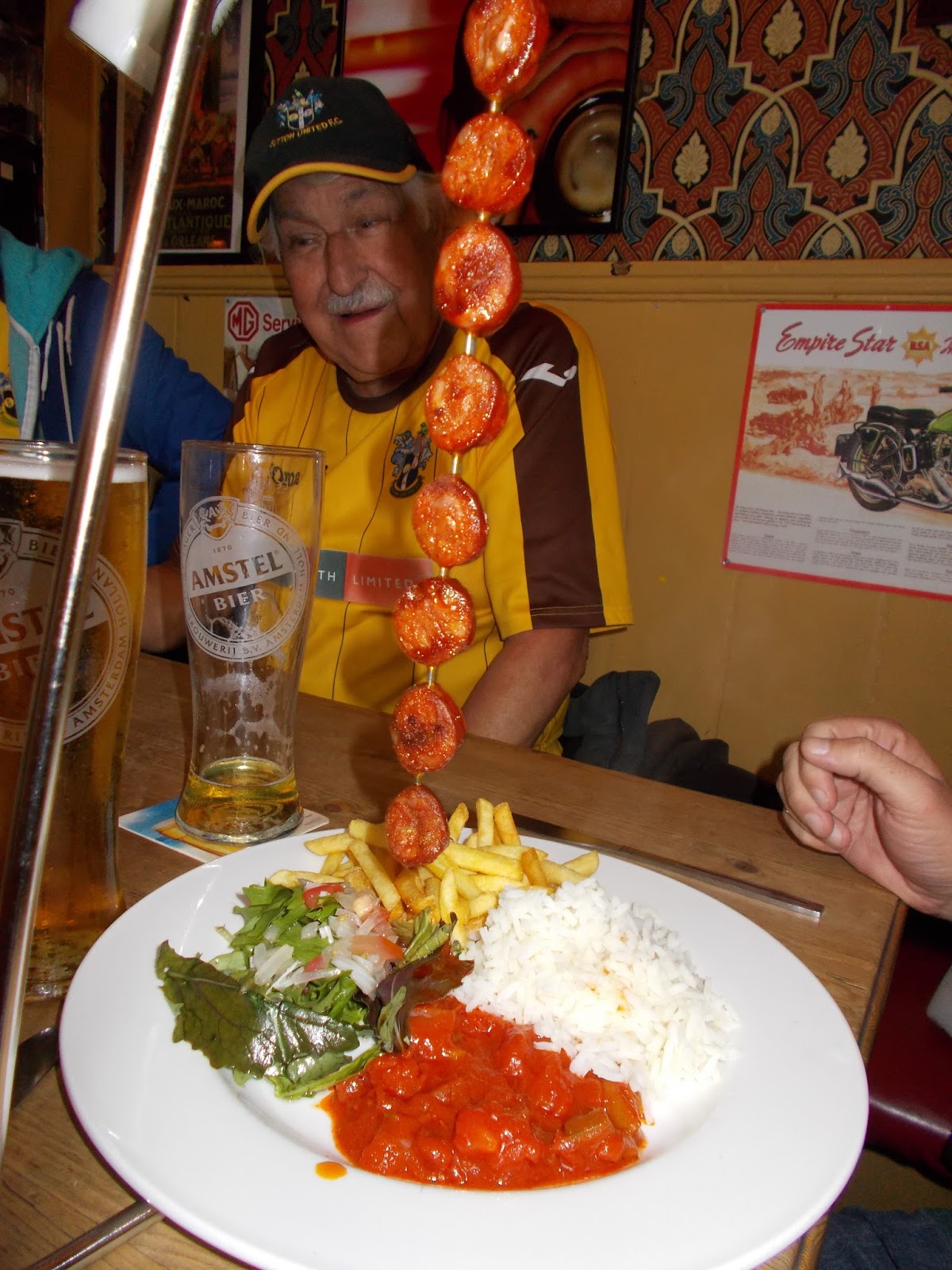 Scaffolded food.
Arriving at Brighton station, we soon made a bee-line for the Queens Head. Unfortunately, as this was a bank holiday Monday instead of a Saturday they were following Sunday opening hours and the place was shut tighter than a Nun's hoochie. The next guess was another pub nearby called the "Grand Central", luckily this was open and my first cider of the day was soon in hand.
After a quick pint we headed off to more usual surroundings in the "Prince Albert". Since our last visit here, they appeared to have gone down the SpanishPortugese route with their menu. Not to be perturbed we manged to decipher the fare on offer. Me & Taz went for some kind of Portugeezer burger which was in fact, a steak ciabatta. Mr X plumbed for the Chorizo kebab (second time around, after they fucked the first order up) which came out on some scaffolding type get up.
The food was soon gone and after another beer we soon made tracks back up towards the station and then over to the "Evening Star". Here the boys got me to try some local strawberry cider against my will. But like a real man I took it. Don't ever believe anything they try and tell you otherwise because its total bollocks!
Best. Sign. Ever.
Soon it was time to hit the cab rank and for once there was plenty of options available. It wasn't long before we were on the road towards the ground. On the way we managed to spot a rather interesting pub. Not only was it billing itself as a so called "Spirit Grocer" but it also apparently was a 'Coal & Coke merchant' that purchased wardrobes. I did make a mental note for next year to purchase one from IKEA and see if it works.
Eventually we made it to the ground. I say eventually because my slender and svelte self ended up in a sherbet with Mr X, Indy & Sean. Midway through the long winding road up to the ground we managed to get the cab beached on a speed hump! All the cabby could do was remark "This'll do, get out!" and we were forced to walk the other half of the way. Fat bastards. They really should lose some weight.
After paying £12 to get in, we made it to the bar for a cheeky pint before heading outside shortly after. I also saw that there was a 34 year old man wearing a baseball cap like they did in the '80s. Of course it had to be Juan! Seeing the majority of the Dulwich/Clapton-style home supporters at one end of the ground I headed towards the other. You see, not just a pretty face me!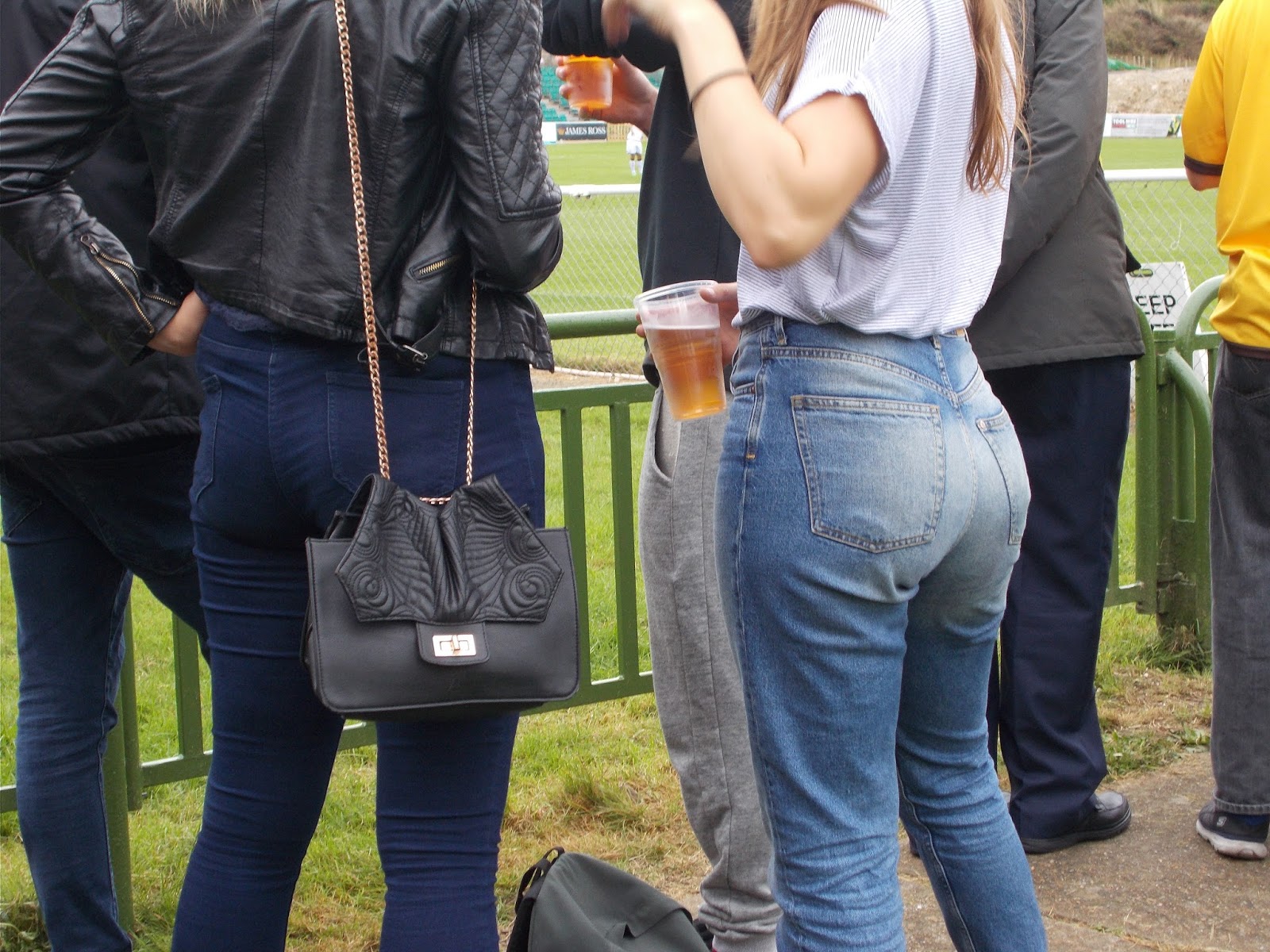 Dukey needs to work on his composition. Ahem.
Worner, Spence, Wishart, Beckwith, Cooper, McAllister, Spillane, Southam, Dundas, Fitchett, Stearn. Bench Warmers: Fleetwood, Wright, Bolarinwa, Amankwaah, Shaw.


The first ten minutes were really the only part of the game where we played anything like against Wealdstone in the first half. The highlight was a run from Fitchett, where he cut inside past his marker and then took it around another defender before his shot was too weak to trouble the Snood in goal. Of course once again, we became the masters of our own downfall.
First we knew about it we were behind. There appeared to be a complete change in our approach to the game as, one again, the defence went walk about. Worner managed to save the first chance and then someone else stopped the second but as the Whitehawk players lined up to take a pop they did this with no trouble from any Sutton player. Eventually the ball landed in the back of the net to make it 1-0.
Now some might think that going one down would spurn us on, but the opposite happened. After a play was intercepted just outside the Whitehawk box, the fella managed to run halfway down the pitch without anyone getting near him. He laid the ball off to the left and then this was played into the box for another poorly marked fella to slot the ball home.
2-0 down after a quarter of an hour and it was goodnight Vienna. By this point we were in tatters and it only took some excellent goalkeeping, a disallowed goal and poor finishing to keep it that way. With half and hour gone we imploded once more. After not reacting to a quick free kick, it fell to Cooper to haul down the player a gain a straight red. No arguments from me, but why do we always seem to put ourselves in these bloody positions?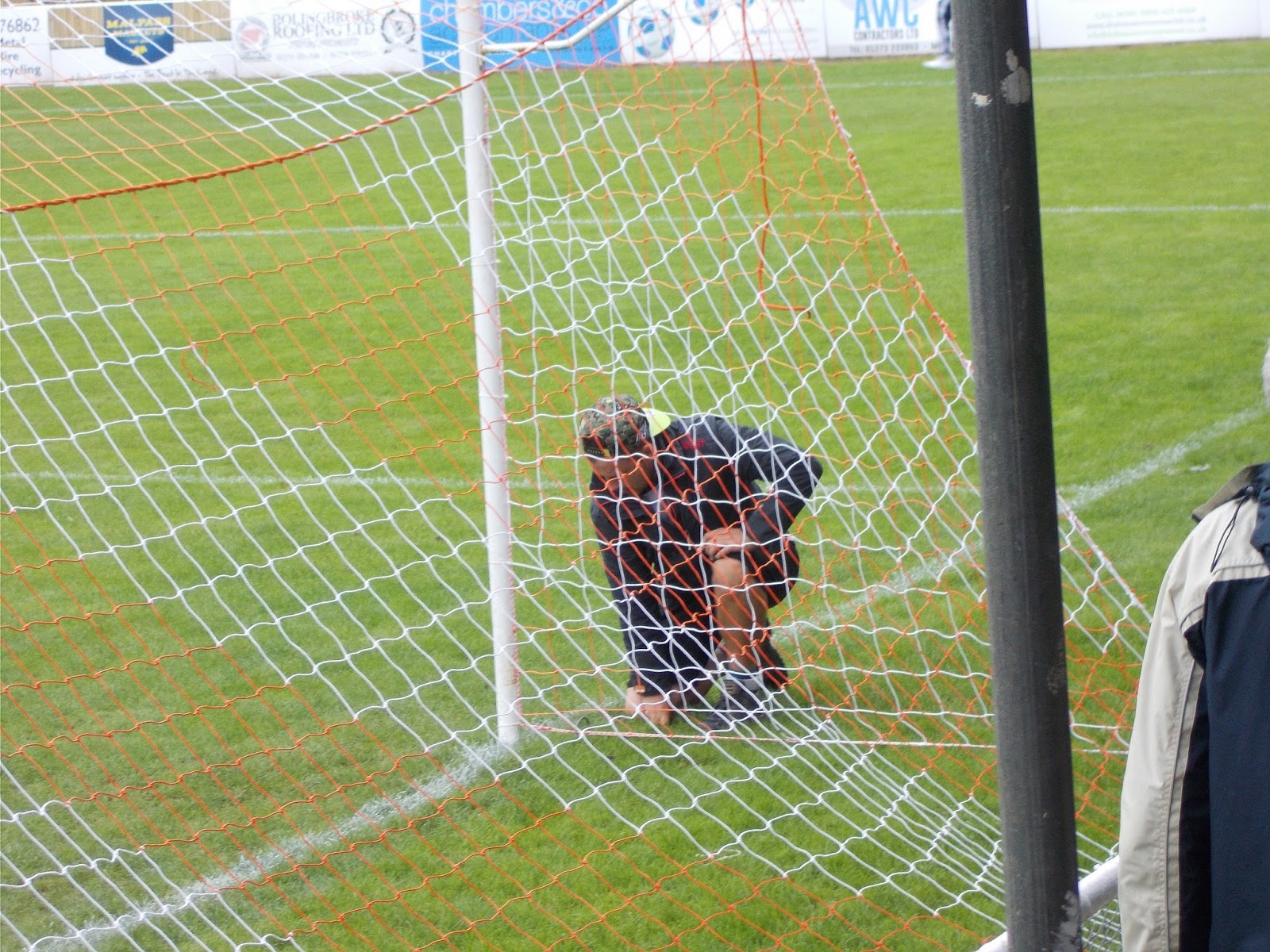 We can see you, you know…
Somehow we get to half time with no more damage & we await another tough 45 minutes in the second half. Fleetwood had replaced an injured Stearn before for some reason we waited eight minutes before little Tommy Wright was brought on for Fitchett. Still can't work out that one. Still, our best chance was from Wright who beat a couple of players with some footwork that reminded me of my championship Breakdancing days before seeing his shot bounce the wrong side of the post.
The two things we are struggling with this year is the Double DDs. Defence & Discipline. This was once again shown with bookings for Wishart, Dundo, Spillane & Wright just in the second half. You wouldn't have known it was First v Second in the disciplinary table because we totally trounced our nearest challengers for the title. At least we had one big away win!
After Bolarinwa traded places with McAllister, the game seemed to peter out somewhat, with both teams having half chances. There was still time to hear some of the weird songs coming from the other end. "It's a Long Way Back to Epsom" was rather weird because we all know that Epsom is some 5 miles away at least. That's as far as Croydon, surely that could say "Fuck off back to Carshalton" for a better effect?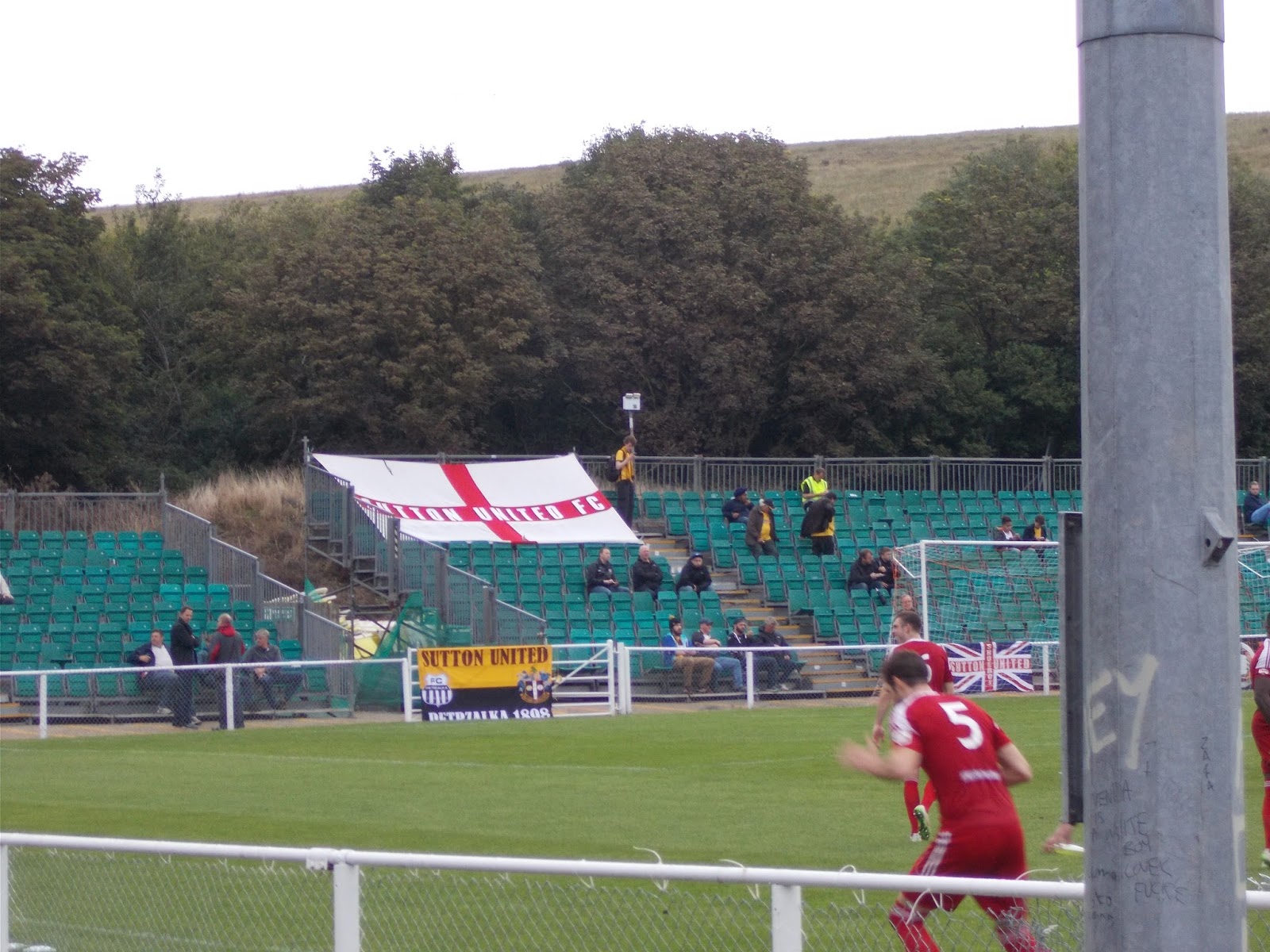 Away masses.
After the game we forgo drinking in the bar and rustled up some transport. As usual two cabs were ordered but only one turned up. We did manage to pick up another though (sorry David whoever you were our need was greater fella) and headed straight for the now opened "Queens Head". Another pint down, we headed on to a boozer we hadn't been into before "The Royal Standard", a little place which had no Cider so I had to make do with a bottle of Carlsberg.
The final boozer of the day was back to the "Evening Star" where we bumped into a group of Lewes fans. Finally, we get to talk to those whose season is a lot worst than ours! That is also not to mention some interesting stories about current Whitehawk manager Steve King (lock up your stationary is all I'll say!). We did manage to miss a couple of trains back home due to being social wonders, before we finally timed it right.
For the train back we acquired some beer and food from a local Budgens where I got Taz to try a Ginster's Buffet Bar, which he liked much to his surprise & delight. As this was a fast train, we didn't even realize it when we approached East Croydon station, Mr X being convinced it was Gatwick An Uber cab later and we were home before the birds began to sing for a change.
Now, to cheer us all up, have a butcher's at this little video. It certainly puts me in a better frame of mind I can tell you!
Duke
Att. 306
Number of goal scorers so far: 4