Damn those egg chasers! If it wasn't for their bloody daft World Cup being held in sunny old England (plus a couple in little Wales), then the train tickets for today's trip to wouldn't have been the ridiculously large sum of £53! Some of us ain't made of money you know!
As it was arranged that there was going to be an early meet at Carshalton to grab the 0731hrs train to Victoria, you would tend to think that it was going to be an early Friday night for all those concerned. How wrong could you be?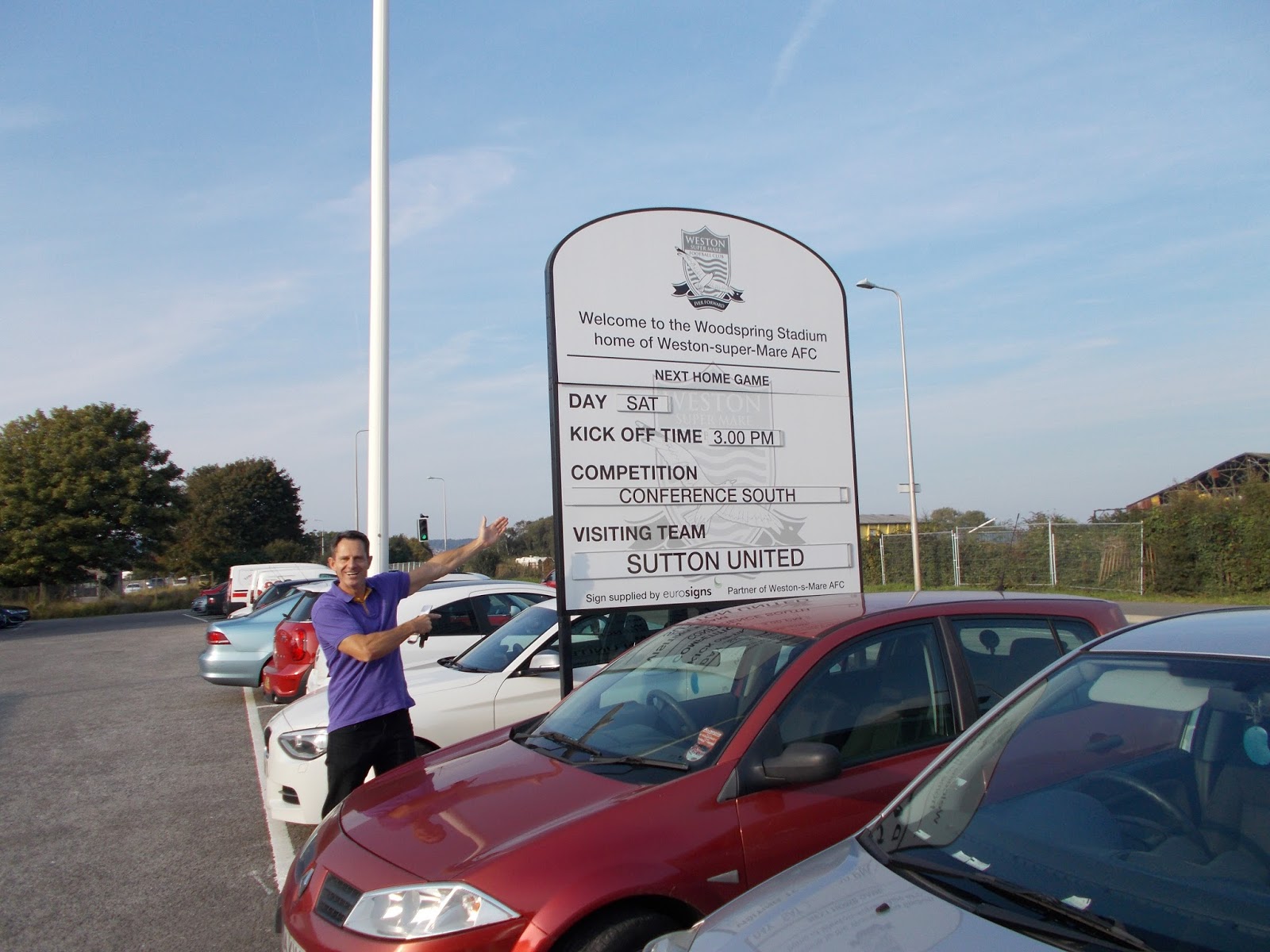 TA DA!
Well very actually. For the likes of me, Indy & Sean Connery Friday night would entail a trip down to the club to watch the tribute band, Mainly Madness. Of course I didn't just have a couple of glasses of Sherry but managed to down a couple of gallons of premium priced cider inbetween some old moon stompin' and a kebab afterwards to boot.
Feeling a bit peaky is never the best way when you're about hitting it hard again. But it was my decision and I'm a big boy now, so was going to have to live with it. Meeting the Firm Leader, who was also suffering after flying back from 2 weeks of Cigars and Rum in Cuba the day before, we wandered down the road to the station thinking what the day had in store for us.
The first piece of luck of the day was when I received a call from Taz stating he had arrived early and wanted to know if we had any desire for some bacon. You can never go wrong with some slices of pork in bread so he probably already knew what the answer was. Apparently the fella serving him nearly got a dead arm from shaking the amount of pepper I required on my food.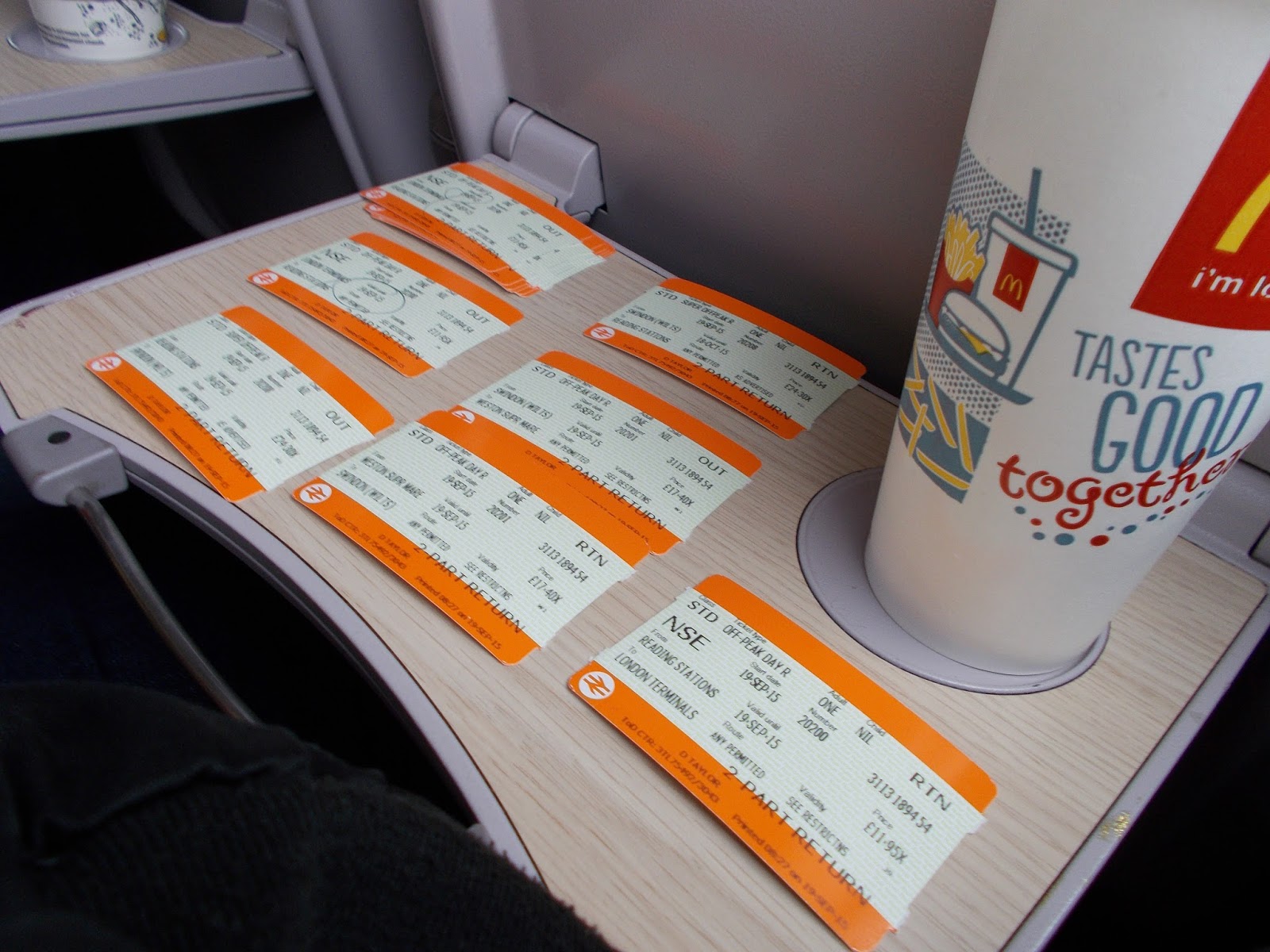 Multitudes of tickets….
Being greeted by 4 Days we waited for the train, which bloody stopped at the other end of the platform, and we saw that Indy & Sean we already on it. Picking up Ross at Hackbridge & Southampton Steve at Mitcham Junction, the Glorious Eight were now ready to make the first part of the journey uptown. Sadly there would be no Mr X today as he was off seeing strippers from Wakefield in the Algarve. Or something.
Arriving at Victoria we jumped the tube towards Paddington. Making it here on time we were greeted by what seemed like thousands of Irishman making the trip to Cardiff. Also in attendance were a smattering of Canadians, their opponents for the game.
With Taz off to collect the tickets, some of us snuck out for a cheeky snout and others decided on getting grub and non-alcoholic beverages for the train. As we were due to get the 0845hrs train to Bristol, we soon realised how many of the Irish also had that idea and decided to bank on the 0900hrs being quieter. This despite the fact they had direct trains to Cardiff laid on for them. Dickheads.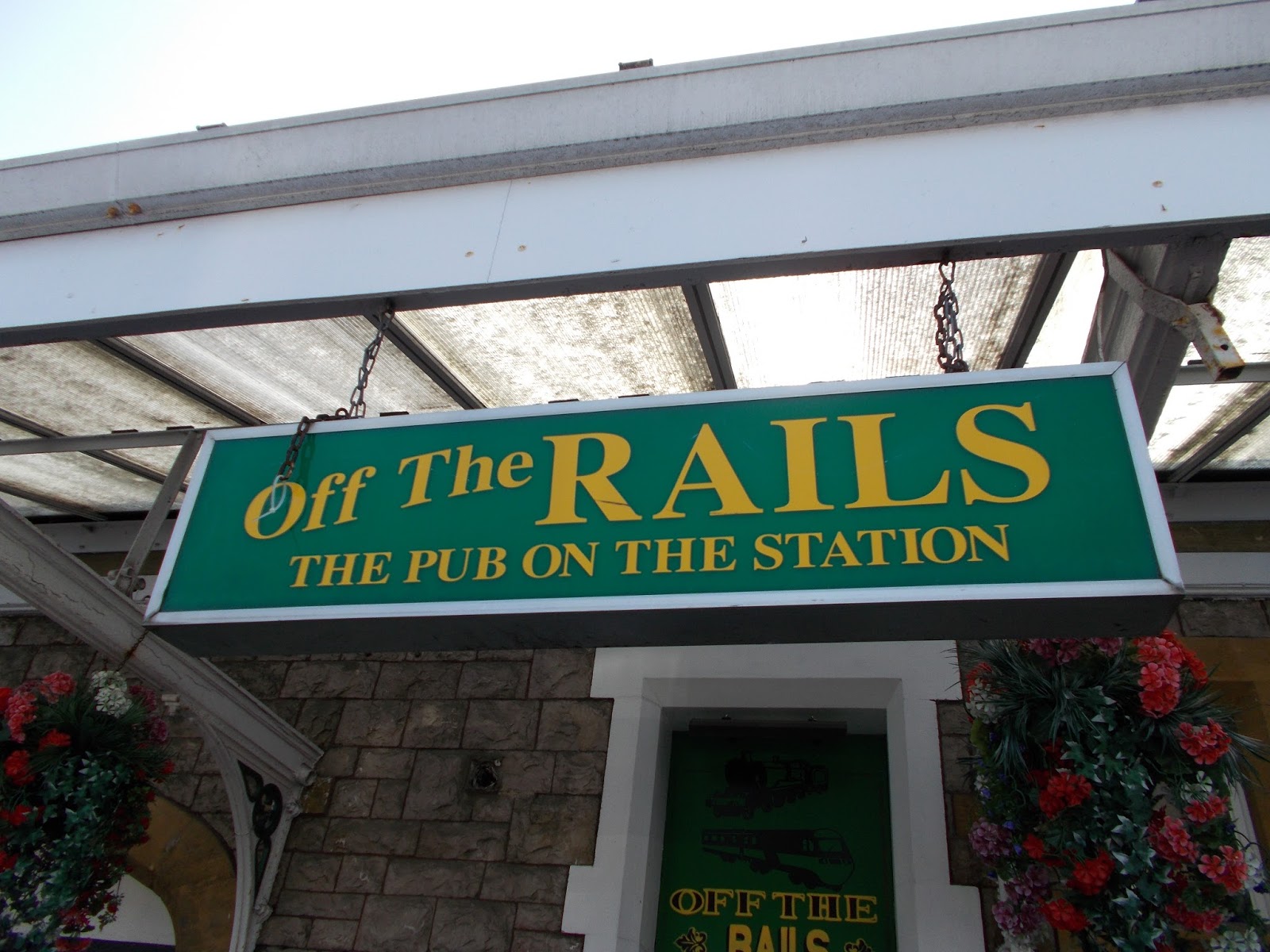 An aptly named place given our usual awayday antics…
As we now had a bit more time, I decided that some sugar for me in my fragile state would go down a treat and plumped for a large coke from the local Maccy Ds. I also foolishly, and not for the first time, grabbed a large vanilla milkshake as well. Everyone knows you shouldn't have a large milk drink after a heavy night and before eating, but I can be a right wally sometimes. Yeah, I know. Hard to believe innit.
The trip to Bristol was meant to be a simple quiet affair but how wrong we were. First with only two carriages available to those that didn't reserve tickets or have half million quid for spot in first class we got on the same one as the buffet. As soon as we left the station, the lights started to go on and off.
Then eventually they remained off. Soon after a loud beeping noise could be heard behind us, "What was that for?" someone remarked. "Maybe someone was accessing porn on the wi-fi!" I retorted, cue many eyes looking at me. What?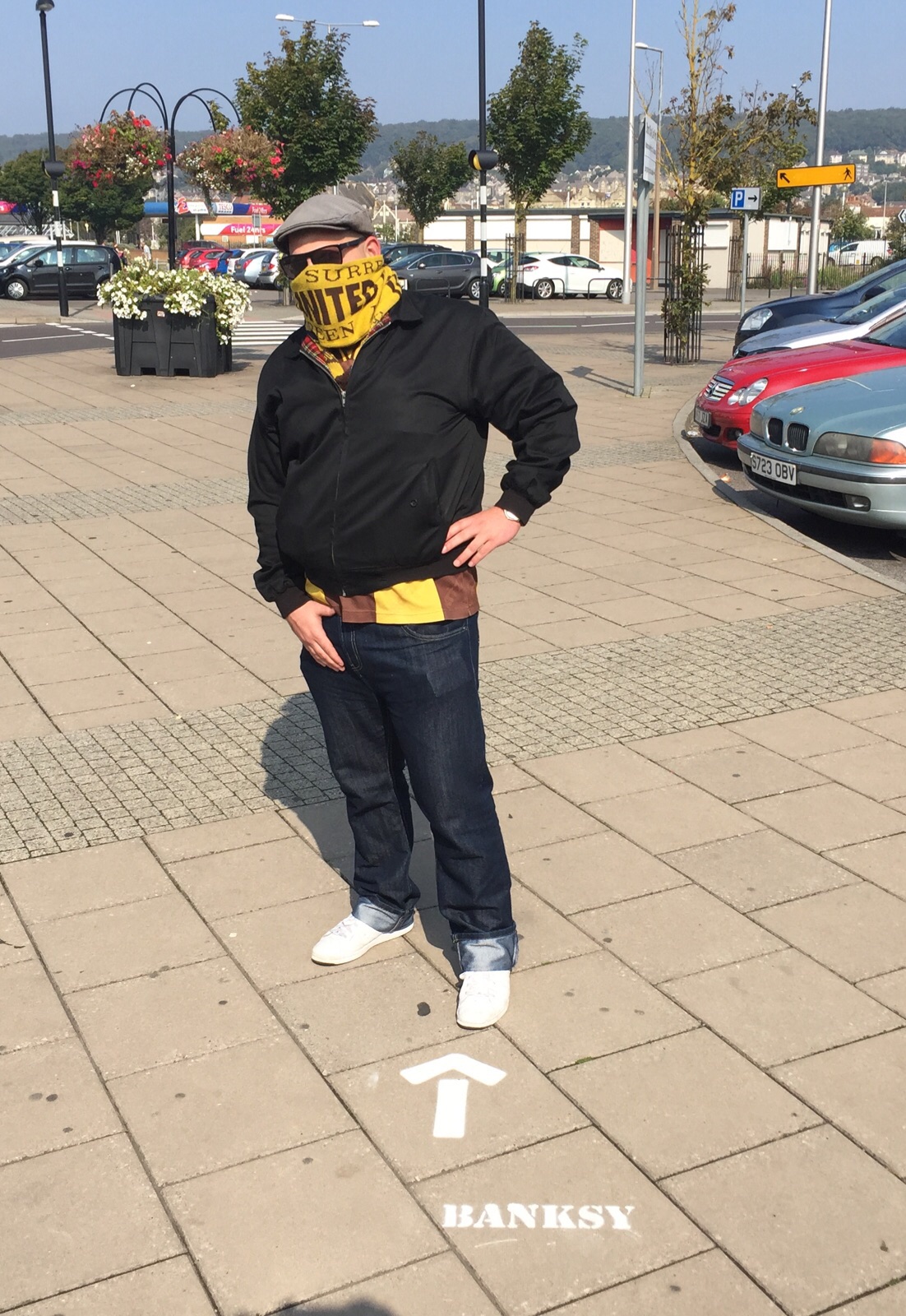 No comment!
Before we had even reached Reading an announcement came over the airwaves that the buffet cart would be closed because of a technical error. This was also accompanied with a very strong smell of burning plastic that indicated something wasn't quite right.
After leaving Reading a new announcement was heard stating that passengers in the buffet carriage would have to leave it once we arrived at Swindon. This was over twenty minutes away so there couldn't be that much danger I thought!
Getting to Swindon we were told to leave the carriage, but we were also told that we couldn't use the mainly empty first class sections and with the rest of the train being packed to the rafters with people, we decided as a Firm to refuse and await the BTP riot squad. Along with everyone else!
Base Camp
Nothing of course happened and everyone remained seated as we went through the picturesque places of Somerset. Arriving at Bristol a little later than expected, we had to change our plans a little bit and this meant arriving at Weston twenty minutes later than planed.
On the local line, 4 Days managed to grab a quite view of the Clifton Suspension Bridge. Taz remarked that it was a "Cool Bridge" much to the disgust of our Firm Leader. "Bridges are practical, never cool!". Clearly he was still in a good mood and definitely not jetlagged or owt.
Having been met by Si, the local Weston fan we know, the first port of call was "Off The Rails" which as luck would have it was a pub on the station! The first pint was quickly dispatched and were soon heading to the next pub "The Bristol Hotel".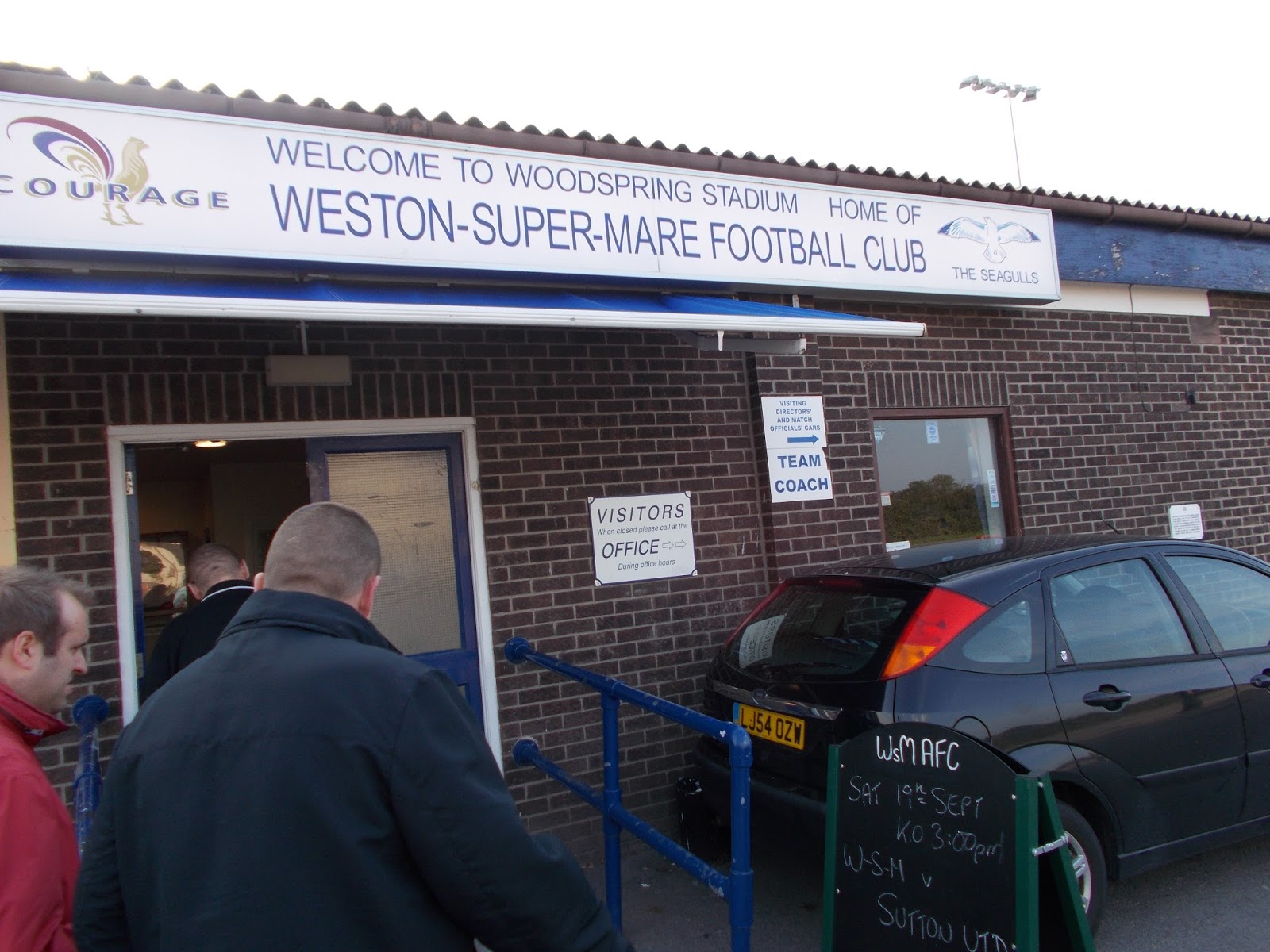 THIS. IS. WESTON!
Arriving we found the place deserted but just before we got to the point of vaulting over the jump to help ourselves, a barmaid arrived and quickly got down to taking our orders. Some of the fellas played pool whereas the rest of us to our seats for the early kick-off on the telly.
Now I can't say that I'm a fan of the Premier League myself (old Division 1 for me), and especially as I don't particularly like Chelsea or Arsenal, but did you see that bloody Costa? Knocking a fella in the mush is one thing, twice and you're pushing your luck. But three times is astonishing.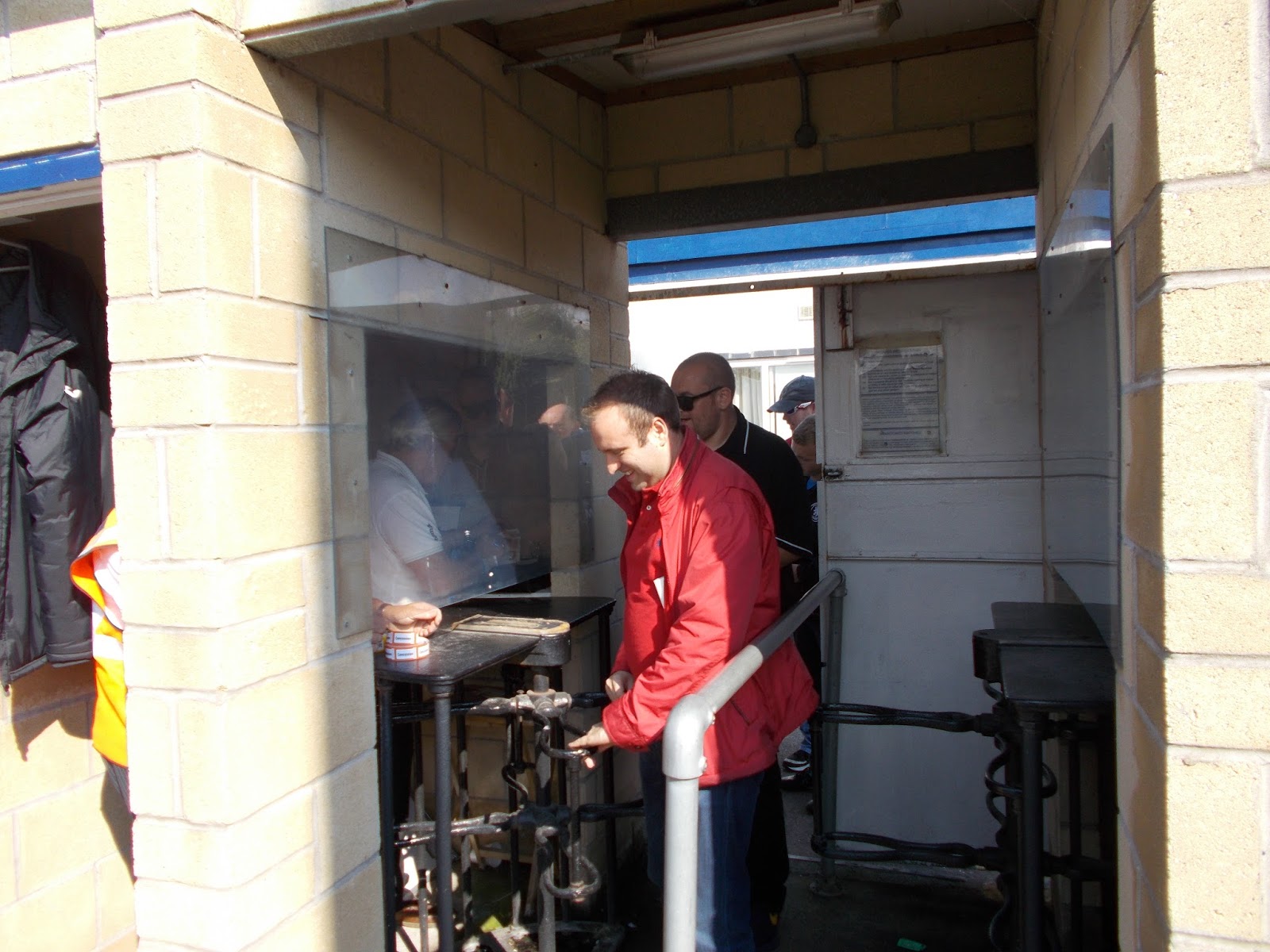 "What do you mean I don't look under 16?"
There was much debate about this in the pub and before we knew it, it was pushing on for nearly two o'clock. As always many of useless topics were also discussed. I do believe that someone also described a particular sexual escapade as being like the "Terry Waite of Carshalton". No idea what that's all about.
Another silly conversation I would like to know is how we got from using a launderette, to the the original sale of London Bridge and onto to the musical legacy of the SugarBabes & Atomic Kitten? One day I'm going to get Taz to GoPro our adventures to try and work out where most of this shit comes from.
With cabs ordered we were soon at the ground for another road. The cost of the cab was only an easy fiver. Bargain. With the teams out on the pitch it was time to sit back and enjoy the game. Not before me & the Firm Leader had enjoyed a couple of the hand rolled Cuban cigars he had about his person.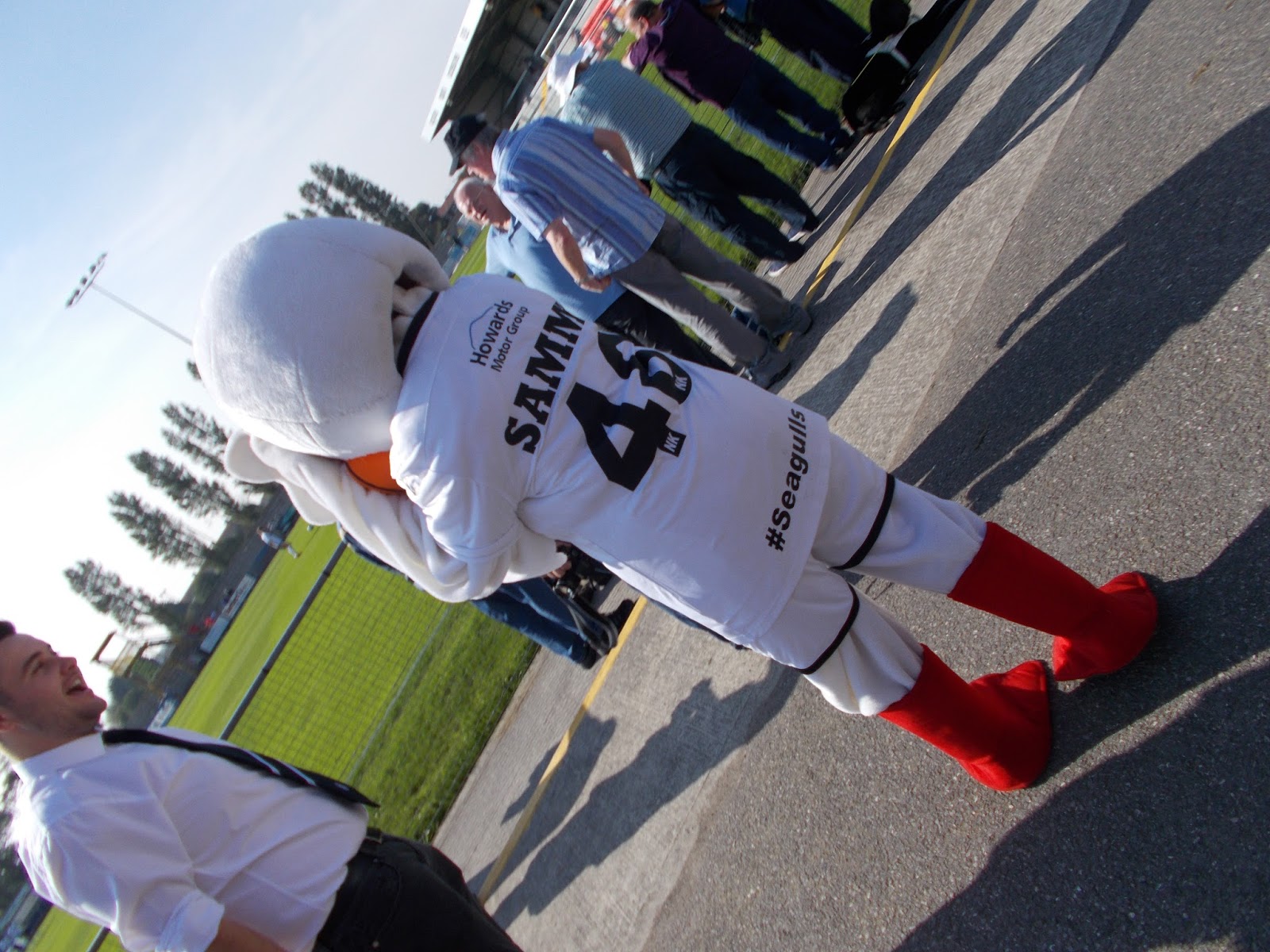 Creepy Non-League mascots. #37565634
Worner, Amankwaah, Spence, Beckwith, Eastmond, Collins, Bolarwinra, Gomis, McAllister, Fleetwood, Stearn. Bench Warmers: Fitchett, Dundas, Cooper, Wishart, Shaw.


Shooting towards the main stand the heat for a mid-September day was higher than normal. The game started very much like the Fleet game with both sides having possession inside the middle of the park. Having one of those cigars with the Firm Leader down by the corner flag, meant I got to watch the game from a different angle for a while too.
A couple of corners came our way with Stearn lifting them into the box without hitting an amber head. Then at some point Gomis got hold of the ball inside the Weston half. He managed to lose his marker before heading towards the Weston goal. Just when we thought that he had taken it too far, he let rip with a top of the goal curler that astonished most of us. 1-0! With our noses in front we seemed to play with a bit more of confidence.
Although this did mean we increased our yellow cards for the season with Spence & Bolarwinra both picking up needless yellows. Not long after Tombola had been booked, it was goodnight Vienna. Bolarinwra picked up the ball from the left hand side and cut it in to set himself up. And cool as a cucumber curled another shot past the keeper. 2-0!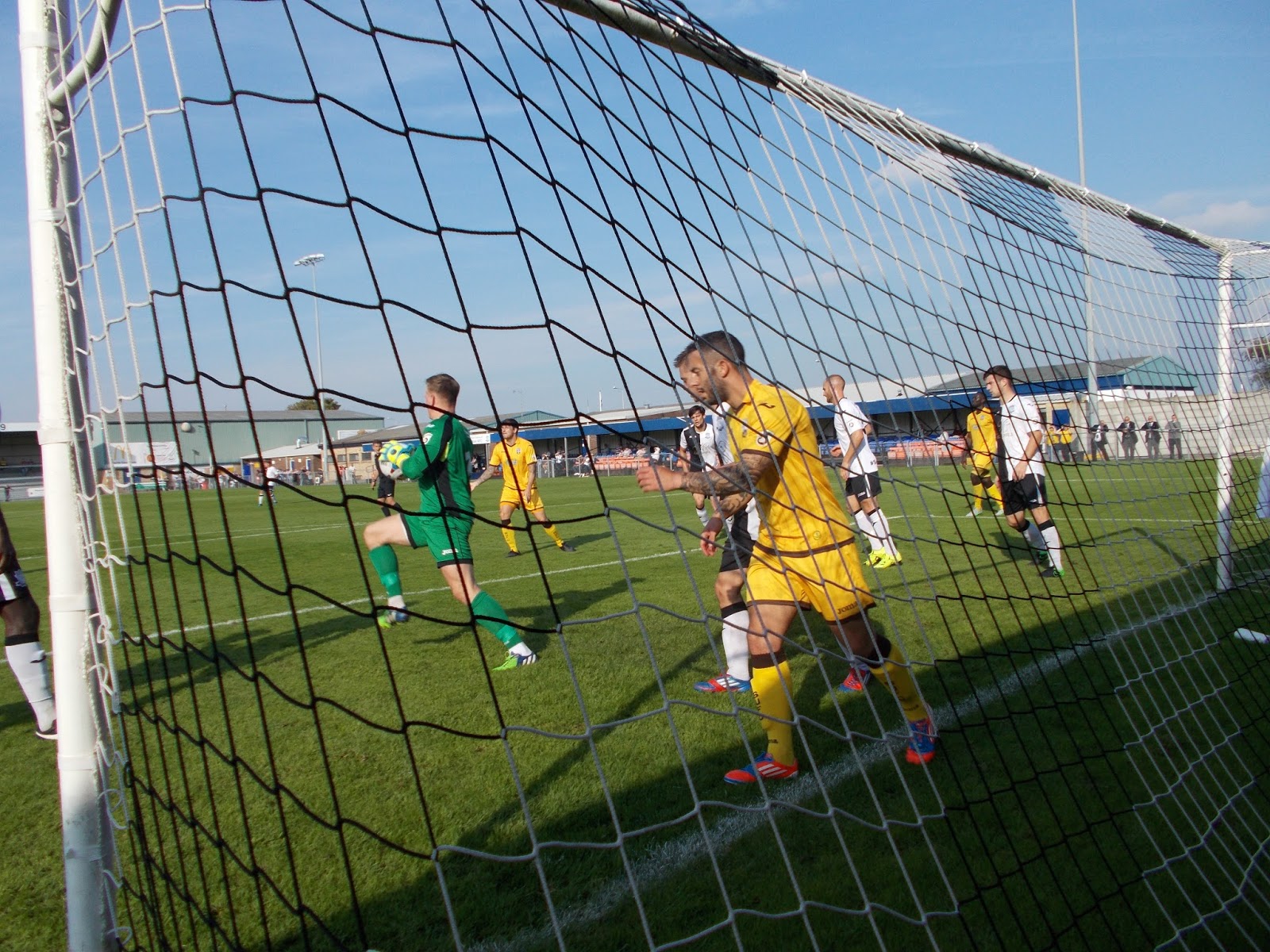 View through the net….
For the second half we had the sun in our backs as we saw a totally different game to the first half. No offence to Weston but currently under Northmore, if they continue to play like that then they could well be for the chop this season.
For Sutton it was more of a case of holding onto the two nil lead we create and against someone like Weston it worked. Even after having Fitchett, Dundas & Wishart replace Fleetwood, Bolarinwa (grudgingly) & Stearn, we never really looked like we were going to go for the jugular.
With just over ten to go there was still time for Beckwith to go down with a hamstring and with all subs made the only option was to stick him upfront with McAllister. Talk about a mobile attack! But we managed to comfortably managed to see out the match.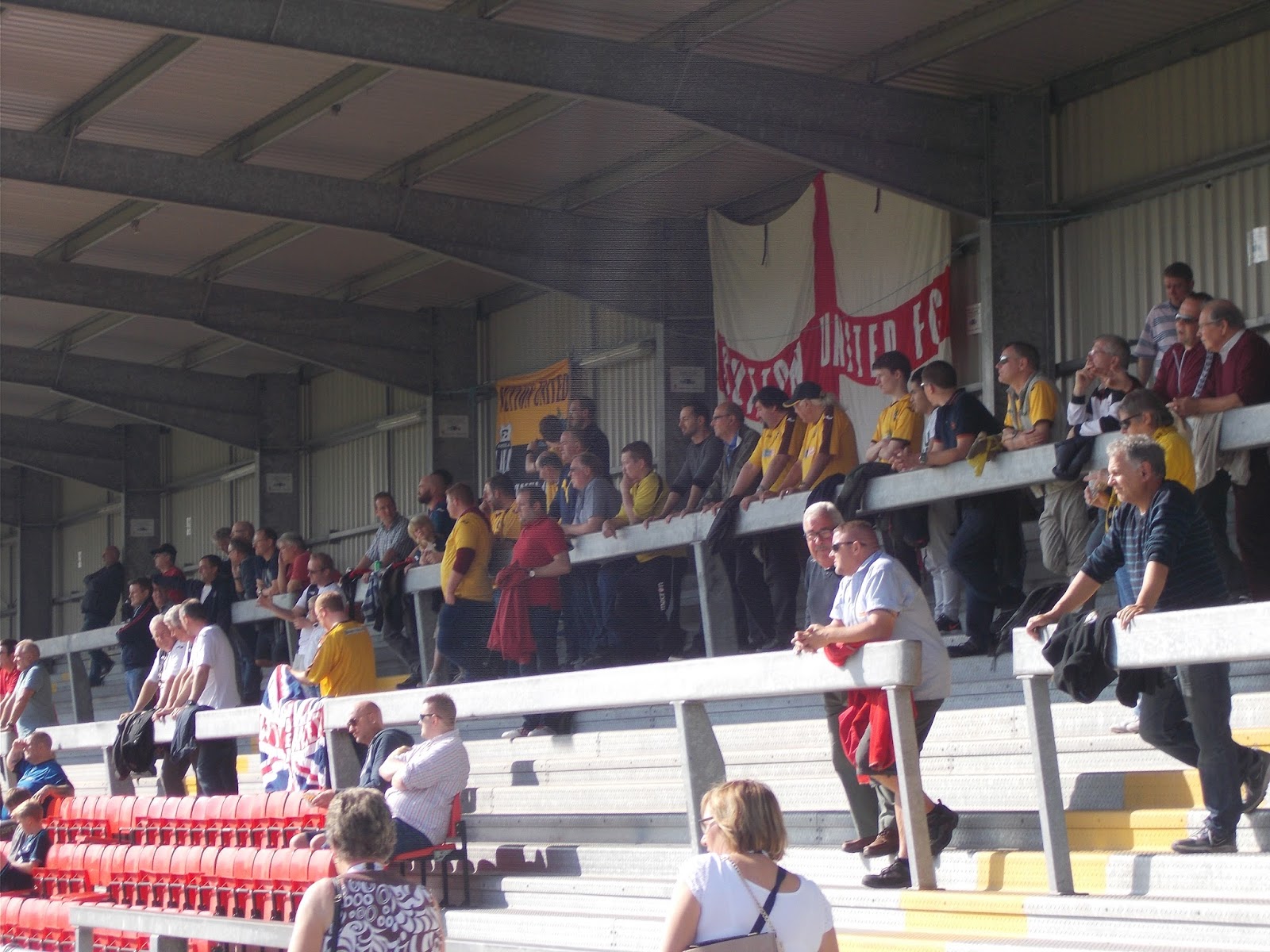 Massed away ranks.
After the game we headed into the bar and await the other scores. One in particular was to see that our nearest and dearest had managed to let a 2-0 lead slip into a 3-2 defeat with a last minute loser that made us even happier.
The original plan was to have a cheeky drink before hitting another pub but as always our plans seemed to go right up the spout as a certain little Japanese effort in the egg chasing turned some of the boys attention away from the drink for a while. Obviously the cabs were ordered for about five minutes before that match ended so as always I actually missed the last five minutes as I helped out and jumped in the first sherbet.
With little time before our train home, we had just about enough time to have a cheeky drink back at the Bristol Hotel and see the end of the West Ham match. I not too sure what Southampton Steve had managed to eat but he did have a fine contribution to make to the Gandermonium art of bottom burps.
The time was due now for us to sort out provisions for the journey home. After a trip to Tesco's we had managed to acquire some bottles of cider and some Pringles. But still the urge to have some hot food was upon me.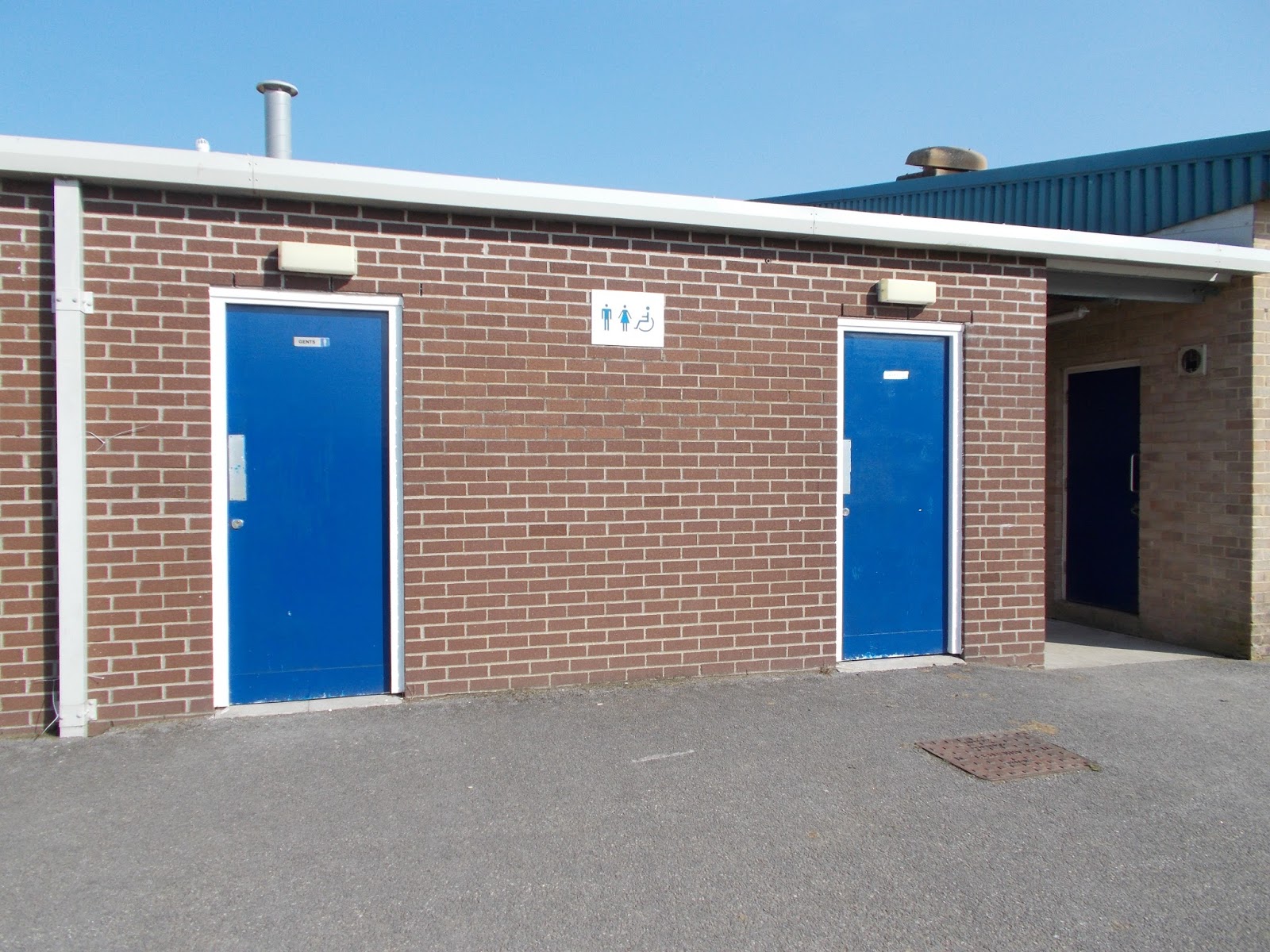 Bogs.
Without the time to go to the local KFC, there appeared to be a local chicken shop that goes by the name of Miss Millie's Fried Chicken. Not the cheapest place in the world but a copy of KFC enough to be able to have some similar items.
The most important item in a chicken shop is of course the chicken gravy. And nothing makes a child (and me) happier than something dipped in gravy. Back to the station and with plenty of time we awaited our departure.
Sadly there wasn't enough chips to dunk in the gravy so eventually I was reduced to using pringles. To be honest, after a shit load of drink, it didn't half taste bad. The cheese flavour was probably better than the prawn cocktail's but beggars can't be choosers. Taz on the other hand wasn't convinced!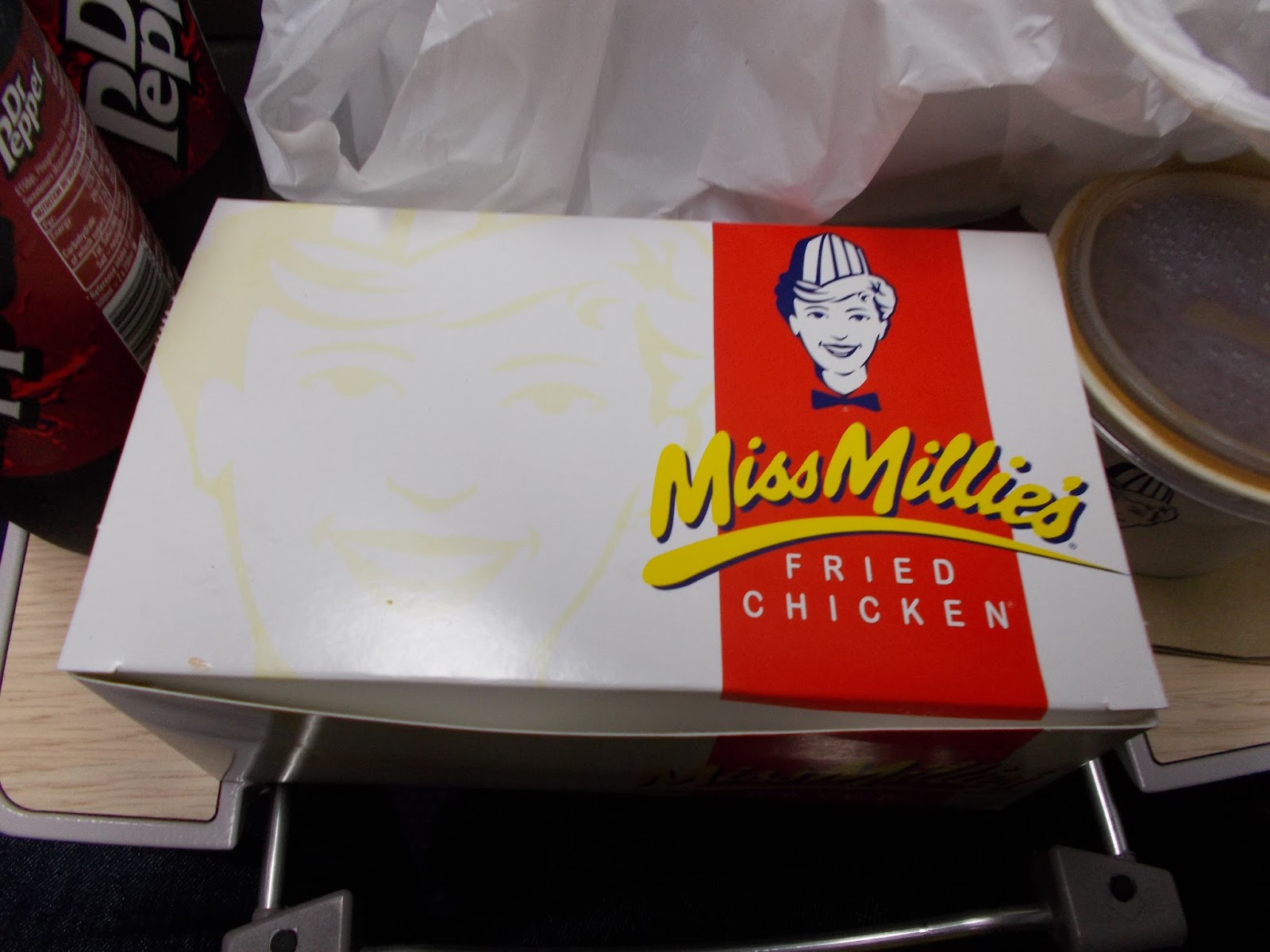 One of the major food groups.
With this train being direct and about last one back to civilisation, the carriage became quite full till the point that people had to stand in the aisle again. Gandermonium once more proved itself in being quiet and civil in front of other members of public with conversations that didn't offend or create disbelief in the slightest. Wink! Wink!
Getting into Paddington and back to Victoria we realised that us living in Carshalton had just missed the train back. So thinking ahead some of us just jumped on the fast train to Sutton instead of waiting half an hour whilst Taz & Steve headed for the bright lights of East Croydon. On the way back to Sutton, we checked the train times from there only to realise that we'd also missed the last train from here too!
Luckily for me our Firm Leader had already organised a lift home for us. Top fella! So there it is, FA Cup next weekend at Stortford. Let's hope for some enjoyment and another chance for an interesting trip in the third round qualifying.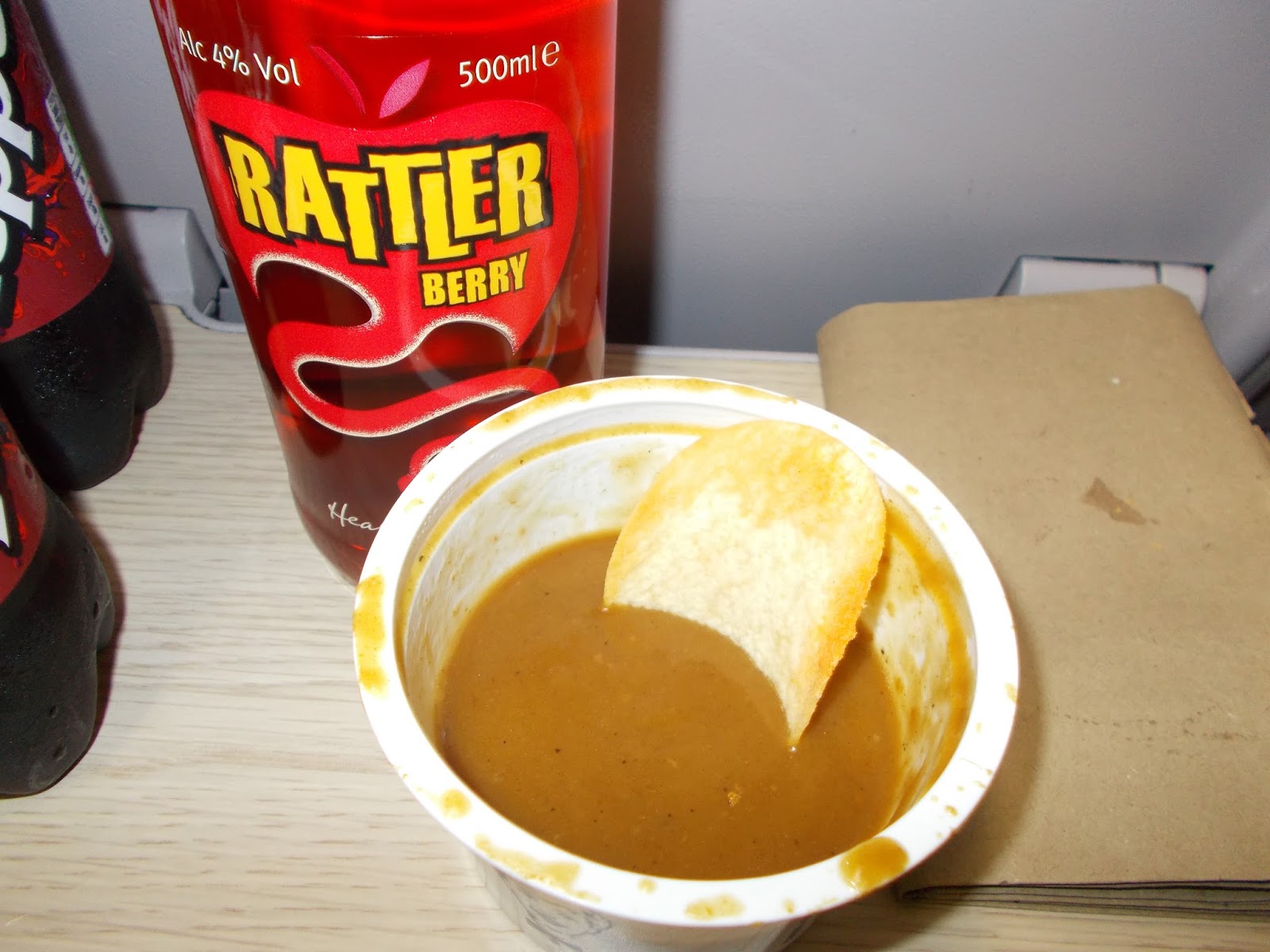 Pringles & gravy. Big whoop, wanna fight about it?
Duke
Att. 368
Current Disciplinary points: 160 (which is probably the highest in the top eight tiers!)