With another largely forgettable pre-season over (getting drunk in Winchester and Jersey aside!), it was finally time to get the proper stuff underway. And luckily for us, the Conference fag packet fixture computer gave us a nice attractive opening day match up with newly Promoted Maidstone. Who, like us, also have one of those new fangled Fred Gee pitchamaroo thingys. So naturally, the U's marketing team came up with a snappy tagline to help advertise the first game on 3G in England's 6th tier. *Drum Roll*
'The 3G Derby'? Oh…
Fortunately, the slightly less cringey and more tongue in cheek 'El Plastico' was picked up later in the week. Thank god. Although we really can't think where they got it from.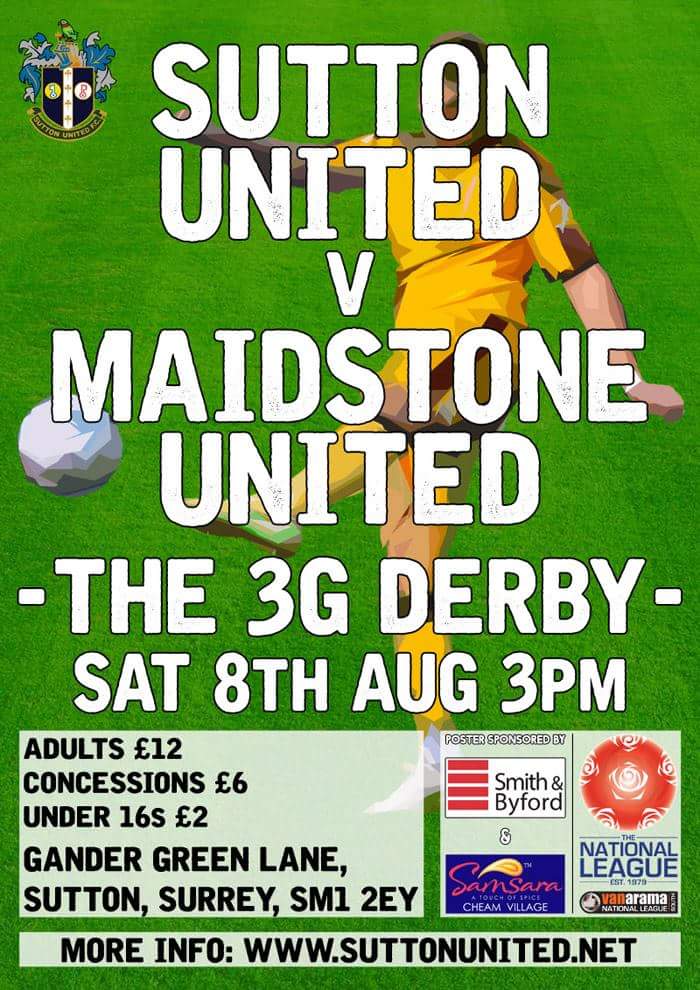 Oh dear.
Having binned our last two PSF's as quite frankly I had better things to do with my time, like pick my nose, I was mildly looking forward to todays clash. Although it is tinged with a little sadness, as it also marked the last time I and the shadowy Mr X would have to set up the legendary Roses Tea Hut before the game. With the upkeep getting a bit much, we're letting the club caterers have a pop at it. Fear not, it'll still be named after Rose. That was non-negotiable.
So, as per normal I leave home about noon facing not being able to hit the bar until 1pm at least. Still, on my journey in I have company on the 407 in the form of Burgers who has recently moved into the shadow of our top secret volcano lair. So I've agreed to hold his hand and show him how the SM6 branch of the Shoebox Crew rock this home game shizzle. It's pretty simple really. Get the bus into Sutton, draw some folding from the ATM and head for the club. Hardly rocket science.
Having seen Burgers safely into the bar with a beer (the lucky bastard), it's off to do my duty. Sadly, this doesn't take long as a bored X has been down early. This is stupid, mainly as it means we now have to shift all the Sixes goals from down the touchlines. You doofus! Normally, this wouldn't be all that hard, but it's unusually warm for August in Britain. And when you're walking on a pitch that consists of fake grass mixed with about 2 tons of rubber, it tends to retain the heat a bit. Suffice to say, we're soon sweating more than a PC World employee confronted by Dukey's Internet search history.
Which leads us nicely into the usual verbal crap that gets flung about in the bar (when we eventually get there!) pre-match. As Man Utd & Spurs amble about on the telly (to the delight of some of the travelling support) Dukey regales us with some frankly life changing facts about the top ten search words on PornHub. By country. Also that every other major country loves watching their own adult material, whilst we Brits prefer our stuff a bit more on the exotic side.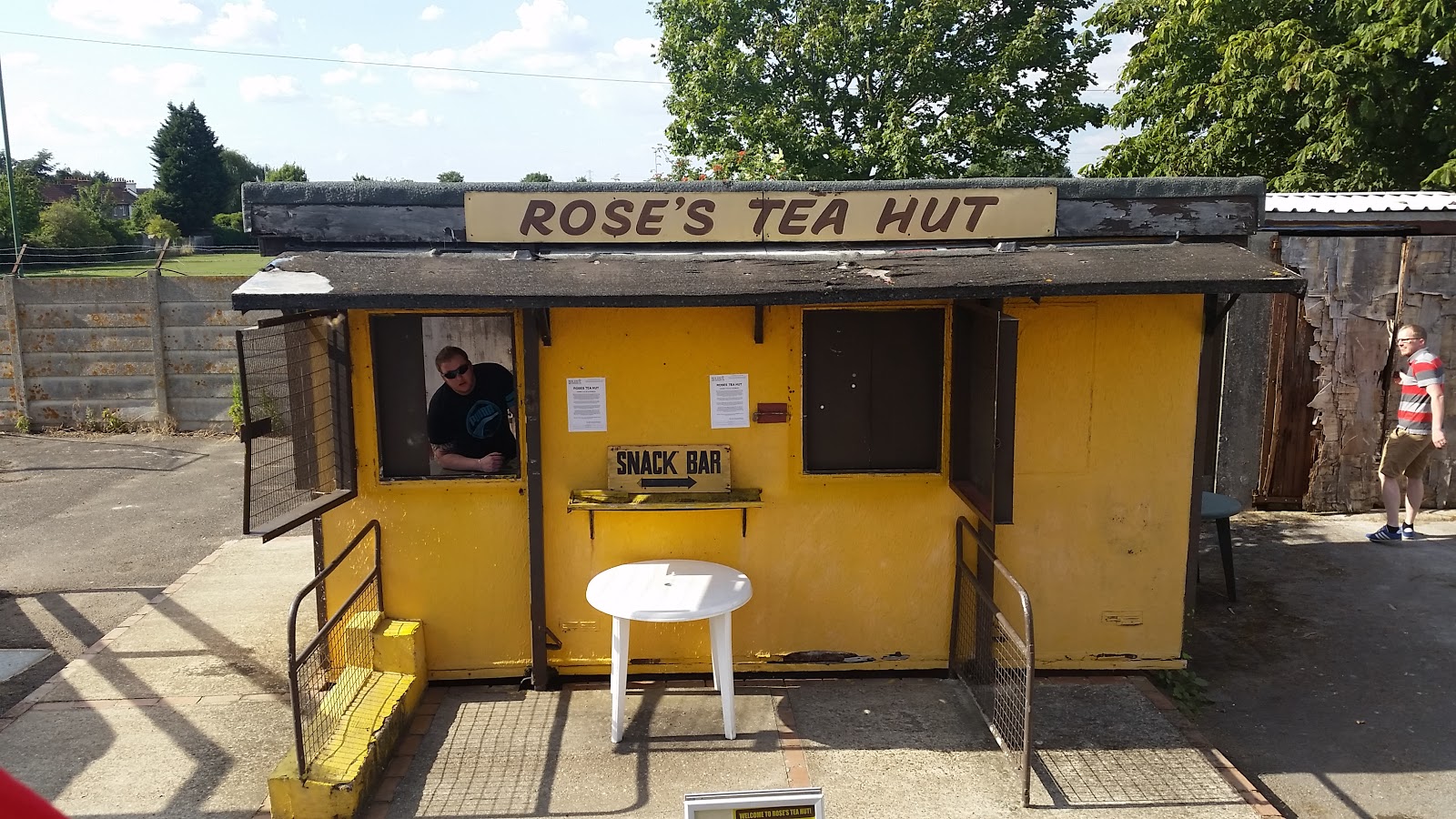 Bye bye tatty old shed.
An endless mine of information that boy. Absolutely none of it in anyway useful to man nor beast (we don't know what rank that was) of course, but a mine of information nonetheless.
He then turns to enquiring if we'd all been talking about him behind his back on WhatsApp this week. I first can't work out what he's on about, but then it dawns on me, he has been a little quiet the last few days. "You've broken your bloody phone AGAIN?"
Turns out the cack handed fool has indeed dropped it and once more busted the screen. Apparently a nice Asian man in Worcester Park is performing the required repairs. "Hang on, don't you have two smartphones?". At this, he looks a little sheepish. "Wait, you've broken two fucking phones in a WEEK?". He has and to prove the point he fishes a crappy little Nokia thing out of his pocket. The 'Belgrade Special' he calls it given that's what he bought it for on one of the other occasions he'd busted his fondle slab.
A mine of useless information he may be, but it also can't be denied the boy is absolutely fucking useless with gadgets. This is the man who has a 'customer record' with Nikon due to the number of their cameras he's had and then subsequently retruned broken into a million pieces. So if you're a Nikon shareholder and the dividends are down this year, you know who to blame.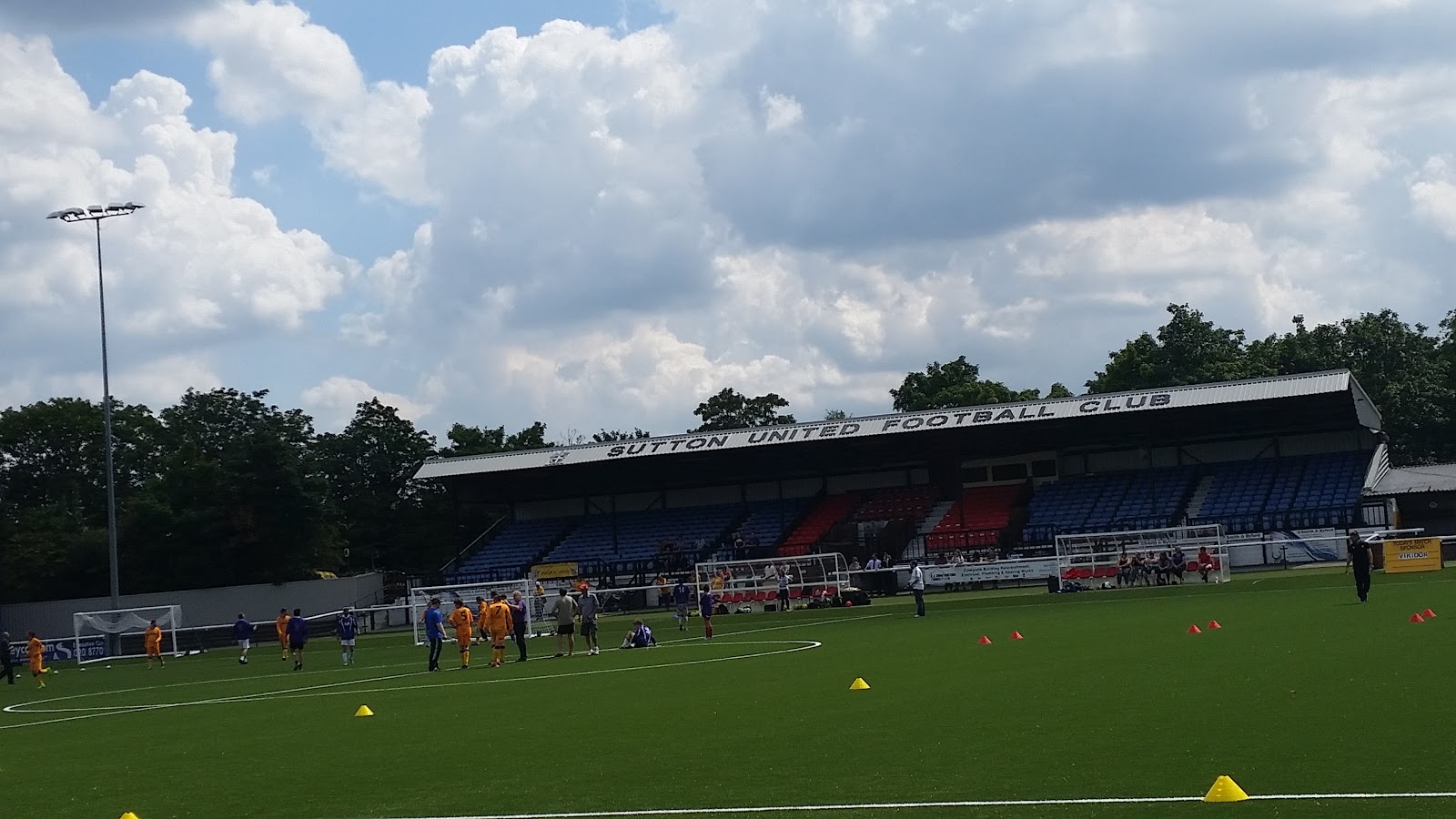 The grass is always greener at GGL.
Worner, Amankwaah, Spence, Downer, Cooper, Beckwith, McAllister, Southam, Dundas, Fitchett, Stearn. SUBS – Wishart, Fleetwood, Bolarinwa, Salama, Shaw.
Being they get 1800 or so at home most weeks, there's a few travelling fans in today and it makes a nice change to see the opposite end occupied by more than 20 people. Although the gratitude of their attendance evapourates somewhat when the first chant they can manage is "Can you hear the Sutton sing" with barely a minute gone and you know it's been done without even a hint of irony. Fuck me, the Soccer AM generation.
The game is played at a decent lick and the first 10 has both sides getting a feel for each other. The first effort is from the huge ex-Dover lad May up front for them, but it's comfortably held by Worner. From there, we slowly take control and have the visitors largely pinned back with Stearn in particular being a bit of a nusiance down the right.
It's the ex-Bath man who has our first chance, a long throw from Amankwaah isn't cleared and Ross makes himself some space, curling an effort towards the top near corner but Lee Worgan is across well to make a top save and tip the ball away. The bastard. We never really liked you Lee, we were just making it up. Not long after, another ball into the box, this time from a Southam corner causes havoc and the loose ball eventually comes to Dundo whose shot through a crowd rattles the near post. For some reason, the ref gives a corner. However it's not completely one way traffic and the visitors have a couple of quick breaks down the flanks, one ending with a little ball back across the box from the byeline that runs just behind the striker.
Our best chance comes with about half hour gone. A ball up from midfield finds Fitch dropped into space outside the box. With no-one near him, he takes a touch and curls a lovely 25 yarder off the base of the far post. Worgan then scrambles back to hustle away the angled rebound from Dundas on the line. From here, things then get bitty. The ref starts giving some fucking nonsense decisions, like booking Fitchett for a completely accidental arm when jumping for the ball when their no.5 has been doing it all afternoon and we just lose our way a bit.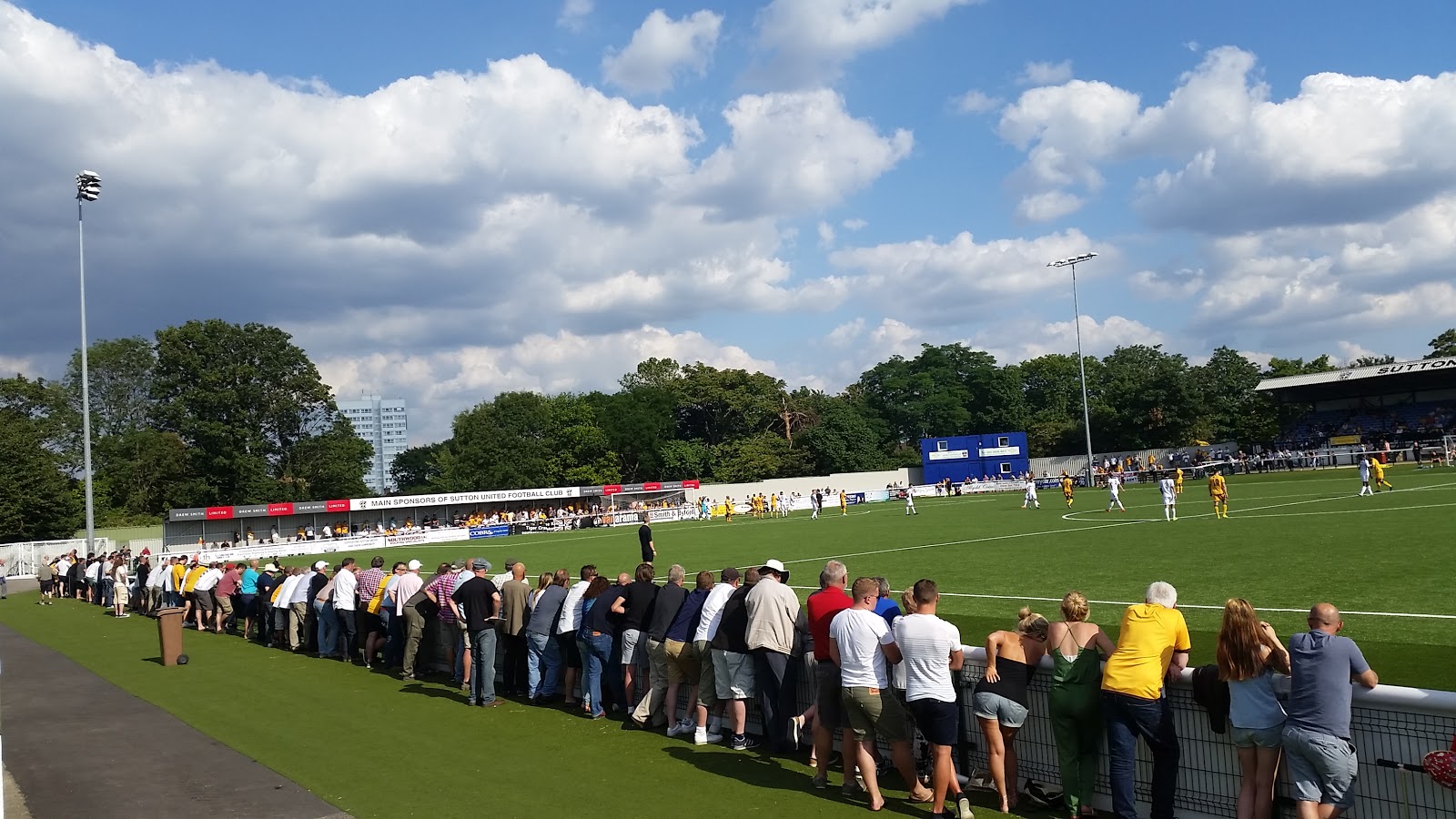 People. Lots of people.
The half ends with Maidstone looking the livlier and with a bit more composure should be in front when Worner gets himself in a right old state with a back pass. But thankfully with the oppo man forced wide, he rolls a ball invitingly back across the box with not a single team mate in sight.
At the break I wander round for my last cuppa and bit of nosh from the current tea hut with a nagging feeling that I'm watching a re-run of so many of last season's games where we were usually the better side for long spells but couldn't put the ball in the net. Let's hope not. Still, could be worse, we could be the Bobbins who are 3 down and playing with 10 men already against Dorking's second biggest side. OOops.
As we restart, a few unusual faces appear on the Shoebox. It seems some GGL end regulars are joining us this afternoon and a quick look at that end reveals why. Some fucking comedians from Kent have decided to be wrong enders and not move up the other end at half time. Why on earth do people do that? It makes zero sense. No one wants to hear your shit 'banter' and what sort of oddball wants to watch their own team defend for fucks sake? I know I bloody don't.
We start ok, but it seems our iffy last 10 or so of the first period hasn't quite been shaken off. Passes are being left a touch short and there's not quite the zip there was before. Admittedly it can't be easy running about on that hot plate of a pitch as we'd discovered beforehand, but it doesn't seem to be unduly bothering the other lot. Despite this, we don't really look in any danger whatsoever until on the hour mark, just after we've made a double sub to try & inject some life, Suvs lets a ball bounce, it's nodded forward from under his nose, flicked on and the bloke continues his run through a static defence to crack a lovely first time lob from about 30 yards over a completely stranded Worner who's miles off his line.
I fucking KNEW it!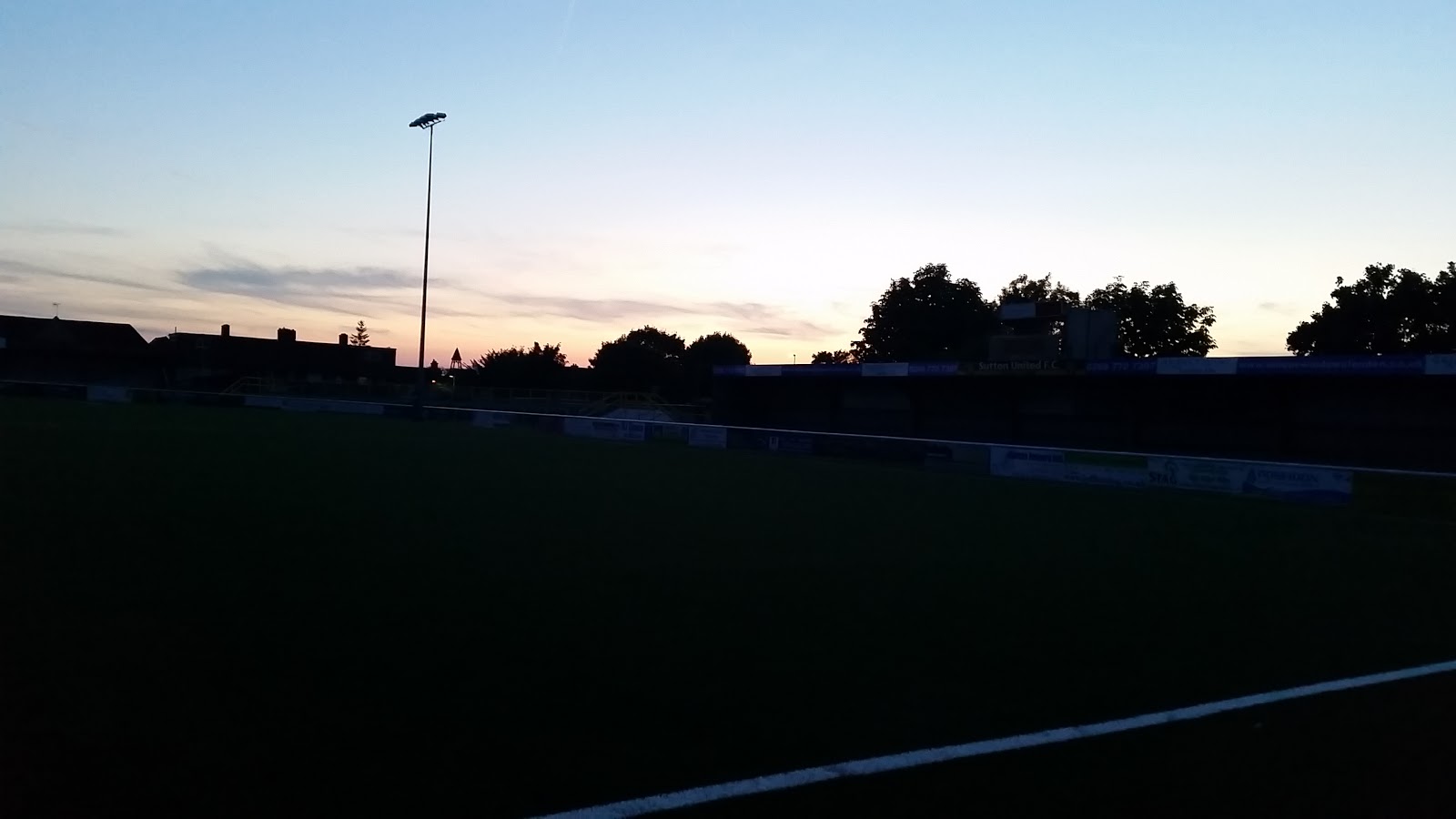 Filler frankly.
Sadly, the goal does exactly what it did loads of times last season here. The oppo drop into to solid banks of 4 and we largely don't have the nous to prise them open. Tom Bolarinwa once more proves he's one of the more exciting players we have by making a couple of decent forays down either flank, but the final ball is either lacking or well defended. Fleetwood soon appears as well, oddly stuck out left, exactly where he said he didn't like playing at FGR! Oh.
We huff & puff a lot, but lack any real conviction from here. The delivery in is always short, the passing is laboured and lacks any real urgency. Then with time running out, Maidstone have another rare wander up field and after a couple of nice triangles on the rec side an early cross is drifted in for the shortest man on the pitch to nip in and glance a header through Worner's grasp for 2-0.
Sake.
Naturally, it ends 2-0 and I and Mr X set about closing up Roses for the last time. When we emerge, several of the herberts are still sat there, putting off going in the bar given the brazen WES action in the 2nd half and the singing in the bar before the game. "It'll be full of cunts" as Greek eloquently puts it.
Oh well. Not like it'll be the first time we get mugged off in our own clubhouse after a disappointing home game will it.
Thankfully our guests depart soon after the match leaving us to get on with the business of drinking ourselves stupid whilst scoffing all the left over pastry based goods from the Tea hut. During which, I chat with Greek about his ongoing efforts to trim down and get fit. This turns to his recent penchant for road running, something I used to do a bit of myself. Long story short, I find myself agreeing to join him on his jog tomorrow morning. What a twat. Eventually it's time to depart for the high street and head for the spoons, however we're later than usual and we're pushing it for getting some nosebag, so a couple of us nip to KFC just as 4 Days old dear appears to pick up his brother Chris. This leads to a number of inappropriate comments on WhatsApp, the culprit of which shall remain nameless.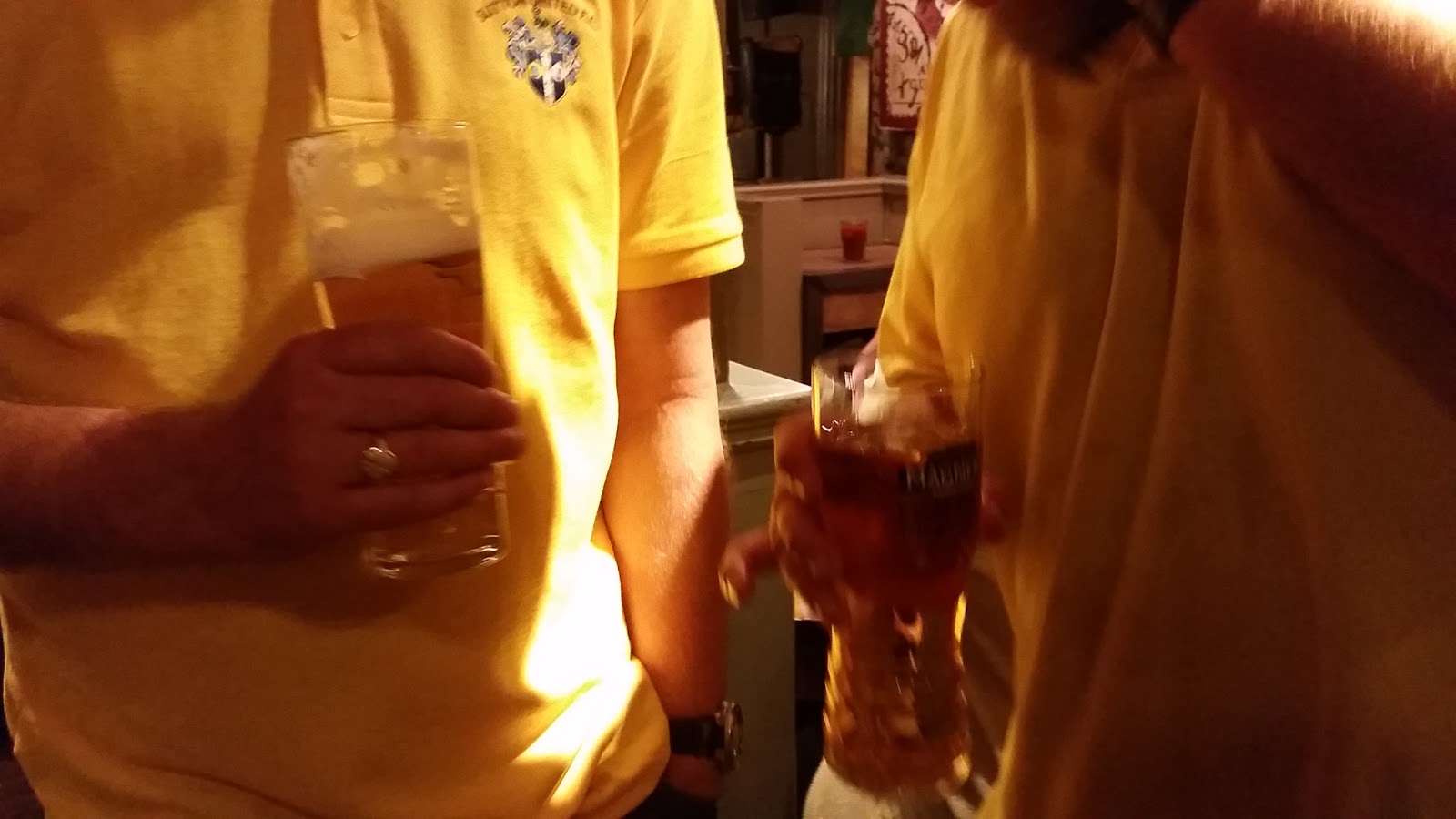 Boozin…
With everyone else faffing about, I decide to head up the high street and make a start on setting up camp in O'Niells. Steve & Claire tag along before deciding to call it a night and leave me on my tod. Charming! I'll have a double G&T Mr Barman. After a short while, the other dickheads appear and we get back to doing what we do best. Boozing and talking shite. Once more though, time catches up with us (as well as gin) and Dukey and I make the customary stagger to Melville for a carriage homewards.
Havant on tuesday, so at least a quick chance to put things right. And I get a lie in tomorrow. Or at least I would have if I'd not agreed to go running with Greek.
God I hate this season….