So, the last of the PSFs. And it was back to me to cover it,
seeing as Totts had been on duty during the week to do the Bobbins two bob
3G pitch. So I said to the EIC I'd cover the last game before the season gets under
way, I'm now somewhat regretting that decision and idea.
First on the Agenda before kick off was a quick call to Frakey
let him know more family archived Sutton United gear had been found and sorted
through, and did he want to get his grubby little mitts all over it? Of course he did, so
heading out my first call of the day was Frakey's gaff,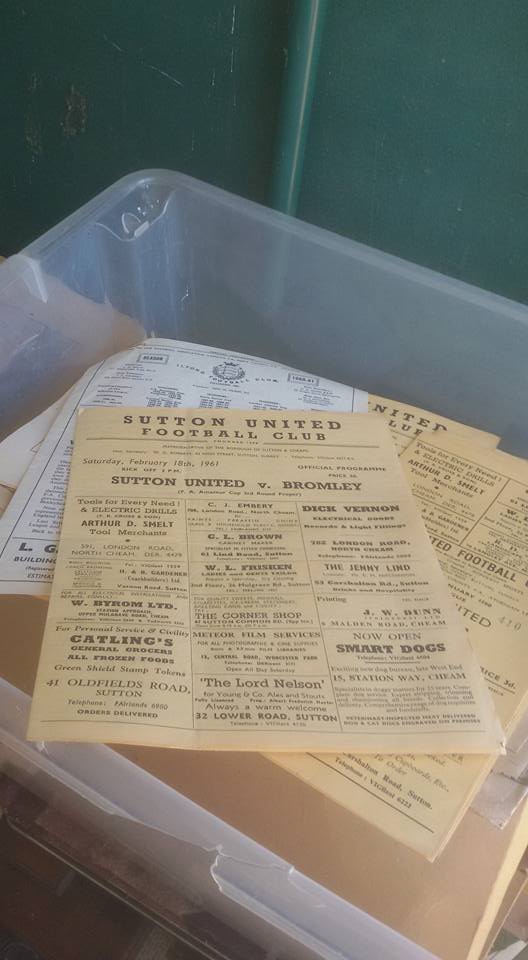 Old football porn
After a quick chat with
the oracle of SUFC history I made like a tree to Duke's, as a few weeks back I
borrowed some DVD's and today was the day to return them. Now when I say DVD's
and the fact they belong to Duke, I know exactly what you are thinking. Well l
must say when I borrowed them I did think for a second that maybe the contents
of the case may not be what was stated on the cover, thankfully however I didn't
end up with the world's top 50 SSBW moments, or 100 best midgets bangers. Because, as
we all know Duke's fantasies are a little……warped.
Having spoken to his lordship the night before I told him I'd pick him up about 1pm, needless to say I
was late arriving after my historical stop off and, well, on arrival you could see he was a little annoyed. Mainly as he was standing on the corner of his road, tapping
at his watch. And he doesn't even own a watch. He then gave me some old speech about how you should never be
late and how he has missed out on drinking at least two pints due to the time
lost…..blah blah blah. Oh well never mind eh Duke!
A quick 5 minute drive through the back of Carshalton and
down the A217 we headed over to Mr X's gaff to park up, seeing as I'm too tight
to pay the new £2 charge for the car park, and Mr X had told me I could park on his all
new shiny paved driveway. However Mr X clearly had given this some thought and
didn't want any oil stains on his new driveway and made me park on the road instead. A little
walk down the road, further to the disgust of Dukey and even more VDT lost….
Straight into the bar, and the only recognisable face was
that of Steve who was sat down at a table nursing his pint of some flavoured Strongbow fake cider. Well naturally we joined him at the table, which was somewhat
rather formal for us mere peasants. The discussions turned to that of Southampton's
win in the week in the Europa League along with West Ham's entry into the
Europa League via the 'Fair Play' backdoor and that fact they've had 3 sending off's in 4 games, which is
somewhat ironic. A quick gulp of the cider, and we were all called into goal
duty.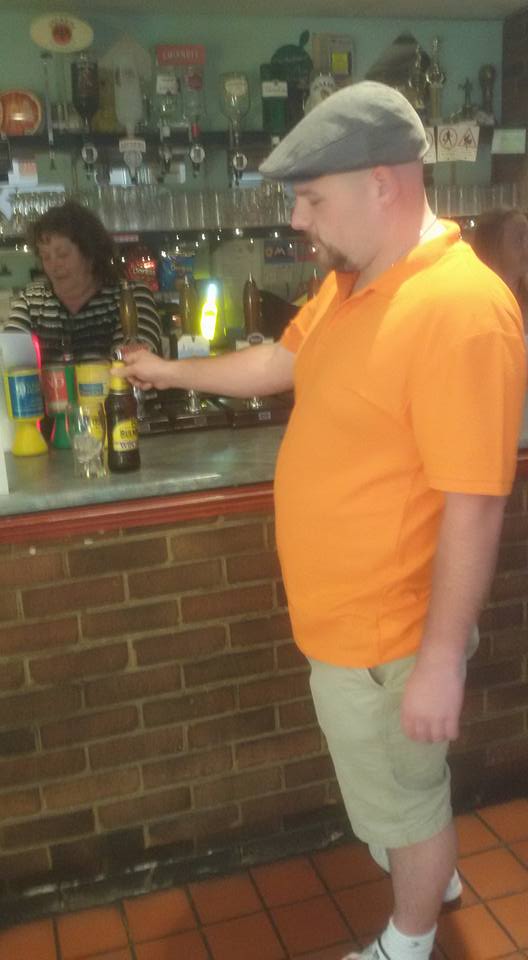 60 quid for that? You were done mate!
Basically some bright spark asked us, yes us idiots, to shift some goals
off the pitch. And well the outcome was rather funny. Mr X and Dukey without
much thought hoisted the goals over the perimeter fence, and got covered in grease,
and completely ruined their clobber, which meant a quick trip to the club shop for both of
them for a new polo shirt. Duke of course claiming that his Fruit of the Loom
top was worth a mere 60 notes. This man should get a job in sales, cause he
talks a load of unconvincing shit at times!
Back to the bar, with everyone now sweating out like Oscar Pistorious
awaiting the juries verdict, the conversation naturally turned into some weird shit, like some Thai
bird playing a game of beer pong, using part of her body as the projectile. Fuck
knows where this shit comes from I really have no idea. I've got to say the bar was stupidly empty today as only a
few of the crew had bothered for this one. No sign of Loffers, think she was
off in the sun somewhere. The EIC had
swerved today's game, his mumma's Burfday or some thing, Chalmers was having a kid's
party. So less than the usual idiots were all accounted for, Osama bin 4 days
Laden, Wardy, Steve, The Duke, and even Belly had bought his brother in Law
down for 90 minutes of punishment.
With the Bell sounding off in the Bar it was time to head
out to the Terrace and get the game under way.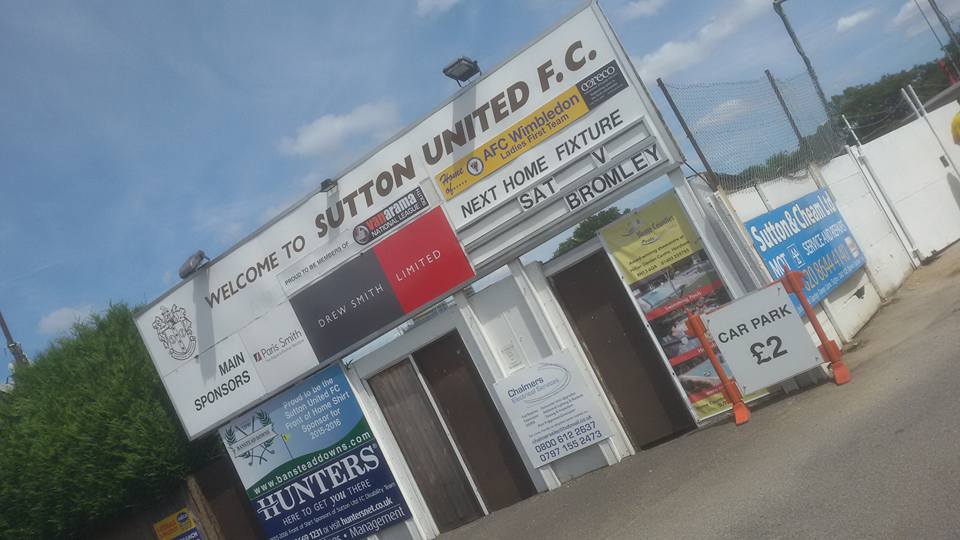 Entrance.
Onto the game, and well we started okay, the tempo looked
pretty decent and we actually were going at with some purpose. We actually
looked pretty smart for the first 20-25 minutes. We were creating some chances and I was actually impressed following the total borefest of last Saturday. Our
first real decent chance of the game was from a Dundo cross into the box which
Alan Julian completely flapped at and with McAllister at the far stick, it just
needed the smallest of touches to bury it. And he just seemed to freeze up and
just couldn't deal with it. Looked like he couldn't make his mind up whether to
smash it off his boot or nod it in. Either way, chance gone.
Spose, I better add that Alan Julian was his typical noisy
self, crying off to the lino about everything. Wind yer neck in mate, I'm
surprised you ain't injured yourself again. Twat!
Another chance created from a McAllister header back across
the goal only for Stern to not keep his volley down, and instead blasted it
over the bar! We create so many chances, but keep failing to find the net. Somewhat
worrying when we look back at all the pre-season games and tally up the goals
we've scored; well we can count them on one hand can't we!
Our real next chance was a foul on the edge of the Bromley
box, and what a perfect position for a free kick. Up stepped Stern, and fuck
me, did it put some fierce power into it, which forced Julian to make a quality
stop. I'll give him that one! Then the
inevitable happens, Bromley have one chance, and well, they score. Sound
familiar to you? A woe of last season has come back to haunt us.
Heads drop, and we drop off the pace and tempo and start
playing some long ball down the wings. Wishart playing at left back, a bit of an odd one that as I always thought he was more of a winger than an attacking
full back, and Southam switches over to a left winger position. Not sure I'm
with that one either.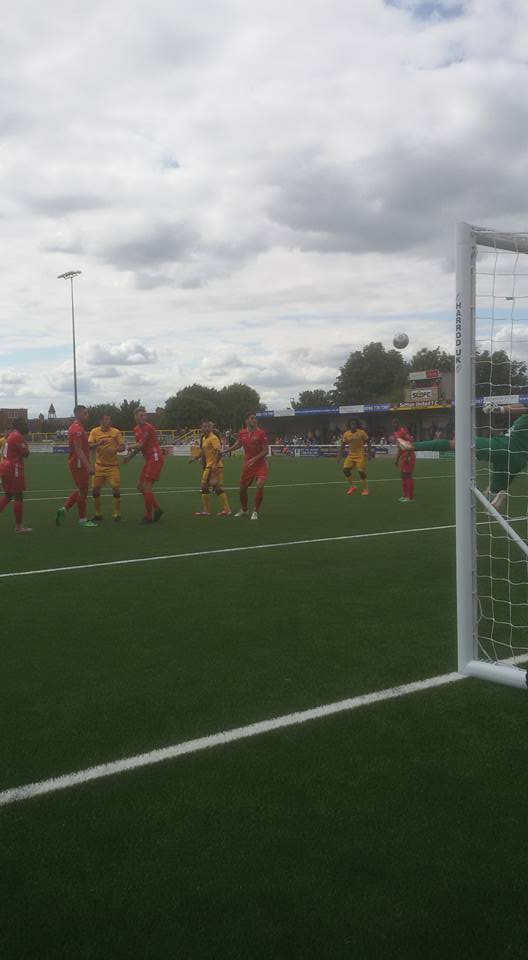 Action.
Second half, not much to note apart from once more we drift
off into a day dream and we concede yet again. We even get a pen awarded (which
was a clear pen) when McAllister was being molested and the fella was all over
him like a cheap Estate Agent's suit. So up steps Mickey, looking rather
casual, hits it down to the keeper's right, and the Bromley keeper deals with it
well. FFS, we clearly don't have anyone who can put a pen away under a little
pressure. Come on lads , pick your spot and smash it! The only other real highlight from the second
half was that of a quality Simon Downer drives from the middle of the park, and
then unleashing a shot which was saved well.
Game over, and well I'm not entirely convinced just yet. I'm
not sure I've witnessed a starting 11. Not sure about some positions we've got
some players playing at. I just don't know. Talk of the terrace was, we had a
shit pre-season when we won the Ryman, so let's hope that prediction works out
for us, otherwise I can see it being another long old season.
They say the proof is in the pudding, so it's time for some
of these boys to step up, and up their game and show us some quality next week.
Juan