Easter. A time the lord Jesus raised from the dead, a big bunny wanders around spread joy to all the little children with his not at all creepy chocolate egg delivery concept and we get to spend a long weekend watching football, as well as writing a load of old toss about it. Oh and drinking. Ain't life magical?
Having done precisely the sum of bugger all with my Good Friday off, the ol' Taz batteries are fully recharged after spending a couple of weeks with lungs like Dot Cotton's and coughing up gawd knows what from what my GP described as a 'viral infection'. Which is as we all know, is doctor speak for "Fuck off and stop wasting my time". I could maybe mention that the blow was somewhat softened by it being delivered by an attractive young Asian lass, but that would be terribly sexist of me. It would also remind me of the latest life landmark I'd just passed. The one where I'm now older than my GP.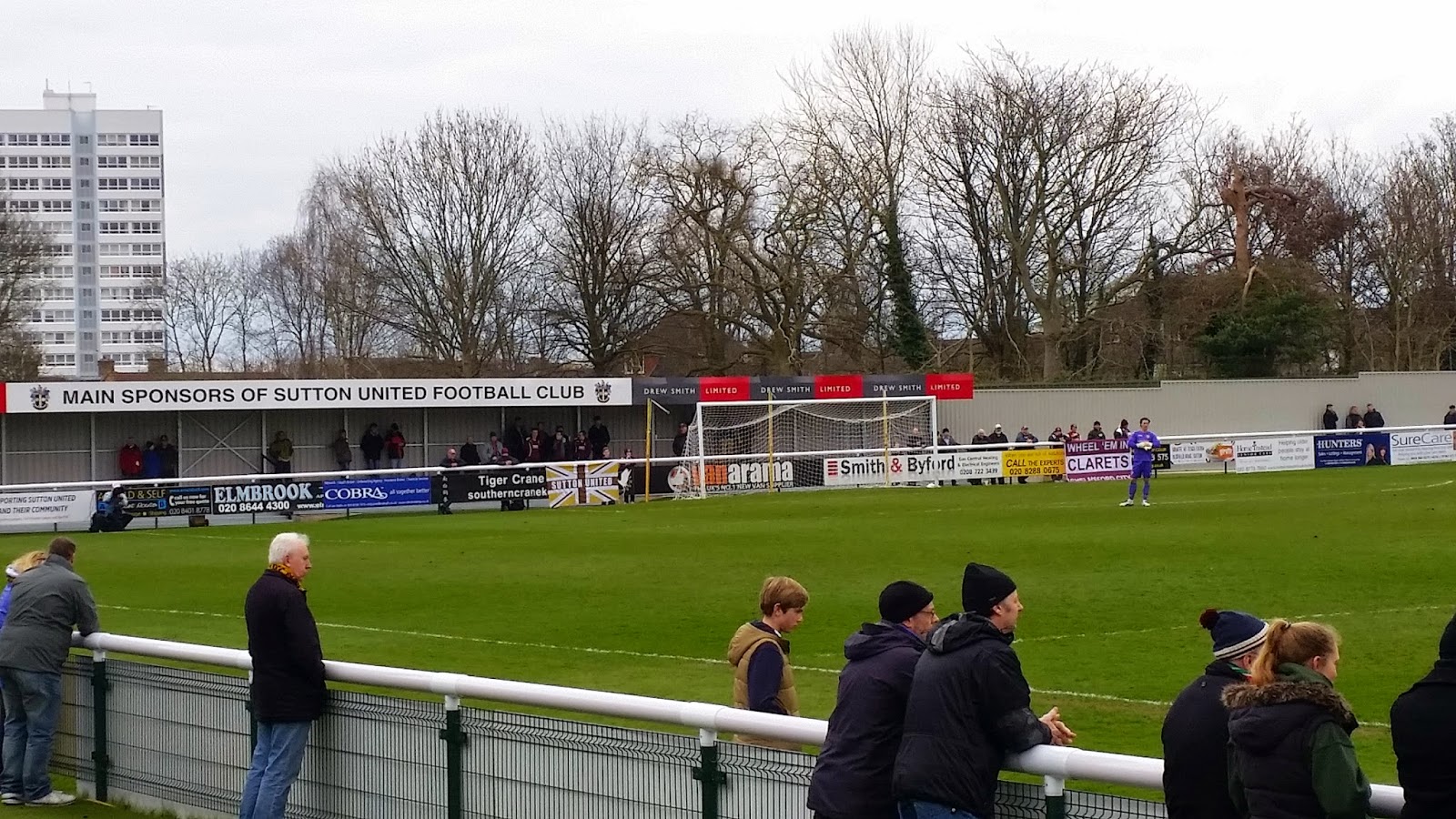 Nondescript home game photo…
Fucks sake.
I awake saturday and having stuffed my little face with breakfast, head out to catch the ever relaible 407 bus service into sunny Sutton. Except it's not sunny. At all. More grey and drizzly really. Thankfully, the bus arrives on time for a change and I'm dumped in town to make the final stroll over the border into the People's Republic. For once, I manage to remember not to use the stupid stupid Nationwide touchscreen ATM to get some money out, meaning that task takes far far less time than usual.
Shortly before hitting the borough's premier sporting entertainment venue, Mr X calls to inform me his shopping trip to stock the tea hut has not been 100% successful and he's forgotten to get some hot dog rolls. Naturally, I console him over his error by calling him a twat and stroll in to finish off the setup whilst he returns to Tesco's for more supplies.
Disaster averted, the staff arrive so early we've not even had time to finish our cuppas, so we're left to stroll round still sipping away. "Heavy night Taz?" asks Carol the barmaid as I wander in, still clutching my brew. Me? Nooo, I don't drink. Completely teetotal.
Pint please.
Burgers and his missus are in attendance, so I naturally enquire as to their recent house move that has incidentally brought them into the locale of our top secret HQ. Shame I'm going to have to kill them at some point to keep them from revealing all to outsiders, as I quite like them. Also around is Belly. And he's not happy. Mainly about my failure last weekend to pull out the correct key in the Strikers are Key draw. Apparently it's totally my fault he's not currently carrying the best part of a monkey in his sky rocket at this moment in time. To try & placate him, I mention that he should probably fuck off. I also promise that in the incredibly unlikely event we get pulled out again today he is definitely on key pulling duty. Honest.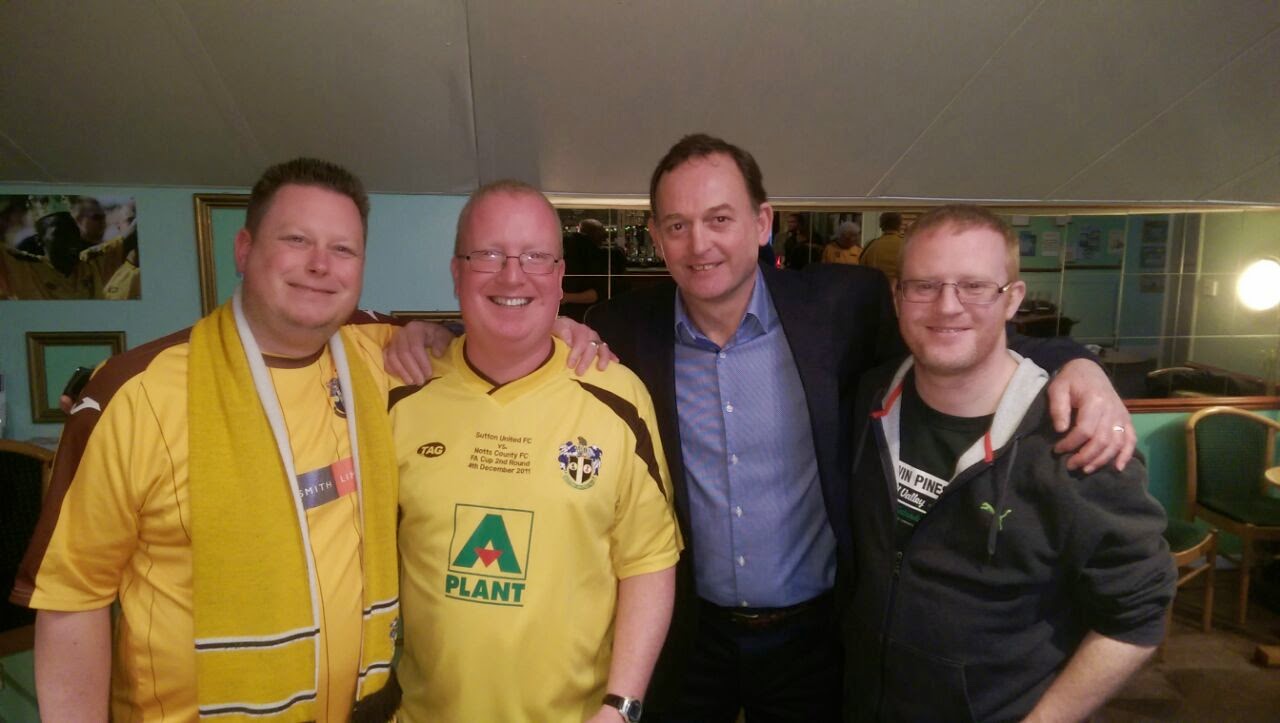 Some lucky lucky bastards. And Paul McKinnon.
The Arsenal – Scousers game on the telly box keeps us amused while we pass time before kick off and after a while, a number of away fans wander into the bar looking a bit tired. Which is a bit unsurprising as a bunch of them have walked down the 19 miles to GGL from Liverpool Street station to raise money for the club. An admirable effort, but one however that has most of us lot muttering "Fuck that" into our pints. Of course, we're all fine athletes ourselves, we just don't like showing off.
Howe, Amankwaah, Wishart, Spillane, Forbes, Collins, Scannell, Southam, Dundas, Fitchett, Theophanous SUBS: Binns, Gomis, Hart, Wellard, Shaw
Todays match up isn't exactly one that would get the neutrals or the purists heart rate above 'at rest' if I'm honest. We've managed 1 win in our last 9 and failed to score at all in the last four and a half games, Chelmsford meanwhile are up to 1 win in 8 although they've at least managed to work out that the white spherical thing goes in the netty object at the opposite end to your own. Still, they come into today missing a couple of players, including their key midfield pairing of Hughes (suspended) and ex-U Sawyer (injured). Sawyer at least makes the bench, but we're assured by the visiting ramblers that he'll play no part. Which is nice, as it'll at least give him time to update his twitter.
On the pitch, we match recent efforts by at least starting positively and trying to take the game to our oppo. Thankfully, this time we manage to make it past 10 minutes without anything nasty happening and a mildly entertaining scrap ensues with both sides at least trying to get it down and play. Although, the number of misplaced passes and touches betrays both lineups less than stellar recent form. Still, it gives both sets of support a chance to have a chuckle. Despite the contest being fairly even in territory, we make the better openings. The better ones fall to new man Theophanous. First he latches onto a long ball forward from Dundas, but having looked set to hit the target, an extra touch lets a defender in and his shot is deflected well over. His next effort is more instinctive, having got lucky with a blocked clearance he rifles a half volley not far over the target.
Two bags of sand. And a bit.
About now, I take advantage of a lull in the excitement to undertake the task of politely asking Totts if he'd mind awfully stepping in for Dukey on report duty for mondays trip to Boreham Wood. He agrees, but feels he's going to struggle given the paucity of our footballing efforts lately. So I reassure him. No one reads this fucking shit for the football anyway!
We get forward plenty and for a change there's some crosses into the box to at least ask questions of their back four, but our former stopper Tom Lovelock remains somewhat untroubled in the Chelmo goal. That's not to say the man who replaced him at the other end is exactly rushed off his feet either. The only real threat from the visitors comes near half time when Howe picks up an obvious backpass on the edge of his 18 yard box and sees the resulting freekick whipped across goal, but wide of his far post. Their big man up top Cheek then has a decent run and shoots straight at the U's custodian.
Still, it's now eight hours without a goal as I head for Roses at the break for the customary cuppa/pie combo to line the stomach. Still, at least there's been some application and some drive today, something that's been sorely lacking from our displays of late. Still, no one on the Shoebox is confident of a breakthrough, with 0-0 being the likliest scoreline expected.
The second half, we come out and press again, this time finding a bit of momentum and actually building some pressure on the Chelmo goal. Amankwaah's header at last finally testing Lovelock, with the stopper forced to tip away a close range nut on goal. Soon after, he's in action again, touching Wishart's near post free-kick onto the upright with a nice audible ping to rub salt into the wound of a chance missed. We keep going though and Fitch really should break the deadlock when Amankwaah manages to get to a lost cause and pull an overhit cross back into the 6 yard box. Sadly it's a touch behind our striker and he can't pull his shot the right side of the near post.
With Chelmsford seemingly out of ideas and unable to get any purchase up front with their own balls out, we keep pressing to see if we can scrape some sort of reward out of the match. But with time almost up and Clive having stuck the added time board up a good couple of minutes ago already, we look like we're going to draw another blank. But Scannell wins one last corner and elects to take it himself. The so far solid Lovelock tries to come for the ball in, but finds the familiar figure of Craig Dundas barring his progress and the ball carries towards the back post where Amankwaah lifts it deftly first time high into the net.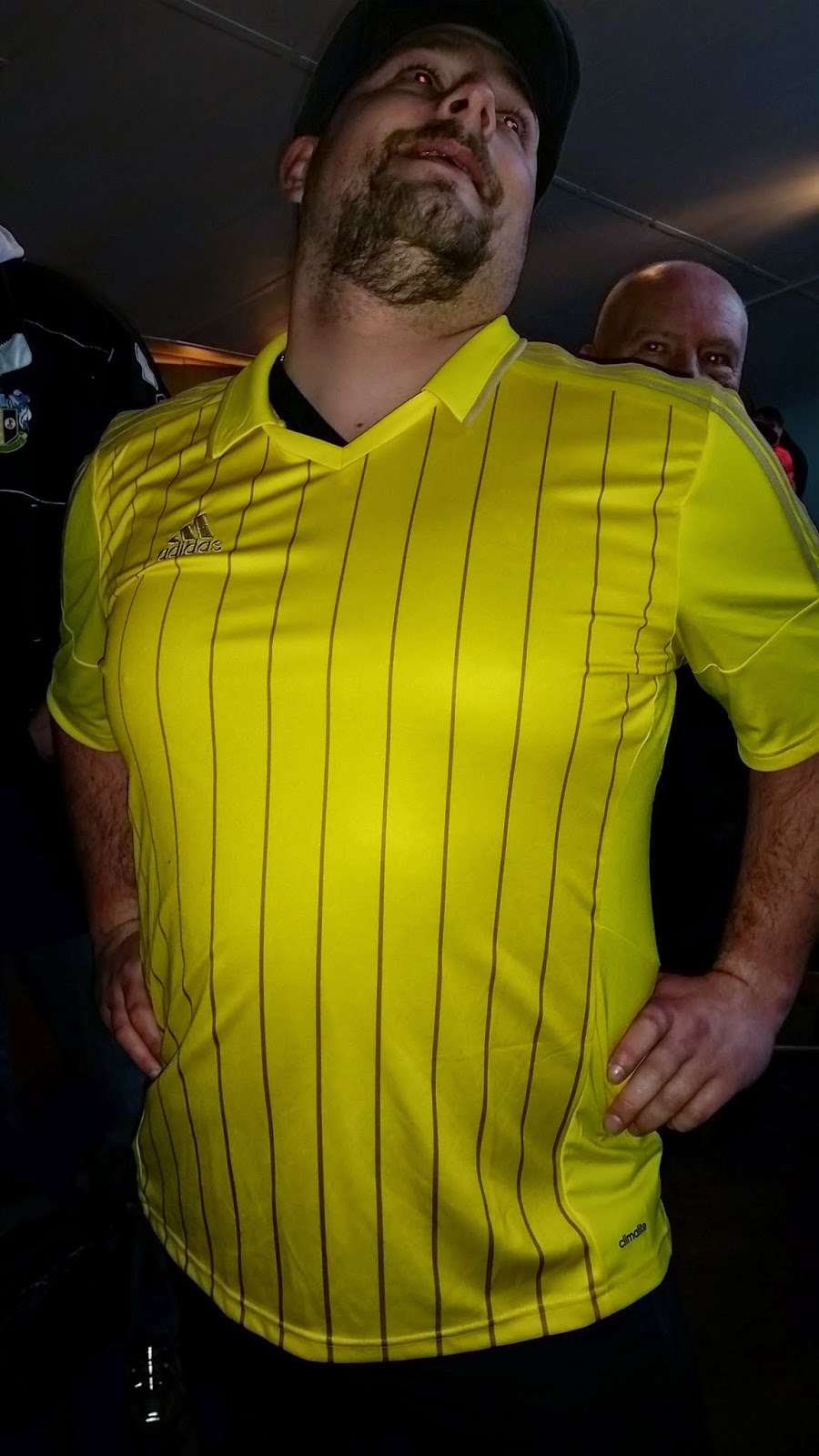 GQ called. They said "Fuck off".
Fucking hell. We've scored! WE'VE SCORED ONE OF THOSE ACTUAL GOAL THINGS!
A loud cry of relief echoes around GGL and we all look at each other and breathe out heavily with puffed out cheeks. Thank fuck for that.Chelmo barely have time to restart before the ref calls time and we have a slightly surprising 3 points in the bag. Ok, it wasn't amazing, but at least we put a shift in and got our reward for it.
So for the first time in a while, the amble back to the bar is done in happier mood than recently. Well, it is until I realise I've not taken a single damn picture since I got here at half 12 until now. And I'm on the write up for today. Ooops. Erm, I might have to get creative on that front!
Pints follow and we get chatting to some of the Chelmo lot we know from our online antics, but had yet to meet in person. So it's nice to put faces to names. Southampton Steve then rocks in, fresh from the Saints 1-0 defeat at Everton, especially to join in the Non-League 'Bumfest' in Waterloo a bit later. Silly boy! Then, before long it's AB's time to take the floor and try desperately to make someone right with the Strkers are Key draw. Now, having got drawn out for the first time ever last week (and fucked it up), I'm not hopeful of us being involved today, but despite this I remain and help join in the heckling of Ade as he does his stuff, with his shouty method proving very amusing to todays visiors. For a change, he gets two bona fide SUFC legends to help him out in Ricky Kidd, and all time record goalscorer Paul McKinnon. The latter looking like he's all set to bugger off to Sweden for another campaign with Malmo rather than the 56 years old he actually is. Makes you sick!
The draw is eventually done and Mr Mckinnon does the honours. And like the fucking hero he is, he only goes and pulls our number out again!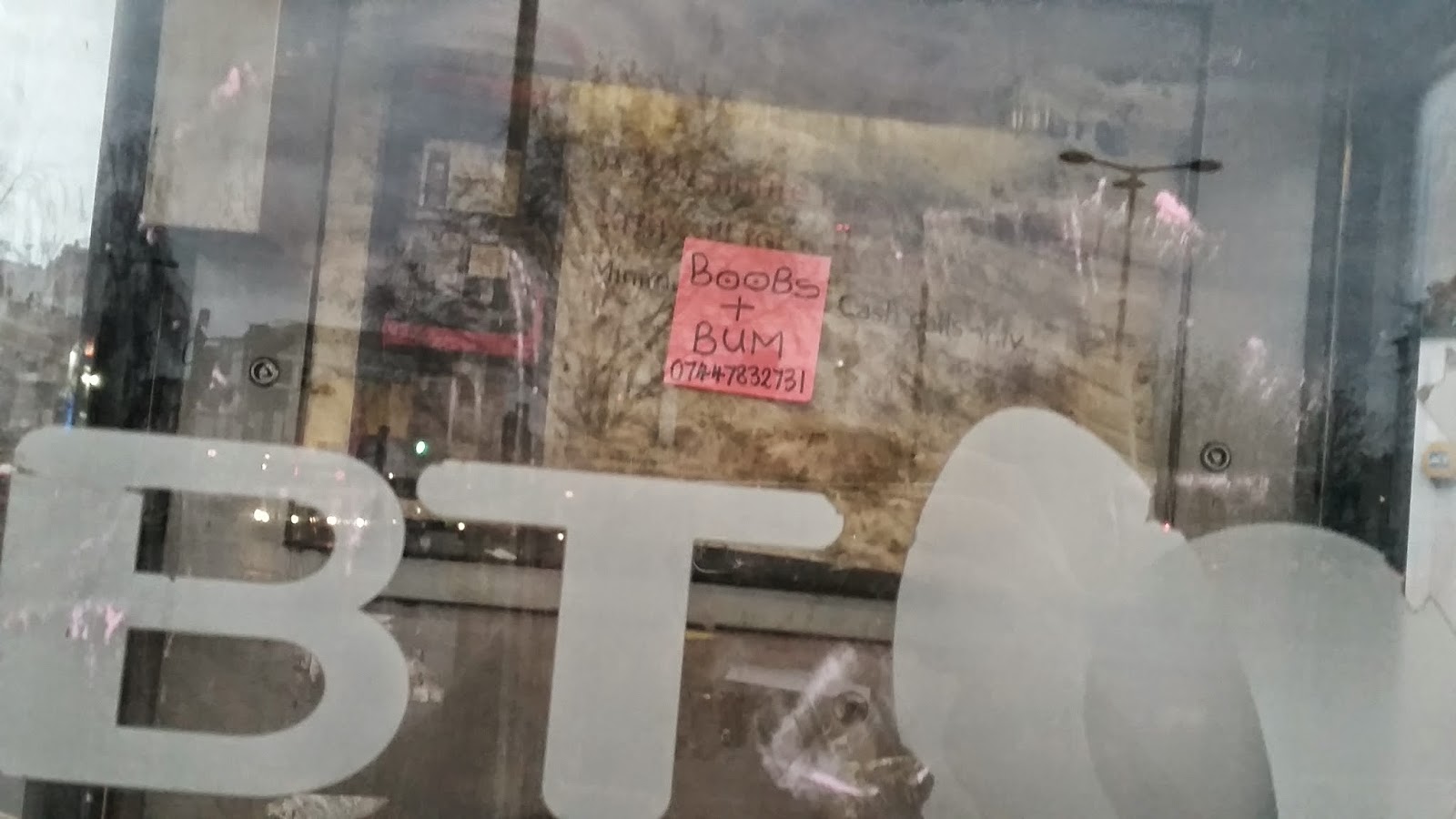 Go on, ring it. We dare you.
"Number 45!" he announces and I go fucking mental. Whilst my colleagues all look around trying to work out who ball number 35 is. It takes a minute for it to sink in that they've misheard and the "You jammy bastards!" start ringing out. At this point I make sure Belly is on point and stick my foot up his arse to propel him into the impromptu arena as swiftly as possible. Right big mouth, make me fucking rich!
My weekender awayday roomie sticks his hand in and swiftly pulls out a key. Oooh. Confident. I like it. He then proceeds to spend about 20 minutes faffing about trying to get it to work in the safe that contains our hopes, dreams and most importantly of all, over 2 grand in cash. The room lets out a sigh and then half cheers at another rollover start to find purchase. But AB doesn't move. Hang on? "Have another go Belly" he coaxes the man with the key. FUCKING HANG ON!
Another waggle in the lock and the little door on the little safe suddenly swings open to reveal a wad of cash a good couple of inches thick. And the place goes mental.
We, are considerably richer, than yow.
Having eventually run down AB who comically scarpers with our loot, we quickly adjourn to the VP's bar to divvy up and set aside a small pot for refreshments for those there present at the bar. The end result isn't bad. A monkey apiece and over 150 sovs for the round. Who's getting 'em in? Oh, I am? Arse.
We manage to sort everyone out a pint, including the rather well oiled and somewhat surprised Chlemo lot and quickly set aside our plan of going for the quarter past 6 train up to London to join in a non-league drink up. One more quick beer though and as the bar has emptied out, we check no one else needs watering and hit the station. Steve & I are a little slow and have to jog the last few yards to make sure we get the train round to Wimbledon. Mr X has made sure everyone is supplied for the trip by purchasing a case of Carling & Fosters and divvying up to whoever wants one. Having then hit Wimbeldon, Greek and I quickly hit the pasty place for sustenance on the second leg. I barely manage half mine before binning it as it's filling turns out to be the hottest substance known to mankind and I'm not prepared to suffer vicious internal burns injuries. Besides, I don't drink lager, so there's nowt to put it out with!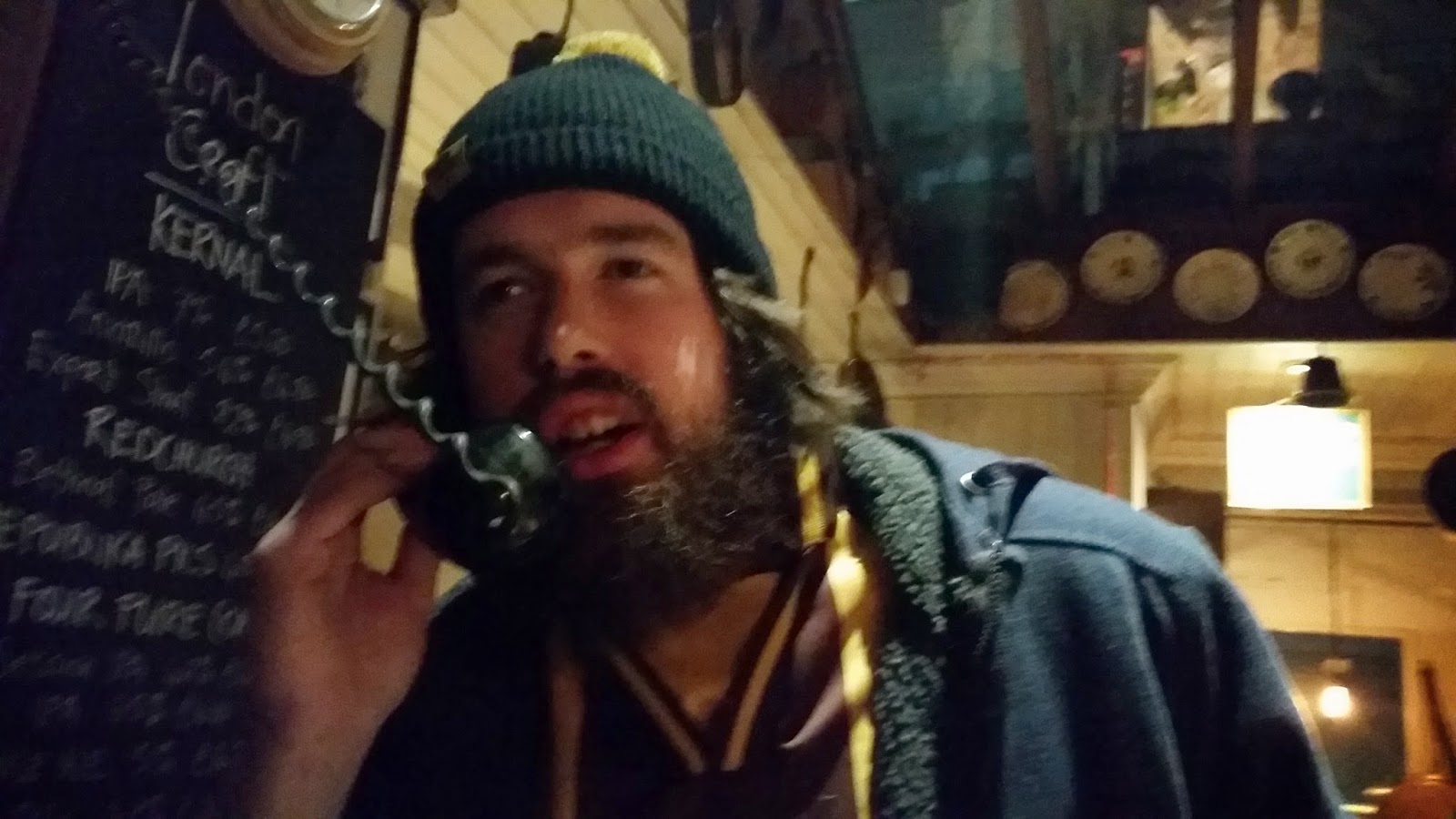 "Hello? Is that Gareth Bale's house?" *breathes heavily*
This rabble soon hit Waterloo and whilst the Chlemo lot sort themselves out with cash etc, we head off to the pub down a back street nearby. Here we find some fucking idiots wearing Dover shirts and smug smiles and a few Wealdstone faces enjoying pints. The party is soon in full swing, although lacking a number of the Chelmsford group, who the manager has turned away for being too pissed. This then leads to a somewhat amusing scenario of 30 or so football fans being stared out from across the pub by the aforementioned gaffer. So Dover Phil and I stand there taking the piss out of him.
Sadly, all too soon it's time for Dover to head home, so we say our goodbyes to the French. The Wealdstone lot soon slope off too and we start making plans ourself. Then suddenly a second wave. More Wealdstone arrive and the group includes an old face from the past. Grim. Who I'd last seen at the Great British Beer fesitval god knows how long ago. However, I'm just happy to see him alive and breathing as after that night, he dropped out of sight for a while and I along with Levvered Moler was accused of having done away with him by the other Ryman forum wags.
They stick around for a pint before the narky manager finally does our heads in and we head to another boozer nearby. Here, things start to get fuzzy and before I know it, I'm back at Morden with 4 Days & no idea where the others have got to. I also desperately want a KFC and appear to have acquired a long, very furry black & white scarf type thing that makes me look like I've skinned a Zebra. And not a whole one. Just a leg or something.
Bloody hell, this is all getting just a bit silly now. TAXI!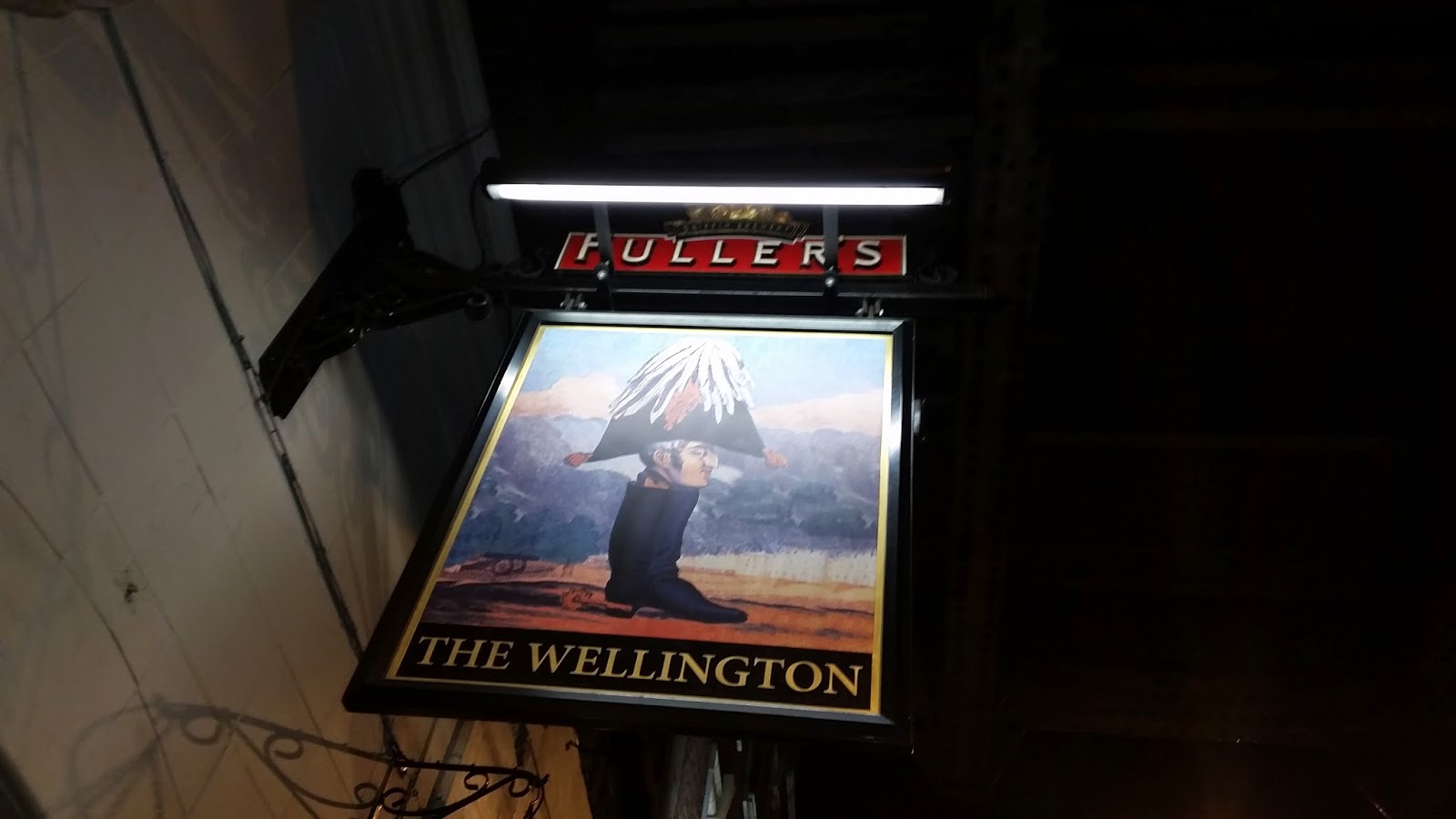 No recollection at all. None.
Next thing, I find the birds twittering away outside my window and I'm face down on my bed at HQ as daylight streams in through my not properly closed because I was pissed curtains, still wearing my zebra's leg scarf and clutching a wallet somehow still containing the majority of 500 quid in cash.
As saturdays go, that'll do pig. That'll do.