Positivity, that's the word I was after. Its now been over seven hours since Gomis plopped the ball into the Bromley goal. One solitary point for the whole of March to show for a team running out of ideas and low on confidence. I could go on with various stats like: One win in two months, five goals in nine matches or five points out of a possible twenty seven but I'm not going to as I've been saying for weeks that Eastbourne away was going to be a positive. I'll just not mention the football, much!
With the plan to meet at East Croydon for the 1003hrs train it was down to us to make the independent travel there. All I needed to do was jump the 157 eastwards. As I walked down the road towards the bus stop I realised that I'd totally forgotten to grab my camera. Lucky for me that the modern mobile telephone is a suitable substitute.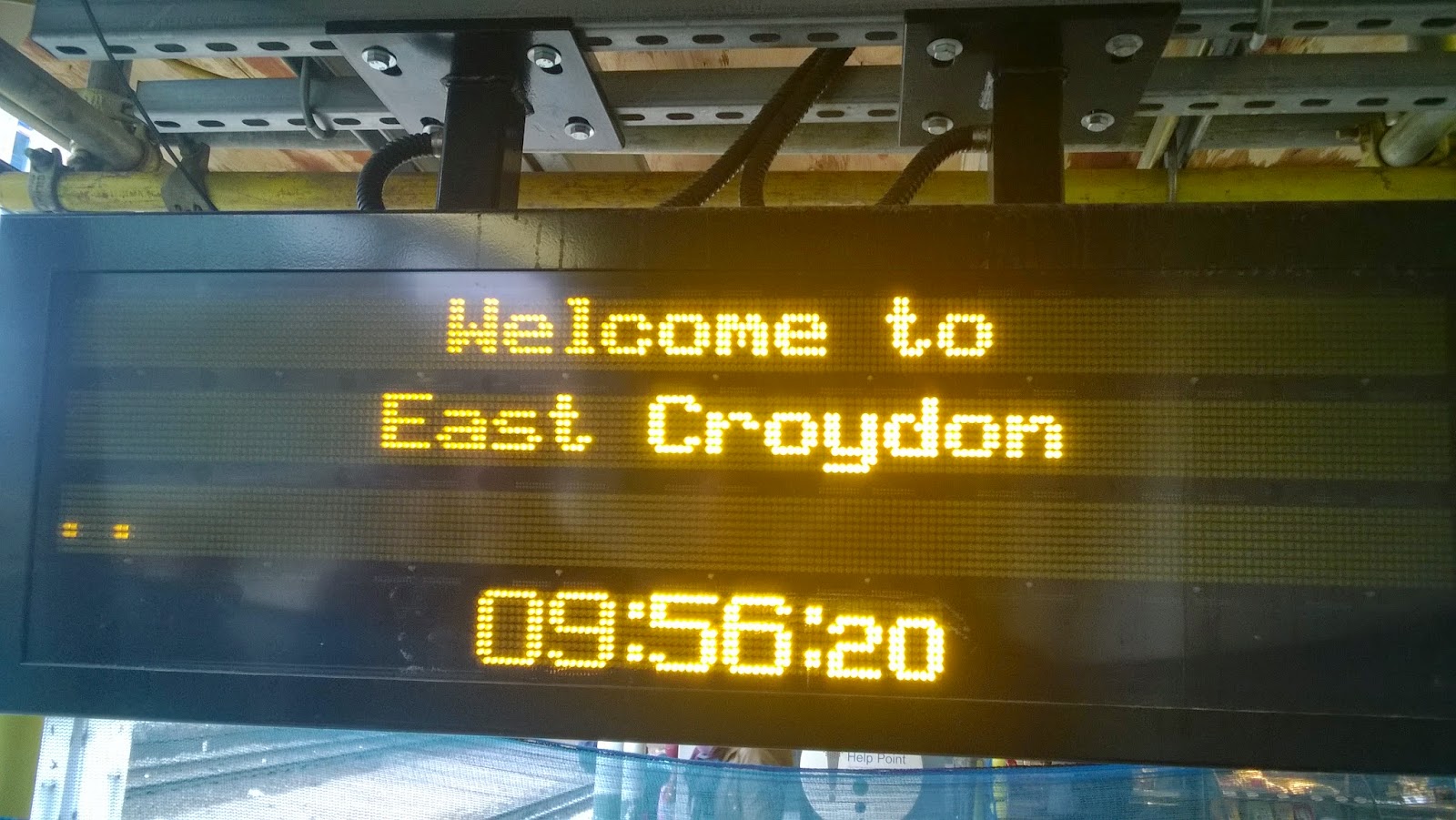 How polite!
Missing the first bus, I awaited the second to arrive and then proceeded to take my spot on the top deck, at the back, like all the cool kids do. The journey doesn't take that long and soon I was approaching Croydon. With the place looking like a war zone as the builders were messing about with the tram lines I was forced to get off at another stop and make my way on foot to East Croydon.
The first boat I saw was of the mysterious enigma that is Mr X. After some small chat we started to look for other members of the Firm. The first we saw was Southampton Steve, who was gorging on a double/triple sausage & egg McMuffin. Next to arrive was virgin new boy Marky N (or Dogger Len to others). The last time we had the pleasure of his company was Honchurch away during the 2012/13 season.
Taz was the last to arrive and before long we were on the platform waiting for the train. As the journey begun, Taz decided it was time to give a little present. A warm bottle of Perro Loco, some disgusting terrible mix of tequila flavoured cider. It was that bad that only Marky N would try it, and it was left to me to finish it.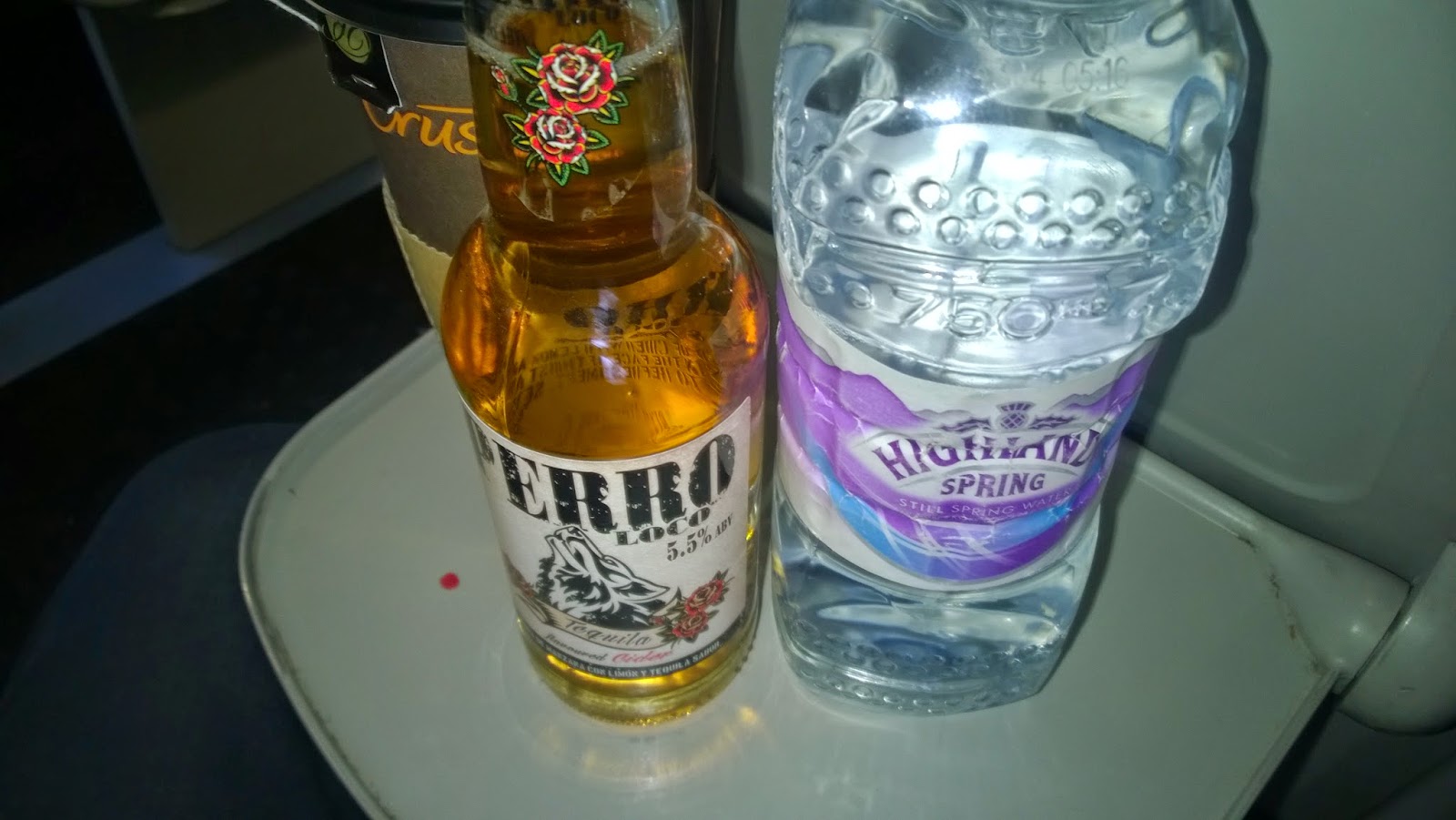 Don't. Just…..don't.
Arriving at just after eleven we headed to the first pub on our list, The Eagle. This was the location a couple of years ago that a certain Rabbit pie that I'd ordered, failed to turn up. With a couple of Weeds down the throat we begun to think about a plan of action. The Dew Drop Inn was off the cards as we still were imposing our boycott of the place. There did seem to be another pub just down the road.
The Dolphin was one of those Breakspear pubs that probably wasn't the place for a group of ardent non-league supporters and we headed off after a solitary drink. next on the list was the 'Spoons near the station where some of the Firm got a touch of grub and we were joined by others that had made the journey south.
With the ground being out in the sticks a sherbet was needed and those that were getting one headed to the station and the cab rank. After the short journey we grabbed our sixth drink of the day and mulled over the decisions from Our Lord Dos to not just drop Dundo but Gomis as well. We also saw unsurprisingly that Louis Louis was going to start upfront.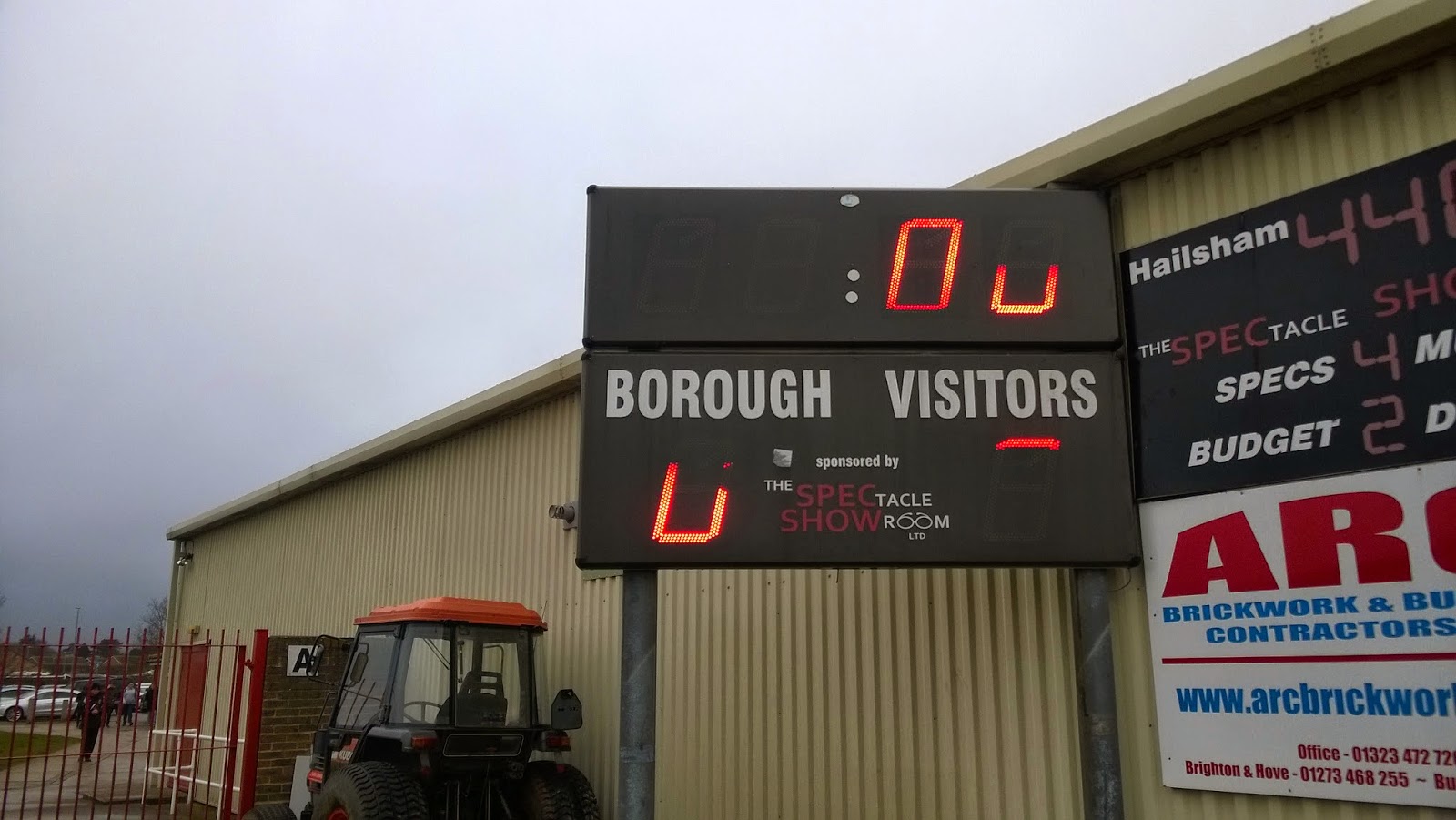 For the thick local kids who can't count.
Howe, Amankwaah, Wishart, Spillane, Forbes, Collins, Wellard, Southam, Theophanous, Fitchett, Binns. Bench warmers: Scannell, Dundas, Gomis, Hart, Shaw.
Taking our positions at the non-smoking end of the ground, you could see that the conditions weren't ideal with the wind in our backs there would need to be a little light with our touches. Unfortunately the lads never did quite work this out and inside the first ten minutes you could see that this wasn't going to be on Match of the Day.
There was an early penalty shout for us but from my position I couldn't see if it was in the box or not as the ref gave a free kick. According to an honest Eastbourne fan, he reckoned that it was a nailed on penalty. We also had a series of corners that Wellard either hit too hard or too soft. There was one moment when he ripped the corner flag out of the ground to get a better angel, I'm surprised that a grown man would think that was alright.
Eastbourne got their break when they intercepted a ball from Wellard on the half way line. Bearing down on the Sutton defence, the fella begun to take it around Howe in goal. Howe clearly took him down and it was a cast iron penalty. Surprisingly there was no card to accompanying it. The Eastbourne fella took it & tucked it away well enough and we were one nil down.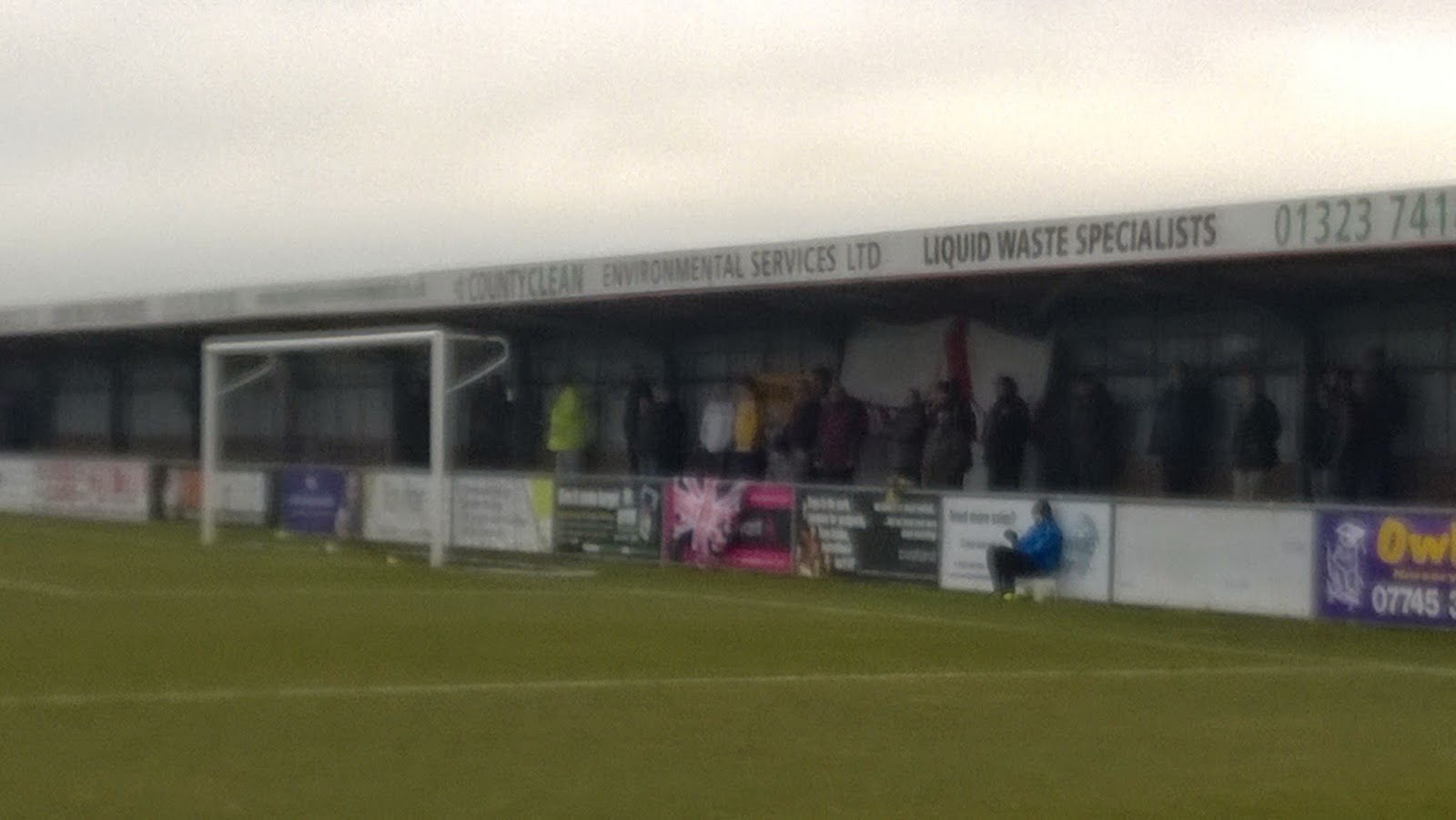 Someone's lens needs a wipe!
Sutton nearly got straight back into game when Fitchett latched onto a through ball. His resulting shoot was parried wide by the Eastbourne keeper. Sutton also had a couple of more shots that the keeper saved but I felt both would've gone over without his help. With the wind still a factor the rest of the half was like trying to Braille-read a cheese grater.
After a cheeky pint at the break, we were in the better half of the ground where I could have a fag if I so desired. If the first half was boring then the second half was even worse. So bad that our minds & conversations begun to wonder. Unlike some that look at scores from other games on their phones, we in the Firm and our others around us discuss highly political and important topics. Like your most favourite Blue Peter presenter. I was personally torn between Janet Ellis & Katy Hill. Others said Konnie Huq or Anthea Turner, one even mentioned Peter Duncan! Horses for courses I suppose.
Back to the game and Sutton failed to create any real chance that I could remember. Wellard was replaced with Scannell around the hour mark and this gave us the opportunity to attack the wings with more creativity. With only ten minutes remaining Duns & Gomis were finally brought on and push for at least a point.
The last real chance fell to Eastbourne. Out of everyone on the pitch this opportunity fell to the Eastbourne keeper. His drop kick from within his own box managed to evade everyone as it appeared to head towards the goal. Even Howe totally missed it and he had to be saved by a retreating Wishart. To be honest the final whistle couldn't come quicker.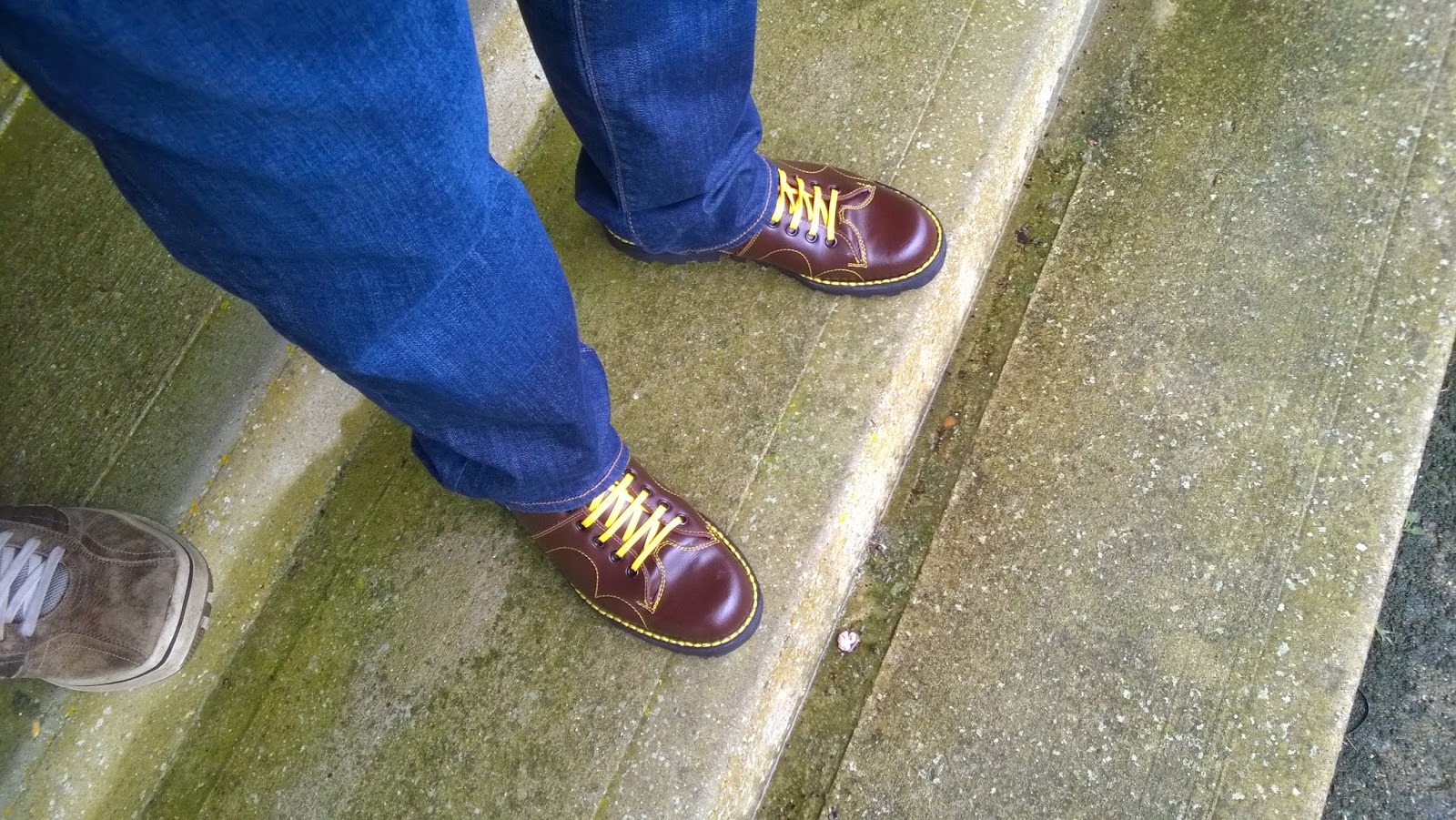 Shiny shooooooes!
There was one moment of note that I have to mention was during the second half. With little Jonnie's Sutton/Slovakia flag over the barrier, a certain individual begun to complain that it was covering his advertising board and that it had cost him 500 notes. Why do that in front of the travelling support I don't know. Even the steward couldn't believe his whinging and just shrugged his shoulders. After asking why it had taken him twenty five minutes of the half to complain he just walked off in a huff, great customer service that.
After the game we all headed to the bar to see the other scores come in (as it should be). We also managed to use our prestige to speak to some of the players & staff over the trials and tribulations of the current season. There was some debate as to our next move with Lewes & Brighton being mentioned but luckily we decided not to faff about and just headed back into town and The Eagle in particular.
With the beer flowing very freely the talk turned to the usual bollocks. Marky N was in fine form, regaling us with tales of his youth like when he 'discovered' a certain artist by the name of Jamiroquai. Word had also reached us of the travels of our very own Osama Bin 4 Days in the Holy Land. He even had the cheek to send us a photo of his boat all happy and smiling after Wales 3-0 win over Palestine. Needless to say this was countered with yours truly sending him right back a delightful photo of a leaky back! Dukey lowering the tone as always.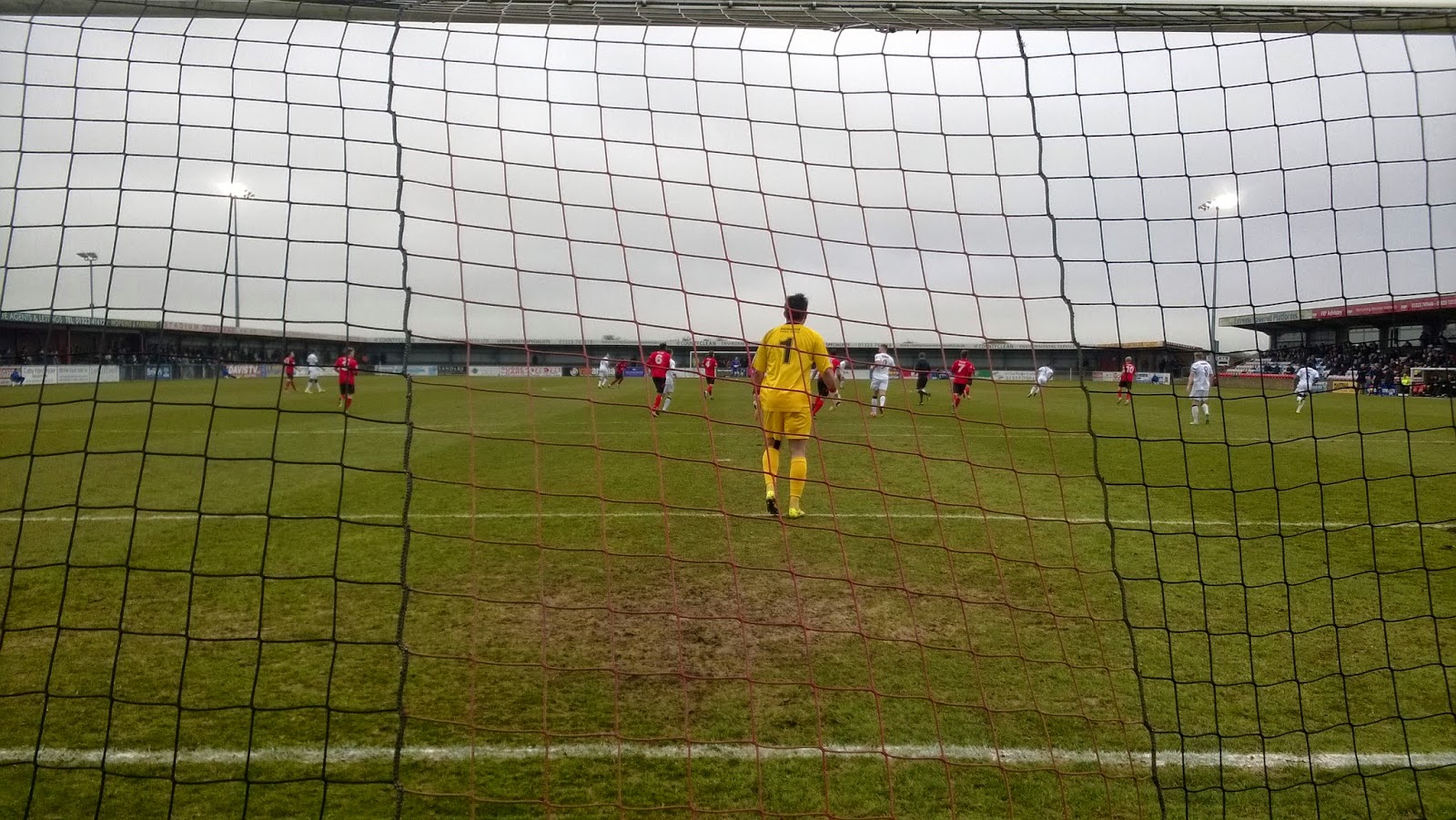 Stock "There was a game of football" pic.
For the journey home we split up to get booze and food. Me & Mr X got the drink whilst the rest tried to grab some chicken. As the now infamous Gandermonium saying goes "Never leave a man behind, unless mutually inconvenient to the rest of the group" Well this motto was once again put to the test, as for some reason, despite leaving the pub before several minuted before us, Sean and Indy failed to make the train that we were catching!
The actual train home was a mix of fried chicken and some very salty chips. One Firm member managed to K.O. himself and laid his head on the table in a public display of drunkenness. For his benefit he shall remain incognito, but we all know who he is! Arriving back at East Croydon we called it a night and said our goodbyes.
Old Firm members and new one have once again showed their loyalty to the cause and the club with their continued support. There's only five games left in this season to go now, so who knows we might actually score a goal at some point! Right, now I'm off to look at Blue Peter re-runs on You Tube.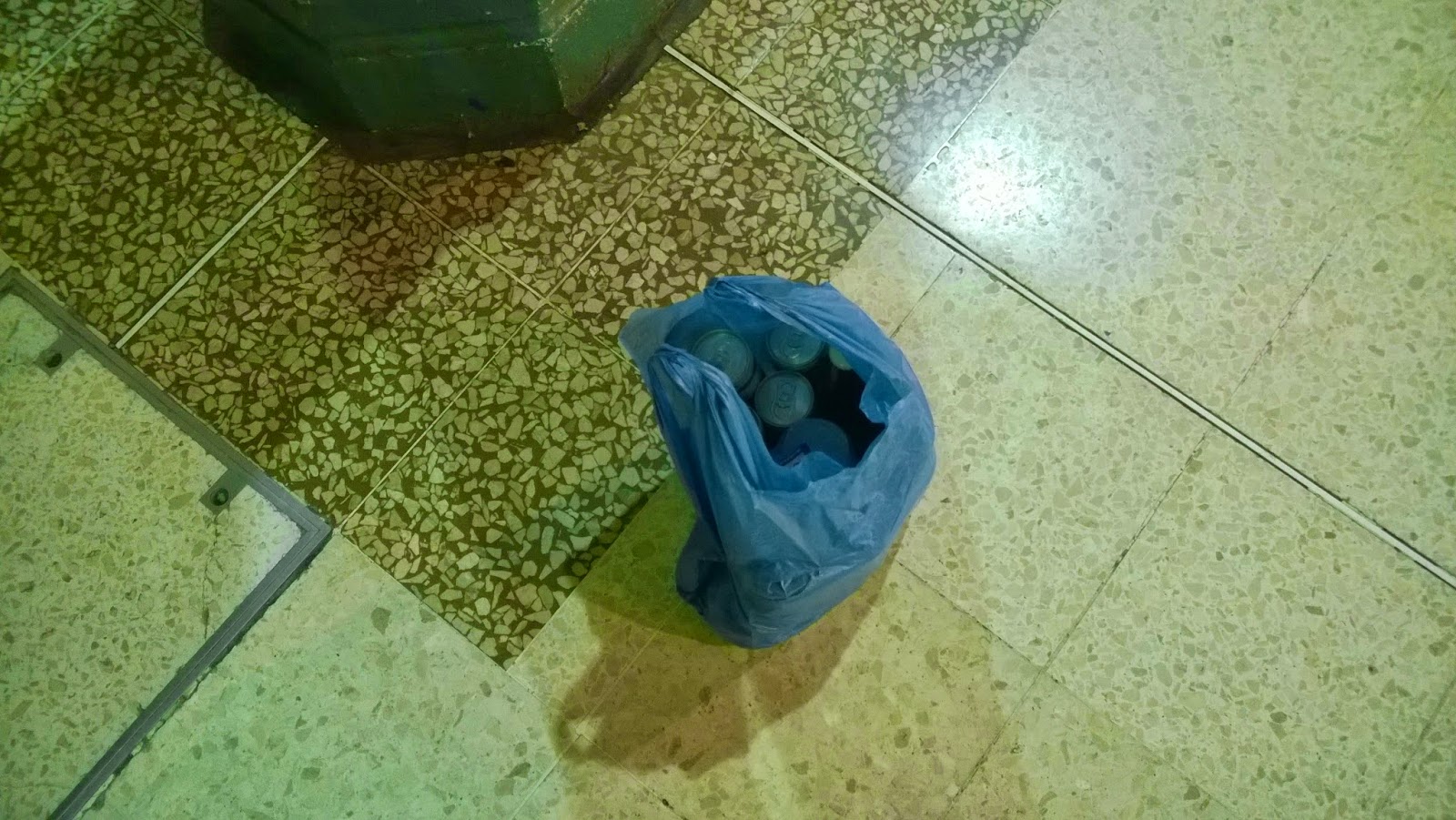 Yeah, it's a carrier bag. Big whoop. Wanna fight about it?
Duke
Att. 571