Sometimes ladies & gents, you need to get a handle on real life. A sense of perspective if you will. Take Friday's eclipse for example. As expected, southern Britain ensured we'd miss out on this once in a lifetime spectacle with skies so grey & impenetrable they'd make Beijing City Council consider suing for breach of copyright.
Despite this, loads of people still flooded out onto the streets of our capital to watch, er, nothing at all. "Look at those idiots" I thought to myself as I peered out of my office window at the crowds below. "Wasting a portion of their lives in a vain hope they might see something special!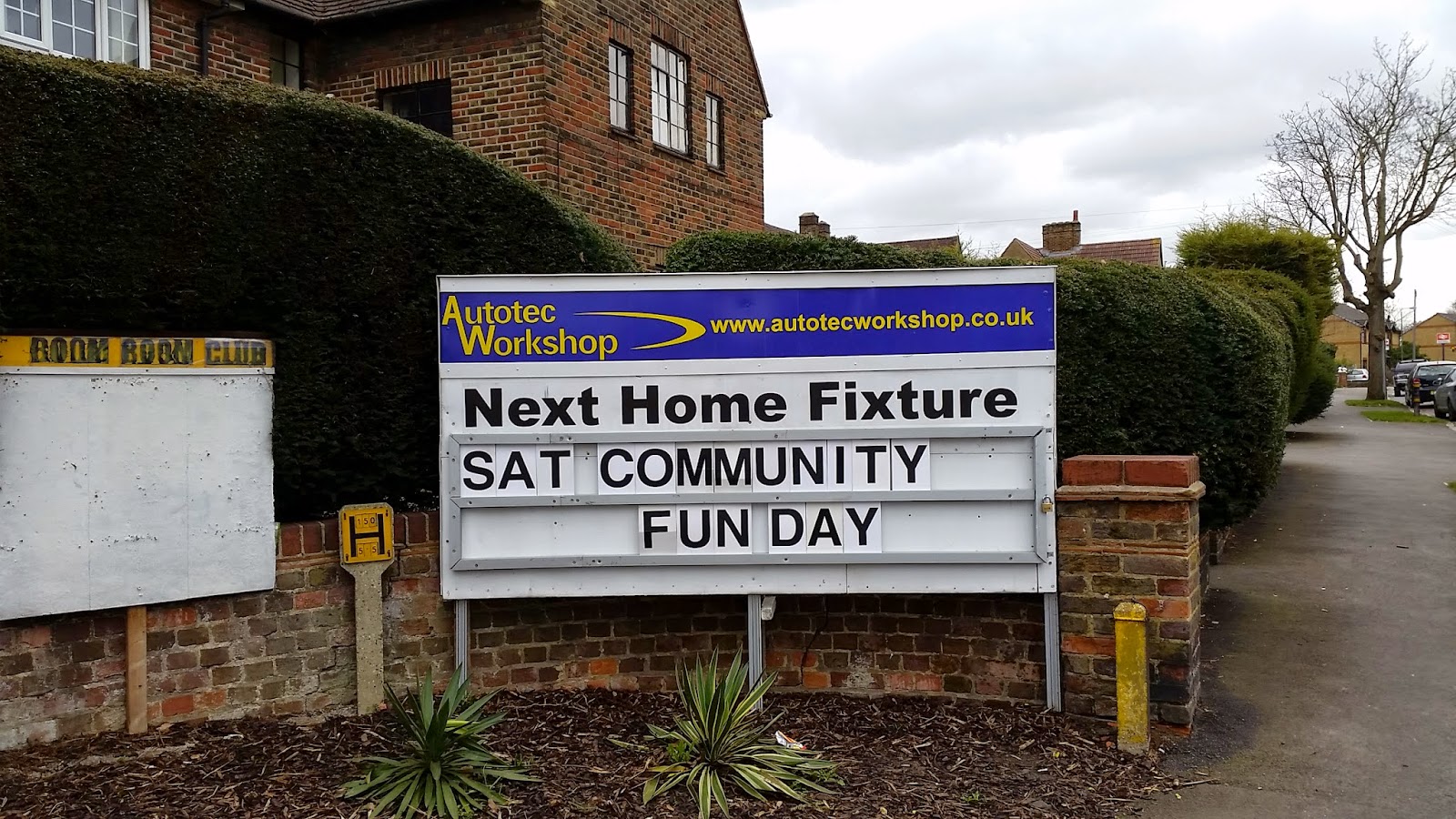 Testing the definition of the word 'Fun' to breaking point…
Then it dawned on me just how I'd be spending my saturday afternoon between 3 & 4:45pm. That soon brought my sarky arsed internal dialogue back to earth with a bump I can tell you.
I awake on the Saturday to some bright orangey glow illuminating HQ. Well well, seems like it might be a nice day! If nowt else, it should persuade some of the borough's parental units to engage in some mild mental abuse of their offspring by dragging them to GGL for todays Community Fun Day. An hour or so later, I'm proved horribly wrong as the sort of arctic wind that would make Roald Amundsen think "Fuck that" and go back inside to stick the kettle on, strips the very skin from my bones.
It could have been worse though, had I not decided for the first time in a long while to don my long neglected SUFC scarf. Having recently retired my home shirt because it looked like I'd robbed it from a homeless person after a particularly violent struggle, I'd gone all Green Street for a while and watched games unclad in the sacred Amber & Chocolate. But thankfully today, old faithful comes to the rescue and I only lose the one hand to some early spring frostbite.
Fortunately the 407 arrives on time for once, so my life is spared. It's a dull journey in and I'm so distracted by staring at my phone whilst huddled on the back row trying to warm up by being as close to the engine as possible that I only realise at the last moment that the bus has reached my stop. So I have to scramble without my normal style or panache to dart off just as the doors are closing. Next stop is to pick up some folding for the day from a ridiculously complicated ATM outside Nationwide (whoever thought a touchscreen on a machine that regularly gets thrown up or pissed on was a good idea needs fucking shooting in my opinion). Then it's the usual stroll down to the cathedral of footballing delights known at Gander Green Lane, which I do as quickly as possible to keep the circulation going and avoid freezing to death in the glorious early spring sunshine.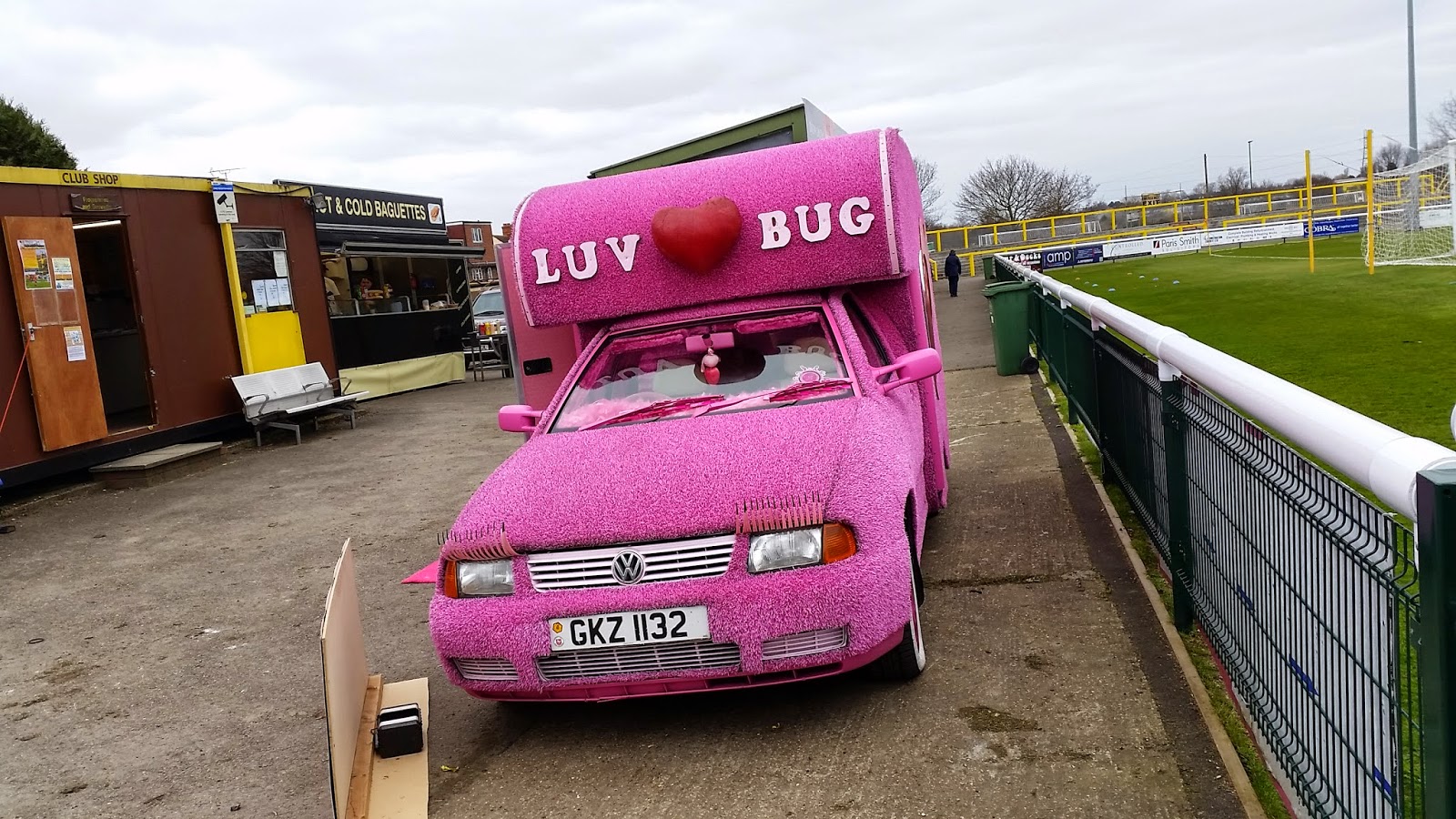 "How many times do we have to tell Juan NOT to park there?"
With todays community day in the offing, I find a strange pink vehicle greeting me inside the GGL end gate. It seems to be some sort of photo booth thing. I doubt any of the crew will be making use of it this afternoon, it'd take more than some daft pictures to make a game here entertaining these days!
With Roses and the usual jobs required to feed the 500 completed, it's time for a trip to the bar and set about numbing the brain for another home game. Upon arrival, I find familar faces. Mr X, Dukey and even Greek are propping up the bar in their customary fashon. Marky N is also present before heading for his turnstile duties, along with his dog Dexter. There's also a strange smell in the air. "Did you fart Dukey?"
The flat capped aristocrat admittedly takes the accusation well. "Fuck off! It's the dog!", pointing accusingly at poor old Dexter "He's worse than you!". I doubt that Tom. And besides, he's far cuter than you are. So man up and take responsibility for the canine guffing. It's no worse than your fucking aftershave.
Wardy soon arrives from his rugby watching in the high street and joins the throng. He soon pulls me aside to help fill in some blanks from the previous weekend's shenanigans. Part of the discussion leads to him asking who'd put up the Sutton sticker in the O'Niells later that evening as his mate and also the guv'nor of said establishment, John, had pulled him to tick him off about it.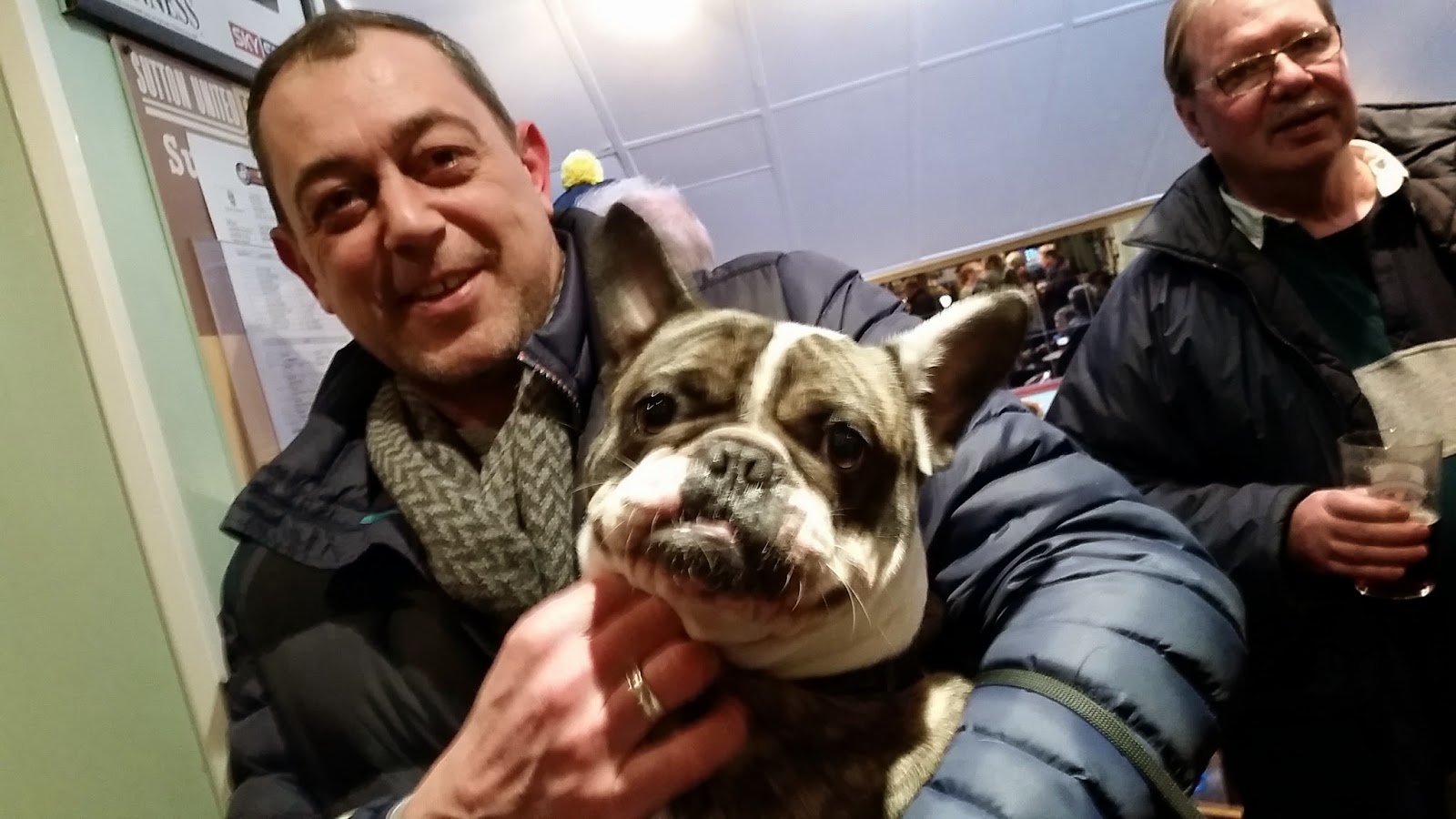 A smelly old dog. And Dexter.
I stare back at Wardy, trying to consider the best way to respond. I decide that there's no point beating about the bush and lay it out plain and simple. "That was you, you fucking bellend!"
Howe, Amankwaah, Binns, Spillane, Wellard, Collins, Scannell, Southam, Dundas, Gomis, Fitchett SUBS: Wishart, White, Hippolyte-Patrick, Medlock, Forbes
Today's guests are currently chasing a play off spot, although have had a bit of a rough couple of weeks with 3 straight defeats, including a 3-0 pumping at almost as little to play for than we have Wealdstone putting a big dent in their post-season hopes. So, with this fragility in mind, we hope for a bright start and to hopefully make a game of it. 52 seconds in and that ridiculously misplaced bit of optimism has been flushed right down the shitter.
A simple ball down our right sends a blue shirt away, with some yellow ones trailing in his wake, he gets to the byeline and pulls the ball back. Now, it doesn't look the best of set ups, but it trundles just behind and out of the reach of Collins before coming to Gomis just inside our box. Here, under no pressure he gets himself into the sort of mess a 1960's Radio 1 DJ would find himself in with the a similarly poor first touch. And rather than clear his lines, he only manages to tee up a lurking forward who whips the ball past Howe at his near post.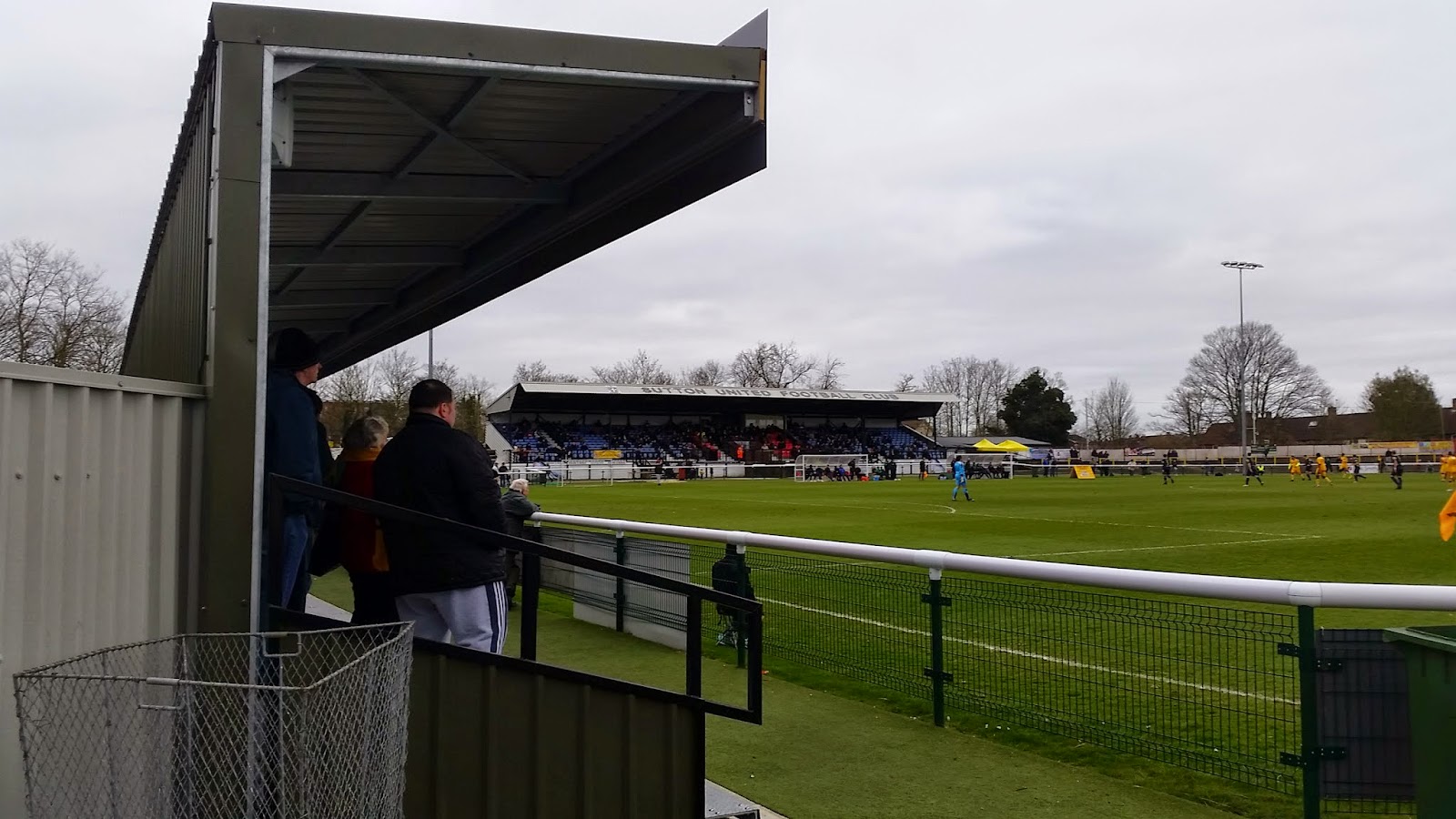 Are we having fun yet?
I'm not sure if the small clutch of away fans at that end cheer or not, as at this moment I'm defeaned by the sound of palms connecting with foreheads around me.
Having been made right at home, given the nice comfy chair by the fire and first go on the crossword in our morning paper, Gosport seem very happy with their minute's work and snuggle down for a well earned snooze. Meanwhile, we revert to our tried and tested Plan B of huffing and puffing and having little or no impact whatosever on proceedings. The sum total of our efforts for the half are Fitchett's low drive that briefly disturbs their 'keeper's afternoon nap and Spillane getting booked for what looked a half decent tackle.
Fuck this, I'm off for a pie and a cuppa.
The second half is a mild improvement, but that's mainly as the oppo seem happy to let us have the ball and try to hit on the counter if we look like we're even vaguely getting our act together. Sadly though, despite spending most of the 45 in their half, you never quite get the feeling we'll nick something. Suvs, returned to the side after his FA enforced holiday tries manfully to get us going, but even despite his best efforts, he looks like he's had nearly 6 weeks out and lacks that sharpness. Our best opportunities come from the keeper flapping at Scannell's cross and a defender making a brave header clear to deny Dundas from Amankwaah's resulting ball back in. And Scannell firing a skipping shot narrowly wide of an upright.
At the other end, as we start to run out of ideas, the oppo really should kill us off. Our attack breaks down and one pass later their bloke is racing away from Collins down the middle. He rounds Howe, but Collins has recovered enough to clear the shot off the line.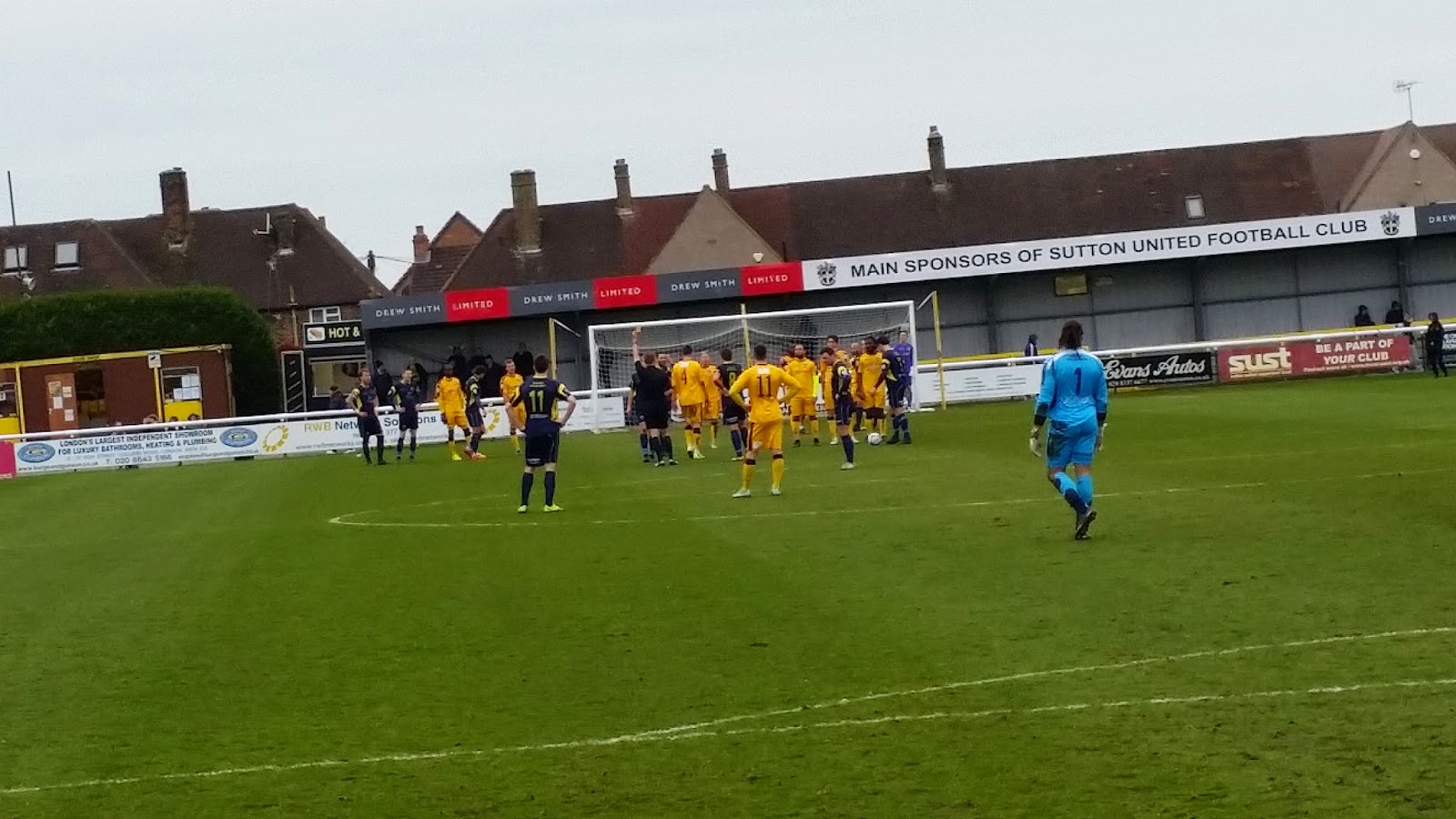 Big first half moment this.
In the end, the final whistle is once again a blessed relief. Four straight home defeats and no goals in nearly 5hrs of football does not a pretty picture make. Right, time to break out the well worn, tried & tested, 'never fails' Gandermonium emergency action plan!
Step 1. Go to bar.
Step 2. Buy beer.
Step 3. Repeat until insensible or dead.
And considering that we're all immortal, I think you can probably guess where this is heading.
Back in the bar, only a few hardy souls stick around for refreshments and AB's Strikers draw. In fact, as the strains of his little accordian ring out to announce this is imminent, I decide that now would be a good time to go for a piss. We never get pulled out anyway! A couple of minutes later I walk back into the bar to a loud cheer. Er? I know I'm a popular happy go lucky kinda guy but…..
Typically, it seems that we HAVE been pulled out of the bag! And I'm now in line for a shot at just under 2 bags of sand. No pressure then Taz old son.
Of course, AB does his best to entertain by getting me to stand on the chair like a dickhead. My close friends also assist in making me comfortable as possible by refusing to hand me my pint. The pricks. Mr X also attempts to make a further fool of me by ringing my mobile. Of course, the screen tells me it's him and I instantly send him to voicemail.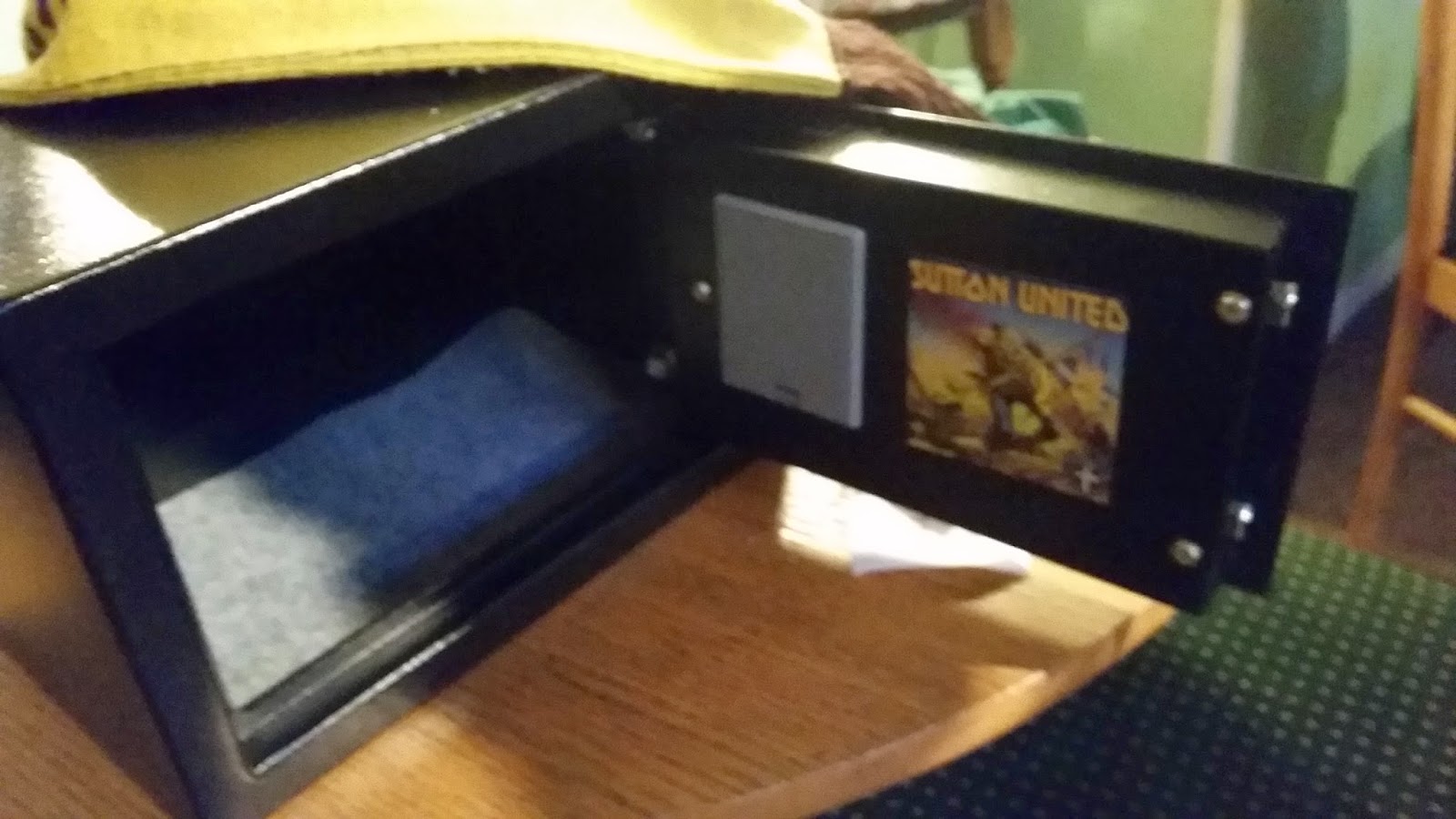 Not opened by Taz…
Sadly, my choice of key is unsurprisingly incorrect and rather than win 2k, I get a bullseye. AB also resists my attempts to violently rob him of the wad of cash. Oh well, s'pose I'd better get a drink in then! Hey, wait a minute, Bob's here. And he's in my syndicate! Why didn't he get up there and make a tit of himself?? Actually, don't answer that.
We continue boozing and watch the England – France rugby match that is so good, some of us briefly consider switching codes before realising that even we're not big enough knobheads to fit in with the oval ball crowd and elect to stick with disappointing non-league football. Eventually, our stomachs start to rumble and we elect to head into town for munchies and more heroic amounts of beer. 'Spoons feeds us, during which the Israel bound Welshman 4 Days announces "I don't look like a Muslim!" in reference to comments that Mossad will probably pick his straggly haired, big Muslim suicide bomber style beard wearing arse up the moment he sets foot in Ben Gurion International.
Then just as we're leaving, Southampton Steve arrives fresh from Saints home win over Burnley. And of course being the top lads we are, we make him walk all the way back up the high street to O'Niells where the topics of discussion include our stinker of a season and favourite female Blue Peter presenters. As per normal, the night ends with just me & Dukey left dribbling at the bar come 2am, talking shit as normal and being asked to drink up and leave by the bouncers with everyone else long since having sloped off home. Fucks sake. Did it again!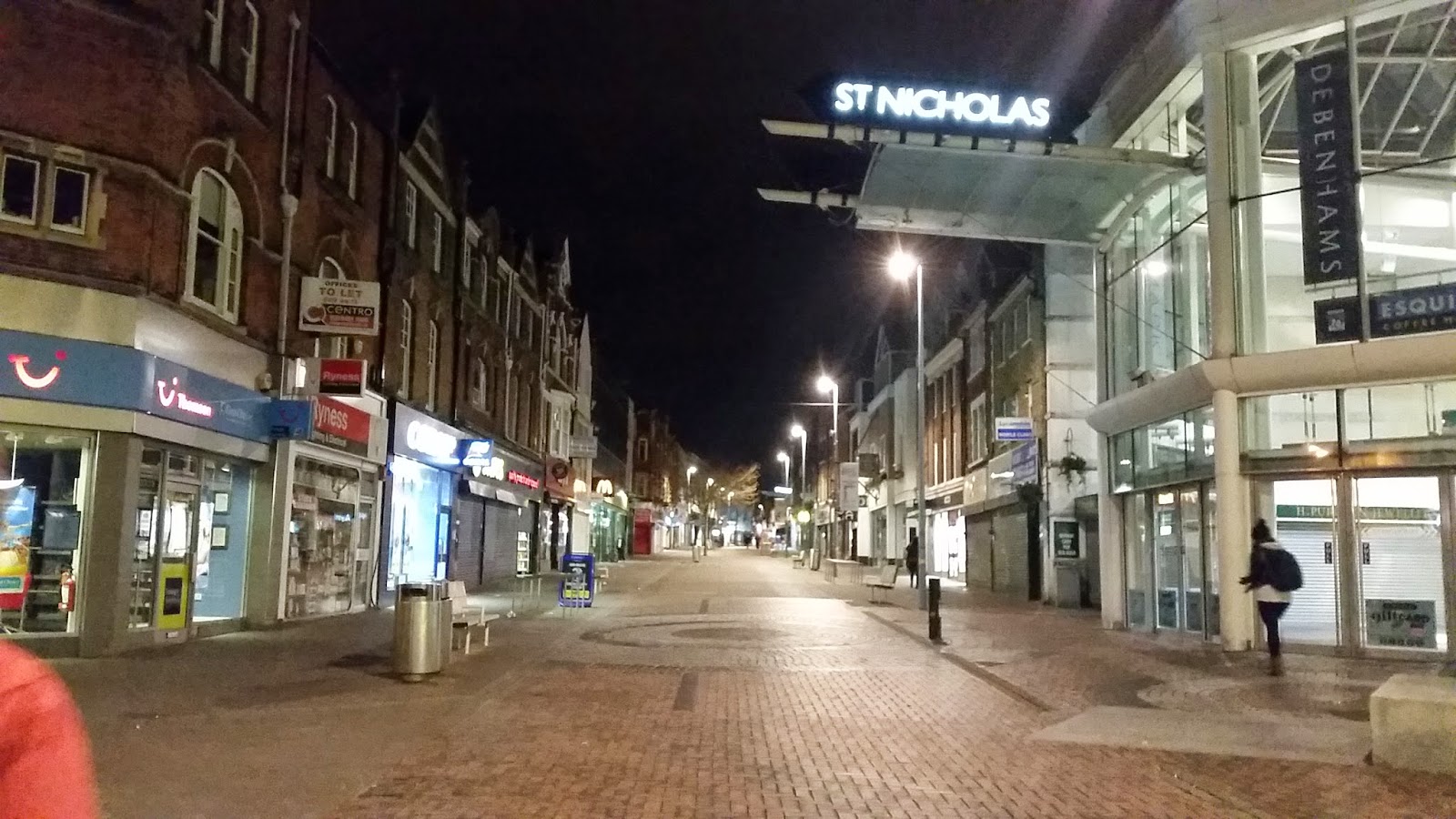 Sutton, buzzing on a saturday as usual…
So we head for a cab and despite our hopes that the big van parked up outside contains a disco in the back and will be our transport home, we end up carted back to our abodes in a bog standard Ford Galaxy minicab. Booooring! Still mortally disappointed by the disco van thing, I stumble back into HQ a short while later and resolve that I'll damn well up set my own 'disco van' taxi company and will phone the bank about it just as soon as I've finished this bag of prawn crackers left over from last night's Chinese.
Mmmmm. Prawn crackers.