When Blues legend Robert Johnson sold his soul to the Devil at the crossroads he could have saved himself all that hassle of dealing with Old Nick and just headed straight to Borehamwood – a place so relentlessly soulless it makes Hackbridge feel like Rio when the Carnival is in town.
So, when the call came to write up the blog for what we laughingly call the "Thameslink Classico" it fucked up my Easter weekend wholesale. Not only did it mean there was no way of ducking the bullet it also meant I would have to pay attention to what was going on. And so it came to pass.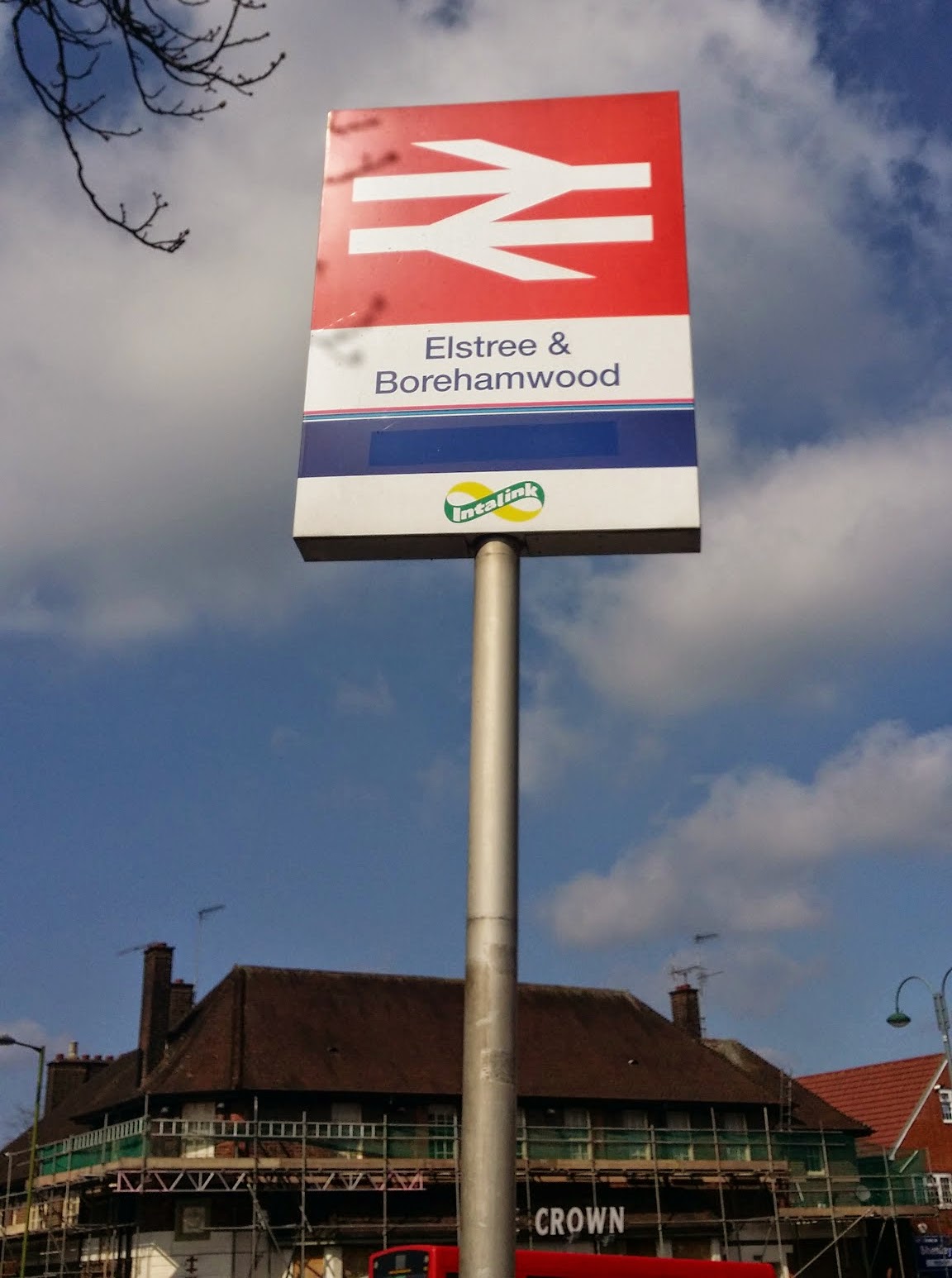 Proof the Conf South IS all glamour…
As this dogs-arse of a season slowly disappears up its own jacksie, with everyone from top to bottom just wanting it over so we can turbo-charge the revolving door for one almighty spin over the summer, I've witnessed people not just counting down the games but counting down the minutes as well.
Saturday's last gasp win over Chelmsford came as one almighty relief and at least writing up this usual stream of old bollocks gives me a chance to explain again HOW I ENDED SUTTON'S GOAL DROUGHT.
It goes like this. I had to get the 17.01 out of West Sutton for a show up in Kings Cross. With the minutes ticking down I grabbed the guitars out of the club shop ready for the off and planted myself behind the metal gate at the corner flag. Out goes the ball and with seconds left we have a corner. Scans is over it when Wellard shuffles across looking for one of our ever-popular short ones. Luckily, I am in pole position – "Stick it in the fucking box!."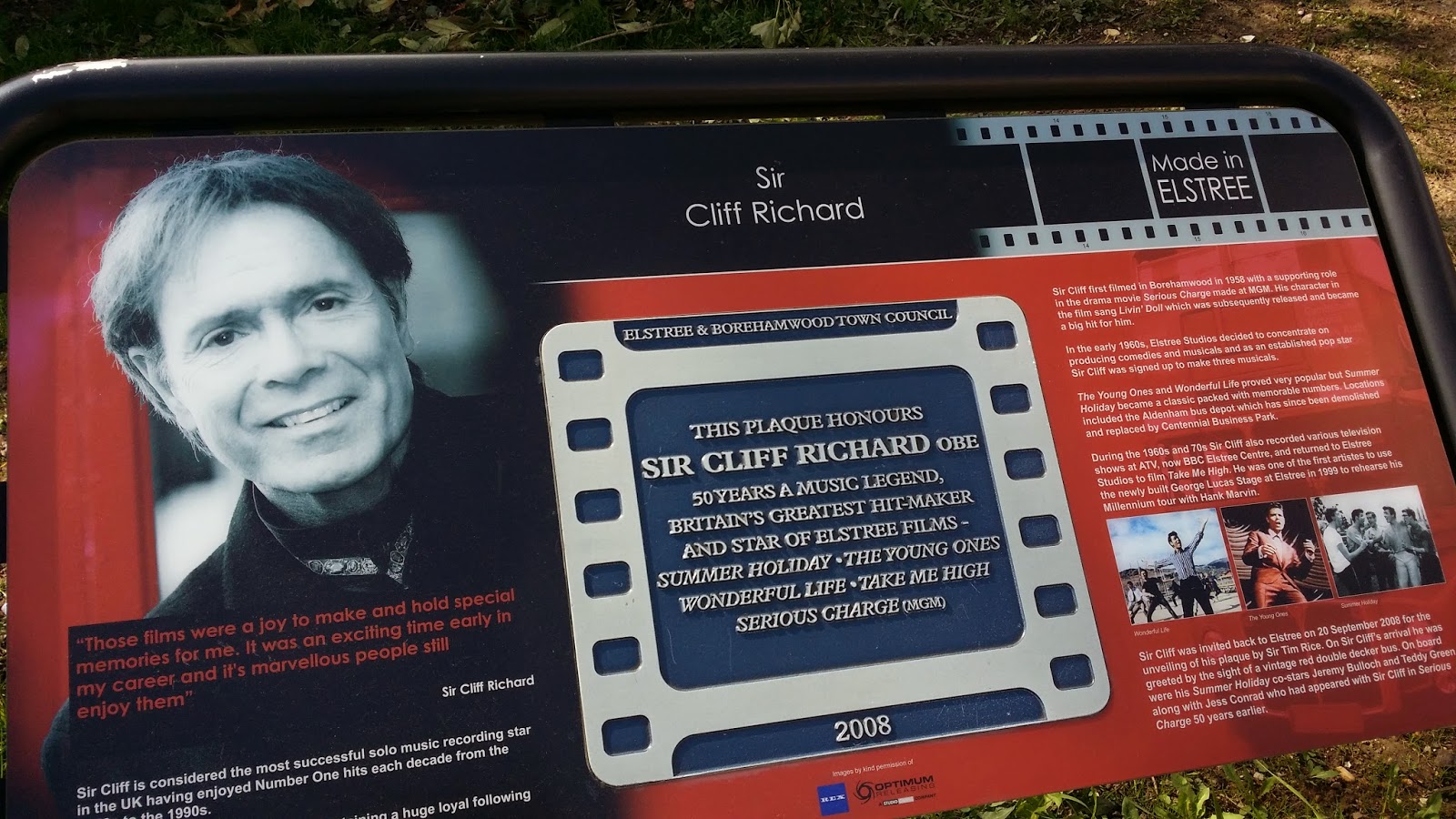 * Insert potentially libellous comment here *
For once in my life I am not only in the right time at the right place but someone actually listens to my advice. And lo, over it goes, Tom flaps, Kev hammers it in and that, my friends, is (as I'd already made clear) how I ended Sutton's goal drought. Remember that when you are voting for player of the year next week.
Anyway, back to Monday and Borehamwood. The one bright spot, and yes I am clutching at straws here, is that you can get a train all the way from the People's Republic to Elstree and Borehamwood and it take just over an hour and a bit. Loaded up with a couple of Stripes and a packed lunch I settle back for the journey north. There are a few other Sutton faces on board and places like Tulse Hill hurtle pass like a blur.
The suns out as well as we roll into town which is a welcome touch in itself and another sign that the eagerly-anticipated summer break can't be far away now.
One of the things you notice about that long drag of shops between the station and the ground is that there are numerous plaques dedicated to famous movie and singing stars. The first one that grabs you just outside the terminus is dedicated to Sir Cliff Richard. Now I don't know what the current state of Sir Cliff's discussions with Mr Plod are at but I do know that anyone who willingly released "Mistletoe and Wine" onto an innocent public should be detained indefinitely.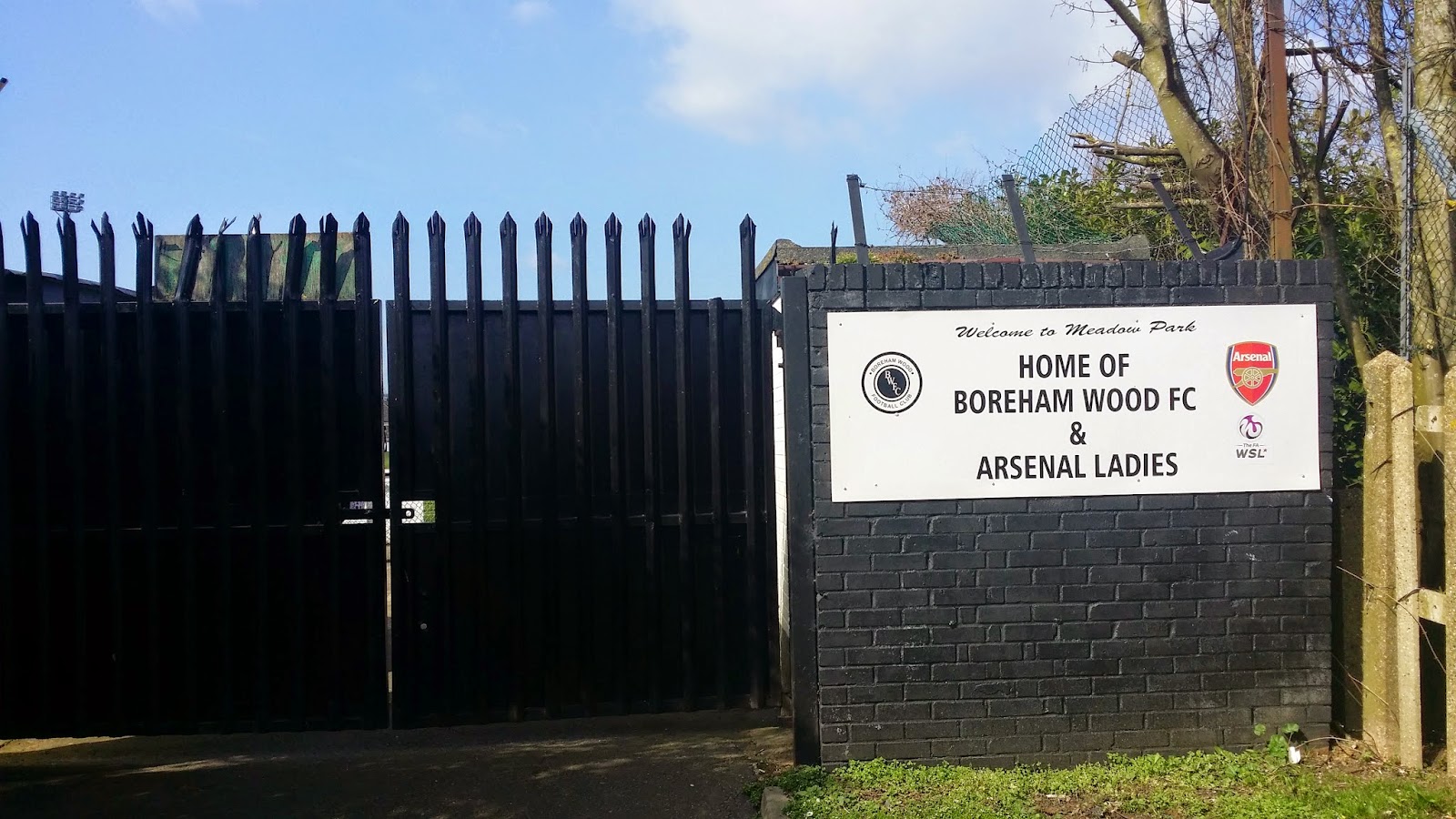 We reckon that billing is wrong…
The plaques come fast and furious. Babs Windsor, Bella Lugosi, even Steven Spielberg and then suddenly the penny drops. None of these people actually comes from Borehamwood, they just passed through honouring brief work commitments. In Sir Cliff's case that meant lip-synching some mindless drivel about a Summer Holiday. Extraordinary.
By-passing the boozers on the High Road, swerving past the palatial McDonalds and it's into the club house for a quick pint. Now, I know it's been asked before but could the notoriously lousy crowds at Wood perhaps, by any chance, be linked to the whopping thirteen and a half quid they lift off you for admission? And don't talk to me about the "free programme" – a brochure for sponsorship and adverting opportunities at the club with about as much interesting content as a Liberals election leaflet.
Anyways, this is no place for a grumpy old bastard and the suns out as most of us assemble on the open terrace at the far end to catch a few rays – well, all apart from a small group who choose to huddle together in the shade and the cold at the top end of the new but mainly empty stand that the cashflow from Arsenal Ladies, Watford and the Eastenders tours has enabled them to erect. Last time we were here it was built but unopened, now it's built and open but the number of occupants since has remained pretty much static.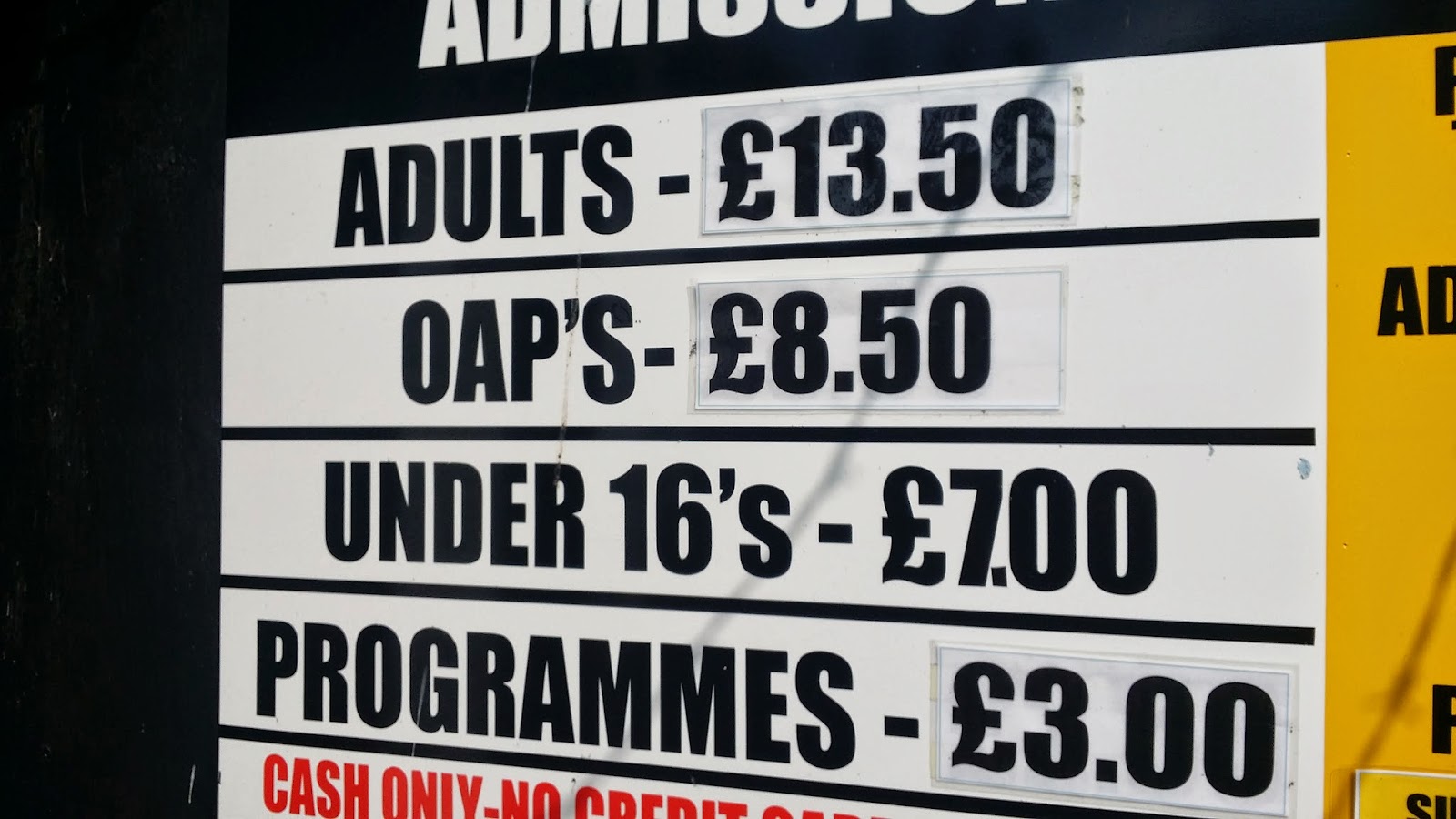 Reassuringly expensive…
We get off on a solid footing, some nice progress to our attacks but they flounder on the edge of Wood's well-drilled defence. Their covering play swamps our lads out but we get some decent passing and movement together for the first fifteen or twenty minutes but after that the game settles down into a bit of a midfield stalemate. There's nothing particularly exciting about this Borehamwood side but they are efficient and in this truly uninspiring Conf South league that has been enough to rocket you up to the heady heights.
But this is one of those outfits who obviously spend hour after hour on their selection of 3G training pitches working on set pieces and exploiting the old dead ball opportunities. And, well, we copped for it in traditional style.
A free kick out far wide right with a bit of an angle, swung deep into our box and one of their two giant central defenders rises like the Lord Jesus himself and hammers a header home. One nil and no great surprise. Wood then turn up the heat a bit and good save from Aaron Howe keeps us in with a sniff but at our goal end I couldn't remember us getting a shot on target in the first 45. Familiar story.
Stuff happening.
Fair play to our lads though, they come out strong for the second half and we put BW under some good and sustained pressure. A couple of fairly optimistic penalty shouts, matched by similar at the other end, and the game at least got a bit feisty and, with some iffy stuff from the ref and the lino we at least had something to shout about. Kev coming closest with a header that looped up and dropped onto the bar.
That pressure left us a bit stretched and Wood might not be pretty to watch but they are no mugs. A poor clearance from Aaron created a needless pressure on the defence that resulted in a free kick and for at least the third time this season we could see there was a gaping hole top corner that assuming their man got it on target the ball would fly into. And it did.
So that pretty much was that. Suvs had a great chance to pull one back but just couldn't get the ball out from under his feet and we kept going but with Bromley drawing the win sent Wood, and their 300 fans on what was a bumper bank holiday attendance for them, away happy while we trudged back to the station to spend the final few hours of the long bank holiday weekend in quiet contemplation of the glorious sunlit uplands that lie ahead.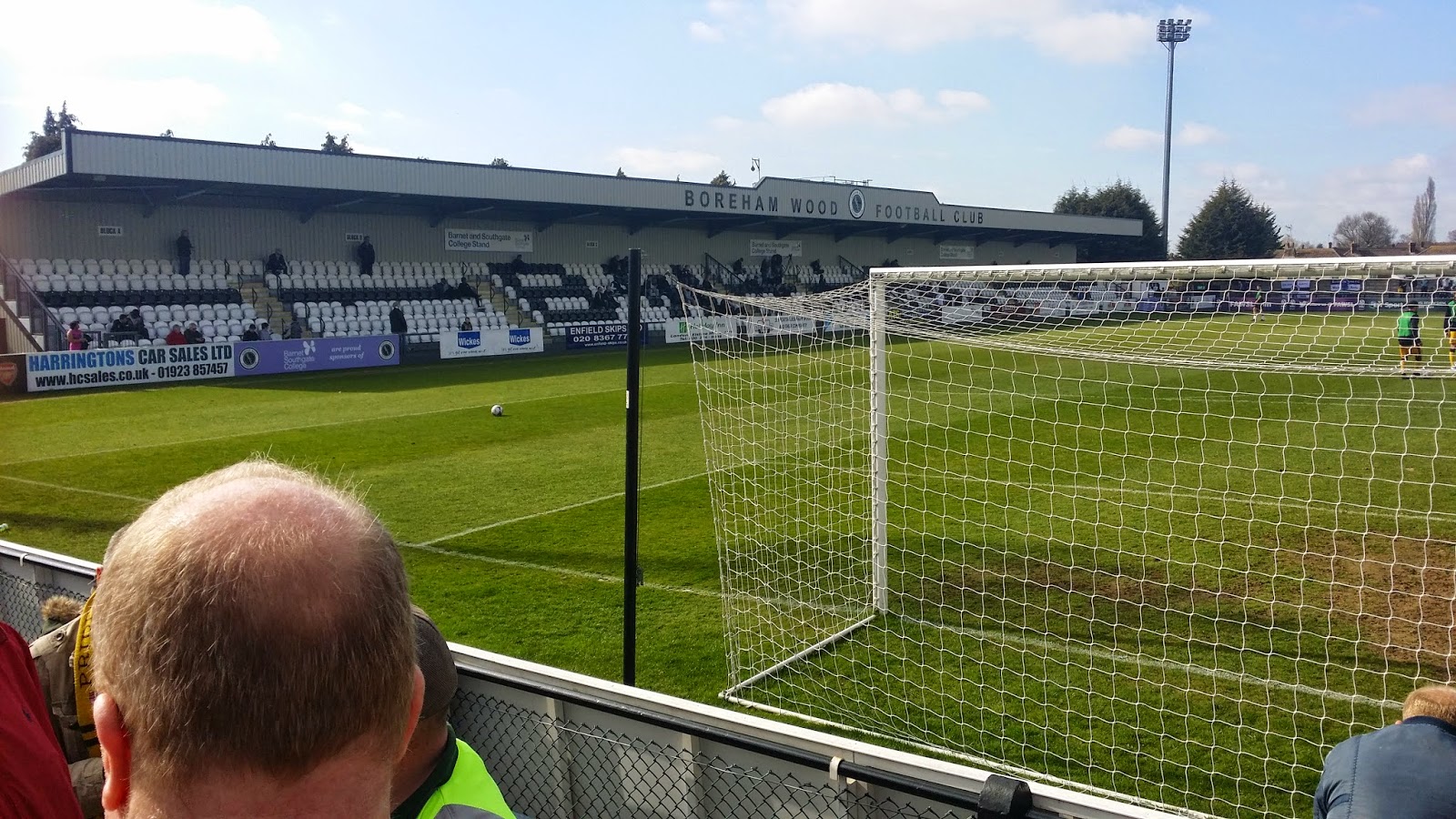 Packed.
Totts