So here we are, the final away game of the season. Lets be honest here for a moment and say that 2014/15 won't be ever considered a vintage year. In fact I would say that this is possibly the worst season we've experienced under Our Lord Dos. Saying that there were several moments that will stay with us at Gandermonium. But I'll leave Taz to recap them in his season review later.
Well as you can see in the picture below, the drunken DVD order from last week had arrived in spits and spurts. There might be some good films there and there are definitely a couple of turkeys as well! A three disc edition of Spinal Tap is a quality addition, but why the fuck did I purchase Mission to Mars and Red Planet? Answers on the back a postcard to the usual address.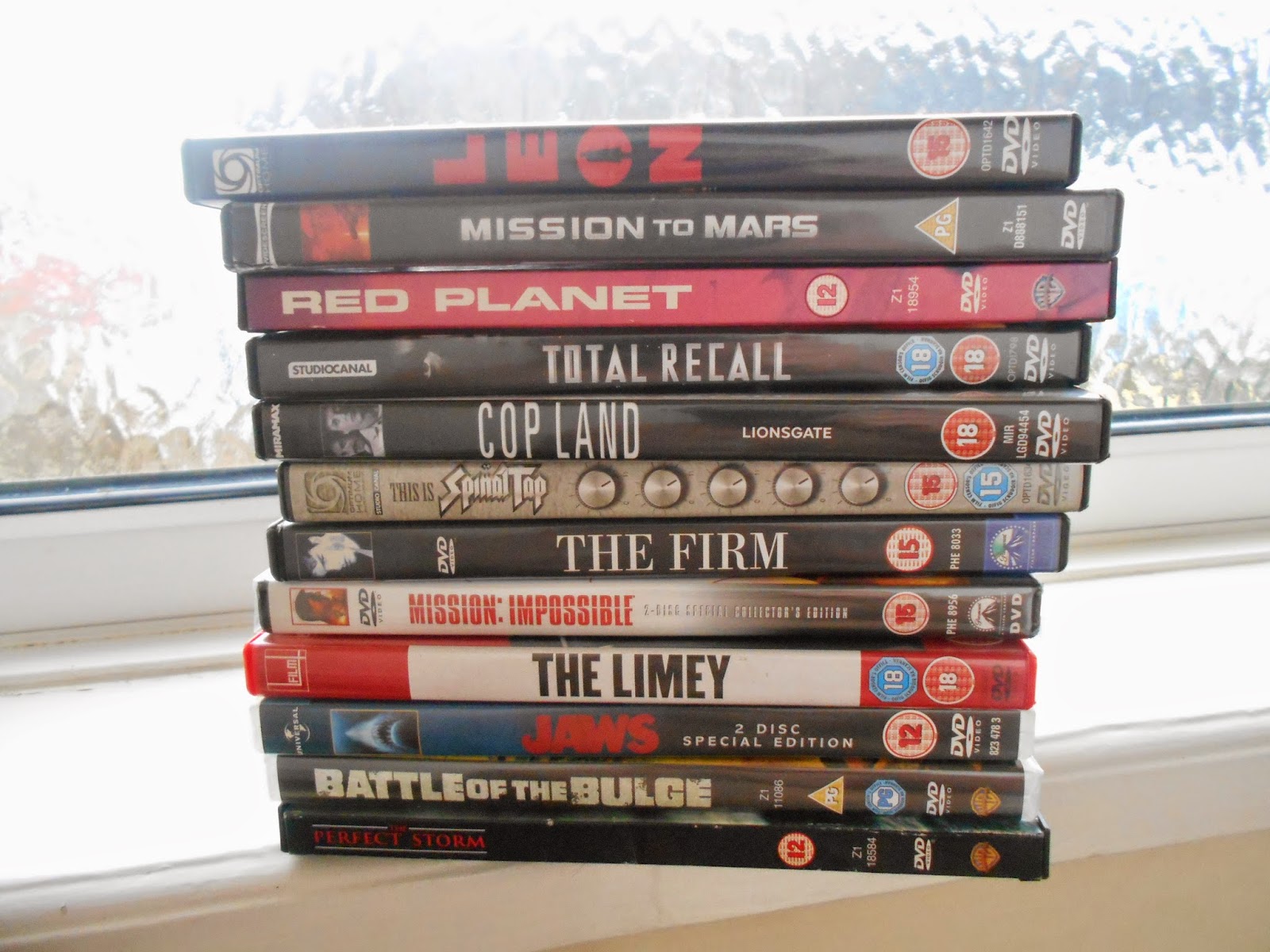 This weeks Blockbuster top 10…
The other news that had filtered through to us was the announcement on the official website stating that the Reserves are once again to disband. Well for me, I can't seem to see the bigger picture on this one. I'm sure there are reasons that will be explained in good time. For the moment I see that next season will be seeing us with no Reserves, not on grass & seemingly not in an Amber and Chocolate kit either!
Train tickets to Bath had already been ordered by those that were in the know. The plan was to head up to Paddington and then West. I arrived for the 0741hrs with plenty of time to spare. As I arrived I saw Mr & Mrs Firm Leader debunk from a Sherbet. Taz was soon to arrive (with a present for me) and I thought that everyone else was going around the loop the other way.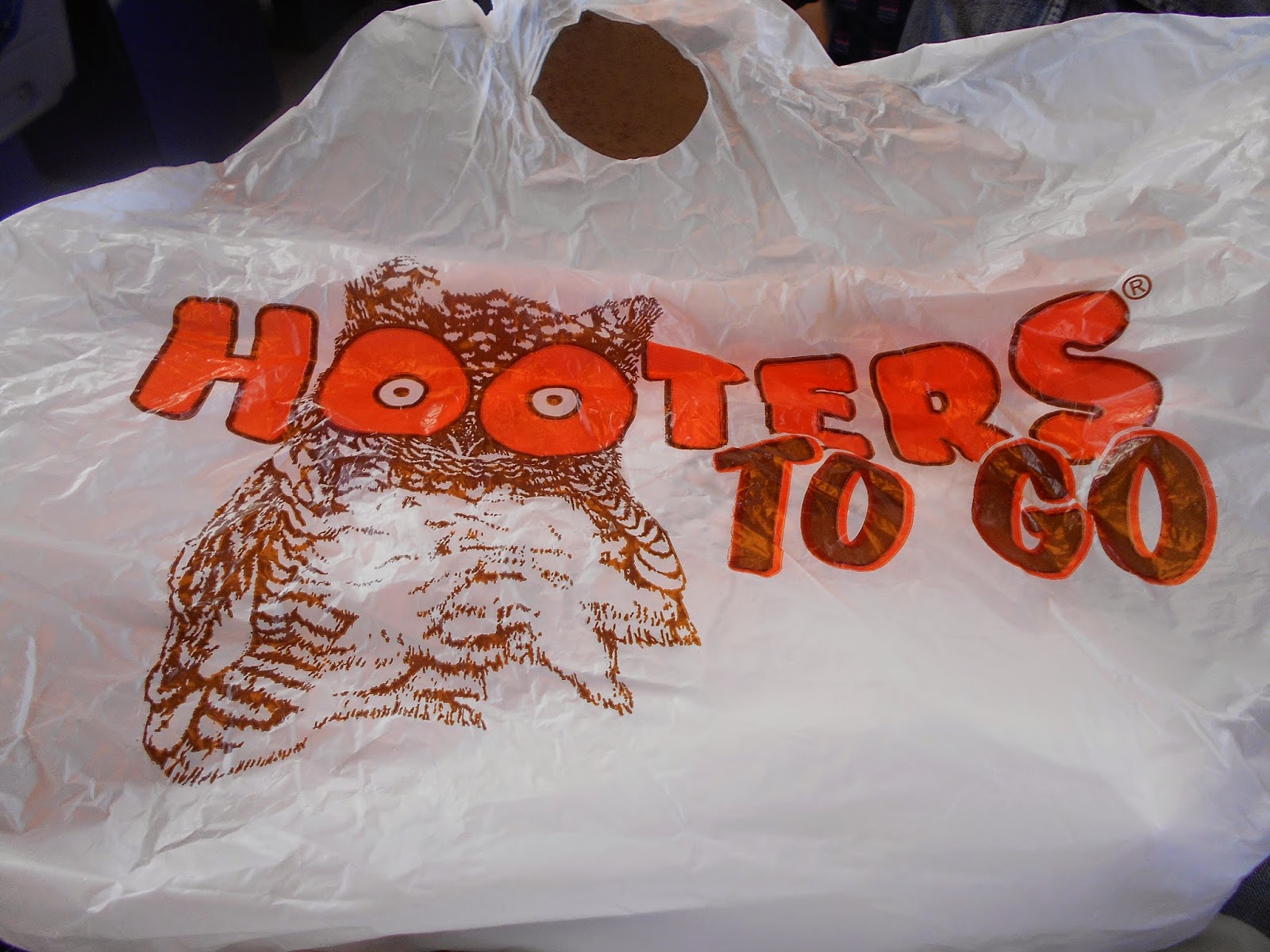 It's his birthday.
Of course I was totally wrong and everyone was on the train when it arrived. Well I say everyone, but someone was missing. 4 Days for some reason thought that the train was 0741hrs from Sutton and missed it. That'll teach him to hold out until the last minute. Needless to say, he actually ended up getting to Paddington before us.
There was a former sometime booze cruiser among us today in the form of Millsy. After a blazer related sabbatical, he had prepared for this trip by spending around twelve hours the night before "getting on it". By the end of the night he had ended up in that local den of thieves called "the Plough" looking at a snuff movie from Brazil. Judging by the state of him on the train you could see that he was suffering.
Arriving at Paddington and seeing a rather smug looking 4 Days we all split up to do various things before we left. Taz had to get the tickets, some went for a smoke and others went for grub. With food & drink sorted we made our way onto the platform. Mr & Mrs Firm Leader were in a different carriage but the rest of us were together. Having secured some tucker I also got my customary dash of pepper. Wardy, knowing that I like pepper had also got me some as well….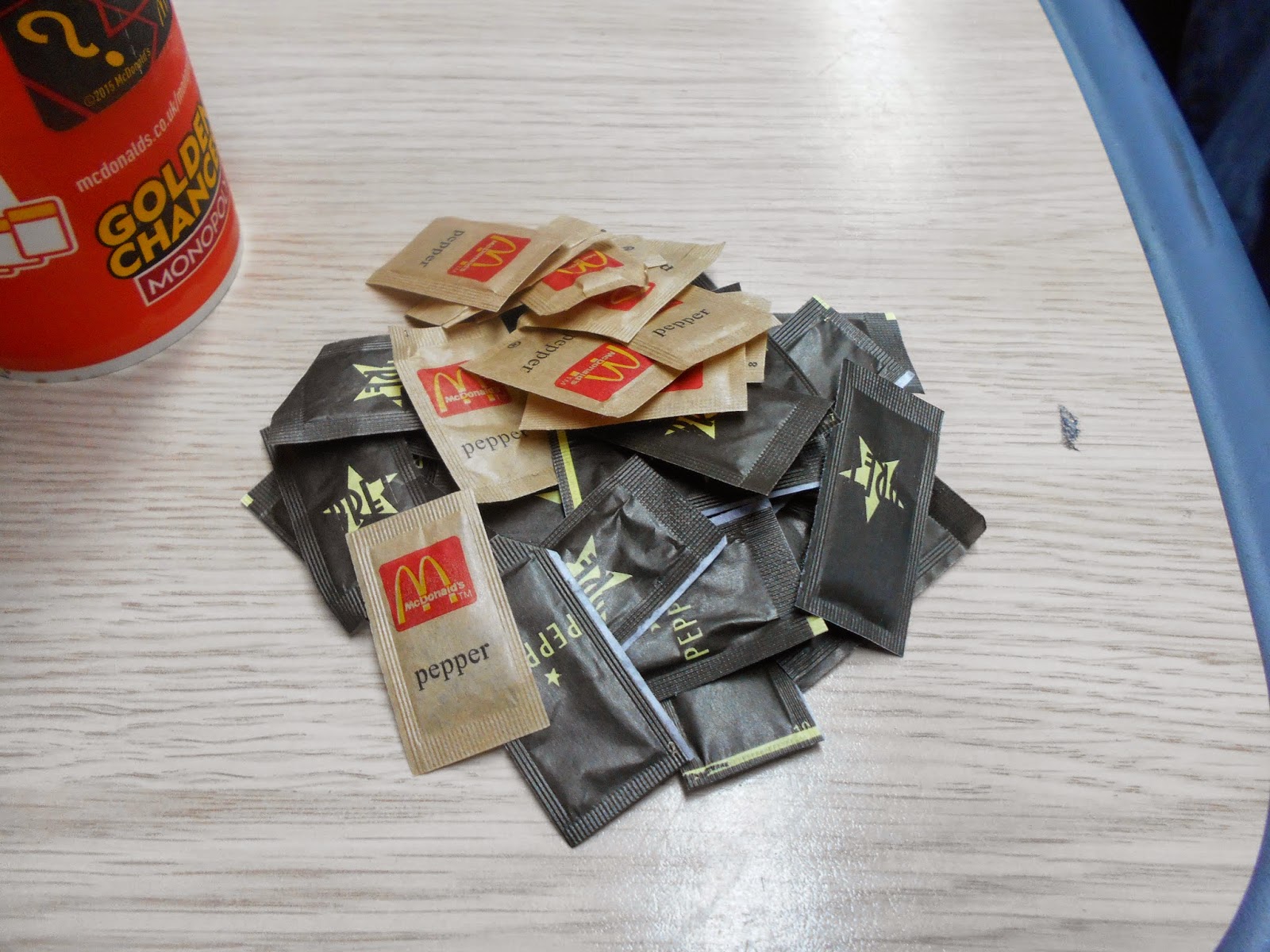 Needs more pepper.
With an hour and a half to kill, we filled it with the various shite that we've became well known for. At one point I recall trying to discuss with Wardy the whole concept of the GUM clinic. It even lead to some instruction from the female member of the Firm as to what he would expect to get at a GUM clinic. Around this point Mr X surprised us with a round of drinks from the buffet that went a little way in keeping the tigers at bay. We also can't forget a little helping of Vodka jelly from the Firm Leader, which some enjoyed more than others.
We arrived at Bath before eleven so the only chance for a drink would be to head to the local 'Spoons. First pint in Bath and we begun to decided on what pubs to attack. Suddenly a disgusting smell engulfed us. Looking around for a culprit, the usual boats (me & Taz), were for once innocent parties. Then in the corner of my eye, I saw Mr X grin very sheepishly. A love puff was what he had dropped!
The next pub on our list was across the road. The Trinity was run of the mill type pub and it was here that we came close to winning a fortune on the quiz machine (70p). We only failed to get a Pointless answer on the question of "Arsenal players who have played over 100 appearances". Wardy had also managed to wrestle himself into a game of pool with a local and done the firms honour justice with a last gasp win on the black.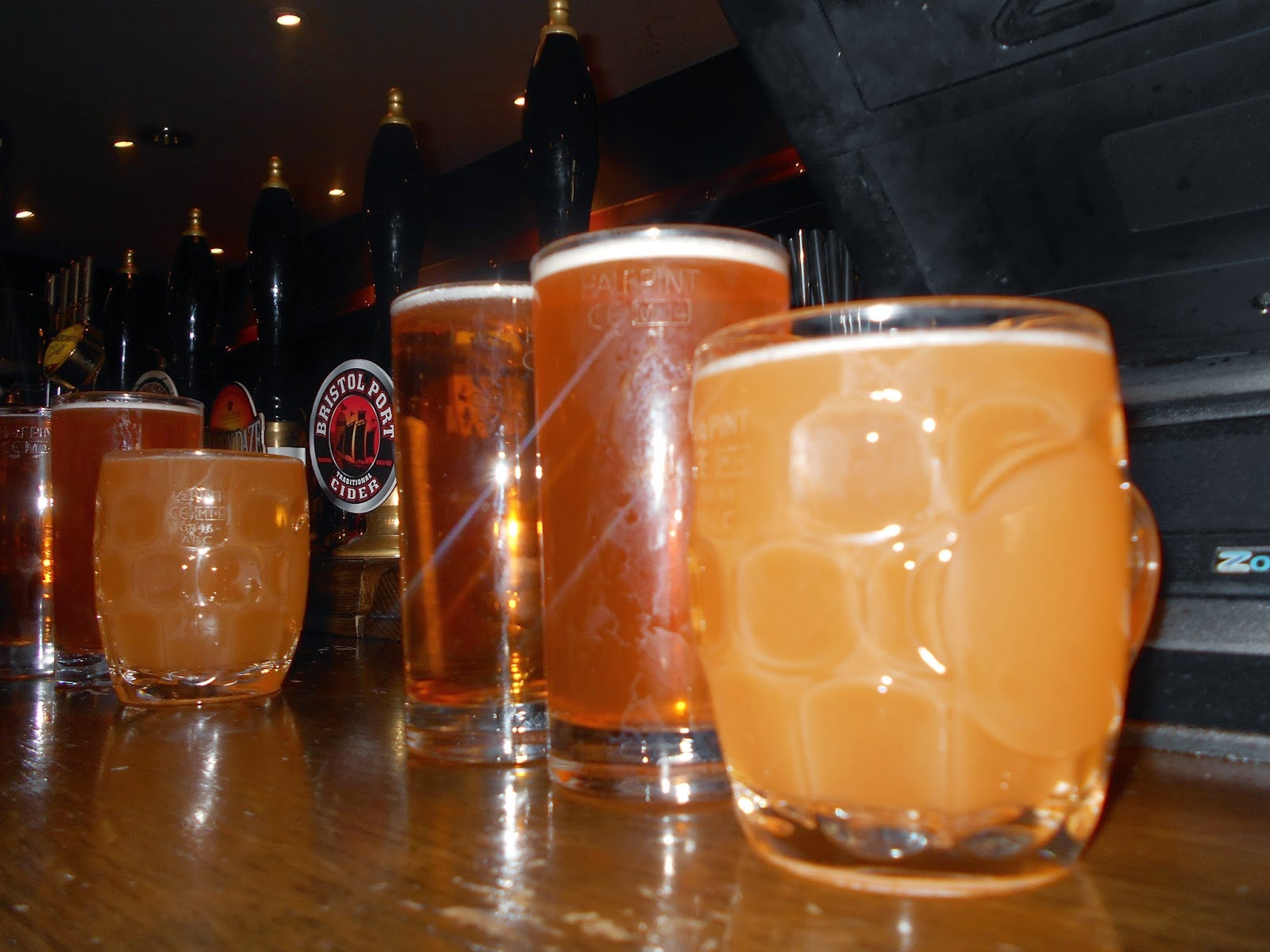 Fuckin' 'orrible cider.
The next pub was some Irish bar, or as one member innocently calls a "Diddly, Diddly place". Another couple of beers down (some better than others!) and we were heading off to yet more pastures new. On the way I dived into a traditional a sweet shop looking for some chocolate covered peanut brittle. As per normal, I failed in my attempt, but managed to purchase some other favorites that went down, like the kids say, da bomb!
Wardy had also followed me into the shop and purchased some moon dust that mananged to be slipped into several pints. Taz complained his beer hadn't been spiked, as he reckoned it might have improved the taste. With the Grapes done and dusted we managed to squeeze in another drink down the road at the Westgate. Well, I say one drink, but for me and the Firm Leader it was three half pint tasters of 6, 7 & 8 percent cider. Sherbets were ordered and soon the dirty dozen were trying to squeeze another cheeky drink in the club bar before the game started.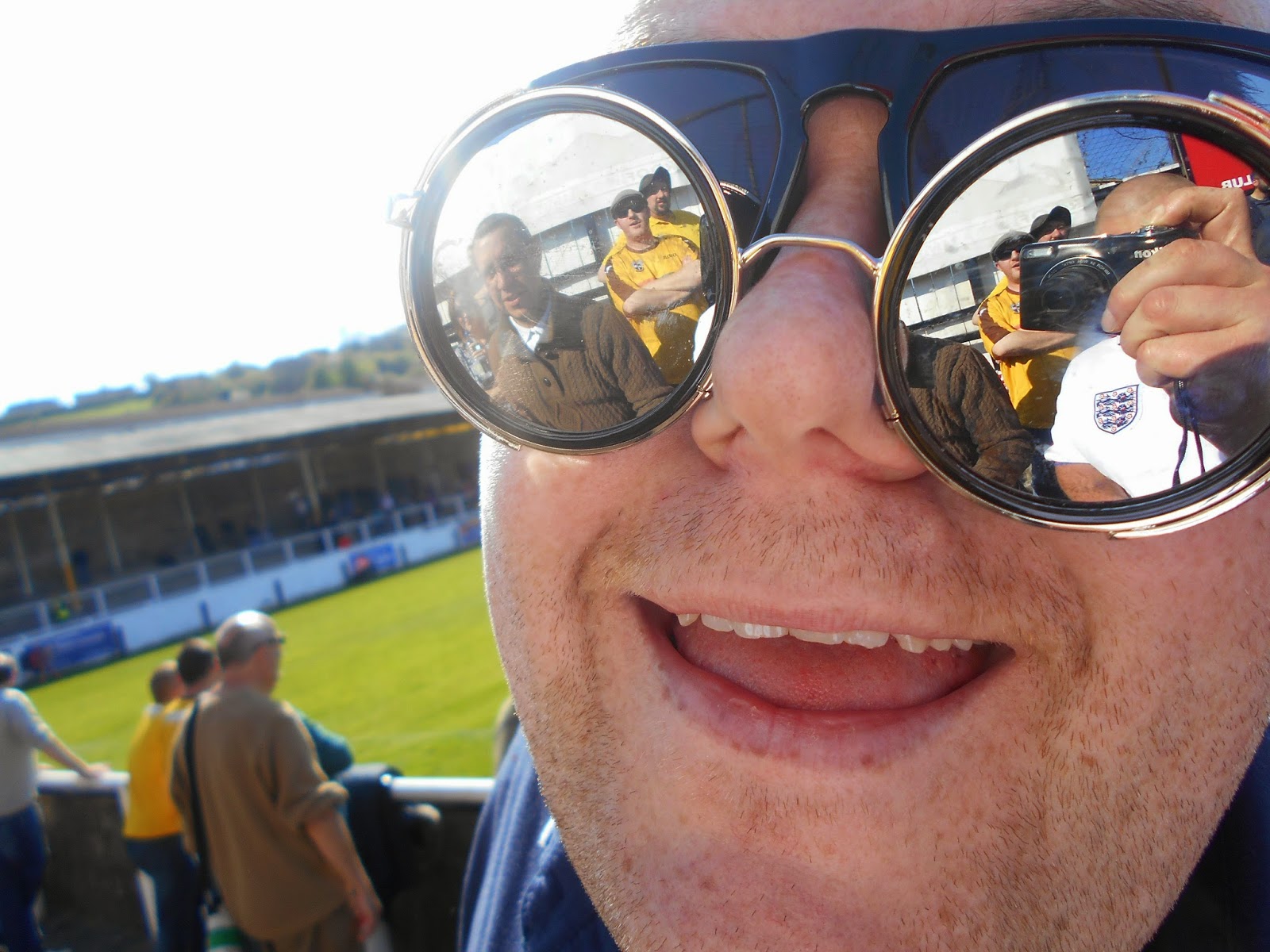 It's a little known fact Dr Robotnik lives in Bath these days…
Howe, Amankwaah, Binns, Spillane, Cooper, Collins, Scannell, Southam, Dundas, Forbes, Theophanous. Bench Warmers: Wellard, Wishart, Fitchett, Gomis, Shaw.
Before heading behind the goal, I decided to get one of those lovely Bath Pepper burgers. Suddenly, Dr Bell grabs my arm and points towards near the centre of the pitch. Scans is down on the floor and the ref is waving for a Bath player to come towards him, whilst the other players show off their handbags. "What happened?" I asked Dr Bell, "Fuck knows" he replied. Still that didn't stop us screaming blue murder to have the poor fella sent off for whatever he'd done. This intervention succeeded and Bath were down to ten inside half a minute!
Taking a spot in the glorious sunshine behind the goal, the game seemed to take the end of season feel that you would expect from two teams with nothing to prove. It took Sutton until nearly at the quarter hour mark to make the first goal. A corner from the right was missed by everyone until Micky volleyed the ball back towards goal. To me, the keeper then flapped it into his own net and whilst he goal has been given to Micky I'm convinced it was an OG. 1-0!
Most of the first half had Sutton trying to grab the all important second goal. Dundo had a shot cleared of the line and Theo saw his chance easily saved. There was a incident that saw Southam have a bit of set to with a Bath player on the half-way line. Somehow, none of the officials saw anything and a drop ball was the result, much to the locals displeasure.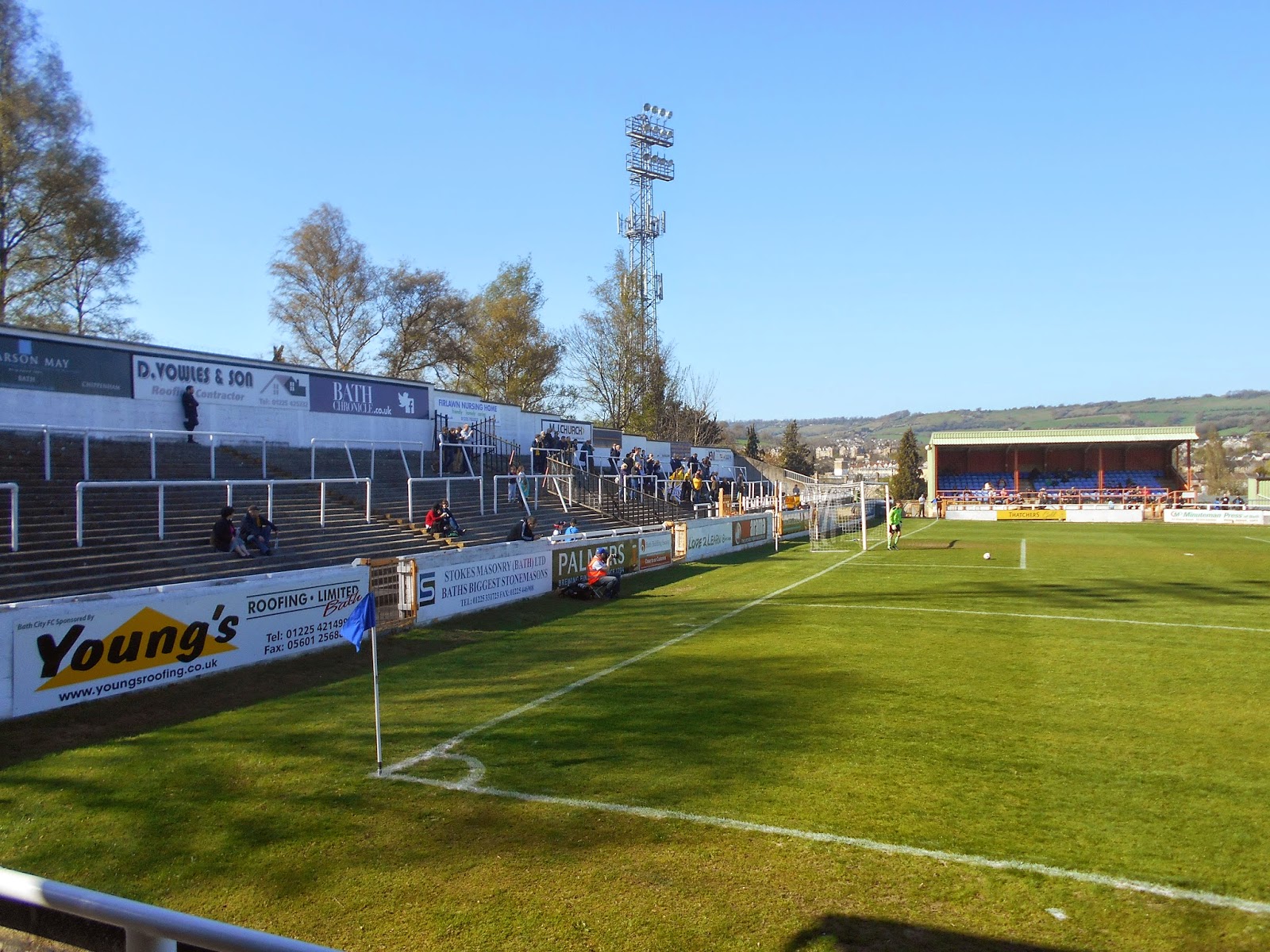 Massed ranks.
After a half time slurp we headed out for the second half where the Firm Leader brought a round of chips for the rest of the boys. Taking a spot in the shade with the already well tanned Ginger Sex Gods down the side we saw Bath begin to get into the game. Full of chips we also begun to get into the game with various songs and Blue Peter themes being sung.
Bath did have some chances to eqaulise and Sutton also had chances to kill the game off but both sides were let down by their finishing. Dundo had a shot that nearly cleared the terrace and Collins had a header go just over the bar. Wellard & Fitch were brought on for Scans & Theo and Sutton continued to put on some pressure.
With five mintues to go, we finally got the killer goal. Taking a long ball in his stride, Fitch begun to run down on the Bath area. Suddenly he turned into trouble and the moment appeared lost. Turning back on himself again he created just enough space outside the box to hit a shot that beat the keeper down to his right. 2-0!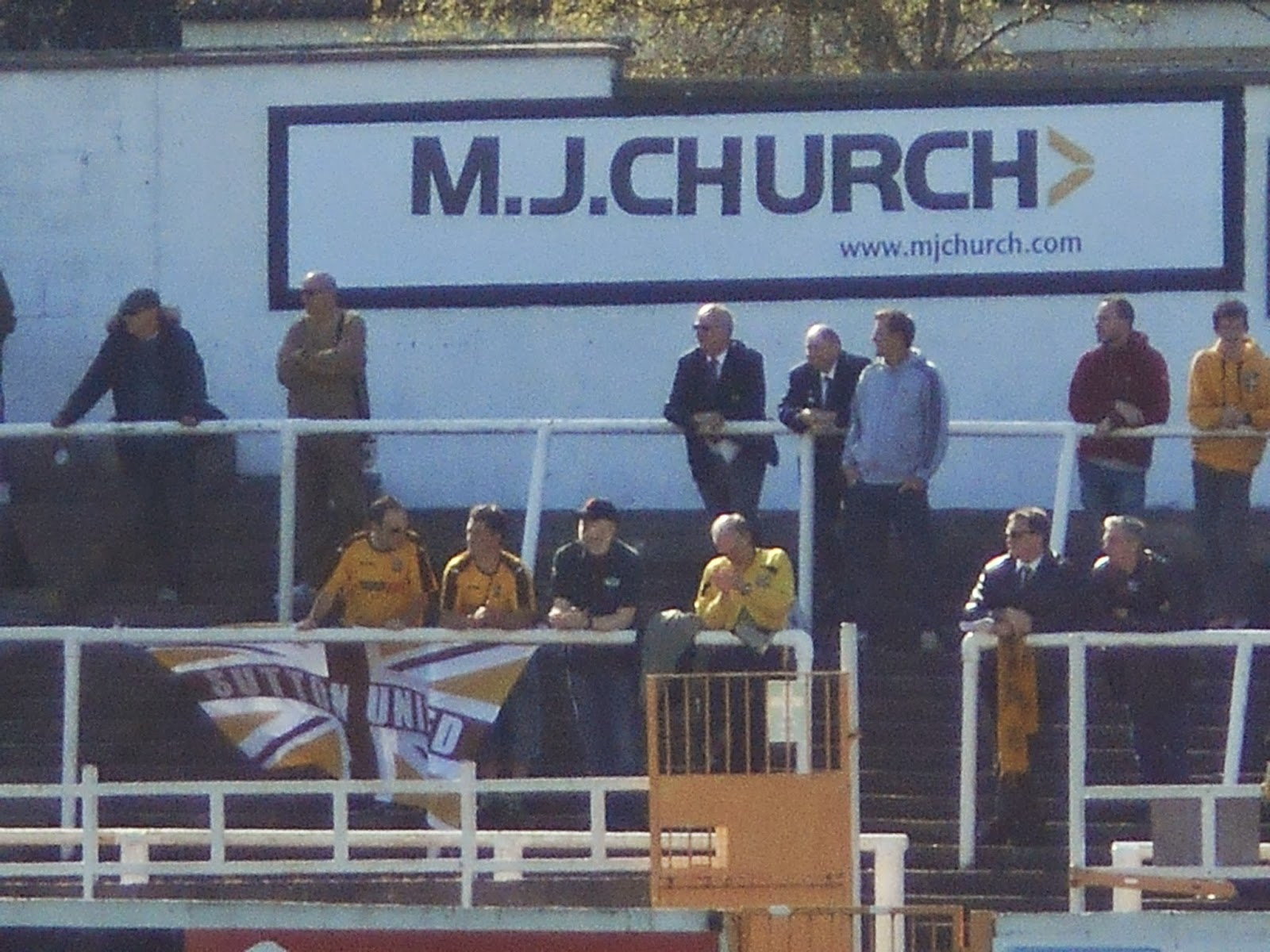 People.
After the game we headed into the club bar to order some sherbets to take this rabble back into town.
There was some confusion as to where we were going but after some aimless strolling, eventually ended up at the Lamb & Lion to see some of the Man U game and decided on who was going for grub and who was going for drink for the return journey. It was down to me & Wardy for grub and KFC was the order of the day. Eating fried chicken after a skinful can be like the best sex at times! So I'm told anyway. I don't often have KFC.
A quick change of choo choo at Chippenham and we were soon on our way back to London. On the train were a half dozen Millwall fans that had made the trip to Cardiff. as worse for wear as us, the conversation was volatile at best. Just ask Mr X why he mentioned West Ham to a Millwall fan. On the train was also some British Transport Police, whose purpose soon became clear when we got back to Paddington.
Arriving at Paddington, the Millwall boys got off before us. In good voice as you would expect after a day on the beer they begun to make their presence heard. Suddenly at the end of the platform, waiting to get on the train was a sea of blue and white. Of course, Reading had been at Wembley in the FA Cup. Before we knew it we were doing our best not to be escorted out of the train station with the Millwall lot. It probably wasn't the best time to mention to Reading supporters what we felt about a certain former Scummers keeper!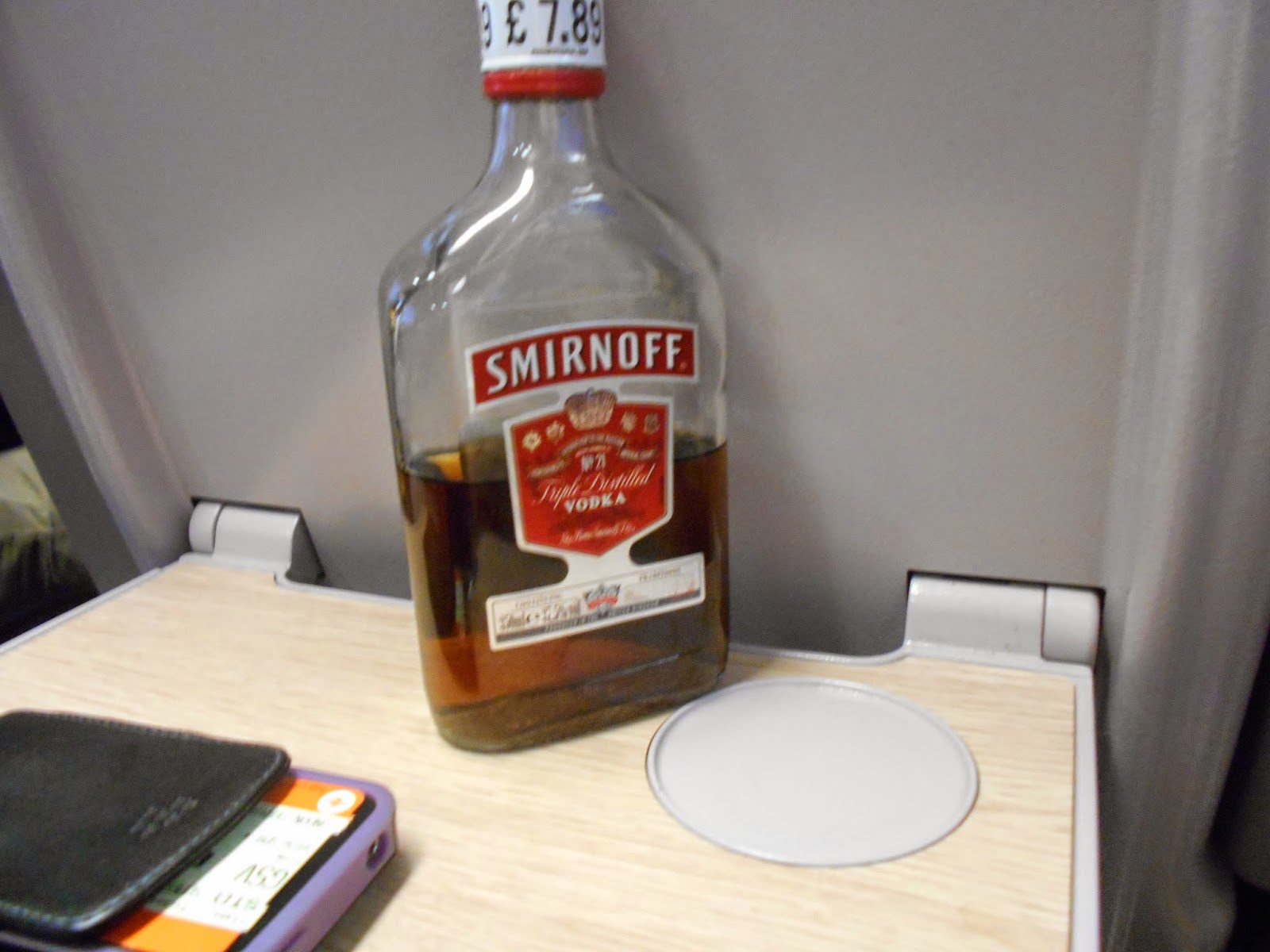 Smirnoff Brown wasn't a great success…
Heading to the tube we encounter another incident that was totally maybe down to us. With some of the boys trying to keep the doors open on the tube for those lagging behind, an alarm begun to sound. One that no one had every heard before on the Underground. Followed by the announcement that "This train will terminate here, as the doors will not close". This caused a roar of disappointment and anger towards the guilty parties from the other people on the train. I was just laughing outside with those that hadn't alighted! Talk about breaking the tube! Lucky for them the doors did eventually close and the train did start to move so the angry mob put down their pitchforks.
At Victoria with the Firm once more rejoined, we had enough time to sneak in a quick pint at the upstairs 'Spoons. And who was in there? Only a couple of Millwall fans who were on the train with us earlier! Drinks done, we raced for the train home & getting back to Carshalton, we said goodbye to those that were heading on to Sutton. Me, Taz & Belly got off and headed down the hill before saying our own goodbyes and staggering off into the night.
One game to go then & there might be a little surprise for one of our Maidenhead friends next week, who will be down in fancy dress as their strange traditions dictate, but you just have to wait and see. To end my final blog of this season, I found a funny little video that might just represent the sort of performances we've had at times this year….
Duke
Att. 612