So here we are. The end of another season. Another 9 month journey through the hurly burly, all action world of the Conference South draws to a close. And what a journey it's been. Confusing, dismaying, appalling & disappointing in equal measure and just the once or twice briefly lulling us into thinking it actually wasn't actually a waking nightmare and would improve. So a bit like commuting on Thameslink really.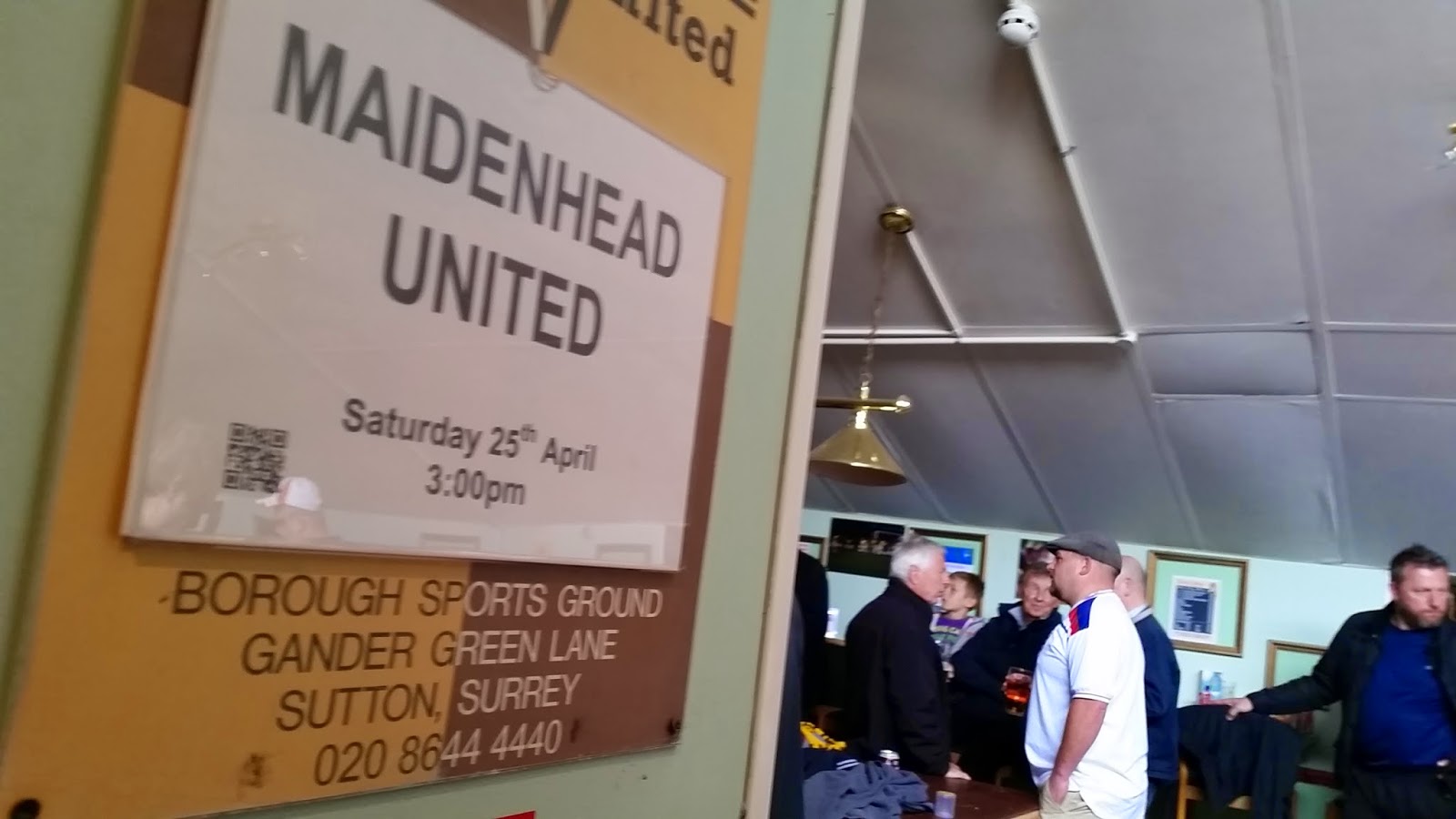 Tension builds…
But enough of the shit train analogies. We today welcome our friends from Maidenhead to the beautiful wide open plains and clear blue skies of the People's Republic of West Sutton. And with this being their last away game of the season, they're once more gracing us with their presence in fancy dress. Some 15 years ago, this very same fixture was used by the Magpie hordes to kick off this now yearly tradition, which they have christened 'Dresselmania'. Now quite how a rather popular US wrestling promotional company haven't sued them for trademark infringement on that one, we've no idea. We can only guess that the KSG boys either have a better legal team than the WWE or that the McMahon clan that runs the show pays absolutely no attention whatsoever to shit English semi-professional football.
Which, when you think about it, is just a fucking absurd notion.
Speaking of Maidenhead and fancy dress, on our trip down to Bath last week for our very own last awayday of the season, Lenny from the 'Go Mad or Stop Caring' blog tweeted us to say that he hoped we were all Dresselmania'd up. We of course confirmed that we were and that much to our embarrassment, everyone had come as a pissed up idiot.
Now, despite my cheery opening paragraph, I'm being a touch harsh as the lads have at least tried to see out the season with a bit of a flourish and managed to chalk up 3 wins in the last 4 games, which is easily our best sequence of form since January. So with Maidenhead having been phoning their own performances in for a few weeks now as it looked more and more certain that Farnborough and Staines would be the sides to leave us, we'll be hoping to see off this somewhat forgettable campaign with another win.
We'll see.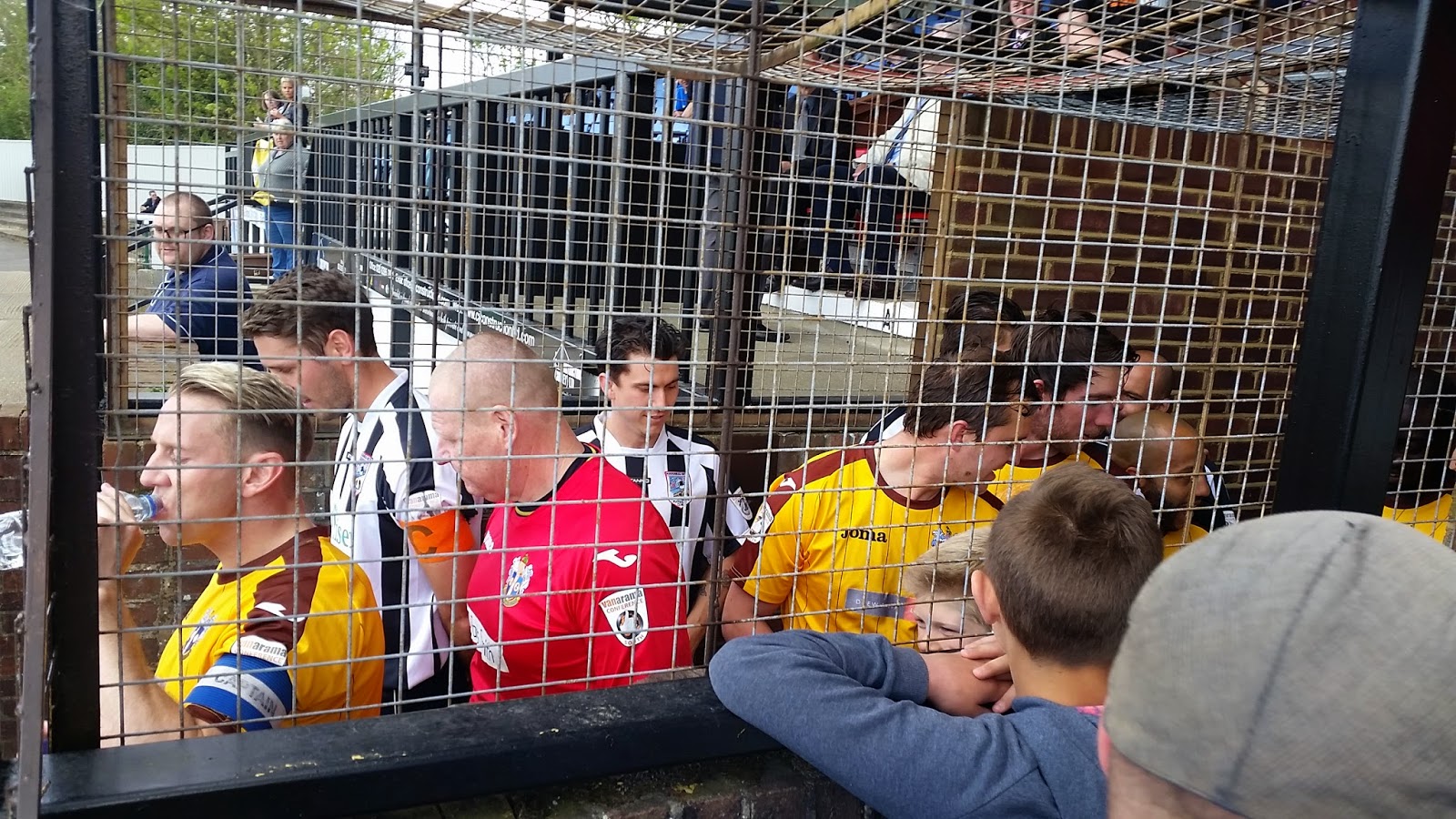 Queueing.
Having ensured that the regulars will find the usual selection of pastry & cocoa based delicacies on offer in Roses, it's of course time to decamp to the bar. Although quite what I'll be able to do whilst in a facility that serves beer I don't know. So I decide to have a pint and ponder that particular question.
This afternoon's main little pre-match diversion is mostly provided by the recent announcement that the club has idiotically wonderfully agreed to undertake a pre-season trip to the Channel Island of Jersey. Naturally, this news was treated with almost universal indifference by us here at Gandermonium and we definitely hadn't arranged flights and accommodation for almost a dozen people within 48hrs. I mean, why would we want to fly to an Island off the coast of France for a game of football eh?
See, we can play it cool if we want to.
The only interruption of the "Who's going to die in Jersey?" talk is a video that is trending rather widely on twitter that afternoon. Now, in the original draft of this here report, the information regarding this was a little more concise. However, we found out overnight that the well known person who's name was linked to it hasn't taken the matter well and has decided to hunt down and legal the face off whoever originally circulated it. Now, we're idiots, but even we're not THAT stupid. And unlike the Maidenhead lads, our legal representation isn't quite of the WWE frightening standard.
All I'll say is that the clip in question was obscene in nature, was attributed to a Premier League footballer and involved canine intervention. The general reaction to this video was of course one of disgust, until Wardy's incredulous enquiry of "Is that a dog?" upon being shown it. At which point, one or two of us may have tittered slightly. Still, it definitely left a sour taste all round, so we endeavoured to clear this with more beer (other alcoholic beverages are available). By the way, if you really must see this filth for yourselves, we'd suggest you go and ask dirty old Uncle Google to point you in the right direction. That's all we're saying, you sick perverts.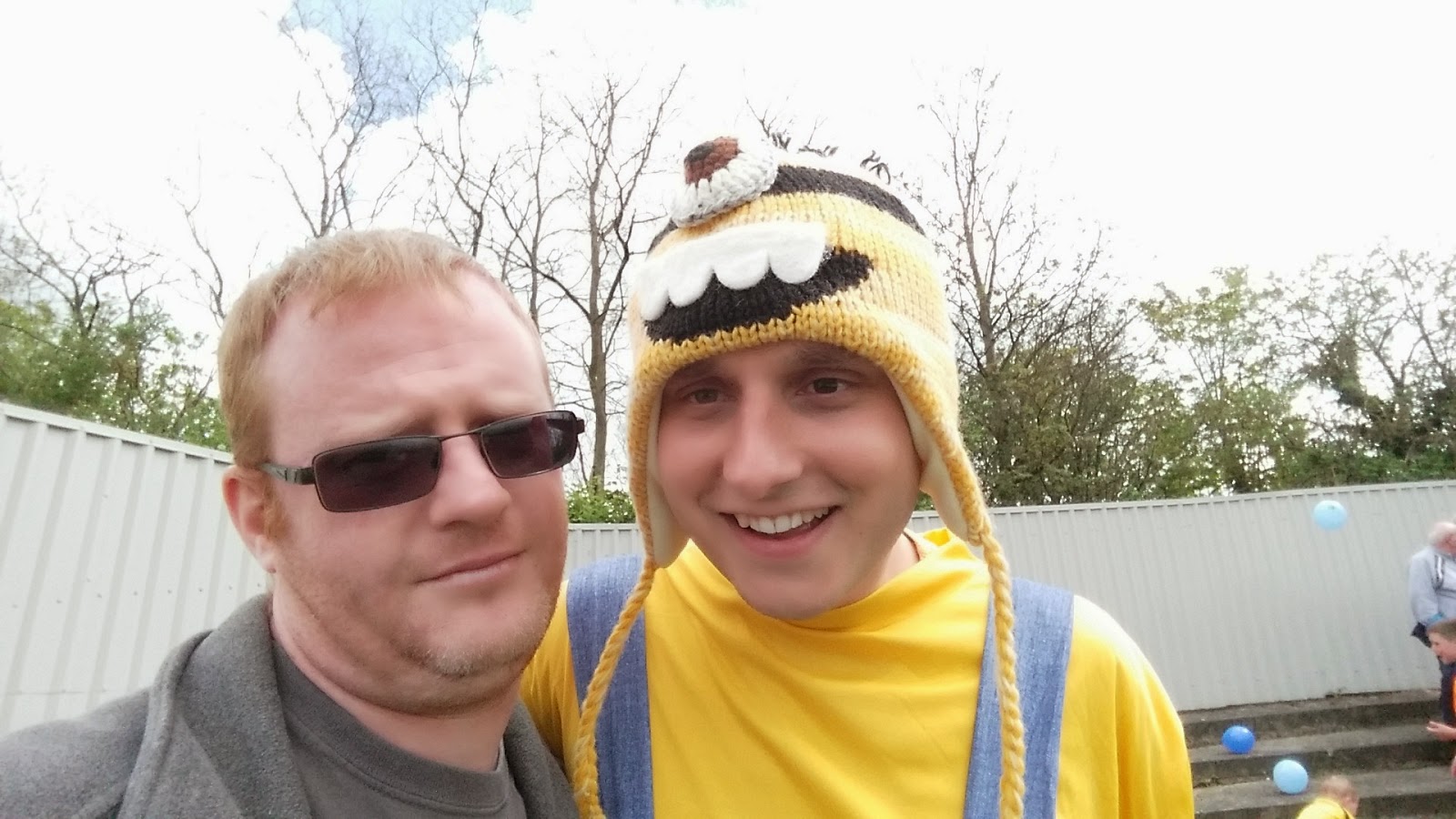 No, I don't have a fucking Banana.
The Maidenhead lot finally rock up around 2ish having been taken on a less than stellar tour of the High Street's available watering holes by a member of our support. Thankfully, this didn't include the Plough over the road. Given that they've not been friendly with Welsh people in the past, christ knows what they'd have made of a Minion, Duff Man and a gentleman in Lederhosen (amongst others) wandering in.
LINE UP: Shaw, Amankwaah, Binns, Wishart, Forbes, Collins, Wellard, Southam, Dundas, Gomis, Fitchett RUB-A-DUBS: Thephanous, Hippolyte-Patrick, Cooper, Howe
Before kick off, Bedsente Gomis is presented with the Supporters Player of the Year award. Well deserved we reckon. He's been by far our most consistent performer this season in our eyes and doesn't quite get the plaudits he deserves. Whilst this is going on, we're informed that this selection has bemused a few people at the club. Fuck knows why, absolutely no one else in the squad has either been here long enough or put in anywhere near enough performances to have had a shout at it in our opinion. Open and shut case M'lud. We then have an immaculately observed minutes silence for the 30th anniversary of the Bradford Fire and we're under way.
The start is promising. Binnsy has an early tester for the keeper from a narrow angle and is then on hand again a minute or so later when Wish's cross reaches him on the edge of the box and he drills a half volley inside the near post. 1-0!
The signs that we're not going to have it all our own way though as soon poking their way into view. A newly slimline Wayne Shaw making his first appearance of the season leaping like a buffting to claw a close range effort out of the top corner. At the other end, we're having a serious discussion on a new song for the veteran stopper as we obviously can't use the old one which refers to his previous statuesque physique and him being worth 1 million sterling.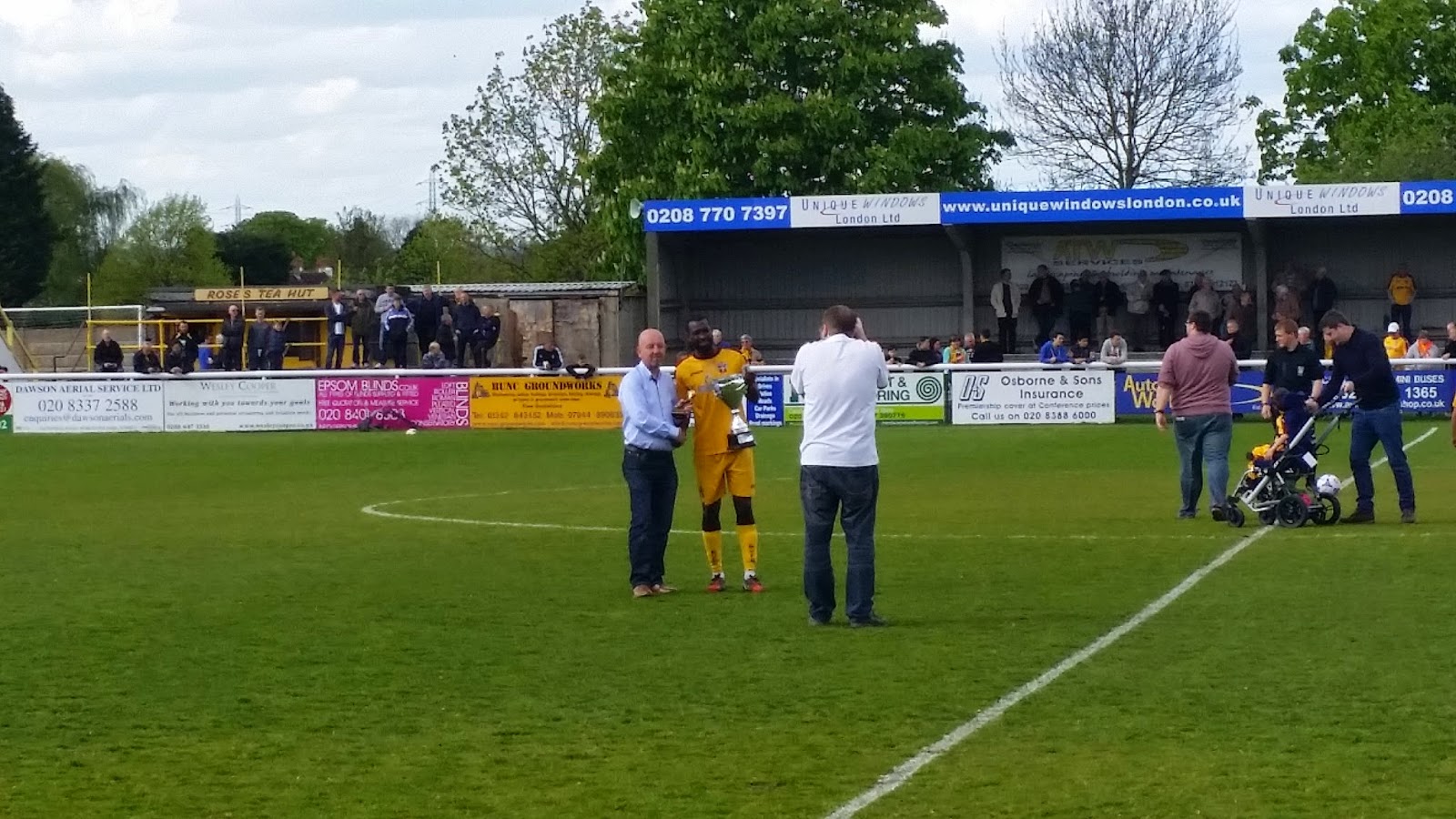 Must've taken ages to prise that off Dundo!
Maidenhead should really be level soon after when a corner in goes straight through to the back post where Wishart shows great composure to knee it away off the underside of his own crossbar. Very slick! We hit back with Suvs bursting from midfield and rattling the far post from 20 yards with a fine drive, but you get the impression our clean sheet isn't going to last long as our slightly makeshift back 4 struggle to clear their lines. And so it turns out. We're a bit halfhearted in shutting down the ball and their no.3 pings one from 25 yards that Shawy can only palm high into the net to make it 1-1.
The rest of the half is pretty dull stuff with us struggling to make any headway and the visitors looking the more likely to add to the scoreline. The best we can muster is a decent downward header from Kev Amankwaah that is straight at the keeper.
I decide to take a wander into the bar for a change at the break to check out some scores and down a swift G&T to whet ones whistle. We return to the arena to find the teams already out and not including our skipper, Mr Southam. It seems he's picked up a knock and we've replaced him with Theophanous up top with the Mighty Dundo slipping into midfield.
The half is pretty dead from a Sutton perspective to be honest. Already shorn of 3 or 4 recent starters and now the skipper, we offer a fair bit of huff with a side order of puff, but resolutely fail to blow the Magpies house down. Shawy is in action to make another smart save midway through, pushing another low drive onto the post this time after we're again a bit tardy with shutting down the man. But just as it seems we'll probably escape with a point, we instead for the 9th time this season chuck it away at home having lead.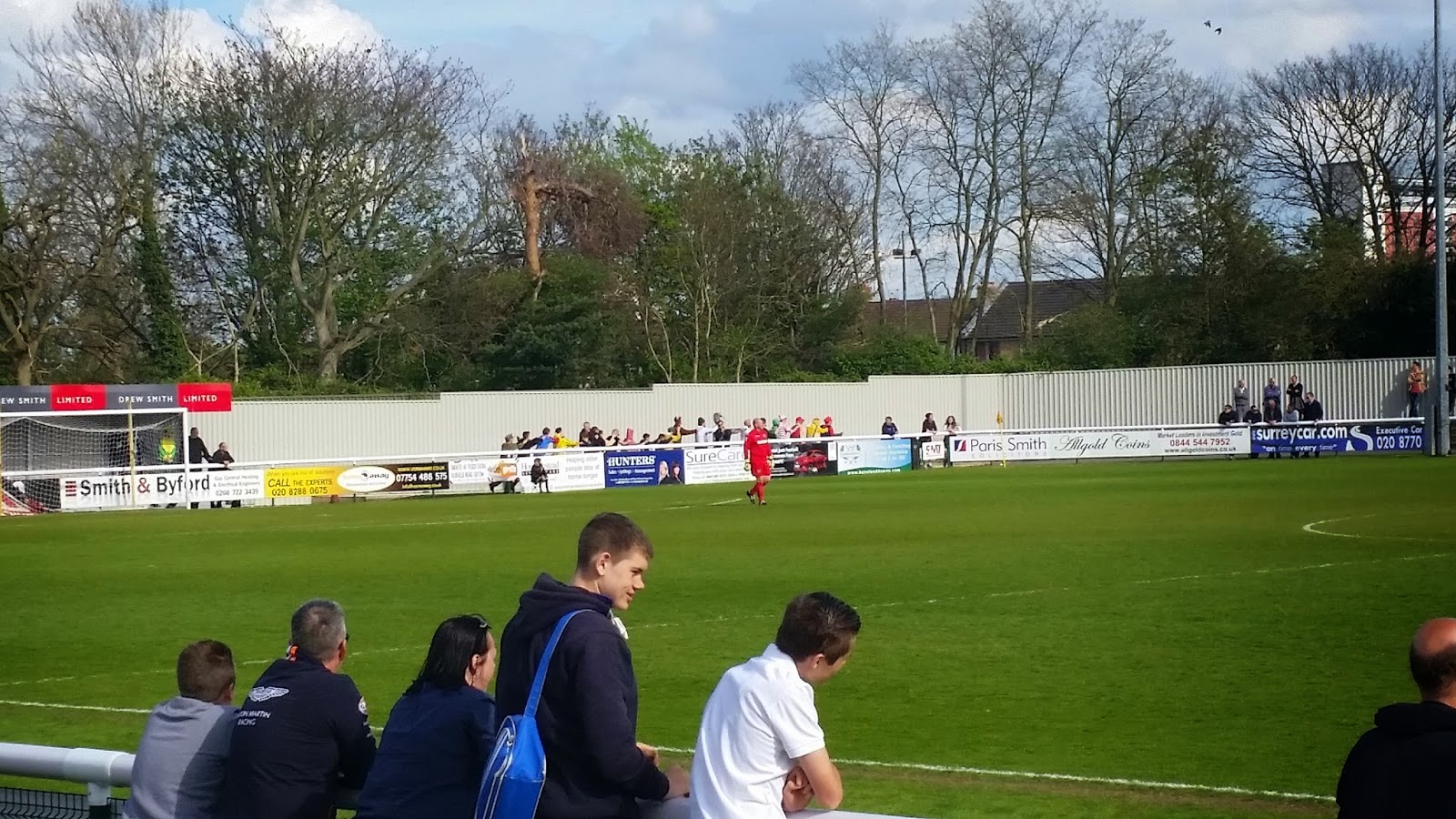 Do do do. C'mon and join the conga…
A free-kick on the far side is lifted in ridiculously high, then hooked back across goal, nodded down and ther bloke prods in from inside the 6 yard box. Normally, a winner in the last 5 minutes would be rapturously recieved by the travelling fans at that end. However, this time the aforementioned away support are largely mid-conga when the ball goes in, having only just passed the Shoebox a few moments before. Still, they make up for it by having a pretend celebration when their by now somewhat ragged conga line, having seriously underestimated the sheer size of our pitch perimeter, finally makes it back to their end!
Dundo does his best to try & drive us onto an equaliser whilst we discuss our forthcoming change in playing surface at which point someone enquires if it's going to be 3G or 4G. "No such thing as 4G" says Mr X.
"Yeah there is" chimes Dukey "I got it on my fuckin' phone!".
Bar? Bar.
We head in for some refreshments with the Maidenhead lot who are mostly it seems feeling the spring sunshine clad in their gaudy man made fibres given the amount of sweaty brows on display. Still, they get to see the wonder that is the Strikers are Key draw, complete with our esteemed Chairman Mr Elliot stood on a chair and they also obtain a quick souvenir picture with one of their former heroes, Dale Binns. "Disappointing" says Duff Man after our midfielder has departed "He actually seemed like a nice bloke".
Eventually, the Magpies Dresselmania crew head off towards home and we set about watching Jon Nurse pick up a Conference winners medal on the telly after Barnet win the title. Then we book cabs and head for Chez Burgers, who have for some reason agreed to have a little end of seasonhousewarming shindig at their place. Here we mainly booze, scoff all their nibbles, booze a bit more, mess up Dave's immaculately organised DVD collection whilst boozing, admire his large lego set and cast envious glances towards the immaculate 'Coventry 1989' vintage U's shirt he got for just a mere five quid off eBay. The jammy bastard.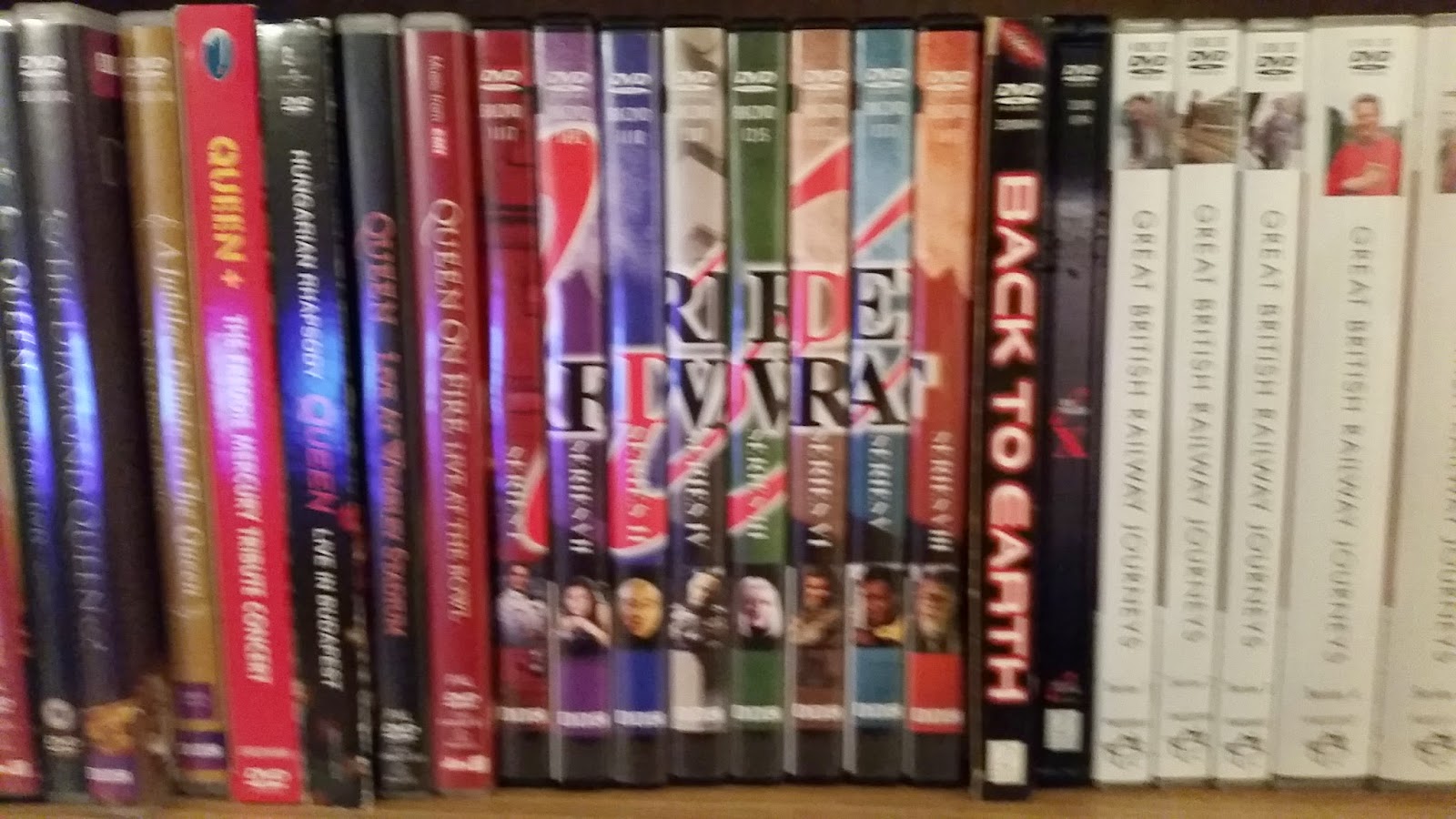 Oooooh. He'll be furious when he sees that.
Eventually though, with all the Doritos and little sausage rolls devoured, we decide to call it a night and leave our lovely hosts to sit sobbing in the ruins of their new home, wondering why they'd allowed twats like us to darken their door in the first place. And I stagger off in the direction of HQ, which rather considerately of the Burgers, is only about 5 minutes stumble away.
So, that's it. The season known as "2014/2015" is over, thank fuck! Well, sort of. You see we've arranged another of our little sojourns to foreign lands and in a couple of weeks time we'll be hitting the bright lights of Berlin for fussball, bier and trying to keep Dukey out of trouble given it's on the 70th anniversary of the end of WWII. Naturally, should we return alive, we'll of course be bringing you tales from two games over that weekend.
Oh shut your faces, you love it.