Here we are again! Another campaign over and despite the hopes & dreams we may have had after last season's second place finish, things didn't exactly go to plan for us this time out either. And then some. Injuries, lack of form from new players, lack of form from old heads, more injuries, lack of goals, far too many errors from far too many players. You name it, it went wrong.
Still, if you thought last years review was a bit of a bastard to re-live, you ain't seen nowt yet! And no, we're not thinking of going into marketing.
PRE-SEASON
Despite only suffering 1 defeat in our last 21 games prior to the PO disaster against Dover, circumstances mean the side from last year slowly breaks up over the summer, leading to an influx of new faces again. This includes new head coach Peter Beadle and experienced defender Matt Lockwood. The main summer story though is the Salisbury saga, as they once again crash with debts and are struggling to even start the season.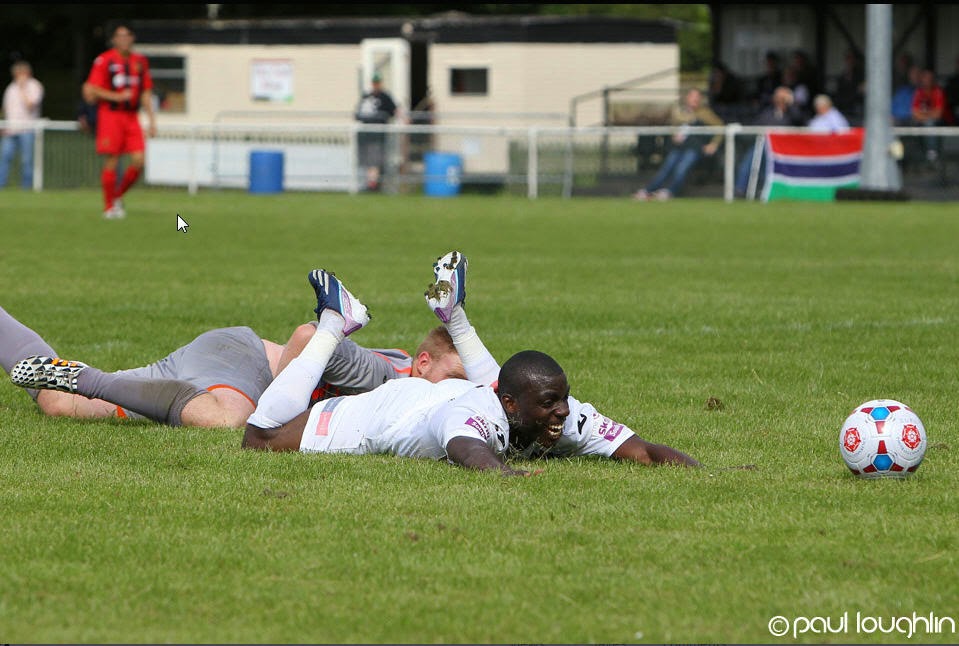 Penalty ref!
We kick off the pre-season schedule with a ridiculously early trip to Winchester. It's so early in fact that it means Taz can actually have a football related piss up near his birthday! A strong side sees off the county leaguers 5-0 with a sharp looking Marvin Williams grabbing a double. A week later we've got a Chelsea XI at home and over 1700 see a rather dull 0-0. There's then another 7 day gap before we welcome a Reading XI, but not before a Coventry 1989 Legends side has played a John Rains Select prior to Kick off. The main event finishes 4-0 to the U's as a young Reading side is simply outmuscled.
Oddly, we then hit the road to take on AFC Wimbledon at their own pad. Probably because as everyone knows, the bigger club always plays away in PSF's! The home side win 2-1, but Kane Haysman nets a blinder for us in a performance that leaves more questions than answers. Mainly because the following night, we're at home to a West Ham XI! Quite who thought that one up we don't know, but their kids win 1-0 with the goal scored by the wonderfully named 'A. Trialist'. Our own line up is full of trialists as well, for some reason. Most of which seem to have been related to Mr Beadle's former employers Hereford, prior to their banishment to the Southern League. Oh and Tom Lovelock saves a penalty. So at least some things never change.
72hrs later we head for Kent & our first visit to Maidstone's new pad with it's 3G pitch. Naturally, we take the opportunity to check out a town we rarely visit and it's hostelries. The game is a waste of time really, as we mainly go with a load of triallists and a keeper we've never heard of (both Tom and Julian are injured apparently!). A dire game ends 1-0 to Sutton with a late goal pinged in by one of our guest players. Elsewhere we get told off for stickering and get given free sandwiches for our jukebox selections.
Our last two PSF's are back at GGL and the feeling of Deja Vu continues as we face Andy Scott's Aldershot. Jamie Taylor gets off the mark to give us the lead, but a sucidal backpass proves costly and it ends all square (1-1). Finally we welcome Cambridge Utd, newly promoted back to the FL, for our final warm up. And it's a bit of a disaster really. A tidy looking Cambridge side have little to worry them as a pedestrian Sutton line up with all it's first choice faces in place amble about and are comfortably beaten (3-0). Oh well, we're sure it'll be alright on the night!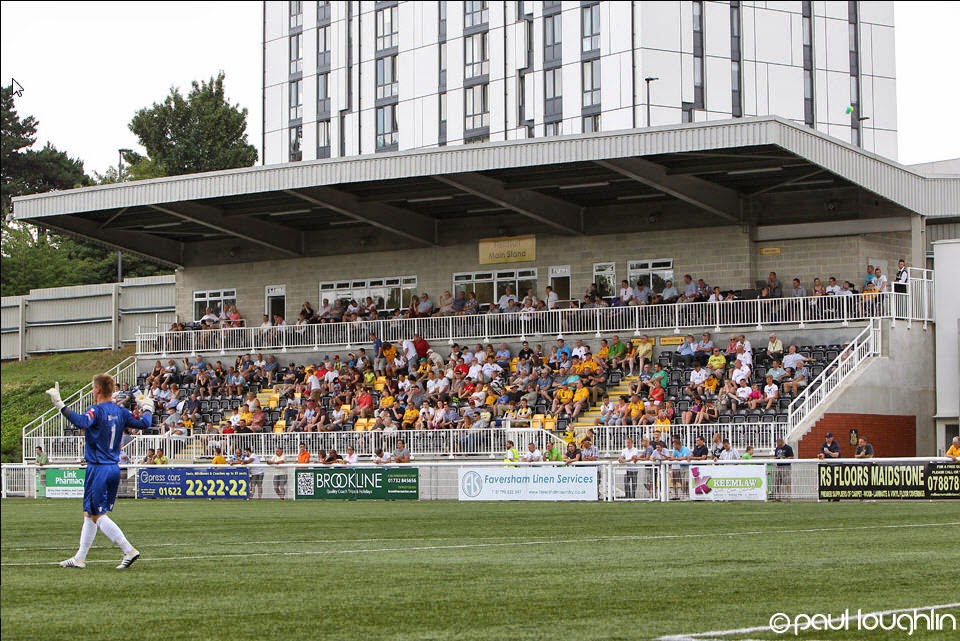 Maidstone's new home.
AUGUST
Maidenhead away, opening day. It's not alright at all. We dominate, switch off and go behind before new target man Jessy Reindorf rifles in an equaliser in the 2nd half. Looking like the only winners, we of course get caught on the break at the death and lose (2-1). Awesome. Still, we make a lively start to our maiden home match against Havant as Reindorf nods us in front but only after Marvin has limped off with what looks to be a buggered achillies. Chances are missed and in the 2nd 45, Havant absolutely batter us with only Tom Lovelock somehow keeping them out to ensure we nick a 1-0 win and our 1st 3pts of the season.
We then have a week off, as Salisbury's nonsensical financial situation means they haven't started the season and don't look likely to either (we could do a whole article on the fucking nonsense going on down there!). Next up is a trip to Chelmsford and an epic day on the piss. Events on the pitch provide more frustration as mistakes cause problems and end with Tom Lovelock sent off. The penalty gives the home side the lead, but when all seems lost, a silly OG levels things and we manage to hold out for the point (1-1). For the Bank Holiday fixture, we welcome Boreham Wood and it's a game that gives a glimpse of the future. Having battled hard & matched one of the sides expected to be up there this season, Louis John heads us into the lead with 20 to play. A decisive goal? Nope. A weak free-kick floats in to level the scores with 5 to play and the defence caves in, caught twice on the break in injury time to register a decisive 3-1 defeat.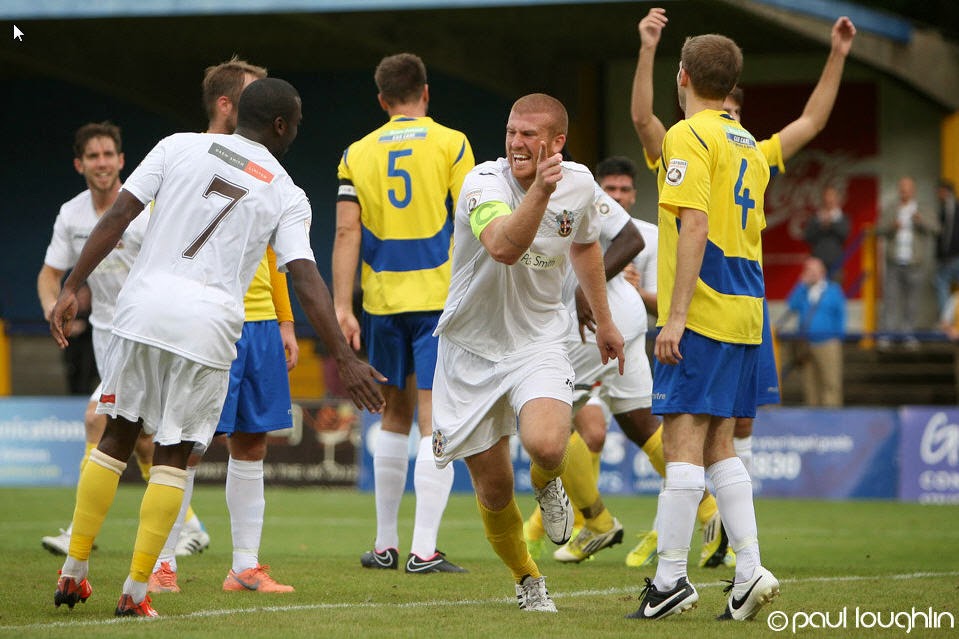 The skipper bullets one in at St Albans
We round off a somewhat bitty opening month with another top awayday up in St Albans. A fine day on the lash is rewarded with a decent showing. Taylor gives us an early lead before the hosts level right on HT. Cough powers us back in front soon after the restart and with the game in the balance, Reindorf comes on to slot in another goal and seal the points. Stalebuns reply once more with a late goal, but another break and Kane Hayesman tucks away the killer goal (4-2). The result is celebrated in style as most of the crew end up scattered all over Sussex. After a game in Hertfordshire.
One person who doesn't make the trip though is Coach Peter Beadle, who gets binned in the week before the game. Clearly things aren't quite right yet behind the scenes.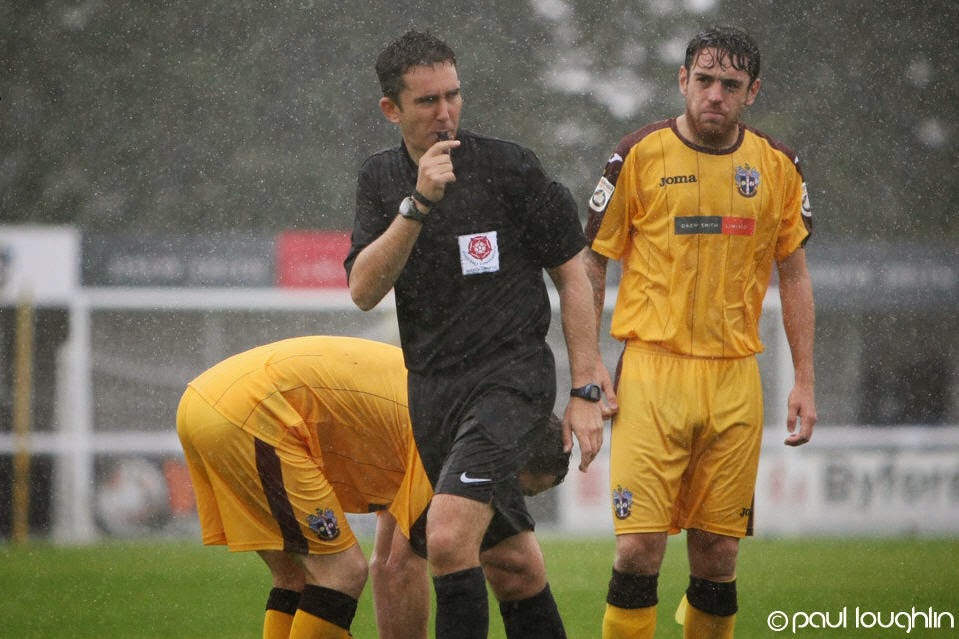 Looks like rain…
SEPTEMBER
Ok, so August wasn't a roaring success. But well aware we never start well, no one is that concerned. Dos moves to strengthen the side, signing last year's title winning skipper Glen Southam, who is now at Chelmo and he goes straight into the side for the visit of Concord. Will Spetch (remember him?) goes out on loan to Tonbridge to try & get some game time.
It doesn't go well for the new man. Booked in the aftermath of the visitors opener & again just after the hour, his debut is less than memorable. Thankfully, Reindorf rescues a point for our 10 men with a calmly taken goal a minute after Southam's departure (1-1).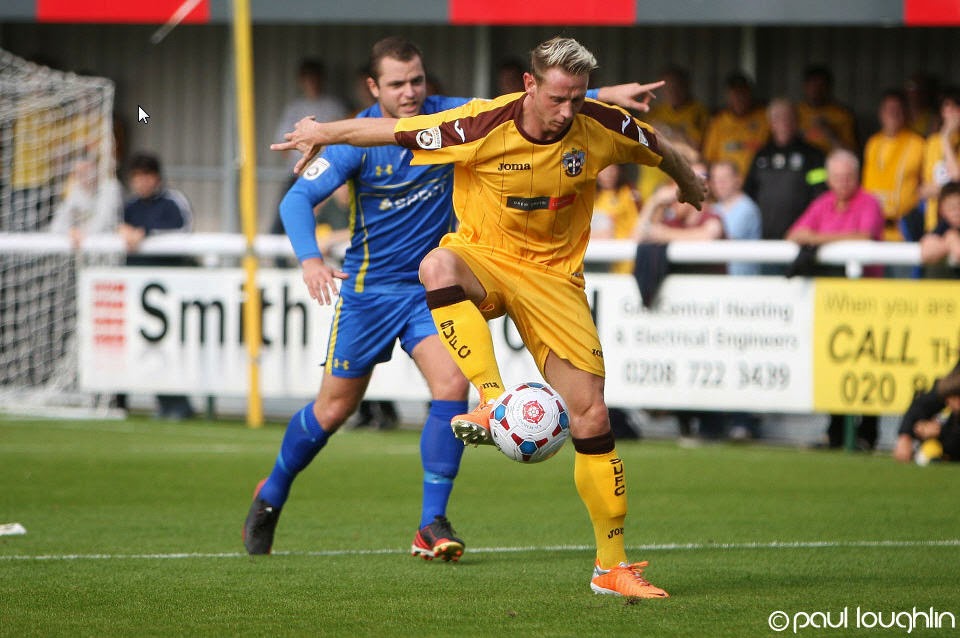 Suvs on debut. Red card not shown.
The next morning, the crew are all up early for a stupid trip to Portugal to watch Gibraltar's maiden competitive international against Poland. They lose 7-0 and we get absolutely ratarsed afterwards. It's then back to Blighty Tuesday lunchtime so we can go to Whitehawk. Yes, we're well aware we're a bit odd. Still, the lads cap off a cracking couple of days by weathering a 1st half bombardment and then edging ahead through a Clough header. The hosts have a man sent off and Dundo breaks free to make it 2-0 in the last minute. Hurrah! The season is up and running!
Next it's Staines at home. They've started poorly and sit bottom already, despite this we put on a 10 minute display of god awful defending to trail 2-0 early on. Thankfully the oppo are worse than our defending and goals from Dundo and Haysman have us level by HT and a classy double from Jack Evans seals a 4-2 win that'll no doubt have Staines manager Marcus gayle talking utter shite again about how disrespectful we are. The gang then head to Ebbsfleet and whilst avoiding getting soaked to the skin and detained by the BTP this time, the performance isn't much better than last year. A comprehensive 3-0 turning over that doesn't even see the hosts get out of 2nd gear. It's a showing so lifeless, we almost call an ambulance. There's no coincidence that this coincides with Southam's ban for his red kicking in.
Naturally, being pony and toothless is just what you want the week before you're due to visit a county league side that are absolutely flying, in the FA Cup. So we head north to Cheshunt for a match with FC Romania, a side of Romanian immigrants playing in the Essex Senior league. Thankfully, we make the oppo pay for their exuberant style and Dundo's direct running wins us not one, but two pens, both tidily dispatched by Southam before Mickey Spillane rattles in a cracker right on HT. Game won! Oh wait, this is us we're talking about! The oppo nick one back early after the restart and then score a carbon copy with about 10 to go. Luckily, we've got enough in the tank to see us home (3-2) and we're in to the next round. Banana skin: Avoided. Time to get drunk.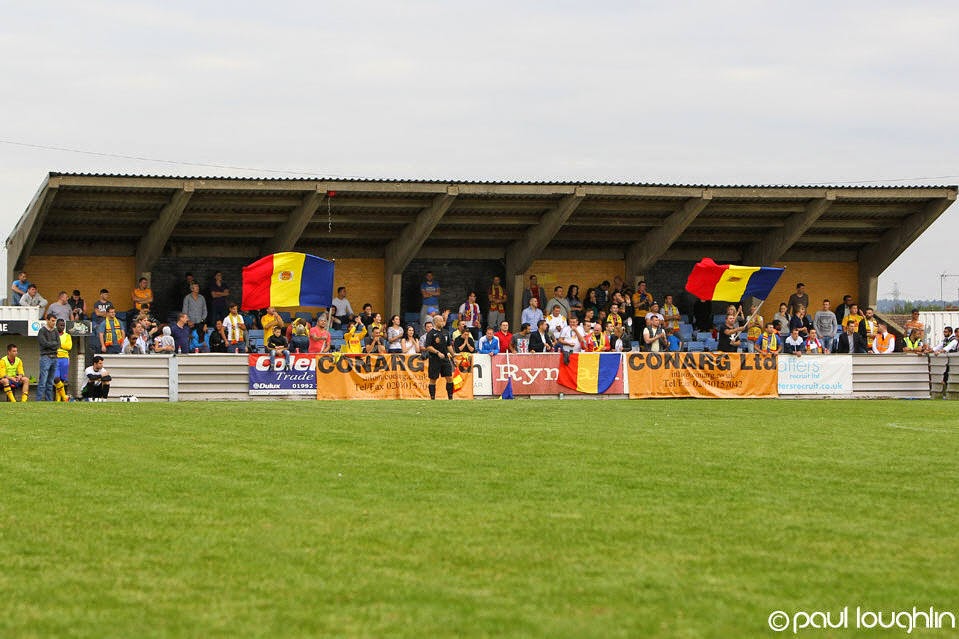 FC Romania's Ultras!
We're rewarded for this victory with a home tie against Burgess Hill. Another lower league outfit who are absolutely flying. Oh joy.
OCTOBER
Having returned from Romania just about unscathed in the cup, we welcome Bath to GGL. A dull match is livened up briefly by Binns firing in from close range before HT and the 2nd 45 isn't much better. Then suddenly with 20 to go, it all goes a bit House music DJ. Bath, having offered nothing so far, win a pen that sees Spillane sent off. Once level, we fall apart. An absolute worldy inside the last 10 puts Bath ahead before an injury time 3rd rubs salt, shit and other nasty stuff into the wound (3-1). A great start to the month. Not.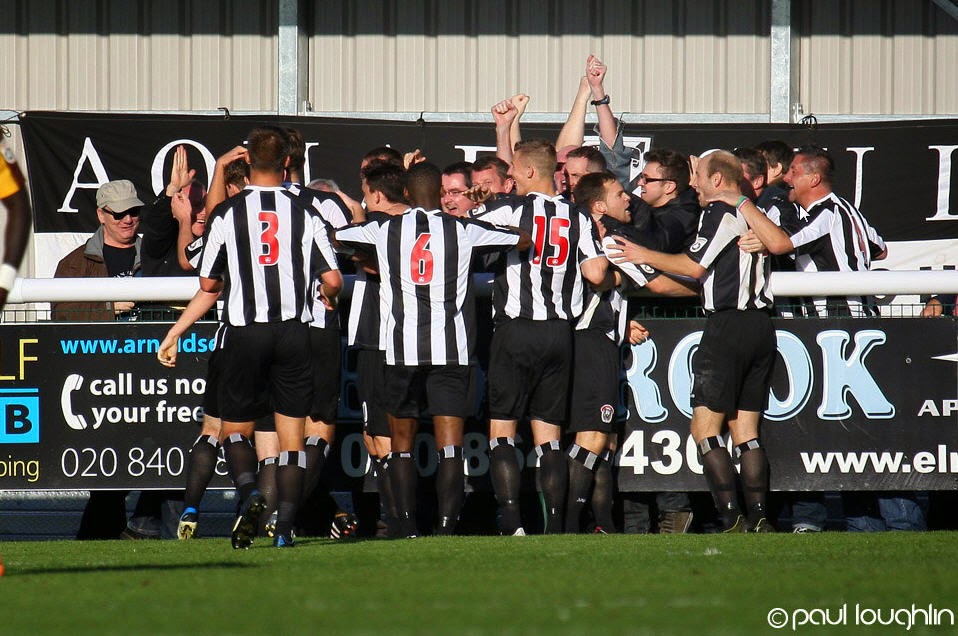 That'll be a last minute winner then?
We appeal Spillane's red as the video footage shows a superbly timed challenge rather than a foul and head into the cup tie with unbeaten Burgess Hill a little concerned about the robustness of our side. These fears are realised when we see the line up & within 5 mins, we've self destructed again and given them a piss easy goal. We huff, we puff and finally shortly after the restart Spillane levels. From here we're on top and it looks like we'll go on & win as the visitors look out on their feet. Despite this, we suddenly chuck in a stupid free kick and another of those wound infecting injury time efforts (3-1) to crash out of the competition. Concerns are raised in the bar after in a somewhat frank discussion with Micky Stephens.
The cup defeat signals more changes. Shaun Cooper signs despite witnessing the Burgess Hill game and Shaquille Hippolyte-Patrick (henceforth known as 'Shaq') is promoted from the ressies after some impressive performances. Matt Lockwood departs as we've basically never seen the geezer thanks to him still living in Scotland (don't ask) and we cut some cloth by ditching fitness coach Jamie Lawrence. Round & round we go! One good bit of news is that our appeal against Spillane's red against Bath is successful and the card is rescinded.
Low in confidence, we stumble up to Farnborough for a return to league action. We get boozed at a local beer festival, Mr X is petrified by Morris Dancers, we actually get to sit in that big stand of theirs (yes! Really!) and a mainly poor game is settled in the last minute by some quick Southam thinking and the less than prolific Nick Bignall trundles in a winner (1-0). We go a bit mental. It might have been the beer.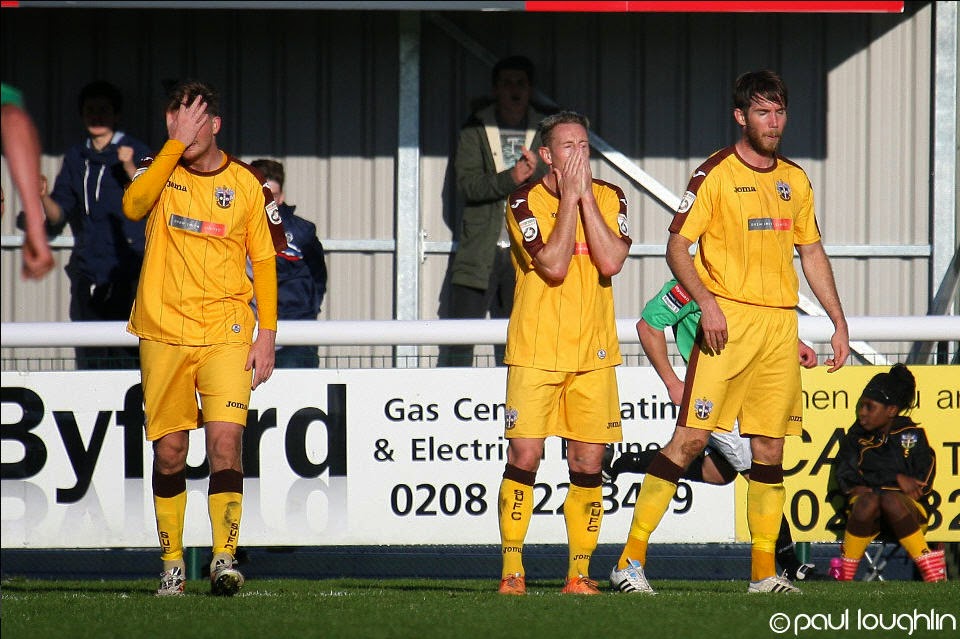 This pic could be used in all parts of this review…
This gives us a bit of a lift going into the home game with Stortford to round off the month. Before which, ex-Havant & Eastleigh manager Ian Baird is installed as the new 1st team coach and afterwards, Dos holds a rather frank Q&A session. The meeting largely reveals what's gone wrong this season (poor choices in personnel, injures & outside circumstances mainly). Amongst this is the news that Will Spetch has retired due to injury. Beforehand, there's another frustrating performance as we go ahead through Reindorf and then a Southam pen. A long throw right on HT by an oppo that have done fuck all pulls one back before a carbon copy in the last minute makes it 2-2 and nicks a point for the visitors.
Oh well, we didn't wanna win the league anyway. Or make the play offs.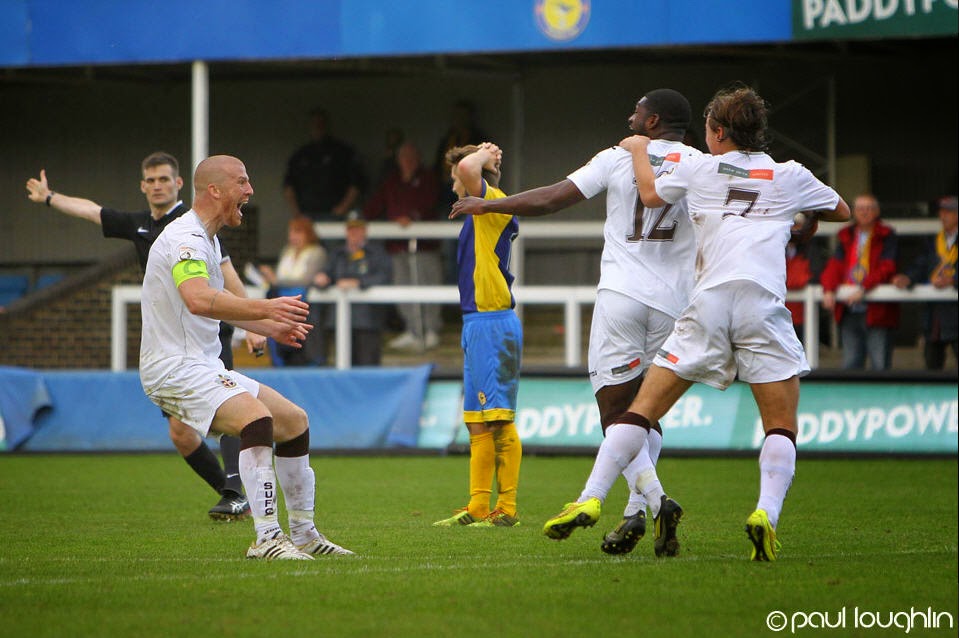 NICK. BIGNALL. SCORES!
At least there's some amusement to be taken from the latest episode in the embarrassing soap opera that is Carshalton Athletic as Stuart Massey is the latest manager out the door under El Generalissimo for life Dipre, replacing him with Rob Scantlebury, the reserve team manager.


Our thanks as always go to the absolute gent that is Paul Loughlin for letting us nick his pictures so as to lend a small air of professionalism to this nonsense! Check out his vast library of work HERE.