Welcome back! Well, in Part 1 of the not very exciting rollercoaster ride that was the season just gone, we got off to a ropey start (again), recovered a bit, went back to being ropey and pretty much levelled out from there. Still, we've always got our customary post-Xmas charge to look forward to! Haven't we?
So, make yourselves comfortable for Part 2. No no, we insist. Mainly as we've barred all the exits and no one's going bloody anywhere until this bit has been completely finished. Do we make ourselves clear? Good…
NOVEMBER
Our first game of the new month is a little confusing for us as it's on a Sunday due to Hayes sharing at Maidenhead and there being a fucking Fireworks display on the saturday! So we amble up to Banstead to watch the ressies beat Royston 5-1 and then manage to avoid the gentlemen's establishment for a relatively (for us) early night prior to our second visit to Berkshire this season.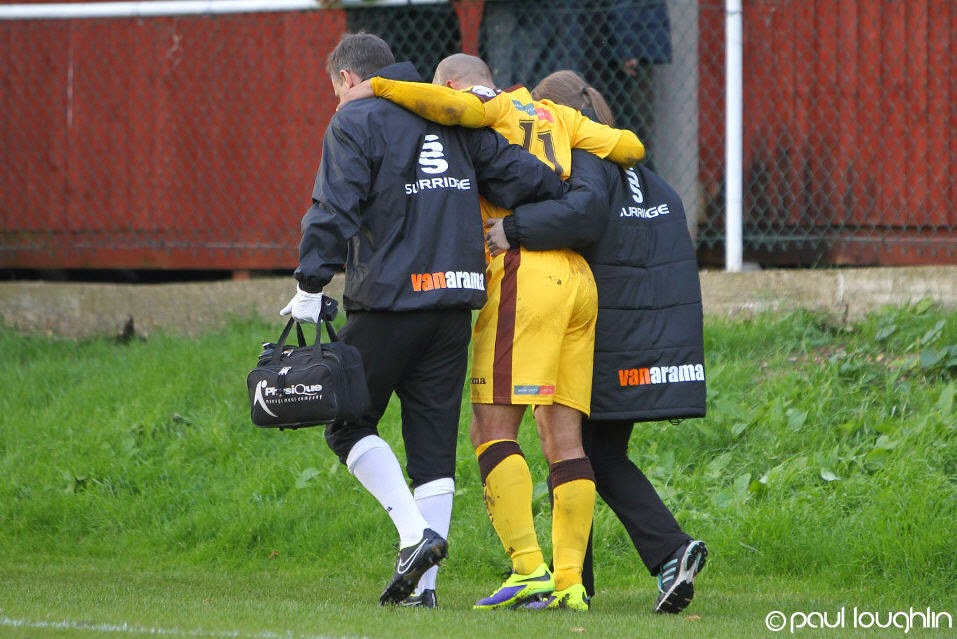 Bye Binnsy. *sad frowny face*
It's the same old story really. We dominate and then with their 1st attack coinciding with our defence going AWOL, we're behind. We then lose Binns to another injury before lots of huff and puff finally sees Reindorf nod us level early in the second half. But again despite being on top, we fail to find the winner and 2 more points slip by (1-1). New striker Billy Medlock, signed from Tonbridge, makes his debut late on and Shaq shows great promise down the flanks after replacing Binns.
Eastbourne next. And like many other games, a real effort to make and score chances is the problem. Another bright start sees Shaq nod us in front before Southam limps off after a hefty challenge and from there we lose the initiative. The visitors level from an OG when Cooper turns ex-U Gav Macallum's low cross into his own net to make it 1-1. We look the more likely in the 2nd half and Haysman hits the post, but in the end it's probably another 2pts dropped.
A bit of an odd week follows in the lead up to the Hemel game at GGL. Will 'retired' Spetch signs for Poole Town, whilst Jessy Reindorf collapses in training and Dan Wishart signs from Hayes with Binns likely to be missing again for a while. Unsurprisingly, we boss early, lead and then give away a crap goal before sealing our by now customary 'toss it away in the last minute' fate with another late penalty for a miserable 2-1 defeat. We think it's fair to say we can officially call this season 'shit' now. Fortunately, it seems Jessy's collapse thankfully wasn't serious as he makes a sub appearance for the last half hour. Afterwards, Dos adds some more firepower to the line up with the capture of Jamie White from Bristol Rover's subs bench. A player he's been after for several weeks now.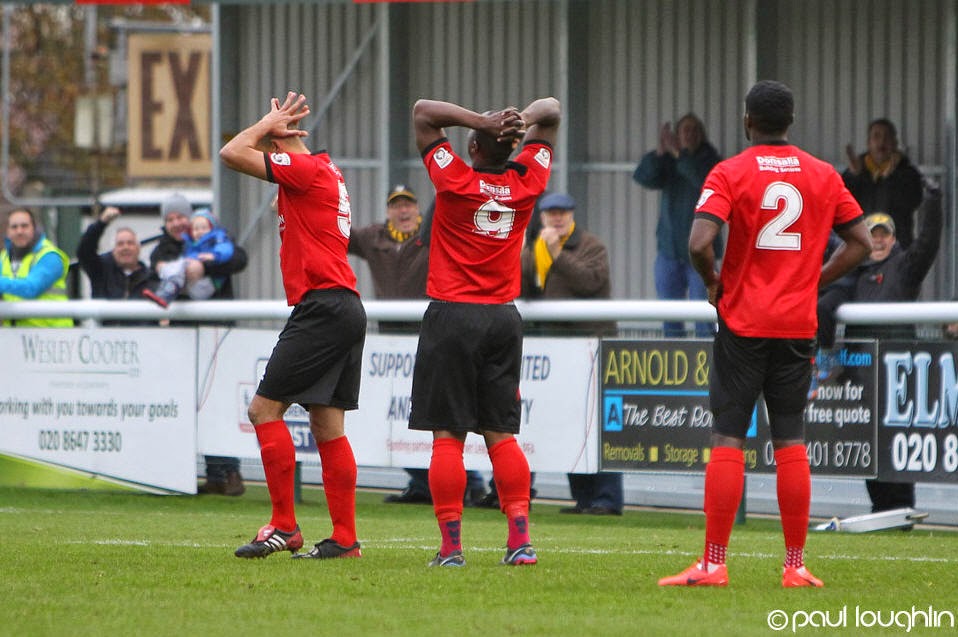 "Fuuuuck, can you believe we conceded to this lot??"
Of course, when you're out of form, the last thing you want is to go to one of the sides at the top chasing promotion. And so it's off to Hayes Lane, Bromley we go. A decent piss up precedes and a decent crowd sees a game far more closely contested than we'd expected. White hits a debut goal, but more defensive fuckwittery has the hosts level soon after. The second half we're left hanging on a bit and just as it seems we'll just about get away with a point, the late winner (2-1) we now deem customary to present arrives and we get sod all again. Just to add to our frustration, Dan Wishart rattles the bar with an even later free-kick.
November draws to a close with our entrance into the FA Trophy, where we're given yet another trip to fucking Hereford by the FA. Although this time, we've got a (slim) chance of a win given they were slung out of the Conference last year due to outstanding debts and are now mid-table in the Southern league (and seemingly destined not to even see that out if HMRC have their way in the high court the following monday) with only the main stand of Edgar St open for use thanks to the rest of Edgar Street lacking the necessary safety certificate. The train trip up is painful thanks to all sorts of delays and we don't get local until the disgracefully late hour of 1pm, some speed drinking follows and it's game time.
Now, given our recent 'form', confidence is low. Especially given we've let not only our top scorer in Jessy Reindorf go, but Kayne Haysman too in the week leading up to the game. And as if to dot that particular fucking i, Alan Julian gets the hosts off to a flier about 5 mins in by letting the softest defensive header in the history of mankind from Spillane through his legs. Thankfully for him it seems the game isn't being filmed and Glen Southam drives us forward before Ricky Wellard (remember him?) has us level around the half hour mark. The second half is a bit of a chore against 10 men after an early red after the restart and it looks certain we'll need a replay. But Southam pounces on a loose ball to rifle in a late winner (2-1) to great relief in the away section. The journey home is less eventful, although is notable for the theft of Nick the Taff's phone charger on the train. This is somewhat odd as it's attached to & is charging his expensive smartphone at the time. Odd.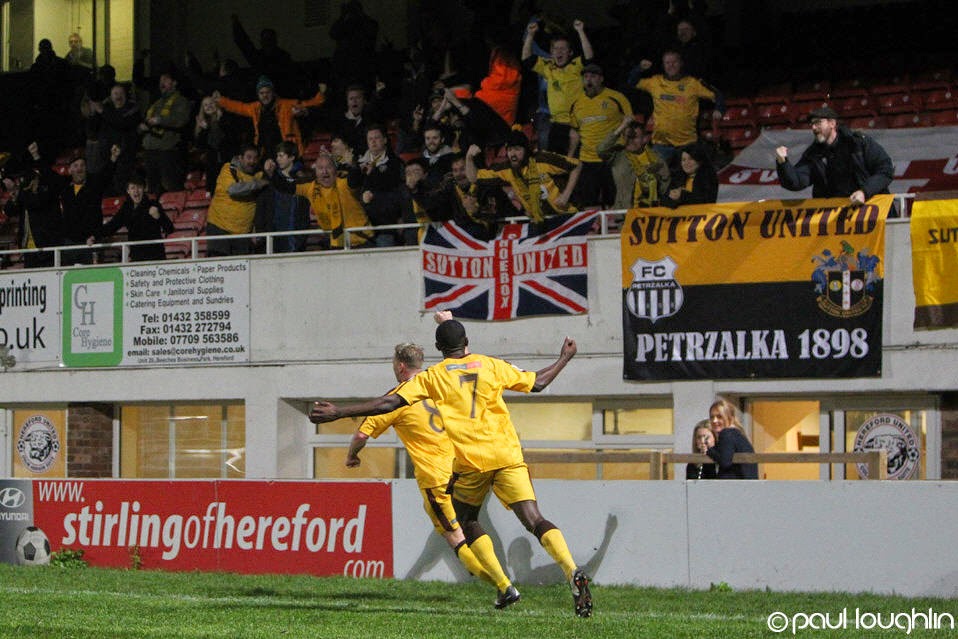 Us? With a late winner? This season? Surely some mistake!
DECEMBER
This season is rubbish. Having finally got home from the wilds of Herefordshire, we're back on the road to the not-so-wilds of Basingstoke. A town so dull, we drink in Winchester instead. Which is fucking packed with Xmas shoppers and markets. Bah! The game isn't bad though. We play ok, but concede two predictably soft goals which sandwich an effort from Ricky Wellard who is now seemingly channelling Christiano Ronaldo with his 2nd in 2 games. The second half is miles better though and we absolutely batter the high flying hosts. Gomis levels, we hit the post twice and we can't get the big flag up. But eventually it's another draw on the board (2-2).
Some light relief is then provided by the county cup and Dukey is left delighted by a 4-1 win over South Park in the pissing rain thanks to 4 goals from Billy Medlock.
It's then back to the FA Trophy and more familiar ground with a return to Hemel Hempstead where there's shirt swapping tramps, pre-opening drinking in the street and another soul crushing defeat to enjoy. The U's start well again, but then have to play nearly an hour when Gomis is sent off. Despite the man advantage, the home side never look like scoring until Harry Osbourne gifts a last minute penalty (1-0). Joy.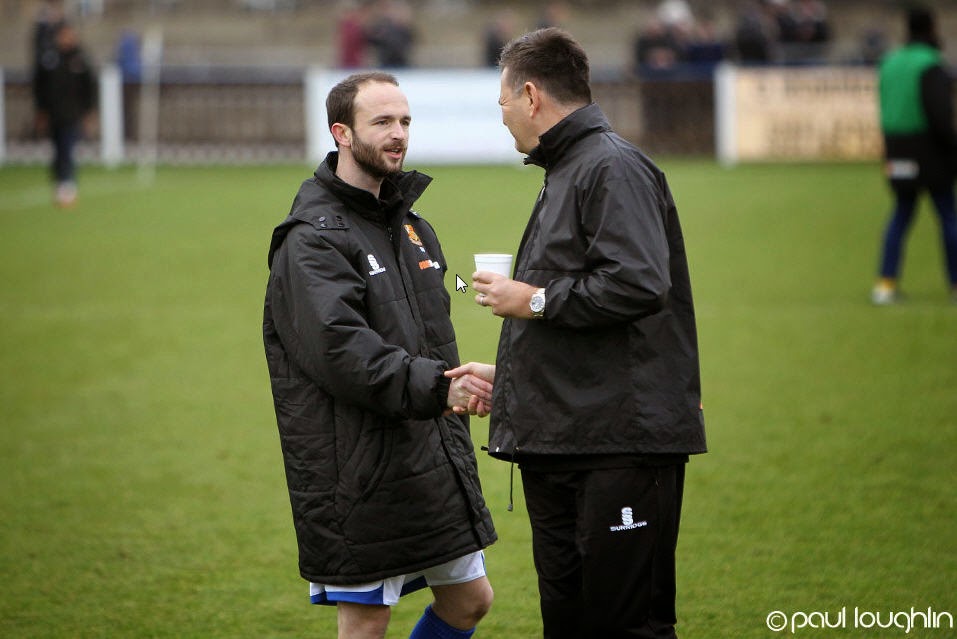 "Hello. Have we met before?"
Once again, having seen the video of the red card and the ref's fucking absurd reasoning for his decision, the club decide to appeal it.
Having tumbled out of the Trophy, our dire home form is renewed as we're frankly taken apart by a Whitehawk side playing with a drive and tempo we can only dream of this season. To be frank, it's as comprehensive a 2-0 arse kicking as you'll ever see. Still, it's Chriiiiiiiiistmas! Mince pies, turkey and boozing. Oh and a little seasons greeting video from the team, during which pretty much all of them guarantee we'll make the play offs. No one believes a word of it.
Unsurprisingly, the Gomis red card is the second we have rescinded this season. Which tells you all you need to know about the standard of officiating at this level this season.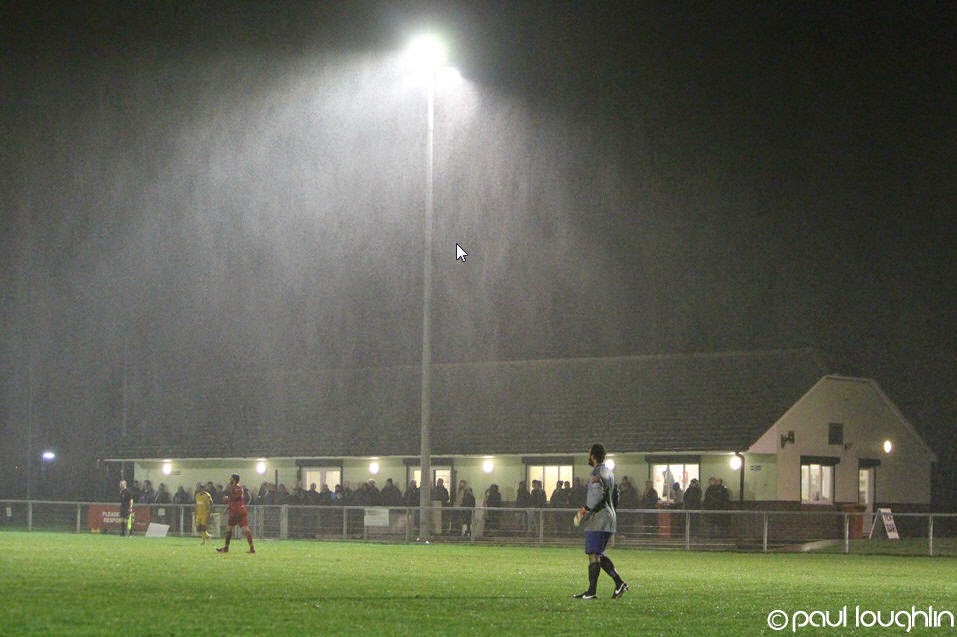 Nice night for it.
Felling fat & hungover, it's next stop Ruislip on Boxing day to face Wealdstone. Despite their keeper having a leg fall off during the warm up, we fail to test him all day & he's only beaten in the 1st half by a shot deflected so many times, you'd ahve thought you were playing pinball. Of course, we cling on until the last minute where the defence knocks off early again and they equalise. Merry fucking Christmas my arse (1-1).
Now without a win in 8 games, we close out December against firmly mid table St Albans at GGL. For this game, Dos decides to shake things up a bit and punts centre back Charlie Clought up front in the hope he might cause some problems. Although it seems like the same old story once again as White pulls up injured having made a bright start and the oppo, who've done absolutely nothing for half an hour, then have a speculative shot from miles out deflected in to take the lead. The response though is pleasantly surprising. Medlock finally shakes off the shackles to level with his first goal for the club and then Cloughy channels Maradona to skip past 2 defenders and rifle in on the hour to wild celebrations. Sutton hang on and finally break their bad run with a much needed 2-1 win.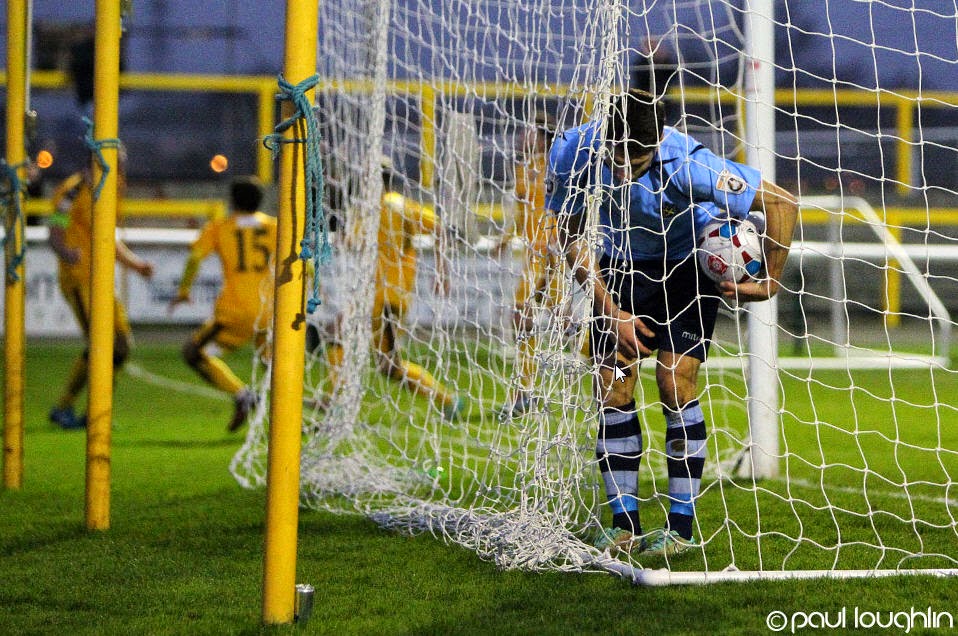 Cloughy goes all Messi.
JANUARY
Merry New Year! Once again a bit hungover, we gather to welcome in 2015 with the arrival of Wealdstone to GGL. Except for Taz that is, who is dying at home of man-flu. Dos adds ex-U Chris Sessegnon to the side on loan from Ebbsfleet.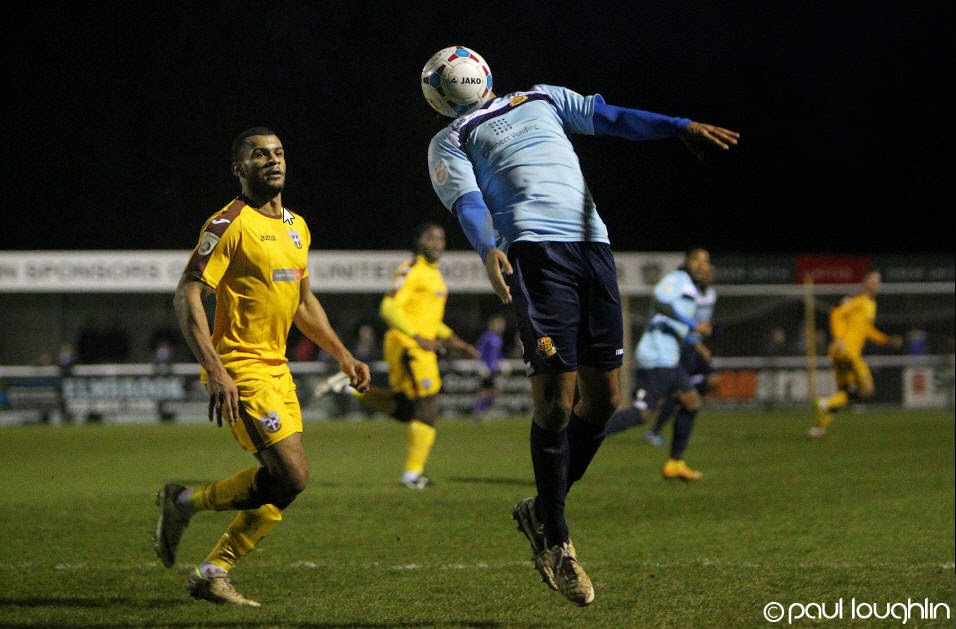 BALL FOR A HEAD!
It's the same old story really. The U's put in a display that should probably win them the game, especially when Wishart drills in a fine effort from 25 yards. However, we're never far away from a crap goal conceded and the visitors again pinch a late leveller when a corner hits one of their blokes in the cock and goes in (1-1). Oh fuck off 2015!
Next? The long trip to Weston, on a fucking sunday for some daft fucking reason and another example of this repetitively shite season. We boss it, then suddenly find ourselves 3-0 down to the hosts first 3 attacks. Two goals in the last 5 minutes (3-2) from Clough means a grandstand finish but again we're left empty handed. The gang entertain themselves on the way home by playing with the text reading device in Mr X's flash new car, mainly by sending abuse about the result for it to read out.
Former Havant skipper Shaun Cooper makes his debut in the Weston game and afterwards, rumours abound that Clough has played his last in a Sutton shirt. This sadly turns out to be true, with the U's accepting an offer from Forest Green for their skipper. Forward Dan Fitchett also debuts after a move from Aldershot. Promisingly, he was a strike partner of Jamie White at Salisbury. Shame Jamie's injured really!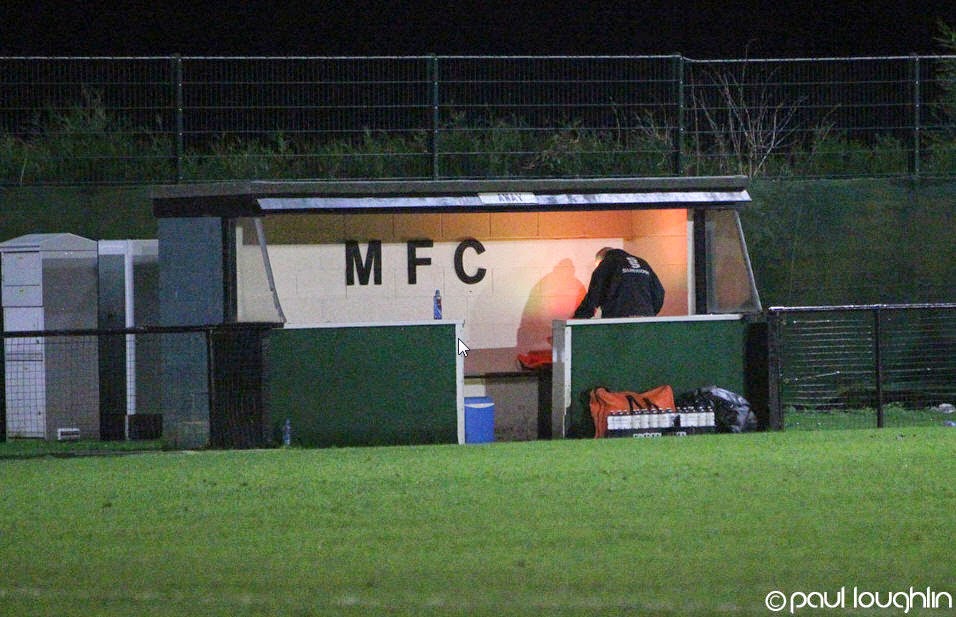 Clive finds a gate to hell in the away dugout at Merstham.
To Dukey's delight, we return to Surrey Cup action with a jaunt down to Merstham. This proves to be something of a nadir for the season as a largely first team XI manages to turn in a half hearted performance against a side playing with 10 men for just over a half. The defeat (2-1) is of course provided by a last minute winner by practically the only attack they can muster in 45 mins. Isn't it fucking always?
The fall out from this game is far reaching. Dos had decided to take a break with his family with there being no league game the following weekend and left the more than capable Ian Baird in charge. This causes some unfavourable comments and coupled with the team being told in no uncertain terms at the final whistle by some supporters regarding their efforts this season, things get a little bit fraught. The end result is that the club disassociates itself from the AmberPla.net forum where some comments are made and several people get ticked off for pointing out to our players that they've been somewhat disappointing this season.
Another side is that Dos decides to make some changes. A new keeper, Aaron Howe, is brought in along with the familiar face of Damien Scannell on loan from Bromley. Both these new faces are in the team that takes on Ebbsfleet at GGL. The visitors have just changed managers and splashed out some ridiculous sums on League 2 level players. So the hopes of any sort of a result aren't high! However, we make the most of their own 8 new faces debuting and tear into them from the off. Gomis heads us in front and then Wellard adds a second all inside 20 mins. One of their big signings Danny Kedwell notches a penalty in the second half, but the U's hold on for a very unexpected 2-1 victory.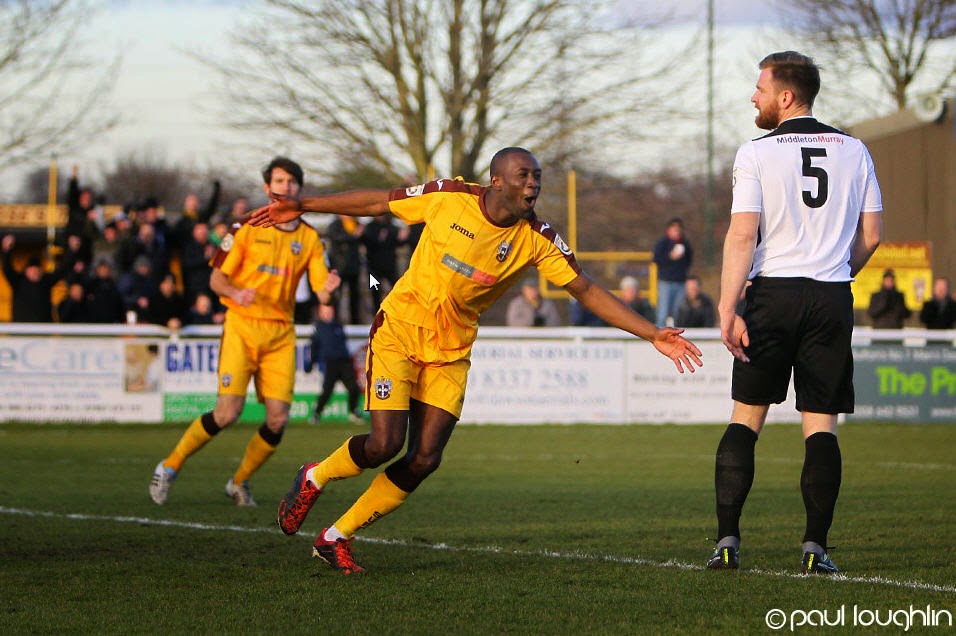 Gomis nods us in front against Ebbsfleet.
After this we head to play off chasing Havant with a bit of a spring in our step. And that's increased somewhat when Dan Fitchett gives us a 2-0 HT lead inside 25 mins on an absolute shocker of a pitch. However, just as it seems we'll record another amazing win, the hosts have a man sent off, the ref awards a joke penalty and then a worldy beats Howe. Final score 2-2. Bollocks.
It's then time for a rare midweek clash with a return to Hemel. And having been under the cosh a bit early doors, Dan Fitchett siezes on a defensive mistake to fire us ahead somewhat against the run of play. After that, we look fine but then Jordan Parkes pops up right on HT wth what feels like his 1000th goal against us in several meetings for the hosts to level the scores. The second half is a bit more attritional, but for a change it's us nicking the late winner for once, Fitchett pouncing again to slot home for the 3 points. The final whistle also sees Dos join the fans on the terrace for some rare celebrations! (2-1)
Suddenly with a bit of form behind us, we round off the start to the new year with Farnborough at home and a thankfully fairly straightforward 2-0 win over hard working but limited oppo thanks to goals from Gomis and the now fit again Jamie White.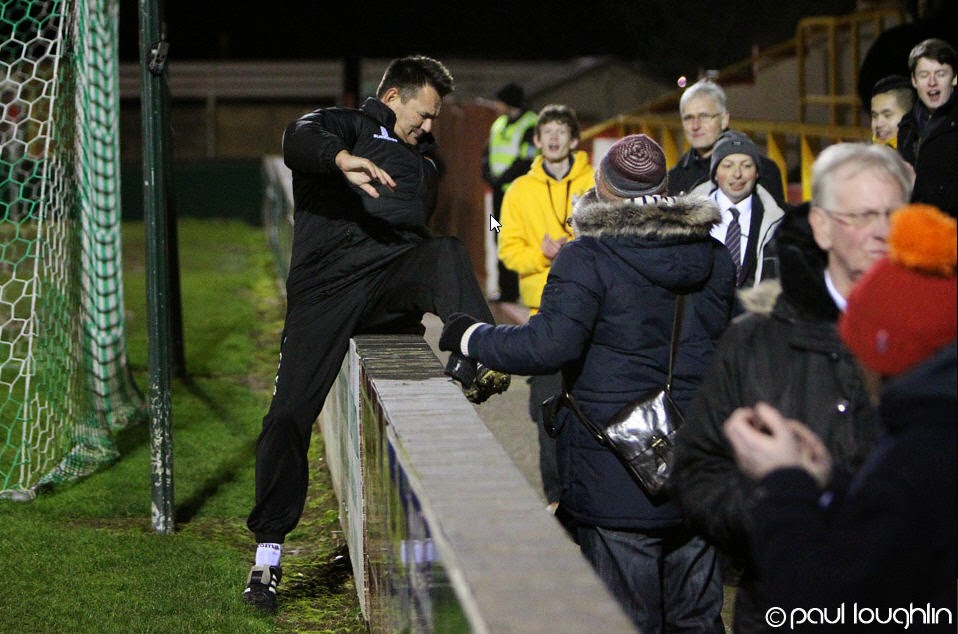 "What did you say about holidays sunshine?"
Unsurprisingly, having brought in Aaron Howe, we're a bit heavy on the goalkeeping side. A bit more surprising is that both Tom Lovelock & Alan Julian are released with them joining Chelmsford and Bromley respectively.
Still, we've got a bit of form behind us all of a sudden, so it's all systems go for the final leg of the campaign. Oh be still our beating hearts!
Our thanks as always go to the absolute gent that is Paul Loughlin for letting us nick his pictures so as to lend a small air of professionalism to this nonsense! Check out his vast library of work HERE.