Valentines morning in the Totter household.
"Do you fancy going to Sutton United this afternoon sweetheart?"
Mrs Totts; "Er, why?."
"Because its free for the ladies, and you're worth it."
Mrs Totts; "Fuck right off."
Who said romance was dead?
After a brief and pointless conversation with militant feminist daughter number 2 about whether Sutton's "Money for nothing and your chicks for free" promo is or isn't marginally less patronising than Labour's Pink Lady battle bus I decide to leg it to the Savoy for a sausage and a bit less aggro.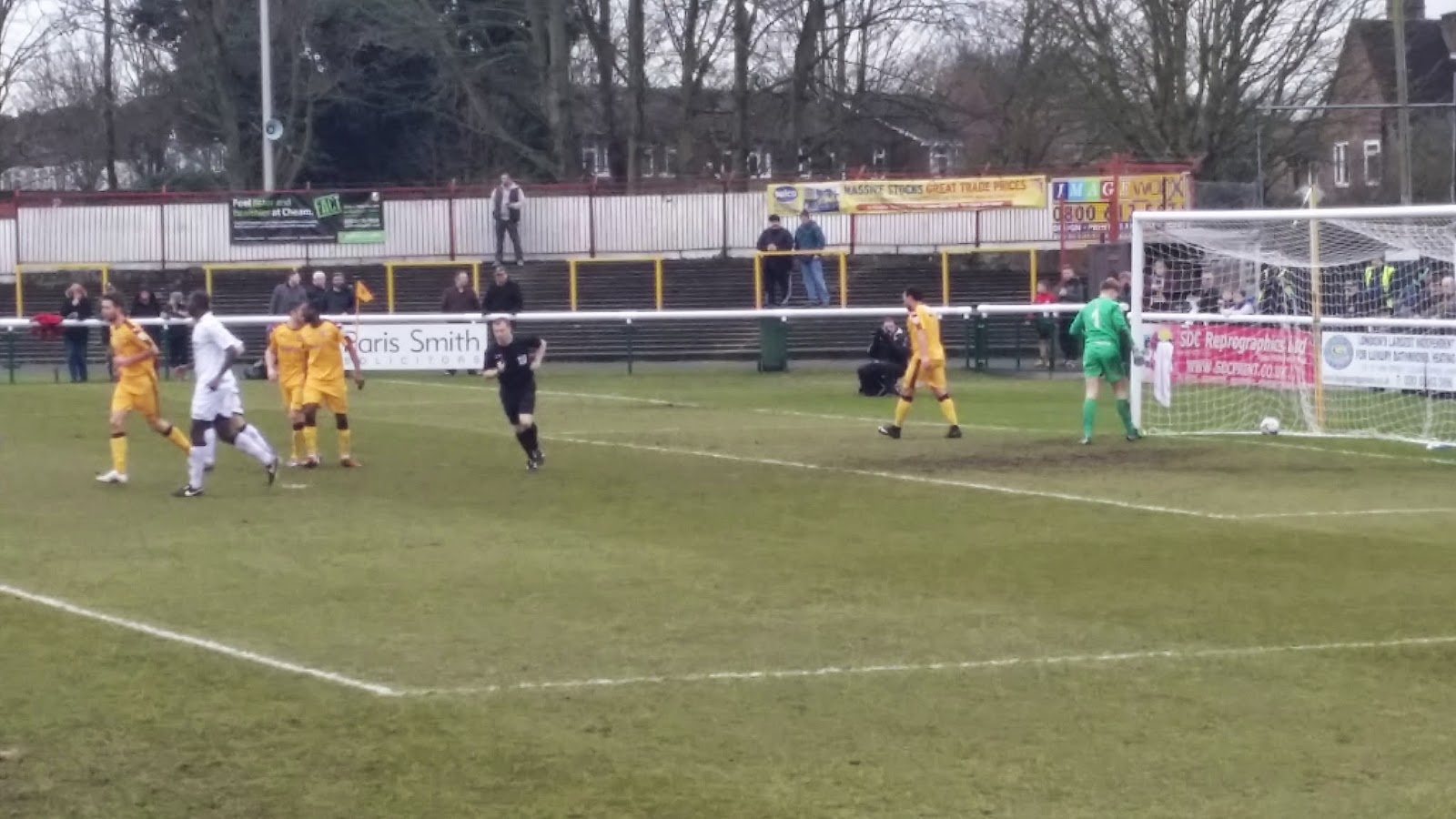 Nope, sorry. You can't have that one.
For those unfamiliar with the Peoples Republic the Savoy is the caff on the Golden Mile between the Gander and the used typewriter shop. According to my mate Horsey it used to have a "gentleman's establishment" in the flat upstairs but I don't know anything about that and anyway it was all a long time ago.
Loaded up with a bit of grub I head off towards Cheam Village to take care of some parental business before I can get in the groove for matchday and a night entertaining the people of Croydon with my banjo. My mood is not helped by being handed a leaflet by some hate-filled old tosser from UKIP.
Probably thought an ageing skinhead would be fertile recruiting ground and was suitably shocked when asked him if his party colour was "Helmet Purple" because him and Farage and the rest of their mob are trying to fuck us all up the arse. I left him dribbling down his blazer, picked up a Valentine's gift pack of red stripe and pedalled like fury for home.
A gig straight after a home game requires meticulous preparation. After tuning up by serenading the Mrs with a quick blast of "I'd probably choose the whiskey over you" I'm out the door like a bat out of hell way ahead of the flying frying pan. You can't beat a bit of pace over three yards.
The board outside the ground confirms that we are playing Weston S&M in what looked a nod towards this weeks release of Fifty Shades of Grey. Nice touch and sure to get the Duke fired up.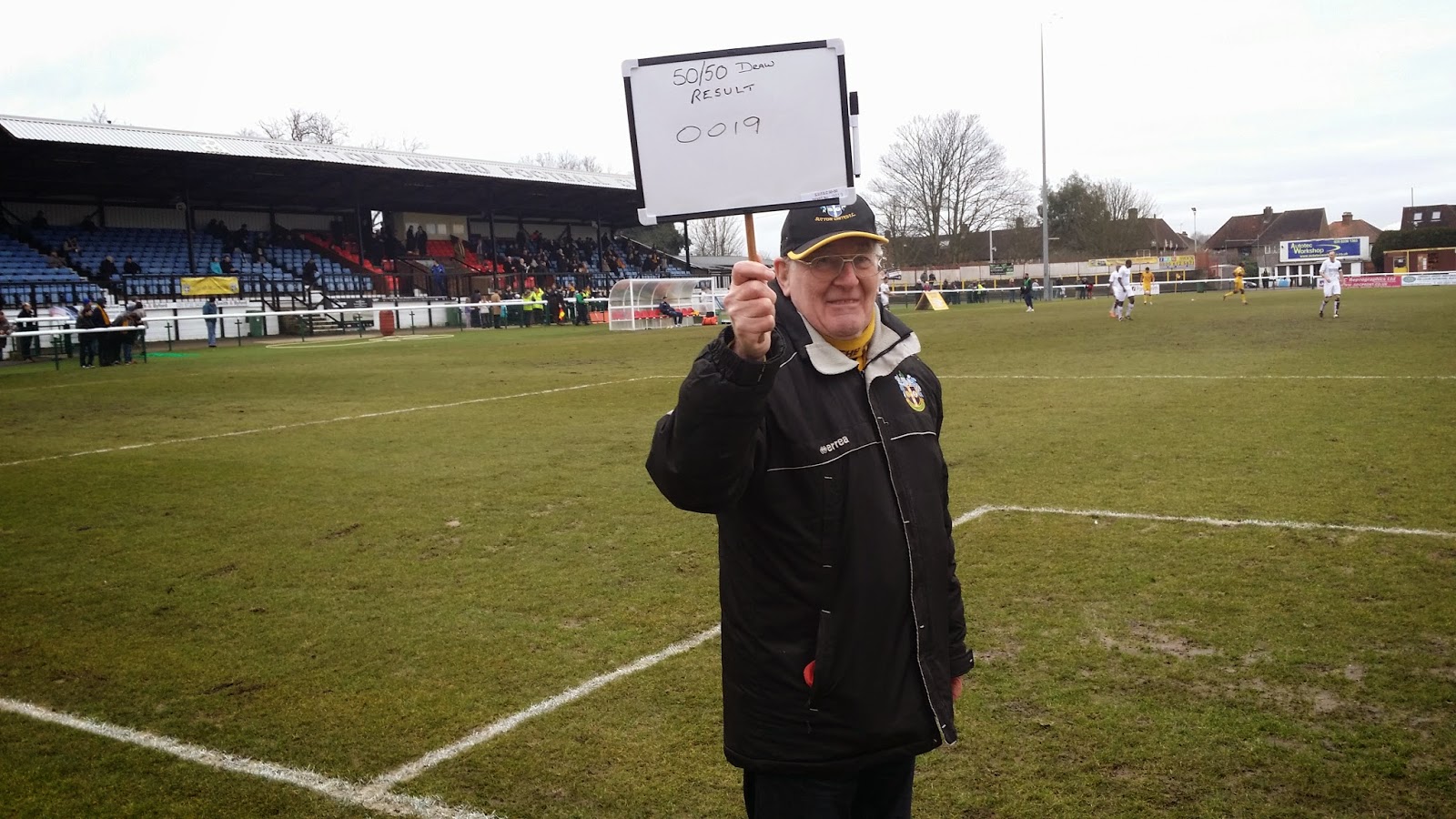 "Steady now" "Down with this sort of thing"
Swinging through the main turnstile I have to take care of the usual negotiations with the club shop to ensure safe custody of the guitars, offering my usual empty promises of giving them a song at half time, before I can slide down the tunnel and into the hubbub of the bar. A hot topic of conversation is what pubs various members of the crew can and can't enter for risk of bumping into old flames on this night of love and romance. I suggest they all join me on the tour bus to Croydon but it is pretty clear that no bastard is listening. Bollocks to em.
With the skipper now having enough time on his hands to not only run an early bath but to plumb them in and do the tiling and grouting as well I still like the solid look of our side which is benefitting from a combination of the new signings and the return of some of the long term crocks.
Losing the "which end are we kicking towards" lottery we find ourselves up on the shoe box for the first half and we are all delighted to welcome the return of Tony Bacon Roll after his career-threatening back injury.
A further visual survey tends to suggest that the "chicks for free" offer may not have met with universal acclaim from the women of West Sutton as all I can see are the usual old boats that look like bags of spanners. But fair play to the club for giving it a bash and anything is worth a try, as long as you are careful.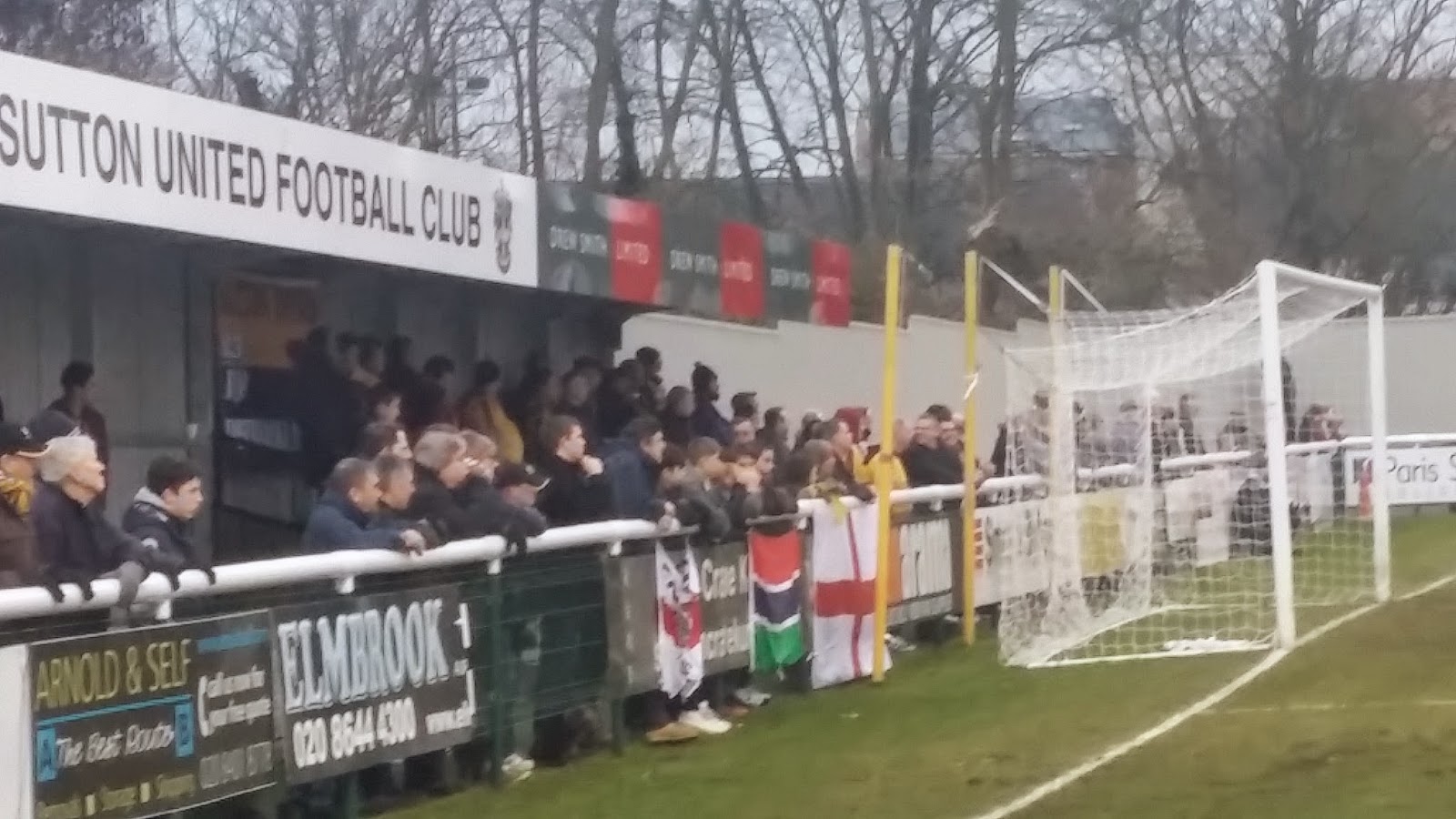 Massed ranks
So. Football. We start off looking like what we are. A team on a decent run of form which is growing in much-needed confidence. We are back to playing that pressing, high-tempo, passing game which is a trade mark of Dos's best sides. Scans is rampaging around and some tidy football belies the lumpy nature of the playing surface which is iffy in some of the usual areas but perfectly playable.
From the off we get the whiff that the ref is a busy little bugger waving his arms about and parping on his tin whistle like he's an old time rozzer on traffic duty at Oxford Circus. I blame all these retired prem refs who whore themselves as pundits for all the Me Me Me bollocks. I don't like it one little bit.
He really announces his presence by ruling out a perfectly good goal for us which was entirely due to a balls up by the Weston keeper and his defence which saw the ball plopping into the back of the net. As there was no foul on the keeper you have to assume it was chalked off on the grounds that it would have embarrassed the away side to give it. He was also clearly setting the tone for an afternoon of relentless showing off gilded with frequent dodgy decisions.
Despite that set back we kept to the plan and some good work by RICKEEEEE set up Fitch and he finished clinically to put us one up and to keep his own rich vein of form running nicely. We looked very tidily set but this season has shown us repeatedly that that's when it all goes tits.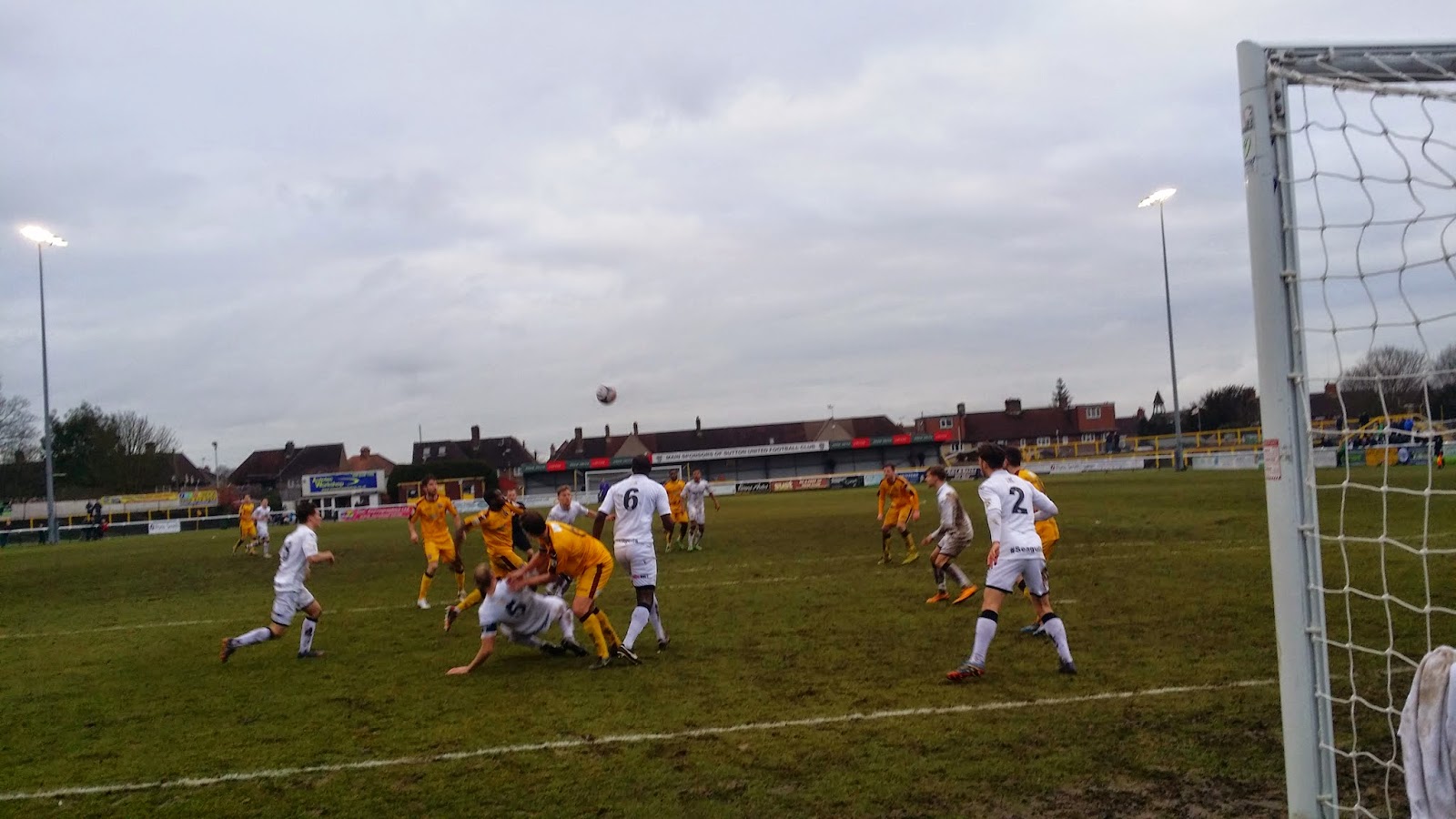 Scramble!
We concede a free kick just outside the box in a rare foray up the park by S&M. From where we are in our elevated position our wall looks a bit out of position leaving a clear site line top right and a beautifully struck kick follows that trajectory like a tracer bullet and no one on the SB is particularly surprised as it crunches into the net. Aah well, we are playing well enough to haul this back.
But I dunno, maybe its me but we suddenly seem to drop a bit deeper and the crisp passing of the first twenty minutes seems to desert us as well. And instead of us retaking the lead its Weston who, against the run of play, slide the ball home for a second after what looked like a cock up in our defence. This is all a bit of a grim reminder of any number of games from earlier this season. Collins crashes a header off the bar but the half ends two one to Weston and we troop round the ground wondering who are the Sado Masochists now then?
The second half was never going to be pretty and its obvious that big Tom Jordan and his defensive colleagues are going to have a shift on their hands and so it turns out. Parking the bus? Who can blame them, two one up away from home it takes confidence in your defensive abilities to shut up shop and the harsh truth is we didn't do a huge amount to trouble them as we huffed and puffed trying to break them down.
Plenty of action in Weston"s muddy box but much of it high balls hoofed down Jordan's throat which he gobbled up like…..like…..aah fuck it, I'm getting far too predictable for my own liking.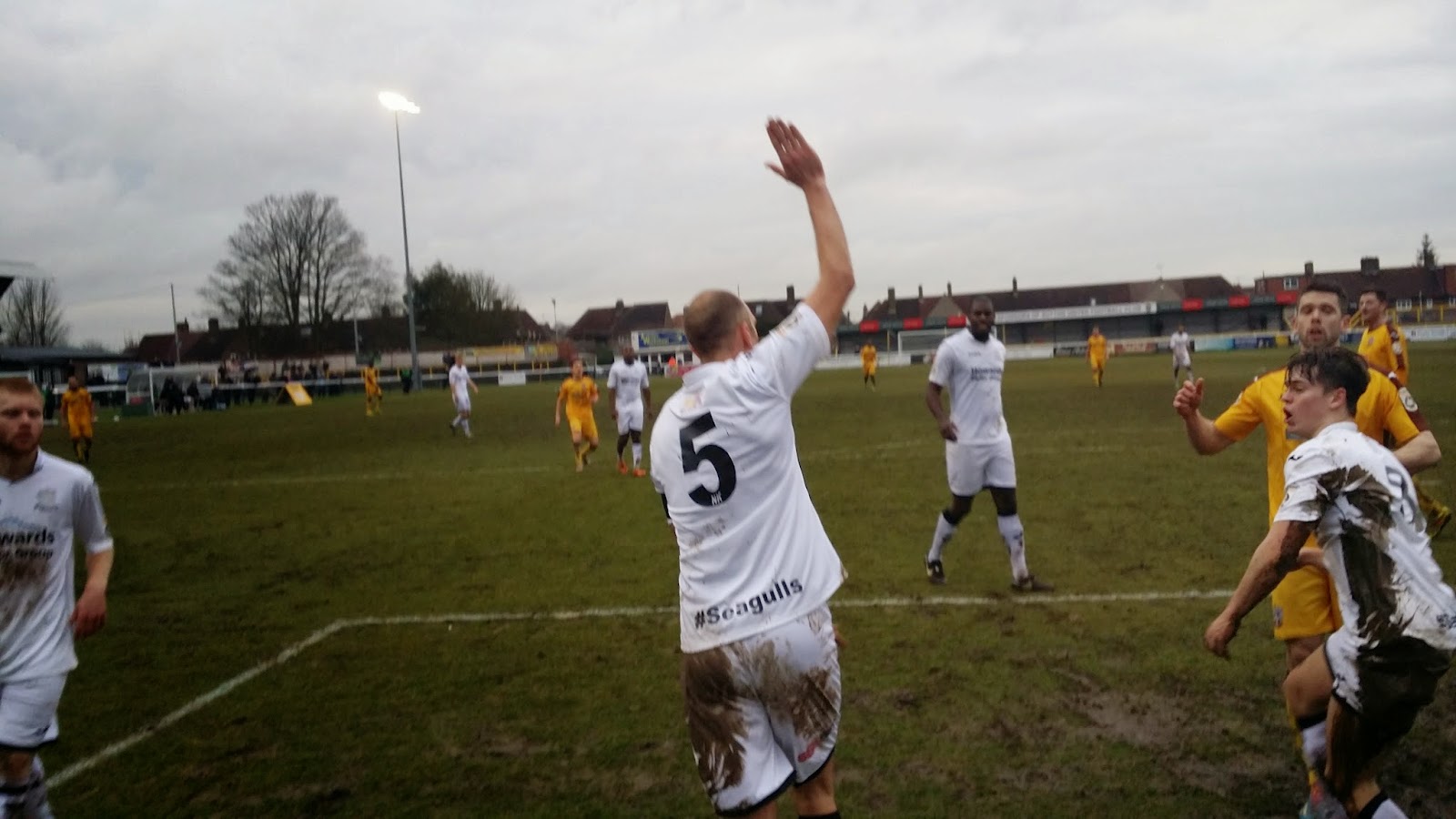 Hands up if you've headed absolutely everything today…
RICKEEEE did a few of his trade mark cutting in runs but the SM defenders had him sussed and shepherded him along the eighteen yard line till he was out of danger. We kept bashing away – jeezus – but all to no avail. We threw the subs on, stuck a couple more up top but I have to say it was a fine defensive effort by Weston to close the game out.
So that was that. No disaster, we are still on course to finish safe and I for one am looking forward to the visit of Bromley next week in what should be a different type of game that our lads can get themselves pumped up for. And we have some big news coming down the chute straight after from Dos and the board.
With the guitars hauled out of left luggage it was a train to Mitcham Junction and a tram down to Croydon for a night of ska punk and high jinks.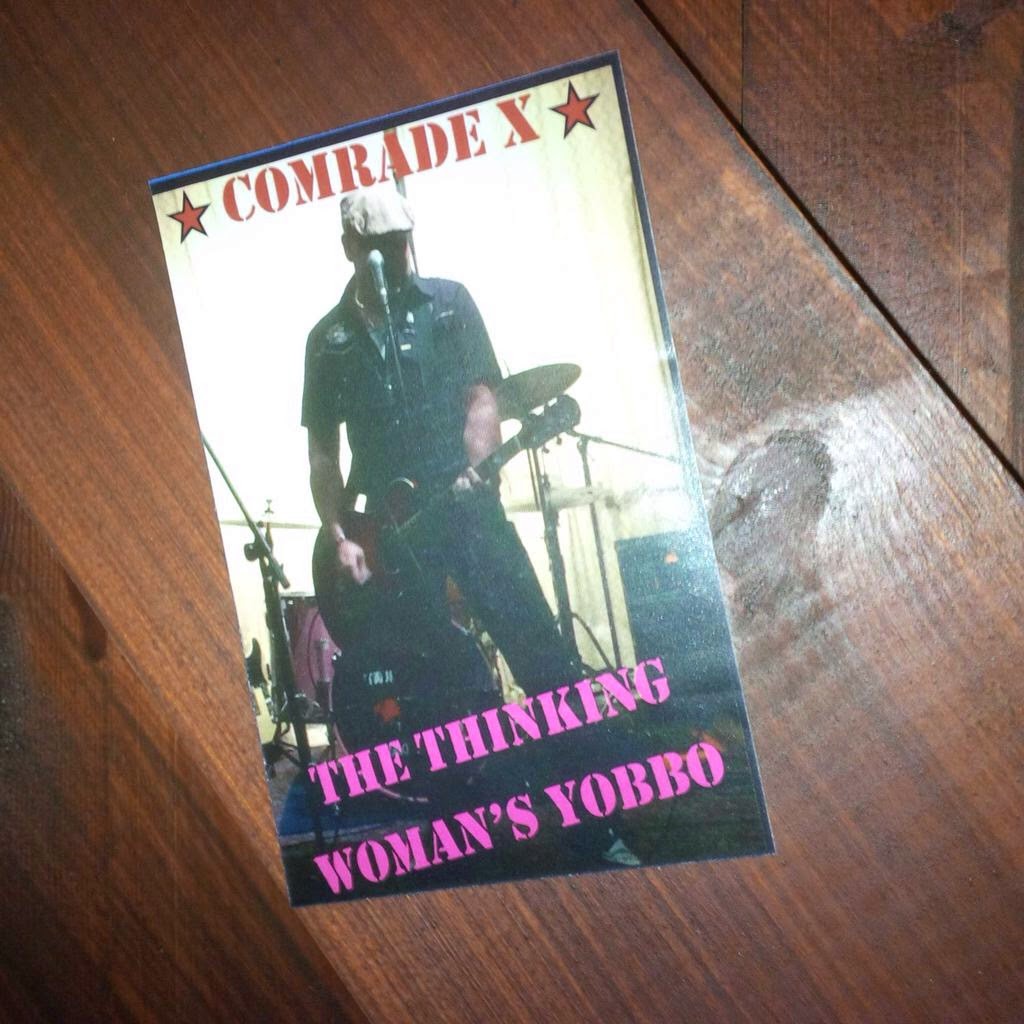 Totts & his big banjo…
As Billy Bragg once sang – "Valentines day is over." Thank fuck.
Totts