You can never quite tell where some of the bullshit that emits from our mouths actually originates. Most of the Firm would no doubt blame me for it and they are probably right to a certain degree. So, how did we ended up in the Donna Rachele discussing Prince Albert piercings on the trip back from Gosport? Well read on my son…
As has now becoming a regular plan. I'd already discussed with the elusive Mr X to grab a lift in his Donna Rachele. All I had to do was meet him in Cheam at five o'clock. Simples. Well, as I got home from work I was just about to jump in the shower when there was a power cut for an hour or so. Bollocks, fuck ,shit! There was no option but to forgo my cup of Rosie and have a good old fashioned scrub wash over the sink.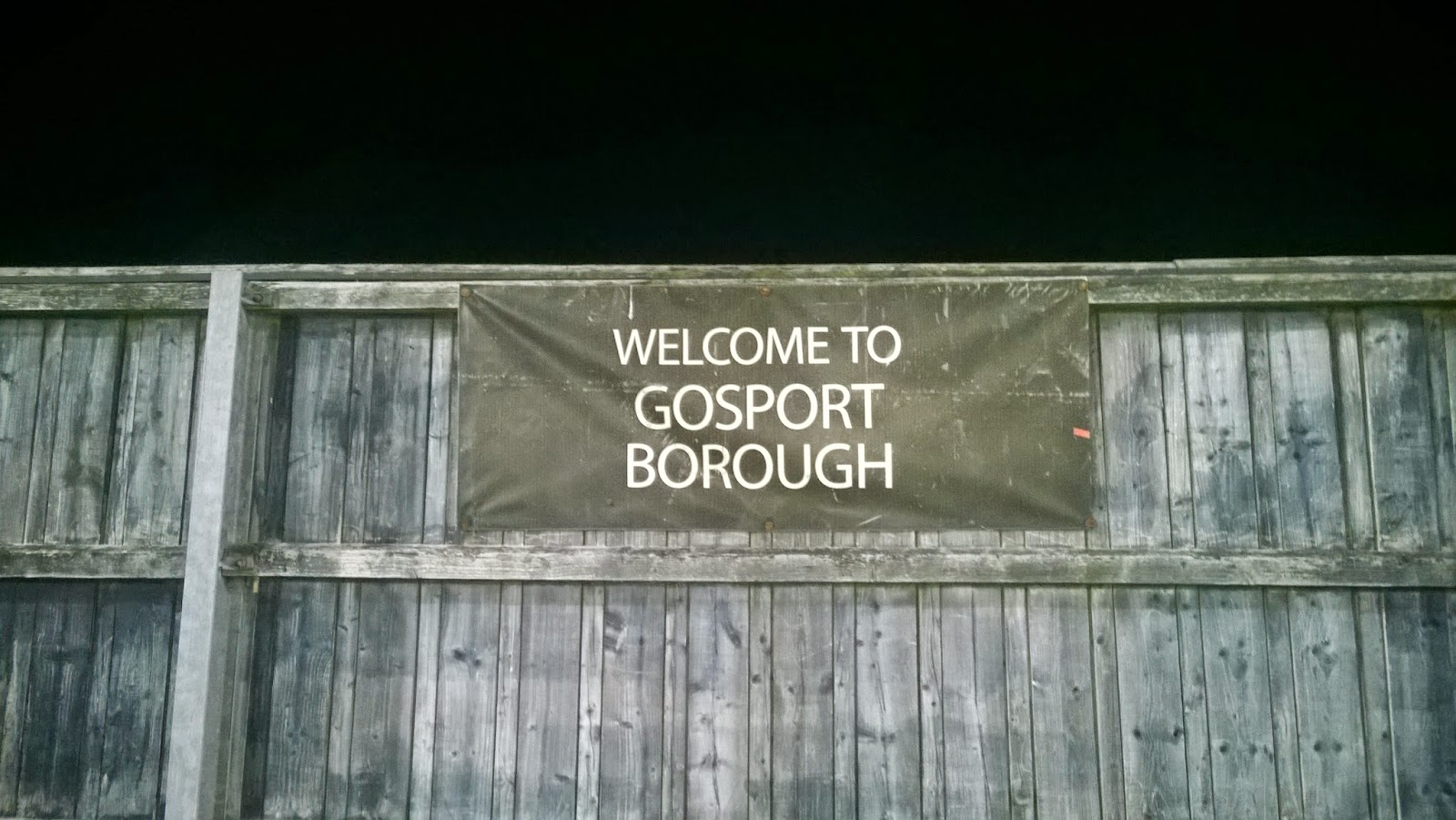 Eye catching…
Leaving my domain I headed to Sutton in the executive motor with the intention of parking near Mr X's abode and walking over to Cheam. I also was given the task of returning Mr X's coat that I'd somehow 'acquired' on the Saturday previous. With my own coat on, I had his over one shoulder and began to strut like John Travolta up the road.
As I was strutting my way through a short cut in the park, the Monster can that I stuck in a pocket swung round to create a sizable bulge without my knowledge. At the same time a little old lady begun to look at me and then immediately down at my crotch. Either she thought I was very pleased to see her or I was Carolyn a Fisher Price toy in my pocket!
I arrived at the meeting point with a couple of minutes to spare and proceeded to do my best stalker impressions with some of Mr X's work colleagues. He was soon to arrive with two large Rosie's in his hands. As always I managed to get half of it down myself as we sped over to the A3. Most of the conversation was about trying to piece together what had happened on Saturday night.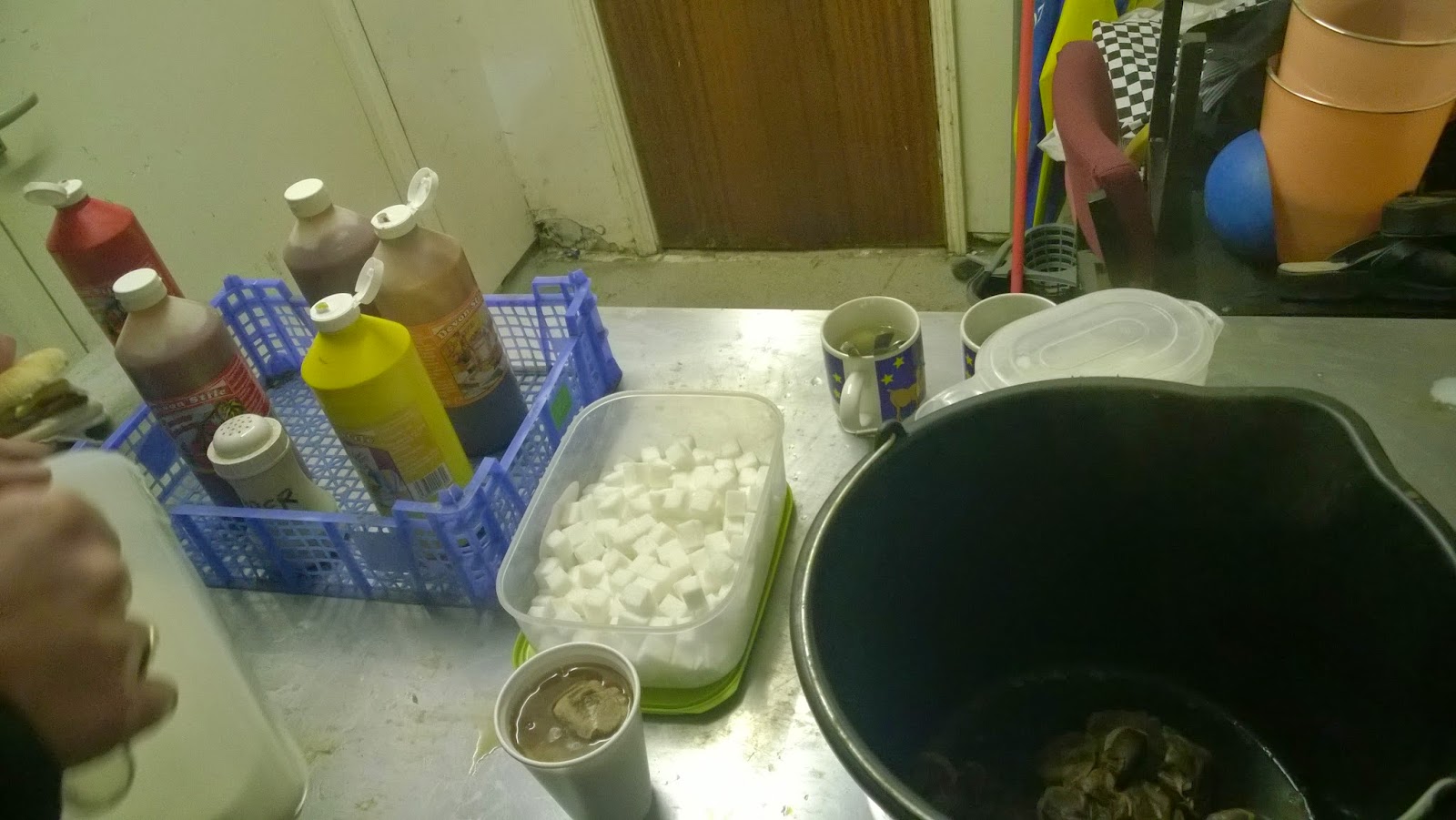 The condiments room.
The trip to Gosport should be a simple one. A3 down to the M27 and then into Gosport proper. Well in the end that took nearly two whole hours. First, there was a hold up as we passed Guildford. Then trying to do the A27/M27 bit seemed to last forever and then going into Gosport in a single line of traffic was mind numbing.
Still, some of the Firm did it properly and went by train. Taz & 4 Days managed to get as far as Havant before their journey was interrupted by signal delays. From what I gather they dumped the train and got a Sherbet to Pompey before hitting the ferry to Gosport (the bastards!). That's not to mention the several pubs that got a seeing to along the way. Maybe next year we'll get them on a Saturday?
For me & Mr X we made it to the ground a little after seven. As there was no parking spaces left we had to create our own outside with some fucked up two lane shit near the ground sufficing. Soon after we were approaching the turnstile. £13 fackin' nicker to get in! Bit strong that I thought. Especially when you walk into it and have a butchers at the gaff.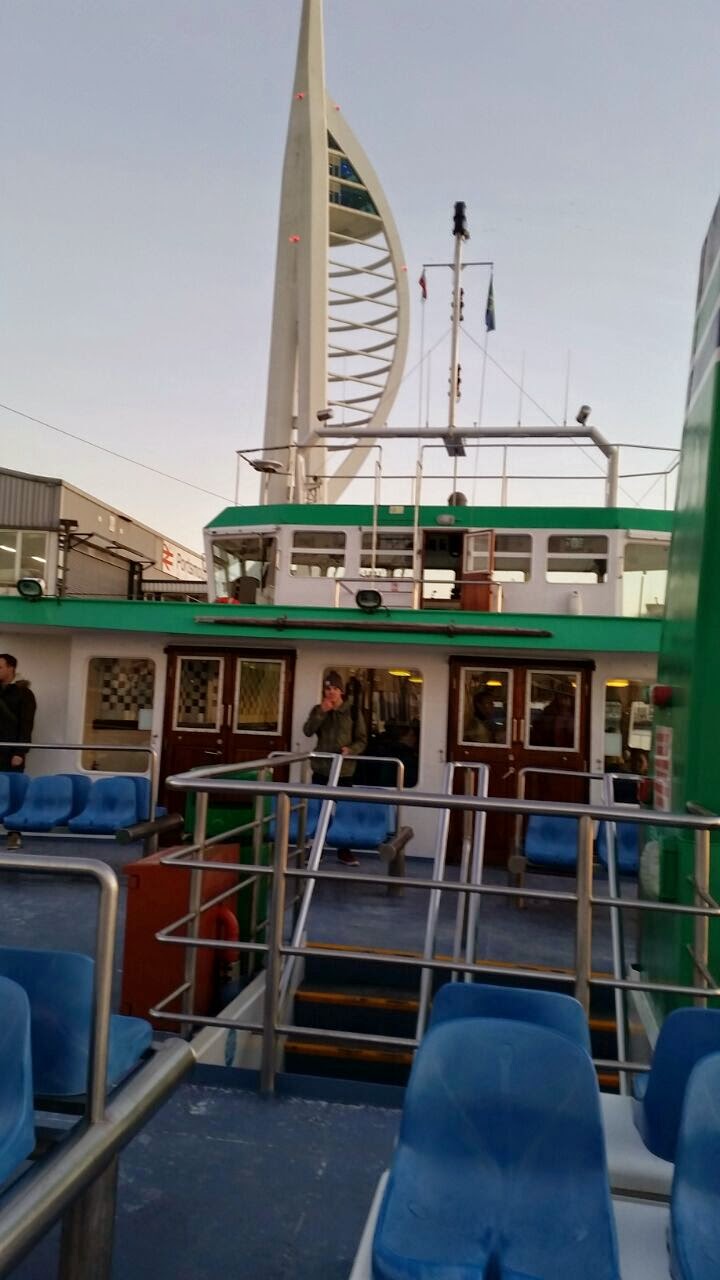 FERRY! TO FOOTBALL!
The only three things that I could see that had changed was the extension next to the tea hut, The construction double display stand type thing that looked totally out of place and finally the Sugar & Sauce room underneath the stand. Where there was a table with some bits and bobs on for when you buy something at the tea hut next door.
Taz & 4 Days finally made an appearance, lucky for them that the game kicked off a little late. With the team on Twitter, we were a little surprised to see that there were only four subs named. Someone did reckon that with only three outfield players they all should get at least a run out. This so reminded me of the old days where you could only name three players and the gamble would be if you included a goalkeeper on the bench.
As with some of these two bit clubs the stewards don't like having flags over the barriers. Of course our little flag slightly covered a massive Vanarama one behind the goal. Lets not mention the fact that there are several around the ground and nobody really gives a left testicle about it, except over zealous stewards. Either way Taz had to move it.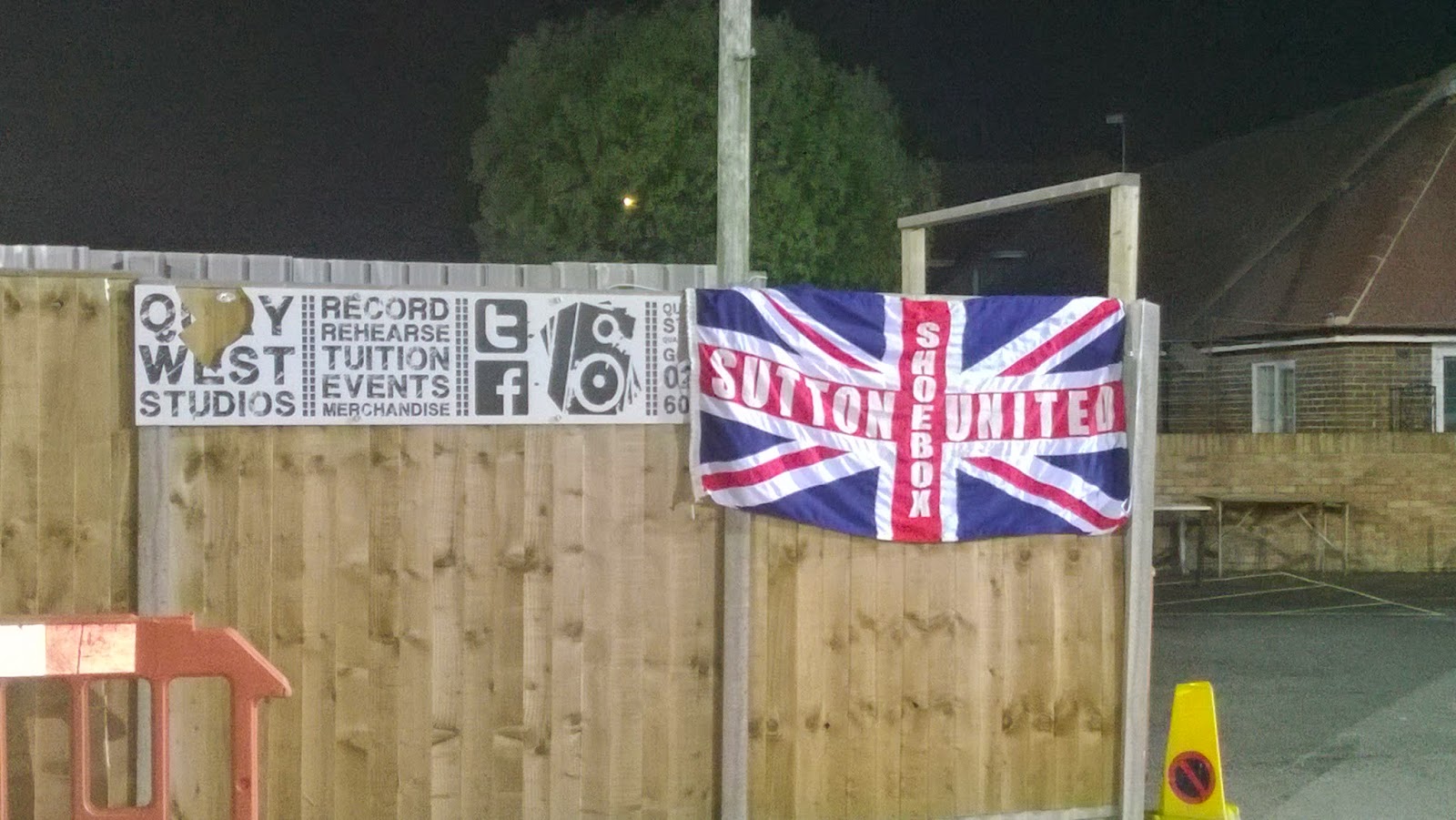 It's covering advertising. Whatcha gonna do about it?
Howe, Amankwah, Binns, Spillane, Cooper, Collins, Scannell, Wellard, Dundas, Gomis, Fitchett. Bench Warmers: Shaw, Wishart, Serbonij, Hipployte-Patrick.
The first twenty minutes saw both teams cancel each other out. Of course just like last season it would be Gosport who took the lead. Another messed up free kick from Scans had Binns out of place and the ball was cleared up front. Howe managed to save the first attempt but slightly flapped at it and this gave the fella the chance to tap the ball in.
After the first goal had gone in, Taz sent 4 Days to get him a bacon roll. Mr X also asked for a tea. A mere moment later a simple punt down the middle was totally misread by Binns. He let his fella in and before you knew it, we were two nil down. I couldn't believe that inside four minutes we had almost lost the game.
To compound this misery 4 Days returned with the goods. Apparently his burger was awful but Taz's Bacon roll was nice. Mr X's Rosie was something else though. First he had sugar in it and he doesn't take sugar. Secondly, it looked and smelt more like a Tea, Coffee & Bovril concoction. It didn't taste nice either! This ;eft Mr X to comment "That was probably the worst minute of my life".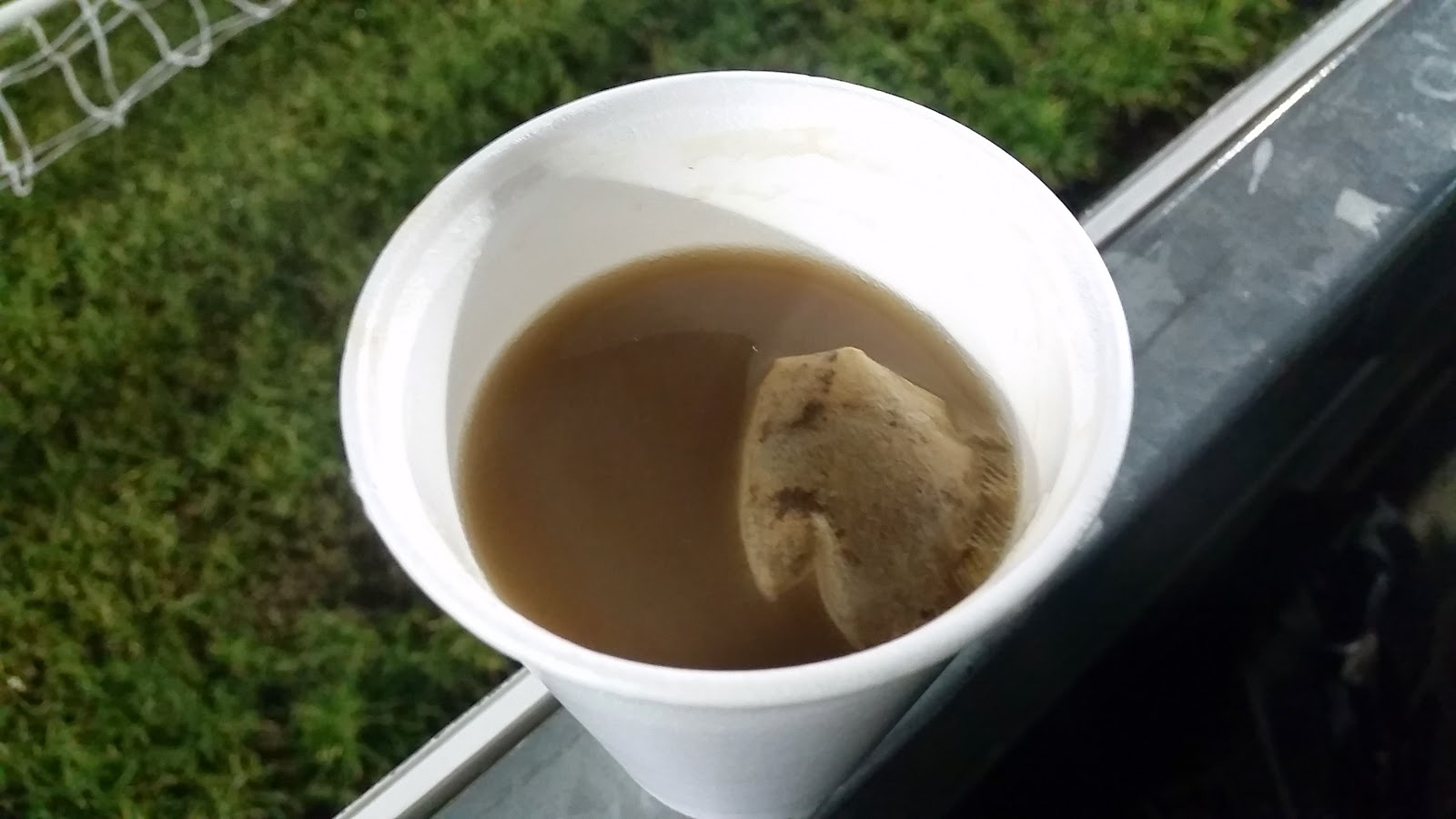 The rest of the half saw Sutton try to play the ball out from the back. If there was an award for delivering perfect sidewards balls, we would definitely win it. Around this time we started to get some mouth from a couple of Gosport fans. They didn't like the response they got. Not only were they at the wrong end of the ground but also only piped up at two nil up. Micky then saw his header rebound of the post later on.
Second half we trundled off towards the exposed end where we were drenched last time round. We saw the cage that contained our Berkshire friend when he was last here and the stupid display stand up close and impersonal. Here, next to us, stood the tallest steward in the whole wide world! I always thought that stewards were meant to be impartial, but geezer spent nearly the whole half cheering on the home team.
As we awaited the home team to turn up on the pitch we got to see Our Lord Dos give some last minute instructions. Eventually we got to kick off and from that moment there seemed to be a different team from the first. More width and more urgency could be seen. Still this wasn't converted into any proper chances at the start.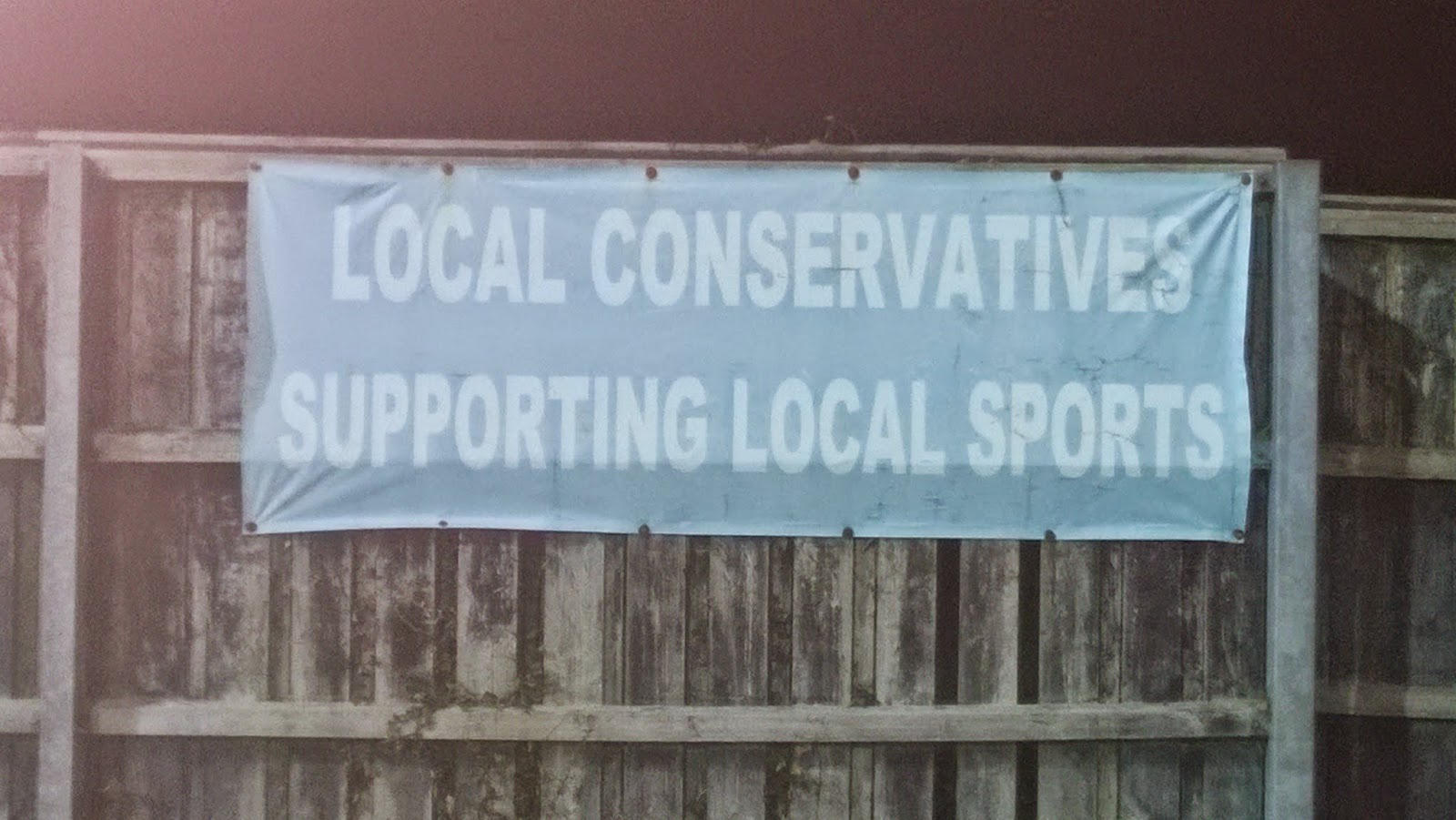 Smash the Toreis!
Two of the best chances saw Fitch guide the ball onto the outside of the post and the other was the Mel Capleton lookalike tipping the ball over the bar from a looping header. Scans did manage to get one back will a calm low drive from inside the box. 2-1! After this subs were used but we failed to create a clinical chance to level things.
Oppo time was on us when Gosport got the winner. With Sutton stretching for a equaliser, we left large gaps at the back. One such attack was broken down and Gosport countered. One two pass and there were in our box and the right back was nowhere (I think it was meant to be Micky) and a simple slotter saw the third goal.
As some people were still tweeting this goal Sutton attacked once more. Taz commented "you watch, we'll fackin' score now!", Scans had the ball and took it to the byline and crossed it in. After a slight melee of bodies it fell to Shaq who slammed the ball into the back of the net. 3-2! Sadly there was no time afterwards to get the actual equaliser.
Anyone wanna buy a flat?
So that was our tenth league defeat of the season. To be honest it really doesn't bother me any more. I realised this after the Merstham match. If this team is going to be around next season then there is some work that needs to be done. We've seen the same mistakes throughout the season from different players. Saying that I don't think we are too far away from where we need to be and a couple of changes is all that is needed.
Taz & 4 Days were due to join us on the return leg, a quick piss stop for the old men and we were out of the ground and heading towards the car. 4 Days managed to grab the front seat, so me & Taz were left to fight it out in the back like a couple of rowdy children. It wasn't long before the other scores from the night were divulged and we all had a chuckle at the Scum losing again (although the bastards get to go to Guernsey this weekend).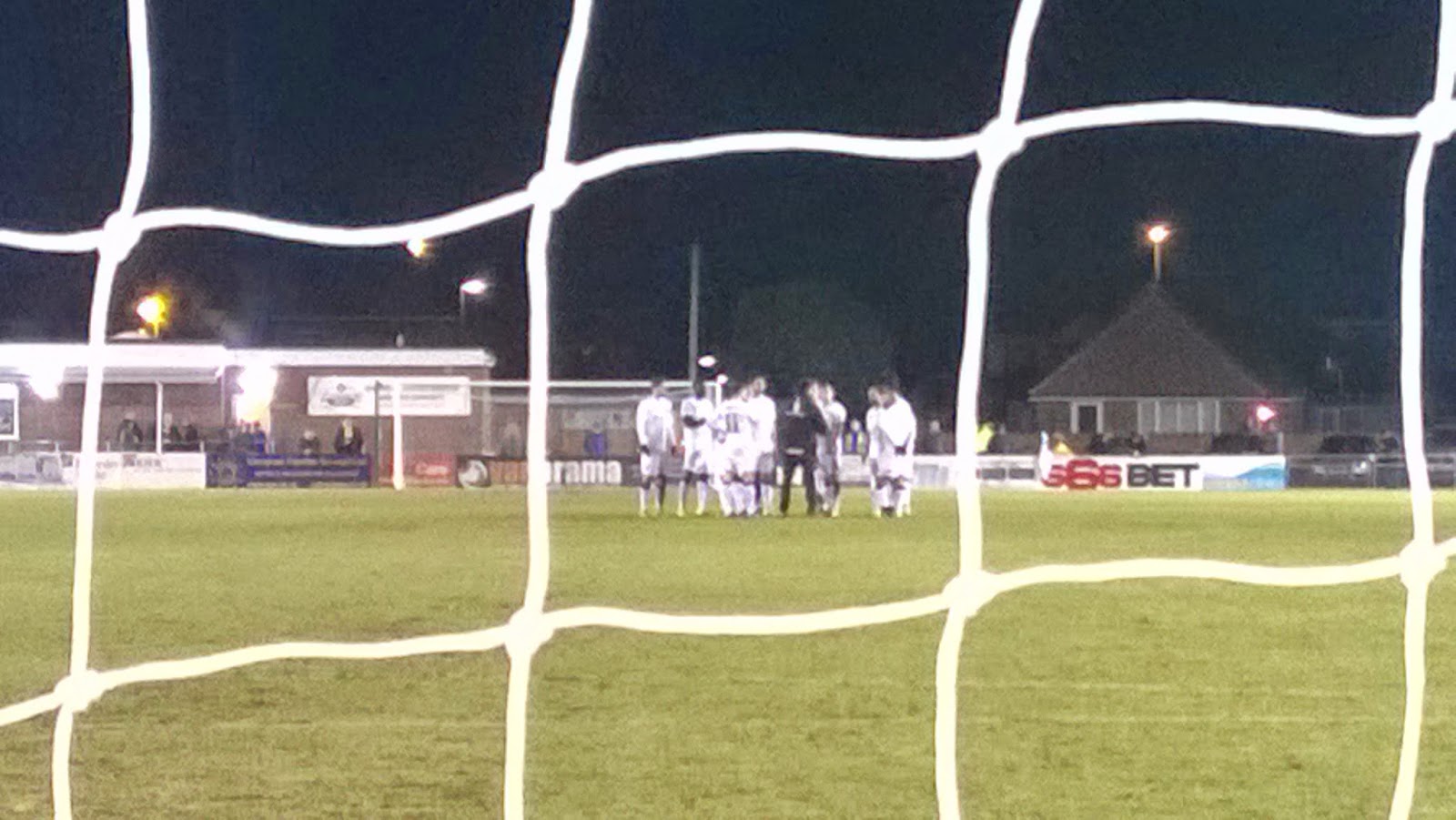 Huddle
With the play-offs now all but a teenager's wet dream, our minds turn towards the Gandermonium away tour this Spring. It appears Krautville is the leading horse, although everyone thinks I won't be allowed in (have you seen Indy's passport photo?). Berlin is the place, especially as there is a connection with Sutton in one of those twinning bollocks with somewhere in the East. And don't forget I am the Duke of Sutton!
Now, some might say that I'm sicko or a pervert, whilst others with say that I'm a cunt. One person even said I was a damaged individual crying out for help, but I think she was just after my body. Either way I somehow connected a trip to Berlin with the infamous Prince Albert piercing. I asked those present if we should ask for a group discount. Apparently if we do go, we wont be getting any done. Dunno why. You see, try and introduce some culture and Central European Kinkiness into the group and they turn their noses up at it!
It's Bromley at home this Saturday. I reckon either a bumming or a win is on the cards. The question is, what team will turn up on the day? Jekyll or Hyde? Renee or Renato? Little or Large? Oh Fuck it, you get the idea.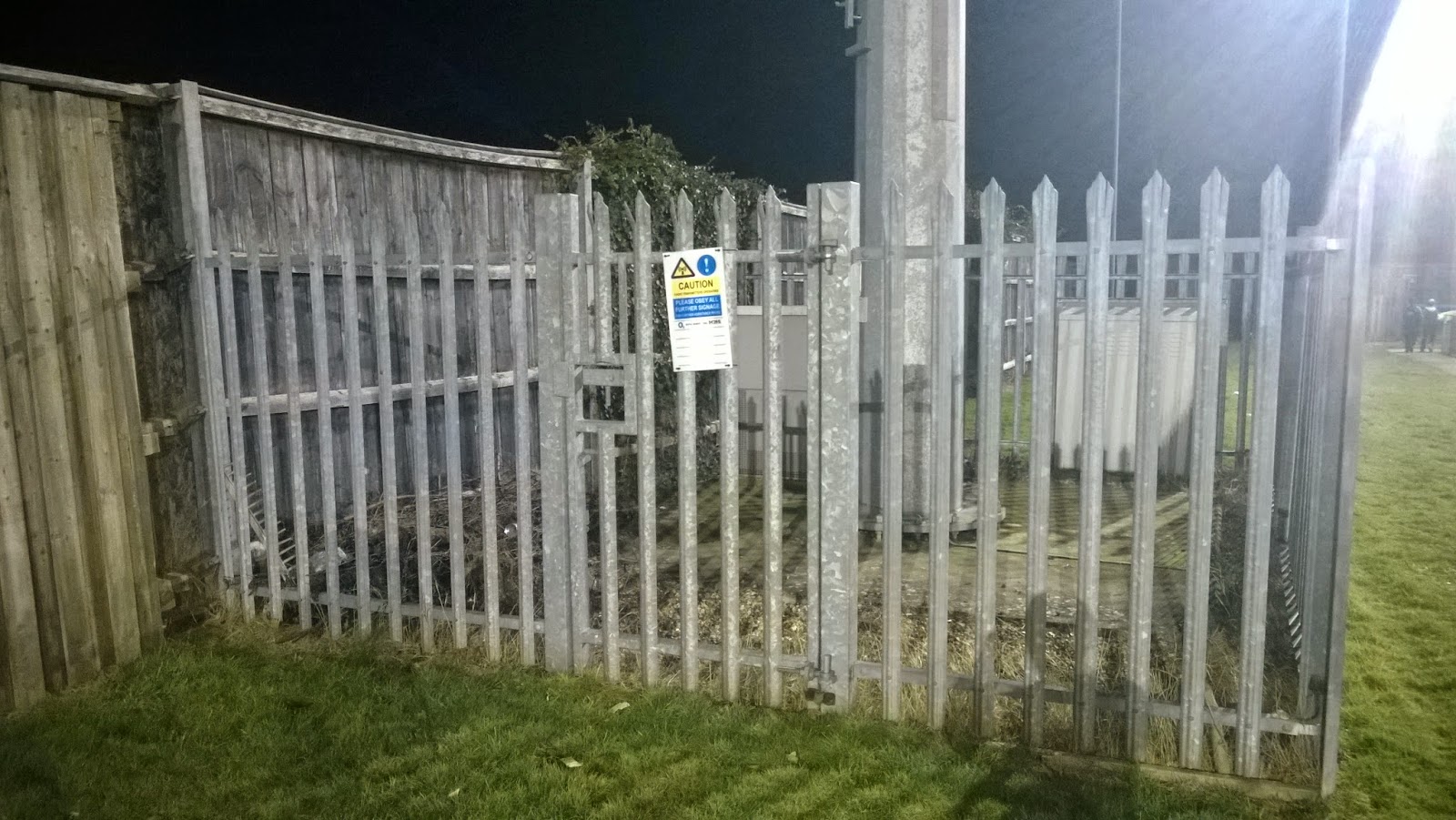 Drunk Magpie Prison
Duke
Att. 403