Me & Technology don't always see eye to eye. In fact I think that sometimes it has a laugh and pokes fun at me. Take this fackin' mobile doobry whatsit. Recently it decided to update its self and download a new piece of operating software. Within it, was Nokia's answer to Apple's 'Siri', called Cortana. And she sounds just like the bird off the Halo games.
Apparently you can communicate with the old girl by using various commands for things like setting alarms and texting people. Fair enough I thought to myself, lets have a butchers at it. Now as you all know, I speak the Queen's finest English. Unfortunately, this phone can't understand a fackin' word I'm saying to it and keeps coming up with gibberish!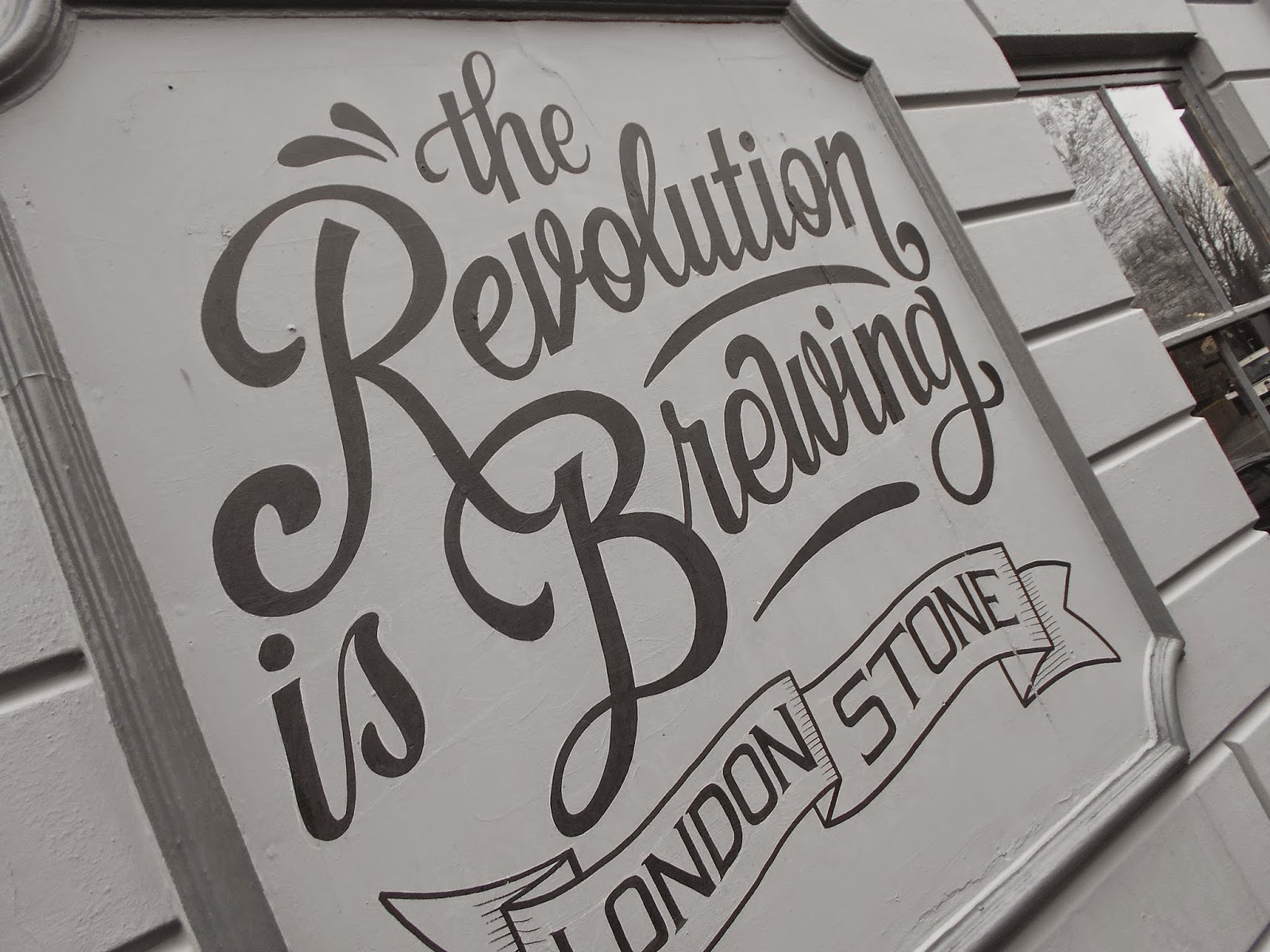 What? Like a fart?
How she thinks "Para Para" – which is apparently some crazy synchronized dancing from Japan – is the answer to when I say "Harrow Borough" I don't know. Even creepier, the other day it asked if I lived at a certain location and up came a map of my humble abode. When I pressed on the button "Why suggest this?", it remarked: "Because you spend a lot of evenings here". Jesus, It thinks I've married the fackin' thing!
Anyway, enough of that old tosh and on to why you may have clicked on this here blog in the first place. Staines away. One of the more simpler trips to make, thank God. Up to Clapham, then west to Staines, no messing about and no aggro. Taz sent the obligatory friday text around demanding we go for the 1003hrs chuffer from base up to Clapham.
Arriving at the station with plenty of time to spare I noticed that the tea van was nowhere to be seen. Bastard! Receiving word that most of the rest of the Firm had purchased their tickets already, I quickly brought a couple of returns for me and Taz – not bad for £7 – and we awaited for the train to arrive. On it, right at the back was 4 Days with a soft drink in hand.
Twenty minutes later, we were in Clapham and walking over to platform 5. In attendance today with the three of us up from Sutton and those that came up the other way: Mr X, Wardy & Sean Connery. Apparently Indiana was up on a beano in Derby. Lucky boy. Getting the 1028hrs service meant that we arrived in dull Staines before eleven. Perfect.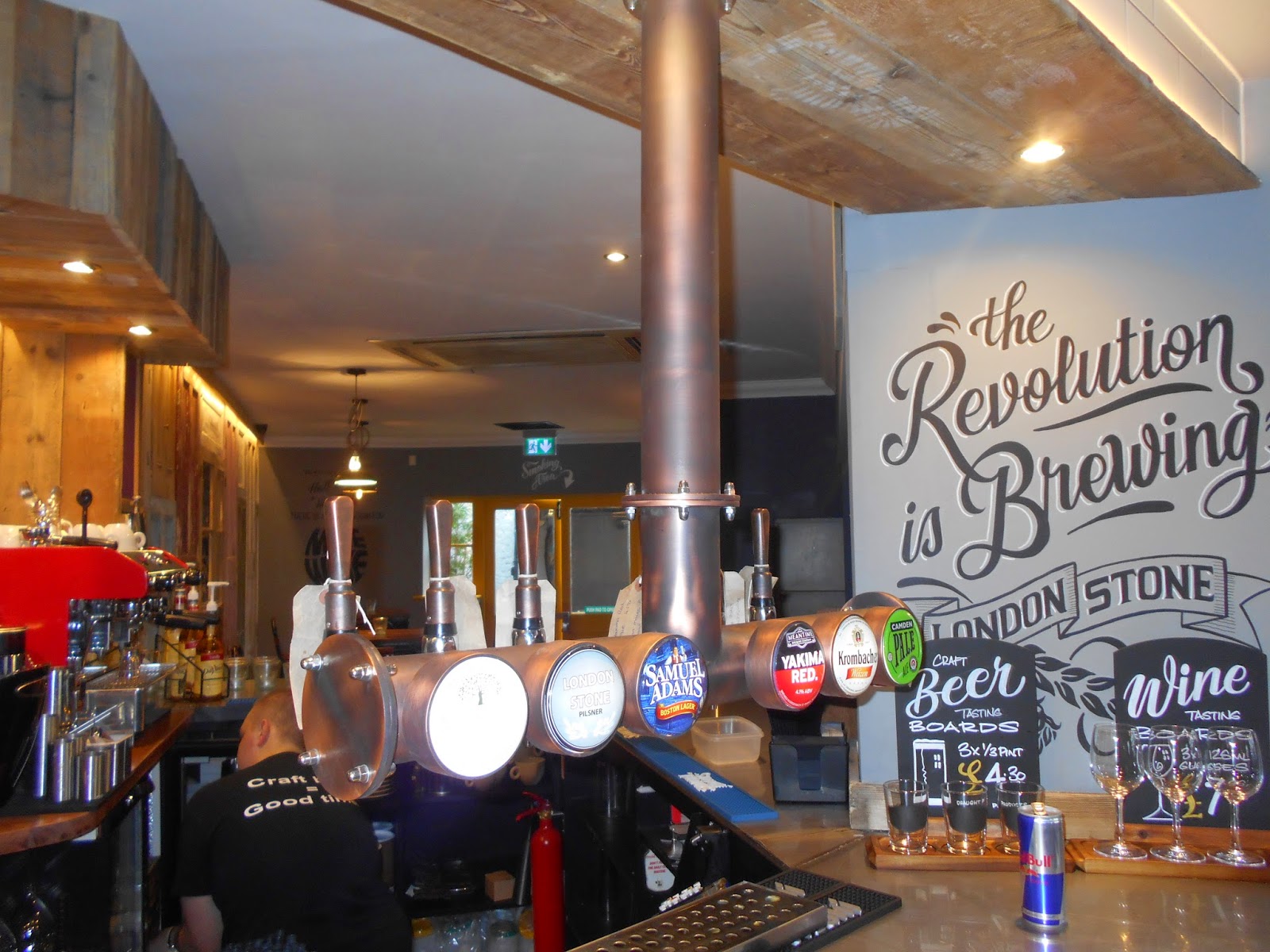 Beer!
The slow trot took us towards the high street and the usual market. Everything was on offer from computer repairs to kitchenwares, not too sure how much of it was off the back of a lorry or not. The first pub of the day was the 'Spoons (as usual) and feeling for a spot of the beer instead of my usual cider we quickly ascended the stairs to find a quiet spot.
The first trademark Gandermonium 'talking point' was to soon follow. While the rest of us were discussing and laughing at the situation at Kingstonian (Shaw was disgraceful, but Tolfrey was provoked?, well done Kingston fans), Taz was on the dog asking his skin & blister if she could get any cheap flights to the old US of fackin' A. Suddenly someone remarked "Ask her if it is true that a bird's tits grow on a long haul fight?"
It wasn't long before we made a move on the next boozer. The Hobgoblin is probably the best drinkup in Staines with a jukebox, pool table, loads of Gandermonium stickers in the bogs and a landlord from Sutton to boot. However only the last thing remains now as the Hobgoblin has gone upmarket a touch and have now taken the 'craft beer' path.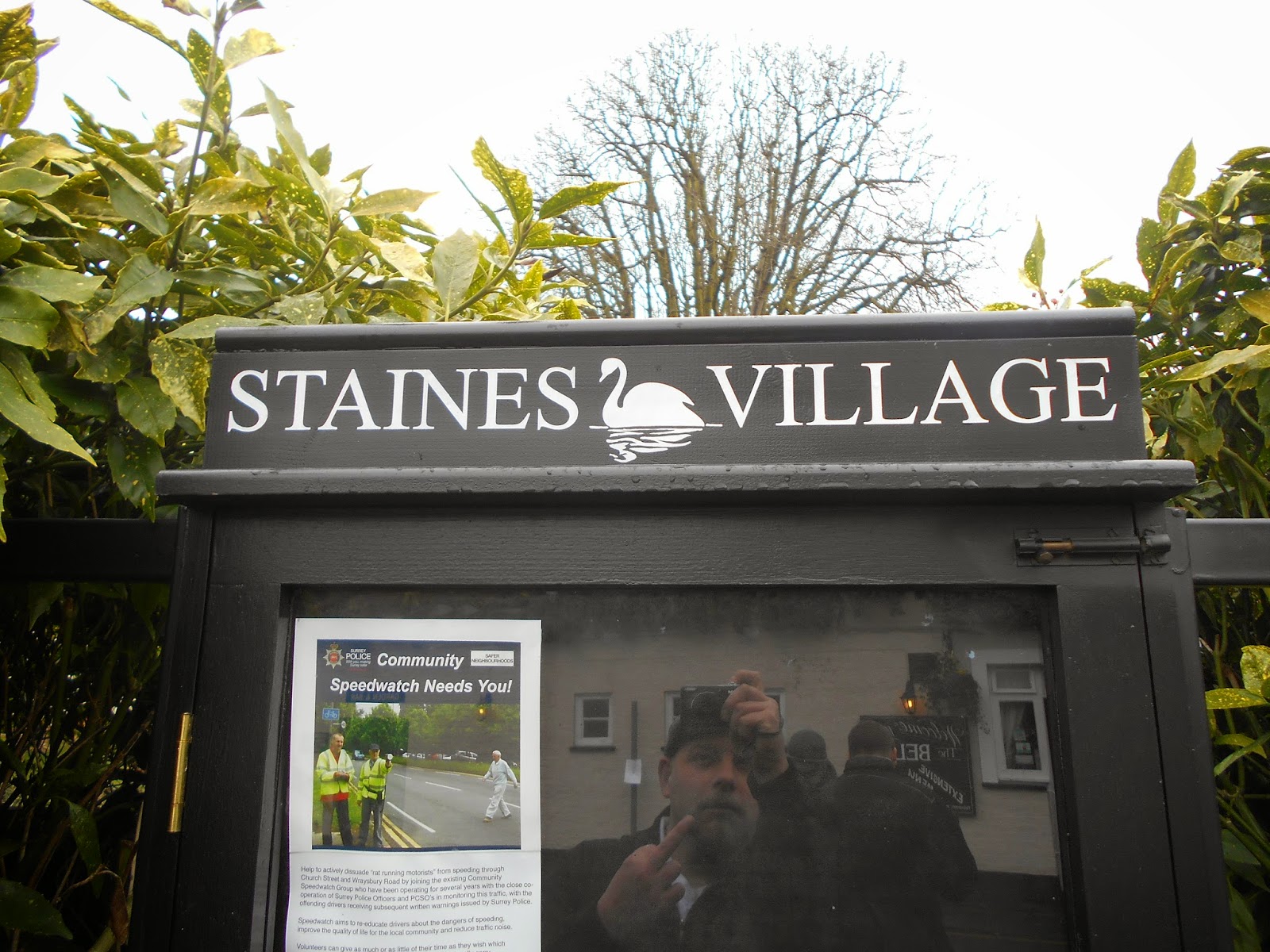 Upmarket Staines
After here, & looking for some more culture we headed into Staines village. I didn't even know there was a Staines Village! Well we found the most ponciest pub we could find. In fact it was the only one there, The Bells. In order to try and sound a little poncy & like we belonged there, we started using big words. I thought I had the biggest with antiestablishmentarianism, only to uprooted by Mr X and his Floccinaucinihilipilification! What a wanker!
Turns out there was a word longer than even that, but it takes four whole minutes to just say it. I know this because Mr X found a YouTube video to prove the point. Also ain't Brannigans crisps totally epic? Well three packs later and we rustled up a sherbet. As is always the case with bloody Staines, it was late turning up. What was more worrying was that after Mr X had ordered it he received a text message from the cab firm wishing him a happy new year!
The cab did eventually arrive and quickly took us towards Wheatsheaf Park. As we arrived the cab began to enter the car park. The problem was that as he moved over the first bump, an almighty crunching sound was heard underneath us. Straight away the driver stopped the cab and kicked us all out. Charming!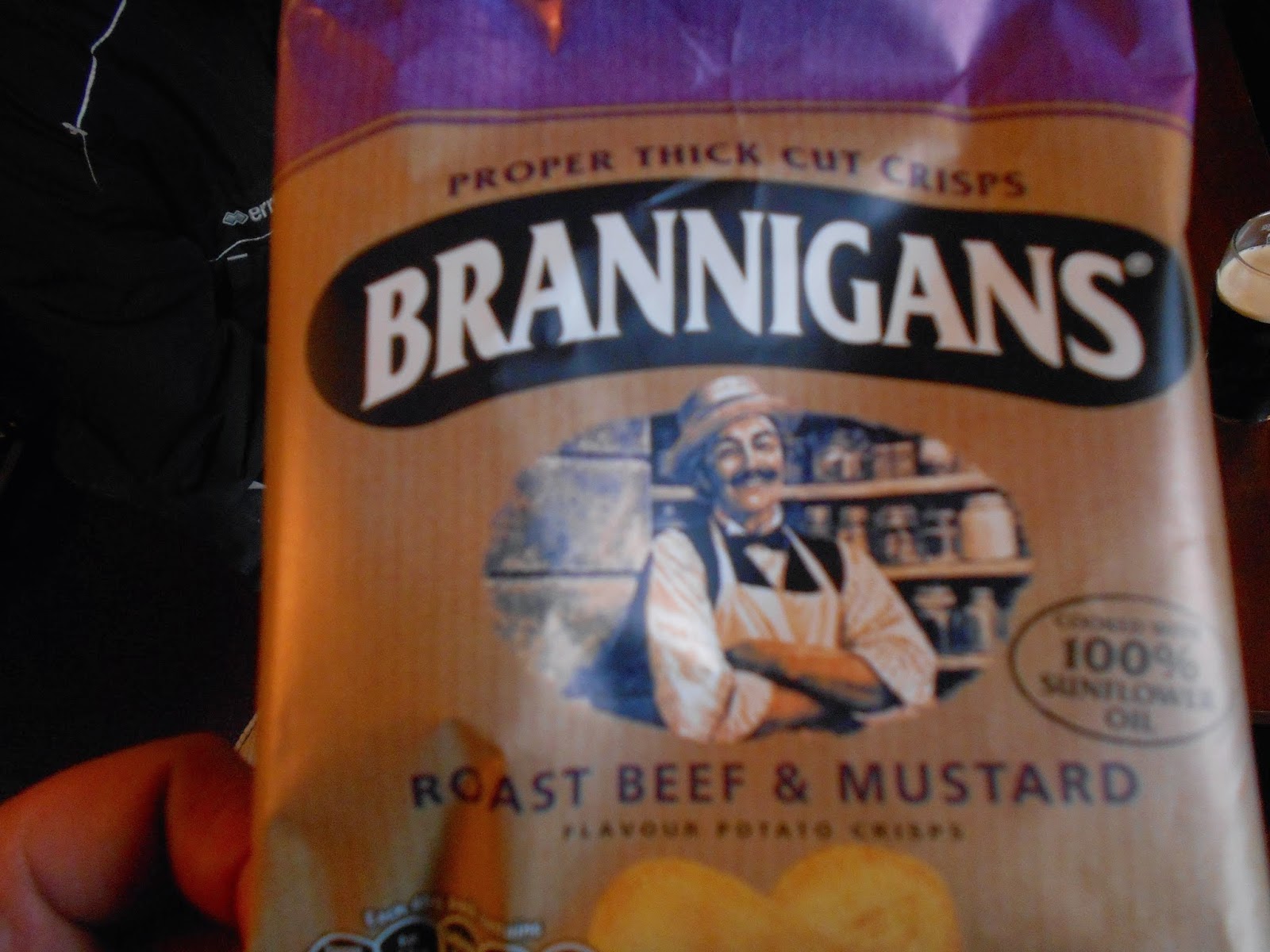 What you looking at mate?
Howe, Amankwaah, Binns, Spillane, Cooper, Collins, Scannell, Hippolyte-Patrick, Dundas, Gomis, Fitchett. Bench Warmers: Wishart, Wellard, Hart, White, Shaw
There is a reason why Staines are bottom. There is also a reason we wouldn't win the league this season and that was displayed on pitch. For most of the match we huffed and we puffed without any real chance of blowing down the Staines goal. I'm still trying now to think of anything worth mentioning in a very quiet first half.
I think Gomis had one of the best chances, but he dallied too long in the box before his shot was blocked. Fitchett also had a great chance when he tried to latch on a poor back pass only to be denied by Turner in the Staines goal. Scannell managed to also last just under half hour again before hobbling of down the tunnel, being replaced with White.
With half time nearing some of us headed towards the bar. As I made it up the stairs I looked out the window to see Fitch hit the post. I was later told though it was offside. In the bar we discussed how the lacking of opposition seems to hurt us. We definitely seem to play better against teams that want to play football.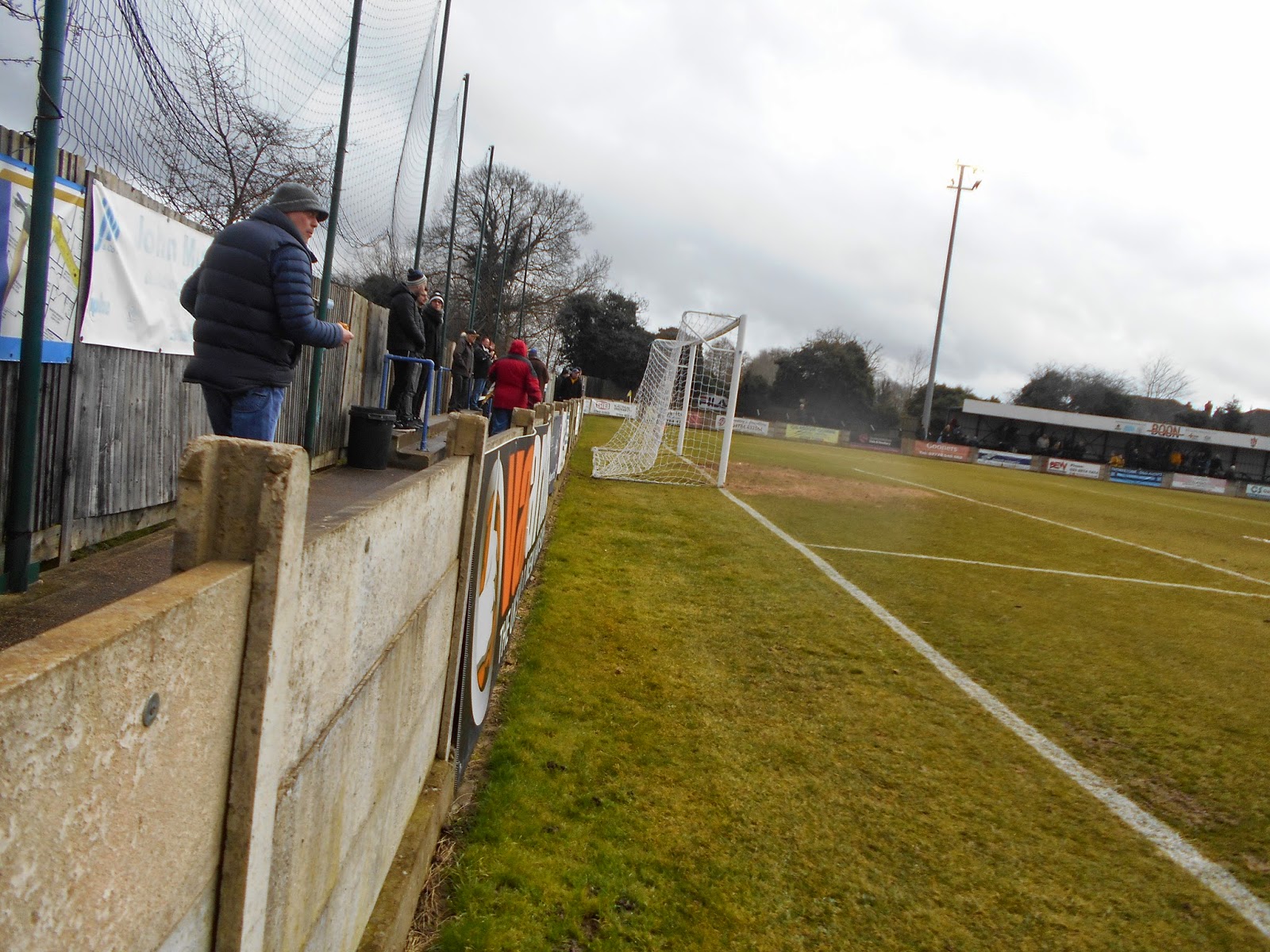 Oi! Gerrof the pitch!
Second half and I took root next to a couple of club officials for a while. It pays to keep your ears to the ground. I didn't even realise that the ref wasn't the ref and was in fact one of the linesman. We did seem to raise it in the second half and create enough chances to kill the game off. White, Dundo & Fitch all saw chances either saved by Turner or cleared off the line by a Staines defender. You can see how Bromley put six past them.
With time running out White the sub was himself subbed himself for Wellard. Still the Staines goal was not penetrated. I don't remember Staines really bothering Howe with anything that he couldn't take in his stride. Suddenly everything changed, Wellard took the ball down the right wing. Then with his now trademark cut in bedazzled two defenders and lashed the ball into the back of the net. 1-0!
As we celebrated the nearing victory, we saw that Wellard was limping. Ten minutes on the pitch, he'd scored and then injured himself. He was replaced with Wish and for the first time I can remember two subs had to be subbed due to injury. We saw out the game out and gladly took the three points, not a vintage Sutton performance out a win no the less.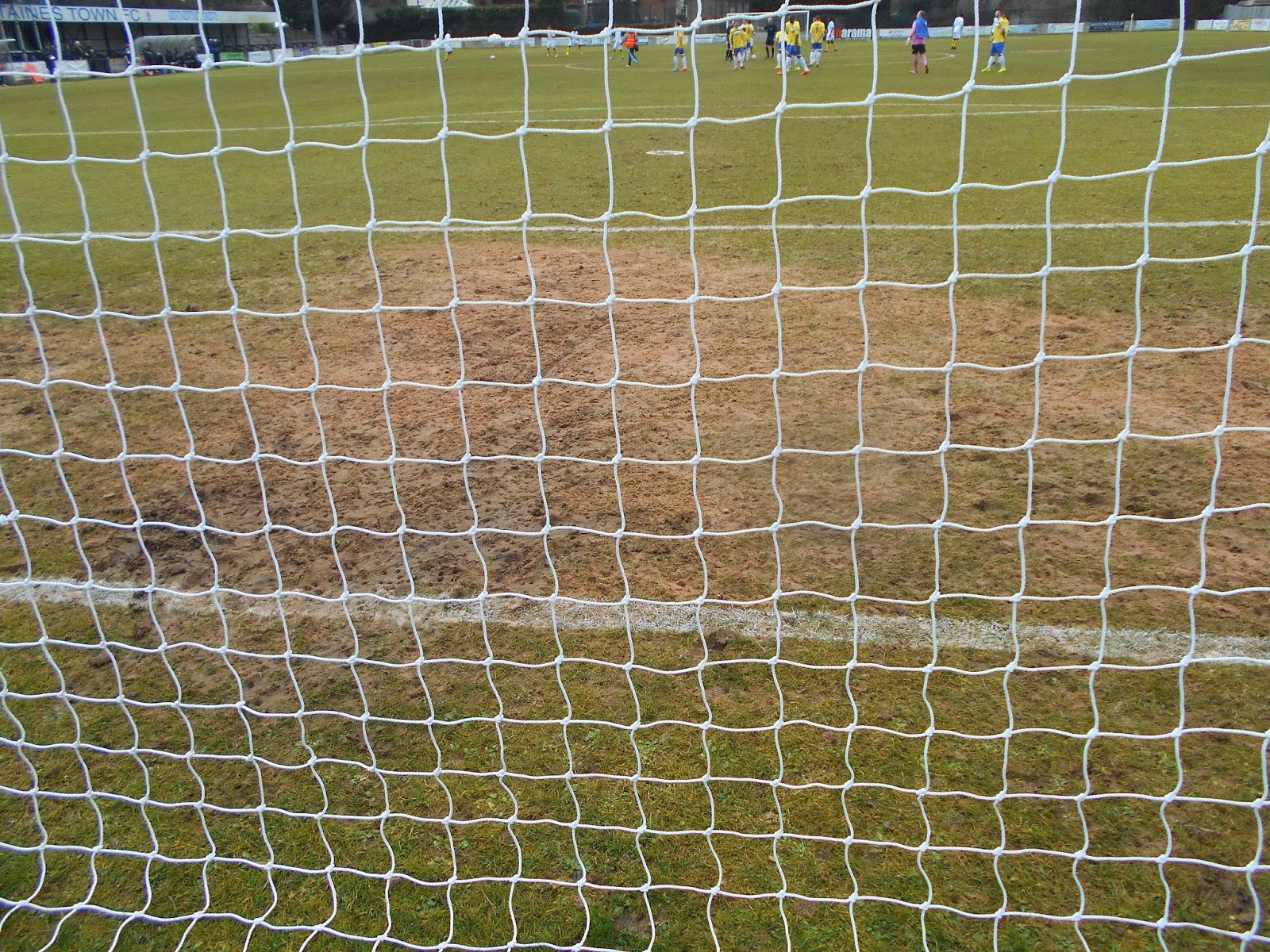 Pitch
After the game we all headed upstairs to discuss our victory. During this time I also displayed the rebellious nature of my phone wife, much to the amusement of the rest of the Firm. We also decided to book a sherbet back to the former Hobgoblin. For once it arrived on time and five minutes later we were supping more beer.
Someone actually found that they served one of my favourite little tipples, Jeremiah Weed, and accompanying jam jar glass. Not only that, but a lid and straw to boot. It wasn't long before we realised that this would be the last time we visited Staines for a while. On the strength of that we left and headed for the station.
For some reason we were convinced that the was a KFC on the high street. There wasn't and eventually Mr X ended up in a curry house buying about 36 onion bahjis that not only were dry but very greasy as well. We made Clapham in good time, and saying good bye to Connery & 4 Days we headed for the Junction for more booze.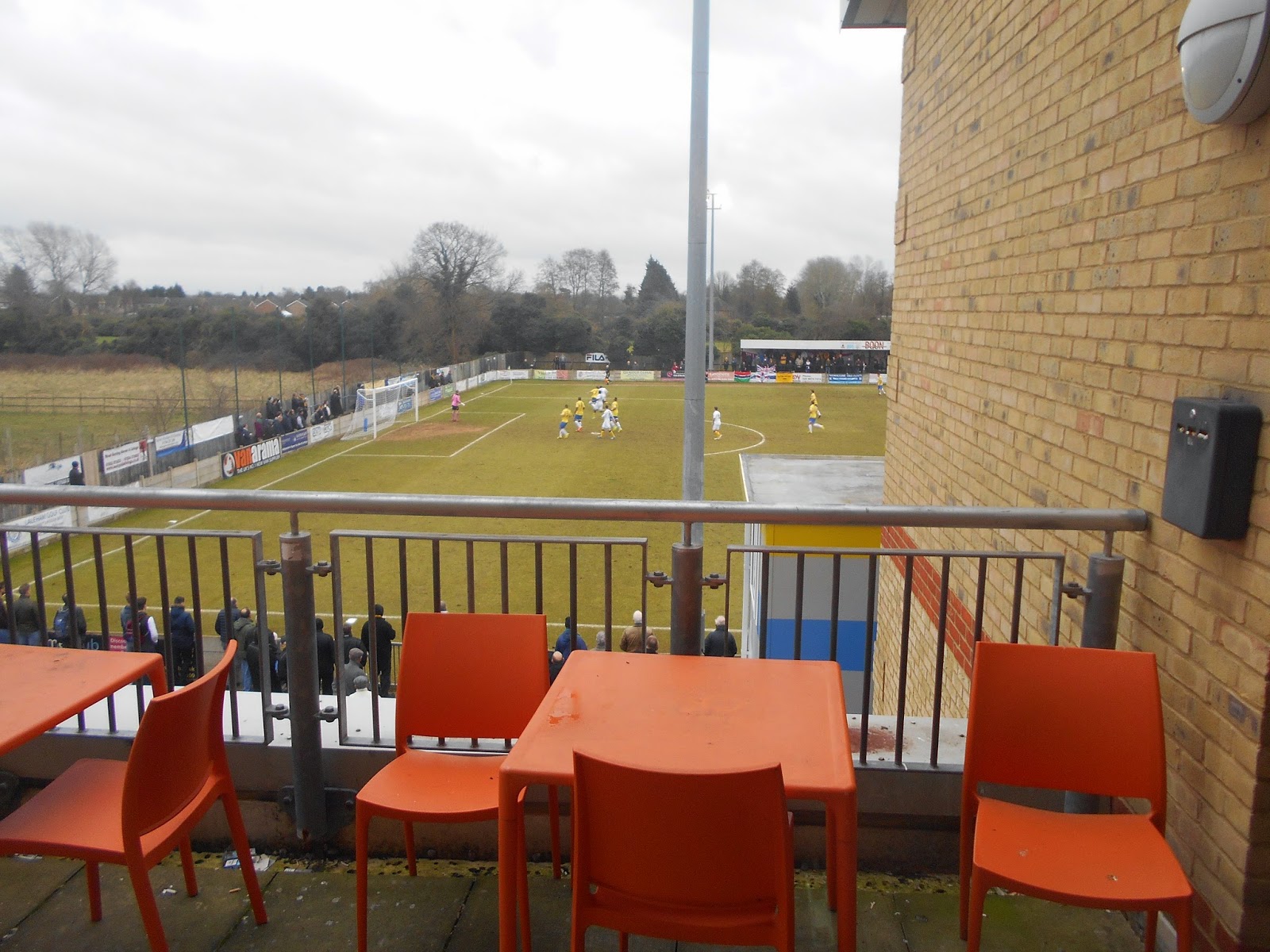 Fag balcony.
A couple of hours later we were in Sutton and headed for a kebab from near the station. Not one from a takeaway, but a little sit down job as it was in celebration of my forthcoming 27th birthday. I won't deny that it was a lovely meal, made better by Mr X failing to hold his glass of beer properly and dropping it all over the table.
The Old Bank was next, and our attentions begun to turn towards Bromley on Tuesday. Will we win or get bummed? Who knows, we'll just have to wait and see. O'Neill's was next on the ever expanding list, but after a quick one, finally we called it a night and headed for the cab rank. Me & Taz got a sherbet straight away and before I knew it I was home.
So that will do for our little day out away at Staines. Three points and mid-table mediocrity awaits us as we head towards a clash with the top team in the division. Questions obviously remain, Will we play like that? Will the HLF bother turning up? What does Floccinaucinihilipilification actually mean? No doubt some or all shall be revealed on Tuesday.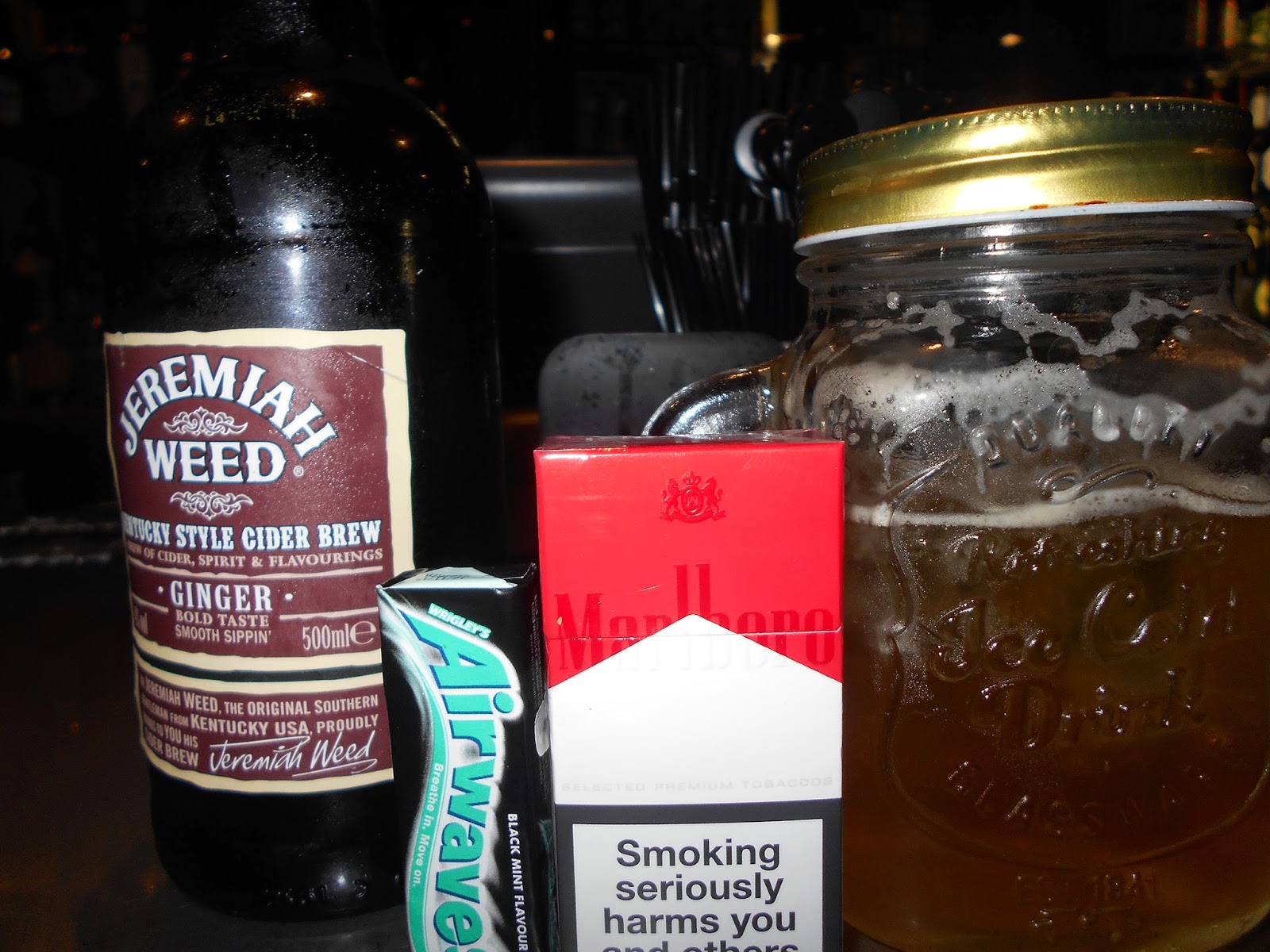 All the vitamins and minerals a pisshead non-league fan needs.
Duke
Att. 325