Isn't it funny how when the fixtures first come out that you look for the good aways, the shite midweeks and then pick out games that you imagine will play a huge part in that ultimately successful season you're definitely just about to have. You know, those big top of the table 6 pointers.
Tonight's was meant to be one of the latter for us. Hindsight eh? What a twat.
With Dukey today turning 27 for about the 5th or 6th time, it was only fair that we gave the birthday boy the night off reportage duties to enjoy the game with a few ciders. Well, ok, the few ciders if nowt else. So I'm afraid you're stuck with grumpy sweary ol' me for this one.
Oh shut your face.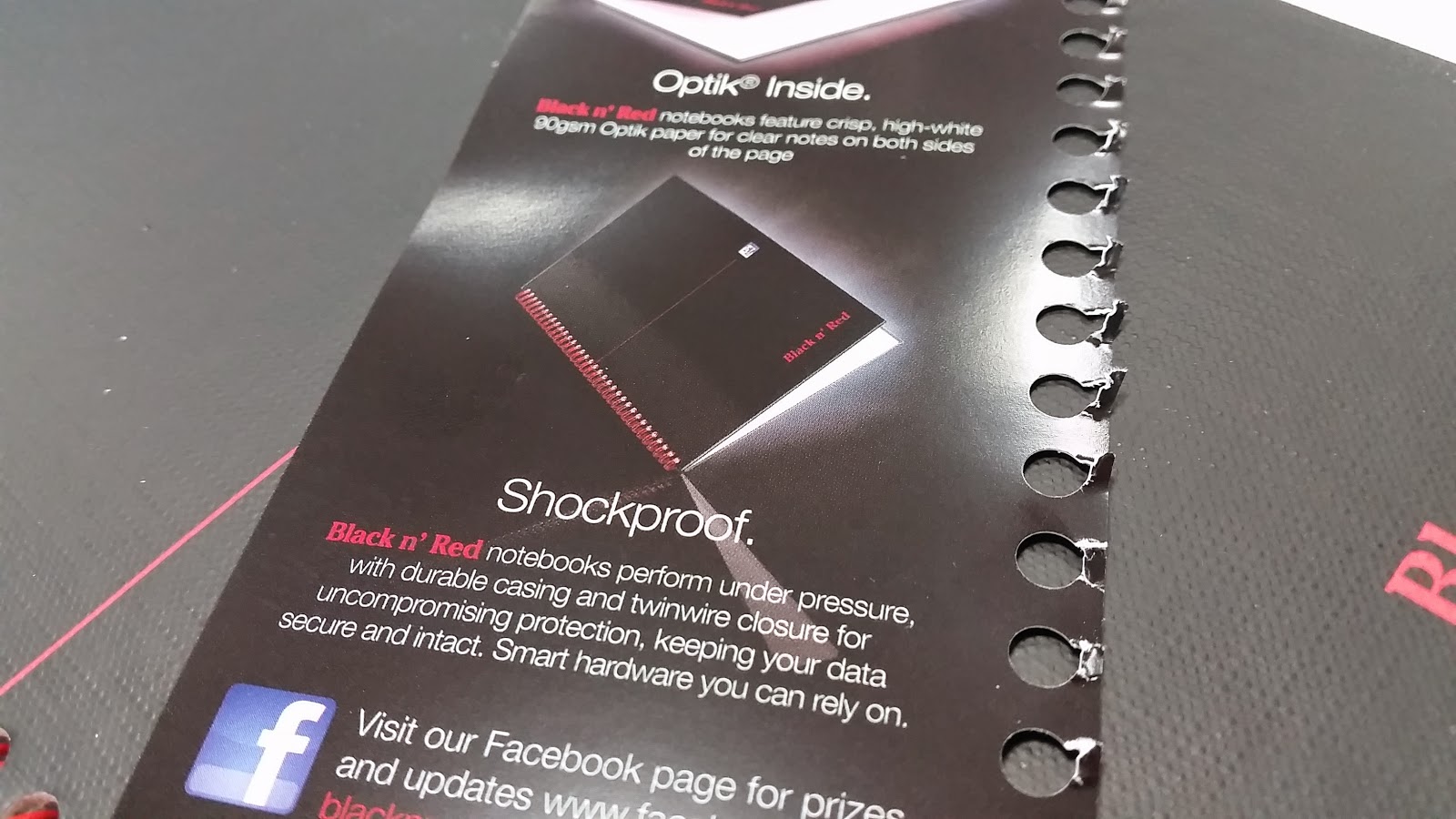 Very reassuring. Er, I think….
As I was saying, unlike when we got those fixtures in July this game doesn't quite carry the importance we'd have hoped it to have. Well, not for us anyway. We're aiming for 11th if we're lucky. For Bromley, it's just another game in their quest for promotion, as expected. The lucky bastards.
As is normally the case with a midweek fixture, a long dull day in the office precedes it. Although one of the few highlights is provided by my securing a brand new fresh ring bound notepad from the little cavern of wonder otherwise known as 'the stationery cupboard'. And not just any notepad, oh no. One where the manufacturers have decided that making a big deal of the high impact durability of their product should be a big selling point. Because fragile stationery is of course a big worry in this modern hurly burly world of ours and I for one will sleep sounder knowing I can drop my stack of bound, lined 90gsm paper and it won't shatter into a billion tiny pieces. With all that excitement, I understandably escape the clutches of my desk a little later than I'd have liked and a brisk stroll that borders horribly on a light jog is required from the office to Blackfriars to catch my train back to civilisation. I just make it and even manage to bag a seat to enjoy the trip South, whilst lightly perspiring at my unplanned exercise.
Despite some delays, I'm back into the badlands of Carshalton to pick up the car and provide the birthday boy with his transport to the game. I make sure my window is down and the cabin well aired when his Dukeyness boards mainly as his favoured cologne, a rather brutal Brut/Old Spice blend, is also the same thing third world police forces with a less ridgid adherence to human rights tend to use to disperse rioting crowds. With a quick cash stop out of the way, we're soon parked up at GGL and can begin the evening's festivities.
In the bar, the usual routine is soon underway, along with the added line of Dukey insisting to anyone who'll listen that he's really 27. I eventually break off from the normal bullshit to talk to an online contact of mine from Poland. Lukasz is a Widzew Lodz fan based in London and like myself has a liking for collecting weird Ultra fan stickers, he also likes to take in the odd game around London when he can and tonight it's our turn. Given the season we've had, I'd probably have put him off, but he comes bearing stickers for my collection. And I like stickers.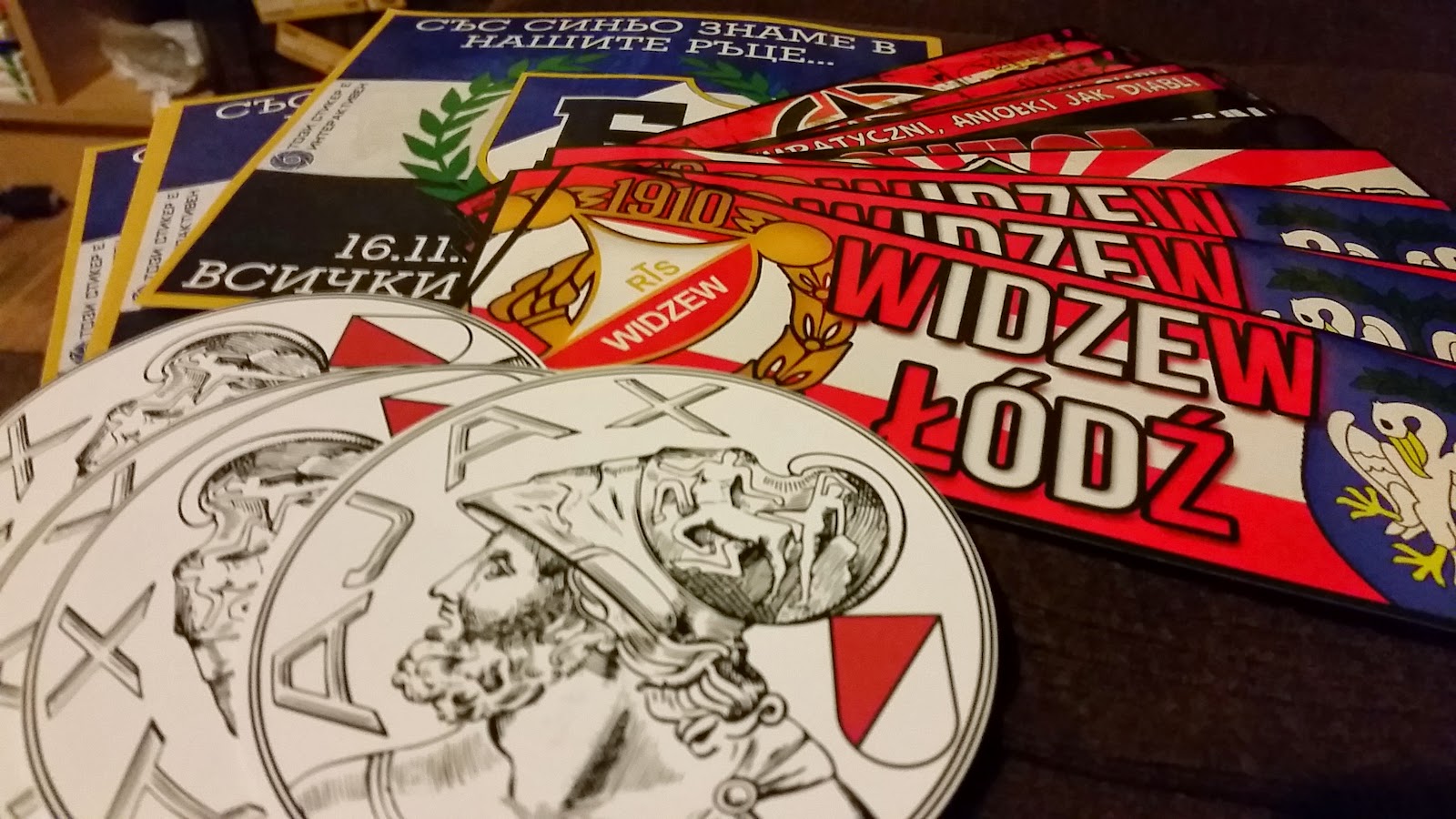 European football stickery goodness!
TEAM: Howe, Amankwaah, Binns, Spillane, Cooper, Collins, Wellard, Forbes, Dundas, Gomis, Fitchett. SUBS: Shaw, White, Hippolyte-Patrick, Hart, Serbonji
We pass the time before Kick off with a couple of pints (shandy for me of course, I'm not a total moron!) and talk exotic European Football weekenders, with him giving our Berlin plan for May his seal of approval having already done it himself. I reassure him that there'll be none of the atmosphere or Ultras tifo of the sort he likes to see here tonight. It doesn't seem to bother him. We emerge into the cold just to see the teams pick ends with the U's shooting towards the Rec end as is customary when gracing the turf here in the People's Republic of West Sutton.
Given the relative positions of the two teams, I think it's fair to say most of us aren't expecting much from tonight. And we're not the only ones, with the stand looking sparsely populated as the game gets underway and a clearly thinner than usual number at our end of the ground. Still, despite the form guide and the cold, the U's start brightly. It only takes a couple of minutes for a ball over the top gets Fitchett away from his man, but rather than advance further than the 18 yard box he sets himself for an early strike and Ex-U Alan Julian beats away the shot.
The early chance seems to fill us with confidence and for the first 20 minutes or so, it's one way traffic as a cross from the right just evades Gomis and Dundo in the middle and then Fitchett turning well to set up Gomis from the edge of the box forcing another save from Julian. So after half an hour, it's no real surprise when Fitchett, who's giving their defence a bit of a torrid time again holds up well, turns and lays a ball across the box that reaches Beds and he takes a touch before rifling into the roof of the net.
Sutton's control of the game continues as Spillane drops a header wide following a corner and we have a decent shout for a penalty when Fitchett again gets round their no.5 who makes a clumsy challenge in the box. But Mr Degnarain stays true to form and gives fuck all other than an overly theatrical signal to indicate 'no foul'. No surprise really considering it takes the twat 43 minutes to award us our first free-kick in the game and he books Gomis for diving early doors when he's clearly tripped. We also mainly entertain ourselves during the half with some good natured 'bantz' with our former 'keeper, this despite the fact he's been acting a bit of a dick since pretty much kick off.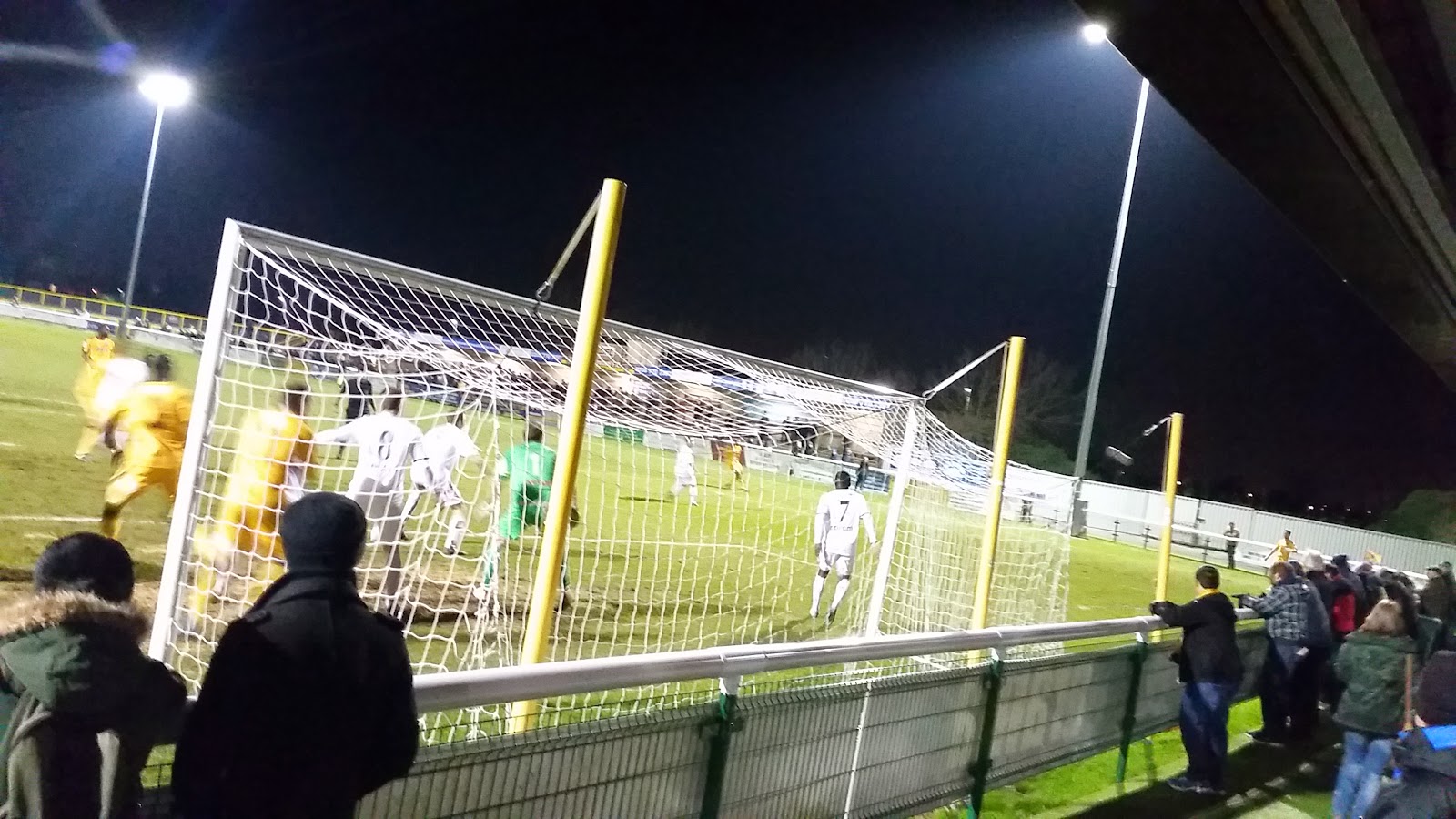 Gerrit in the mixer!
Bromley eventually remind us that they indeed have turned up when a quickly taken free-kick puts their man in, but his shot from the angle is well beaten away by Howe. And that's it from them in the half. Probably the best chance in the remainder of the first period falls to Wellard as another ball into the right hand channel puts him in behind the defence and with Julian in no mans land all he has to do is lift the ball over him and it's surely be a goal. Instead Ricky manages to shank the effort miles wide. I decide to forgoe my usual half time pie and cuppa on the basis that it's fucking freezing out here and I can no longer feel my feet and head inside to regain some circulatory function. Lukasz too seems grateful for the adjournment into the warmth, but his efforts for a half time pint are frustrated by the crowds at the bar. Unlucky chief! Still, second half is the exciting one. You get to stand on the Shoebox!
Bromley make a change at the break to try & inject some life into them, but despite a less than convincing start after whistle from Sutton, they find that whilst they're having plenty of the ball in our half they're still creating the exact sum of sod all. And on a rare break, a lovely backheel from Beds sets the new man Forbes on a gallop into the Bromley half. He displays a rather pleasing turn of pace and his low shot across goal brings a fingertip save from Julian. Had he got anymore on it, then Dundo arriving at the back post would surely have gobbled up the chance for 2-0. It's admittedly a rare foray for us as the visitors start to make their possession count and they have a pen shout turned down when the ball breaks loose to Goldberg after a superb saving tackle by Spillane. But the ref decides that Collins use of strength to get the ball back is legal and waves away the shouts. Over on the Shoebox, we chuckle nervously.
Then again, why would they want it anyway? A penalty would be far too sensible and simple a way to lose the lead. This is Sutton United 2014/2015 vintage after all and we don't fuck up unless it's so bad it would make even the baby Jesus puff out his cheeks and make a hand gesture most commonly associated with an instant coffee ad from the 1980's.
And lo. So it came to pass.
A rubbish cross from the left goes high into the air and drops right down under Howe's crossbar. No problem, the U's so far dependable stopper is there and it's a simple catch. We said "IT'S A SIMPLE CATCH". Oh never mind. Instead, Aaron flaps at it, it hits him on the head and then bounces off the nut of the lurking ex-Sutton man Jamie Slabber and loops into the net. Even by our incredible standards it's an absolute pearler. No doubt at the other end Mr Julian has a brief chuckle to himseld before remembering the utter twat he let in at Hereford. And if he doesn't we'll be only too happy to remind him.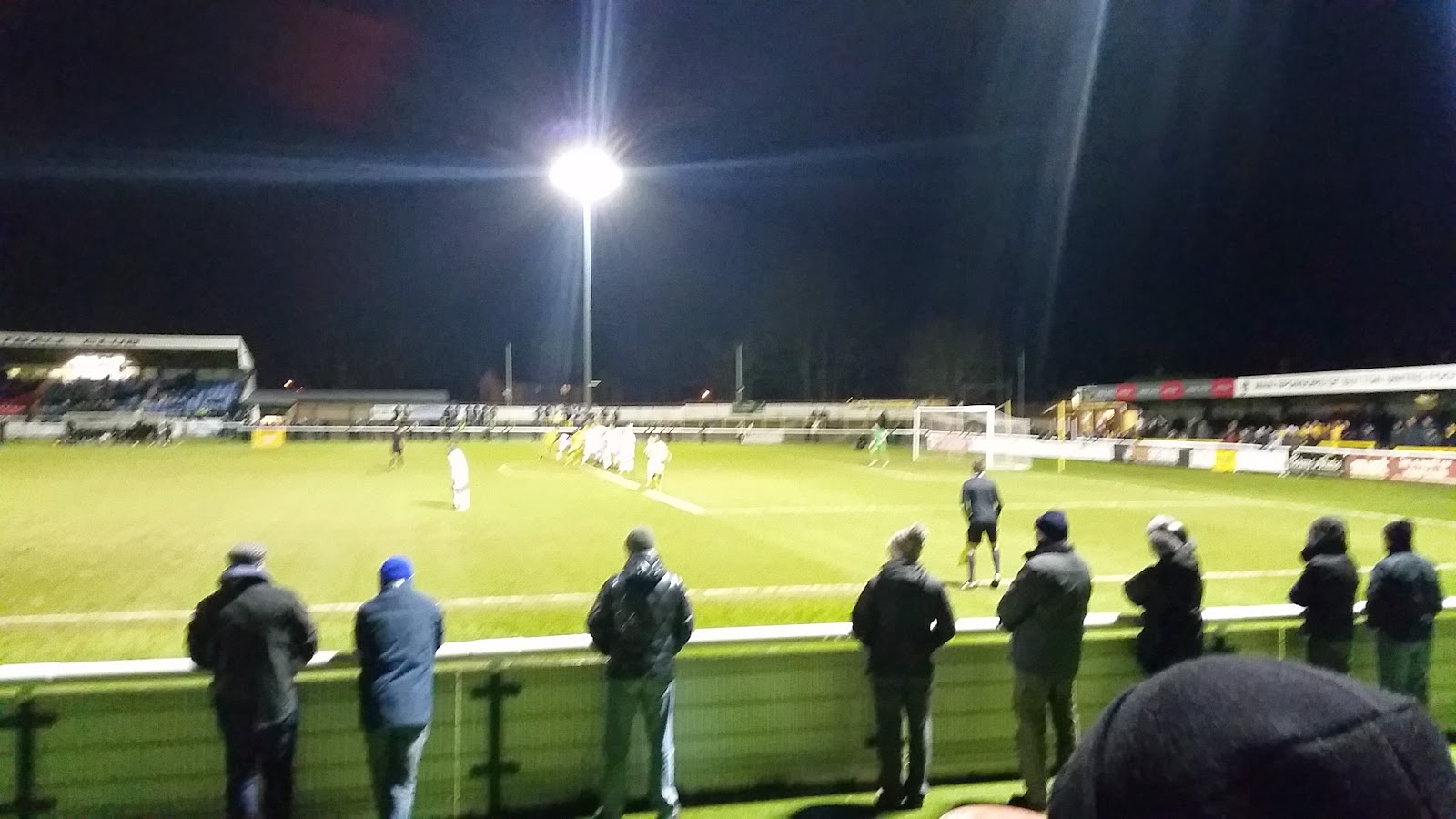 Evidence of our 1 free-kick in oppo territory. Cheers ref.
Still, we seemingly recover and go up the other end to retake the lead. Or we would if Dan Fitchett hits the target from 12 yards. His pass having put in Dundo who beats Julian with his shot but a defender hacks it desperately off the line to him. From here, we seem to lose our way and it's generally one way traffic now. We really should be behind when Collins misreads a long ball and lets in Goldberg, but his super first time snap shot from the edge of the box loops over Howe and crashes off the crossbar.
Still, with time running out, there's still the hope we'll cling on for a point which is the least we deserve overall. Oh, what's that? "Don't we normally let one in with a couple of minutes left"?? By jove, I believe you're right! Couple of minutes left, corner from the right dips into the box, everyone in a yellow shirt stands and watches as it whacks Slabber in the cock and flies into the goal.To be honest, we'd say it was the perfect metaphor for our season, but if there's one thing we've got fucking loads of it's perfect poxy metaphors for our season. In fact, we probably have one of Europe's finest collections of metaphors for a calamity ridden season of football.
Before the final whistle goes, there's still time for Mr Julian to really piss off his former supporters good & proper by embarrassingly collapsing to the turf when claiming a late cross. He spends a couple of minutes acting like he's been hit by a bus before suddenly getting up to take the goal kick when even the preening Degnarain pops over to tell him to stop being an utter weapon so we can get this thing finished. We shrug at the result, do our post match duties and head for the warmth of the bar once more for a well needed drink and to count the days until Berlin (66). Oh and to await the start of the DosBruce Q&A and 'Big Announcements' session of course!
Proceedings eventually get under way and after some confusion as to why we've got Norman Collier's stage prop instead of a proper microphone the big news is revealed. Sort of. Mainly as we here at Gandermonium already knew what two were and we'd basically guessed the third! First up is the Academy announcement and it's nice to see Marvin back about the place now he'll be running that side of things. Secondly, as we'd suspected we're putting in a planning application for a dogs bollocks 2 Star FIFA rated 3G pitch as used by such clubs as Kilmarnock. So it's perfect for our standard. You know, because Scottish football is rubbish! Geddit? Oh never mind.
Finally, there's the properly cheap season tickets. 1000 are up for grabs starting at £99 for adults. Which is a bargain to be honest and means we'll be putting an extra circa 70 notes over the bar starting sometime in July. Well, what else are we going to do with that sort of extra cash sloshing around in our bank accounts eh? The 3G announcement is tinged with a little sadness amongst us old bastards, as it means that cold winter nights like tonight on a soft old GGL turf and filthy muddy kits will be a thing of the past. However, even rabid cynics like us can see it's common sense. The postponement of the original Bromley date would have probably have attracted twice the sub-600 attendance of tonight had there been an artificial surface to use and a useable pitch 12/7 means the yoofs and ressies are back in house along with the Juniors getting to use a home ground most haven't had much connection to up until now. Mr X also informs me after that this will save the Juniors setup a small fortune in fees for training facilities alone.
Things. Being said.
It's the season tickets though that could be a real winner. We really need something Sutton United shaped to beat the disinterested denziens of the London Borough around the heads with and make them realise we exist. And a season ticket which means games at less than a fiver a pop is perfect. We'll naturally be at the front of the queue for one and hopefully it'll mean a good few more people in GGL come next season. Christ knows we need it.
Luksaz ducks out before the end and heads for his last train home, seemingly having enjoyed his first foray into the hurly burly world of Conference South football and afterwards I unsurprisingly end up transporting 4 Days and the birthday boy back to their respective abodes before arriving back at HQ to find Mrs Taz is already tucked up in bed snoring her box off.
Ah, midweek football. Can't beat it.