It was only meant to be a simple trip to Essex. Get in, get out and be home for tea. But, like most Gandermonium trips, it didn't quite go as planned. You all know what we can be like and the things that we get up to but on this trip we took it to another level. So lets start this tale from the message I received informing that I, the Duke, was going to be in charge.
Our very own sitzpinkler was not going to be in attendance as he was up in Nottingham seeing his better half. That left Mr X in charge. He then announced that he was too busy to organise anything and that I would have to do it. I haven't done any away days organisation ever, so what the fuck was I to do? Well, first things first I consulted our very own blog for some inspiration.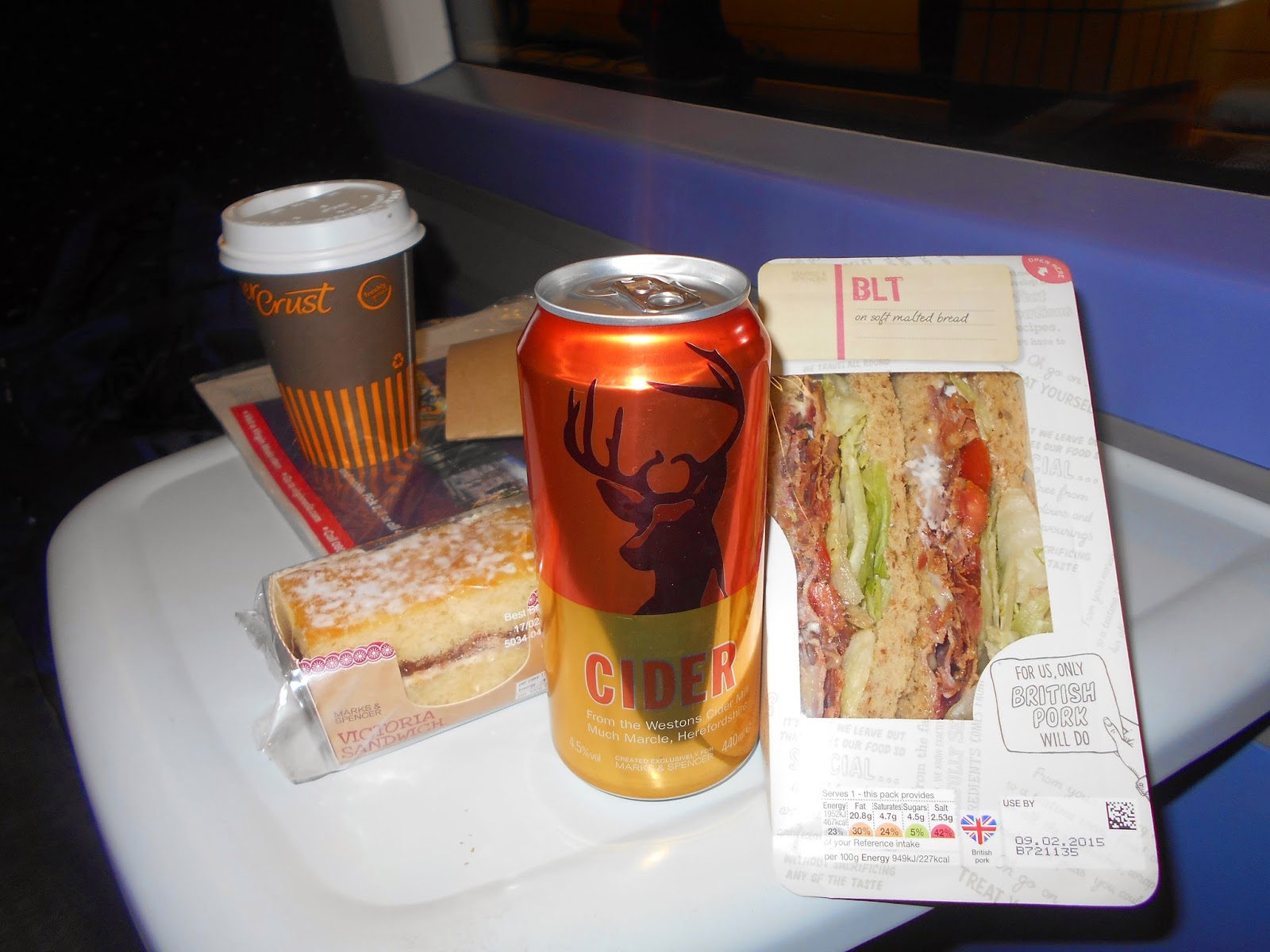 All a non league fan needs on an awayday.
Looking at our last trip to the Island I realised that we only went to 'Spoons at Tower Hill before getting the train to Benfleet. Well that would do for me and everybody else. The plan was to get the 1008hrs from Sutton to London Bridge via Tulse Hill. For some reason, that I still can't work out, I decided to get the 0945hrs to Sutton. Why? The fuckin' train was due to go through Carshalton!
Wardy was to say this as I met him on the platform. Sean & Indy arrived from Cheam before 4 Days rocked down the steps. This left only Mr X, who was getting the train from West Sutton. This seemed to go well from here as we got the train from Tulse Hill up to town. There was a touch of rain as we walked the last bit north of the river.
Arriving at Tower 'Spoons without incident we were met by Mr & Mrs Burgers who were moments behind us. So there was going to be the eight of us heading east. Burgers pointed out that a former public toilets next door was now a KFC. Wow! I thought Chicken Cottage would be more appropriate name.
Cutting edge Essex advertising
Also in the pub were a group of Hammers that mistook us for Watford supporters and also a solitary Enfield Town fan who was heading to Grays. Some of us needed to get tickets to Benfleet and I was designated with the responsibility of doing this. Finishing our third pint we headed off to Fenchurch Street passing the cannon that we always think about 'borrowing' despite knowing full well its way too heavy to carry.
Passing the ISIS Bar (surprised that it is still called that to be honest. Bet their beer selection is shit as well) where a heavy birthday session started a couple of years ago, we saw that the usual entrance was closed to the platform. The only option was to go around the other side. Unfortunately, no one had ever done this and we managed to get lost. On the plus side we found some other boozers that might be of use later.
Tickets finally bought and suitable refreshment acquired, we jumped onto the train. Wardy as ever surprised me with a slice of cake to go with my cider. With seating a premium we had to spread out amongst other people. Next to Wardy was a little four year old boy who was more mature than some of the Firm members.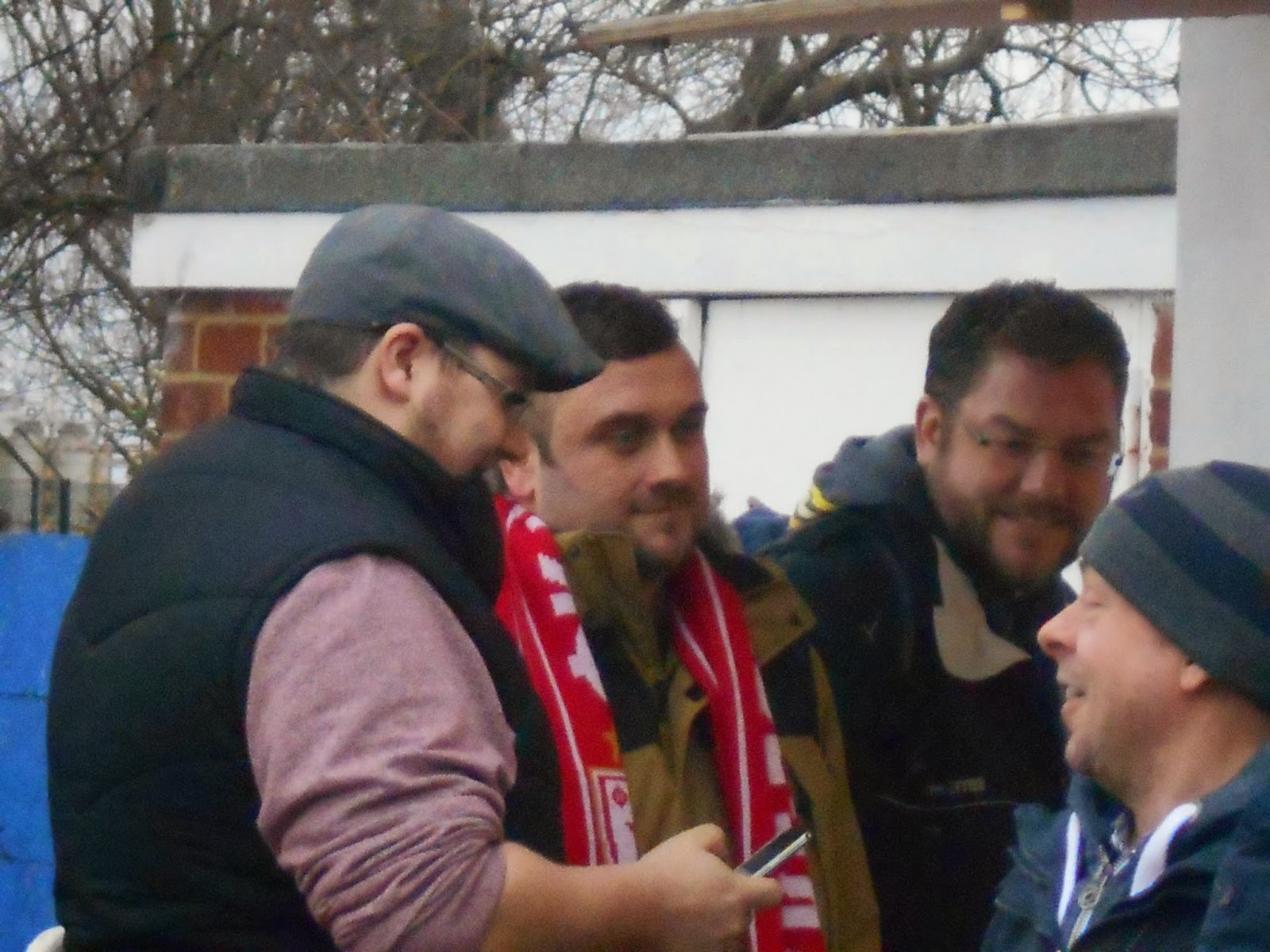 Dodgy looking sorts. Well, we are in Essex!
He asked where we came from and after someone said "Sutton, South London" I quickly followed this with "A place of Culture". This followed with the little fella bellowing out in laughter at such a remark. A four year old boy was nearly wetting himself at such a statement. He then told me to get off the train! Cheeky bugger.
We arrived at Benfleet and jumped in the biggest Sherbet we could find. As we crossed onto the island and headed towards the ground we actually passed the only pub that I can remember. Well I say pub but in fact it was all boarded up and looked derelict. Still we made to the ground in good time. Where wardy once again managed to get in as a senior citizen. We even managed to get in a sneaky drink before the game stated.
There was also a surprise waiting for us, as before us was only fuckin' Juan! I personally couldn't believe that he had made the trip. Like I said to him I thought his car wouldn't go that far. It turns out that he got a lift instead. One day he might actually do a blog again. Saying that, there is probably more chance of us ever seeing a goal at the Aspect Arena.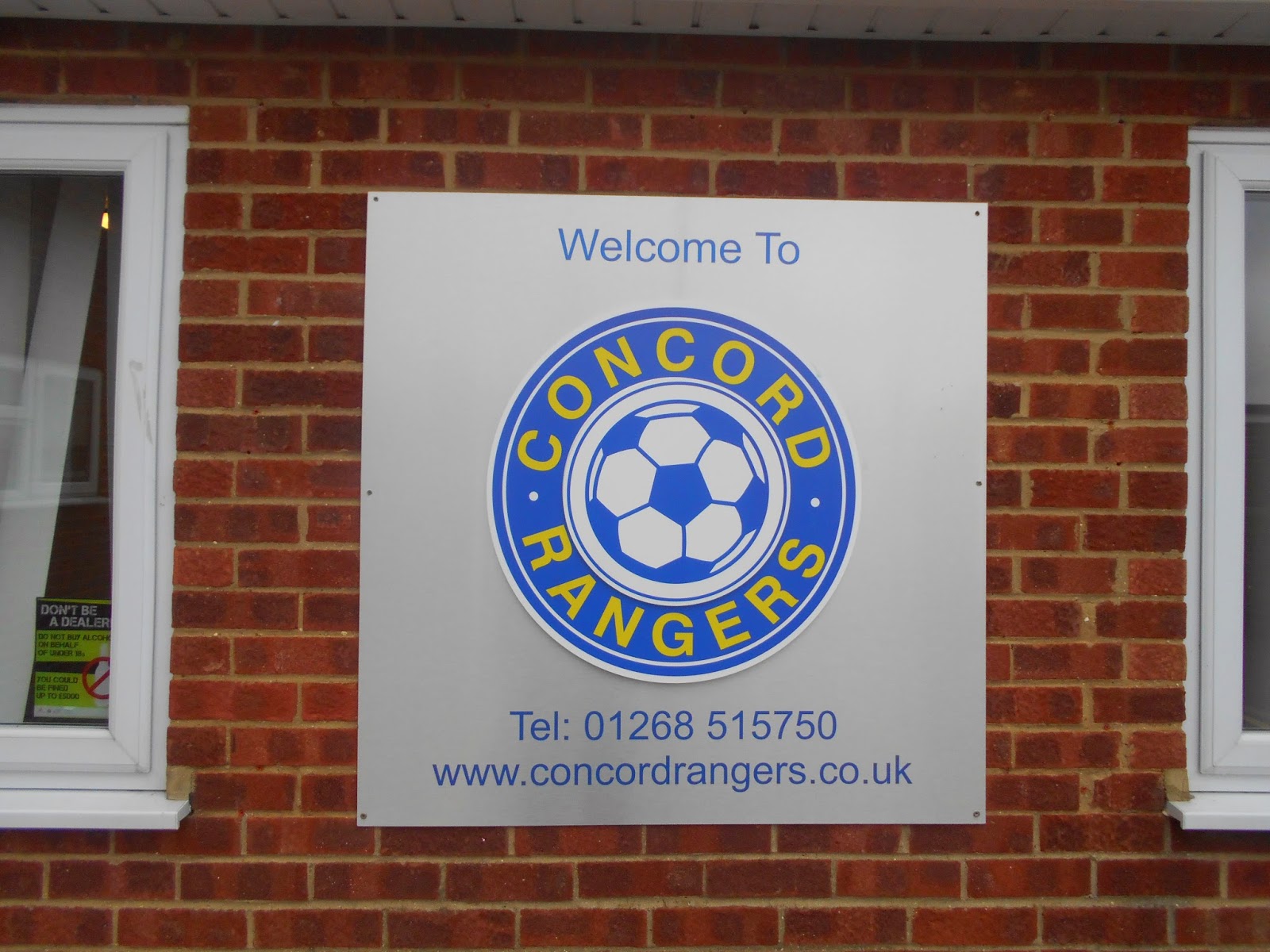 We are here….
Howe, Wishart, Binns, Spillane, Cooper, Collins, Wellard, Southam, Dundas, Gomis, Fitchett. Bench warmers: Shaw, Scannell, Hippolyte-Patrick, White, John.
Taking up a space at one end of the ground we awaited the contest. Well I say contest, it wasn't really. To be really honest I had nearly forgotten how fuckin' boring it was already. The pitch wasn't the best in the world and both teams failed to put on any pressure on the goals. With both previous games at the Aspect ending nil nil it looked like this might too.
There was only one proper chance in the whole first half that I can remember from both teams. A needlessly given away free kick outside the box was nearly our undoing. Luck for us the resulting kick came of the post and back out. The other incident was when Cooper took one for the team as Concord broke & he did the deed, earning a yellow.
After getting a half time round in, we moved to the other end of the ground. Somehow in this strange island micro climate, that half of the ground was a couple of degrees colder than the other. The second half started like the first half with nothing of real note. This all changed when Fitch appeared to be brought down in the box. For some reason the ref gave a corner, even though the Concord player didn't touch the ball.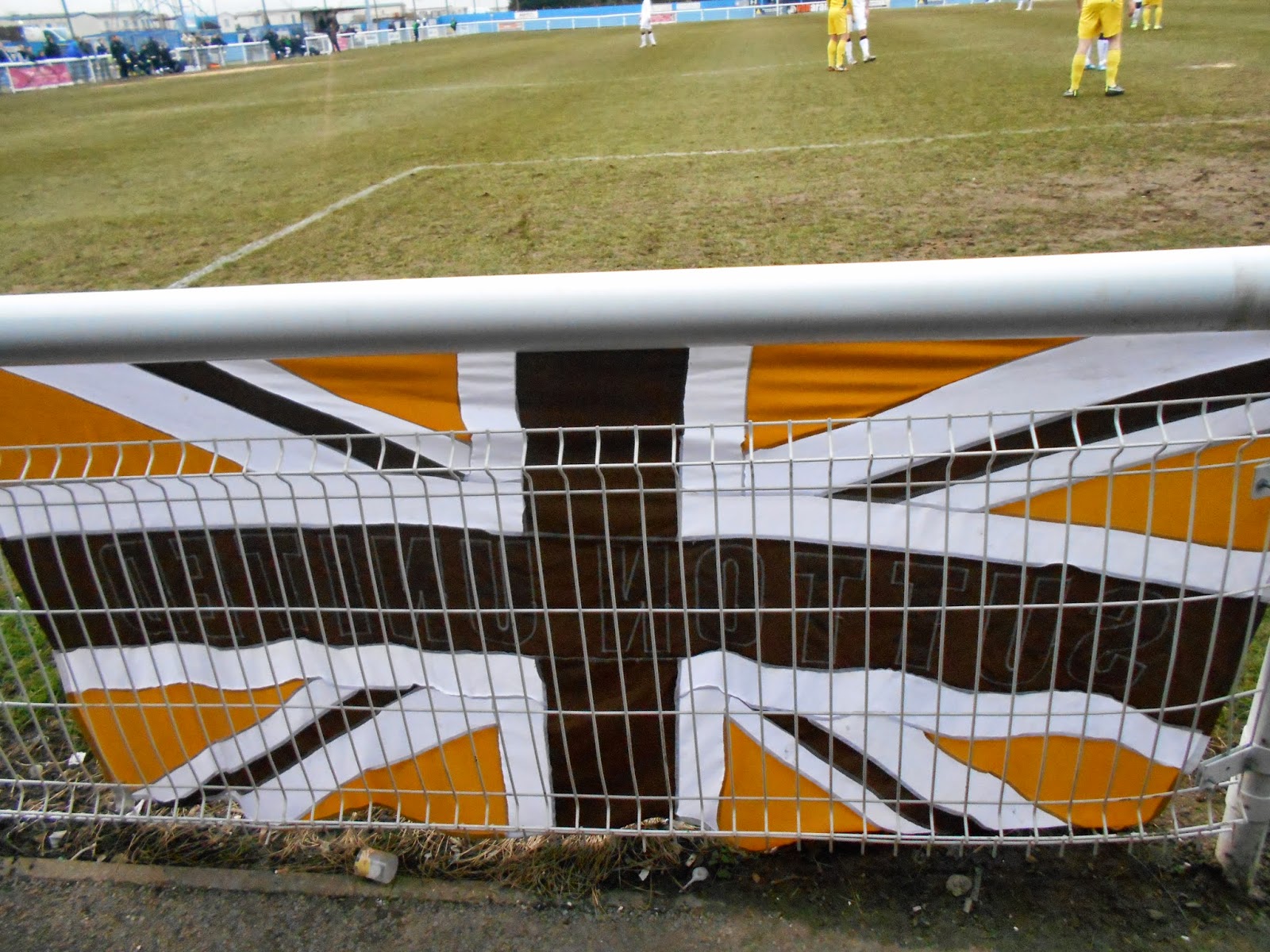 A flag's arse.
Around the seventy minute mark Our Lord Dos changed it up. Scans & White were brought on for Wish and Gomis. Our best chance of the match came from White who saw his shot saved by the diving efforts of the keeper. It was one for the cameras really. Shaq then also came on for Wellard with fifteen minutes left.
Now we come to main incident. In the centre of the park the legend that is Dundo nearly collided with a Concord player. The Cowley bench screamed at this like they did for every single thing. The ball was punted down towards the Concord goal and then headed out for a Sutton throw in near the corner flag.
Suddenly the linesman on the far side begun to wave like a man possessed. The ref ran over to him discuss what was happening. Then he calls over Southam as he is our captain. BAAM! Red card is shown and Southam begun to walk off. For the life of me I couldn't see what happened. I had to make a trip to the Sutton bench to try & find out what the deal was.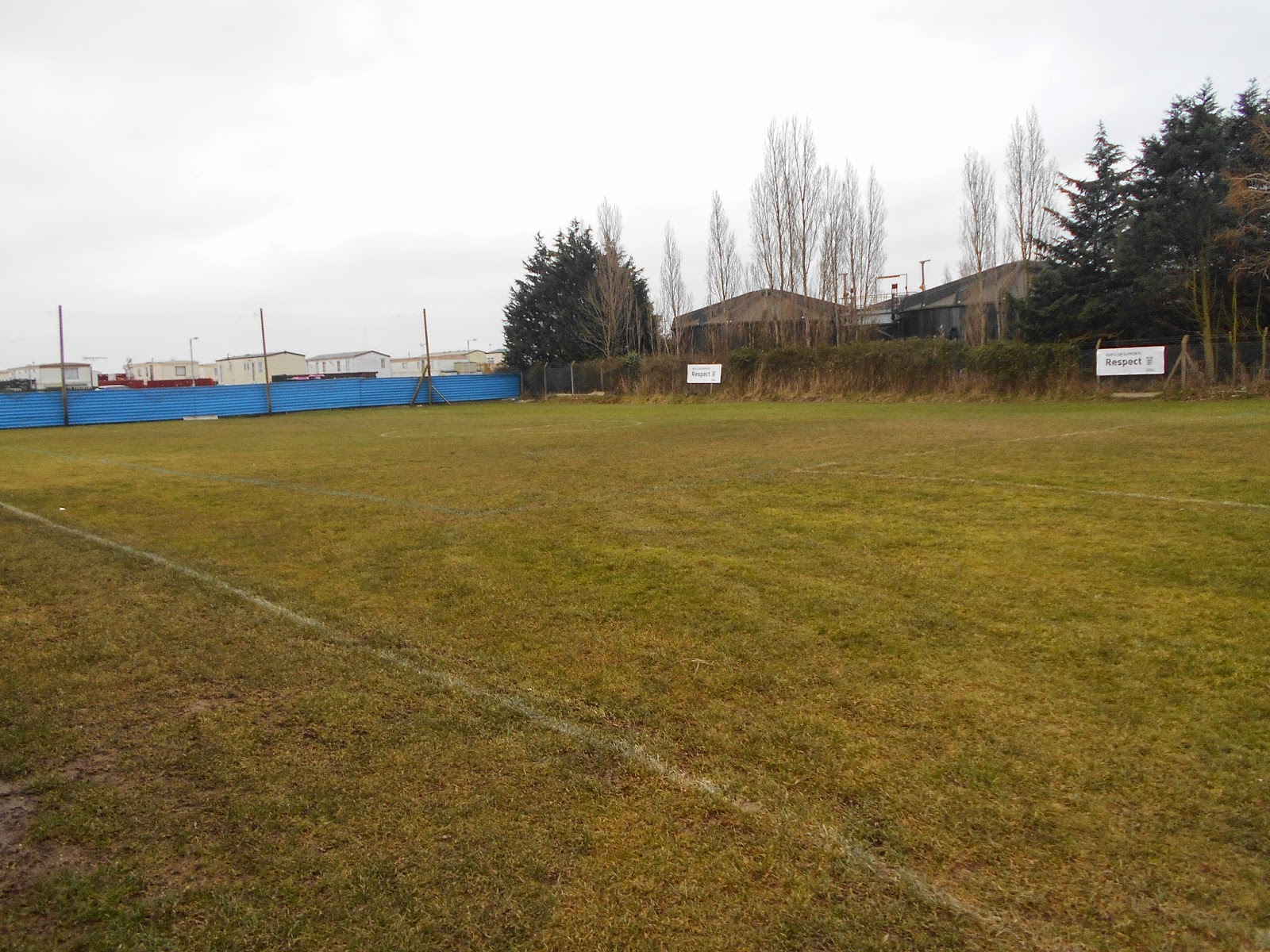 We don't think it's that 3G stuff…
Of course, the game ended 0-0 and that was that. To be honest neither team looked like scoring and a point away from home is better than a kick in the teeth. We managed to phone ahead for a cab and it arrived before we even got out of the ground. The plan was to head to Benfleet and back to civilisation. Although my earlier idea of a possible stop off in Bas Vegas on the way was dismissed.
After getting to Benfleet some of the Firm wandered off to get some juice for the journey. Wardy ended up in the local Chinese ordering up some grub. Mr X returned with some booze and informed us that there were a couple of pubs that we didn't realise were even there. On the train we ate the food and drunk the beer before we hit Fenchurch Street.
Wardy wanted to watch the second half of the Scouse derby so we headed to the nearest boozer. Saying goodbye to the Burgers we arrived at "The Windsor" and begun to sit through another boring nil fucking nil draw. Mr X would later claim that he won a ton fifty but these rumours were never proven true and he never got a round in, so….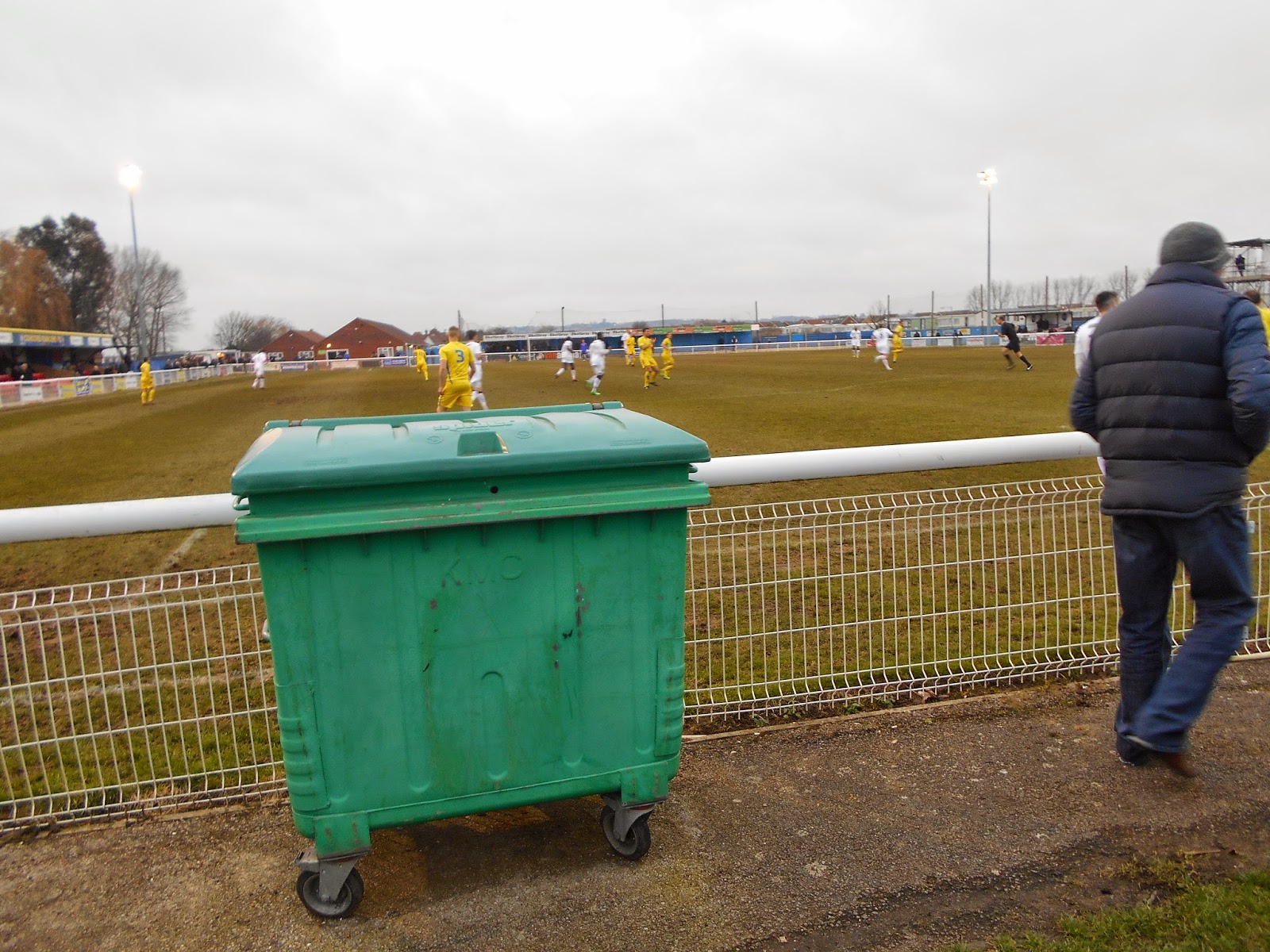 Insert obvious Canvey 'caravan' joke here….
After the game on the box we decided to delay hitting home & going to another boozer instead. Mr X remembered another one we had passed on the way through in morning and after some searching we came across "The Angel", a little boozer no bigger than a large living room. There were two groups in there, us and a group of Arsenal fans that were infatuated with the very idea of us being Sutton fans.
The landlord even gave us some peanuts and cheesy bites as well. There also happened to be a juke box in the corner so of course we played some of the Firm classics. Several beers later we decided to head home and said our goodbyes. The walk back to the station was filled with decisions of what we were going to do, Sutton or south of the river?
Well we done neither as we stumbled into the German bar underneath Fenchurch Street Station. Called Katzenjammer this place is a proper Kraut style place with litre glasses and birds dressed up as Fräuleins. We only had two drinks each in this place. But then again that equated four pints! This is where things start to get a little hazy.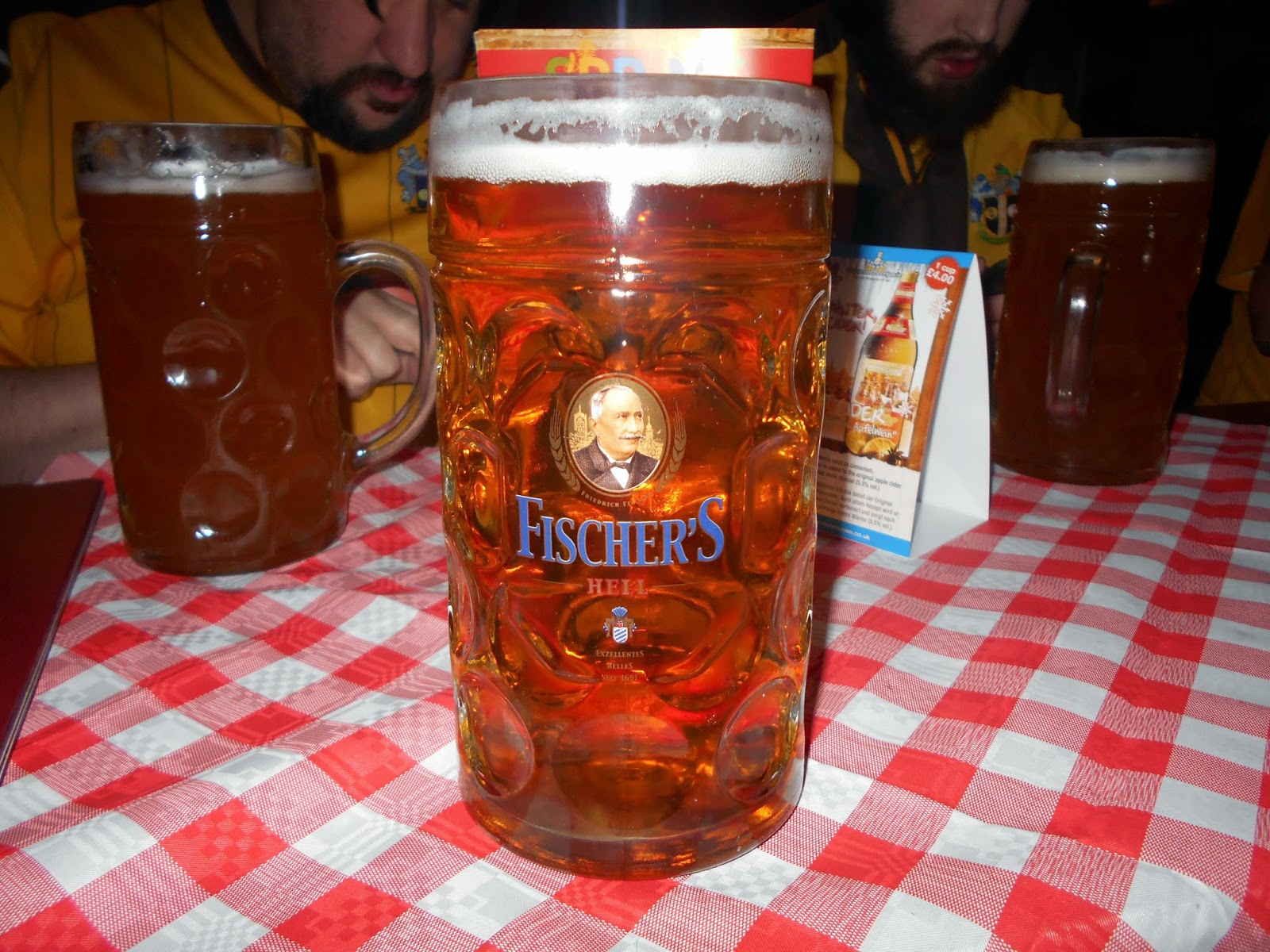 Now THAT'S a beer!
I do remember Wardy starting a conga line through the basement and then someone getting the whole bar to sing "We're the Sutton United" to the White Stripes tune, which was something epic! Many photos were taken and even a video was produced as we attempted to show the punters what a Sutton fan was like on the dance floor.
Eventually, on the way home someone decided that they would stack it as we went down the stairs at Tower Bridge. They were nearly in tears as they claimed that their hand was broken. Still this didn't stop them from hitting me over the back of the head with it. Needless to say with all the silliness, we missed our last train home. The only option left was to head for East Croydon and get a Sherbet home.
I jumped in with 4 Days and the other four went in another. Before I knew it I was home trying to stumble up the stairs. If this is what we're like after a boring fucking draw, what about a victory? Weston next week, apparently it's 'bring a bird for free' day.
Some of us are thinking of bringing live chickens.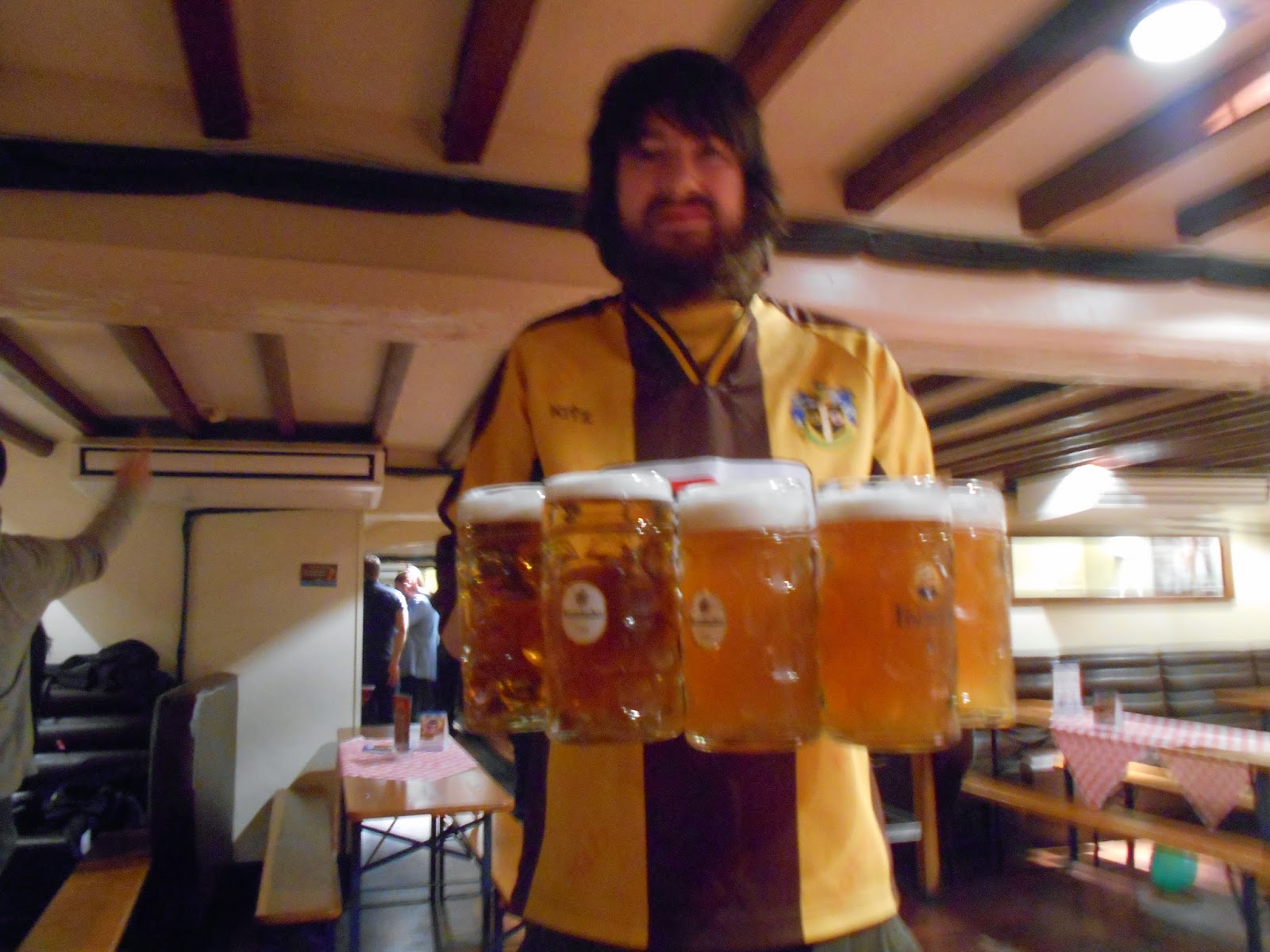 Barman shows off.
Duke
Att. 306