There are far too many games in such a short space of time for me to keep up with all this shit. Yes, I know I wrote last time that Taz was going to take our 200th Blog but now you are lumbered with me. Unfortunately, he either is now apparently serving a one home match ban if you've spoken to our Firm Leader or possibly has a touch of the old two bob bits. (It's flu you fuckwit – Taz)
New Years Day football has never really been my cup of tea. I don't know if it's because of the weather or the copious amounts of alcohol the night before, but I'm never very happy on this day. I've always preferred the Isthmian League way of having the derby split between Boxing Day and Easter Monday. Still beggars can't be choosers.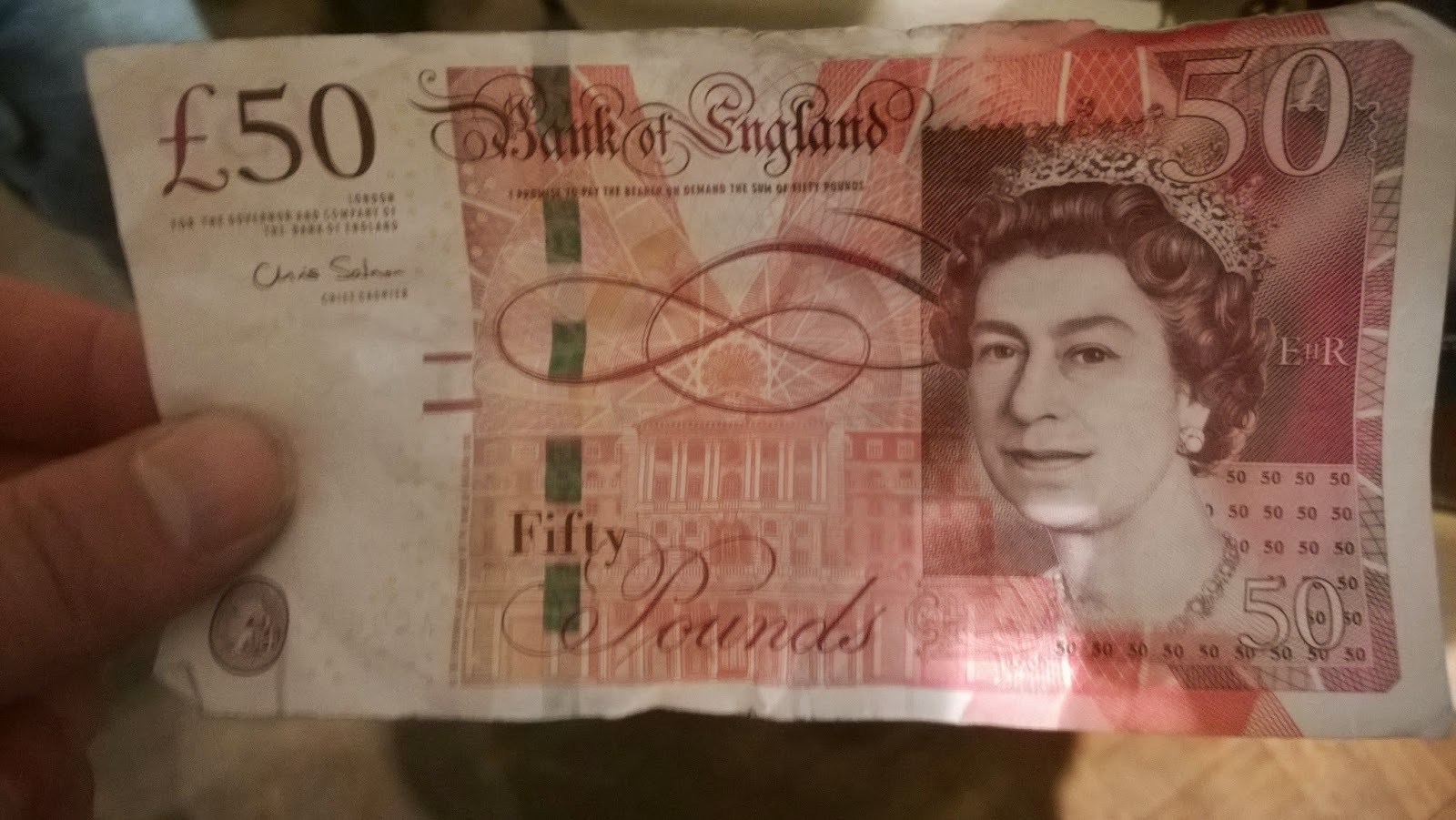 LOADSAMONEY!!!
Waking up at stupid o'clock on the only day off in the week wasn't the best idea I've ever had. Especially when I begin to watch my collection of "A Touch of Frost" DVDs. I eventually was able to drag myself away from this vegetative state and get ready before the text from the Firm Leader informs me that he is also getting the usual one o'clock train.
With time to spare I head to the local cafe, the usual cup of tea and a breakfast baguette (loads of pepper) was ordered. I manage to not get any egg down my top as I walked & ate towards the station. Winning at life I call that. The Firm Leader is at the station and quickly produces a bag of sweets. Not just any sweets, but retro sweets. The type of sweets that Jimmy Saville would have about his person, Flying Saucers,bubble gum & candy necklace.
My drink has already been ordered in advance so by the time we get to the club it is waiting for me. Most of the conversation was about a certain issue that has arisen on the Forum. Apparently, a vocal minority disagree with the adult language that occurs from time to time in a natural environment. I personally ignore such things when written as best as any man could.
Shut. Sorry!
As always it gets a little confusing trying to follow what the issue was. Some of them felt that one particular word, the old favourite "Cunt" was not very helpful. Others thought the conversation was about abuse in general (even slavery was mentioned) and there was even a suggestion that those that did it, were not really Sutton supporters and we were degrading the club instead. Charming!
There was much debate amongst the Firm members present if a substitute word or phrase could be used towards the ref. I did like someone's suggestion of screaming "Kiddie Fiddler" every time the ref got a decision wrong, but we decided that probably wouldn't go down too well with the middle classes.
Lovelock, Osborne, Hart, Spillane, Cooper, Southam, Gomis, Evans, Wishart, Clough, Medlock. Benchwarmers: Julian, Hippolyte-Patrick, Sessegnon, Wellard, Dundas.
Keeping with Clough up front, Sutton started a little brighter than we did against Stale Buns. Wishart appears to keep getting better with more game time down the left wing. The actual game was very scrappy with both teams failing to create any golden chances to start with. I think Sutton's best chance was a free-kick from Wishart that took the usual deflection and was saved by North in the Wealdstone goal. Even the follow up shot by Clough was stopped by the boat of North.
Another chance we had was an over the top ball that Clough got onto just at the by line. Unfortunately, for some reason Medlock decided to head to the back post instead of being in front of the keeper. Callum once again done his shoulder midway through the half and had to be replaced by second time debutant Sessegnon.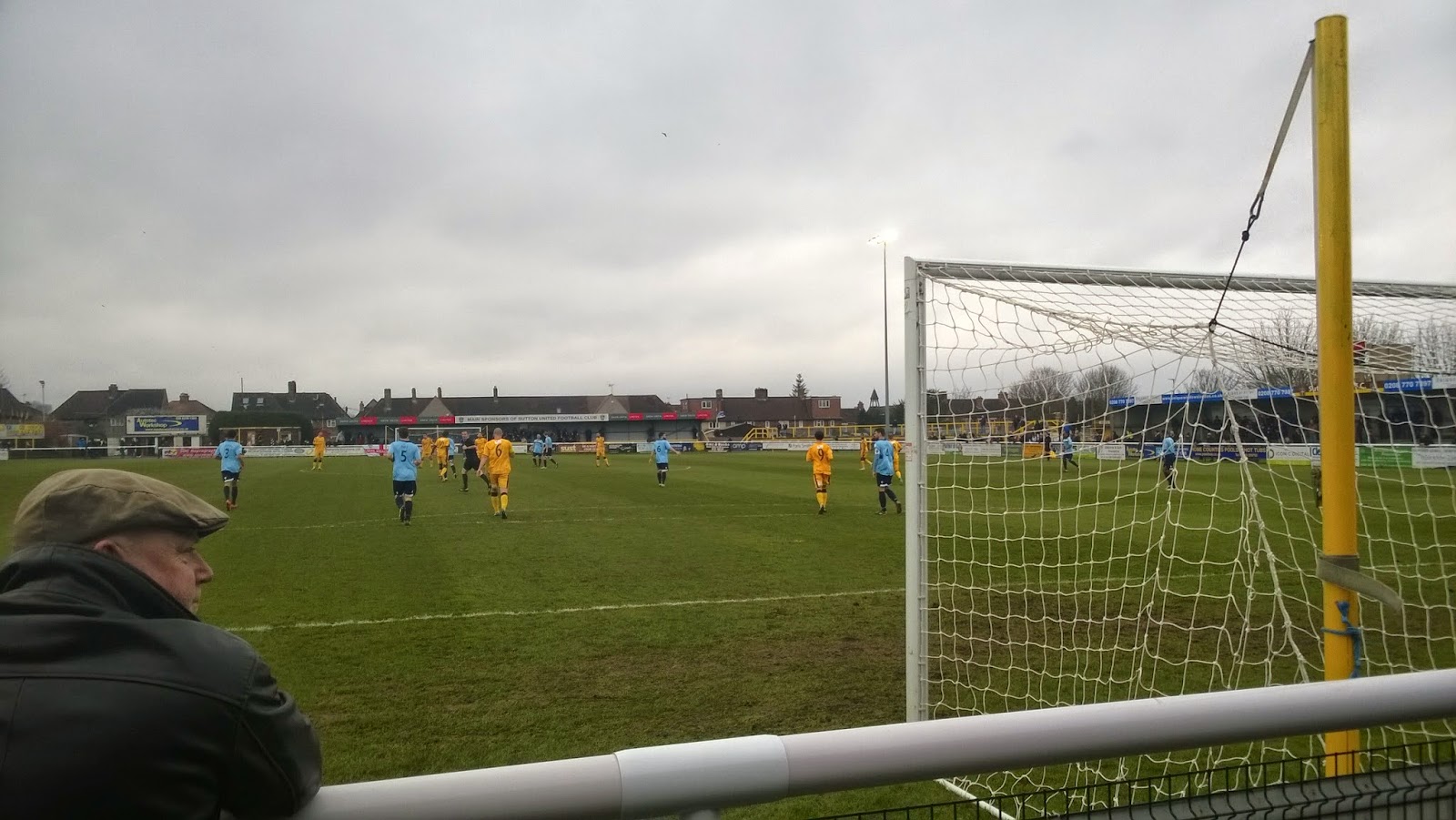 Yeah, we do this shot basically every week. Get over it.
Wealdstone then had their best chance of the half when with some worrying ease played some simple football down the middle of the park. Jolly was left unmarked and he managed to create a chance with a one on one with Lovelock. Thankfully he got a little too close to him and Lovelock managed to block the shot. This still highlights some of our defensive frailties mind you.
Just as I was making my way to the bar Suvs crafted an excellent through ball with his left foot (I thought he was right footed?). Wishart received the ball in acres of space midway in the Wealdstone half, took a touch and unleashed a low shot right into the corner of the goal. 1-0!
For the second half I took my spot on the Shoebox in front of the once again shut Rose's. The wind begun to pick up and that helped Wealdstone. This meant that nearly every goal kick that North took he could get it nearly into our box every time. A couple of times a missed header from a defender had you cursing to yourself.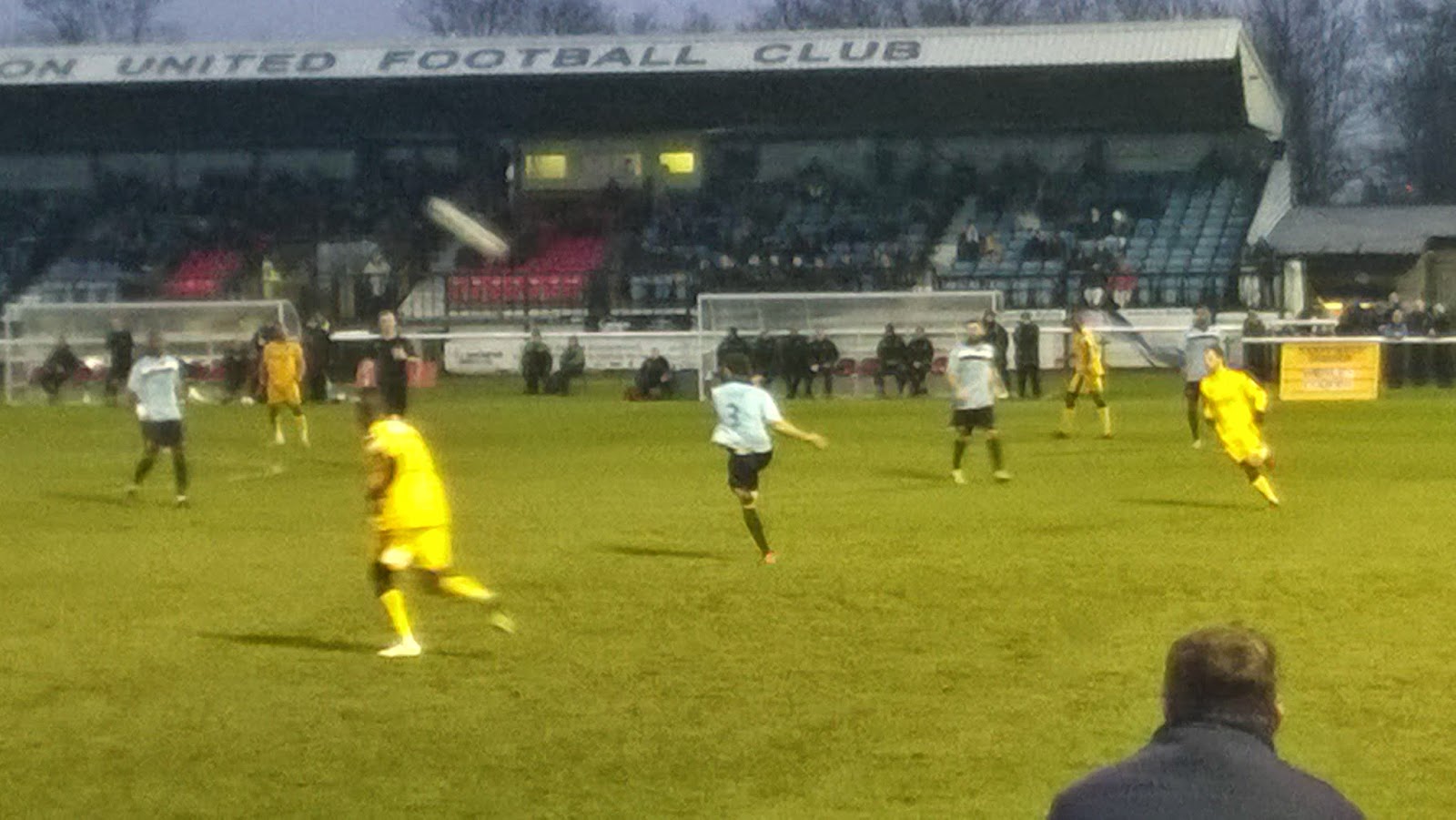 Clear yer lines!
With the darkness descending, Sutton still tried to create the chances with some good crosses and outside the box work that only failed to be put away. Medlock was replaced with Dundas & this put Sessegnon up front, but he was soon subbed himself for Shaq.
Just under twenty minutes left and Micky gives away a cheap free-kick twenty five yards out. The ball is whipped in and eventually the ball is in the back of the net. From my viewpoint I cant see who got a touch. But someone comments that one of the Wealdstone players got a touch in front of a defender. The rest of the game fizzled out and a draw was probably the best result as we failed to take our chances.
Well a point is a point I suppose. That performance for me was a lot like some of the earlier games in the season. I can only recall Wealdstone having two proper chances. The free-kick and Jolly's one on one. Saying that it was a silly free-kick to give away and some lax defending that gave them the goal. Still we are creating chances and that's what matters for we have a six pointer against Weston coming up on Sunday.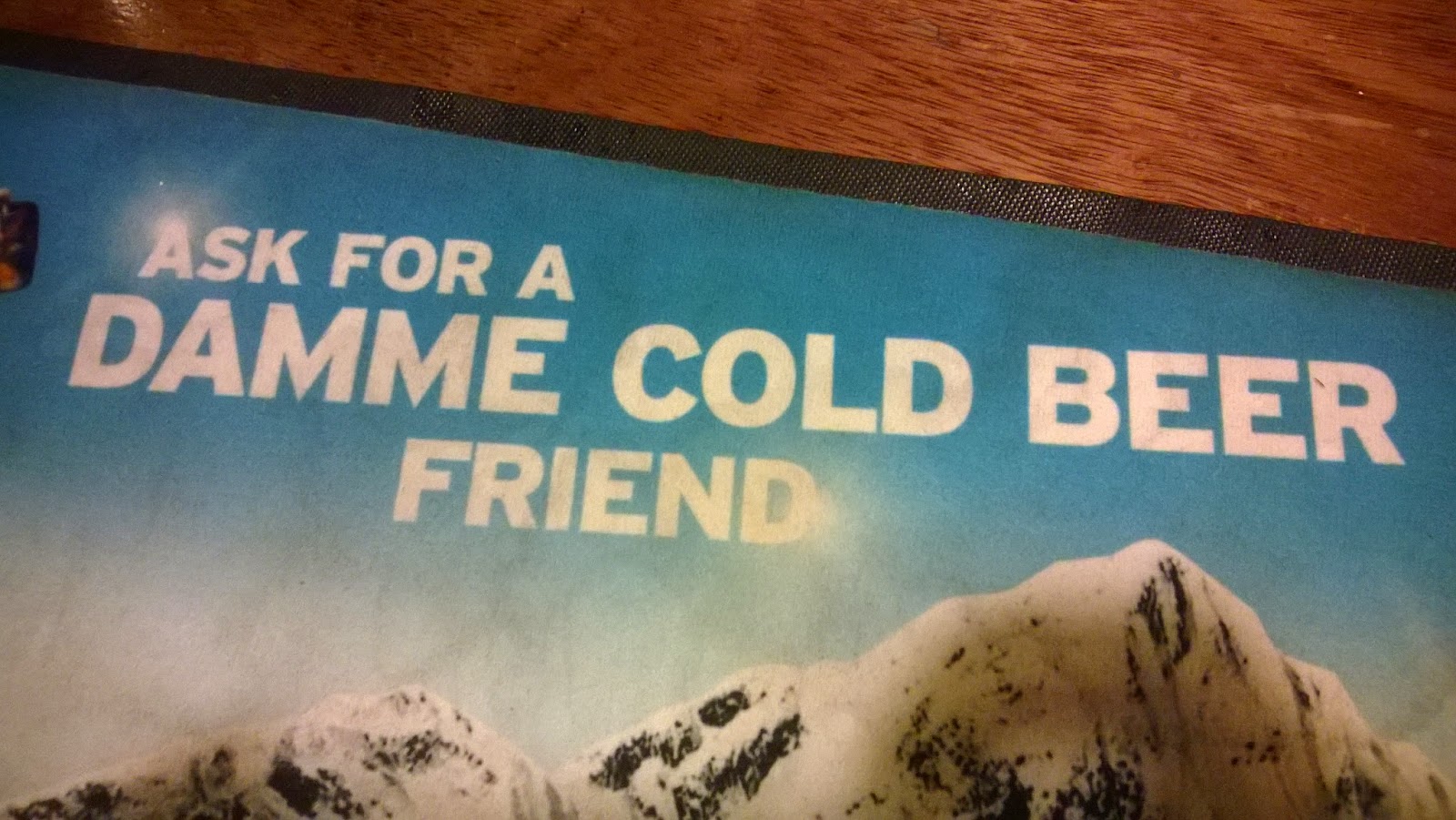 Isn't that swearing?
Did anyone else feel the lack of atmosphere around the ground? Oh wait, you can't actually reply! The away support gave it a little bit at times, but I can remember other games that Wealdstone have proper got behind their team. As for us well, you can definitely hear when a few people don't sing what a difference that makes. And trust the ref to have a decent game and cause no controversy, shame on you!
With it being New Years Day the bar was due to shut at seven o'clock. There was just enough time to see the triple Strikers are Key draw won, but the safe not opened by our female Firm member and also watch the Yids (can I say that? Well I have now) nearly tear Chelsea a new one that gave our Firm Leader something to cheer about. Hey, he even arranged a lift home for yours truly!
Just remember boy & girls, our passion is a smokescreen and we don't actually support Sutton United, apparently. I wish I knew this twenty years ago, I could've saved a lot of time and money. But its good to find out eventually. I'm now going to comfort eat to get over this emotional roller-coaster. See some of you at Weston no doubt!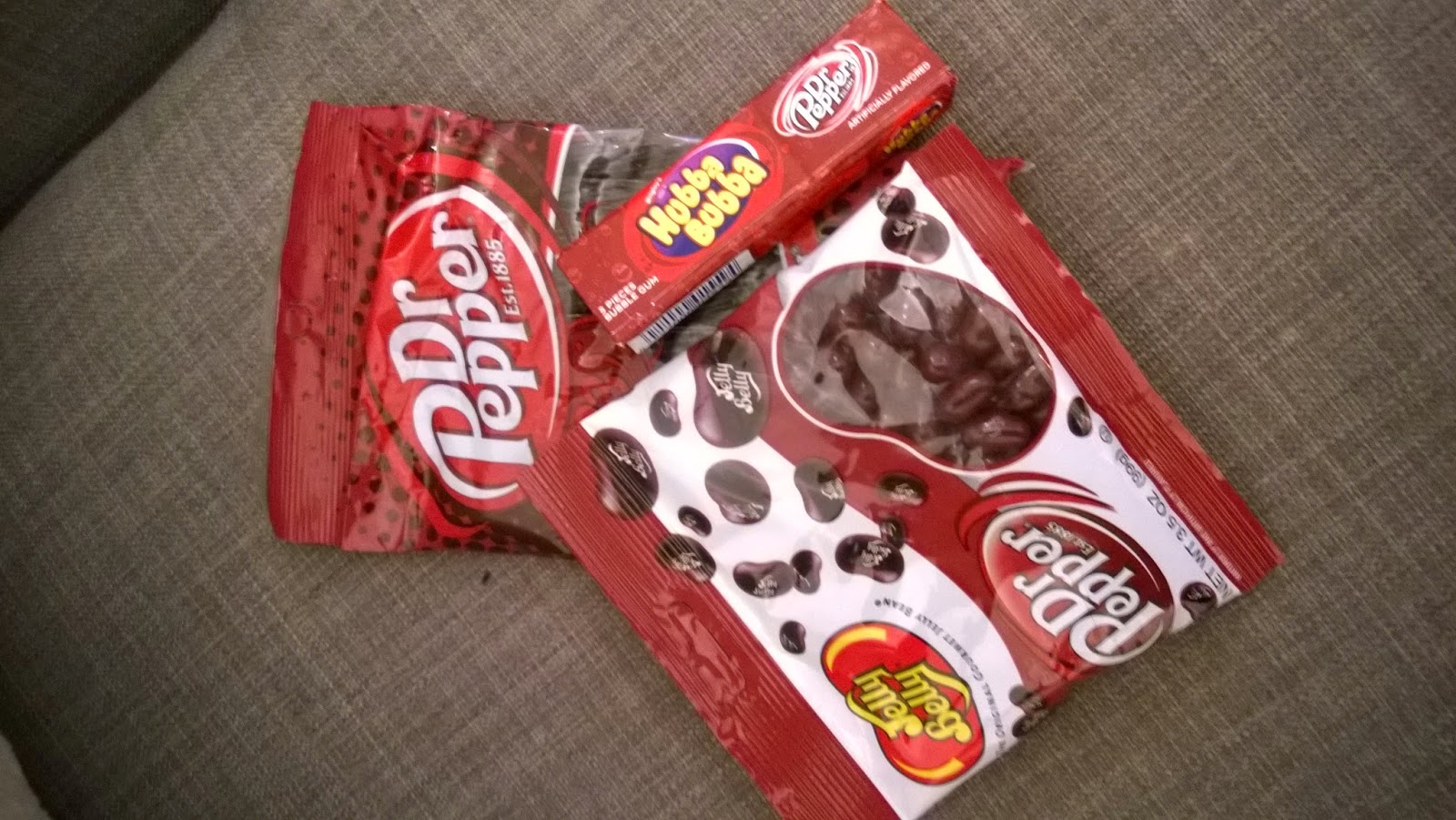 Better than the pants….
Duke
Att. 719