Its now been thirteen weeks since Sutton have managed to string together something simple like two victories in a row. We've not had a lot of luck this season, but that is the wonder of football with all its trials and tribulations. So what about our trip to Hertfordshire and back? Well lets just say many a good days session has been spoilt by 90 minutes of football. And this was one of them.
For some stupid reason only known to God. The sun had yet to rise when I awoke on Saturday morning. Shit, Shower & Shave later and I still had over an hour to go until I was due at the station. There was nothing for it but to stop off at the local café to take a little time up.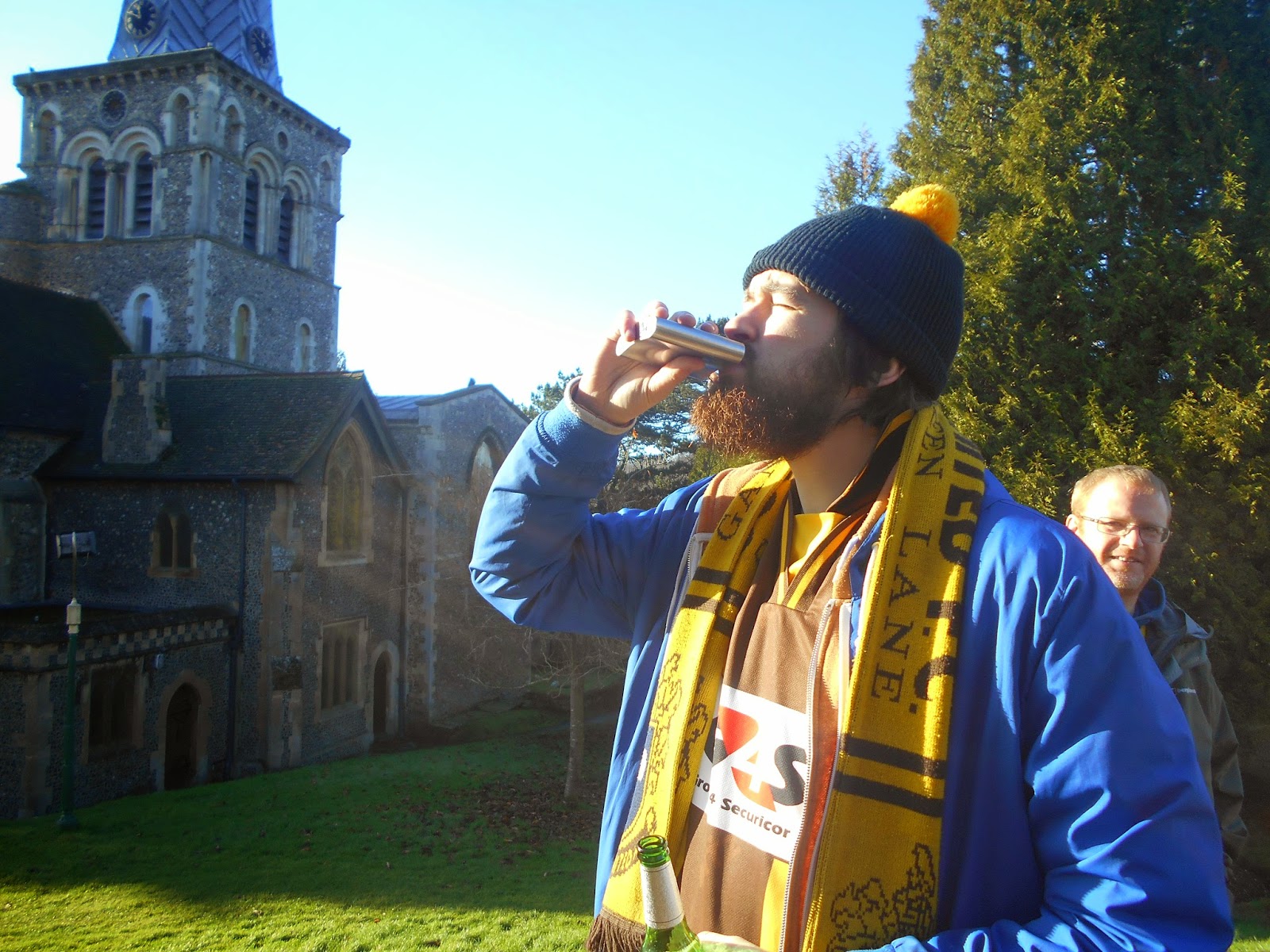 A truly inspiring image.
Whilst at the station, news begun to filter through that Taz had woken up late and was trying to catch up. 4 Days had arrived and we waited for the arrival of the self styled Ginger Sex God. With the train due at 0932hrs, he arrived at 0930hrs out of breath and out of luck.
Sean & Indy were already on the train, I was also informed that Wardy & Mr X were going to go via Wimbledon. The plan was to go through London to Euston to catch the 1024hrs to Hemel. The first fuck up of the day was when we approached Victoria Underground.
Through the barriers and just about to ride the escalator when suddenly it stopped moving. Bollocks! Train guards then blocks of the ends and we are stuck standing there. What could we do? The only worry was that we might miss the train.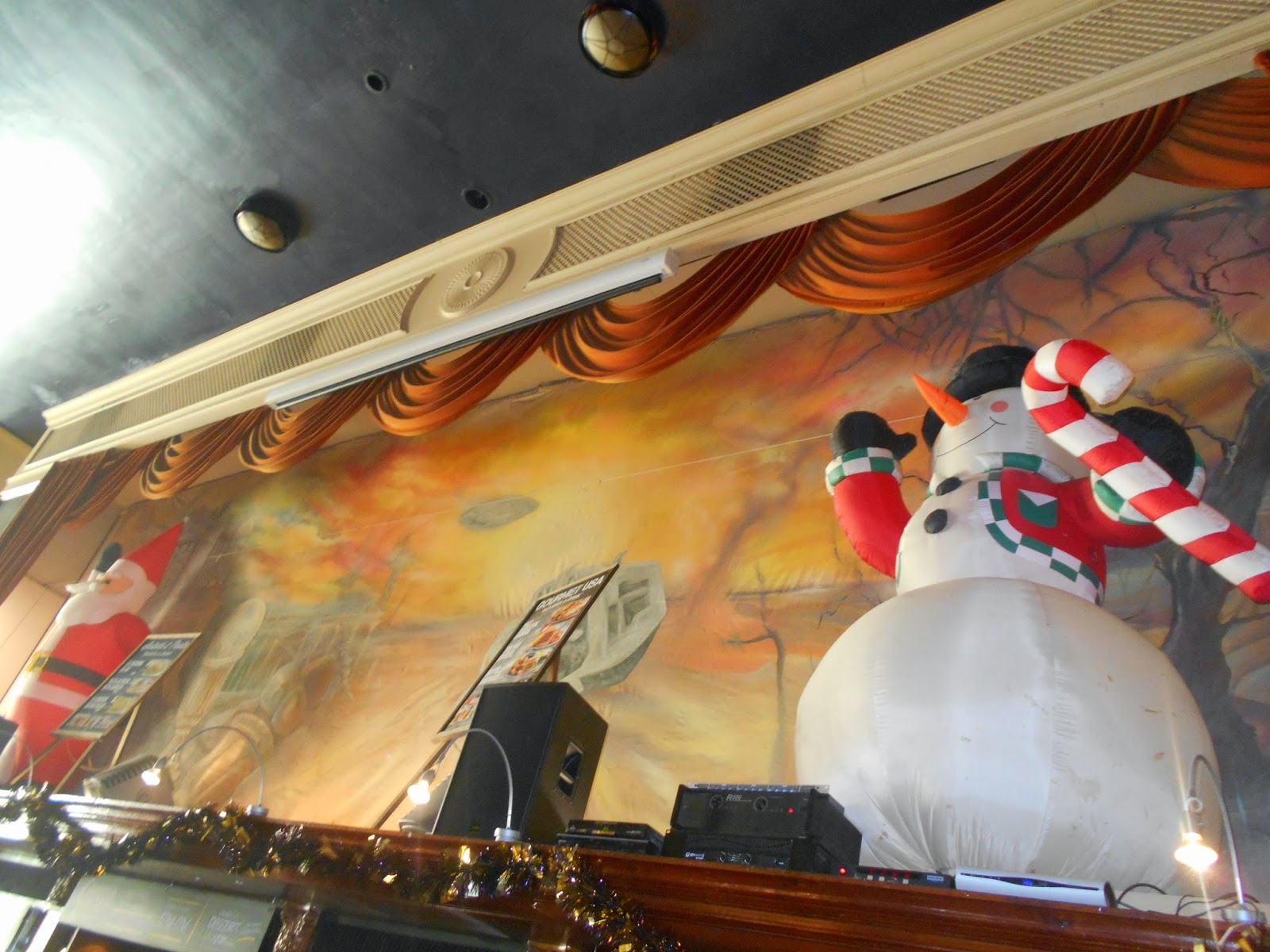 Probably about as Christmassy as we'll get…..
Arriving at Euston with just under ten minutes to spare, we were lucky that the advanced party had already purchased the tickets. There was a little surprise for 4 Days when Wardy presented him with a half wrapped hip flask. And it was still half filled with premium polish Vodka. Naturally we had to sample this.
The trip to up is surprisingly very quick with only three stops and half later we were in Hemel. The problem is that Hemel train station is miles away from not just the ground but also from any form of drinking establishment. The only thing for it was to jump into a sherbet and ask for the local 'Spoons.
Unfortunately the cab driver seemed to think that we had asked for Debenhams in the local shopping centre. After much arguing he finally dropped us of a some street corner down the road from the pub. The 'Spoons, I think, used to be a former theatre or pictures as the interior looked well over the top. I haven't seen one like that since our away trip to Folkstone.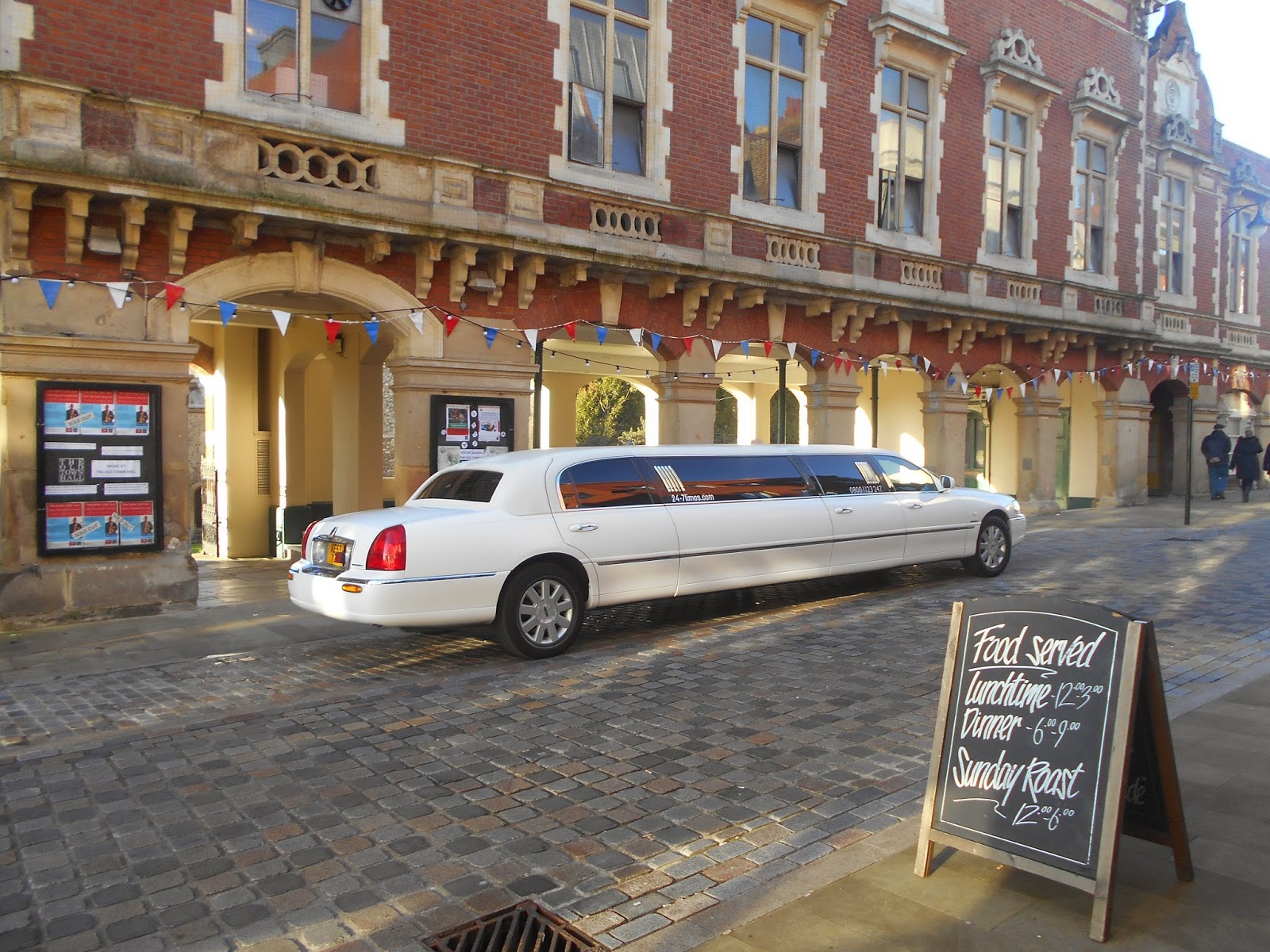 "Are you sure that's not our cab?"
With all our beers we choose to sit in a corner away from all the locals. Bearing in mind it was just after eleven but as we sat down we were joined by some random drunk who plonked himself right next to Taz. He reckoned that we were Watford fans and with him being a Stevenge/Liverpool fan he thought that it was tradition to swap tops. This was after he told Taz that his wife had left him and he was homeless.
Trying to get away from this fella we drank up & left, headed towards the Old Town. With four pubs to choose from we aim for the first one. As our luck would have it, all the fuckin' pubs were shut until twelve! Even though the website of one said that it is open from eleven.
With nothing else to do and the local church blurting out a awful racket, someone went into a local off license (something was open after all!) and brought some bottles of Bud. A quick check to see if there was any ASBO signs about and as a wedding party arrived we begun to consume the cold flavourless liquid.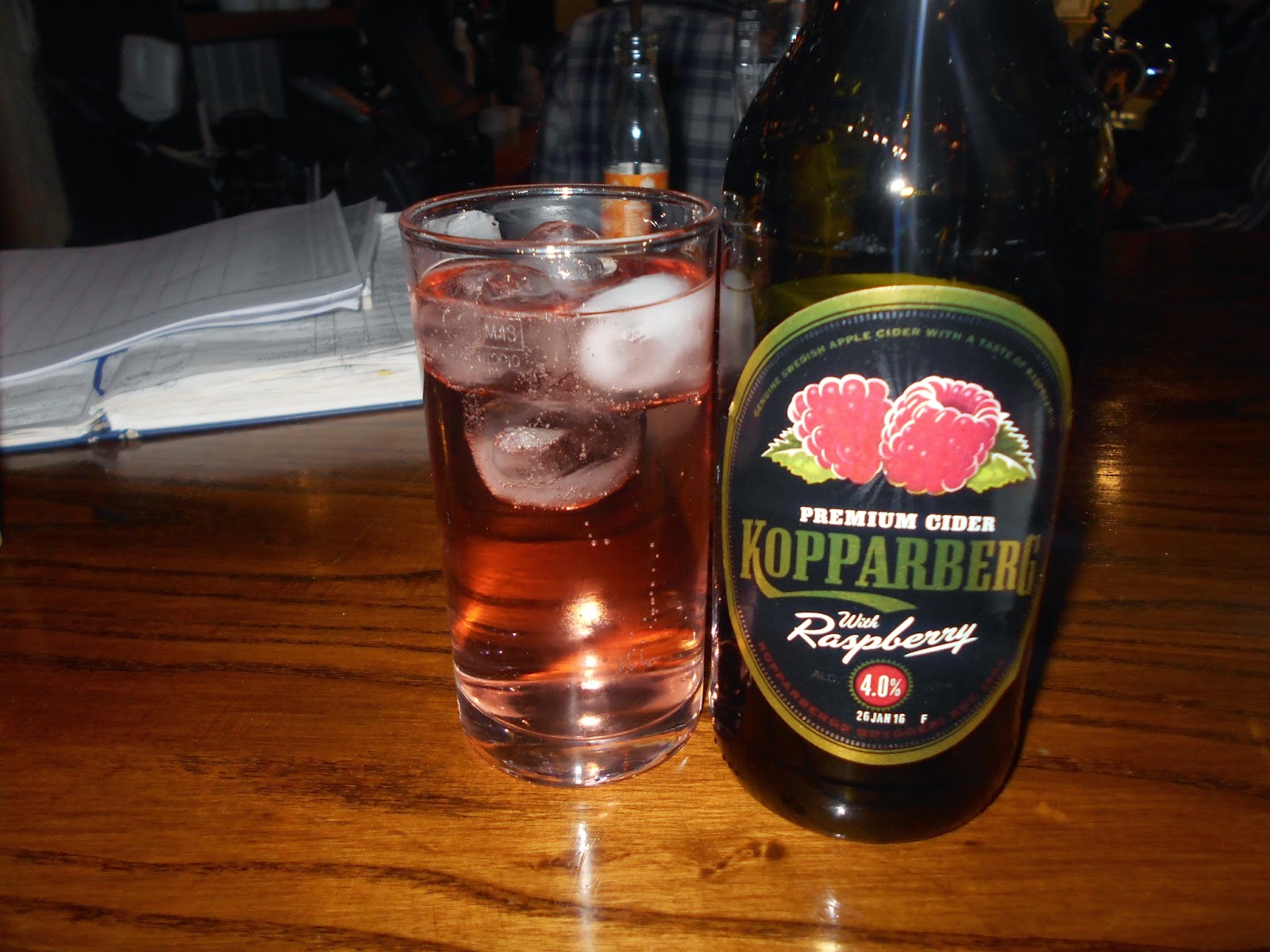 Cider glass size based banter & japery.
The Old Bell pub was first opened in 1609 but today it wouldn't open a minute before twelve o'clock! Finally it did open and we took root in a little snug as the wedding party massed around us. One pub down and we moved two doors down and the Olde Kings Arms. Here Taz decided to give me a cider in the smallest glass possible.
The Rose & Crown was next on the list and finally a pub with a jukebox. Of course the first track had to be our Gandermonium anthem. Advanced reports coming in stated that in no small measure that the next pub on the list the White Hart was absolutely shit, so it was decided to stay where we were.
After another hour of drinking and classic jukebox hits it was time to rustle up the cavalry and head towards the ground. Nothing had changed since the last time we were here. Surprisingly after handing over a tenner there wasn't a ticket handed back. Strange, I thought you had to give a ticket for a FA Trophy game?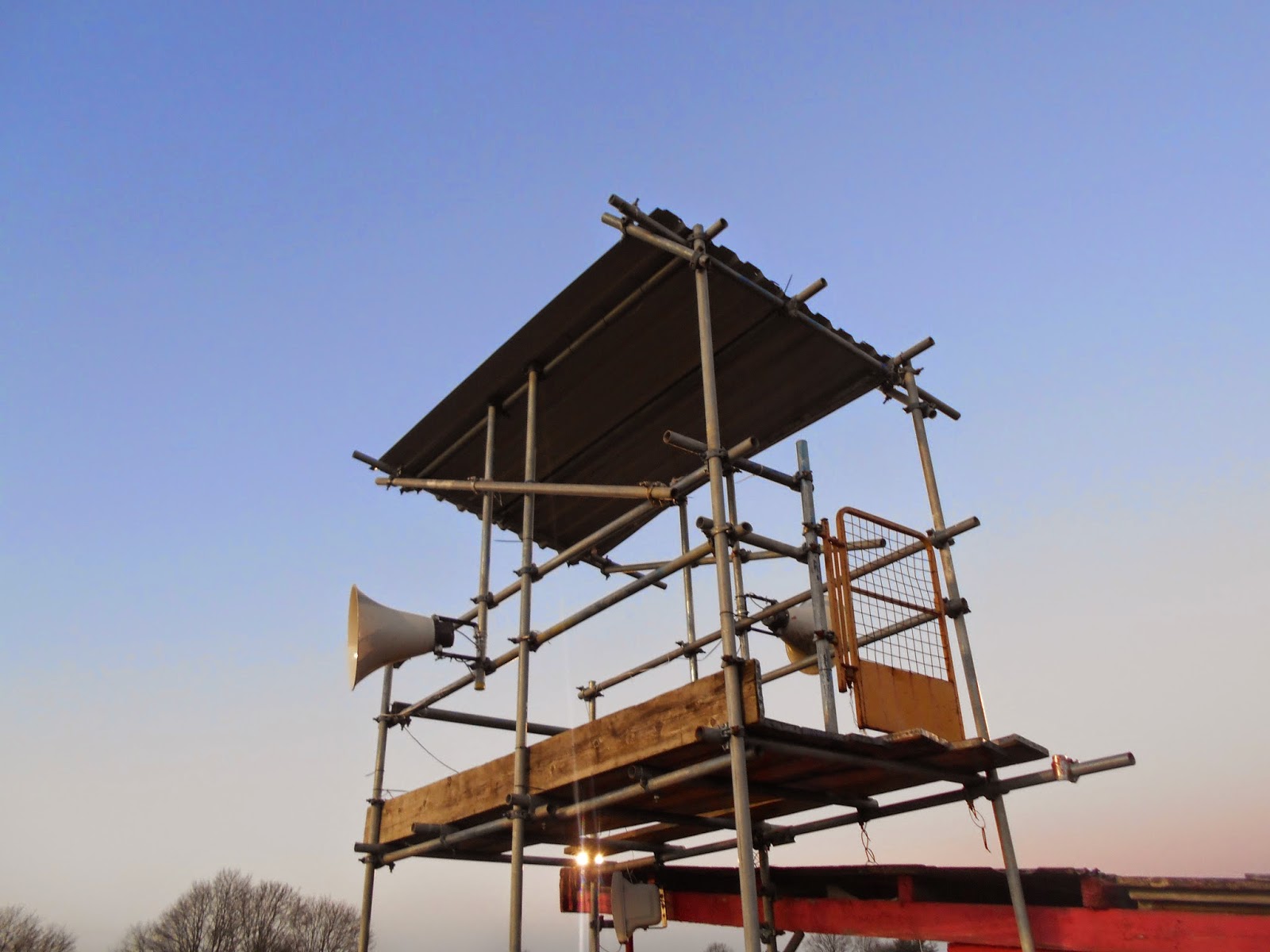 Odd Dukey photo…..
Lovelock, Osborne, Evans, Amankwaah, Wellard, Clough, Spillane, Southam, Dundas, Gomis, White. Bench Warmers: Hippolyte-Patrick, Wishart, Cooper, Dos Santos, Julian.
To be honest, with Sutton shooting with the winter sun in their backs most of the away support were unable to see most of the first half. From what I gather absolutely fuck all happened. We did get a little taste with Dundo & White both failing to find the target. Our best chance was a Wellard free kick that the keeper saved, but I think it was going wide anyway.
Everything changed with five minutes to go in the half. Taking the orders for the halftime round I begun to walk in the direction of the bar. As I got to the corner of the pitch I saw Gomis fly into a tackle. From where I was standing it looked like a foul, but was shocked when I saw the yellow in the hands of the Smurf in black.
Suddenly Gomis and the Smurf are surrounded by Hemel players. A couple of pushes happen, nothing like Norman Hunter and Francis Lee, and BOOM! The Smurf is 'convinced' to hand Gomis a straight red and nothing else afterwards. We are later told the red card was for the shove he gave after being shoved himself.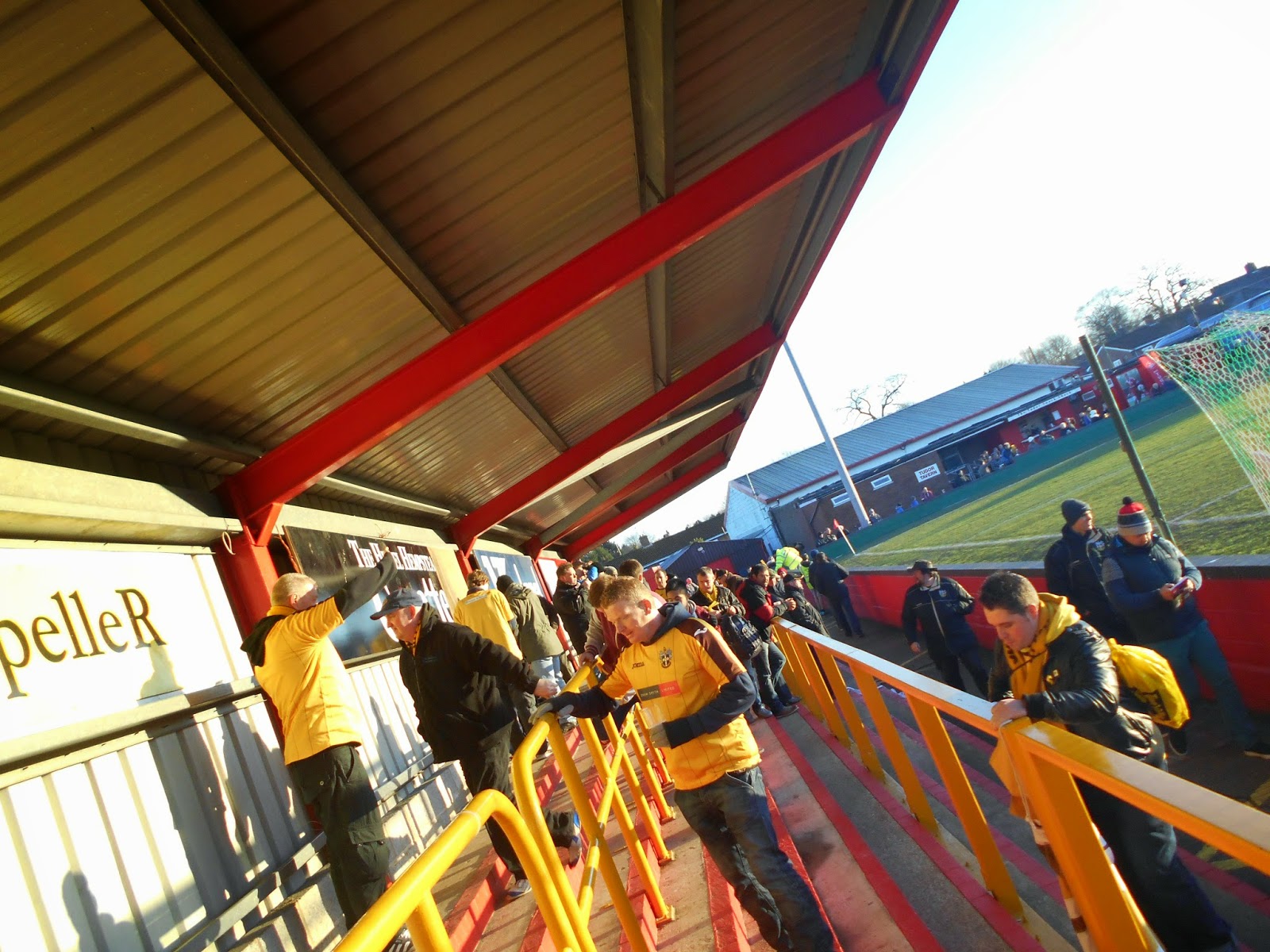 "We can't see a fucking thing….."
Drinking a quick beer in the wedding marquee styled surroundings of the Hemel bar we moved up to the other end. Still making a load of noise like we did in the first half, the game continued on. With Dundo put up as a lone striker. We failed to apply any pressure that would take the game away from Hemel. Saying that Hemel were just as poor as us and this game had 0-0 written all over it.
Wishart replaced White and then Shaq came on for Wellard. Even then it was all about containment and even the singing begun to lesson with the drop in temperature. Around this point the home fans begun to sing "Where's your famous shoebox crew?", Finally we have some recognition! Either that or they found some of our stickers.
With time fast running out next came the game changer. Clear as day Osbourne pushed the fella in the back, definite penalty. The penalty was dispatched even though Lovelock got a hand to it. Cooper was then brought on for Evans and the last ten minutes saw Sutton throw everything at Hemel without really testing the defence.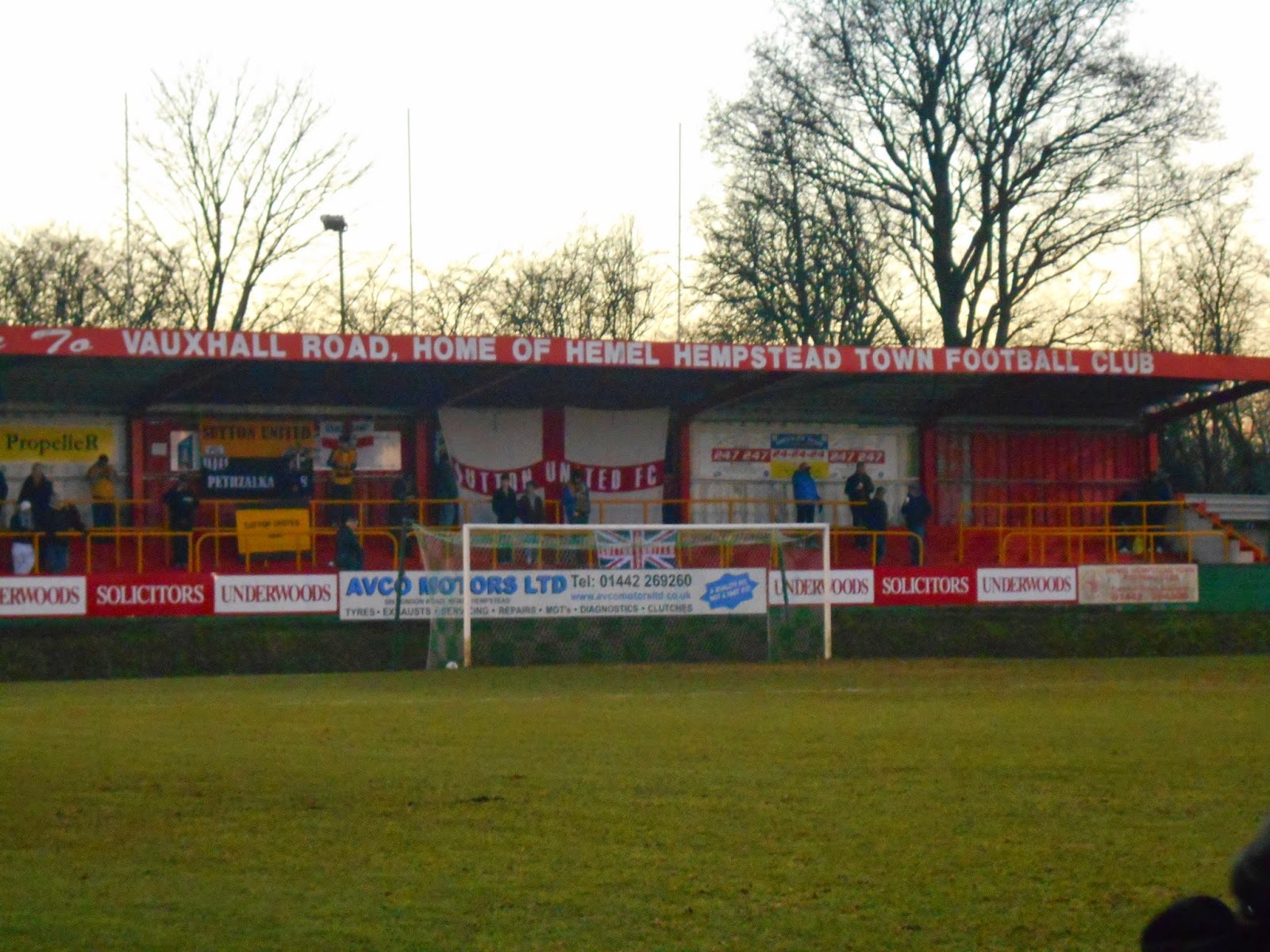 Unappreciated. Ignored.
What was disappointing was that after the final whistle I counted only two players who made any attempt to show their appreciation towards the travelling support. Also the attendance was given as 368 apparently. Well that was at least a hundred short of the actual attendance in my opinion, but you can't blame a team for trying it on.
After the game we waited for cabs to take us to Apsley and the Oddfellows Arms. This was the pub we went to last season and after several beers and a couple of goes on the old jukebox decided to call it a day in Hertfordshire. We agreed that some of us should go to Sainsbury's to stock up for the journey.
Well Wardy gets the gold star as manged to acquire half a hot pizza compared to my limp Jamaican patties. Unfortunately sending Mr X to get the booze he managed to spot a bottle of Bulmer's that he reckoned I'd never had. He was right because the Indian summer flavour is part of the low alcohol range. Yes LOW ALCOHOL! 2.8% !
After Eights. Obviously.
There was also another purchase made, After Eight mints. For some reason this spiralled out into a competition between Mr X and Wardy on who could give away the most After Eights. Arriving at Euston didn't stop them as another box was brought and even in the Bree Louise it carried on. To the point that several were inserted into various pints of drink.
Hitting Sutton we ventured into O'Neils for several more drinks. Eventually Taz and Mr X said their goodbyes. So me, Wardy & 4 Days headed up to the top of Sutton with the intention of slipping into Tapuri for a cheeky last drink, on the way the usual trail of sick could be seen. Just before Tapuri is a little Italian restaurant called Il Toscano.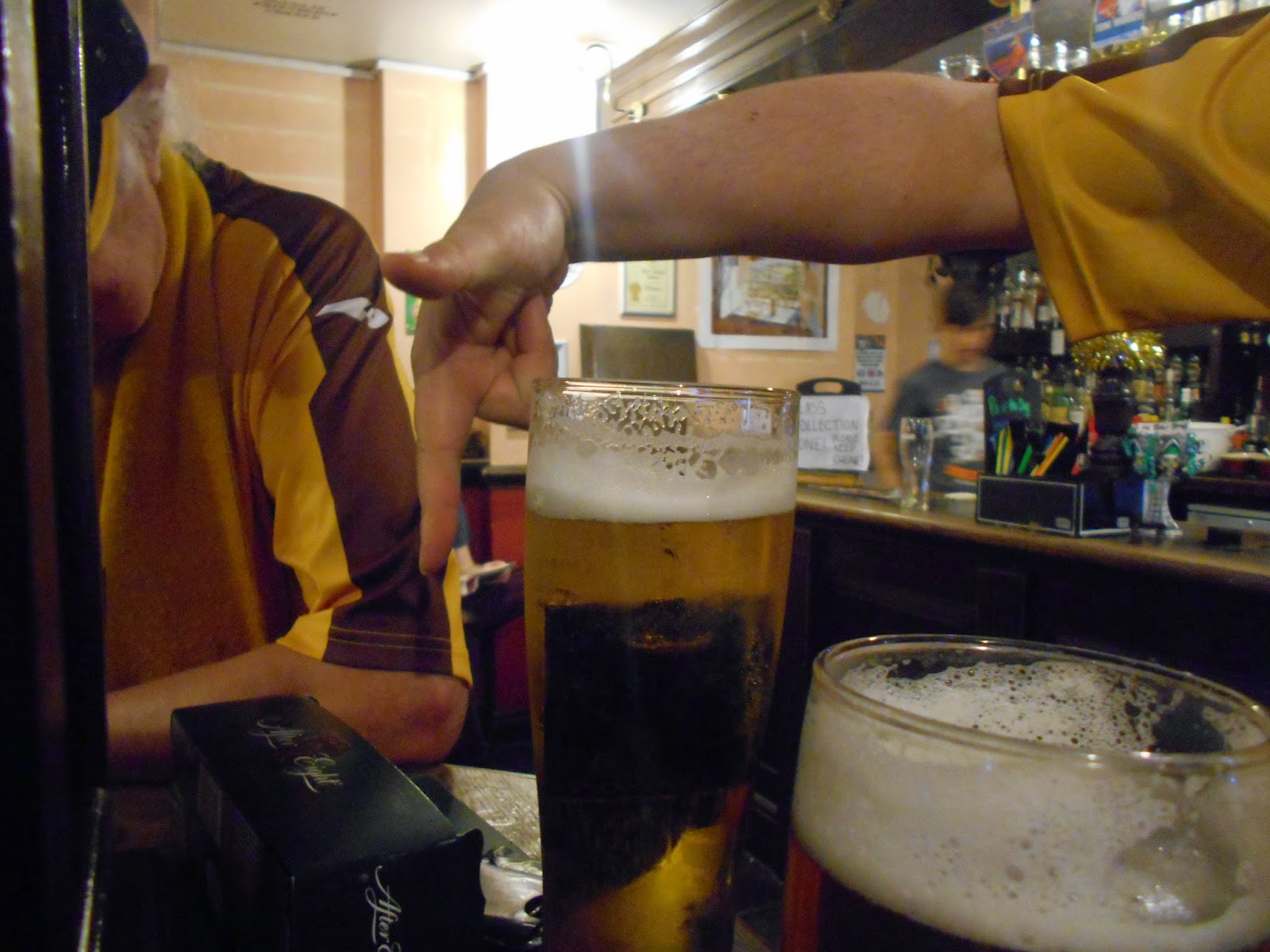 It's called an 'After Eight bomb'. No really….
Inside Il Toscano Wardy managed a round of Peroni's mixed with the left overs of the premium polish Vodka. It was too much for 4 Days as he went and yakked in the bogs! It also transpired that the owner of the restaurant was a Chelsea/Juventus fans. But miraculously it turned out the he was from only bleeding Cheiti!
Still we didn't stay long as the fella looked knackered. Strolling round to Melville's for a sherbet was soon back at ground zero depressed by the knowledge that I won't be going to Cleethorpes this season. We finally have a home game next week, so I may get a day off for once!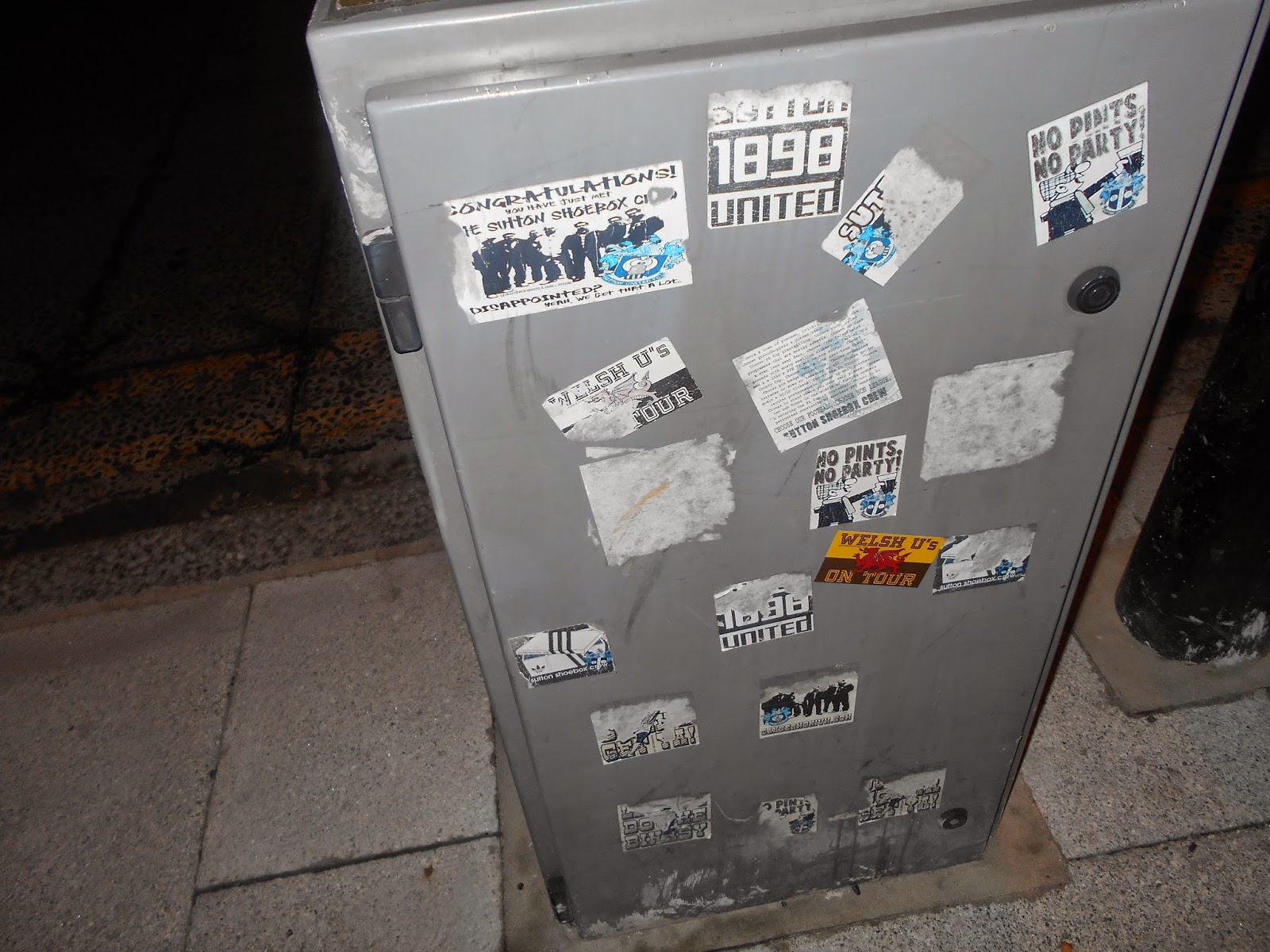 The Tapauri shrine looking a bit worse for wear….
Duke
Att. 368 (Dubious!)