Finally we get to play in what can only be described as the pinnacle of county football. Not only that but only the best teams in the whole of the county dare to enter such a ferocious and demanding competition. A place where you are only up to six games from eternal glory and a place in Valhalla itself. (FFS, get on with it Duke – ed.) It must be the…
Surrey Senior Cup!
As we come into this Second Round game we had to wait until the middle of October before our opponents were even known. After dispatching Guilford City 2-1, we are now faced with South Park. Not that South Park mind you. That American adult animated sitcom has only been going since 1997 whereas the football team from just south of Reigate were formed even before us in 1897.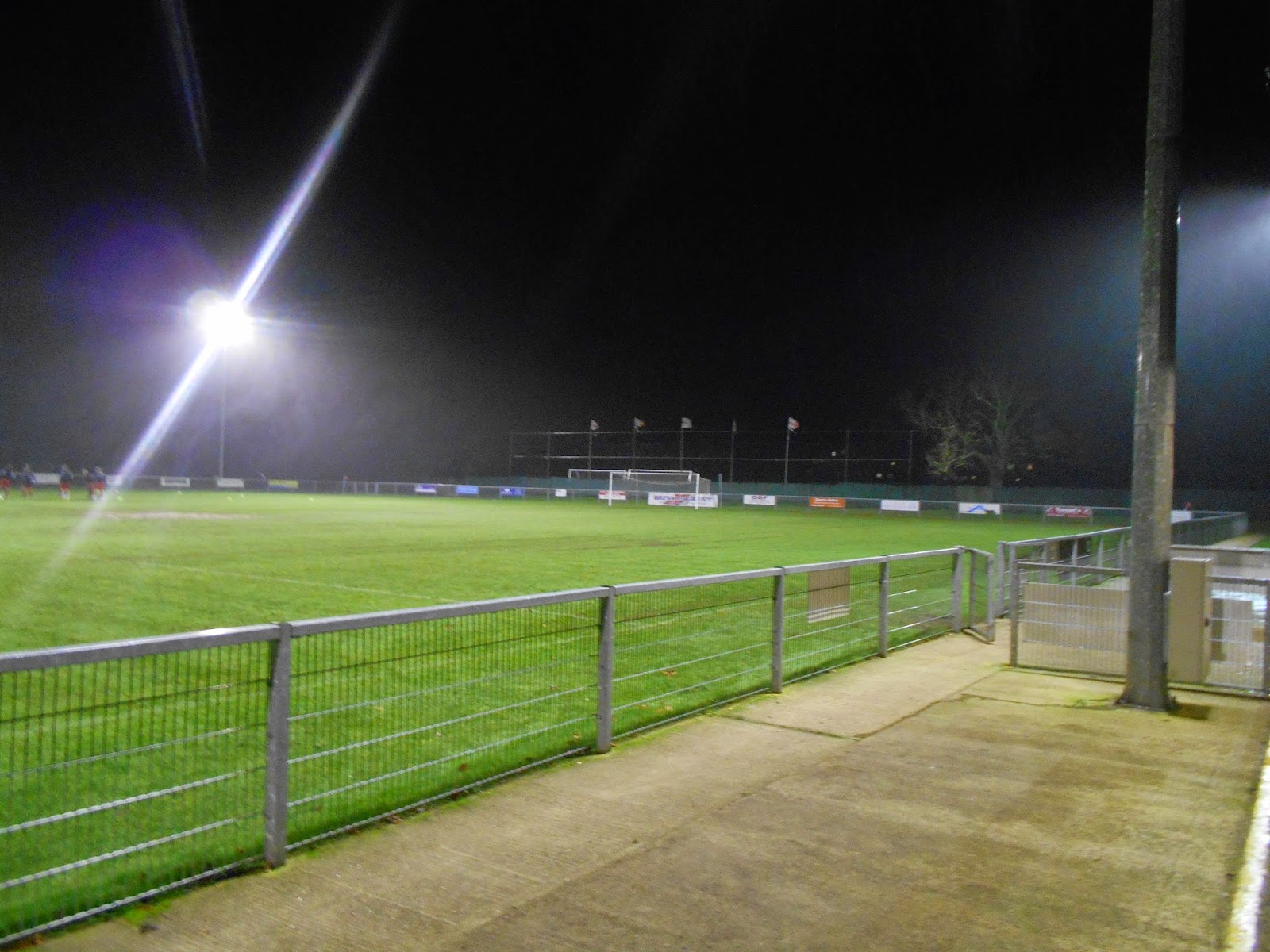 Informative pic #1
We have actually met South Park once before in this hallowed tournament. That was over two and a half years ago when they were competing in the SSC for the first time. With a team including Beautyman & Vassell (whatever happened to them?) we ran out 4-1 winners. There are two survivors from that team namely Dundas & Kevant Serbony or is it Kevant Serbonij or even Kevin Sabony! It all depends on what match report you look at.
As luck would have it Mr X had offered to give poor little Duke a lift to the game. So after some communication it was decided that I would need to drive up to his house for half past six. Looking at the weather report before I left I knew that rain was about hit but with the wind kicking up I decided against an umbrella. What a Wanker!
I arrived at Mr X's abode dead on half past six and as I rung the doorbell he emerged. He was also carrying a flask! Proper non-league that boy is getting. As both of us couldn't remember how to get to the ground exactly it was time to try out the in-built satnav capabilities of an Alfa Romeo Giulietta. By this point it had started to rain and it seemed the closer we got to Reigate the heavier the rain got.
One thing I remember from my last visit here was that the parking facilities were somewhat limited so instead we decided to park on the main road. South Park seemed to be a nice place because as we parked the car, the owner of the house that we parked outside suddenly opened the front door and waved at Mr X. Fuck knows who he was!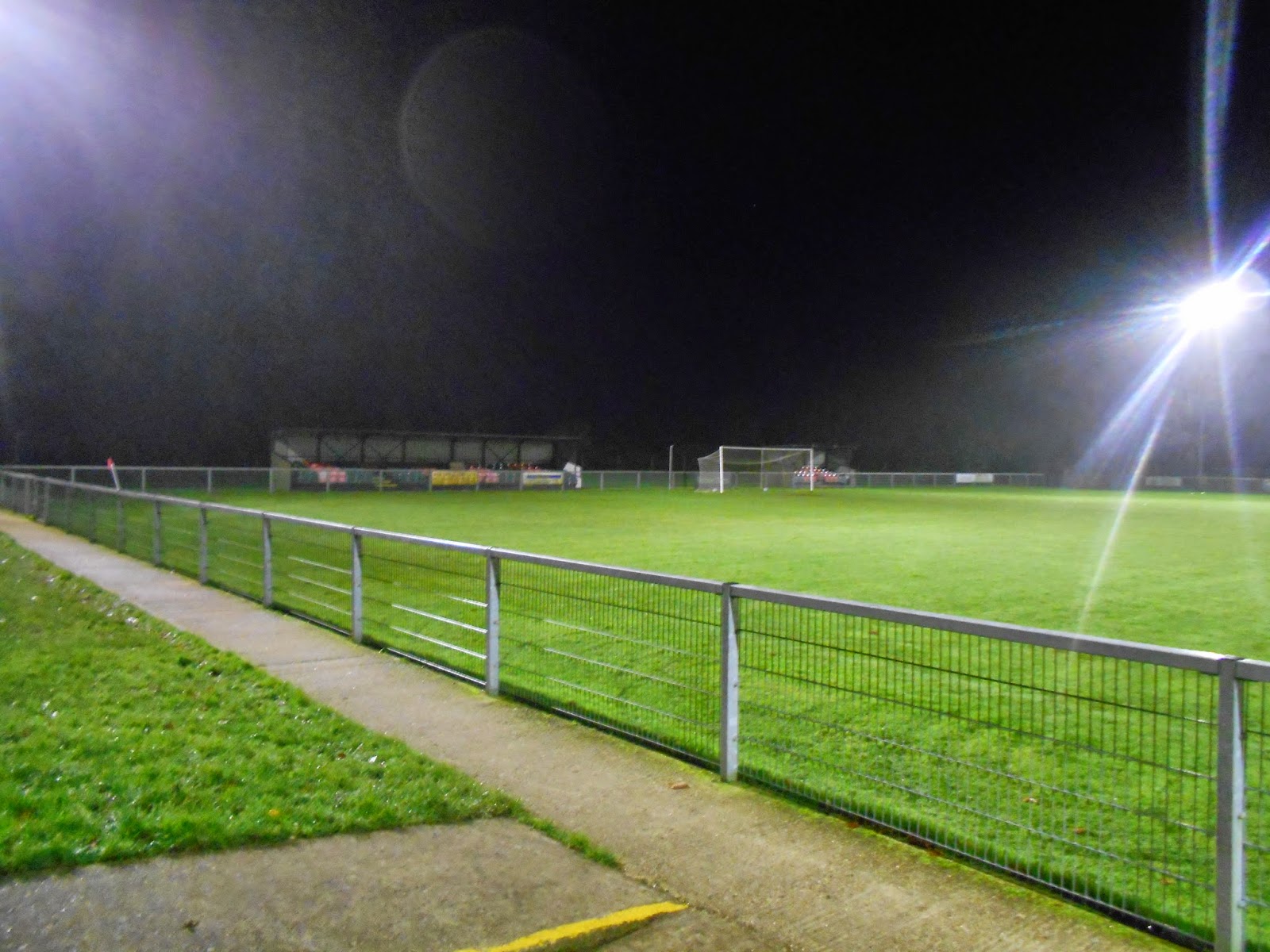 Informative pic #2
Walking down a dark alley you arrive at the ground. A little man in a breeze block shed takes our £8 and we are in the ground straight under cover as the rain continues. Much of the talk is about the rumour that we are putting out a strong team with only Ollie Sitch starting from the Reserves. Who would've thought that 14 years ago that boy was first playing football at a John Rains Football School on Collingwood Rec.
Lovelock, Osborne, Evans, Spillane, Amankwaah, Clough, Wishart, Southam, Sitch, Medlock, Hippolyte-Patrick Bench Warmers: Johnson, Dundas, Warren Morgan, Serbonij, Oldershaw.
As one of the six of the most silly loyal supporters, we made our way to the exposed end of the ground, the wind and rain would not dampen our spirits. You could see that Sutton meant business with the way they played the ball to the forwards and kept trying bring the midfield forward enough to help them and it would only be a matter of time.
Ten minutes is all that we needed in fact. Medlock got the ball twenty-five yards out and hit a shot straight at the South Park keeper. What seemed like a easy collection just above his head slipped through his hands and into the net. 1-0! Nowhere near as bad as Julian's attempt at Hereford but it definitely would go down as a keeper error.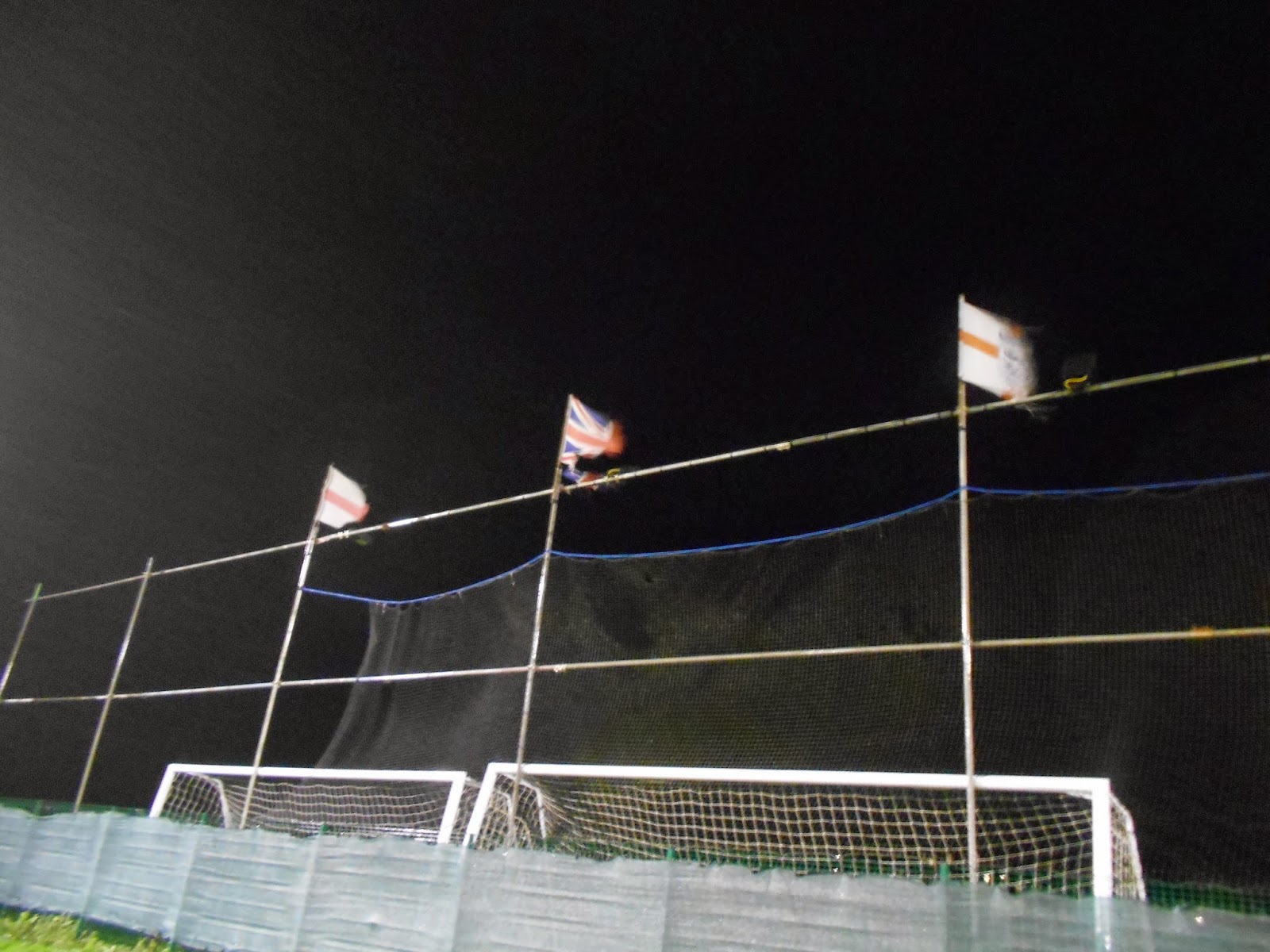 Not so informative pic #3
As the game restarted I was still trying to text Old Frank the score when I looked up and saw Medlock running after the ball into the box. Nearly exactly like his attempt at Basingstoke on Saturday, this time he slots the ball past the oncoming keeper. 2-0! Scratch the first text, and send a second. There can't have been more that thirty seconds between the goals.
The only other real clean chance fell to Amankwaah, who lost his marker in the box and connected his head with a Southam cross. Only his header was weak and straight at the keeper. Most of the rest of the half saw South Park manage to organise themselves and Sutton kept trying the long ball that only caught the wind and fizzed off for goal kicks.
Couple of funny moments came when first Southam curled a ball into the box just pushed away by the keeper. Micky screamed "Suvs you should've laid me up I was clear on the edge of the box" which had Southam reply "Fuck off! It was a good ball". Another tit bit was when Our Lord Dos was shouting for Sitch to move over to the left side, only for Southam to tell him to "Just stay there, don't worry about it".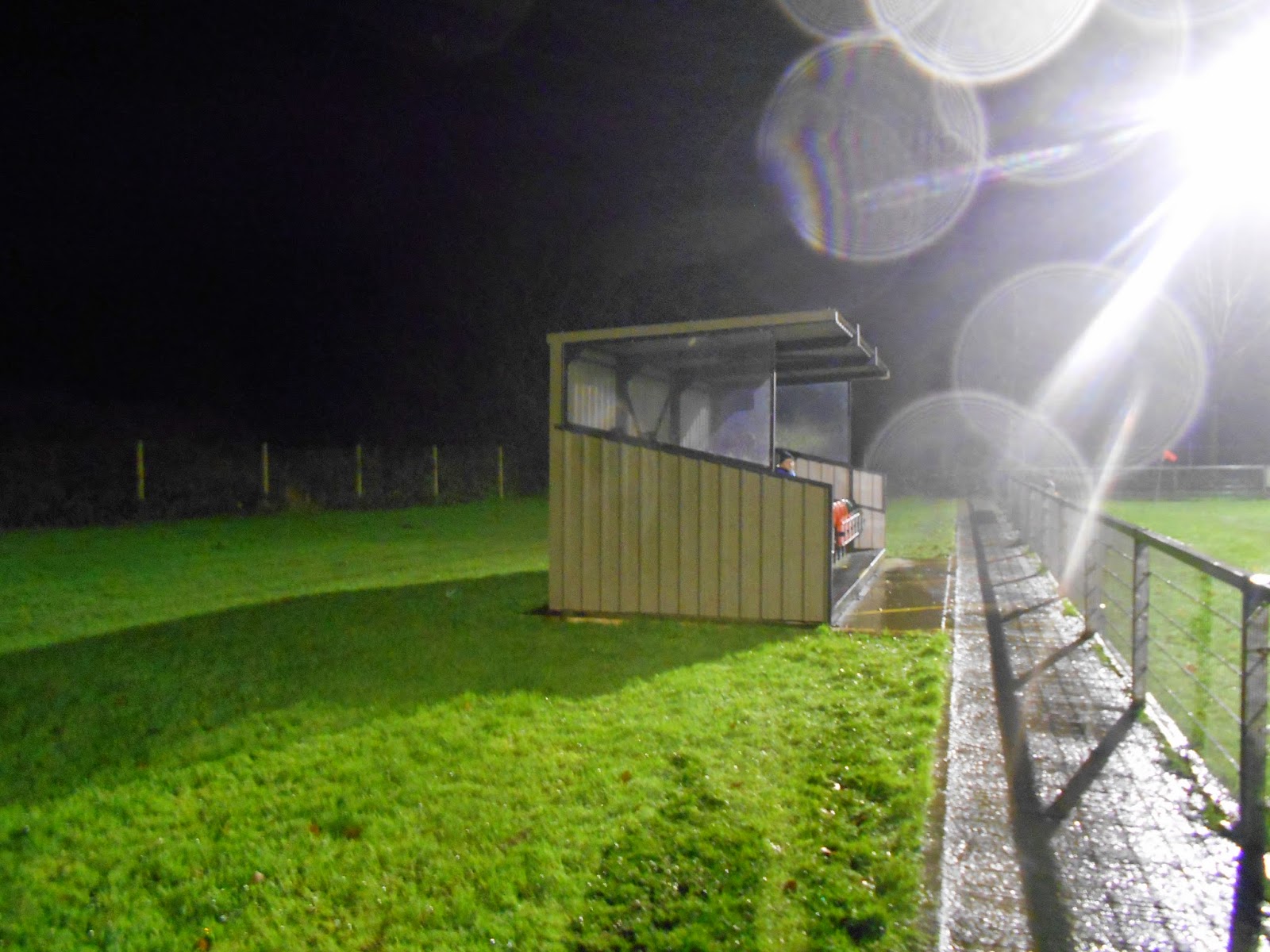 A covered section? Nahe, we'll stand out in the pissing rain thanks….
In the second half we moved to the other end where there was two bits of cover only to then stand right behind the goal where there was no cover at all. Well, my front was soaked, might as well do the back. With no subs yet made, we finally put the nail in the coffin after only three minutes. Sitch collected the ball in the South Park area only to be a bit weak and get muscled off the ball. The defender hesitated and that gave Sitch time to get up and challenge again. He managed to lay the ball off to the other side of the box to Medlock who slotted the ball home for his hat-trick. 3-0!
Now we got to see some good attacking Sutton football with only the final touch missing as balls from Shaq, Micky & Harry all agonisingly miss Medlock and Sitch by inches of their outstretch boots. Even Cloughie got in on the act with a well powered header going inches wide.
After the hour mark Our Lord Dos decided to do a trademark triple sub with Johnson, Oldershaw & Morgan replacing Amankwaah, Clough & Southam. Southam did manage one last memory as moments before he screamed "Fuck off you cunt" to a South Park player that the whole ground could hear.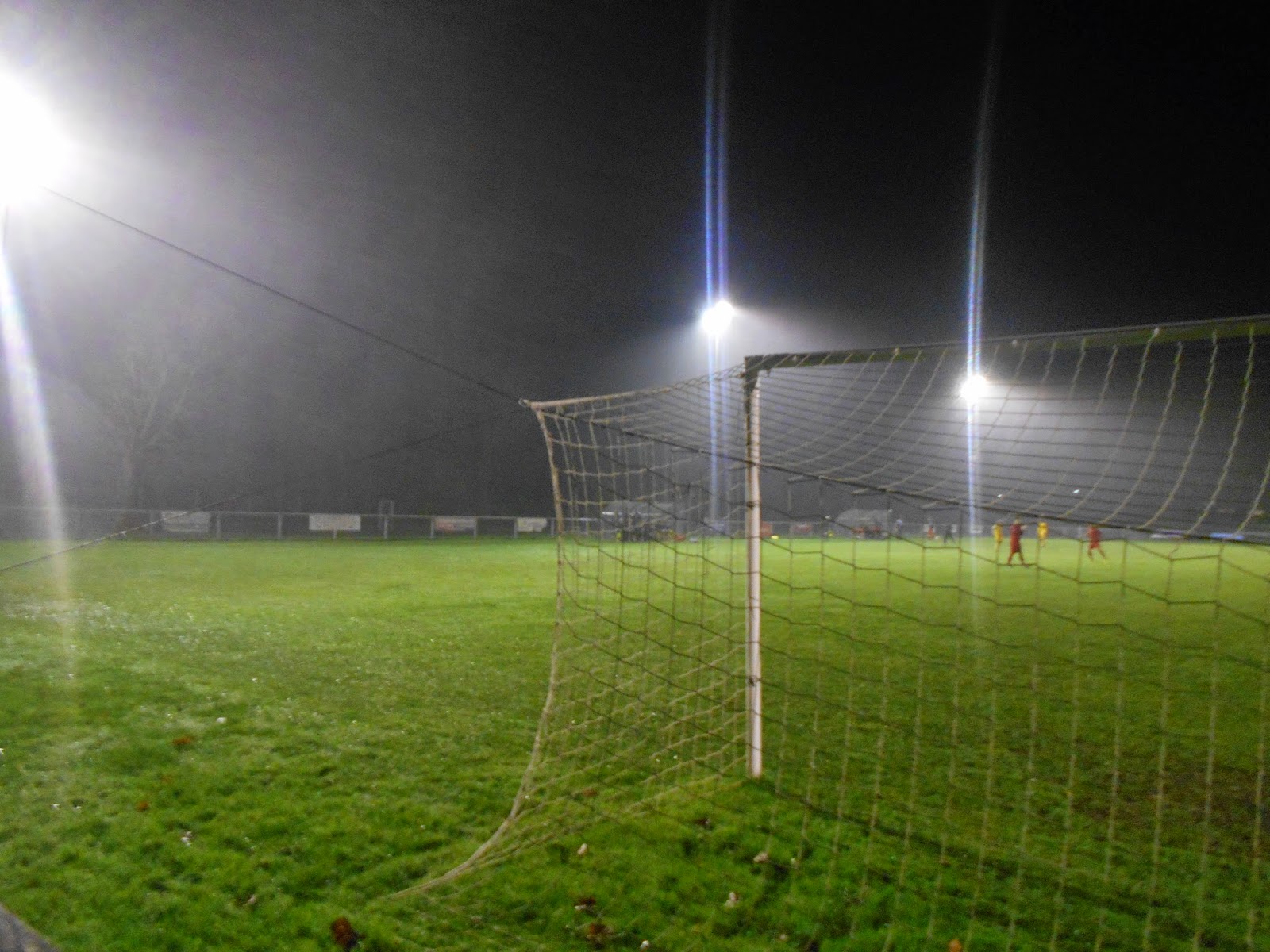 Informative pic #4
It took a bit of time to adjust the team with the subs and at this point South Park were giving a helping hand with Micky given away a cheap free kick. This kick caught the wind and sailed over Lovelock and in off the post. Even at 3-1 it didn't seem that the game was in doubt as the subs soon were making passes and runs good enough against this level of opposition.
Over the whole game, Lovelock's battle was really with the conditions and not South Park. A couple of free kicks from Evans and Wishart could've pulled us away but both went agonisingly wide. With five minutes left Medlock got his fourth when after some great running by Sitch had him run to the byline and cut the ball across, somehow this went behind the keeper and left Medlock with a tap-in from about a foot. 4-1! The whistle wasn't far behind and we achieved the same score as last time we were here.
Completely soaked through we bypassed the bar straight to the warmth of Mr X's 1.4litre Italian Stallion. The dream continues as we are now only three games away from a record breaking twenty ninth final! All our thoughts now turn to Saturday and another away game. Hemel Hempstead in the FA Trophy first round. I know its not the same but it is still a cup competition and the prize money always helps!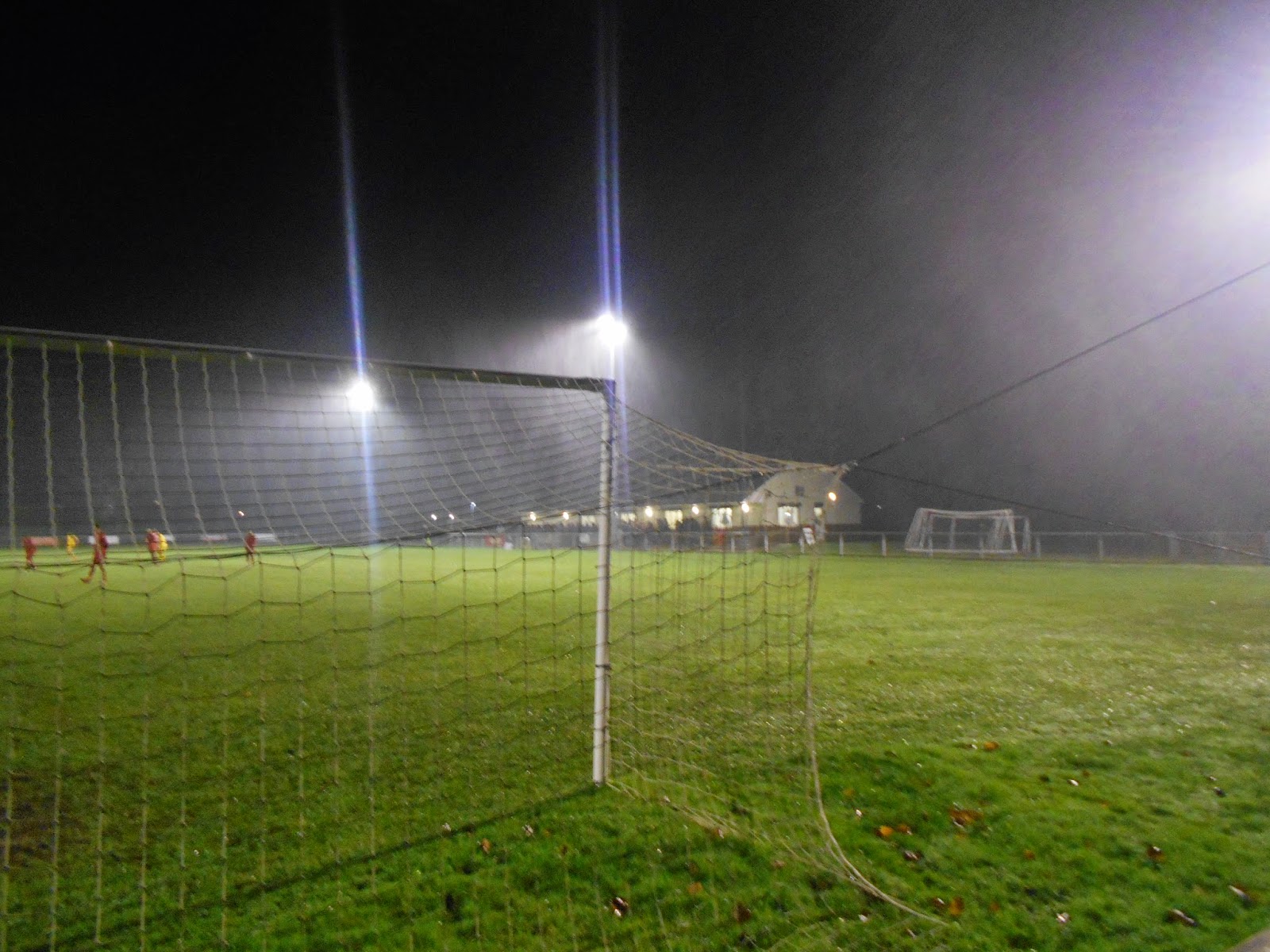 Informative pic #5
Duke
Att. 117