I was meeting Taz at a pub and as I went in, I noticed two pretty women looking at me. 'Nine,' I heard one whisper to the other as I passed. Feeling pleased with myself, I swaggered over to Taz and told him a girl just rated me as nine out of ten. 'I don't want to ruin it for you,' he said, 'but when I walked in they were speaking German.'
As Basingrad is not one of the best drinking spots in the country it was decided to instead head one stop further on the train to Winchester. I was told to get the 0932hrs from Carshalton and it was here that I also met 4 Days, little Chris & Taz. The train arrived and stopped in the right spot for once and we found Sean & Indy in the carriage.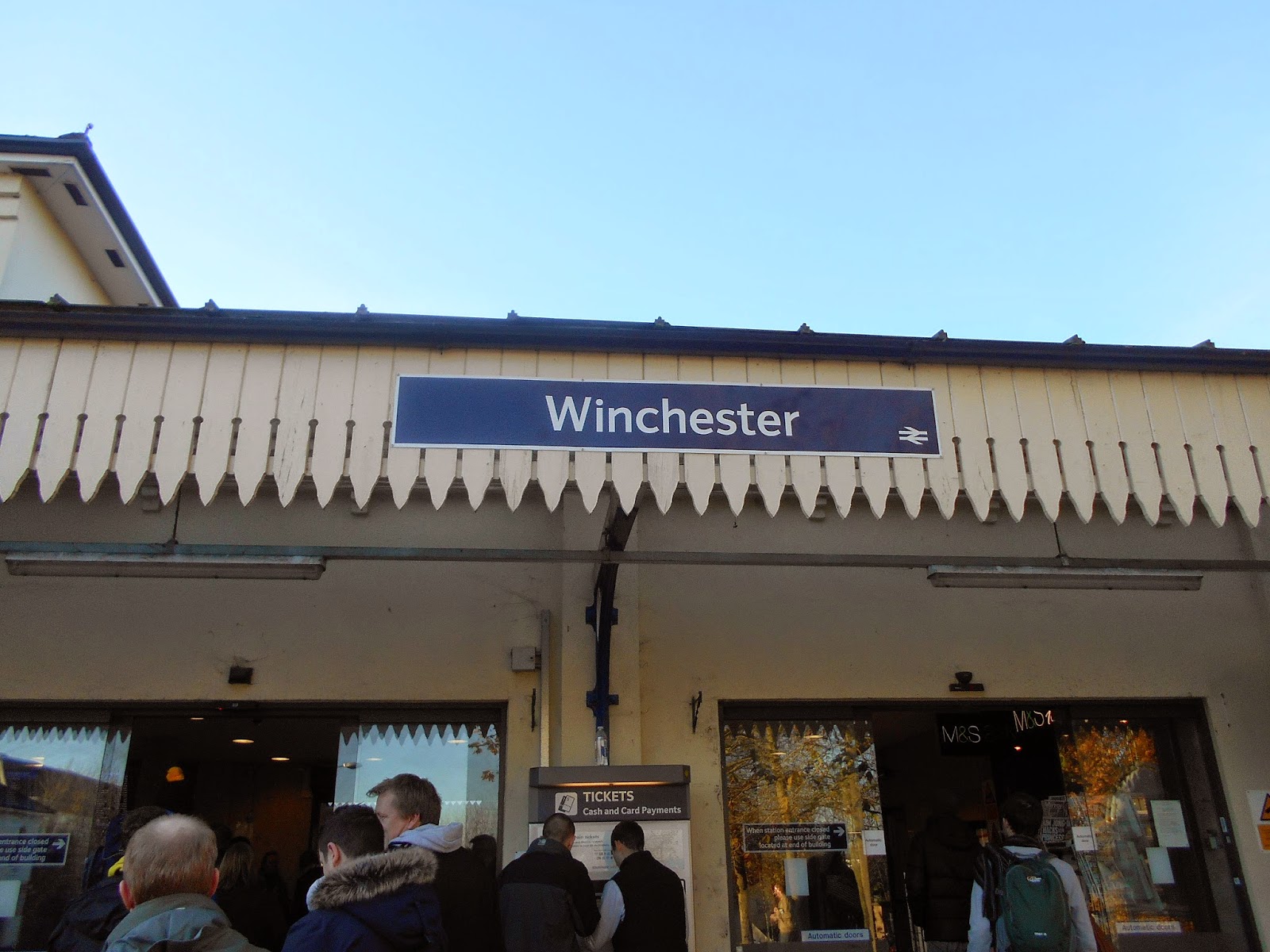 Not Basingstoke….
Wardy & Mr X were going to go via Wimbledon so it was off to Clapham for us. Also joining us on today's trip was going to be Crockett who would be getting on at Mitcham Eastfields and also we were going to break in a new Gandermonium virgin in Steve the Saints fan. We've yet to create a nickname for him but the fourth Wallace brother or just Benali will cover him for now I think.
Getting to Clapham Junction we moved onto the other platform to be greeted by Mr X & Wardy. For some reason South West trains heading out this way are always fuckin' busy and once again all ten of us were forced to stand the whole way these as there was no seating free. To make matters worse, for some unknown reason my hooter decided to go and lob blood all down my new 1972 retro England shirt. So, half past ten, sober as a judge and it looked like I'd already started trouble. Typical.
From where we were standing we were forced to huddle around a toilet. Not only that but the toilet door was broken and wouldn't shut. The amount of people that didn't believe us as they made their way through us was quite astounding. Mr X would say "Sorry luv, but the toilets knackered" only for the bird to still try and close the door. Our angelic promises of not looking while she went were ignored. Some people are so untrustworthy.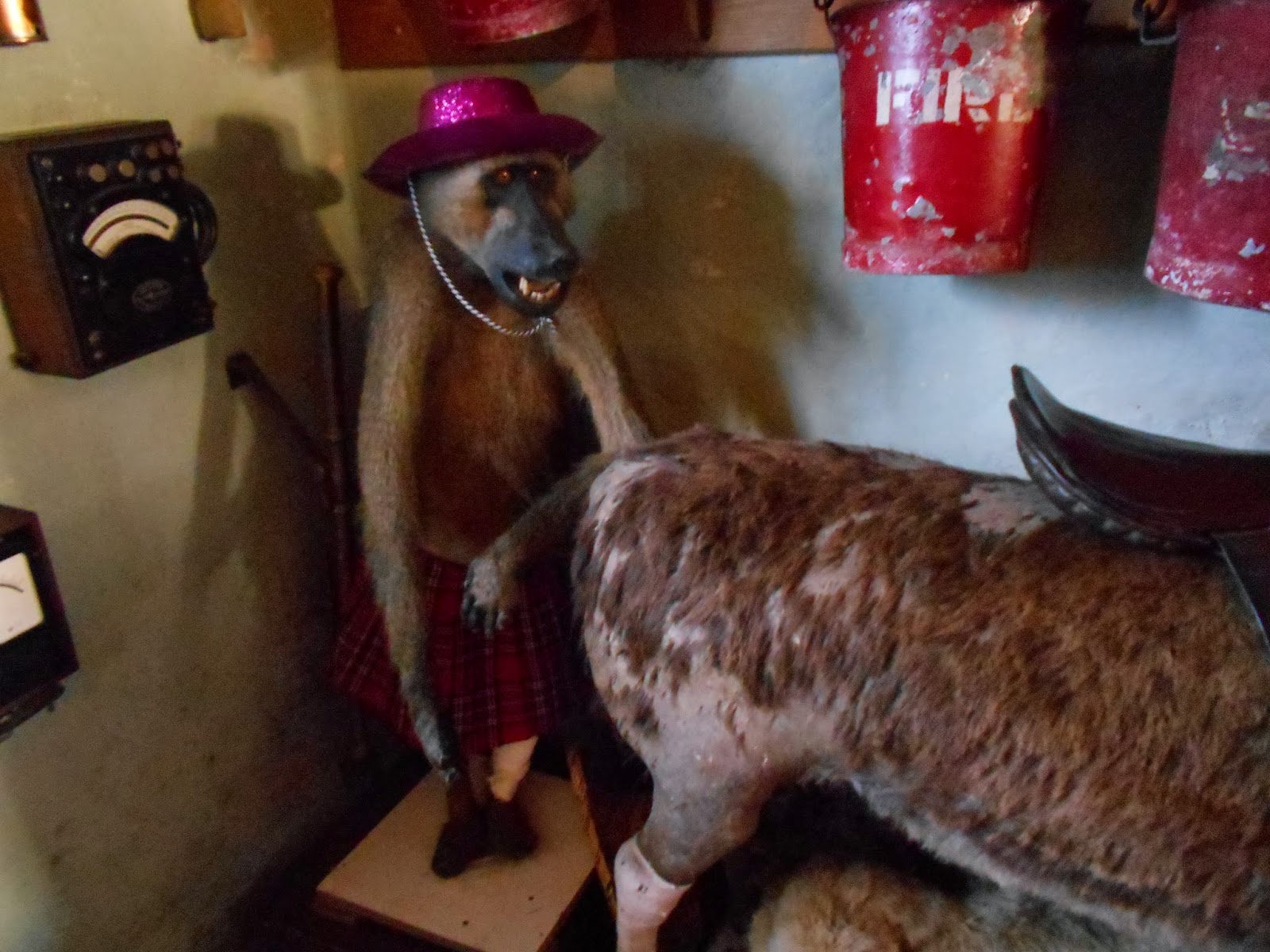 Dirty sod!
At just after eleven we arrived in Winchester and headed straight for the local 'Spoons. Surprisingly for half eleven the place was rather busy. There was even one gentleman already slightly worse for wear and this was all before twelve o'clock. Deciding that one here was enough we began to make further plans. I don't recall where we decided next but the walk through the town became something of a mission as all the Christmas shoppers were out in force.
We did mange to find a pub called the "William Walker" which was more of a gastropub than a boozer. You could tell this by the fact that it was £11 for a fuckin' steak and ale pie! The round wasn't cheap either with six beers costing well over a score. We all finally agreed that instead we should plump for the "Black Boy" on the quieter side of town and finished our drinks.
To get to this next boozer you have to cut down past the cathedral, and fuck me it was heaving there. There apparently was some sort of Christmas fayre on and the place was rammed with people, even worse than the high street. Luckily for us the constant need for alcohol gave us the courage to push on through this Christmassy mob to the other side and towards the rub-a-dub.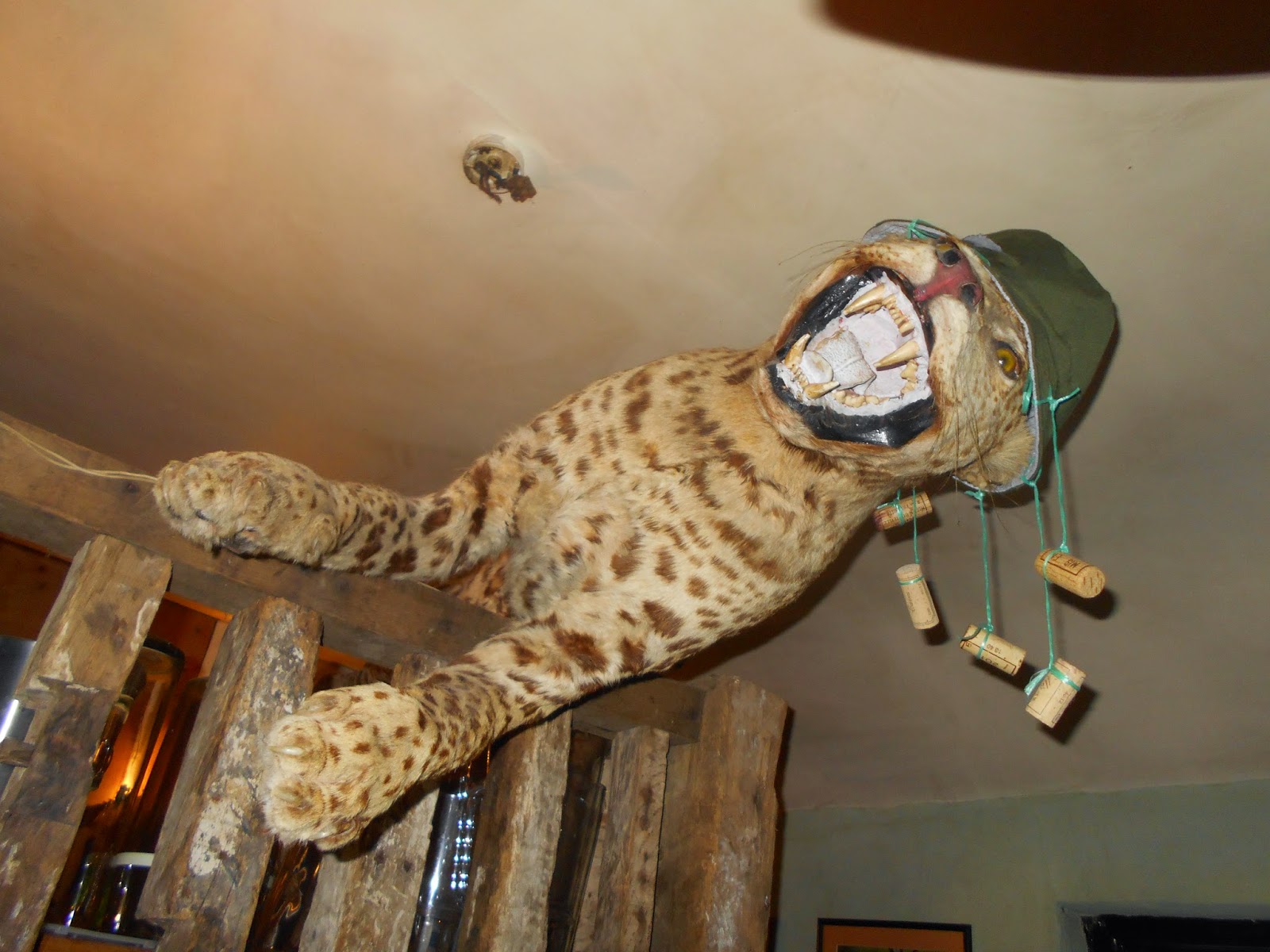 Not something you see everyday….
After several more beers in this odd looking boozer and a couple of goes on the table football out back it was time to head back to the station. All we needed to was to get some transport, mainly as we didn't fancy getting through the massive crowds again. Unfortunately out of the nine numbers that Mr X rang only one had any and even then only one cab was available. So like the Paras in the Falklands we had to yomp it to the station.
With some light refreshment obtained while we waited for the train, we again found there was no room to sit down, so we once more hung around the toilet like flies around shit. Eventually arriving at Basingrad at half two we headed for the closest cab rank outside and off to the Camrose. Here there was still time for a cheeky short before paying the £12 at the turnstile.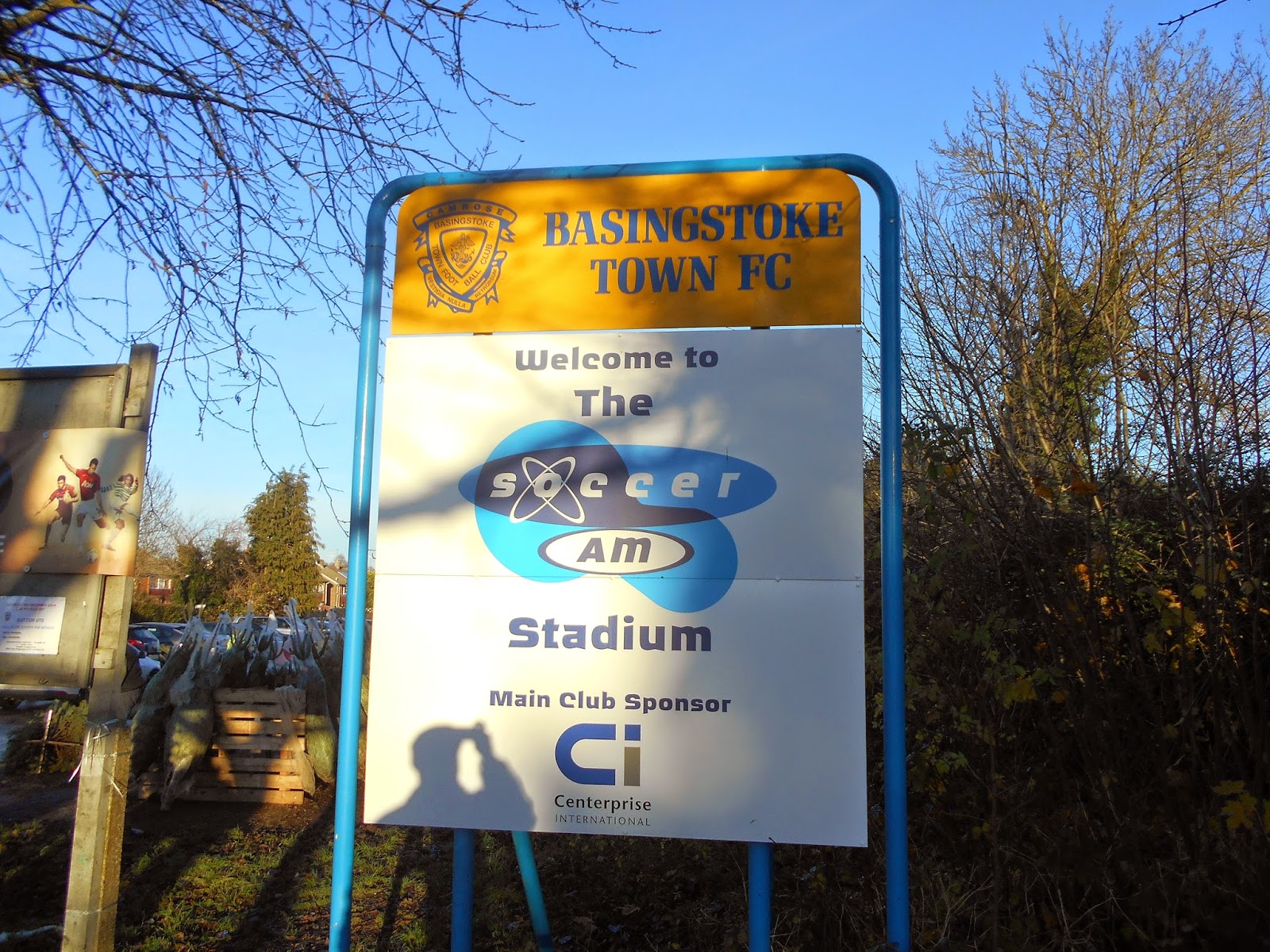 Thankfully, Tim Lovejoy was nowhere to be seen….
Lovelock, Amankwaah, Hart, Spillane, Wellard, Clough, Hippolyte-Patrick, Southam, Dundas, Gomis, White Benchwarmers: Evans, Wishart, Medlock, Osbourne, Julian.
With the sun blinding us behind the goal we saw Sutton and Basingstoke exchange opening salvos. To be honest most of the first half we struggled to see as the winter sun was low enough to block out most of the pitch. After the quarter of an hour mark we were 1-0 down when a poorly defended corner was not dealt with a simple tap in only required.
Next spot of bad news was when Callum Hart fell on his shoulder after losing the ball. It looked like he had popped it. Unlike Mel Gibson from Leathal Weapon he was unable to just push it back in and carry on, so had to be helped off and replaced by Osbourne.
With five minutes to go in the first half the sun had finally set so we could see a lot more and we managed to catch a break. After some strong running from White, he laid the ball off to Wellard down the left hand side. He managed to cut in and I think tried to cross the ball. Either way the ball zipped underneath the keeper to bring us back to level terms 1-1!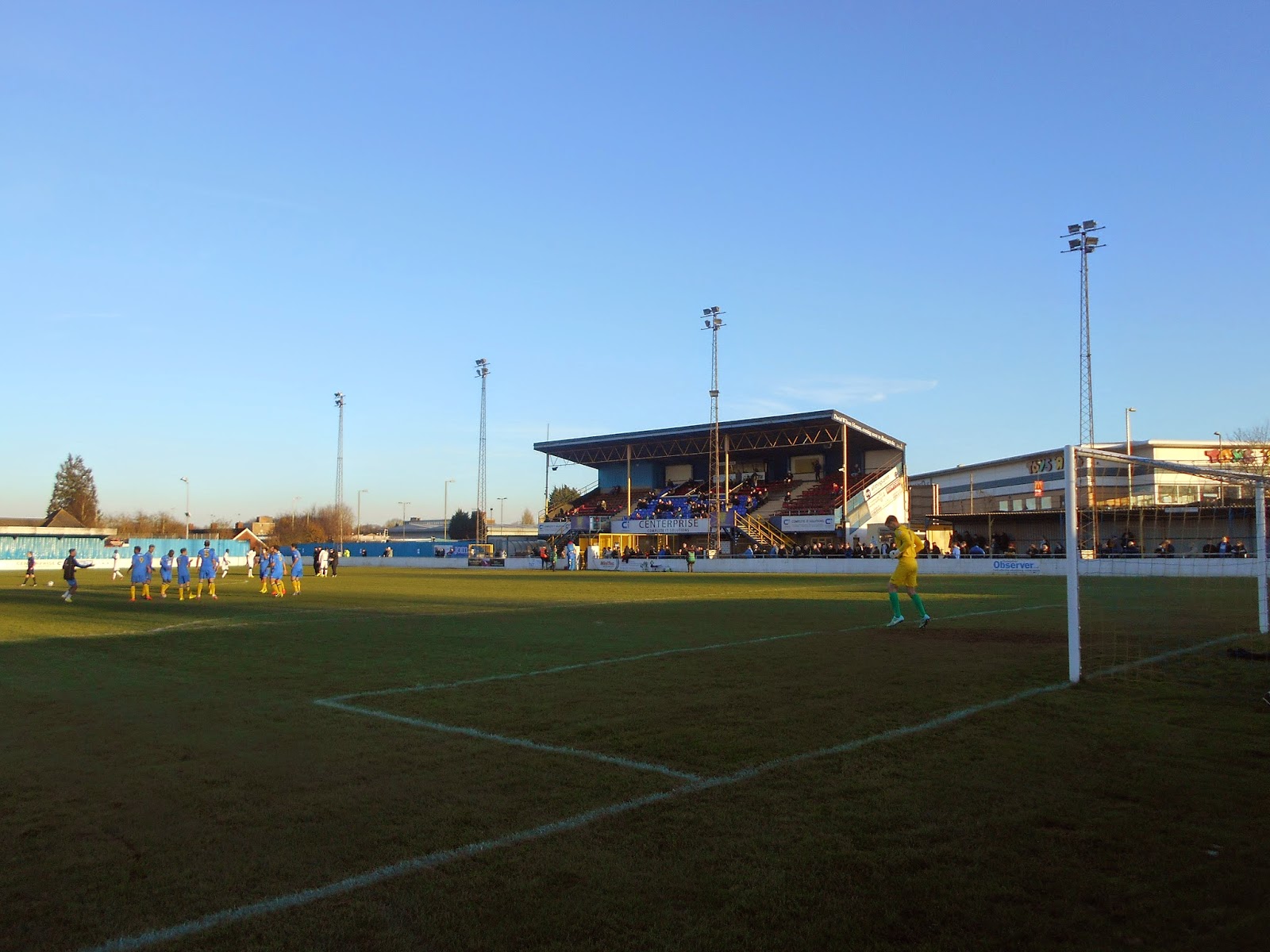 Cold Camrose
During the celebrations we saw that Micky had also hobbled off with what looks like a hamstring issue. He was subbed for Evans. Our excitement didn't last that long, in fact only about three minutes when a Basingstoke player found himself with loads of space inside the box to volley the ball home and put them back ahead. Lovelock did slip as he came to narrow the angle but I don't think it would have made any difference.
After taking in another drink in the clubhouse at half time we moved over to the other end. With the way that the Camrose is set-up at this end there is no room to put up the Sutton flag. Instead there is a rather large wall that needs a bit of acrobatics to get on but luckily for us Taz is the type of Chinese contortionist who can do this. Well, sort of.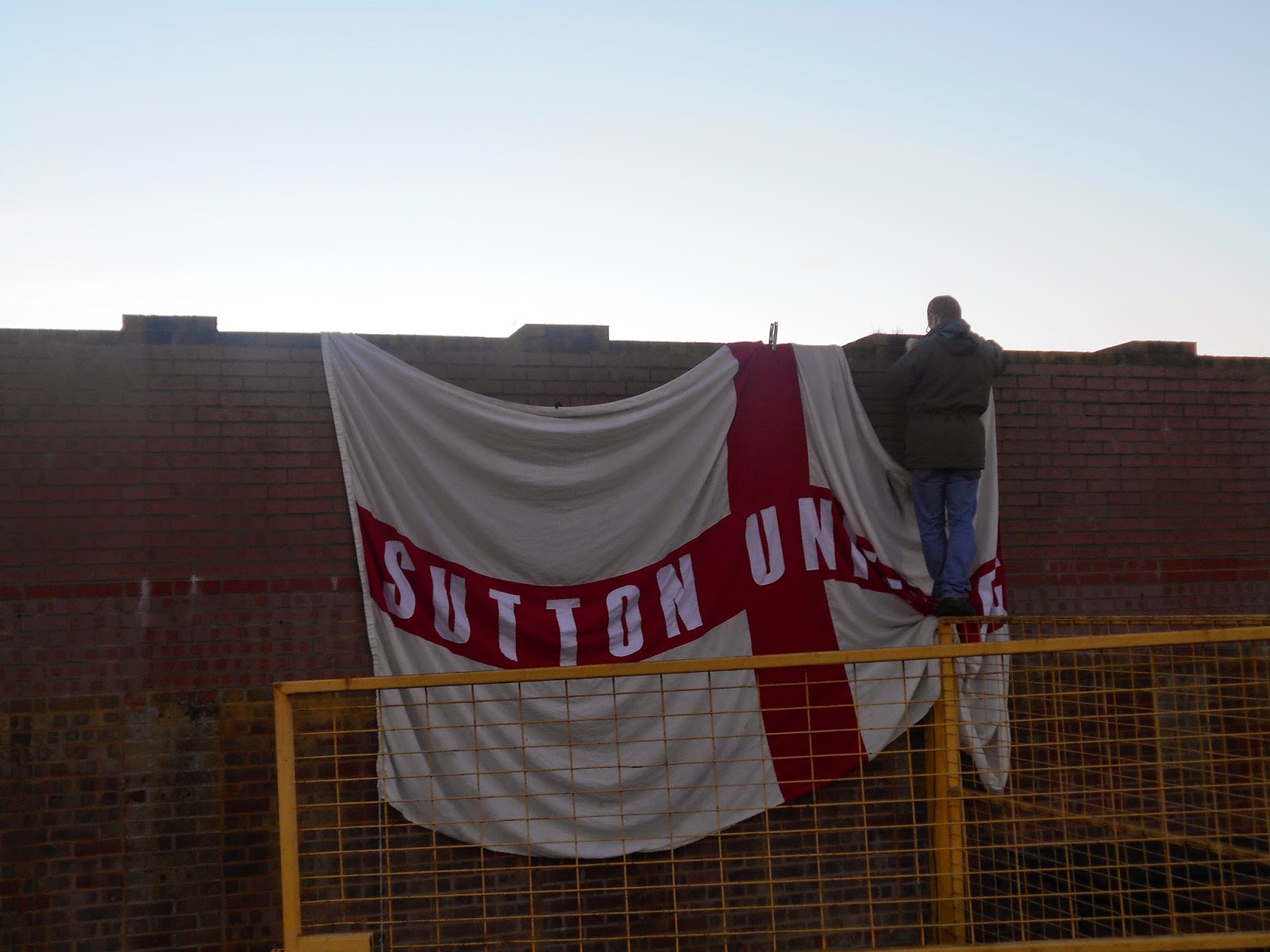 An event described on twitter as an 'Absolute fucking circus'.
The second half saw a slightly different approach from Sutton and soon enough we were level again. White again was the player with the clinical pass that set up Gomis to slot the ball past the keeper from the edge of the box. 2-2! We now had nearly forty minutes to get the winner. The only thing that stood in our way was the Basingstoke woodwork and the eternal Sutton hater Mr Coggins in the middle who once again gave some funny descions that baffled everyone.
White had the pick of the bunch when his curling shot hit the inside of the post only to rebound off to safety. Clough had several chances as well but was denied first by the goalkeeper and then a Basingstoke player on the line. Medlock also had the final chance to take the three points but unlike Gomis, his one on one chance was hit at the keeper who managed to push the ball out for a corner.
So with a point in our pockets, wfter the game we retired to the club bar to see the first half of the Man City game and see the other results come in. Also after five o'clock the drinks went down to two pound for a pint, RESULT! The decision was now what to do next? Should we stay or should we go? Well eventually Mr X ordered up some sherbets and before I knew it we were all back at the station.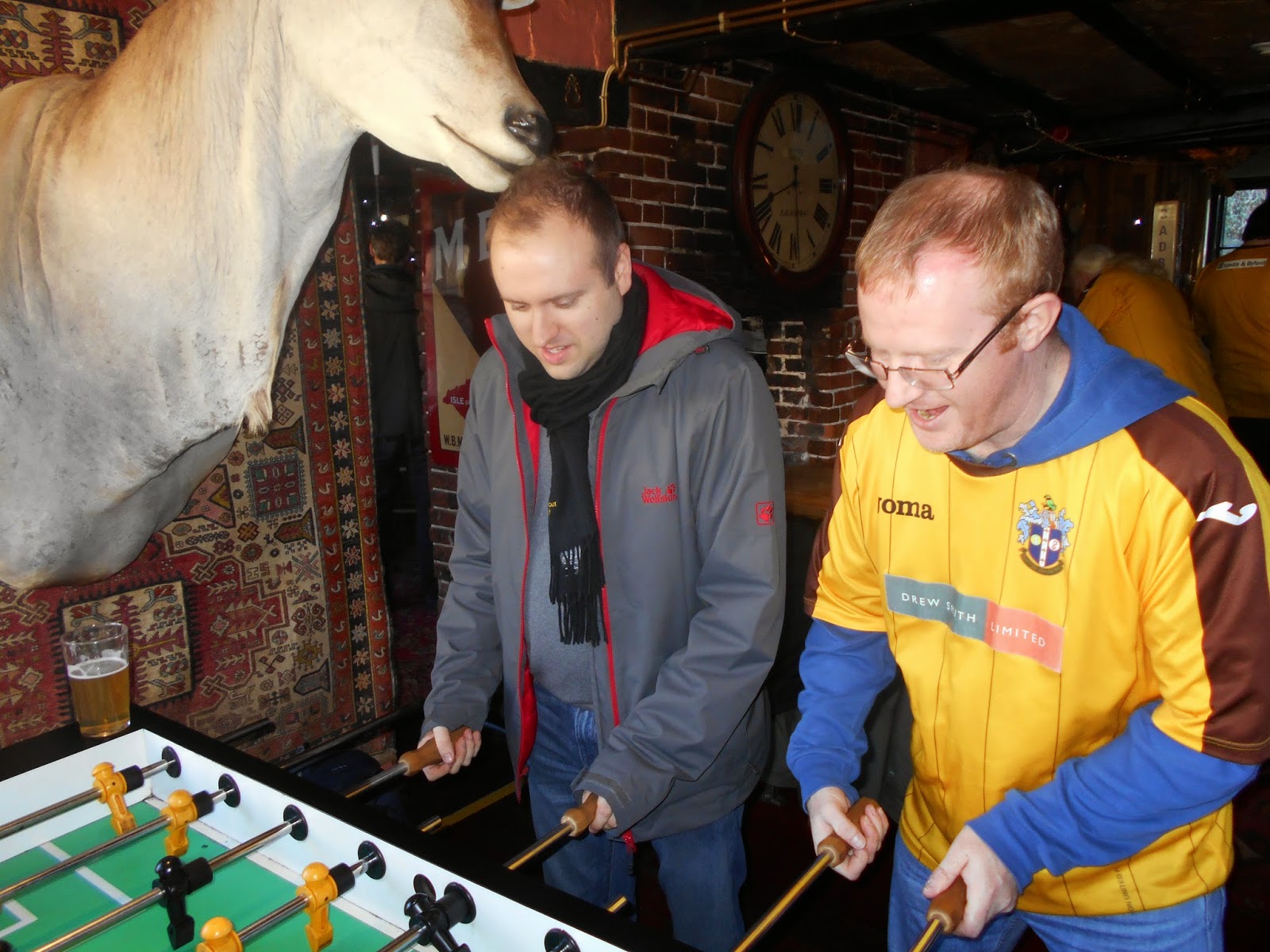 Another OG about to be scored….
This doesn't mean of course that we went straight home. We actually went to the Queens Head nearby where the drink continued to flow. There was also a juke box so before you knew it Plastic Bertrand, Teenage Mutant Ninja Turtles and even Emilia were quickly stuck on. Going back to Clapham we were once again forced to stand up and our very own little Sutton corner appeared right by the bogs. Trust me, by this point every toilet seemed to have a reminder of who the non-league team were travelling on SWT today.
At Clapham we decided to spread our time between the Falcon & the Junction. This was also the point that Benali decided to head back to Croydon, somewhat more conscious than a Gandermonium awayday virgin should be but next time, you never know! Also another member of the Firm left us to head back to Sutton. Unfortunately he somehow managed to take four hours to get back! Gawd knows what happened to him but apparently he popped up outside the cab office where Taz was waiting in Sutton after 1am!
Most members of the Firm had decided to call it a night but there were still three of us prepared to make it to Sutton. The final stopping point was going to be O'Neils in Sutton. Me & Wardy had to wait as Taz decided to grab some nosh from your local friendly Subway. I don't know why we decided to do double up doubles but that soon had the desired effect and called a halt to today's festivities. South Park away Tuesday. Surrey Cup. Can't wait!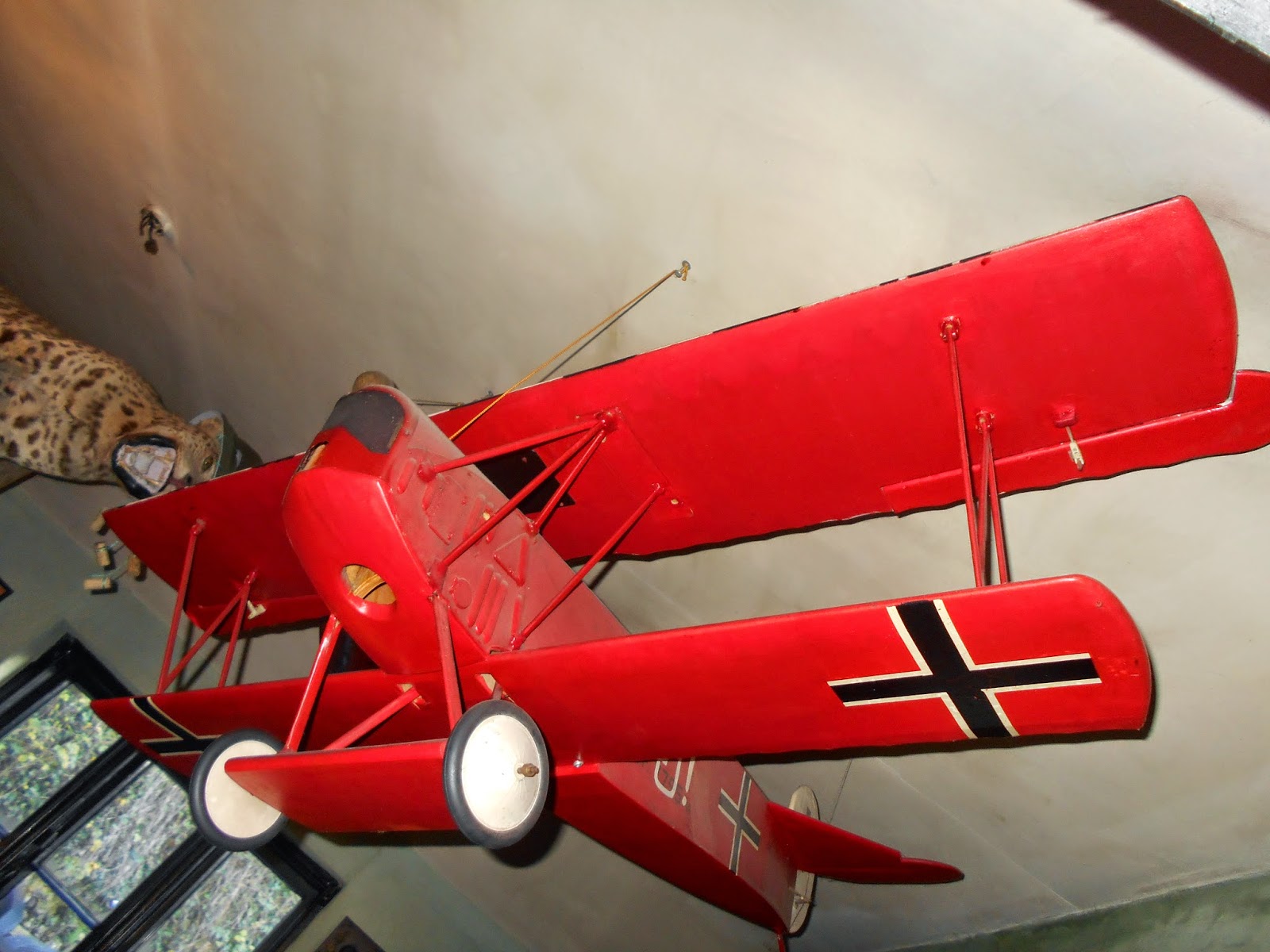 Well, if there's no cabs it'll have to do!
Duke
Att. 557