It's half past five on Saturday morning and I'm awoken by the sound of my alarm. The nice little dream of me in a little sex sandwich with Keeley Hawes & Jane Seymour would have to wait for its conclusion another day. After a little scratch, it's time to go downstairs and put the kettle on. Still nearly about to doze off, the kettle whistles and gets my attention.
The time has now reached a quarter to six and I have to ask myself, why so early? Its a fuckin' Saturday for Gawd's sake. Oh yeah, today is the day we go to Hereford in the Amateur Cup FA Trophy. After the fundamental three S's, I was faced with the eternal question that confuses most men and has never been satisfiably answered since it was first asked. Brut or Old Spice? In this case, I panicked and applied both.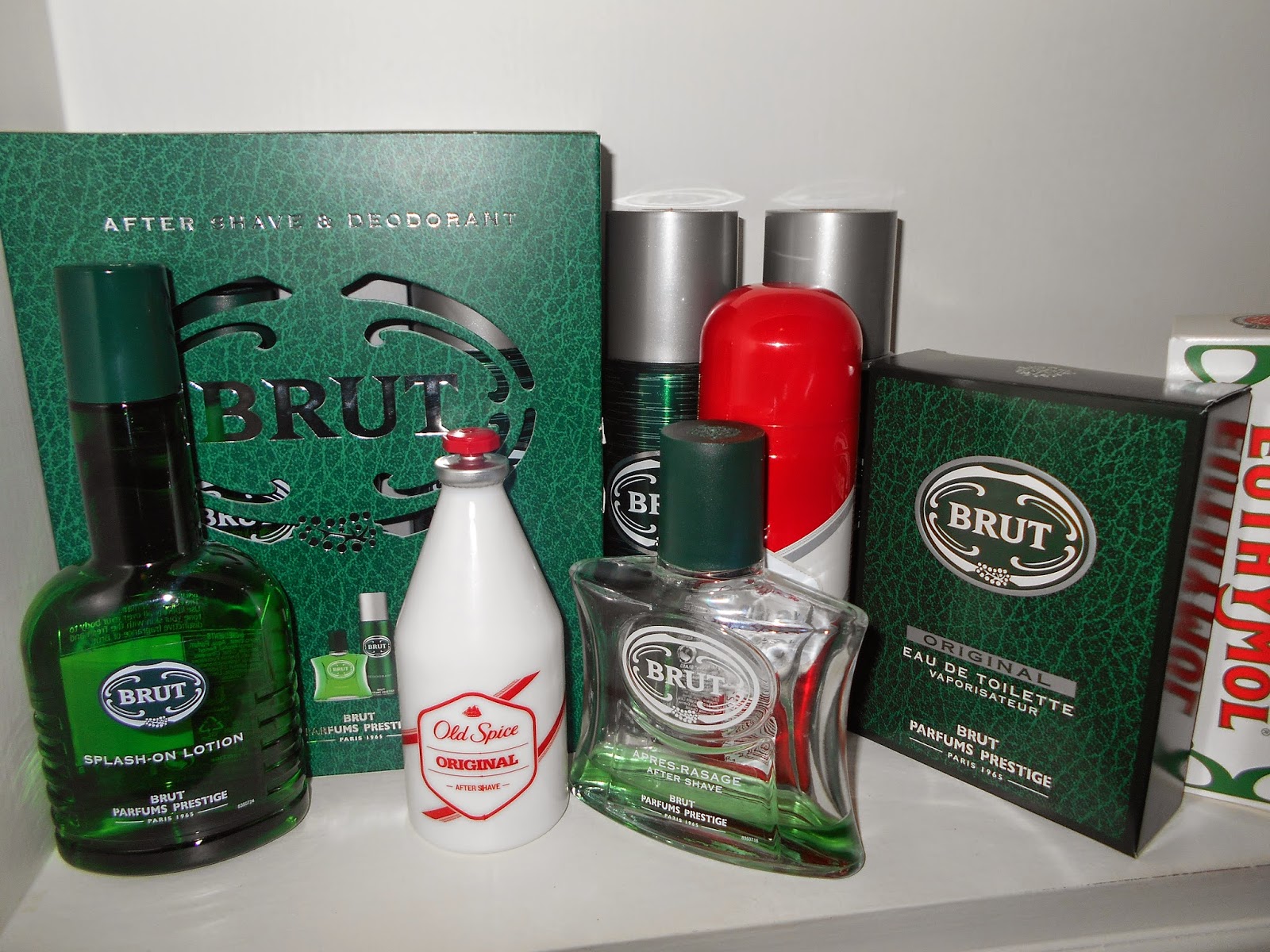 Ever thought Dukey stinks? This is why….
I've been to Hereford once before. To watch us lose two nil over five years ago actually. That was the day a certain young man named Wellie was told not to take any photos with his camera, yet we could with our mobile phones. We were also stuck in the bottom corner of the Cargill Stand of the Edgar Street ground and smoking was apparently banned, like that stopped us. Also on our return journey through London we nearly got into a spot of bother with Ipswich lads who confused us with Norwich fans.
It was also the day that we were joined on our journey by three new boats, namely King Dong, Prince Ding-a-Ling and Bertie the Groomer. As this was in between the different times of Gandermonium, I do wonder what our plan of attack had been for that day, but it certainly didn't include getting up at half past fuckin' five in the morning!
I left my house at around half past six, the sky is dark yet I can still see the clouds up above. 'Was it raining out West?' I wondered to myself. There was not many people out and about at this time of day but yet there is always one fella walking his dog. In fact the dog was taking a right royal turnout on someone's drive, the owner looked at me and begrudgingly begun to get the bright pink doggie bag out of his pocket. I thought to myself, "at least you ain't the one about to go to Hereford".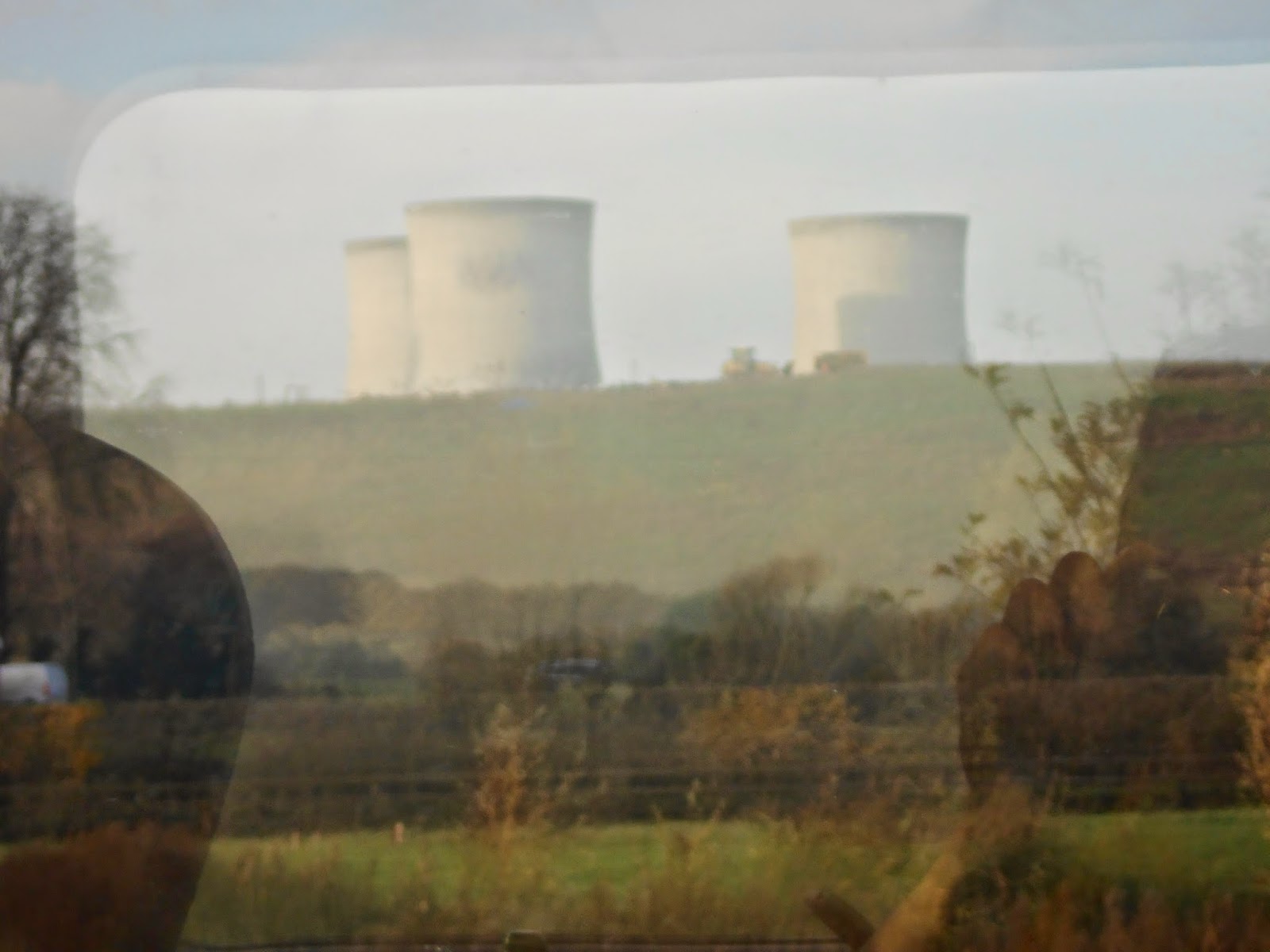 Countryside! Sort of….
Getting some cash for the day I finally arrived at Carshalton station. '4 Days' was not too far behind me and even Taz was on time for a consecutive week! And to my surprise he even offered to buy the teas from the tea van outside! As the 0702hrs from Sutton arrived it failed to stop at the usual spot and instead headed for the other end of the platform, leaving us to jog after it trying not to spill our tea.
Once on the train and seated we were met by another associate of ours Ross at Hackbridge. The train ride up to Victoria was quiet and most of our attention was filled with questions about the game seven hours away. Most of us were in agreement that our recent run of form was not just about bad luck but also about some poor individual mistakes and decisions.
We made Victoria on time and headed straight across the concourse to the tube. Taz decided that instead of hitting up the usual Circle/District route we would have a go on the Victoria line to Oxford Circus and then on the Bakerloo line to Paddington. The trip was quick and efficient & we arrived at Paddington at around five to eight.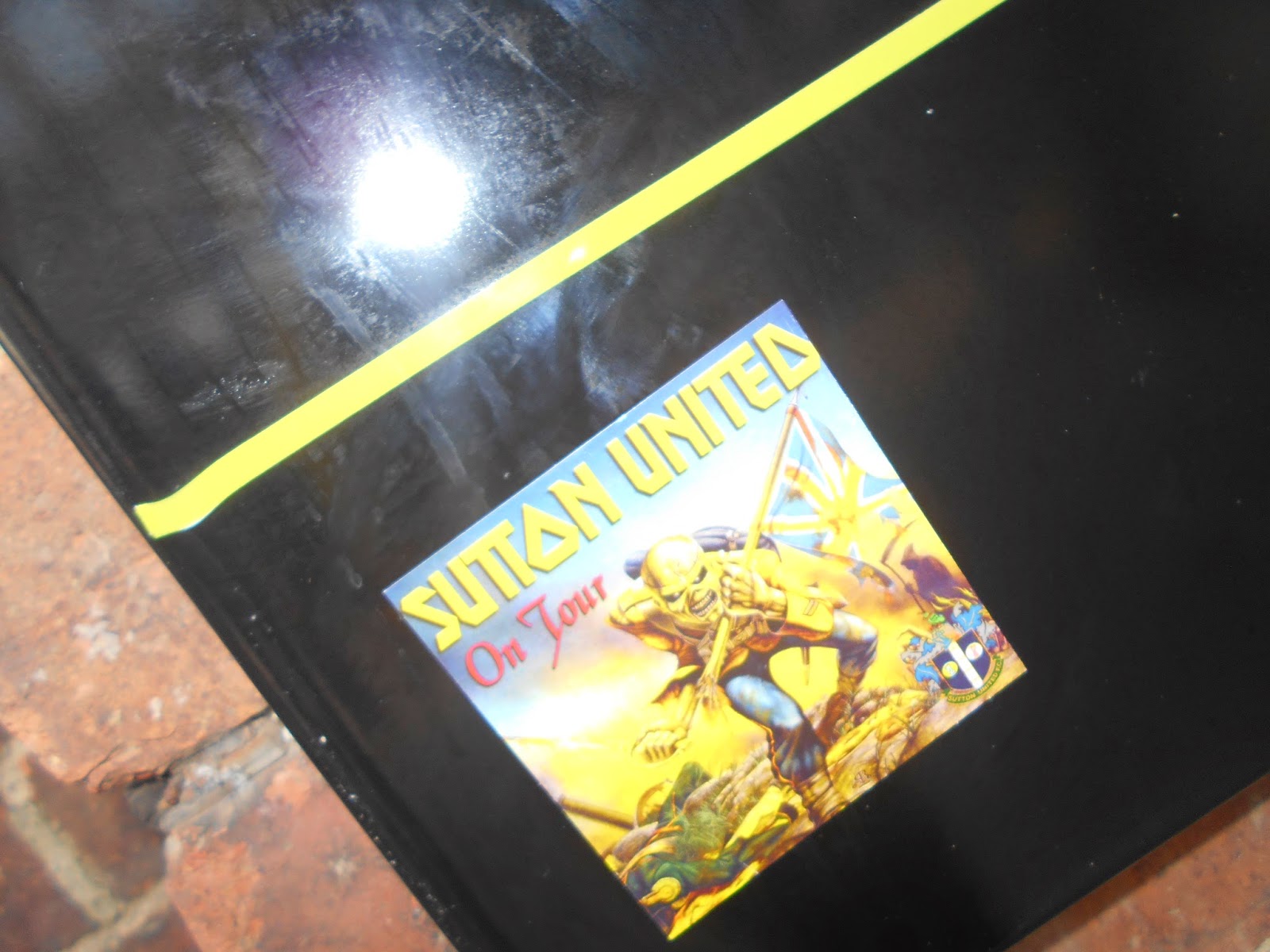 Even we're not going to try & deny that one….
Sean & Indy were already waiting there for us and I managed to find Mr X outside smoking like his life depended on it. I also decided to light one up but didn't realise that the time was against me and wasn't able to buy any refreshments for the train before we left. Instead I was to rely on the overpriced cans from the buffet.
The train was supposed to be the 0815hrs direct from Paddington. We were due to hit Hereford around a quarter to twelve & finally it left the platform several minutes late. To pass the time (and not start drinking) four of us decided to play a little bit of Scrabble. And this was not just any Scrabble, because we could use all those naughty words that we frequently utter.
Trust me, when words like "Bent", "Tits" & "Cunt" get you double words scores, you know the sort of level that we were playing at. There was some argument of if "Dadtwat" was a word, but we finally agreed it wasn't, much like "deadtwat" that soon followed.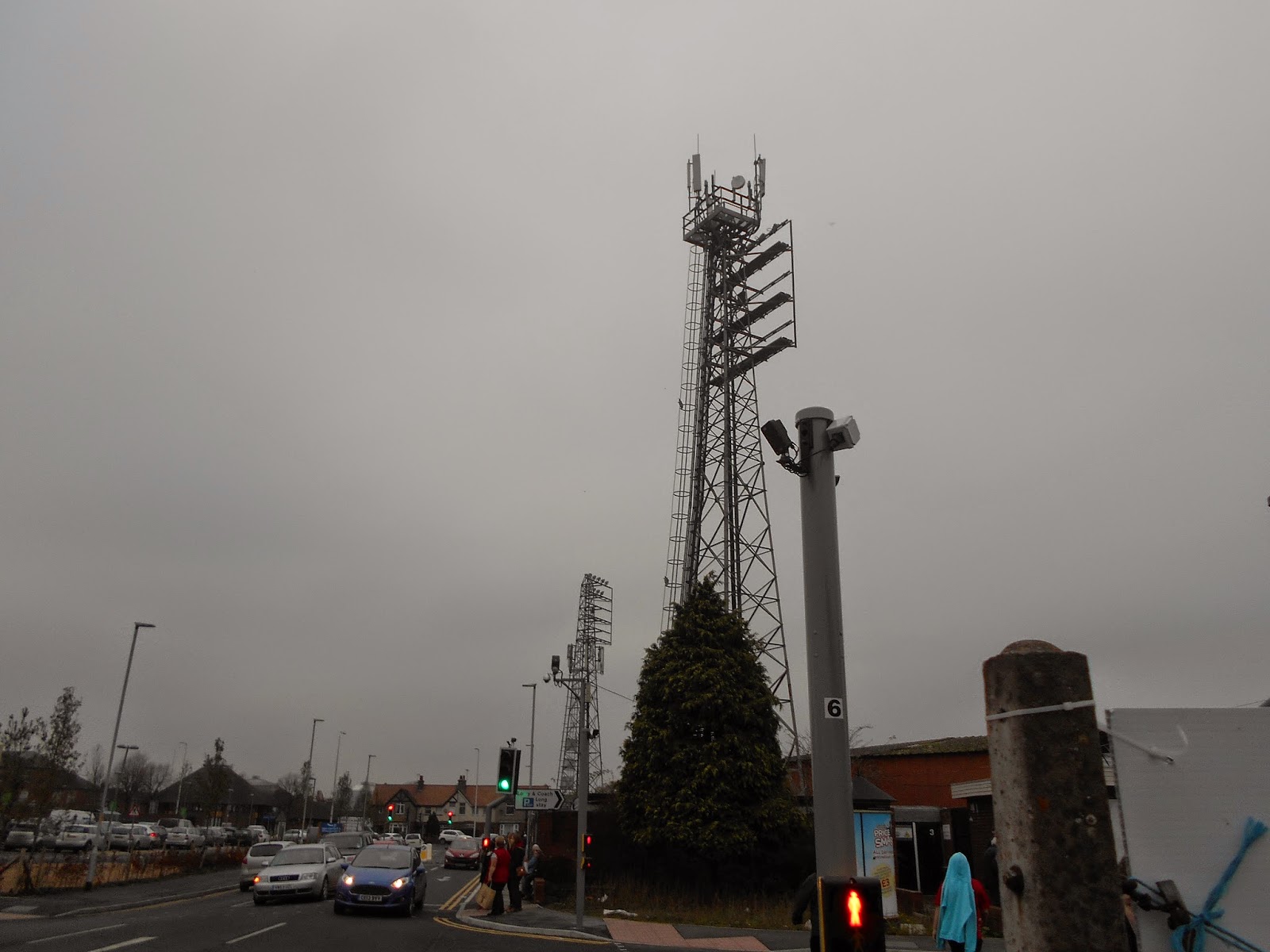 Pwhoar! Floodlights!
We were just about to go past the icon that is Dicot Power Station when suddenly the train came to a halt. A very depressive train guard then announced that there were some track difficulties near a place called Appleford. Where the fuck that was I don't know, but now we had to wait as the train in front of us was about to "test the track".
After nearly half an hour of no movement, the train started to inch forward. We were informed that we were heading to Oxford to await further instructions. Lucky for us at this time the train finally reached Oxford and then carried on. After paying over £30 for a train ticket, someone mentioned that if you were over half hour delayed you would be entitled to half price tickets. If true, then result!
We were over half an hour late when the train rolled into Worcester Foregate Street station. It was announced that the train was to be cancelled from here. We were told to head over to the other platform to get the train from Birmingham instead. On this platform there were swathes of people. Were they all going to Hereford? My answer was given when a little three carriage train arrived heading the opposite way. It was nearly full already when all the people rushed to get on it. There was no time for people to get off and even a poor old girl in her wheelchair struggled to be let out as well.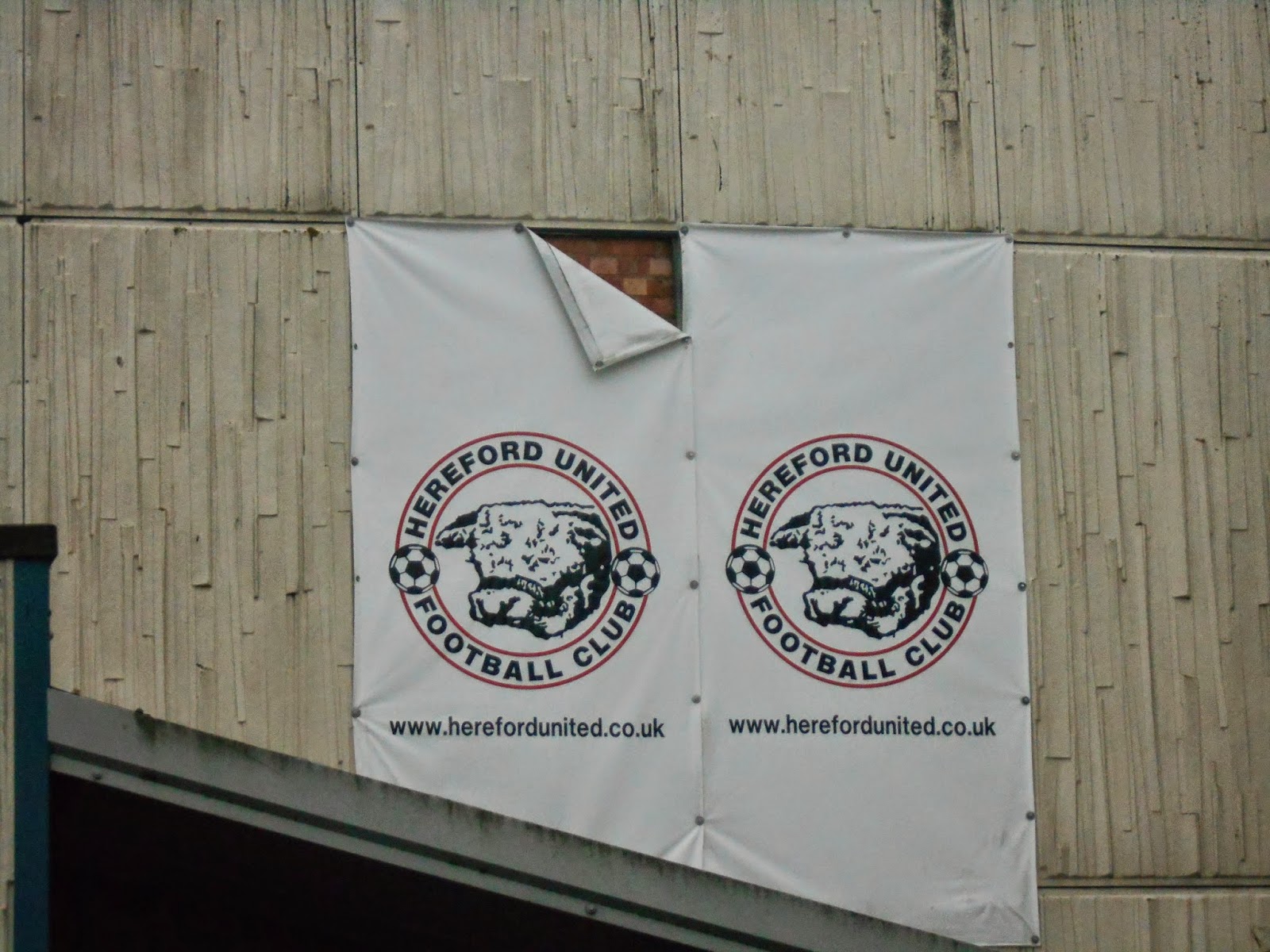 Edgar Street.
The decision was do we get the next train or have a beer in Worcester? Well as always, drink won, so we headed downstairs and to the pub next door. With the day descending at this rate we might never make it to Hereford. The 1232hrs train we then plumped for was of course once again delayed and at one point even disappeared off the computer screen before finally arriving.
The time that we finally made into Hereford was 1345hrs. That is over seven hours since I left my bloody house. The one and only pub we went for was one of Aleman's recommendations. Named "The Barrel" we soon found the jukebox and the Gandermonium anthems were quickly sought out. A couple of rounds later it was time to head towards the ground.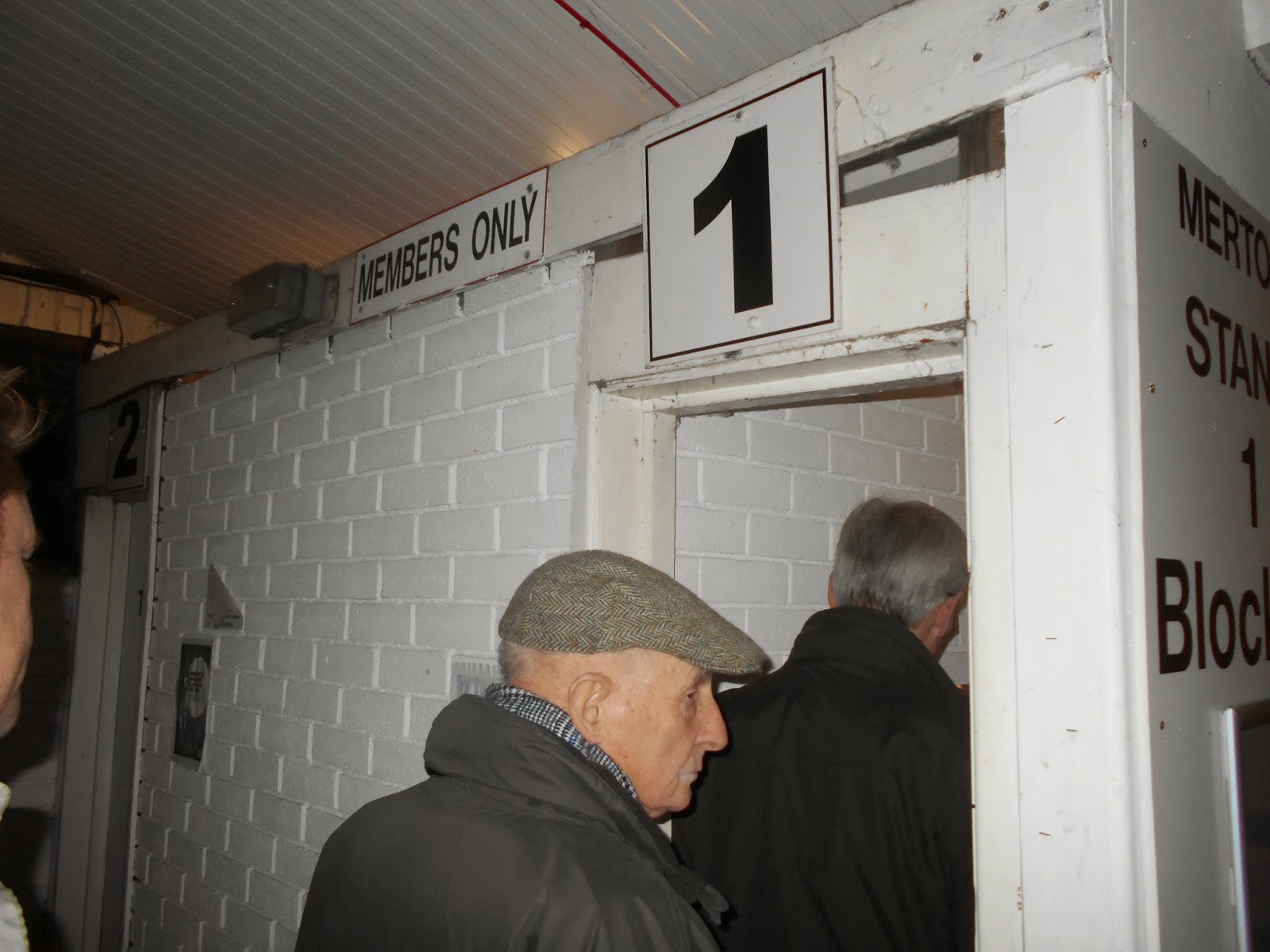 Queueing….
Julian, Amankwaah, Hart, Spillane, Wellard, Clough, Hippolyte-Patrick, Southam, Dundas, Gomis, White Bench Warmers: Evans, Wishart, Dos Santos, Osborne, Lovelock
Talk about shooting yourself in the face with a twelve bore shotgun. The game was only five minutes old when Sutton committed the ultimate Hari kari. An innocuous ball headed ball back from twenty-five yards from Micky appeared to be heading to Julian in goal. For that split second I begun to turn towards Taz when some one screamed "What the fuck?", I looked around only to see the ball roll over the line. What the fuck had just happened? According to Indy, Julian had simply gone to collect the ball near the penalty spot only for it to go through his legs.
It was one of those clangers that if recorded, will end up on one of those Saint and Greavsie Xmas Videos. With the away support still reeling from that, Sutton nearly equalised five minutes later when White just failed to get onto a Dundo header. After that we dominated the possession without testing the keeper at all. I counted three headers that all went high and wide of the goal.
The half hour mark had just passed when the boys drew us level. Who scored the goal? None other than Ricky Wellard! White managed to lay off the the ball to him just outside the box, he skimmed around one player and let off a low shot that took a defelction around the keeper. 1-1! To be honest I haven't been convinced with Wellard and still aren't but that was a step in the right direction to say the least.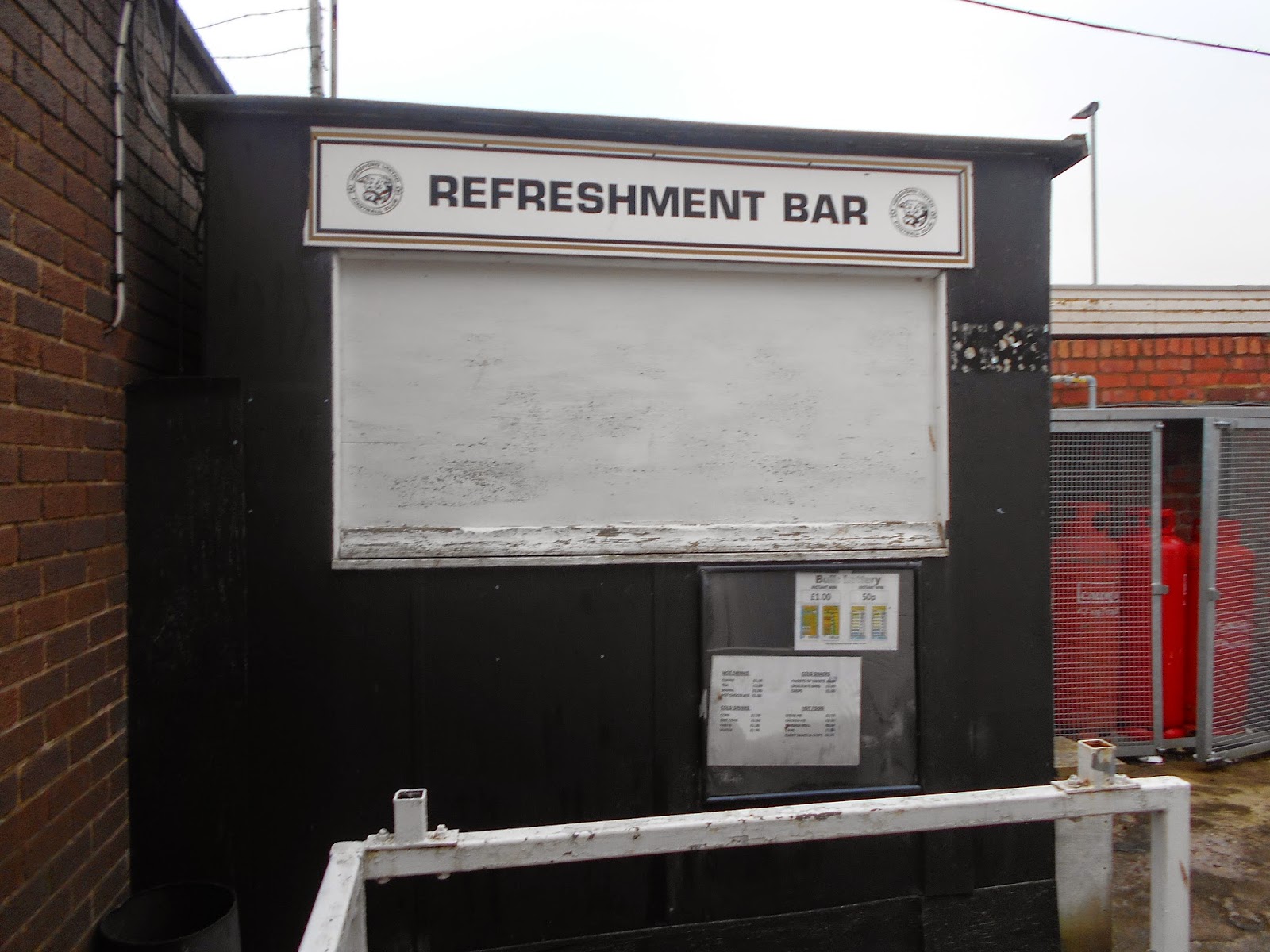 Closed….
Hereford were nearly back in the game when Cloughie's weak header straight to a forward nearly set up a goal, only for some weak shooting wide of the goal once again saving the day. With half time fast approaching Shaq received the ball just outside the box down the right hand side. He cut into the box beating his man only to then be caught by another defender. From where we were standing it looked like a penalty , but the man in the middle didn't agree and waved play on.
Half time came and a clearly angry Dos tried to remonstrated with the ref only to be prevented by some Hereford players. Even their number two decided to have a slanging match with a member of the Hereford support down the other side of the stand. With Hereford being an old league ground, you are not allowed to smoke so I headed to where we'd had a tab just before entering the stadium.
Outside I sparked up only to see a group of Hereford fans through the gates looking at the main entrance in silence. "What bollocks is this?" I thought to myself & I decided to take a butchers. The next thing I see is the referee nearly sitting in some sort of tree/plantpot as some of the Sutton staff were, er, 'talking' to him.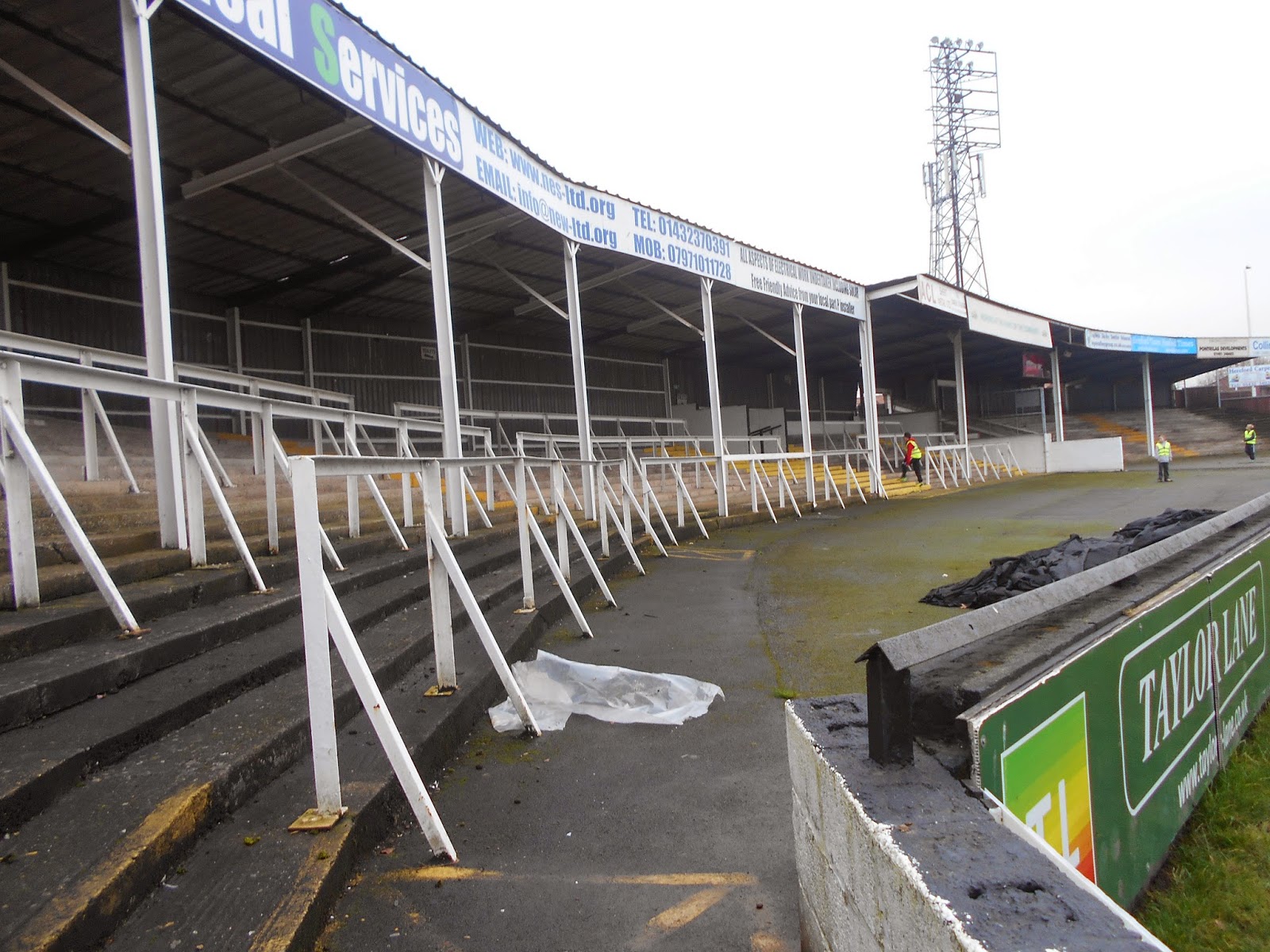 Empty….
Later in the bar some Hereford fan said that he had heard that their number ten had just been headbutted by our assistant manager. From where I was I didn't see anything. Also how the hell can you have segregation in place in the stadium and then have a de-segregated bar? Beggar's belief sometimes. Needless to say that the Hereford number ten made it back onto the pitch for the 2nd half.
The second half saw Sutton attacking towards our corner. Within a couple of minutes another over hit cross appeared to be rolling out for a goal kick when Shaq decided to run after the ball and managed to stop it from just going out. Suddenly number two came storming in with two feet to clatter Shaq and get the Red Card for his troubles. Personally I feel that the modern game has gone soft but there were no qualms from the Hereford players and number two then gingerly (he was ginger) made his way past us.
I felt we never really made the extra man count because we seemed to mantian the pressure and the possession without really testing the goalkeeper. Too many times we ssaw the final ball either be too weak or too hard and never quite as accurate as you would expect. Several times we saw players either swing at the ball only to miss it or to pass the ball to an imaginary Sutton player who turned out to be a Hereford guy.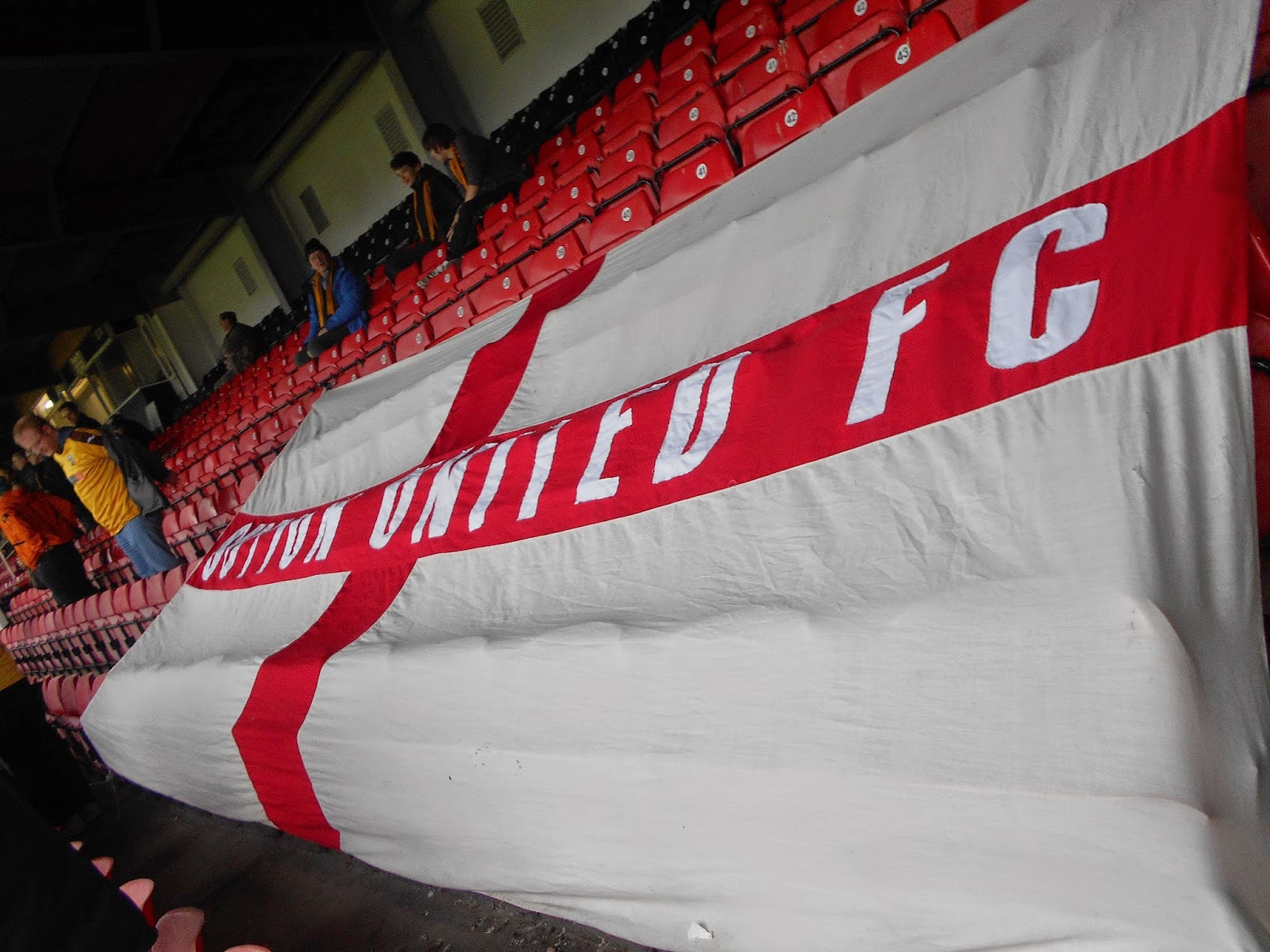 BIG FLAG
Wellard nearly got a second when his shot came of the bottom of the right hand post. With just under fifteen minutes to go Dundas was subbed for Wishart who nearly made an impact by having taken out a geezer moments before he then got taken out in a revenge lunge that went unpunished. Evans replaced a tried looking Wellard and we went into the last five minutes thinking there would have to be a replay.
Scratch that bollocks, because throughout the second half there was some banter between Sutton fans and some Hereford fans that appeared in increase as the game got near its climax. By this point the stewards had got involved with the home fans. You could see from their reactions that the were trying to pin all the blame on us. Eventually we saw the stewards begin to make their way over to us. they went past 95% of the away support into the corner where the Firm was standing and approached none other than Taz with the question:
"Here lads, have you heard any racist language?"
Well you could knock me down with a feather at that point. I don't know why every time there is an issue with stewards that they think Taz is the culprit, because lets face it, surely I look like more of a possibility for that than Taz? Anyway, just as this was all happening, Gomis was trying some magic in the box before being tripped. No penalty and The ball fell to Southam who curled the ball round the keeper and in the net. 2-1!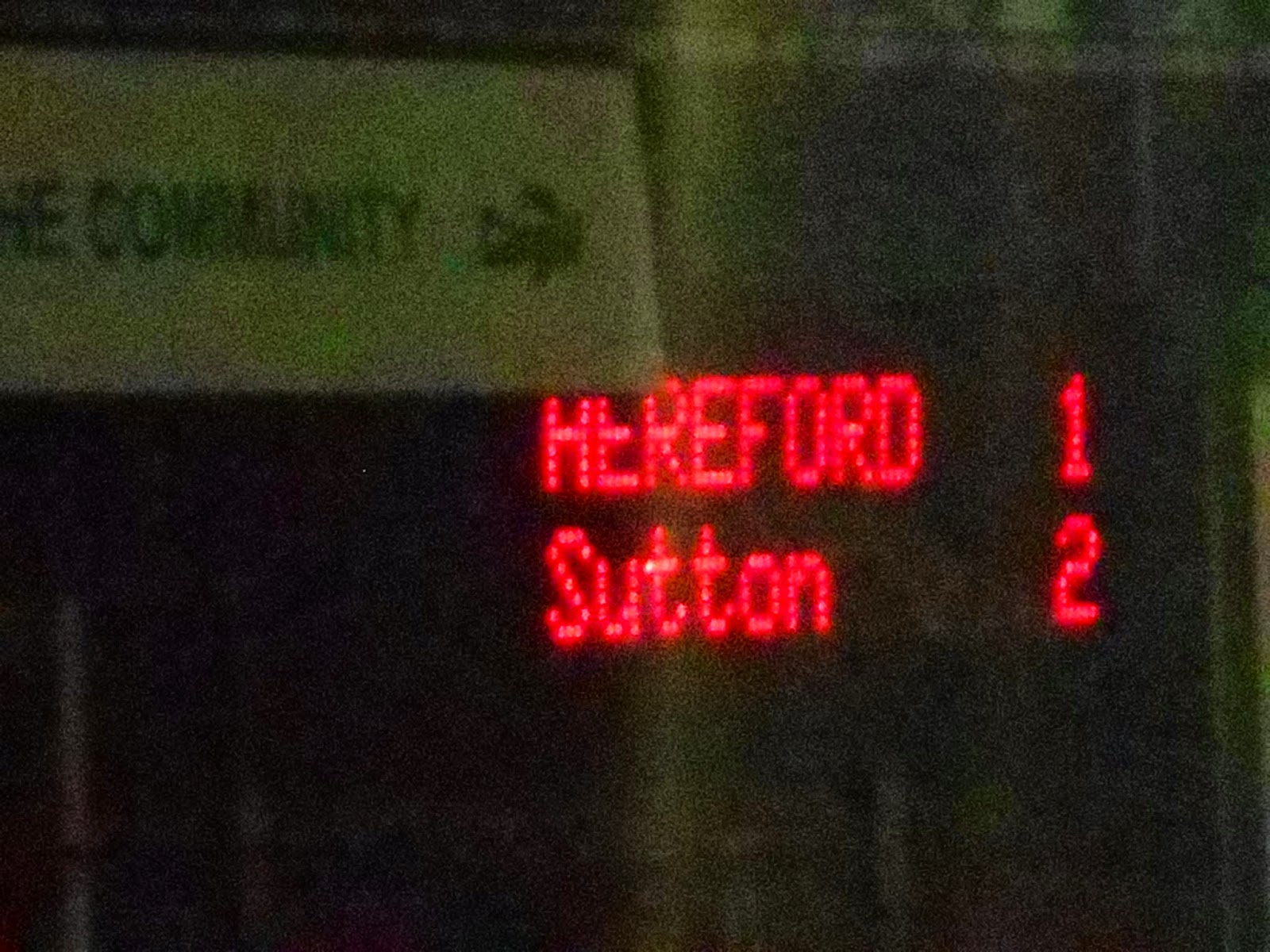 Winning.
This was the cue for mass celebrations and and relief that we hadn't blown it inside the first five minutes. There was still time for Sutton to finally get a penalty when White was tripped by one of two tired looking defenders. Unfortunately our luck is still not in because even though Southam's effort wasn't too bad, the keeper guessed the right way and saved it.
The whistle blew and we celebrated like we haven't celebrated since a little game in Farnbourgh. On reflection I felt we were slightly worse that our performance the week before and if the opposition were of Conference South level the result would've be different. Saying that, a win is a win and I don't come to watch Sutton to be entertained!
Leaving the ground we were told that a couple of Hereford fans were 'waiting for us outside'. We didn't see anyone, but apparently they were about. The question was now about getting home, do we go for the 1740hrs train or the 1912hrs? Needless to say we needed to find a pub to discuss this and luckily for us a 'Spoons was nearby.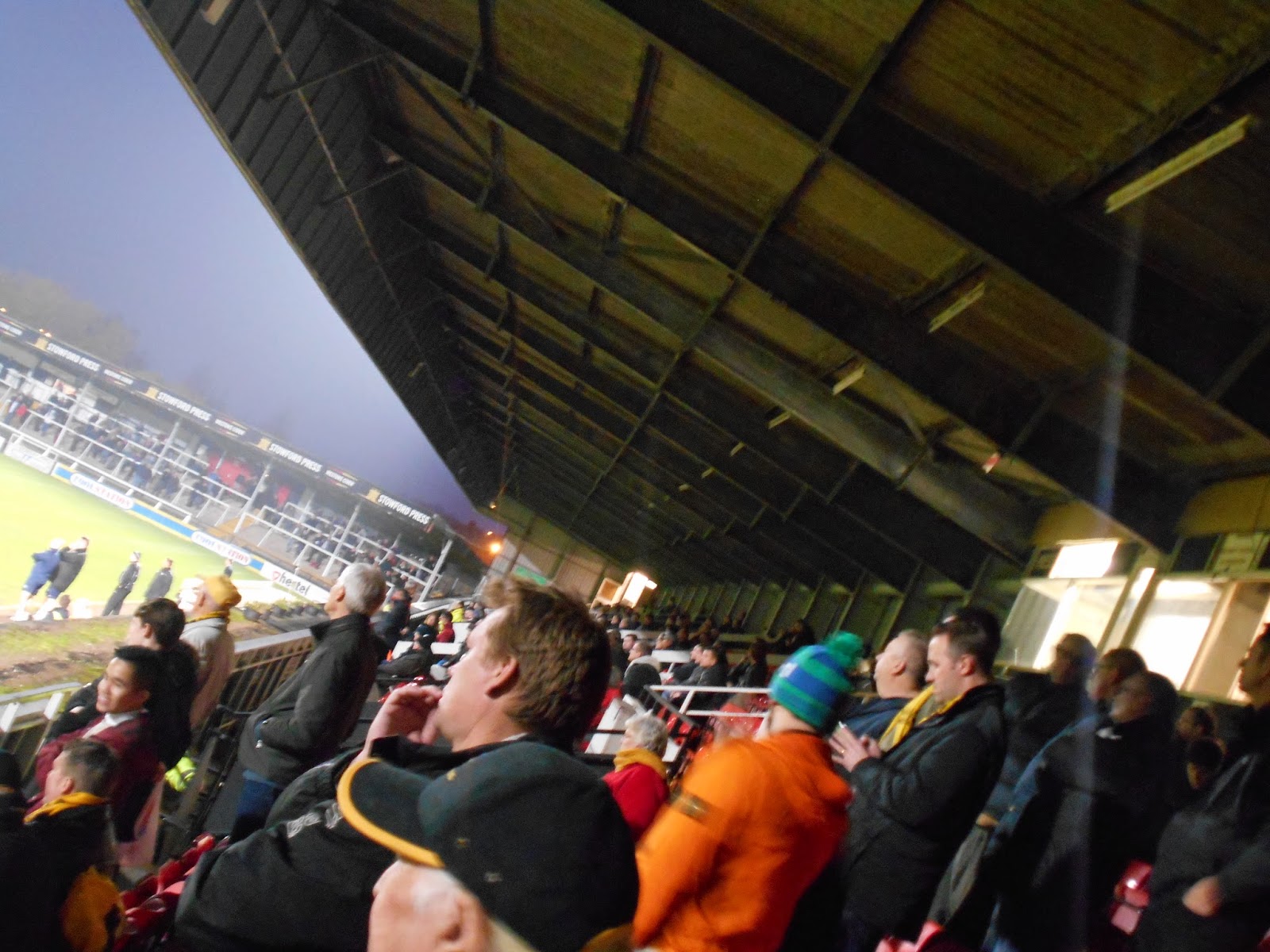 Still a bit empty….
We did meet a old Hereford fan inside who congratulated us on our victory. The look in his eyes were that of a fan who had been going for years and could see that his club was possibly about to go under. Sad. We eventually decided for the 1912hrs train and begun to consume several pints. We formulated a plan where Mr X was go to Safeway's for our alcohol and I would go for KFC to order several vats of Gravy, along with some chicken.
With the time fast approaching ten to seven we left the 'Spoons. Unfortunately I think KFC had only just opened because by the time I reach it there was a queue nearly outside the door! The only option we to head to the supermarket and buy what I could see. I didn't buy enough stuff but luckily Taz following behind had also bought all the Chicken & Bacon sandwiches that had been reduced to a mere quid each.
The train home was due to arrive in Worcester ten minutes before our connection back to town. As we passed Ledbury the train came to a halt. Fuckin' single line sections can be a right pain in the arse sometimes. Once again we were running late that at this rate we would miss our connection. Arriving at Worcester was something, as again boy was it packed! In fact it was that busy that the old bill were there stopping people from entering the platform. This Birmingham train was clearly in demand!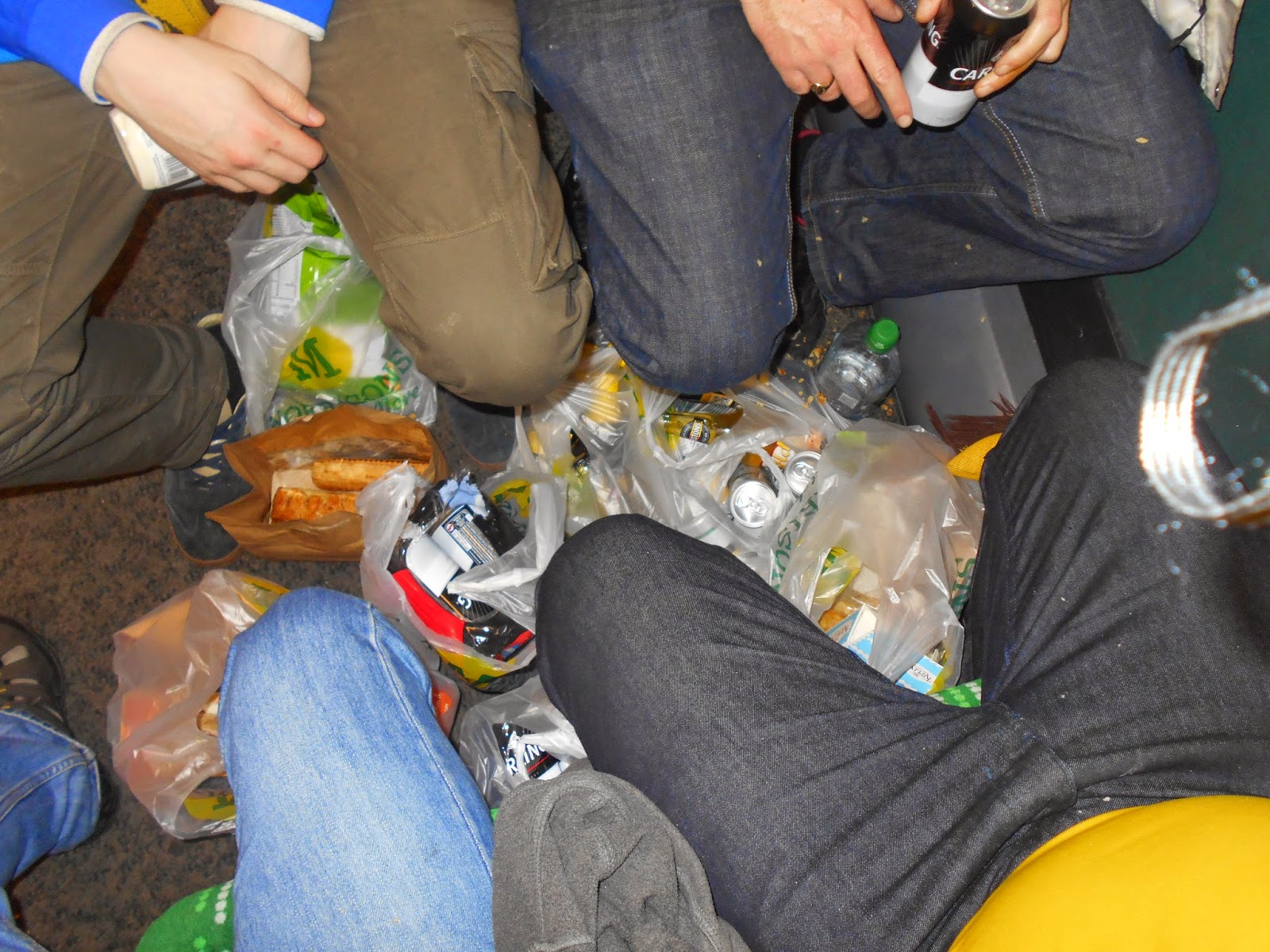 Supplies!
Luckily for us the our train being late into the station had made our next train late as well so we didn't miss it. Most of the journey was then dedicated to a simple game of "name a football team beginning with…." that kept our simple souls happy. There was also another stoppage when a fire alarm went off several carriges in front of us and had the guard sprinting down the train. Someone having a cheeky fag?
Finally arriving at Paddington at a quarter past eleven, we had to then slog it back towards Victoria. We arrived too late for any train to Carshalton, so instead had to take the long route back to Sutton. This came in at just before one o'clock in the morning. My plan was to get the last 80 bus back home, but I failed like a git at this task because of a certain little 'distraction' in the kebab shop near the bus stop.Nothing else for it but to walk home in the darkness that I had left in a mere twenty hours before.
With that victory we now have a draw to look forward to on Monday and more importantly we begin our Surrey Senior Cup campaign away at South Park on Tuesday. I will probably be the only person going, but don't fear there will no doubt be some bollocks written about it!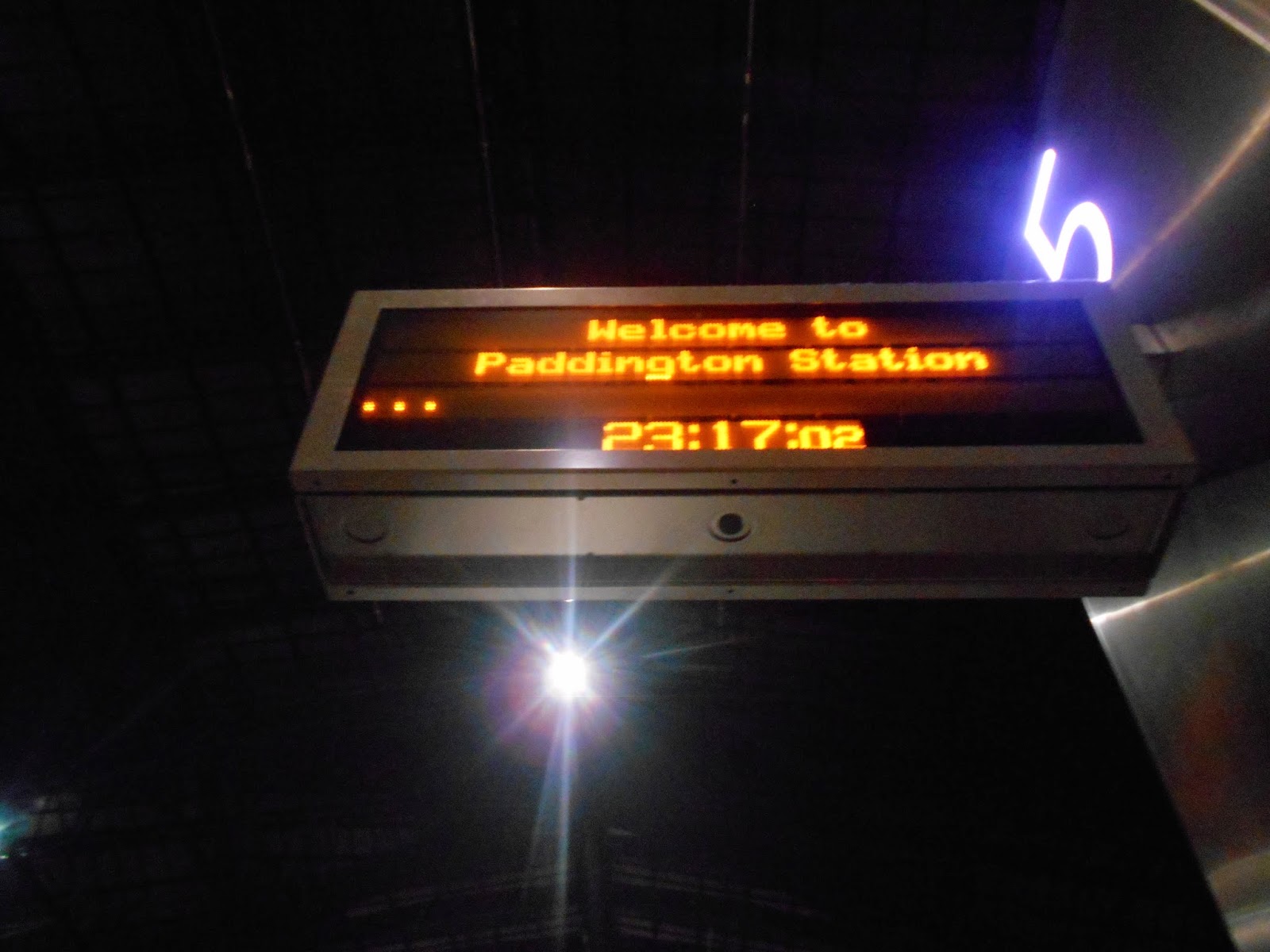 A bloody long day….
Duke
Att. 494
(away support: 66)