"Never leave a man behind, unless it is mutually inconvenient to the rest of the group"
These are the words that the Gandermonium Firm hold dear to. In fact they are the only words that we actually adhere to. Maybe it would look better if it was in Latin?
"Numquam a tergo reliquissent , nisi molestum est, reliqui se in coetus"
Who would've thought that on Monday it will be two whole years that we at Gandermonium have been piddling our filth over the World Wide Web (at least in this latest incarnation). We must be doing something right (or at least perverse) because we've seen our readership double, have over 500 followers on Instagram and more than 300 disciples on twitter.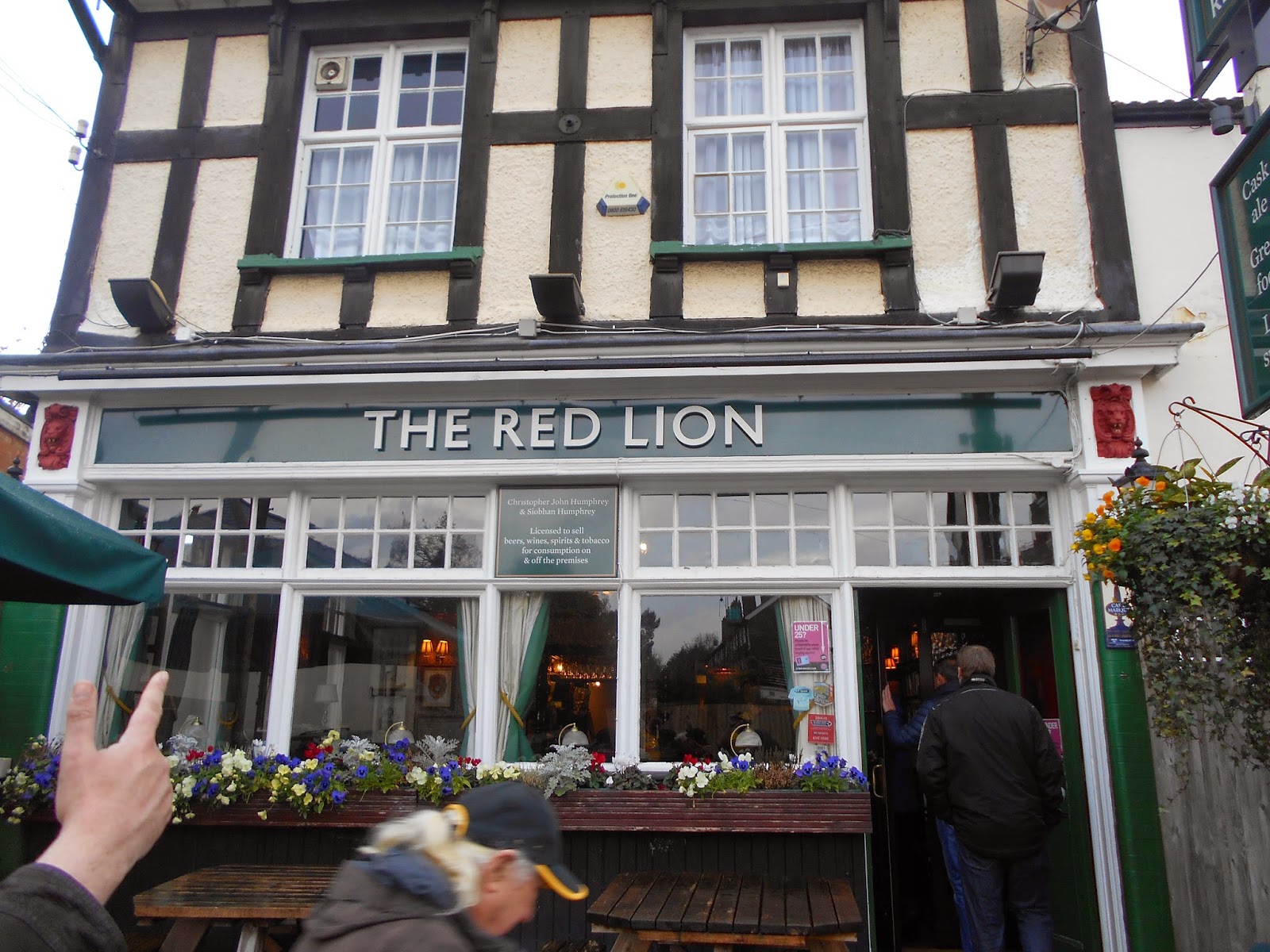 Look! A pub!
I believe it was Phineas T. Barnum who once said "There's no such thing as bad publicity", well when you look on the local Guardian website and see a story of a alleged attack on a fifteen year old girl in Grove Park, what is the first thing I see in the picture? Only one of those bloody stickers! Right in the bottom corner encased in the glory of Amber & Chocolate is a little shoebox that can only be one of ours. I wonder who put that up?
Its been three years since we've been away to Bromley on a Saturday and that game saw us concede three goals in about a five minute spell and then make a triple substation all before half-time. We did the following year visit Hayes Lane on New Years Day but we weren't really on the old sauce and lets face it, Football with drink is like a slap without the tickle.
For the first of four possible continuous away games (covered no doubt by yours truly) the time for today's train was the 0941hrs from Carshalton. Very surprisingly Taz had actually turned up early for once, no doubt it was only because he awoke late and jumped on a bus rather than walk. Also in attendance were 4 Days and his little brother who also needed a lift to the station after sleeping in. Tell me, was everyone late today?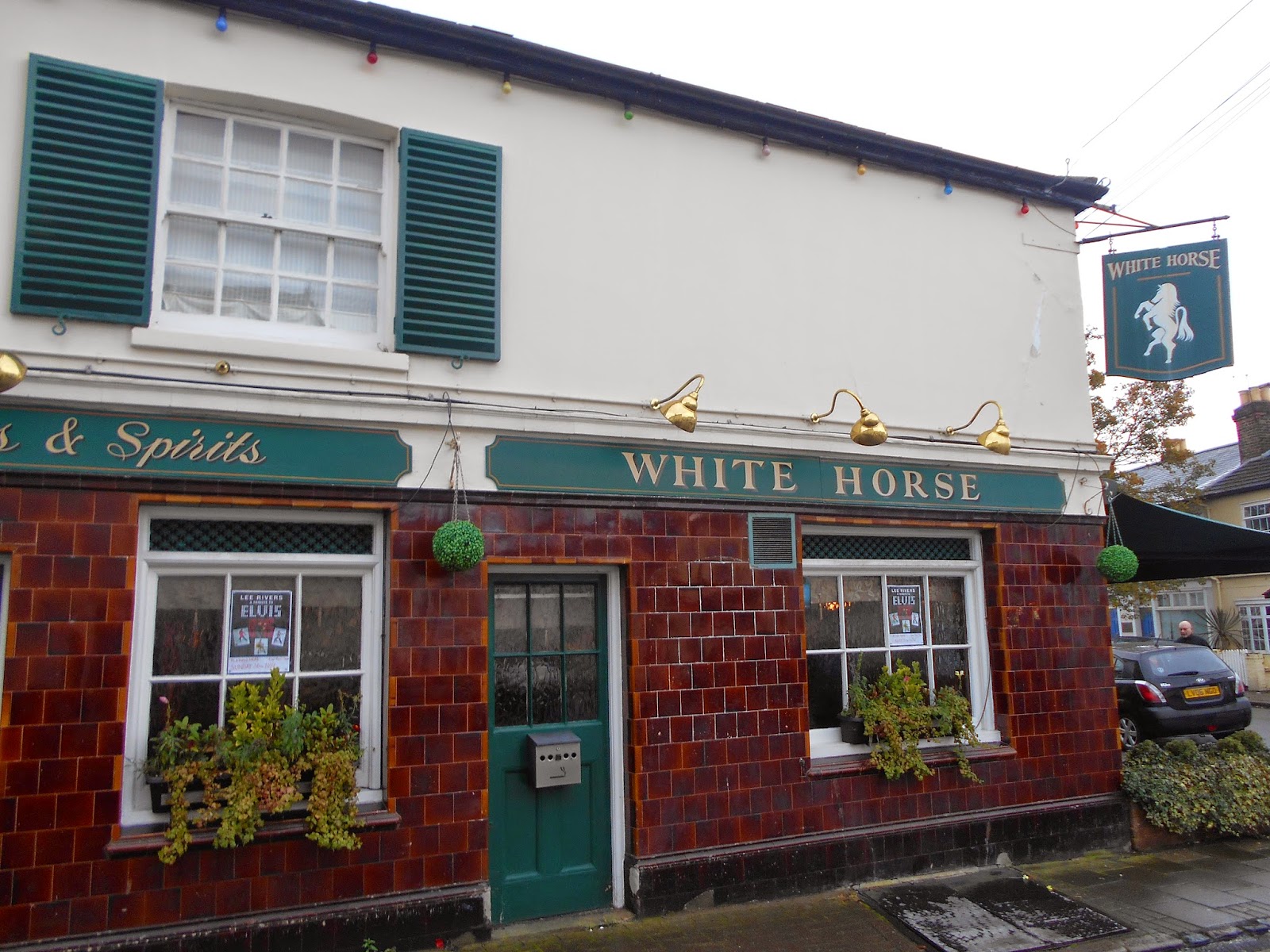 Who'd a thunk it. Another pub!
Getting on the train we saw the rest of the Firm making the trip to South-East London. The only new boat was that of Irish Pete who was joining us for the festivities. The plan was to head up to Herne Hill before heading to Bromley South. We had decided to try the boozers around Bromley North and worked out that it was easier to get there from the South station via a short walk.
A slight mix up actually got us to Bromley South a tad too early, in fact it was only twenty past ten! The only option was to hit up the local 'Spoons. Getting the first beer of the day we headed to a unused table. Unfortunately there appeared to be a used empty Biro on the table with a white powdery type substance around it. God knows what it was but we had a clue and had to dispose of it hygienically, this meant leaving outside on another table.
After sinking a couple more we finally made tracks to the next boozer. Several had to be by-passed as they didn't open til twelve. We did find one eventually though, a rub-a-dub called the "Red Lion". This pub was a little poky place that had a whole wall dedicated to the printed medium. A classic 1985 Match Annual and a football encyclopedia from 1992 were just some of the books we looked through.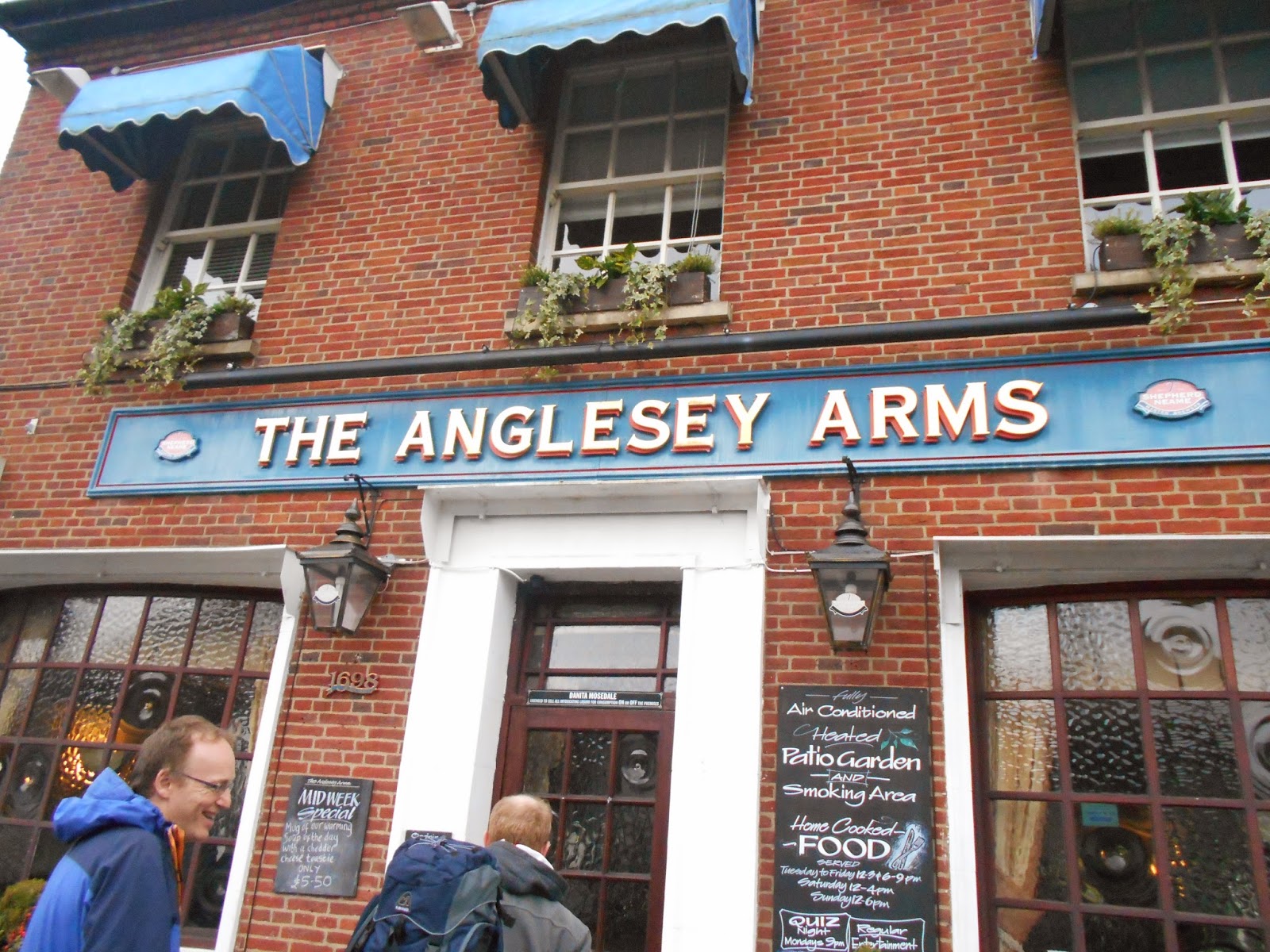 You must be sensing a pattern forming about now….
Various questions where then asked from the information at hand. Not very surprisingly we managed to name more members of the 1990 West German team then our very own England team. Still, after a while we moved to the next pub. This pub was only about ten seconds away from the last one. The White Horse was as empty as a porn star's ball bag but we soon had the tunes on the jukebox going with the Firm favourite, Plastic Bertrand leading the way.
Still wanting more drink the next pub on our list was the Anglesey Arms. This little area of Bromley is a little like Sutton's New Town with several pubs all in close proximity. But as Wardy remarked "If I lived here, I would end up a drunk!". Too late mate! With the time just hitting two we managed to squeeze in a cheeky short at the Railway opposite Bromley North station before jumping into cabs for the ground.
Arriving at the ground we saw some of our elder statesman being harassed by some young Bromley supporters. This must be some of the HLF we keep hearing about. But before we had got out of the cars they had already entered the ground. Bromley, much like u,s have changed there ground somewhat this summer with the sheds being replaced and a large tent put up. My only concern was that it looked like the same old pitch. Bad news soon followed when I was informed that our man in black was none other than Ashvin Degnarain.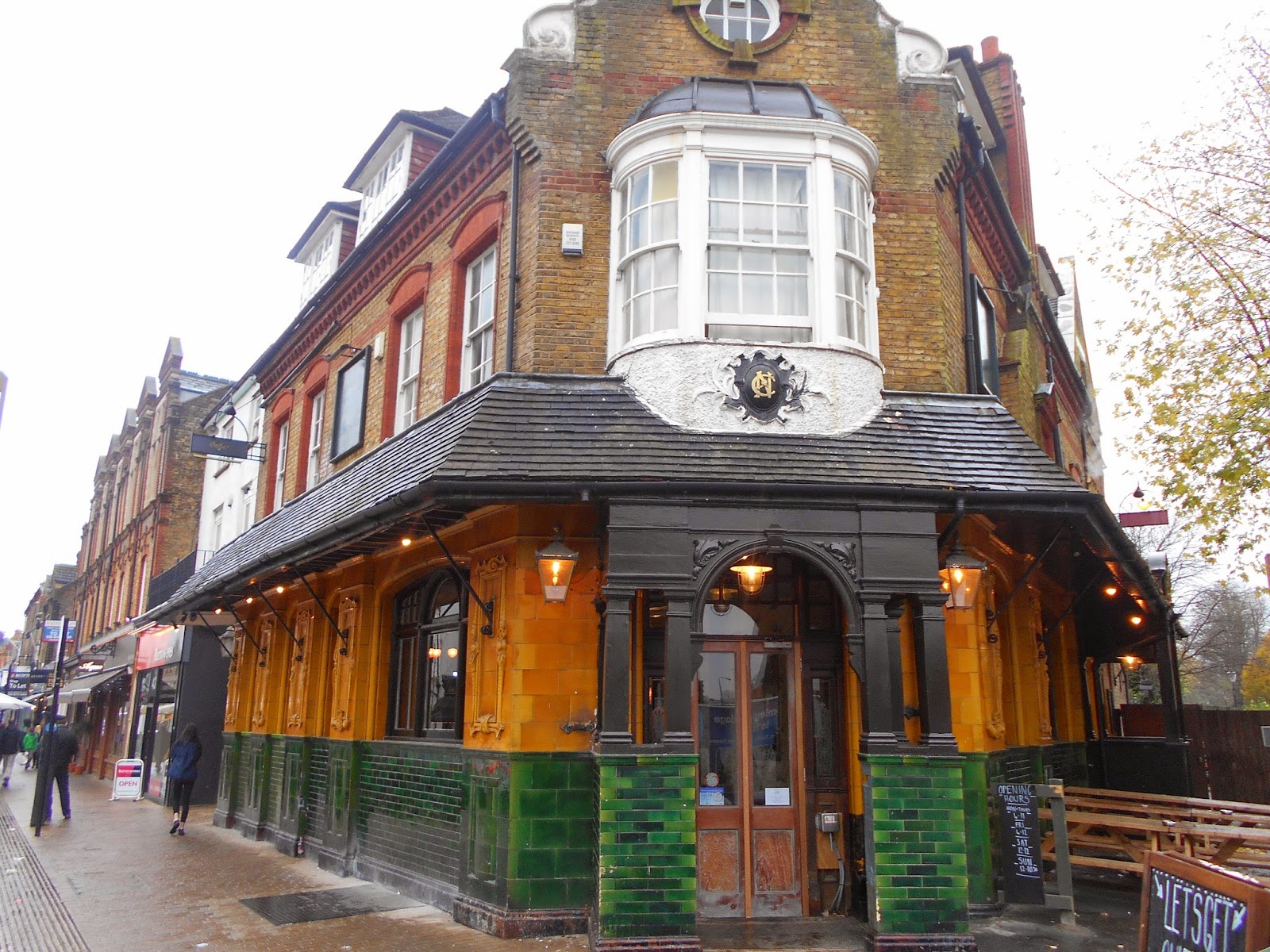 Guess what this is?
Julian, Amankwah, Hart, Wellard, Cooper, Clough, Gomis, Southam, Dundas, Medlock, White. Bench Warmers: Wishart, Reindorf, Hippolyte-Patrick, Osborne, Lovelock
The game was less then five minutes old when crackin' challenge by a Bromley player not only took out Medlock, but Gomis as well, which he got a card for. Medlock nearly got the first goal but his header was straight at the keeper and his rebound was wild and over the bar. Minutes later we were in front when new boy White half volleyed the ball into the roof of the net on his debut. 1-0!
It took us less than five minutes to throw that lead away when after Julian had needlessly kicked the ball into touch, Gomis gave away a silly free kick. Then whilst still trying to organise ourselves Bromley took a quick free kick that was met by an unmarked striker in the box to level the scoring. The groan could be heard around me that this was matching a similar pattern we've seen this season.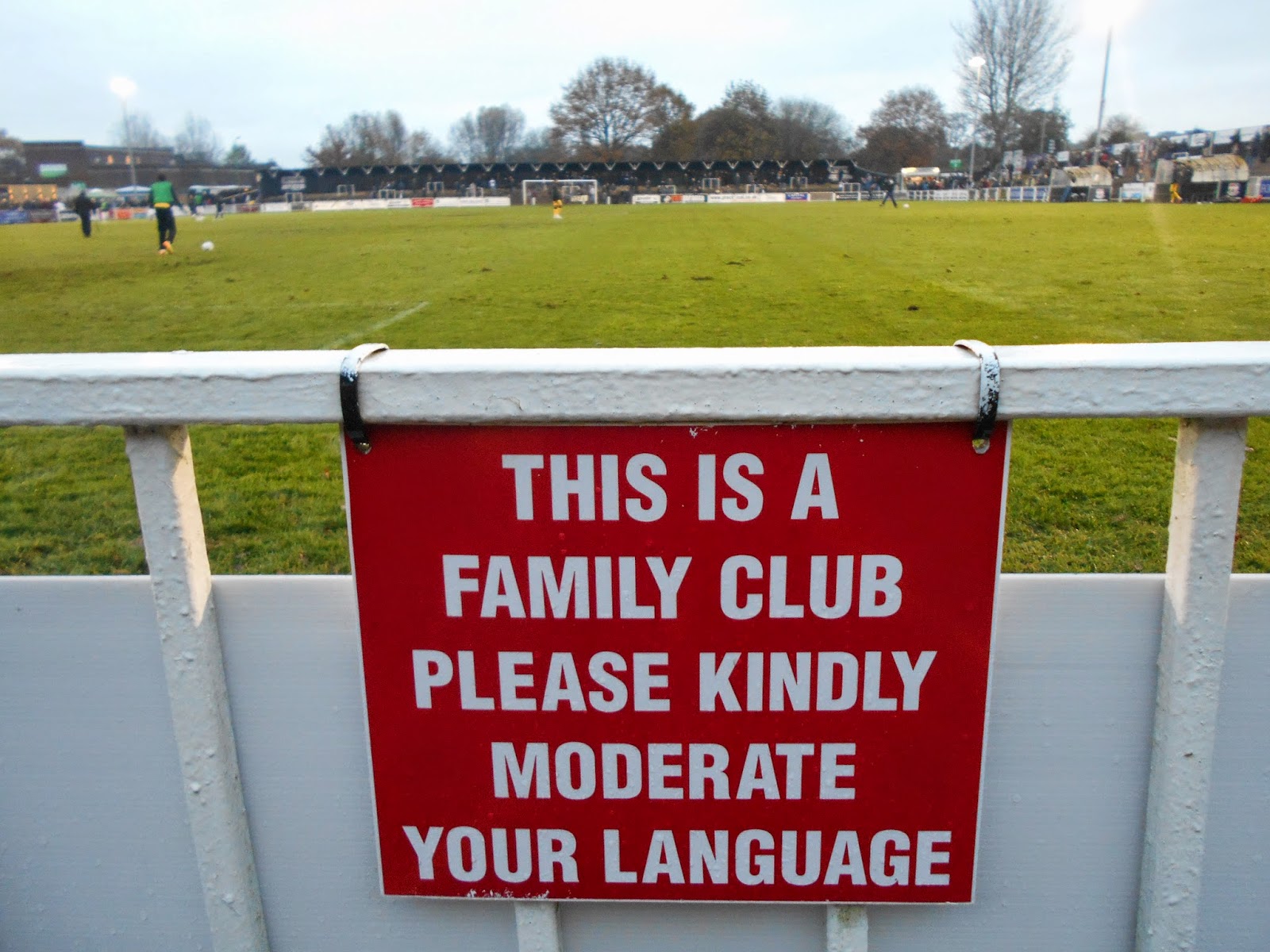 Oh fuck off!
In the second half it looked like that we appeared to lose some of the aggression we had in the first half. Within ten minutes Bromley should've taken the lead when with only Julian to face the ball luckily came off the post into safety. Phew! Julian was then called into action again when another unmarked header was poorly placed right at him. One game we might actually have a good defensive display.
Medlock was soon replaced with Shaq who added a little spark. Dundo was pushed up top for a just five minutes until Wellard was changed for Wishbone Wishart. We did nearly get the goal, not from one of us but from an outstretched leg of a Bromley defender. His face was a peach as the ball sailed agonisingly past the post. With time fast running out Southam was subbed for Jessy this was not before Bromley had once again hit the woodwork.
The time was nearly on the full ninety when Gomis dispossessed the winger by the corner flag, his clearance was tame and only ended up at the feet of a Bromley player 25yrds out. He shot was saved by Julian, Slabber's follow up was then also saved. Third times a charm and Bromley got their winner. In danger of sounding like a broken record I ask, where was the defence again? There was still time to see a Wishart free kick rebound of the bar but the damage was already done and we succumbed to a 2-1 defeat.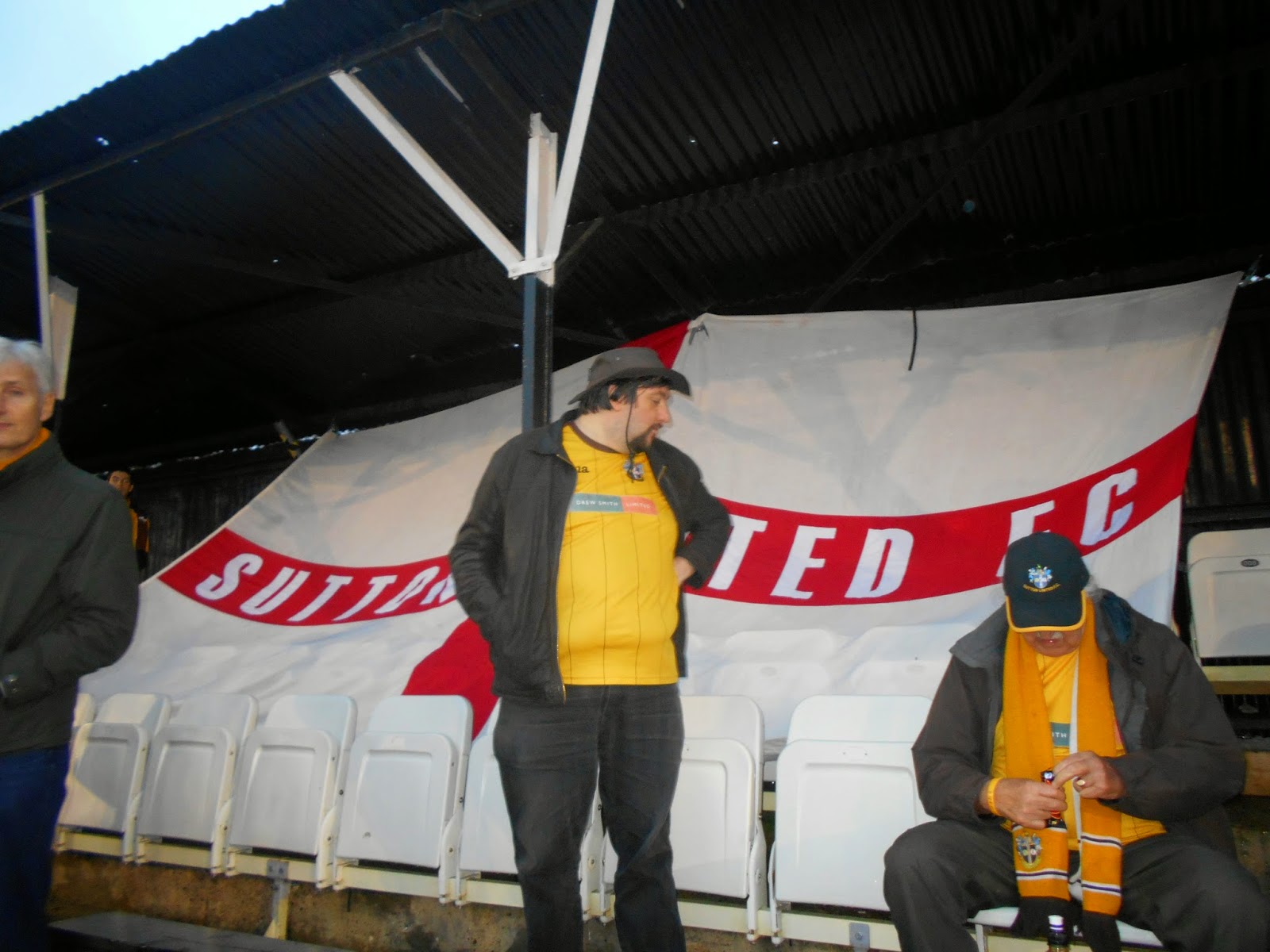 Not exactly ultras…
After the game we tried to leave but were not allowed until we had listened to an on pitch conversation with a Bromley player. Outside the ground I think we may have run into a couple of the HLF who actually commiserated us on our defeat. I wasn't too sure if they were being serious or not. Still there was drinking to be resumed.
Back in the 'Spoons we begun to dissect the game. There was still some emotions from some of the Firm over what had just happened. I was still of the opinion that once again individual mistakes had cost us. Especially the second goal had me disappointed. Not just the fact that Gomis had won and then lost the ball but where was the defence?
Jumping on the train home it was decided to stop off at Herne Hill for a little libation. Right out side the station was one of those poncy little places (there was a fella playing the old Joanna in the station). It also had their very own captain Birds Eye who regaled us with one of the classic Chalmers stories about him leaving for Australia for three months. Not really fitting in here, we decided to leave for somewhere else.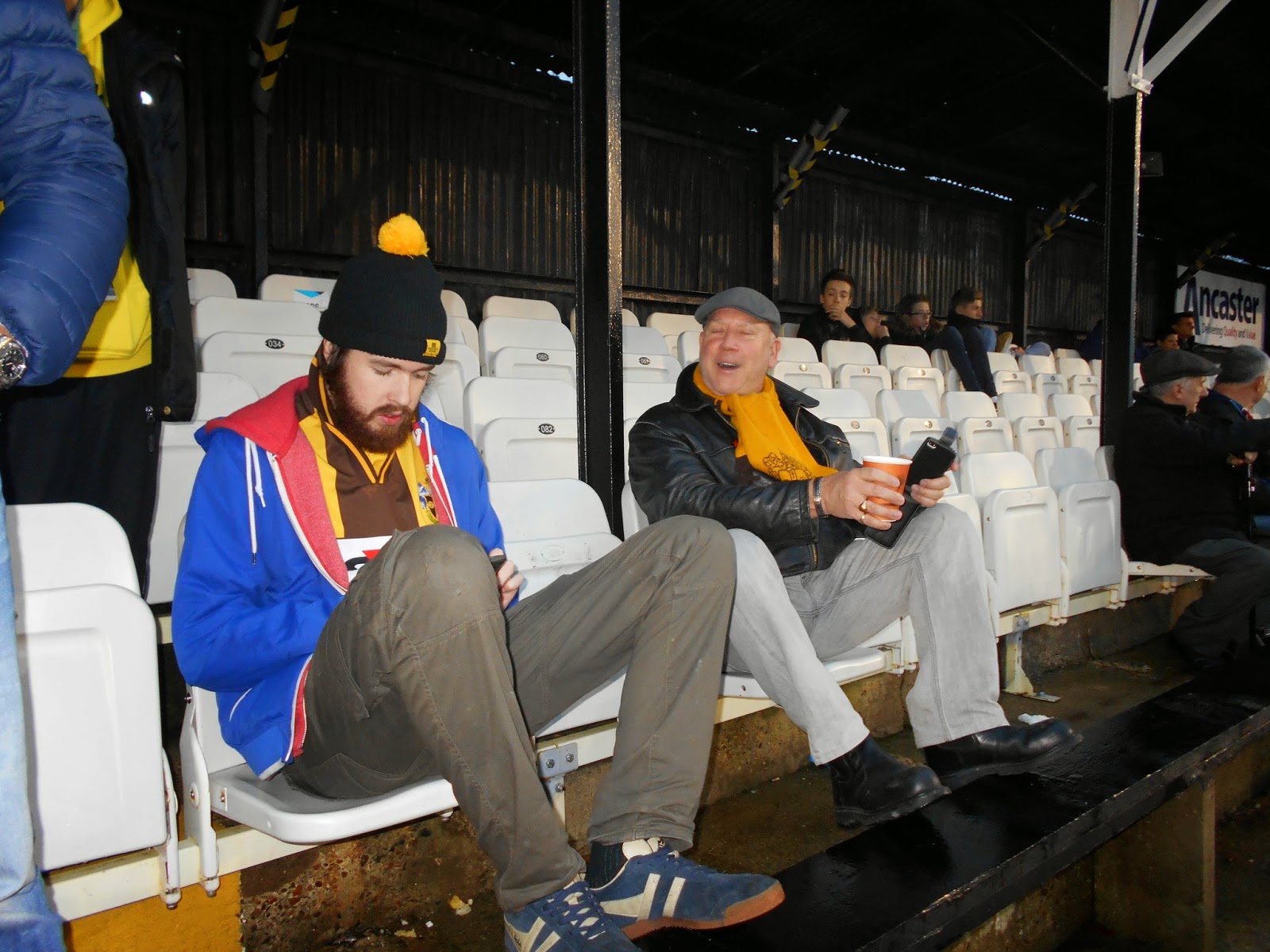 Feet up at the break…..
Someone had the idea of going to Tulse Hill to a certain pub where a certain ex-girlfriend had worked. For some reason, I brought up my now infamous Dickie Attenborough impression, or was it David? I did need some help and inspiration so someone began to act out a certain animal with the words:


"Imagine I'm a mountain gorilla"
Running out of steam we headed back to Sutton and first the Old Bank. O'Neils followed shortly after and not before Irish Pete finally bowed out. It was here that there was a 30th birthday party of a known associate. What followed was more alcohol and a drink called a 'skittle bomb'. This was some orange liqueur with Red Bull that came in a plastic egg timer sort of cup. For some reason I ended walking back to West Sutton with Mr X & Wardy. After some further refreshments I finally hailed a sherbet and was off back East to my pit.
Next week we get to make the three hour train journey to Herefordshire. God knows what is going to happen but I will try my best to remember the details and report back.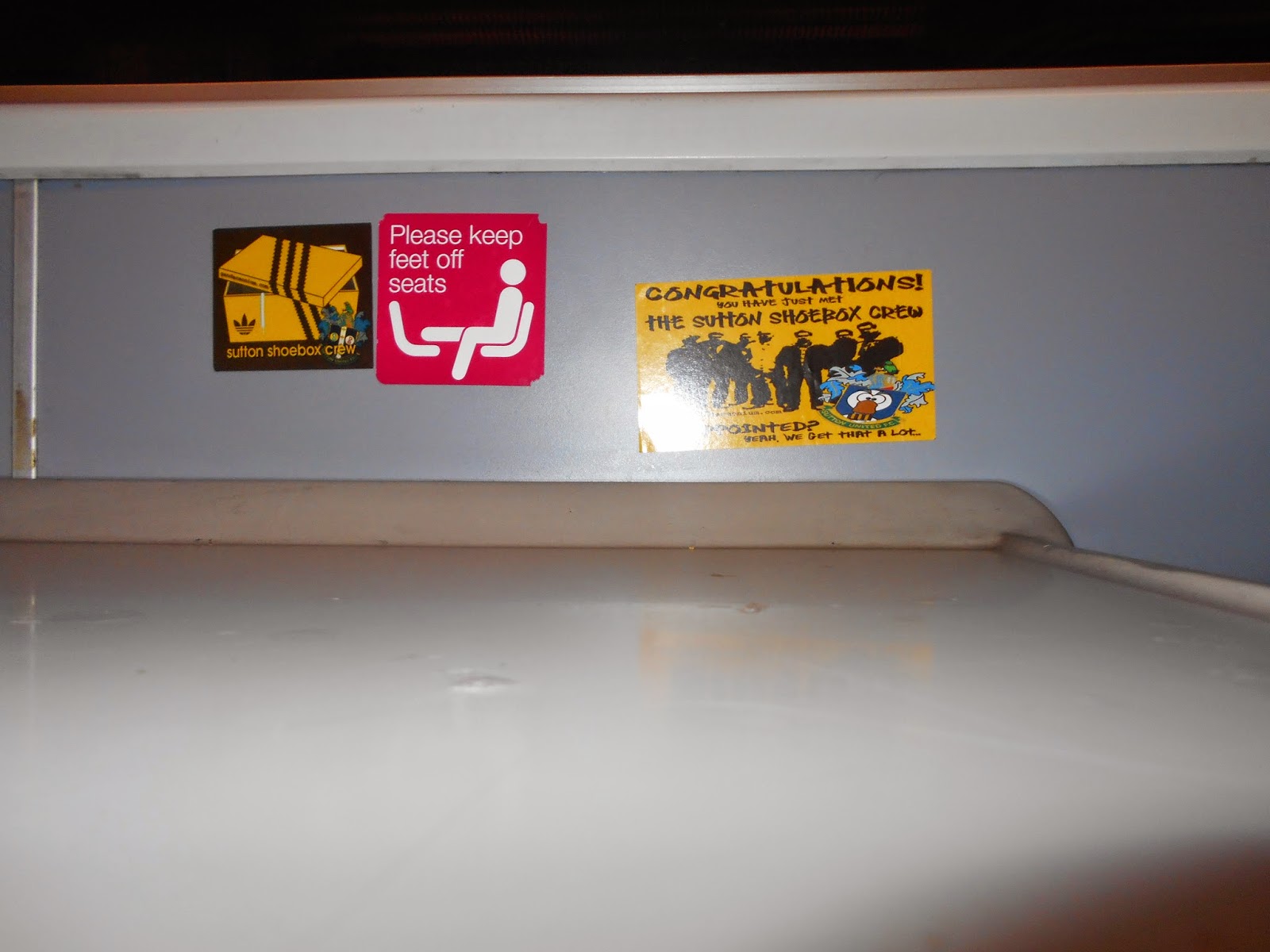 Vandalism. Standard.
Duke
Att. 1043