To be brutally honest, if you're a regular visitor to this particularly idiotic corner of the interwebs, you'll be fully aware of the sort of season we are currently enduring here at Sutton United FC. So if you're a bit short on time at what is after all a somewhat stressful and hectic time of the year, I'd suggest skipping the rest of this. Mainly as it'll be nowt you've not already bloody read several times before.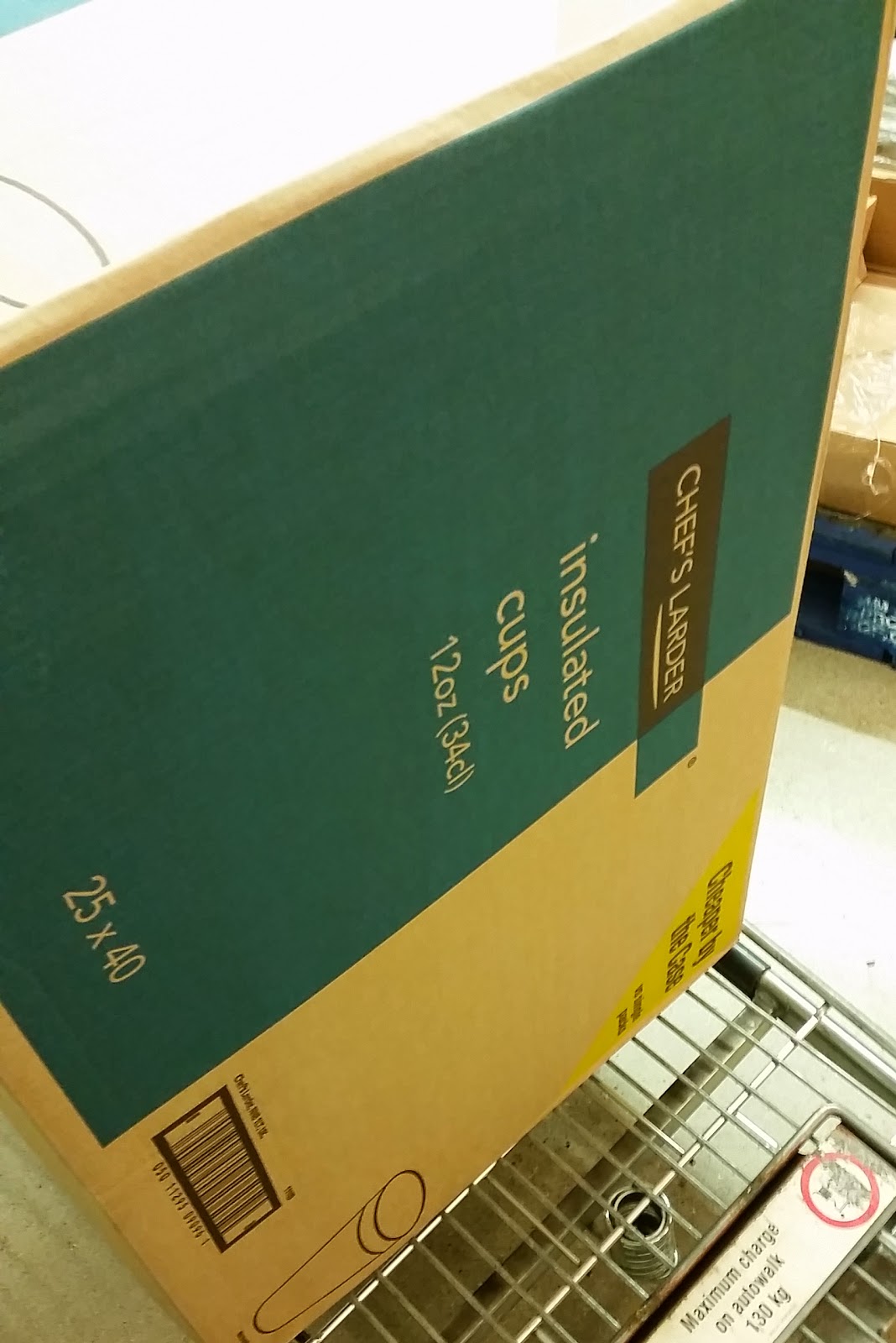 Cups! For tea. And maybe coffee….
Back in 2008, one of the reasons I knocked all this on the head was simply because after a season like we'd just had, you run out of ways to say "That wasn't very good". Well, I think it's fair to say Dukey is finally discovering with our current run of 'form' a little bit what that was like for me 5 years ago. It's because of this that you find yourself being told the same shit again by my cheery little face instead of his regal recycling-ness. That is assuming you ignored the warning in the opening paragraph. If not, you clearly either have way too much fucking time on your hands or are a bit of a sadist.
What with Juan still off somewhere stroking his Mark 1 Golf (this is not a euphamism by the way) and Totts off up town straight after the whistle to entertain his adoring punk ska masses as well as having been forced to do a write up of our last shit home game, it fell to me to once more relieve the burden on my weary colleagues. Mainly as I'm bored of hearing Dukey moan about how many reports in a row he's had to do. And Totts is bigger than me. But enough of that sob story bollocks, it's time to regurgitate the same old nonsense and tell you the tale of Sutton United not being very good again.
Late in the week, I'd received a message from the shadowy figure we all know as Mr X. It seems he'd failed to remember that Roses Tea hut requires cups of some sort in which to serve the liquid known as 'tea'. An odd mistake to make really, considering the name of the fucking facility. Anyhow, I thankfully have a card that entitles me to enter the Aladdins cave of household & catering goodies, known as 'Makro' and means I can save the day. Normally, this would be a mildly annoying chore to have to undertake. However, this means I would need to take the car on saturday so as to deliver the purchased cups. And coupled with also having to collect the current Mrs Taz from her temporary place of employ later that evening, I've got the perfect excuse to bail Juanstyle (which is a bit like Gangnam style, only no one's seen it in ages) on the post match drinking frenzy autopsy out in Sutton that night. Which would no doubt involve rocking in pissed as a Lord (or a Duke in certain cases), stinking of Skittle bombs. Whatever they are.
The usual setup routines are undertaken around half 12 as urns are filled, the oven is switched on and choccy bar levels are re-stocked. This naturally involves a fair bit of utterly unfounded abuse as well as chatter about the impending defeat match.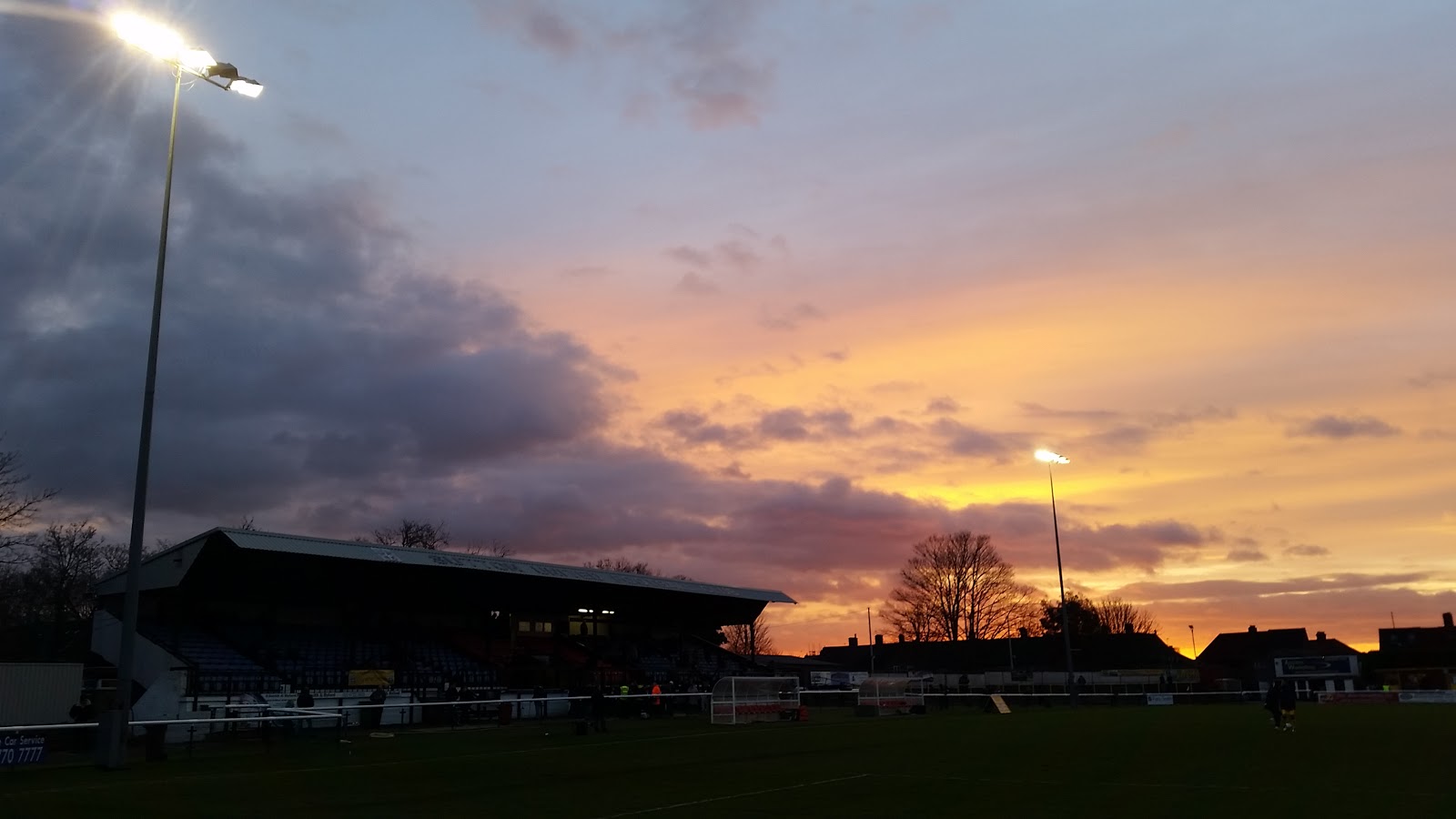 Second half highlight. No really.
"So how will it go today then? OG? Penalty? Red card?" enquires the mystery man.
"Fuck it, how about all three?" I reply.
"Oooh, ambitious. I like it. Now chuck us those Mars Bars you cunt"
I know. Like the fucking Oxford debating team us.
With the staff in place, we can finally abscond to the bar. Although in my case being with car, that means a shandy. Which I eventually get after having endured the disbelieving "A fucking shandy?" accusation from no less than 4 people I occasionally refer to as 'friends'. From here we watch the Nigel's gamely hold Man City to just the 3-0 scoreline and generally talk nonsense. Wardy leads the charge with a ridiculously sensible idea regarding what to do on New Years Eve. This involves a nice Italian meal, a few beers in O'Niells, followed by the remaining revellers decamping to his for a nighcap or 12. Which all sounds far too adult bit of organisation to me.
He also regales us of his days back in the mists of time where he used to work as a coach driver and took a bus load of old biddies on an Xmas jaunt to Spain. And where on JC's big day, the local restaurant they'd arranged to feed their travellers served up sprouts alongside some rather chewy seafood. Bet the manufacturers of Sterdaent never thought of that scenario when they marketed the stuff eh? Naturally, this all went down about as well as opening a childminding service called 'Yewtree' staffed by former Radio 1 DJ's. And it's a long drive back from Espana with 50 hacked off OAP's on your daily.
However, my true highlight of the pre-match refreshments is me buying my round on my debit card. And being able to get cashback! Yes, finally Gander Green Lane has entered the 21st century! Fuck the summer ground improvements, the club being able to take plastic behind the bar is the real high profile change to the GGL landscape this year.
Lovelock, Evans, Clough, Cooper, Amankwaah, Wellard, Southam, Gomis, Hippolyte-Patrick, Medlock, White. SUBS: Julian, Osbourne, Dos Santos, Wishart, Dundas
I think it's fair to say, our 2-0 win down at Whitehawk in September currently represents the pinnacle of our season so far. Not only for the resuly, but the ridiculous weekend trip we made to Portugal prior to the fixture. Sadly, hopes of a repeat today aren't high. Nor are we brave enough to be wearing shorts & t-shirt for this one.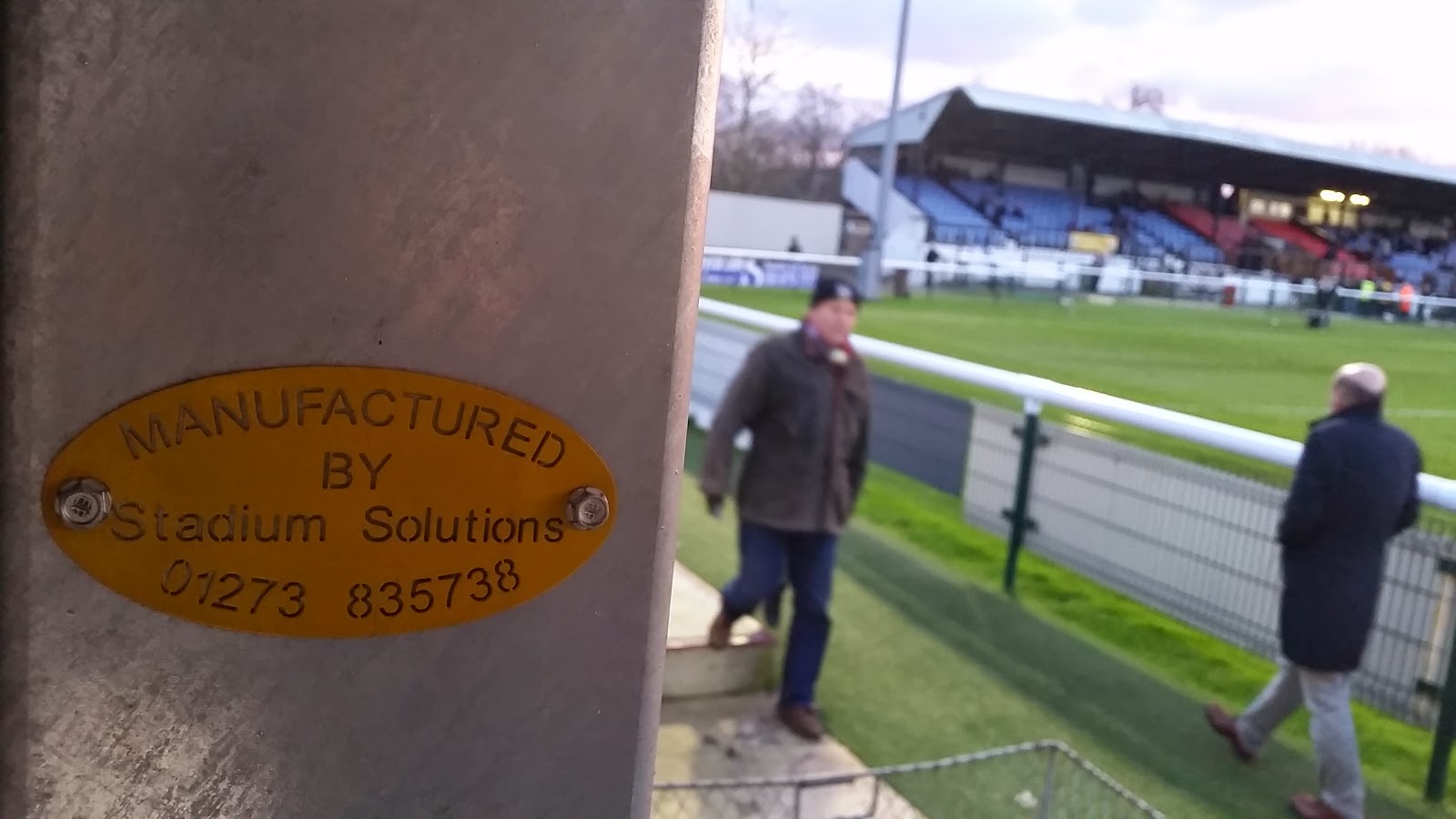 Got bored at Half Time
We head out into the chilly afternoon air just as the teams take the field. Cooper is back into the defence to partner Cloughie, but we're missing Spillane as, depending who you listen too, he's done his ankle falling down some stairsslipped whilst out shopping. Just when you thought this season couldn't deliver any more punchlines eh?
Having been utterly delighted with the team's lavish praise aimed our way (oh wait….) in the aftermath of the Hemel trophy defeat, I'm not exactly feeling the love this afternoon and after Whitehawk choose to shoot towards the Rec end 1st half, I decide to decamp to the Shoebox instead of the GGL terrace and take in the action from the side for a change.
Our start is sluggish to say the least and the visitors, who've actually brought about 20 along today (clearly the Wealdstone Raider will need to address his viewpoint sometime soon?), really should be ahead early doors when their man strolls past our full back & crosses low into the box. Sadly, his efforts are wasted as his colleague in the middle somehow manages to hoick the ball over the bar.
It's no real surprise when the visitors take the lead though. Some decent play around our box looks to have come to nothing as it's played to a light blue shirt about 25 yards or so out, on the stand side. Unfortunately, he's been given the freedom of SM1 and he uses the time afforded to him by the complete lack of closing down to crack a smart drive through the crowd in front of him that beats Lovelock's dive. His reaction and that of Suvs sums it up really. Both have a paddy of the sort normally seen when a 5 year old kicks off in Tesco's because his mum won't get him Sugar Puffs instead of cornflakes, although in this case it's because someone hasn't fucking closed down. Again. More tellingly, the reaction of the rest of the side is mainly shoulders slumped & heads down. Nice body language lads.
Us, attacking. No really…..
From here, we're largely spectators as the visitors take the piss with the sort of passing & movement we quite frankly would struggle to match even if our lot sold their souls to the devil and drank the blood of Pele. Whitehawk should be 2-0 up shortly after taking the lead when a corner isn't dealt with, their man is first to the loose ball and lays it to the edge. A looping shot comes in, hits the bar, bounces down about a yard or two out and with Tom unable to recover, a veritable queue of blue shirts falls over themselves to tuck the ball away, only such is the stampede that they instead manage to nod it over the open goal.
"That's the sort of chance we miss" someone mutters somewhere off to my left.
The match continues in much the same vein with us being passed to death and only the visitors penchant for carrying on passing over actually having a dig seems to keep us within sight. Although having a small away following 'Ole-ing' you after about half an hour whilst their lot pop the ball about in a 30-odd pass move really does little for one's resolve that today isn't going to be a total waste of time.
We finally manage a little flurry of pressure late in the half, first Jack Evans cracks a solid free-kick in on goal from about 25 yards that the 'keeper does well to hold and soon afterwards, Medlock & White's patience at living off the sort of scraps even Oliver Twist would turn his nose up at, pays off. With the two combining down the left, and Jamie managing to twist & turn before whipping a shot across goal from a tight angle.
Thankfully, we manage to somehow get in at the break just the one goal behind. And that's about all we can come up with as a positive to be fair such is the limp offering we've just witnessed. The chatter around Roses is just as uplifting, with many others trying and failing to find a bright side. So with my pie and cuppa in hand, I head for the Rec end for some peace and quiet. Here I at least get to take in a rather lovely sunset while I munch, which then only serves reminds me that I'm on report duty and have taken fuck all in the way of pictures for this so far. D'oh!
We make a switch at HT with Dundo replacing Shaq. A move I don't really get given that the young winger was the only player in an Amber shirt to actually beat an opponent with the ball at his feet during the first 45, whilst Wellard…er…hasn't. One can only assume we're going for a bit more steel in the middle.
Any hope that this change might affect the outcome in our favour is soon gone. With 5 mins played, an attack down our right forms and Amankwaah gives his man too much space. It's switched inside for a midfielder making a late run and he pokes the ball into the box, following closely behind before being clattered by the recovering full back and the recently arrived Mr Dundas.
Ah, Meeester Penalty Kick. We have been expecting you.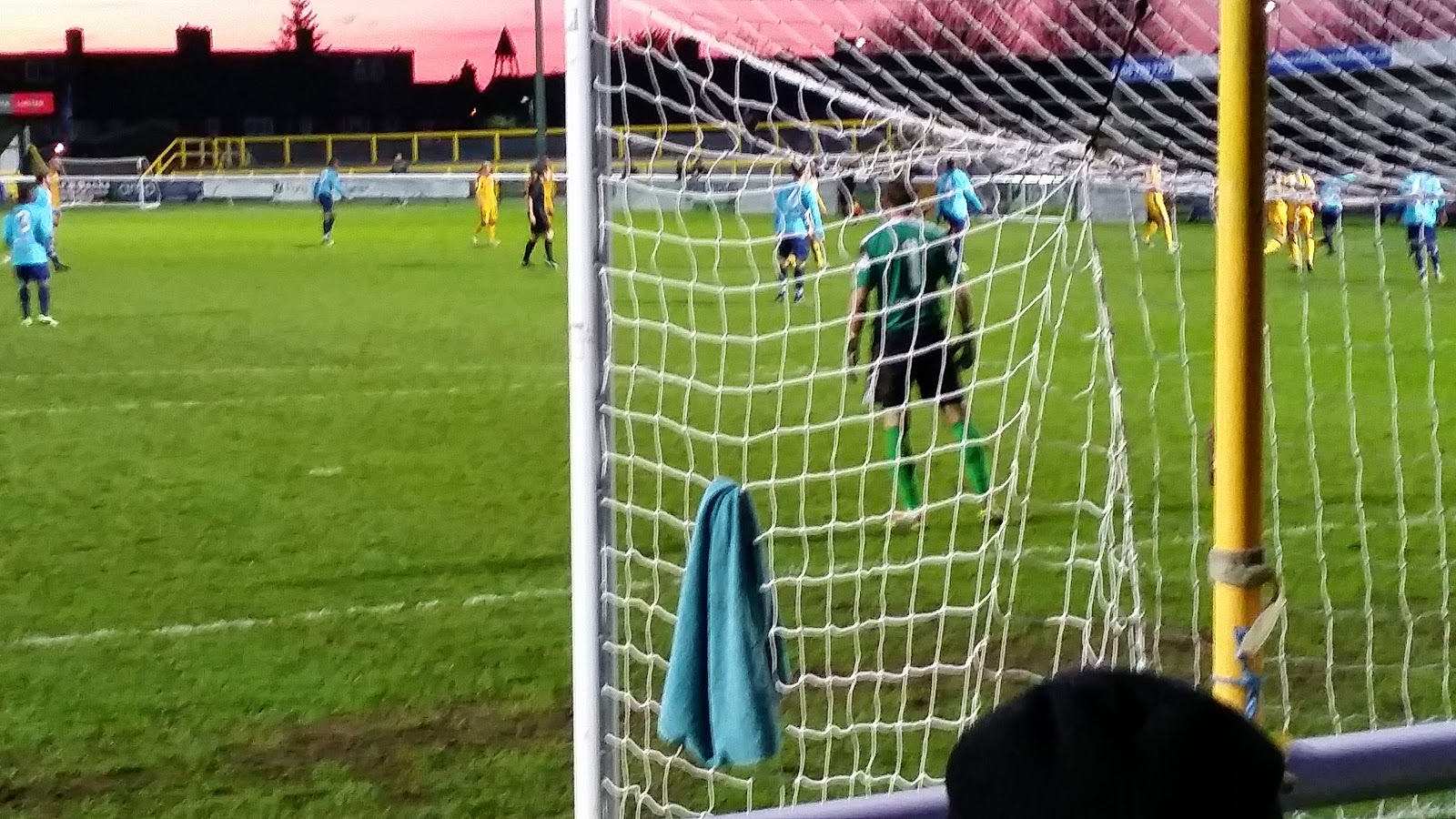 "No, you can't vote their keepers towel as Man of the Match!"
The peno is of course tucked away with no fuss and any real chance we had of getting anything from this game is gone. Still, nice of the lads to bin it with 40 mins still to go rather than the 4.3 we usually have to suffer. False hope and all that.
After this, I'm not entirely sure if the scoreline remaining unchanged is of a result of us finally getting a foothold in the game, or Whitehawk's well paid personnel taking their foot off the gas and starting to dream of a nice cuppa in the warm changing rooms to celebrate their 3 points. We manage to test former Scummer Mr Ross in the visitors goal a couple more times (which is several more than we managed at Hemel last week). Twice Wellard stings his hands, firstly from a fierce rising drive after an attack is half cleared and secondly from a low and slightly deflected effort from the edge of the box. Charlie also manages to cock up his timing on a free header and loops it harmlessly over.
The only real excitement of the half is Mr X managing to use the word 'permeable' in its correct context and Harry Osbourne making 2 surging runs, the first setup by a nice knock from Charlie and great first touch. But having cut in, his shot is a bit weak and it's blocked. He then moments later has another foray down the same side, firing an inviting ball across goal, but no one else in an Amber shirt is anywhere near enough to make anything of it.
With the board going up to show 4 mins extra to be added, Mr X & I begin the stroll round to close up at Roses. I pause briefly to discuss matters with a couple of other fans, before hanging back by the Shoebox to witness the final whistle. At least this time several of the team actually trudge over to show some appreciation of the support, but by that time a good 90% of the support at that end have already started their own trudge towards cars, nearby living rooms and the warmth of the bar. Still, it's nearly Xmas after all, so it's the thought that counts. As we do our own trudge to the bar, a few Whitehawk fans are still milling about. Genuine pleasantries of the season are exchanged before one adds, completely without irony "And I hope you stay up". I and the man of mystery exchange looks and continue on, saying nothing. Heads down, like our team.
Back in the bar, another shandy does little to lift the mood. It's another loss, but at least unlike a lot of the previous contests, the outcome has actually been affected by the oppo being a half decent side and not some calamity of our own doing. So it's a little easier to bear. Pint done, I decide I can't be arsed to hang around for the Strikers draw and bid my farewells, wishing the rest of the gang a Merry Xmas. Which it should be in the main, as we're not due to watch this lot again until Boxing day.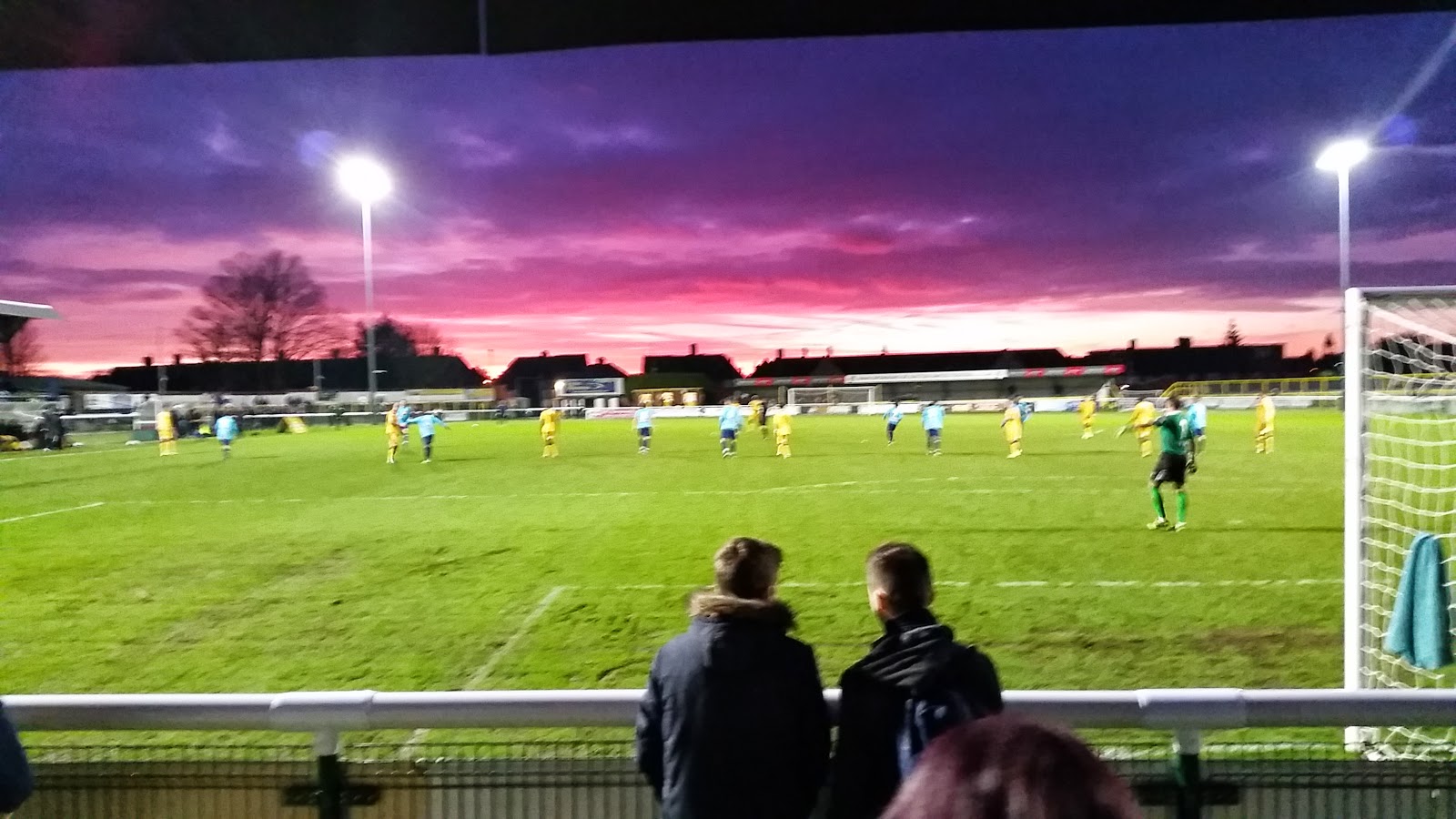 "Don't let the suuuun, go down on meeeee…..oh, you have. Bastard."
All sarcasm aside, it really is time for this bunch of players we've got to start fucking showing up. The patience of people this season so far would make a Saint think "Mugs!" and I think it's now got to the point where that patience is repaid. Now, I'm not expecting a run like last season to happen. To be honest, anyone expecting this lot to match that with what has gone before it, is frankly a bit mad. There's no evidence whatsoever to back it up. But actually looking like we're organised, putting a shift in for full 90 mins for once and keeping the odd clean sheet would make a nice change.
It's all on you now lads. No one else.
Have a good Crimbo ladies & gents. See you around on Boxing Day.