Its 12.15pm on Boxing Day and I am stationery on the M25 wondering just what the fuck has gone wrong with my life.
Why I chose to go to Ruislip where Wealdstone play via the London Orbital motorway is down to one thing and one thing only, the voices in my head. They haven't quite reached Ronnie Kray proportions yet but they still have the ability to deflect me from what is right and sensible.
I used to work in Hayes so I know that Ruislip is only a few miles north of there and its an easy breeze via Hampton and Feltham on dual carriageways all the way which was how I was planning to do the trip before the nagging voice sent me sailing off down the A3 ramp towards the motorway.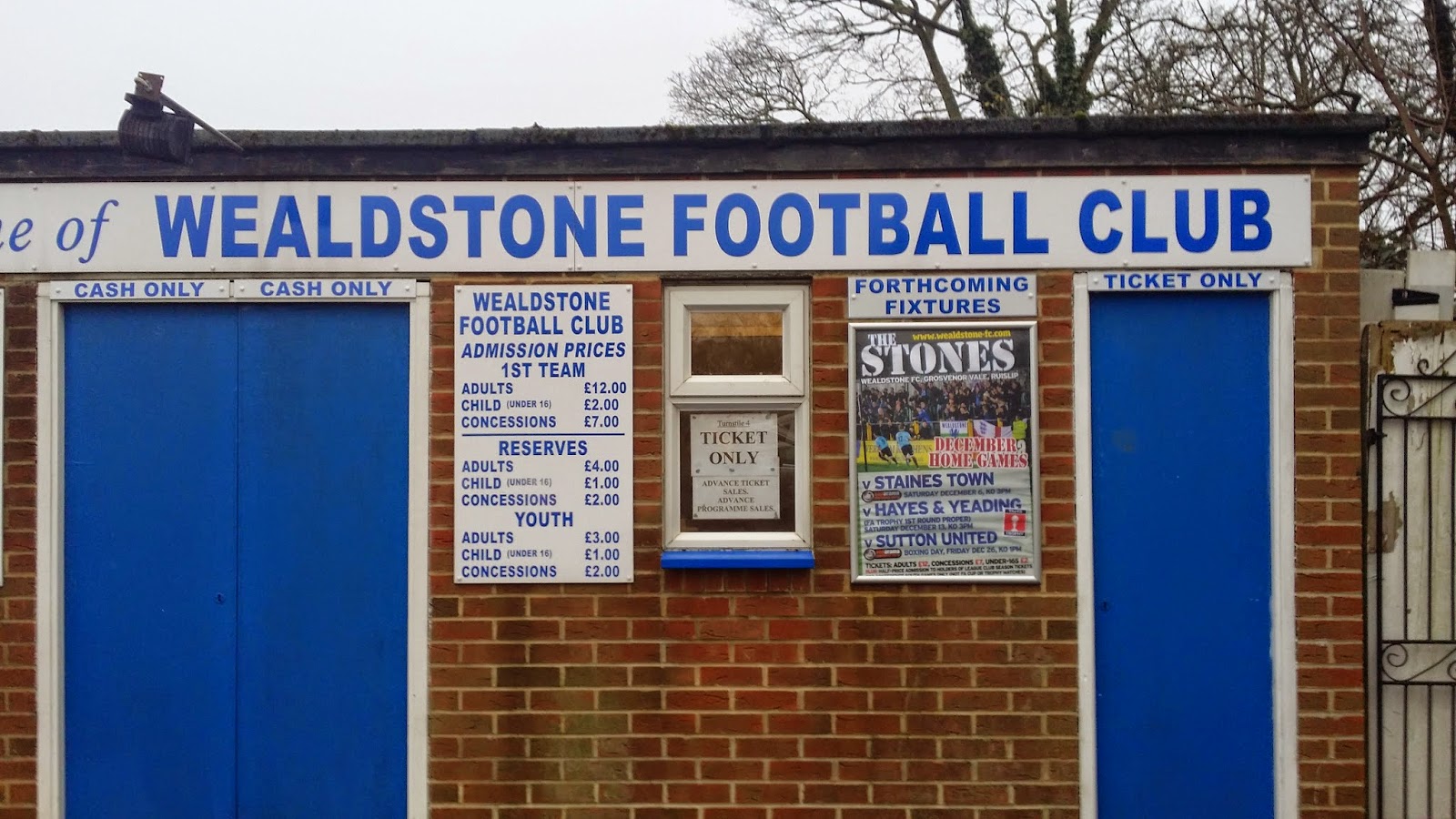 Insert lazy Wealdstone Raider reference here…
At least it gave me plenty of time to curse the evil bastards who decide the Conference festive fixtures. I know from speaking privately to some of the big knobs that run our club that both us and Bromley were game for a back to back south London suburban classico, but no, lets bin that idea and send us to outer West London and them to Canvey Island. Brilliant.
The only thing that I regret about the descent of the mob the other side of the hospital towards the Surrey Intermediate League is the loss of a Christmas/New Year yahoo with the scumbags. Fuck it, I would even prefer a game against K's but chin up hey.
Suddenly the traffic clears and I arrive at the ground with enough time to spin the car round getaway driver style so its pointing south ready for a sharp offski after the game and its on with the sheepskin and down towards the gates with very low expectations to be honest as we try to drag ourselves out of lousy run of form that has resulted in one league victory from ten games. A run so bad that some people are toasting the expulsion of Salisbury and the possible collapse of Hayes as meaning that you could finish second bottom above Staines and still preserve CS status. Always look on the bright side hey?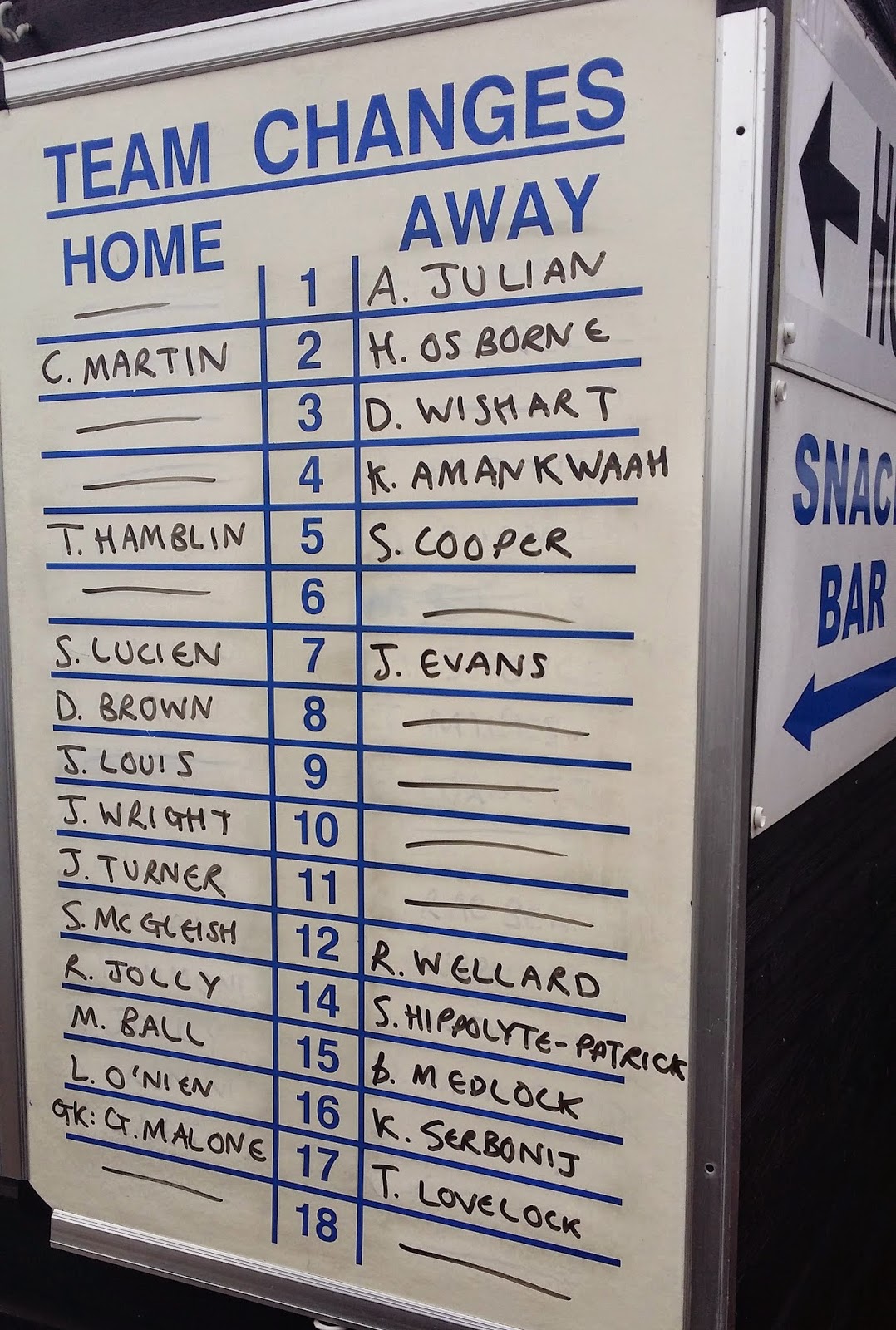 We'd get rid of a lot more than that.
What's this? Three turnstiles open and a decent sized queue? Not used to this kind of business and with the air thick with smell of Christmas gifts of Old Spice and new jumpers I stamp my feet and wait my turn.
Too my left a vision appears stumbling from the warmth of the club house, looking like they've just been sprung from the Crisis at Christmas Hostel and stinking of obscure booze concoctions shortly after midday it is the post-festive remnants of The Firm.
To be fair I was offered the chance to get a 93 to Wimbledon at some ludicrously early hour and freeze my bollocks off on the District Line for the pleasure of sticking to the carpet in some shit hole in Ruislip at 11am. Bizarrely, I told them to fuck right off.
Anyway in we go and its the usual game of trying to work out whats going on with the team line up , an exercise not helped by the team board scrawled up next to the BIGGEST FOOTBALL BADGE COLLECTION IN THE WORLD only showing us with six outfield players with the rest redacted CIA style with thick black marker. One disloyal joker quipped it may be no bad thing if we have moved from squad rotation to extraordinary rendition but I wont have such negativity in my column chief, no way.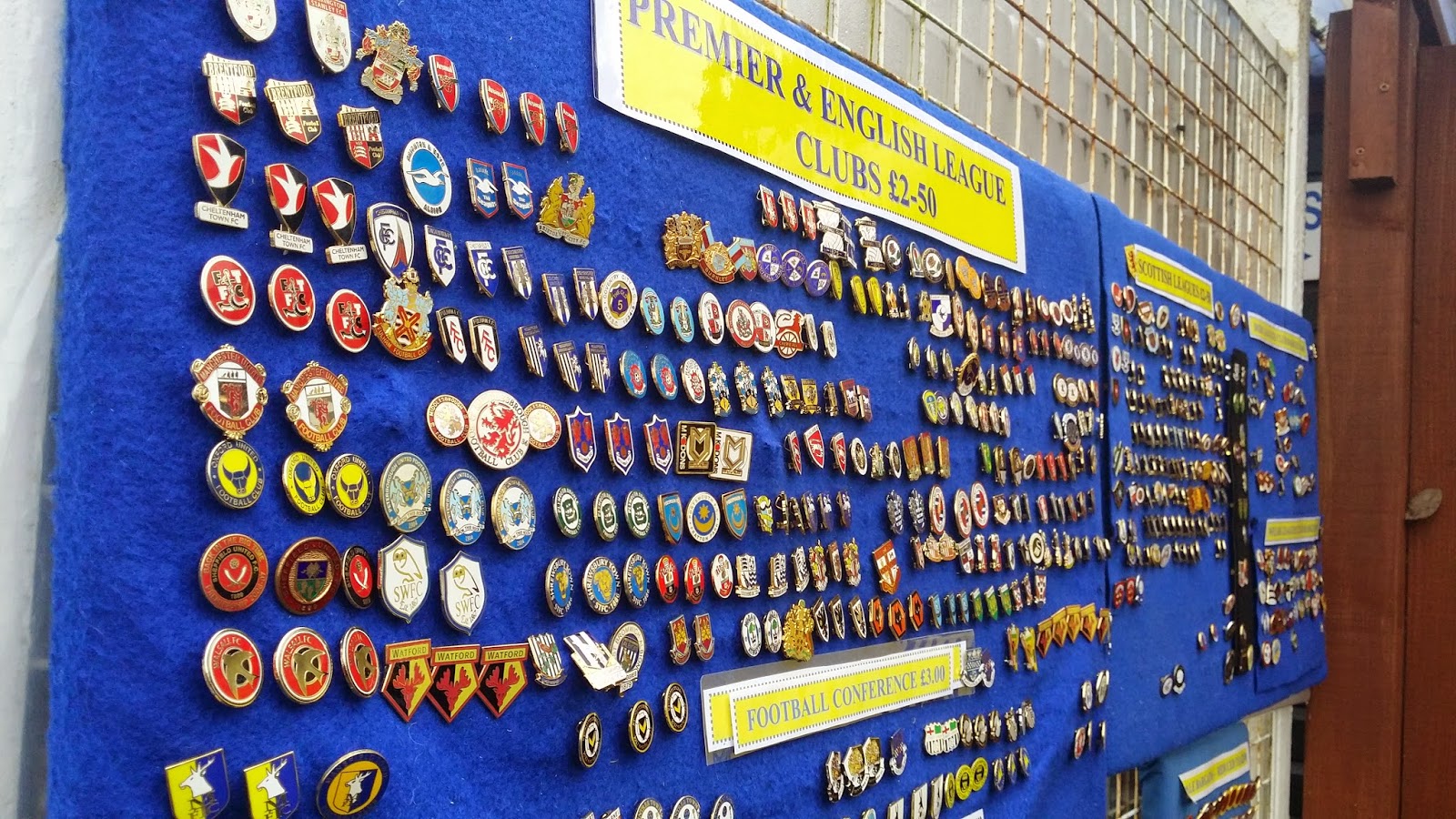 Non-League stereotype #2378654
Eventually, with the assistance of Millsy and his Amazing App we conclude we are playing three at the back, two wingbacks, one up top and a Partridge in a Pear Tree, well, anythings worth a go at the moment. Julian's back in goal with Tom dropped back on the bench. Nope, me neither.
Kick off is delayed because their keeper hurt himself jumping up to touch the crossbar before the start. Honestly, I might make some of this shit up but not that I'm afraid. It doesn't augur well for what lies ahead.
We looked reasonably up for it but honestly this was dire and turgid fare with passes going amiss, very little on-goal action at either end and loads of huffing and puffing. Shots on goal? Not really, it looked like it might take some sort of freak effort to break the deadlock and so it came to pass and, get this, for once it fell in our favour around the half hour.
A free kick driven in, pinged about the box and deflected in by one of their blokes jamming his leg out and diverting it past the keeper. Exactly the kind of goal we have been conceding all season which may well explain the slightly muted celebrations.
By this point I had moved round the side in expectation of grabbing an early slipper and cup of splosh only to find that the burners on the griddle were running low on gas, brilliant. Luckily I was able to pre-order or I would probably still be hanging about waiting.
Some time just before the goal I saw the collective heads of the Cheam Park Dads bobbing through the crowd. This could mean only two things, either they had all been to the kahzi together or they had just arrived. Turned out it was the latter. Some how they had managed to enter the home address of the Wealdstone Chairman in their sat nav rather than the ground and had rocked up miles away outside some semi in suburban west London. Having also got rammed up on the 25 it had left them well and truly bolloxed time wise. Still, due to the kick off delay they were there in time for the goal and as that was pretty much all that happened in the first half it was no big deal.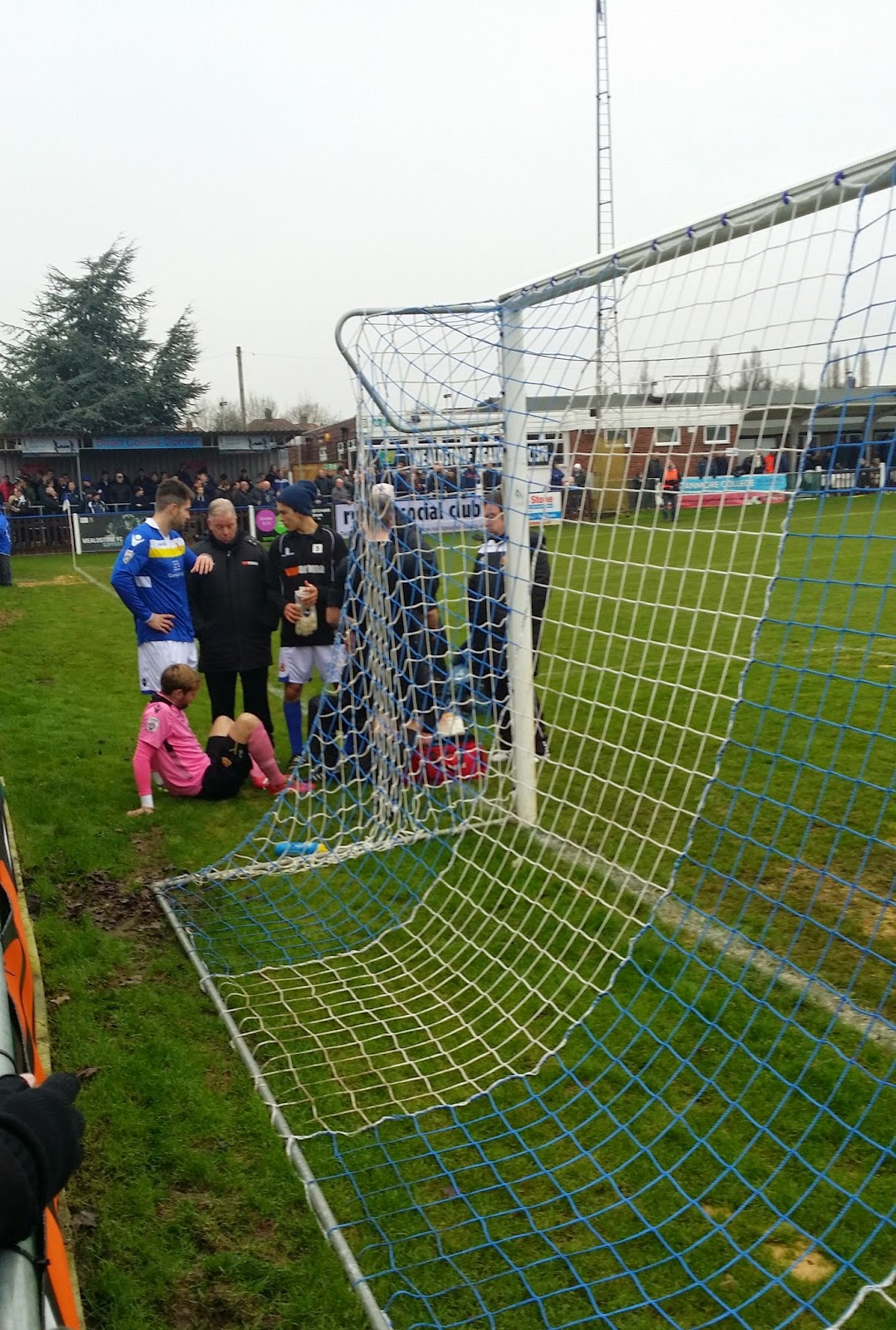 Knackered before KO.
I thought we had our best spell just after the break, some decent energy and Jamie White, feeding off a diet of scraps, was very unlucky not to increase our lead. I suspected we needed that two goal cushion.
Around half way through the second period it was like someone had flicked a switch and suddenly all our energy and confidence seemed to drain away. We dropped deep, Stones sensed it and most of us started fearing the worse. The old blues refrain we've been singing all season, "if it wasn't for bad luck I'd have no luck at all", was consigned to the bin as we set them up nicely and a superb free kick smacked back off the inside of our post with the rebound blasted over.
It was frantic stuff by now and just before full time Julian kept us in front with a superb save. As the board went up for five minutes injury time we looked at each other grimly. Of course, it may have taken us the whole game but we always gift wrap a goal. Al flapped weakly at one, the ball wasn't cleared, a neat lay off and bang, one all.
Stones weren't done yet and sensing they might pull all three points out the bag had a big old heave at us but we clung on.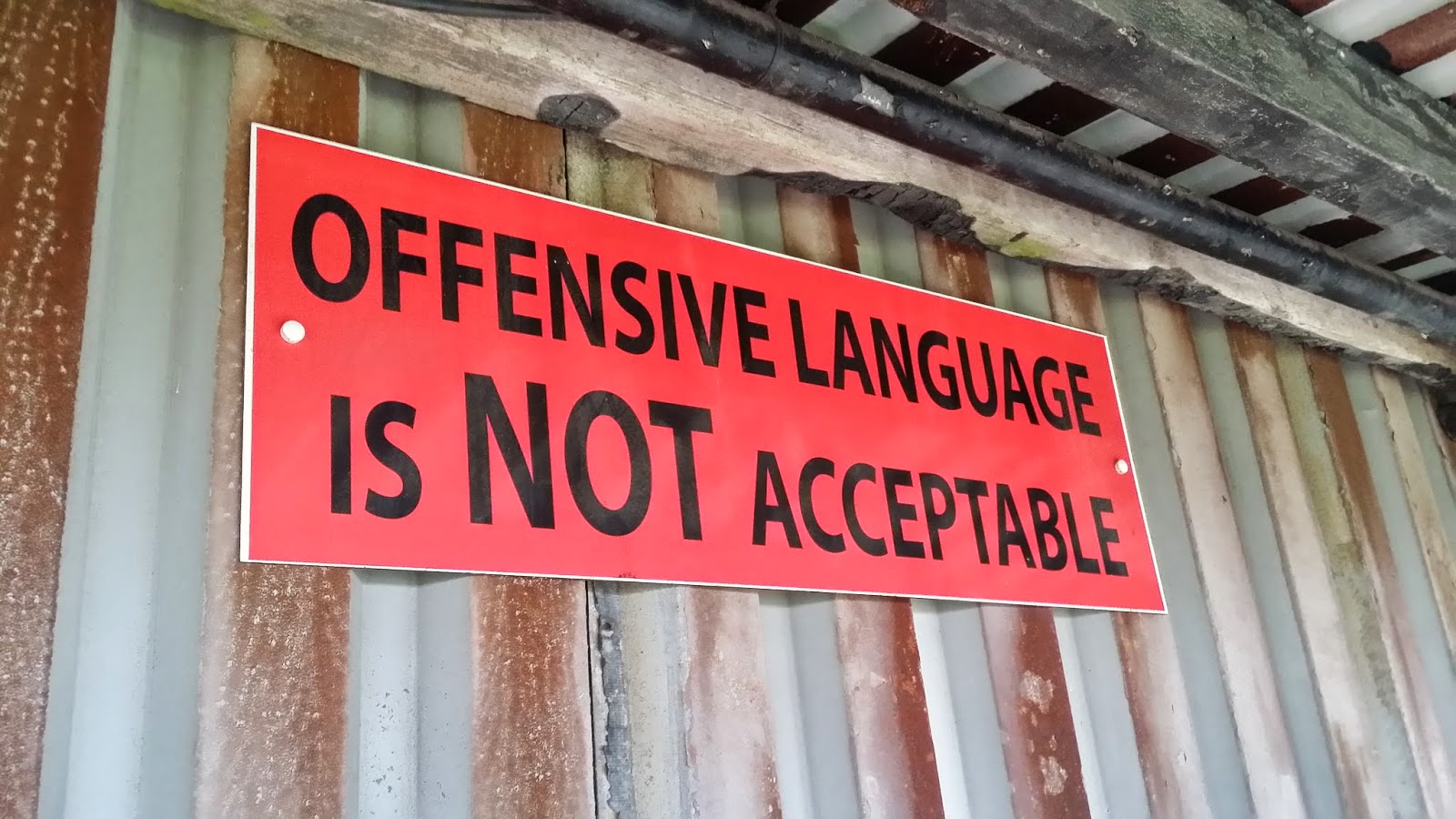 "Oh do fuck off, have you seen us defend?"
Taking the sensible route home, I was in the HG Wells with a pint of Guinness by four pm and checking in saw that the point had catapulted us a place up the table. Still, any away point in the Conference South is a good point.
Except when it should have been three.
Totts