Another week, another point and another performance that is just missing that little je ne sais quoi. Or some other sort of poncy French saying. We may be four games now undefeated but we are still middle of the table with a goal difference of zilch. But today it was our job to entertain those from God's own graveyard, Eastbourne Borough.
I arrived at the train station to see that the Firm Leader was absent and had to contend with speaking to Albert the Steward for the duration of the train journey. Also on the train was Ex-Us player Gavin McCallum who very nearly got off at the wrong Sutton station until it was me that showed him the errors of his ways. You see even I can be a good Christian once in a while!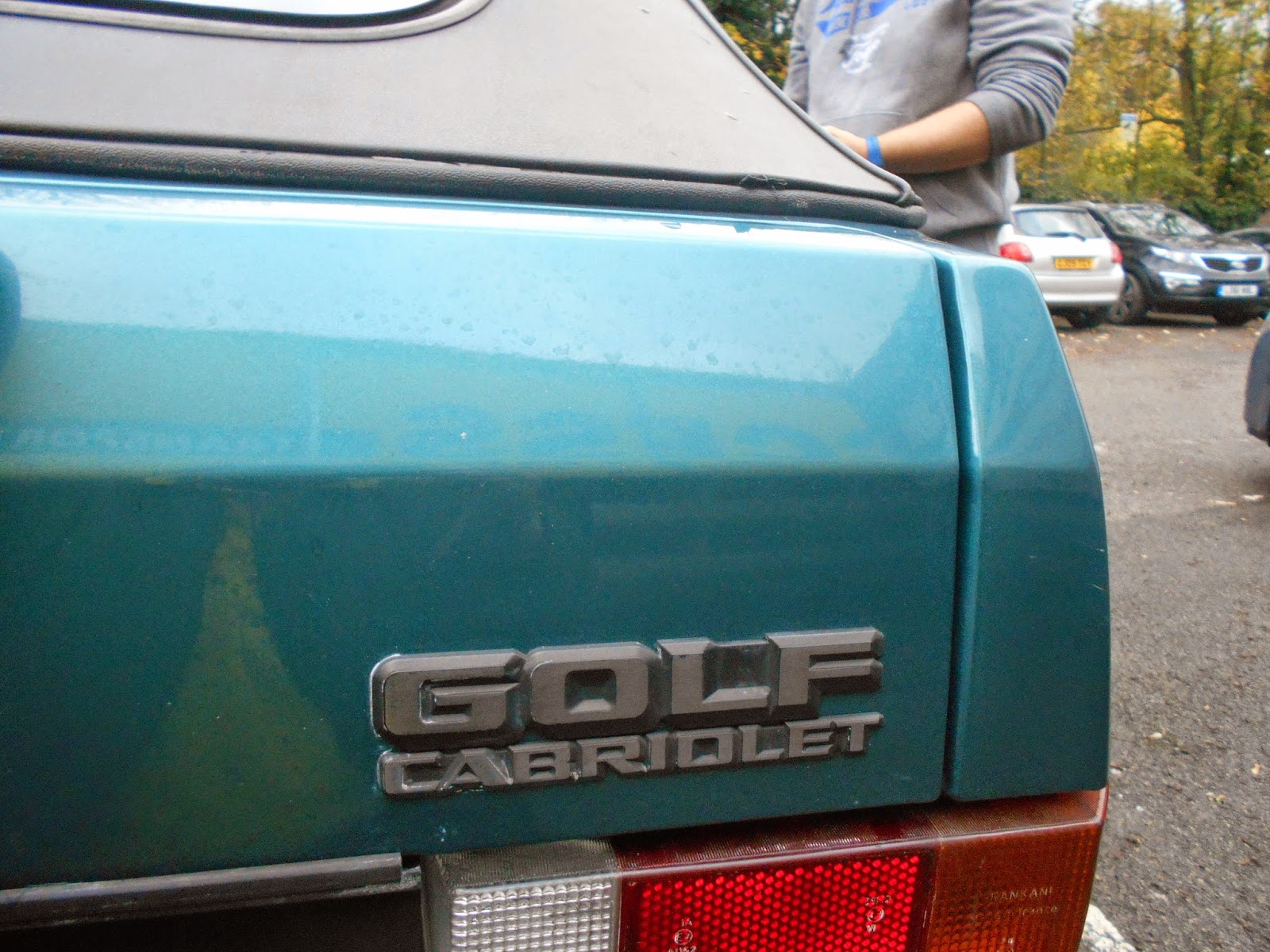 Who buys a convertible in November??
I arrived down the club to see that the nets were down and therefore headed into the bar to see Wardy already watching the Liverpool v Chelsea game (1-1 at the time) also in attendance was Wellie, who reminded me that he wasn't old after what I'd said about him in the last blog! There was even a special appearance by master bates himself and he had even arrived in his new old car. The team sheet was put up by this point and one surprising name to see was the return of Jerson Dos Santos on the bench. I mean we only saw him back playing for the Reserves just last week!
In Wellie's possession was a brown cardboard box inside was a whole bunch of old cigarette packets and some cigarette cards all for our own Kebab Belly Bob. Some of the cards were right little gems including some old movies stills of Astaire & Rodgers with one card having the particular slogan underneath "Let us be Gay", different times obviously! Also there were some classic football drawings showing "How to Kick the Ball" and "How the Goalkeeper should Fist". Simple pleasures out of simple things for me.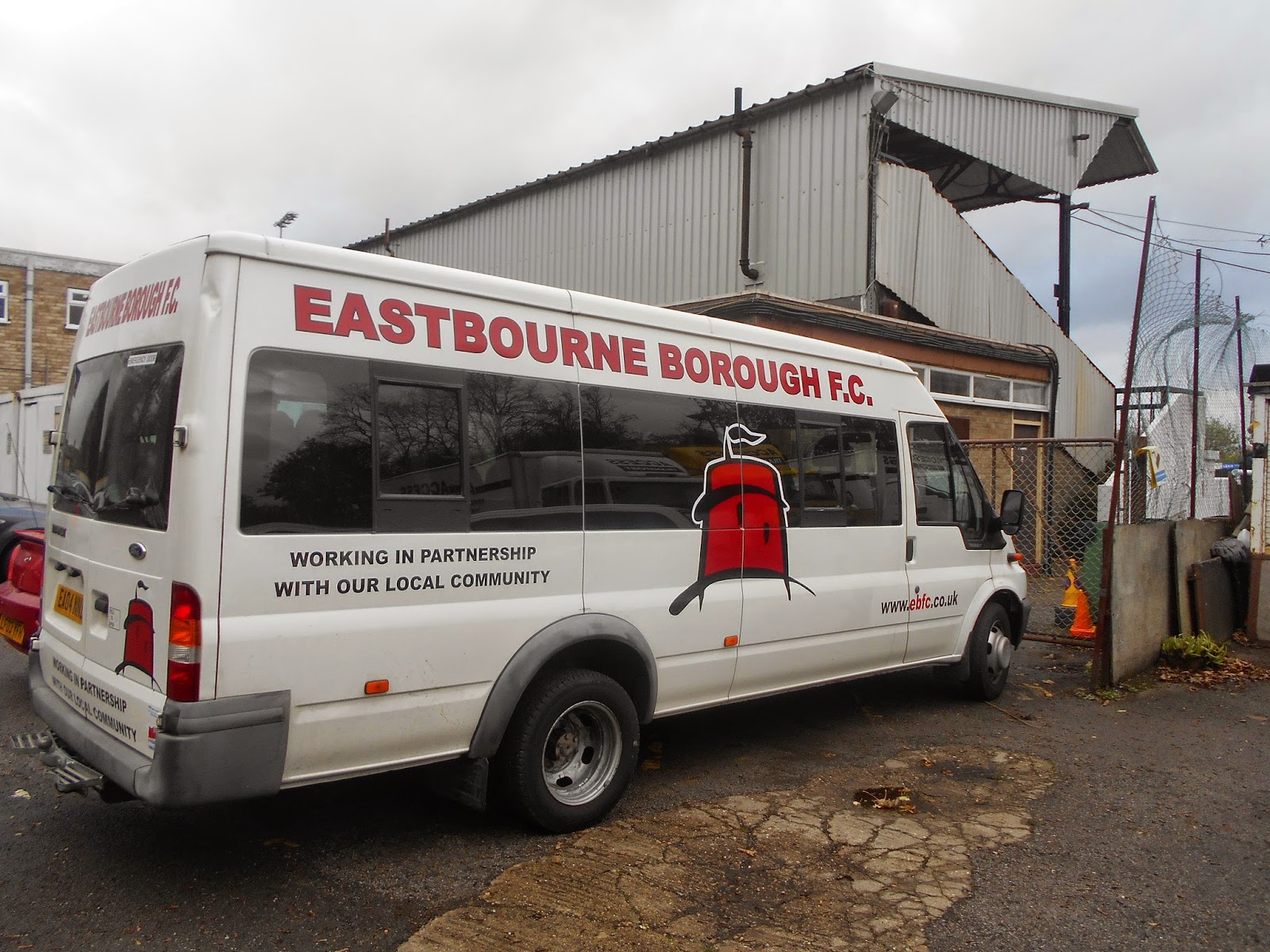 Seems everyone has a swanky transit van these days….
Lovelock, Evans, Hippolyte-Patrick, Spillane, Cooper, Clough, Gomis, Southam, Dundas, Reindorf, Medlock. Bench Warmers: Haysman, Julian, Hart, Johnson, Dos Santos
Shooting towards the Rec End, Sutton started once again on the front foot with in particular Shaq looking more and more like a first teamer. Inside the fist ten minutes we were in front when a Southam cross was met by Shaq who header with a little help from a Eastbourne shoulder sailed into the top of the left hand corner. 1-0! Not a bad way to open your account after eight minutes into your first start.
A couple of minutes later Southam was battered by one of their players. The ref gives the foul, but refuses to produce a card. Southam takes some treatment from Dr Bobby and even carries on for another ten minutes but you can see him struggling and he is finally replaced by Kane in the middle of the park.
For the next few minutes Sutton tried to grab a second goal with Shaq and Gomis both going close. Like most games this season the defence was once again caught short when Jacko slipped in the box leaving McCallum free to hit the ball across only to be stuck into the net by Cooper. Not bad two goals scored by us and it is all level. Apparently there was another scare just before halftime but by then I had already hit the bar before the rest of the Firm appeared.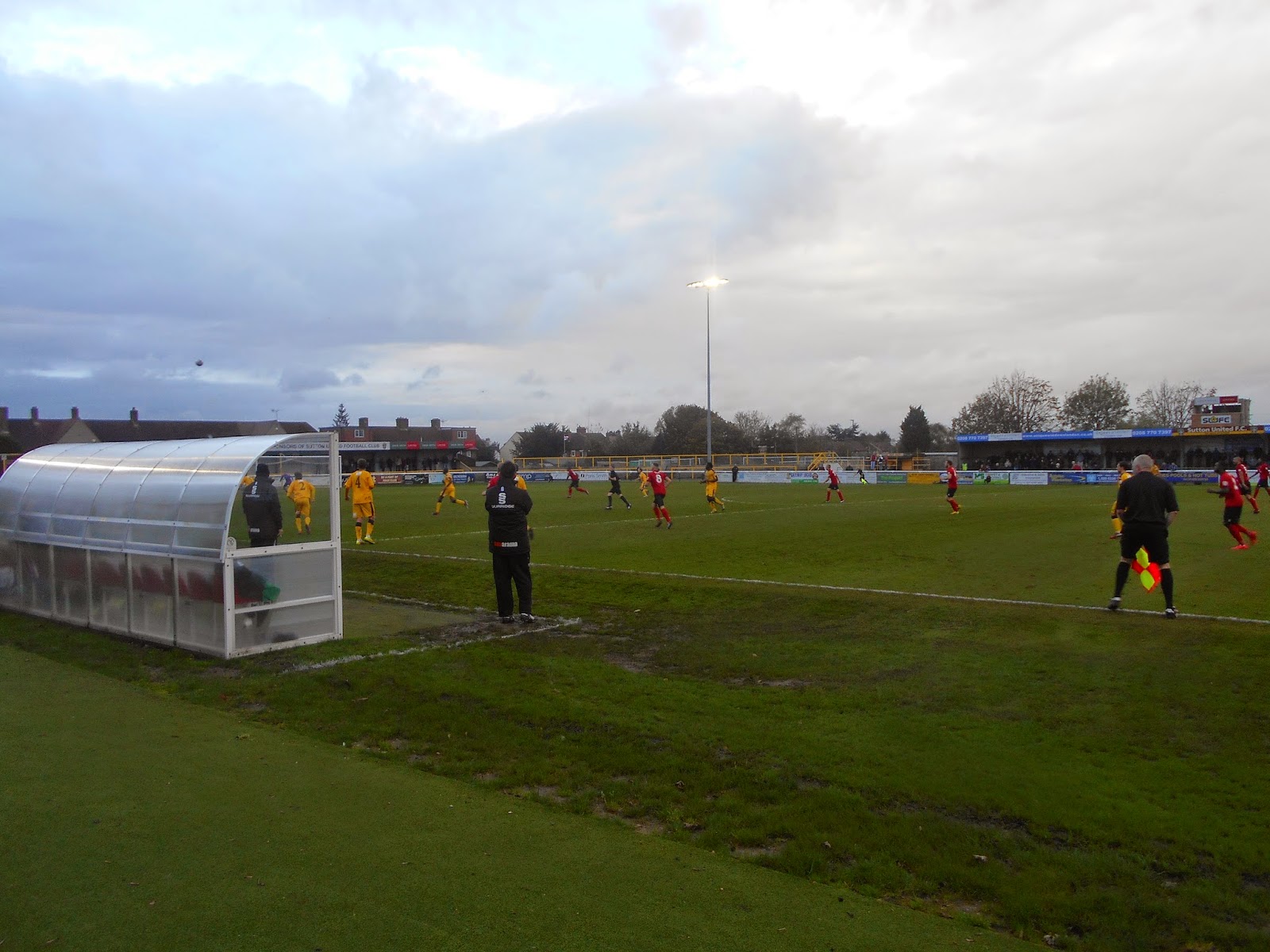 Pointless filler photo
In the second half we seemed to lose some of our shape. This was highlighted by having Shaq moved from the right wing to the other side. Also with Jessy & Medlock up front we seemed to miss that final ball for them to attack. Dundo was booked for a peach of a tackle that had the Eastbourne fella do a near perfect 360 degree in the air before hitting the floor with a clump.
Lovelock once again had a quite afternoon, only being called into action with a fine save from another ex-U in Pacquette. Also he was lucky when after a back pass from Jerson he fired the ball right into one of the oppo and the ball calmly came back right into his hands. Later both teams had chances to win it.
Sutton first saw Kane's outside of the box effort hit the post and then roll into safety missing all the bodies in the box. Then Eastbourne nearly had the game won when after a simply punt up top by the goalkeeper saw the ball be knocked over Lovelock only for Cloughie to slide and knock the ball out for a corner. For this corner we broke free with some sexy one touch football. We managed to get it into the box only to see Shaq's attempted side foot easily covered by the goalie. The match finally ended in the rain a rather depressing 1-1.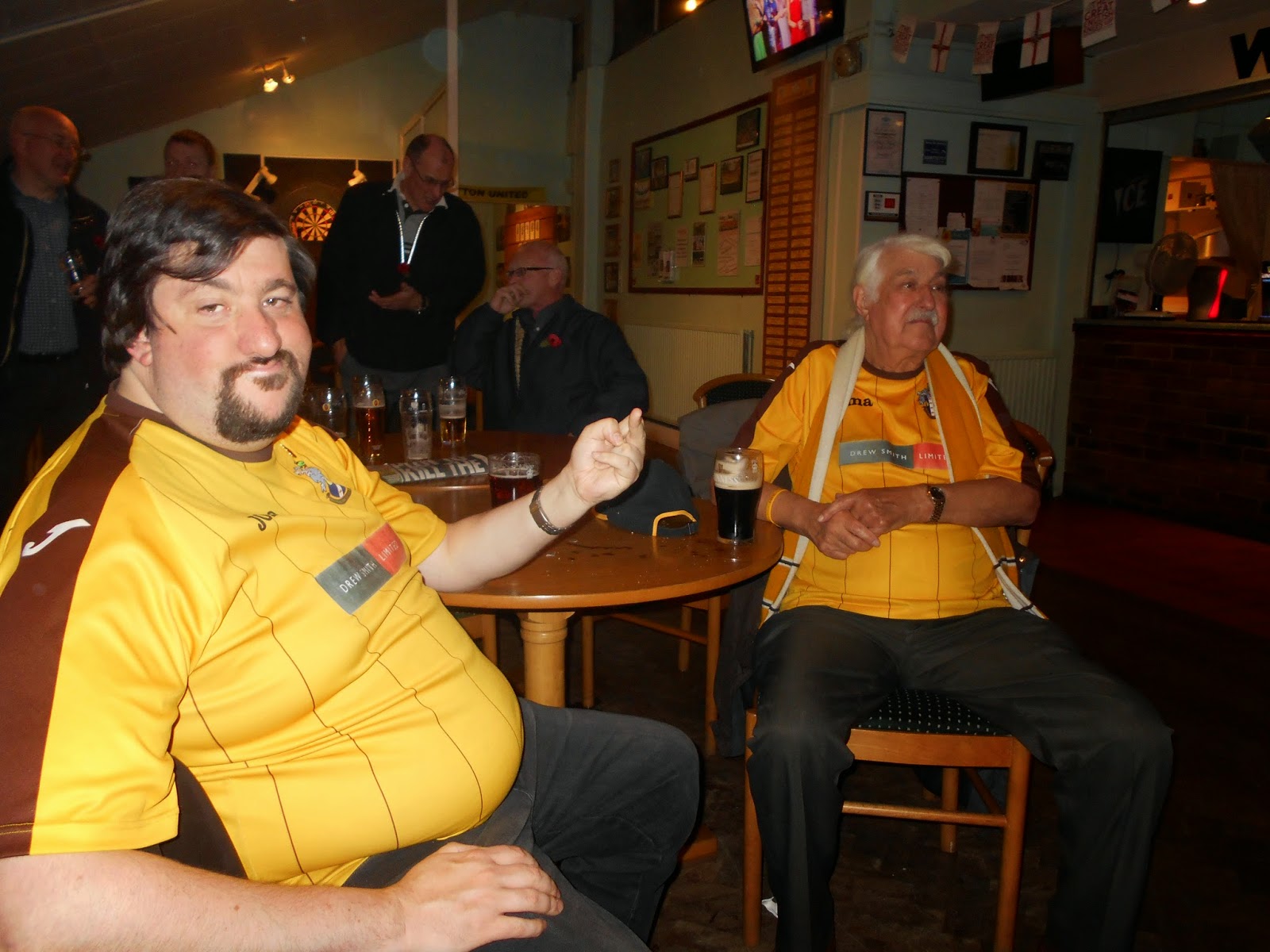 You wan'sum?
After the match we moved into the bar to see some of the other results come in. Boreham Wood had gone top with a last minute winner against Wealdstone. We also had gone tenth now only three points away from the play-offs but still separated by four teams above us. Also in the FA Cup there were defeats for Bromley and Hemel.
The Strikers are Key draw was next and surprisingly the first ball that was drawn was for the three coaches Beadle, Jamie & Lockwood. The draw was quickly re-done and up stepped Indiana & Sean to fail to pick out the right key. Wardy was not to join us tonight as he was due to attend a do at a pub in Wallington. "The dog something" he said, we all scratched our heads thinking of a pub in Wallington that had a dog in the name. The only clue was it was near a pond. The only one I could think of was the Rose & Crown. We finally managed to work out it was the Fox & Hound in bloody Carshalton, not bloody Wallington.
After leaving the club the five amigos headed to the usual haunt that is the 'Spoons. But first me and Firm Leader headed for the local chicken shop next door. Instead of plucking for the usual Mega Box, I was persuaded to have some boneless banquet type dish. It turned out to be twelve mini fillets, four pieces of chicken and four fries. Added to this some gravy and you could find two satisfied customers who staggered back to the pub.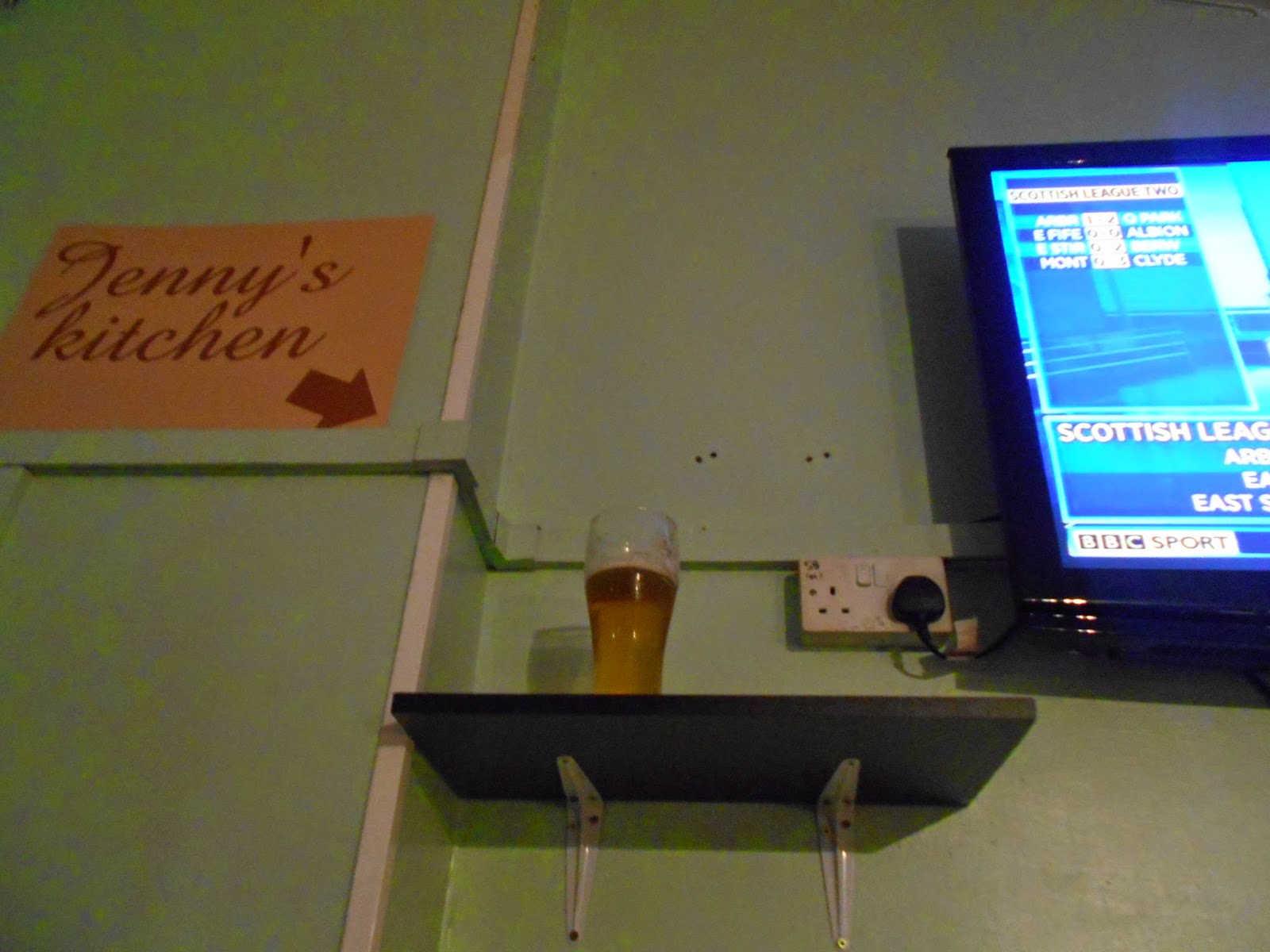 The trophy cabinet is a little bare these days….
Back in the pub and after several Bulmer's, it was two for a fiver so we had four each. The Firm Leader was convinced that there was a footballer called Chaka Demus Wang. All of us refused to believe this and didn't even want to look on our phone for it was a preposterous thought. I even decided that if Chaka Demus Wang existed ten surly he would play upfront with his team mate Pliers McAndrew. I never quite know how these conversation ever start or why we spend so long even discussing this things but it was amusing to those around us.
After Mr X, the CEO of CES and the Firm Leader had departed, me and Taz felt the need to head onto pastures new. With the time fast approaching midnight we swanked into O'Neills. I tried to be smart and order a double round. The barman appeared to be South African so this was the cue for me and Taz to give our best Afrikaans impressions. I don't know why we always have to do impressions of whoever we are talking to but we were convinced we could pull it off.
It was also this week that we heard the sad news of the passing of Golden Goal John. Now for the last few years us in the Firm have tried their best to win Golden Goal with tickets purchased from Golden Goal John. Unfortunately it was all one way traffic with us handing over money for nothing in return! Still he will be missed by us here in Gandermonium and that there was several glasses raised to him. So requiescat in peace Golden Goal John.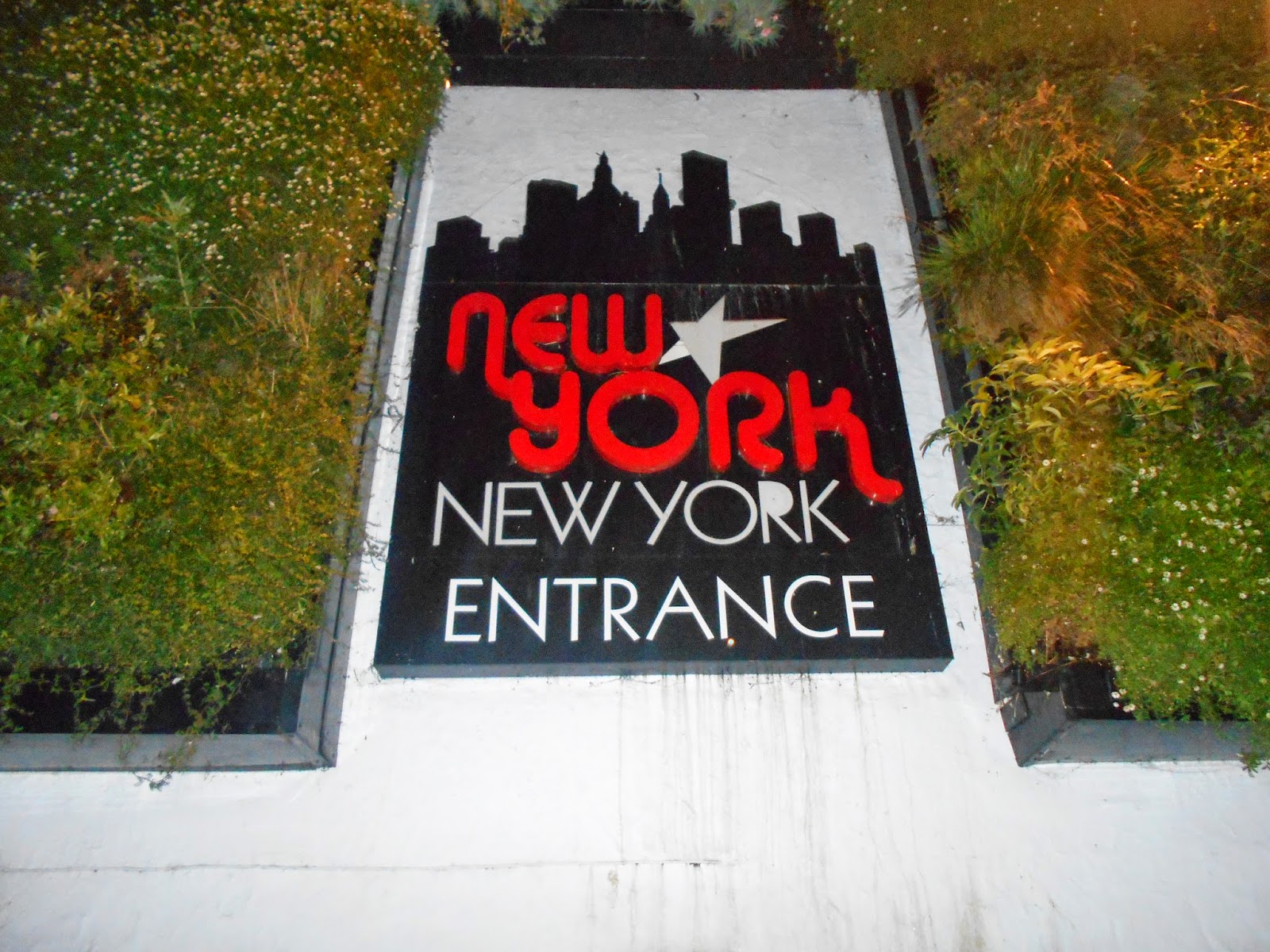 Dukey reminiscing about better days….
Duke
Att. 525