Another birthday recently came and went taking me just a few years away from the day when I am able to negotiate concessionary entrance with MarkN , the desert-booted guardian of turnstile A and custodian of the guitars when I have a gig straight after a home fixture. In fact I still have the unrequited Senior Citizens entrance ticket that was offered voluntarily at Eastbourne last season pinned to my office wall to remind me that I will soon be dead.
This week I enjoyed a night out with the Youth team at Ice Station Banstead for a feisty cup encounter with the second biggest team in this area , Raynes Park Vale , where we sweltered under the sunlamps. If you've not taken the trip up the Mad Mile for a youth game you should give it a try. You won't be disappointed.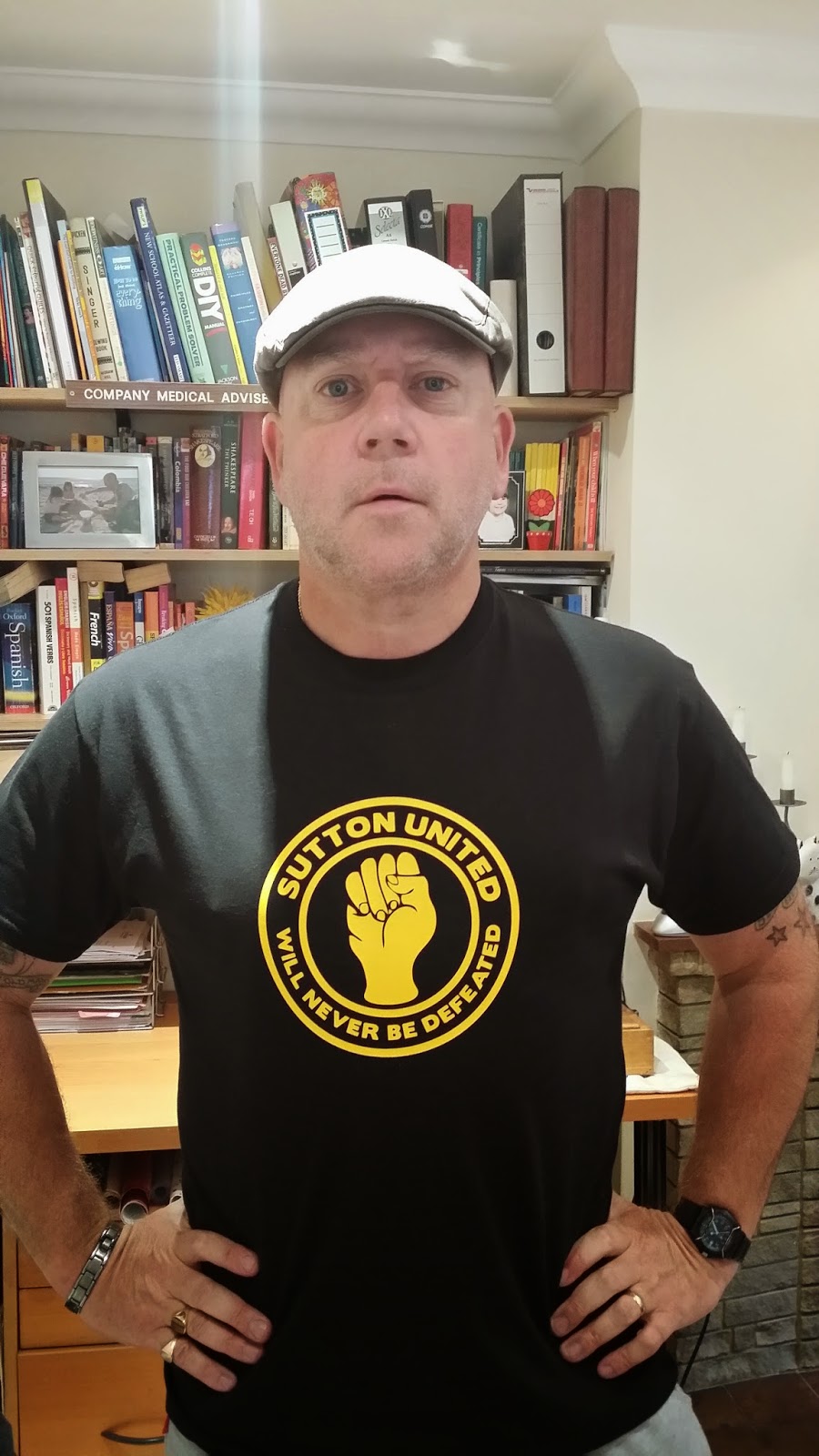 "No, YOU ask him if he knows any Bucks Fizz!"
Another highlight of the week just gone was reading in the paper that the Government are soon going to force feed blokes of my age a special pill to stop us enjoying red wine and Red Stripe. What a bunch of wankers they are and here in the People's Republic of West Sutton we are already preparing the barricades to resist this latest act of government-enforced misery.
Anyways, back to the birthday. Mrs Totts says "what do you want?" I reply, not unreasonably, "a bit of peace and quiet." A request met with the kind of weapons-grade glaring that would send even the SAS running for the nearest pub. But I remembered a tweet I'd seen from Terrace Life advertising classic Northern Soul clenched fist shirts with a slogan of your choice.Well, that will do for me, that is definitely the cut of my jib and one was ordered up with the Sham 69-inspired legend "Sutton United, will never be defeated."
"Don't you think that's asking for trouble?" says Mrs Totts, who knows fuck all about football but seems to pick up stuff like this either instinctively or out of thin air transmitted on some secret frequency that can only be received via knitting needles.
As I said, what the fuck does she know?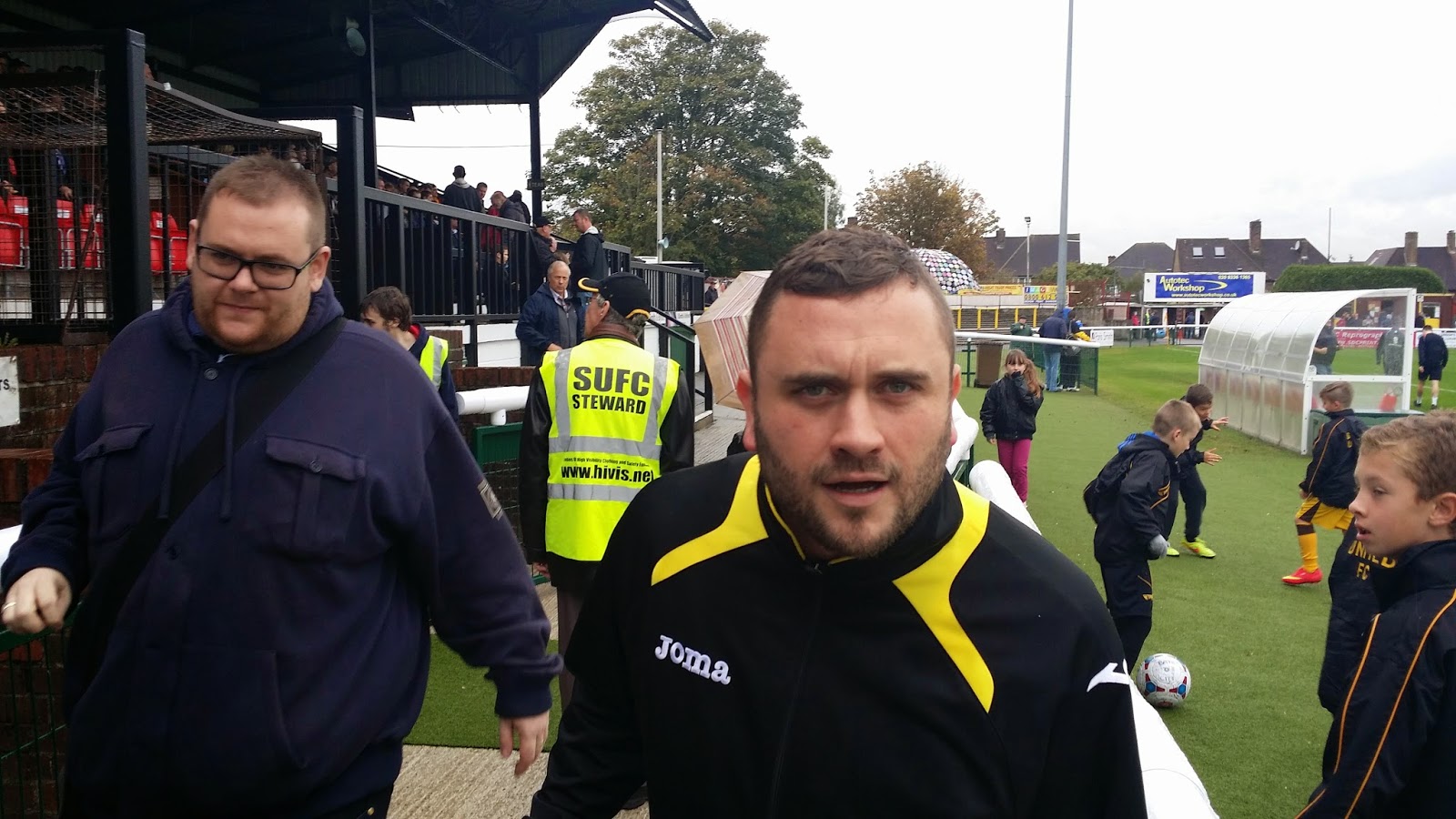 'Ere, d'you wanna see my greased steering column?
And so it was that I left home in the rain wearing nothing but the box-fresh T shirt, a happy smile and a battered UNISON golfing umbrella. Lesson One, always listen to the missus, as we shall learn the fucking hard way as the afternoon turns from drizzling rain to pure shit.
On the short trip up GGL I am passed by Lloyd from the tidy little home and away firm known in hooligan circles as the "Cheam Park Dads". Lloyd knows better than to offer me a lift even though it is pissing with rain , I don't want to end up bashed about, stuffed in the boot and dumped off on Banstead Downs. No way Jose.
Time for a pint. The bars jammed out with the usual faces with one surprise being the unexpected attendance of Juan. The word was he wouldn't be showing up as he had to "grease his steering column". Now, I thought I had heard all the euphemisms but why it takes all morning, let alone all day for christs sake, to knock one out is beyond me. Still, good to see him and the test of the crew and we headed out up through the tunnel in good time for kick off.
Banter. Now we know very well who forms the innards of Jenny the Giraffe but is it right he/she should be welcomed onto the pitch with a shout of "You still look fucking disheveled even when you're dressed up as the club mascot."? Probably. So off we head behind the goal at the Collingwood end for the start of today's game against Bath.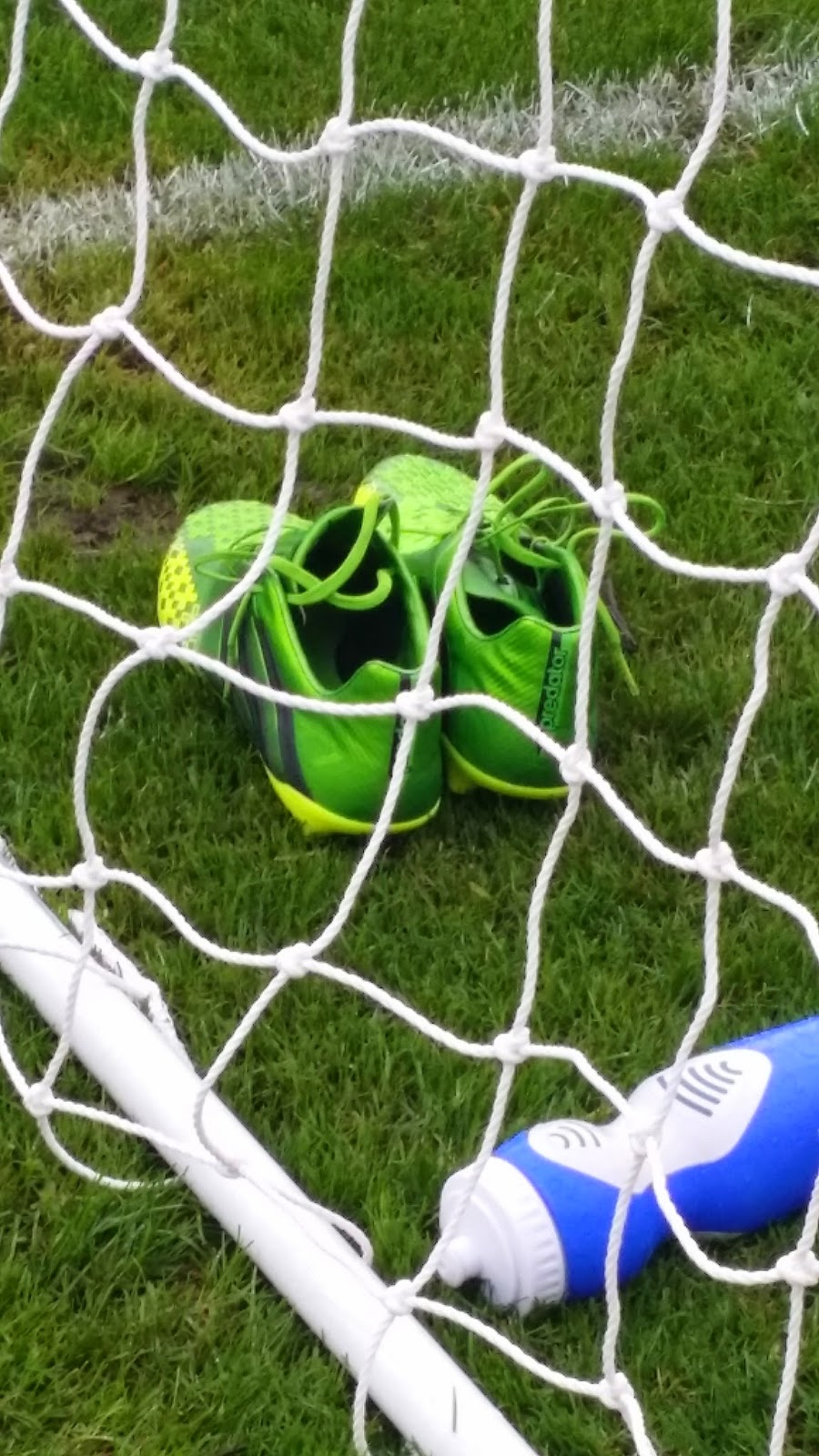 Change of slippers….
The first question is the formation and whose playing where. Luckily we have Mr X on hand who knows this shit and by half time he almost has it sussed out. Generally speaking Spillane is playing centre back and we seem to have a loaded midfield with just Jessy up top. All seems steady enough to be fair without setting the world alight and we look pretty solid with a bit happening off Jess via Binnsy and Kane who have been given licence to switch flanks at will.
Entertainment wise the uncertainty of the Bath keeper keeps us interested as he displays all the stability of a Bacardied-up secretary on stilettos dancing on ice. Apparently it's all down to the choice of boots and there is much merriment shortly after he almost gifts us a goal off Jessy when their trainer runs round with a new pair of pumps. This is the sort of old bollocks we like.
It's around this time when I notice a particularly and unwelcome stench in the stand that smells like burning horse shit. The culprit is soon identified as Duke who has some filthy old cheroot supplied by Wellie branded an "Al Capone" which comes with a unique health warning which apparently translates as "smoking these will make you stink like a dead tramp." This is what we need to bring the crowds back.
Then bingo, Binnsy latches onto a cheeky through ball which squares up the Bath defence and on forty minutes we are one up and see out the rest of the half in some comfort. What could possibly go wrong?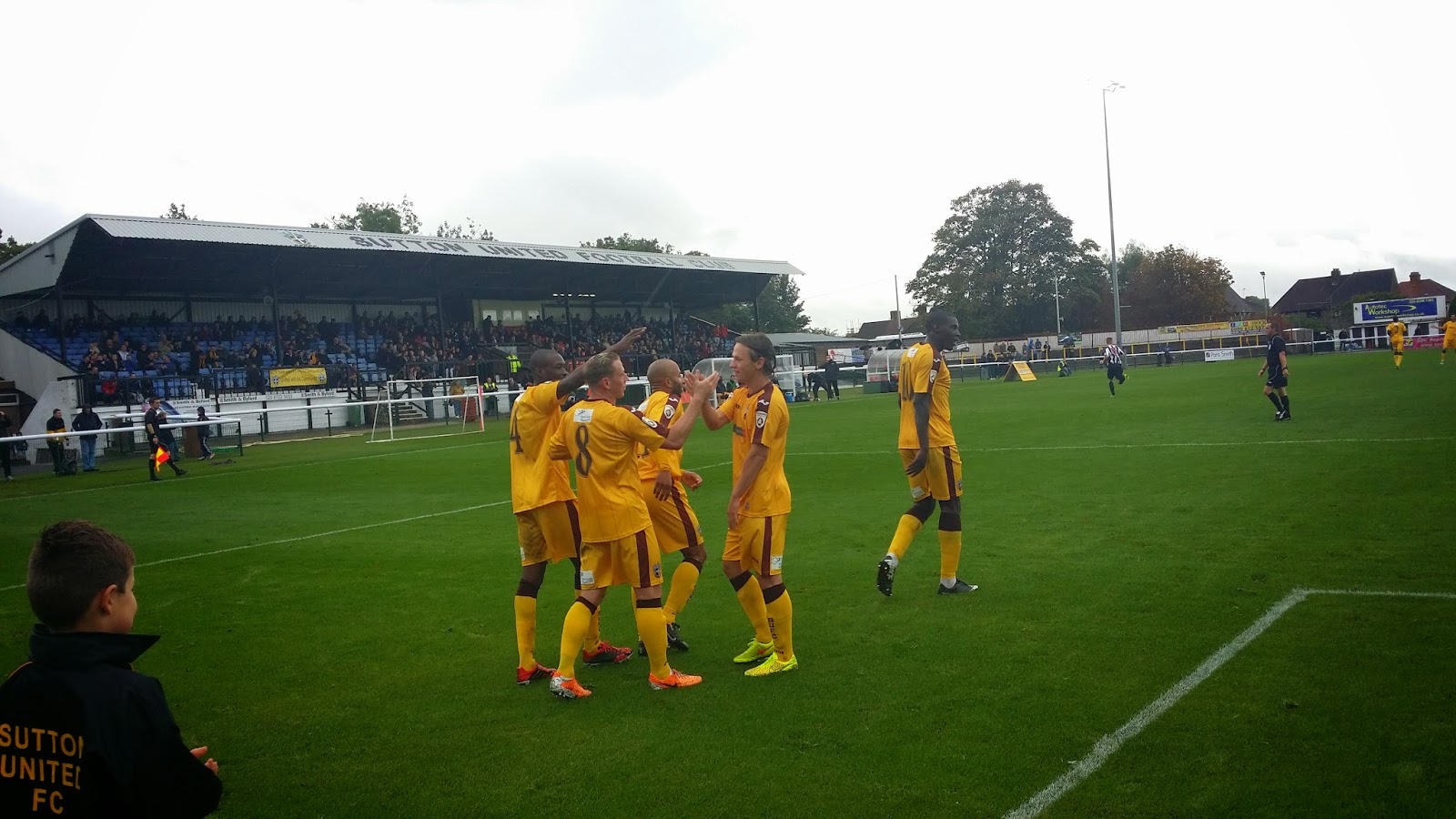 A brief ray of happiness….
A quick shift round to Roses, via the most optimistic ice cream van in the world which sits under leaden skies in puddles of rain without a punter in site , and I grab a cup of splosh and what I assume is a Mars bar from a packet of celebrations but which turns out to be the full side these days. Then it's up onto the steps of the shoebox as the rain eases off bang on cue.
With Taz and Duke engaged in a riveting conversation about carburettors, I think about googling Dignitas before the welcome sight of the teams emerging for the second half switches attention back onto the pitch. When I say welcome sight, it betrays the wild optimism of the football fan as our lot seem to have hit the pause button while Bath have regrouped and come out playing higher up the pitch well aware that this one is far from over.
Just what is it with the second half and our mob at the moment? This is just getting all too fucking predictable as we meander about inviting Bath onto us allowing them the space and time to grow in confidence while we dick about hoofing aimless long balls around like it's some kind of stall at the funfair. We'd have done better hijacking the ice cream van and parking it in the goal and giving a double flake 99 to anyone managing to hit it. I don't think we had a shot on target the entire half but I really hope I am wrong.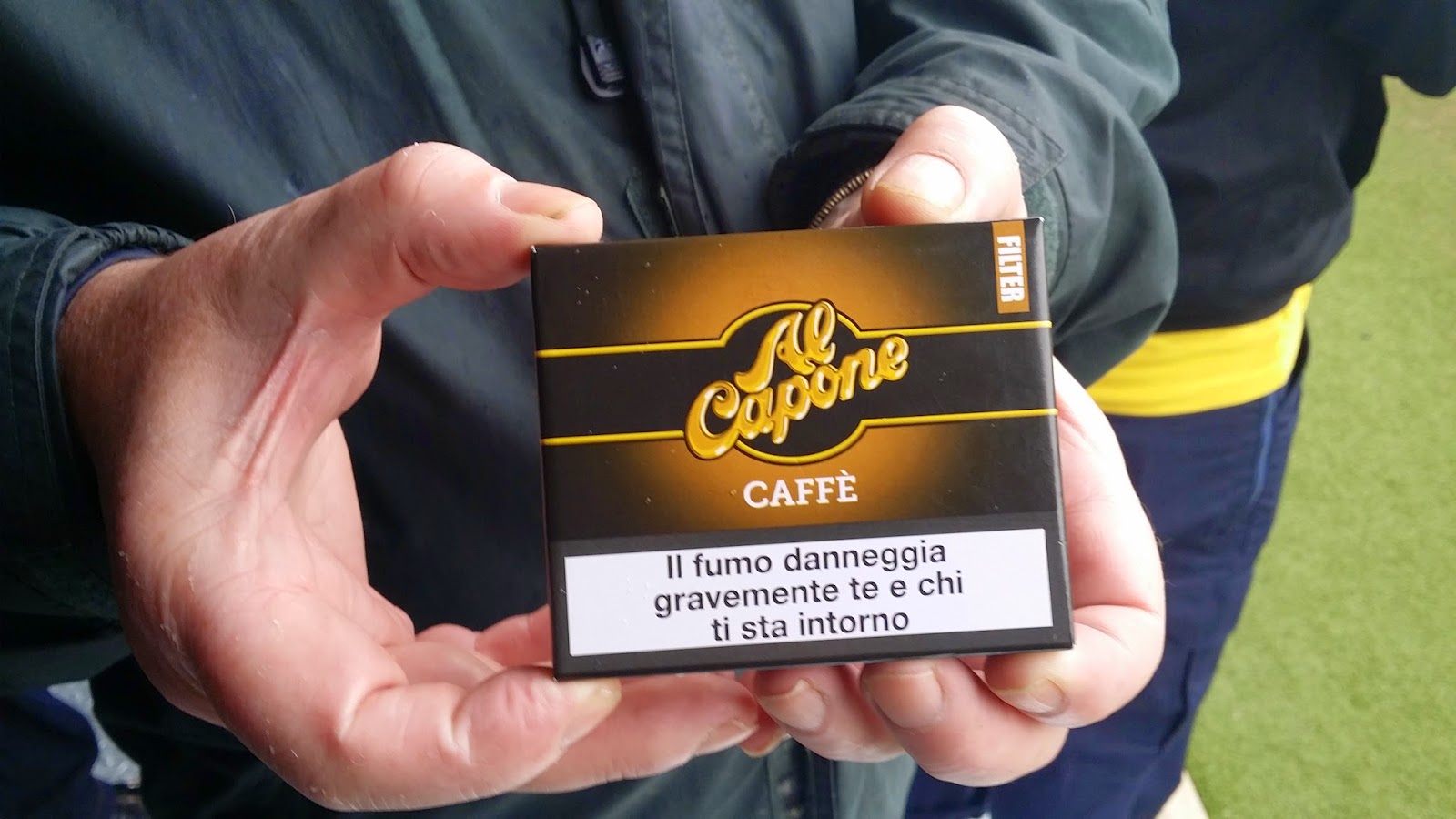 Aroma of burning horse shit or dead tramp? We're not sure….
By this point Bacon Roll has become so bored he started taking random pictures of dogs, claiming that there's a, ahem, "specialist" web site for non league dogs. Well, purely in the name of research, I put "Non League Dogging" in my search engine and I can confirm he is right.
Then the inevitable. They break easily and in acres of space their bloke screws up the finish. Did it set the alarm bells ringing? Was it a wake up call? Was it bollocks. Literally a minute later they break into the box unchallenged and Spillane looks, from where I am, like he brings the man down. Pen and red card. Fuck sake. Others have said it was harsh. Maybe, but no one can argue it wasn't coming. The bald bloke buries it and we are all square.
Well, we've done well with ten men this season, good job too as it's happening a lot, but not today as a few minutes later their 11, with our defenders backing off, has time to line one up and belt a thirty yarder dipping into the top corner. Great goal, unstoppable and an absolute hammer blow. Some subs come and go with no impact whatsoever and no one is surprised when we get sliced open again and their man is left with a tap in to kill the game at three one. Bollocks.
Wandering round for a beer I bump into a mate from the old school punk days who chucked in his West Ham season ticket to follow Sutton home and away, he tells me he had to dig out his winter hat for the first time this week, next week he's digging out a blindfold! Gallows humour, we ain't got nothing else.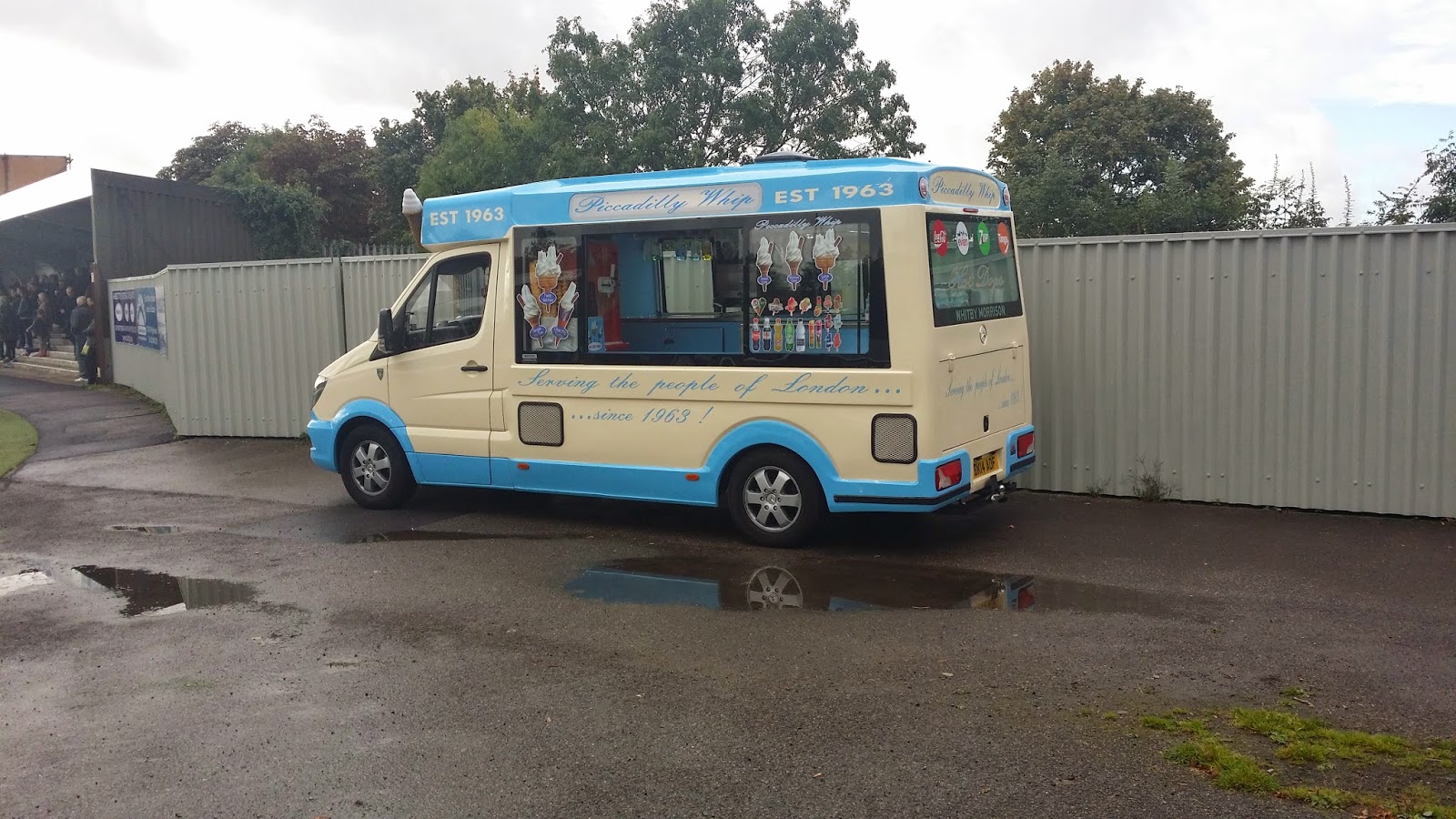 This sums up the day quite well really….
Subdued in the bar to say the least. Even the poor mans Bruce Forsyth, AB, has trouble rousing the rabble but he gives it the full blast for the newly named 'Striker Is Key' draw. Few players show their faces, but fair play to Suvs who stops for a chat and readily admits it ain't good enough and we need to pull ourselves up and go again. I will drink to that mate.
Moving away from football Duke shifts the conversation onto music and asks me what sort of stuff I play in my one man punked up extravangza, "a bit of Bucks Fizz and that kind of stuff?".
I decide to leave before I lump him one.
Totts