Finally, the magic that is the second most important cup (after the Surrey Senior!) to us has started for the season that will forever be known as 2014/15.
I do love the cup competitions because you get a chance to not worry about the ups & downs of the league for a change and sometimes you get to go to those occasional classic ties that you can regale your grandchildren with tales of.
This season we are given the task of dispatching a team from the Essex Senior League in their first year of entering the competition. FC Romania. To be frank, I did know a little about this team as I was intrigued by a league that features quirky named sides like London Bari, Greenhouse London and Sporting Bengal.
FC Romania as the name suggests, are basically a team of Romanians that are supported by Romanians. They maybe only eight years old but are making a concerted effort to rise up the leagues as quick as they possibly can. FC Romania also play out of the Cheshunt Stadium in nearby Hertfordshire.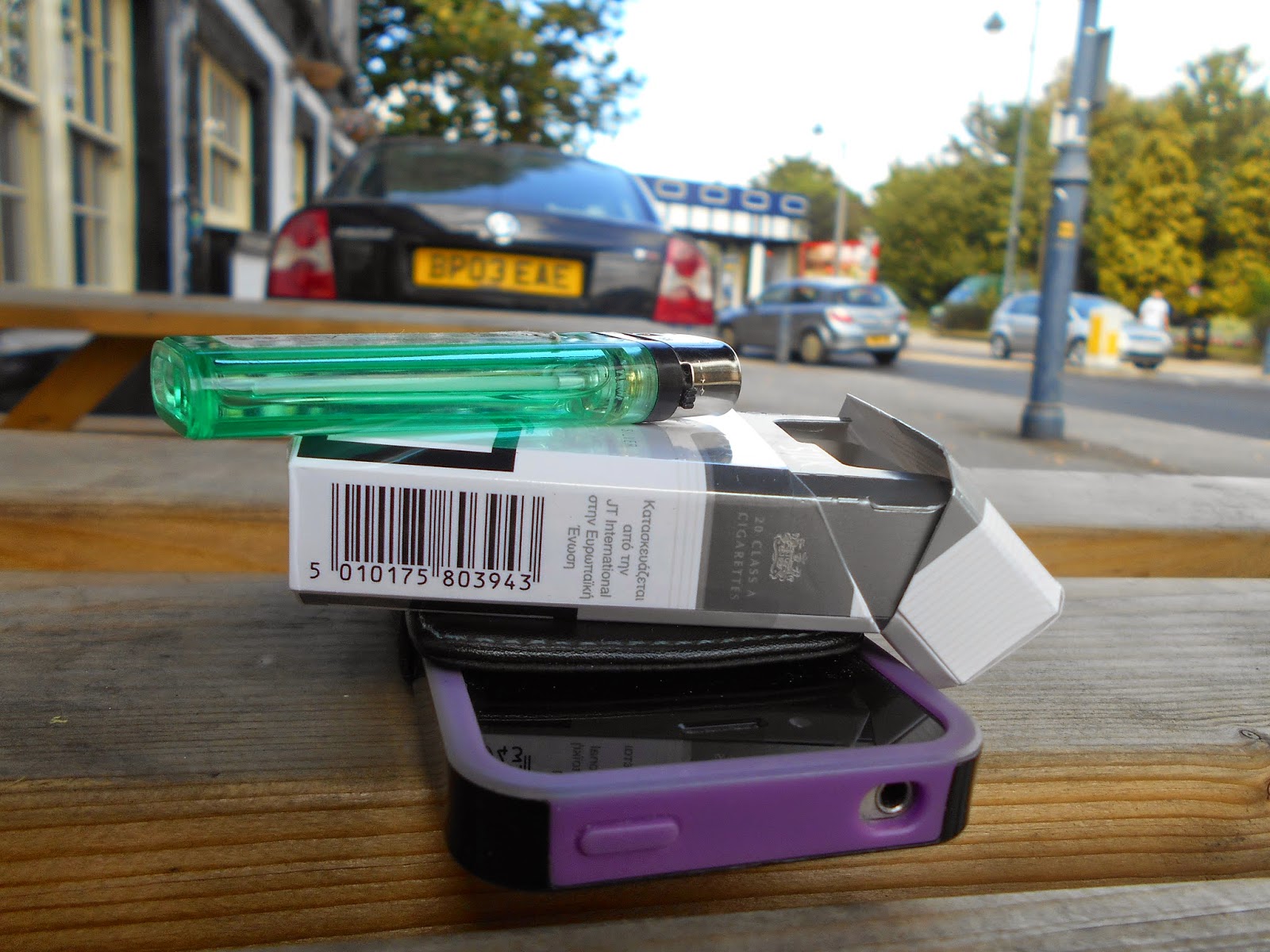 Fags n' phone.
With the plan to get the eleven minutes past ten train, there was plenty of time to do all the usual shit that I need to do before football. Arriving with plenty of time to kill I got a travel card and even had some spare to buy Taz a cup of tea from the new snack wagon outside the station. The usual boats were on display with only Firm Leader (possible case of the Trotsky's or not) and Hand-to-Gland combat specialist Juan MIA.
Getting into Liverpool Street just after eleven, we all headed to the Hammy Hall and our first beer of the journey. The location of the Hammy Hall means that you get a lot of different people from all walks of life. For example, Several Tooting & Mitcham fans stopped by on their journey north to Bishop's Stortford. Also a rather ruffled looking fella shifted around the floor looking for fag butts. He was also missing half a trouser leg and one trainer, so maybe he was looking for those?
It wasn't long before I realised that everyone else had sorted out their train tickets except me. So with only fifteen minutes until our train I had to brave the very expansive ticket queue to get a simple £1.60 extension. Lady luck was going to be on my side as I made the train with a minute to spare. On the train in amongst us was a fella sporting a London FA tie. Thankfully, he wasn't doing our game! After some persuasion he was convinced that it would be a good idea to show a red card to yours truly. First one of those that I've ever had, but some might say it was long overdue!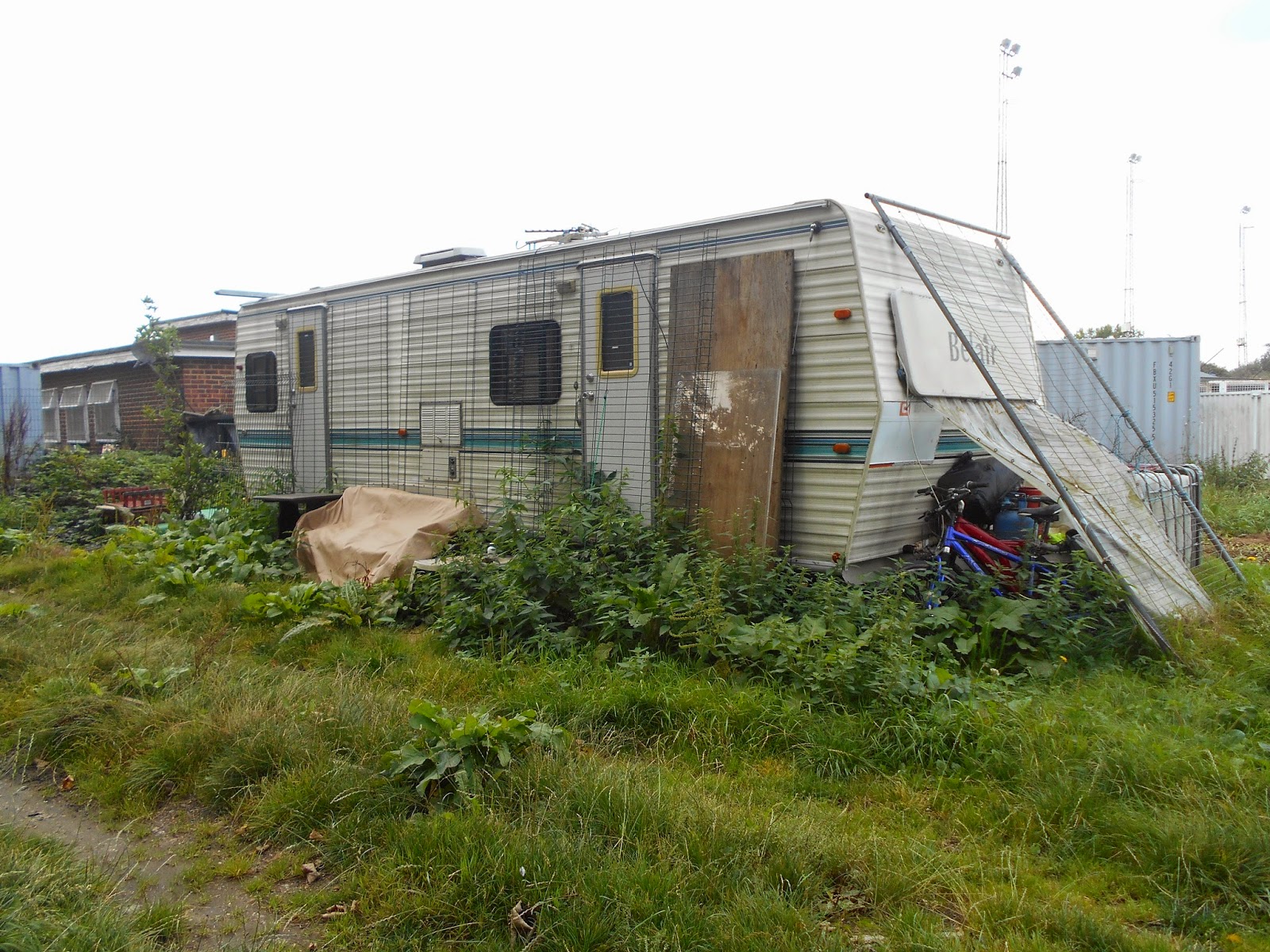 Carshalton's new clubhouse was something of a disappointment….
We arrived at the station to see that there were no barriers, so no need for a bloody extension. The first sight in front of us was the pub and we headed forthwith. The boozer was showing the scouse derby so instead some of us decided to sit outside. It was around this point that a certain member of our Firm disappeared, only to return with a couple of gift wrapped parcels.
The first parcel had within it what can only be described as a 'Polish Scotch Egg'. In the centre was a bolognese type minced meat with three little peas. This was encased in rice that had some sort of cheese running through it. Rolled in breadcrumbs and deep fried to a golden crisp, it was amazing! Between me, Wardy & Taz one of these bad boys was like a feast, not at all bad for only £1.20!
The second secret parcel contained some dessert for us with a selection of various cream filled pastries. All in all an excellent little meal that had Wardy go back to the shop to buy some more for the boys that missed out the first time round. Under the railway bridge and do a left, five minutes later we were coming down on the ground.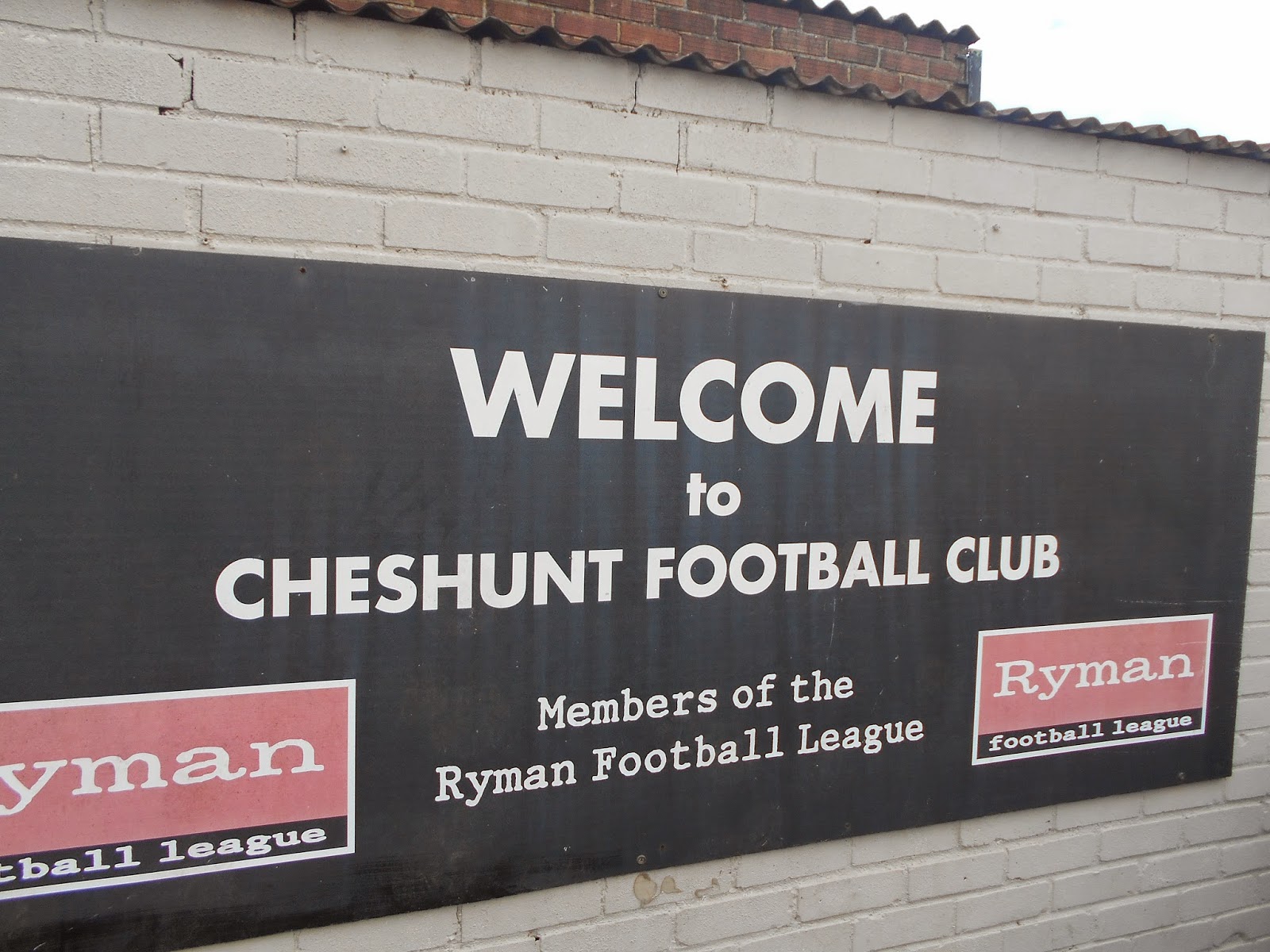 But we're playing Romania!
Cheshunt's home is very much a Ryman Division One ground. A small bank of seating either side of the centre circle with open ends behind either goal. I was told by Totts that there is some sizable land around the place that they own for re-development. The team that were announced on twitter for this game were:-
Julian, Osborne, Binns, Spillane, Amankwaah, Clough, Haysman, Southam, Dundas, Bedsente Gomis, Osei-Kuffour. Bench warmers: Bignall, Reindorf, Wellard, Evans, Lawrence, Lovelock.
Straight from the off Sutton showed the difference between the two teams. With Binns marauding down the left hand side it was only a clump from a defender (plus a yellow card) that could stop him. Dundo, doing what he does best, managed to bust his substantial self through three different defenders, only to be let down by a weak shot that deflected off for a corner.
The breakthrough came after eighteen minutes when Dundo managed to get the ball into the box. Seconds later he was pulled down by a retreating defender. Not the harshest penalty I've seen but a cast iron one at that. Southam steps up and exactly puts its where Dr Bell said. 1-0! For the next twenty minutes Sutton continued to try and grab the second goal that was needed to shut up the rowdy home fans.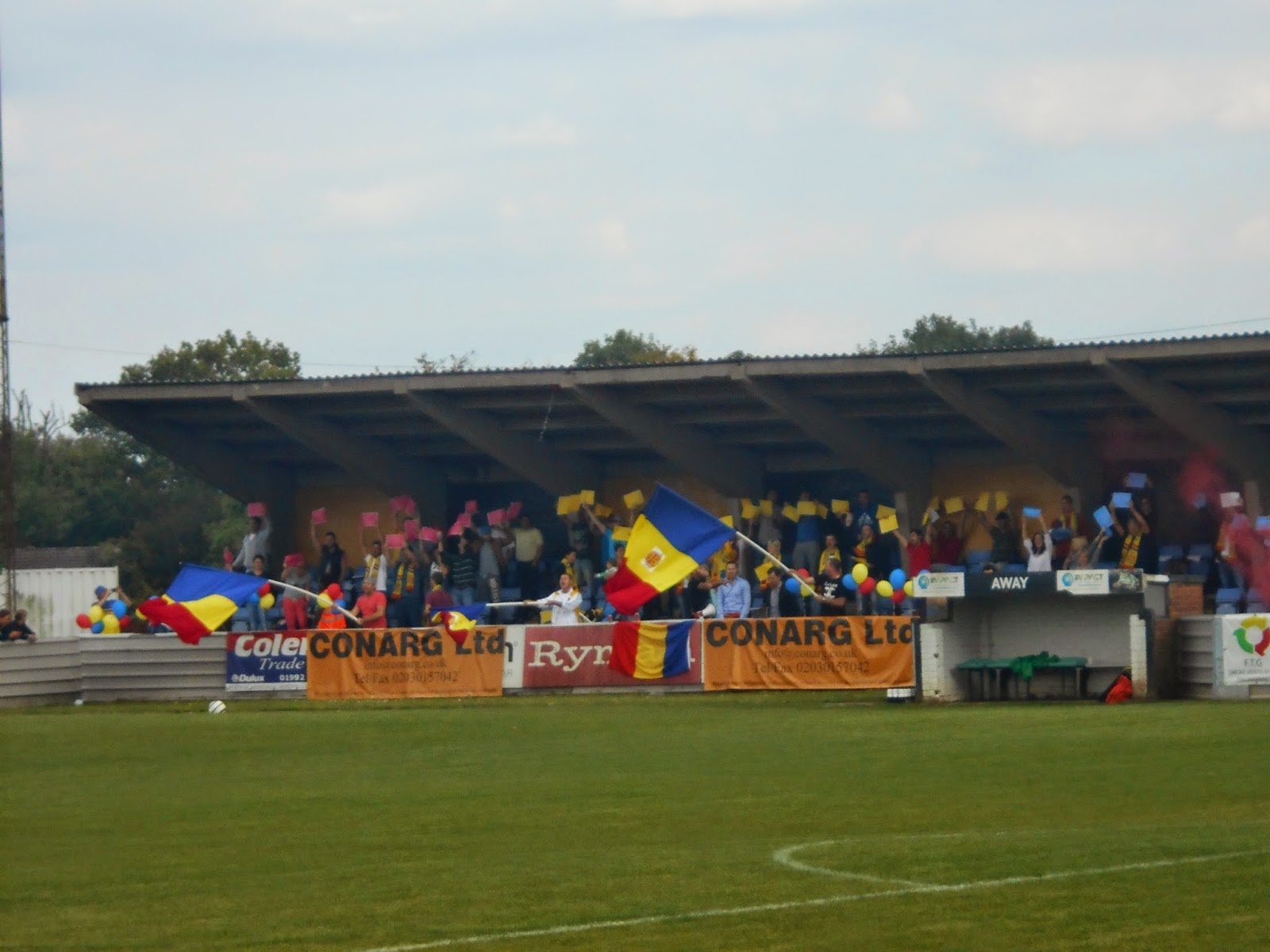 Romanians. With flags.
Suddenly Dundo is caught with the deftest of touches as he tryies to collect a saved shot. Penalty! Very soft penalty but a penalty none the less. Southam steps up again and goes to the keepers left this time. 2-0! Ask Taz for his amazing side view of this goal! Two minutes later and the contest should be over when Micky curls a peach of a goal from just outside the box. 3-0!
At half time we headed to the other end comforted in the knowledge that we had just gone a long way in putting us in the hat on Monday. It only took six minutes for the worries to begin when a simple ball over the top of the left back was not sorted out and with a bad deflection, before you know it, FC Romania are back in the game.
That leaves forty minutes for us to ride the storm. Straight away most of those around me begin to think that like Ebbsfleet the week before we are going to retreat even further into our own half. I don't know what Our Lord Dos said at half time (Turns out it was NOT to sit back and invite pressure!) but it appears to not have any effect on the players.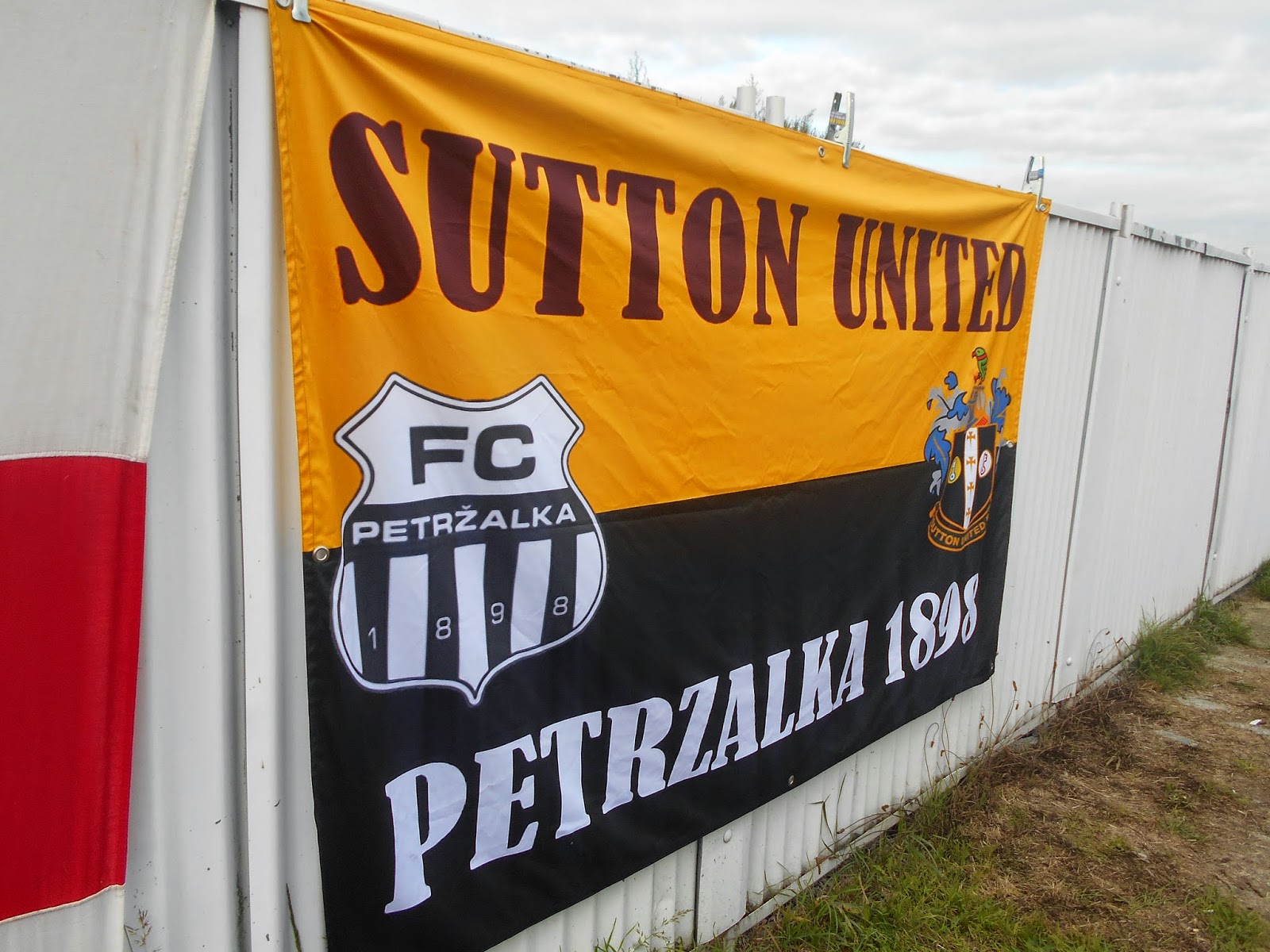 Never heard of either of those….
Suddenly Binns gets the old knee in the thigh. Dead leg and has to be replaced with Evans. Then Kane is hauled off for Jessy to give us some more attacking bite. Unfortunately that doesn't work and with the home support getting louder by the minute you can't but hope we stop the rot. Bignall is then brought on for the tired looking Kuffour as the clock reads twenty minutes left.
With ten to go another long ball over to the right side, sees Evans nowhere near the man who has time to line up his shot and reduce the deficit to one solitary goal. To be honest FC Romania only had two real shots on target and scored both. but there was still time to see another calamity performance from the officials when a ball was clearly stopped in the box with the use of the hand. All of those behind the goal scream PENALTY! The ref looks at the lino and blows his whistle, CORNER? The ball didn't even go out!
Julian & new boy Gomis take yellows for time wasting and Micky is cautioned for exacting some revenge on the player that caught him in the first half. The game finally ends with a 3-2 victory and we head into the third qualifying round. The only issue I need to make is that as all the FC Romania players head over to their fans to congratulate them, us behind the goal clapping our team watch as only Dundo, Southam & Micky react and show their appreciation of our own thanks. I don't really like it when your some of your own team don't bother to show some appreciation, but I suppose that is modern football for you.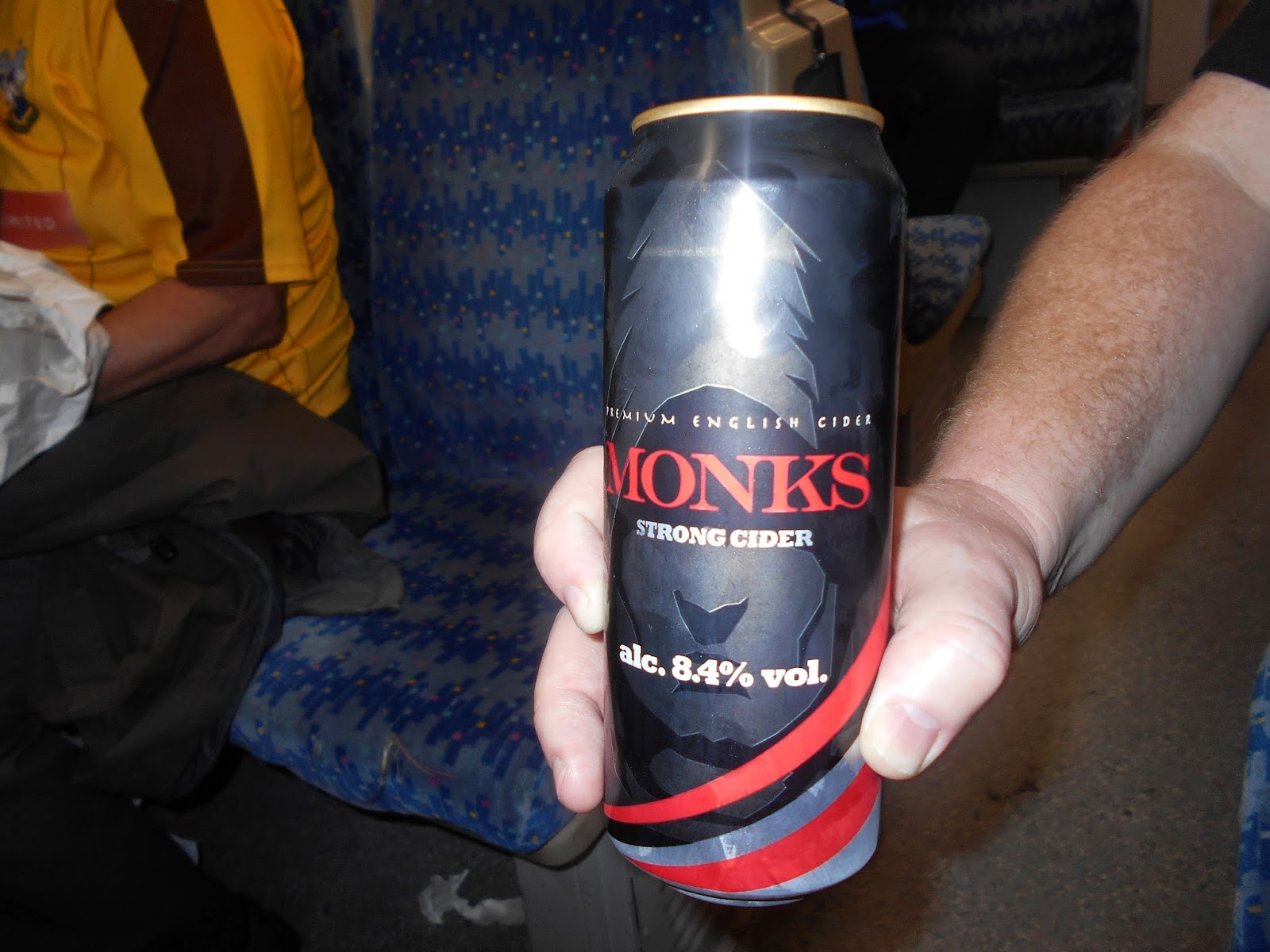 This horrible Cider kick needs knocking on the head!
All in all, the result is a little closer than it should've been but that is the FA Cup for you. News also travels through that the Ressies have put nine past Westfield in the League Cup. Maybe its time to see if any of those boys are worth sitting on the bench for the first team? Time will no doubt tell.
After a quick drink in the club bar we head back to near the station. Wardy heads off towards the Polish shop again, only to find it is now shut. He does manage to bring back some chips though that are quickly dispatched by the gang. We now decided on our course of action for the night. After some debate we decided to get the train back to Hammy Hall for further discussions!
Arriving back in town, we quickly try and fail to chat up some birds from Essex. We also finally decide what to do from here. Bypassing Dirty Dick's (or as someone calls Disney Dick's) up the road we agree to go south of the river to see some of the Wardy clan who are tearing it up around London Bridge. Saying goodbye to half of the Firm, we begin a walk to Moorgate station. Unfortunately being guided by Taz & 4 Days, we end up nowhere near we are supposed to be. But after some doubling back we finally find the right station.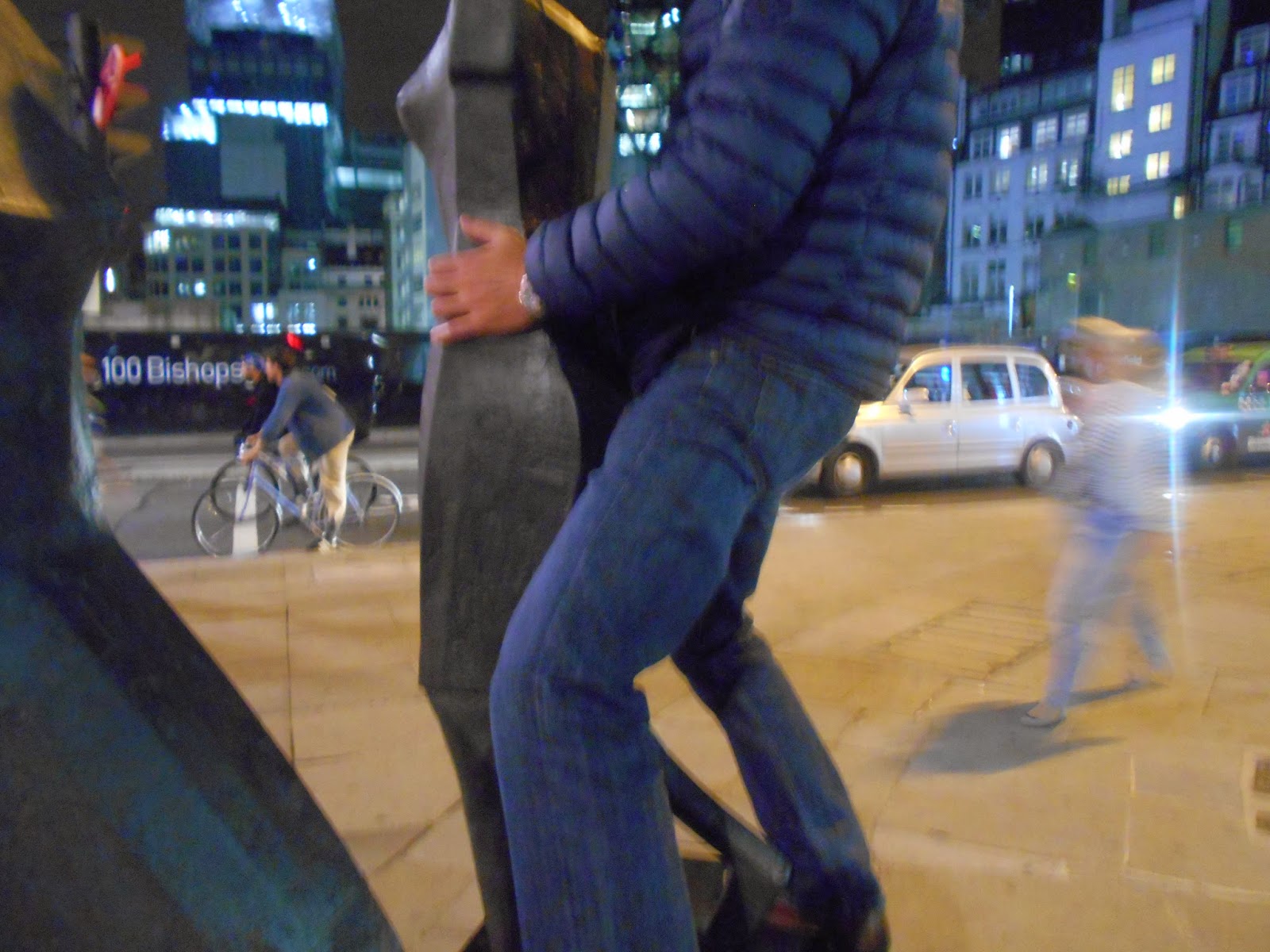 Oh dear god…..
The next problem was trying to find out where the Wardy's were. And if by magic we stumble upon them in a little back water pub. Don't let this put you off because the prices inside were eye watering! After several more pints and some weird sort of short that burned your throat down to your stomach we wish all the Wardy's farewell and head back to the motherland.
That means we headetoward Balham on the tube to then get the overground back south. Whilst at Balham, someone suggested going to the local MacDonald's in the high street. I modestly went for a double cheeseburger and dome chicken thing. Taz on the other hand thought it would be prudent to immerse himself with not one, not two, not three, not four, but five cheeseburgers! The only other person I've ever seen order so much was Juan.
Most of this blog was done on Sunday but I thought I would hold off until Monday so I could see who we would get in the next round. A home tie against Burgess Hill Town. A little look at the Ryman Division One South table sees that they are currently coasting at the top, a clear seven points clear of next place Casuals. Still its a winnable game that I expect us to get through no doubt. Back to league action next week home to Bath and hopefully three points to get our league campaign back on track. To end, here is a little video of one of the penalties to feast your mince pies on….
Duke
Att. 242