Have you ever been kicked in the bollocks? Have you ever fallen off your bike and smashed your crown jewels on the handle bars as you went over? Have you ever had a football fired at your knackers at 90 mph, and it's smashed you so hard you fall to the ground in agony and wish you were dead? Oh you're lucky enough not have ever experienced this pain before or are of the lady persuasion? Well if you want to know how this feels then read on.
So it's a Bank Holiday weekend, and that means it's a quickfire double header. First up was the away trip to Chelmo covered very nicely indeed by our in-house flat cap wearing smartphone destroyer, Duke. Still we gained a point from the battle of Chelmsford (pt3) despite Lovelock getting sent off, which will see him suspended for a couple of games. No pressure for Mondays home game then.
Pressure? we fear no such thing. Roll on Monday. With no work and no early alarm to awake me from my pit, I take the day in my own leisure and start it off with a Juan breakfast, which consists of one black coffee, with one brown sugar followed by a pre-rolled cigarette. Truly the breakfast of any decent athlete and non league football supporter. And probably that of a few non-league players even to this day. As I stand outside and gaze across the vast lands before Juan Towers, taking in the descending clouds over the rolling hills of Banstead a sudden thought struck me. It's fucking pissing it down, my coffee is going cold and my fag's gone out. Oh wonderful. Still it's a reminder of I love standing in the such conditions watching 90 minutes of 6th tier English football. Not.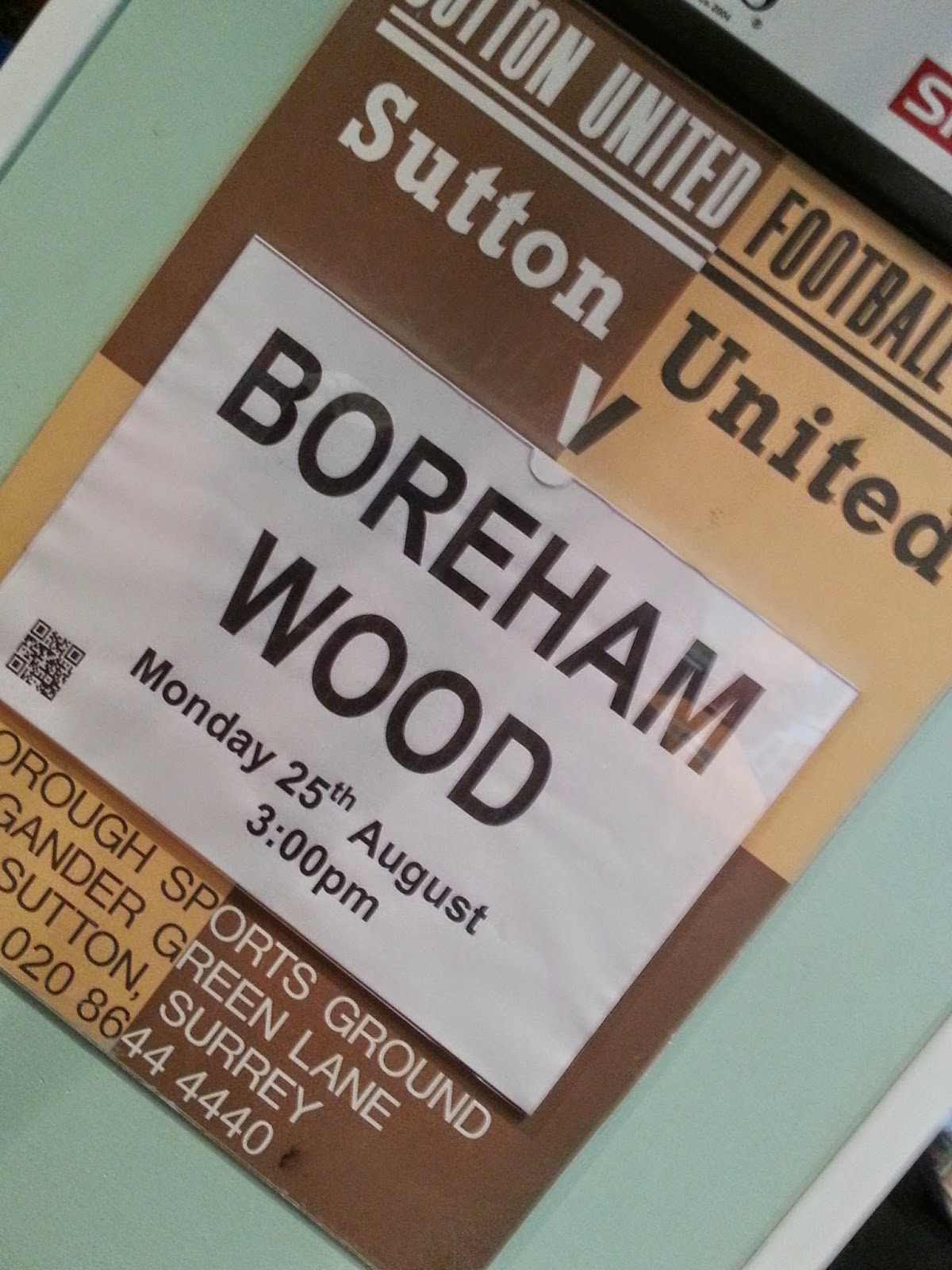 The oppo.
The time edging somewhat closer to one of the PM I grab my clobber and head off in the 500 and make tracks for the ground, dropping off my neighbour on the way so he can rescue his Land Rover where he had dumped it the night before as he was out on the piss. Heading through the distinct village of Carshalton, I call into the Firm Leader to see if he fancies it, nah was the reply. I even offered to pick him up! To be fair to him, in hindsight if I'd looked out the window earlier and seen rain on the scale of biblical, I probably should of fucked it off too.
So, rejected and Firm leader-less, I made haste towards the Gander Greeness of Lanes, dumped the motor and dashed through the rain to the bar. By this time the rain had not stopped but instead decided to get even heavier, a lot heavier. So heavy in fact that the tree I parked the 500 under decided to shed its load of water right down my back and into my arse crack! That's a bit of a livener I can tell you. Surely the day can only get better right? In the bar, the usual crew were there, Taz, Mr X , Burgers, but no Mrs Burgers, and all the other mob. Even Tots showed up for a pre match pint in just a t-shirt, but at least armed with one of them huge Golf type umbrellas. Which is strange as Totts is about the least golfy geezer you could think of.
No sign of the Duke sadly, but I guess he must have been doing a little bit of cheeky OT for the inbreds at Kingston Council, well that's how he refers to them anyway, before a late dash for kick off.
Time pressing, I made like a tree, and fecked off to the Club Shop to arm myself with a Umbrella for the game. £15 quid it cost me, it will probably only last me a couple of weeks given my track record with random shit that I purchase, but still given the circumstances I think it's a wise purchase no matter how short term it turns out being. Brolly in hand I decide not to fully brave the conditions out on the Shoebox just yet, but head off towards the new stand down the Collingwood end, praying that we would in fact win the toss and being shooting in this direction as per the norm. Well as luck would have it I guessed right. A 50/50 gamble, and my luck paid out! If you wish to know the winning balls for this week's lotto draw, then come ask me because I'm so lucky. Sarcasm and satire in one sentence, check me out.
Onwards to the game. In the normal circumstances I would list the line up, and all that crap. But today I simply can't be bothered, because those that watched will know, and secondly the more I have to re-live yesterdays dire performance the more annoyed I become. So if you wanna know the line up, you can check it out on twitter or somewhere.
So, 1st half under way, and well the conditions are not easing up at all. Its pissing it down at GGL, surprisingly however the pitch still looks untouched . Clearly the work in the summer is paying dividends. In normal circumstances, I'm sure as hell this kind of weather the game would have normally been called off. Back to the game, well what can I say, chances created 2 or maybe three. Those being one from Jessy smashing his effort over the bar at full stretch from a cross into the box. Jessy also working his magic by getting in and behind the Wood defence, to knock the ball past the Wood keeper only for to lace it a little too hard, past the oncoming JT. from one cross, The same can also be said for Wood. A goal line clearance from Clough to keep us in it at the break. Wood However, do at times seem to be playing the better football.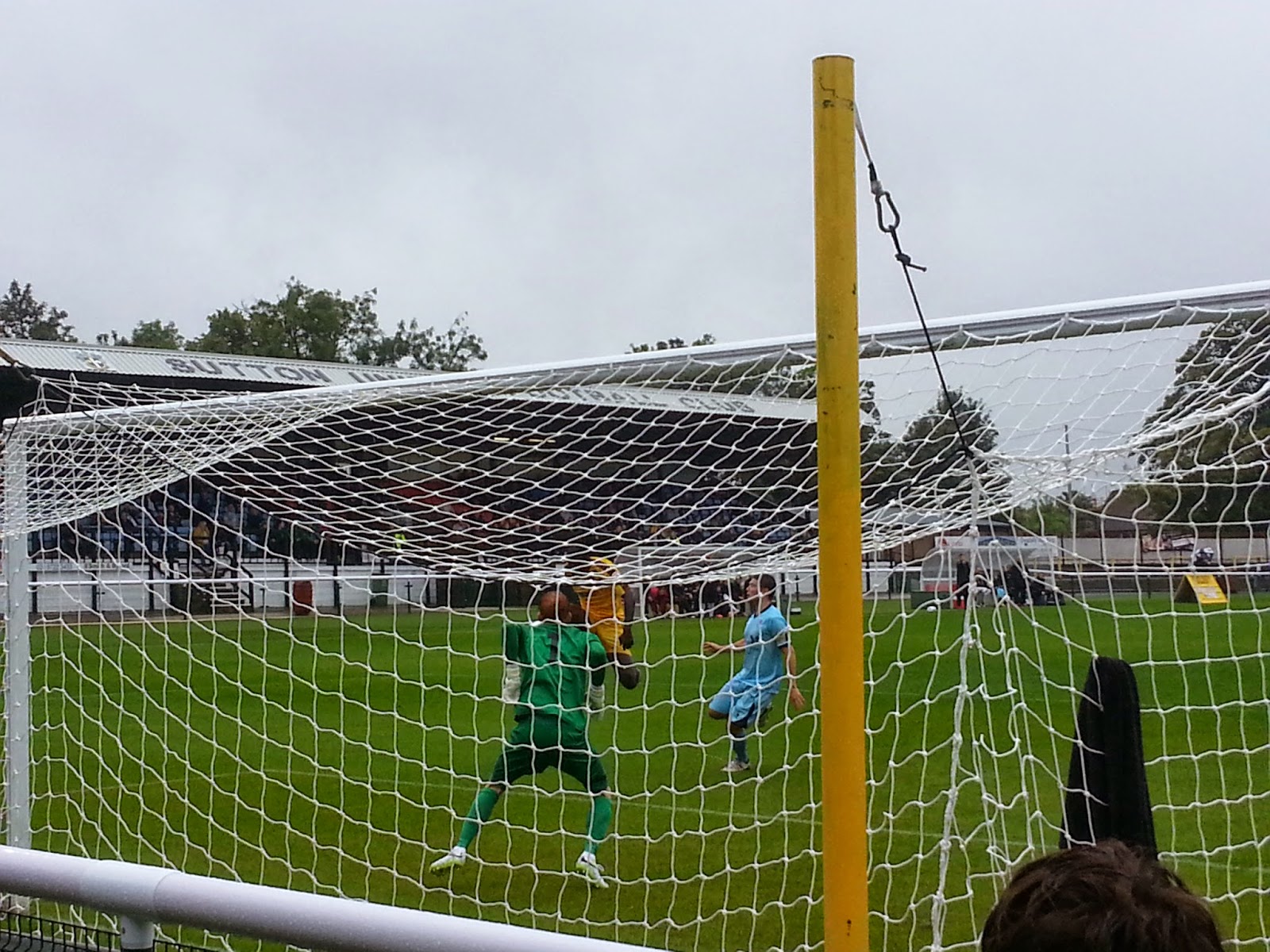 Wet net!
HT and it's stalemate. However I've spied old Dukey boy and it turns out he made it from work with just 10 minutes to spare before KO. So we headed off to Rose's for a brew and would you Adam and Eve it the rain for just a few minutes seems to ease off and allows to enjoy our tea and savoury snacks with the use of both hands until the players re-emerge from the tunnel, and yeah you guessed, like a tap being turned back on the rain returns FFS. Yeah bored of getting wet now. Makes the old snouts harder to light! 2nd half under way, and it's much of the same. Conditions under foot not making the task in hand easy. Our luck however changes for the better from a set piece, well corner kick that comes in from the left and there's a charge of bodies into the box, and both Duns and Lewis are claiming it. I look at Duke, Duke looks at me, we go with OG but Mr Millsy sets us straight and claims a Lewis finish from a dink on from Duns. Well if Mr Mills says it, then so be so. Rain watch: yeah still standing in the Shoebox, and yeah its still pissing it down. A few words muttered between us 3 amigos, myself the Duke and Mr Mills, we could sneak this one here fellas, we could be having these 3 points, and well how fucking wrong we were!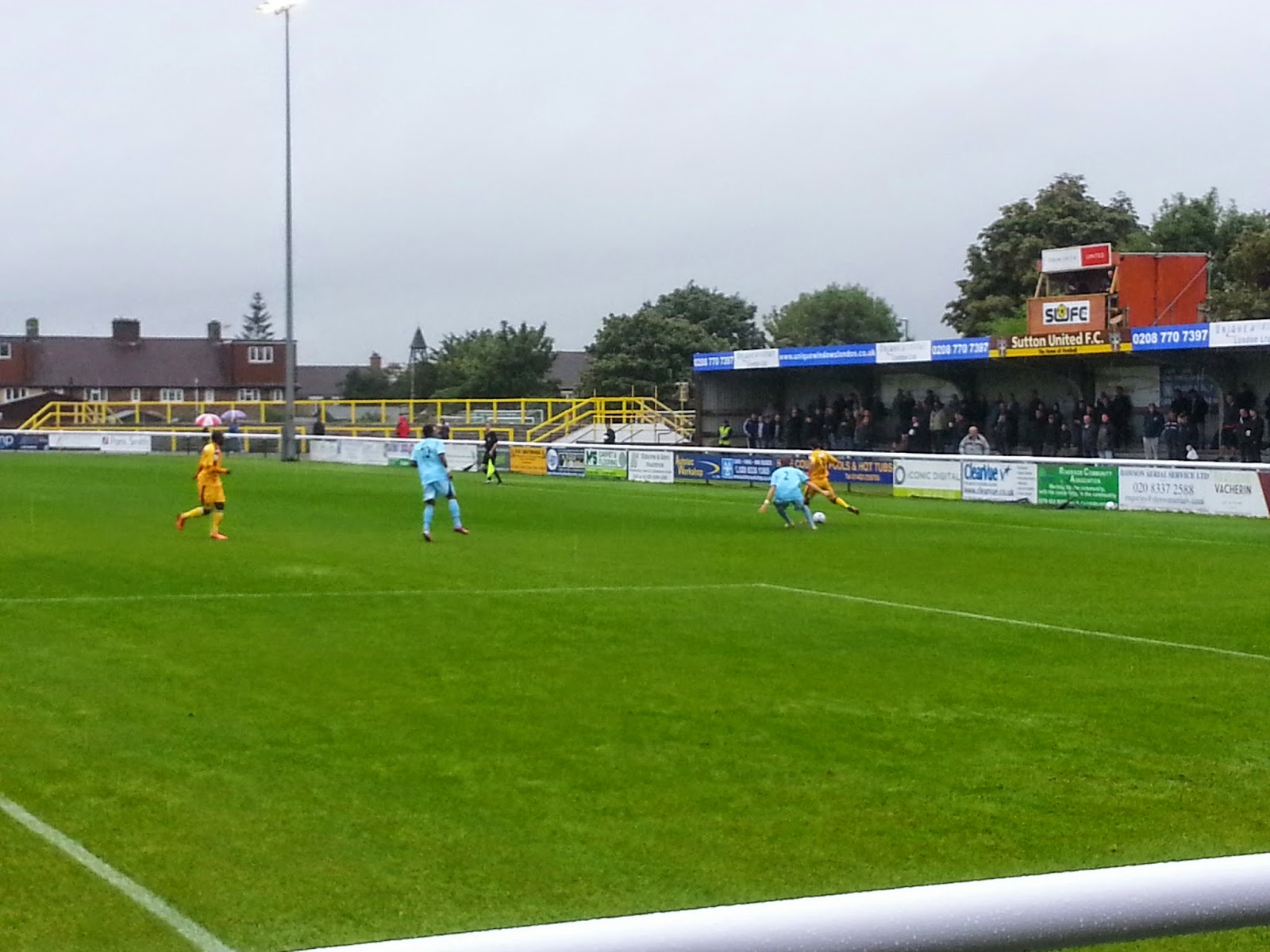 Wet action.
Here comes the kick in the bollocks: Lewis John picks up a yellow for a cynical foul. The free kick is driven in and Sutton not switched on, the Wood forward drifts off his marker and with the lightest of touches puts the ball past Julian and Wood are back in the game.
Now for the the handle bar bollock whacker: A Sutton attack breaks down and allows a quick distribution from the Wood keeper out to the left flank, a low cross in to the man on the edge of the box, whom creates space and time and drills in a low shot from just outside the area that gave Julian no chance to make a save. Onion bag bothered.
And last but no means least, the 90 m.p.h ball to the crown jewels: Again the same thing happens from a Sutton attack. Dammy Shitta just lets the man go past him without even sticking a boot in, again he creates space, and the Sutton back four just let him have all the time in the world to fire a shot off, again Julian in the sticks has no chance.
Final score, we lose 3-1. And our bollocks hurt. So much for nicking the points!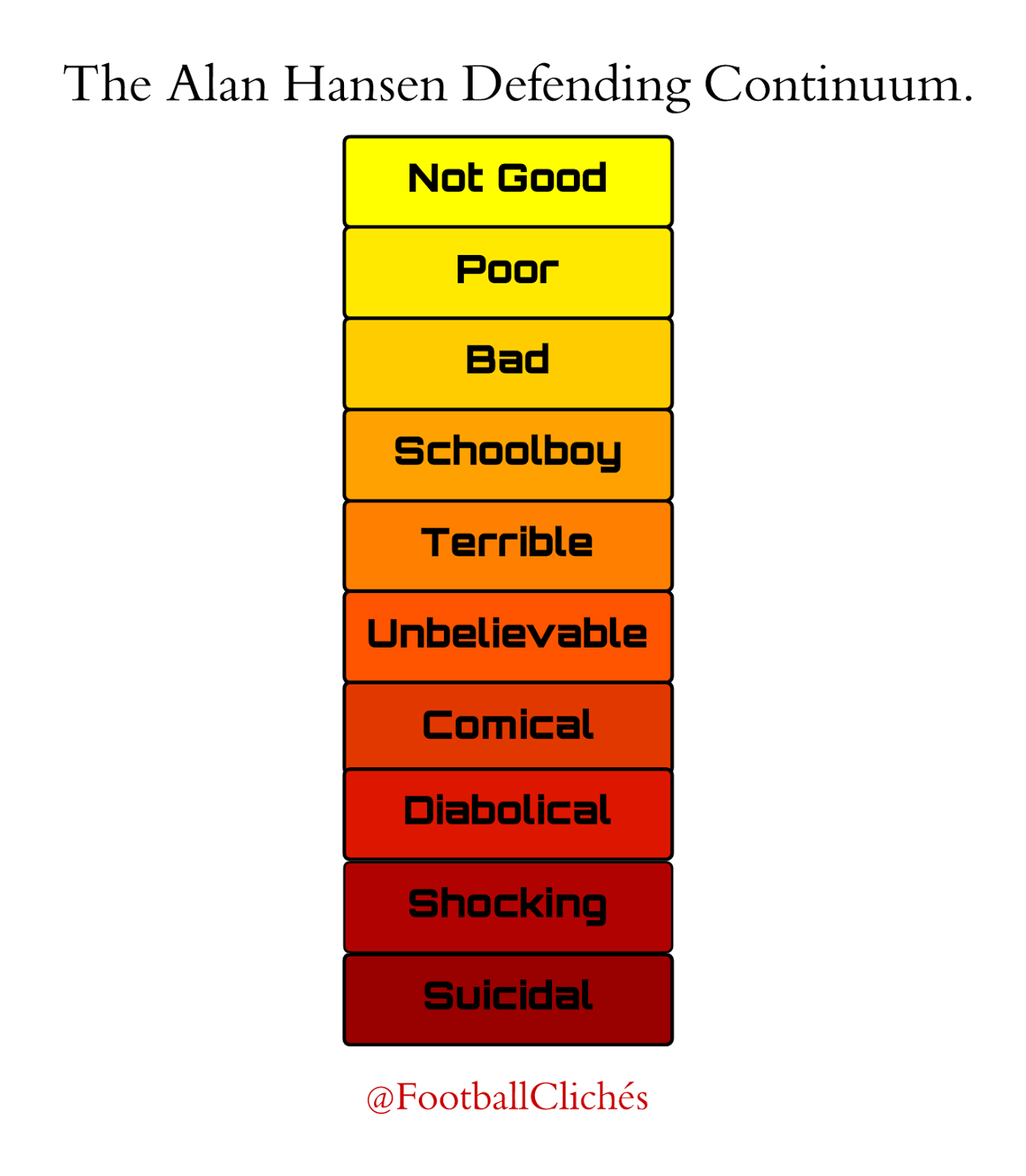 We'll leave you to guess why this is here….
But, what niggles me the most is we seem to want to always walk the ball into the back of the net. We keep possession, and knock it about. Yes yes that's all good and pleasing on the eye, but whatever happened to having a go, you know testing the oppo's keeper. I can't remember the last time I witnessed a shot on goal from range from us. One that is on target and one that really tests the keeper. We have got this playing style –similar to Arsenal, but without the players that Arsenal have of course, where we continue to try at times to hard to break it down, but with no attempt on goal. Lets take it back to the basics and bring that lump Dundo make into the mixer, and let him drive and have a pop at goal. Full backs/ central defenders whatever you want to call them. hate. In fact it's their number one hate when forwards drive in from a central position, because they just can't deal with it. So Drive Dundo, smash 'em !
Right, time to head back to the bar. Heal the wounds with beer. A lot of beer.
The best and only entertaining thing to come out of tonight's game, is the fact that to of our very own special in more ways than one fans/supporters/workers bar staff however you want to refer to them decide to get involved with the latest craze to hit the social media outlets. The Ice Bucket Challenge. I myself don't get it, but clearly these wing nuts do. So yeah you tip a bucket of ice water over your head, nominate other people to do it and it all raised money for charity. If you say so….. So yeah I larfed a lot. About the best thing that bought a semi smile to my face the whole day. With the bar closing down early due to the bank holiday I mentioned earlier, we basically were told to go home to our loved ones, or something along those lines. Or the old don't you have homes to go to spiel. Er, no, this is our home don't you know. Either way, we took the hint and we fucked off, with myself and the Duke heading for a candle light dinner for two at the local McDonalds on the bypass. The bird behind the jump at McD's even asked if we were "together". Cheeky mare! Either she was being properly nosey, simply taking the piss or she just wanted to save cleaning up two trays worth of junk food wrappers.
Another highlight of the day, was later on that evening Duke called me to tell me that after getting all the way home from our little dinner date, he spent a few minutes searching for his mobile blower, but couldn't find it, even though when calling it was ringing, but he couldn't hear it in his house or car mind you. So off he went all the way back to the last place he'd definitely had it. And there it was, lying in a puddle in the car park of McDonalds. What a dick! Until next time folks.
Juan.