The old PSF's have taken their toll on the central committee at Gandermonium as we drag our arses towards the start line for the coming season and as a result the call came through to Totter Towers and the challenge of doing up the Aldershot game was readily accepted.
To be honest, I was delighted we had another mid-weeker at home as I was reaching the point of overload with the  BBC's incessant, wall to wall coverage of the Commonwealth Games. I don't know if it's just me but I have found it impossible to get excited by what is little more than a glorified school sports day rolled into the Scout's swimming gala hyped up by BBC journo's and commentators on a three line whip to go right over the top.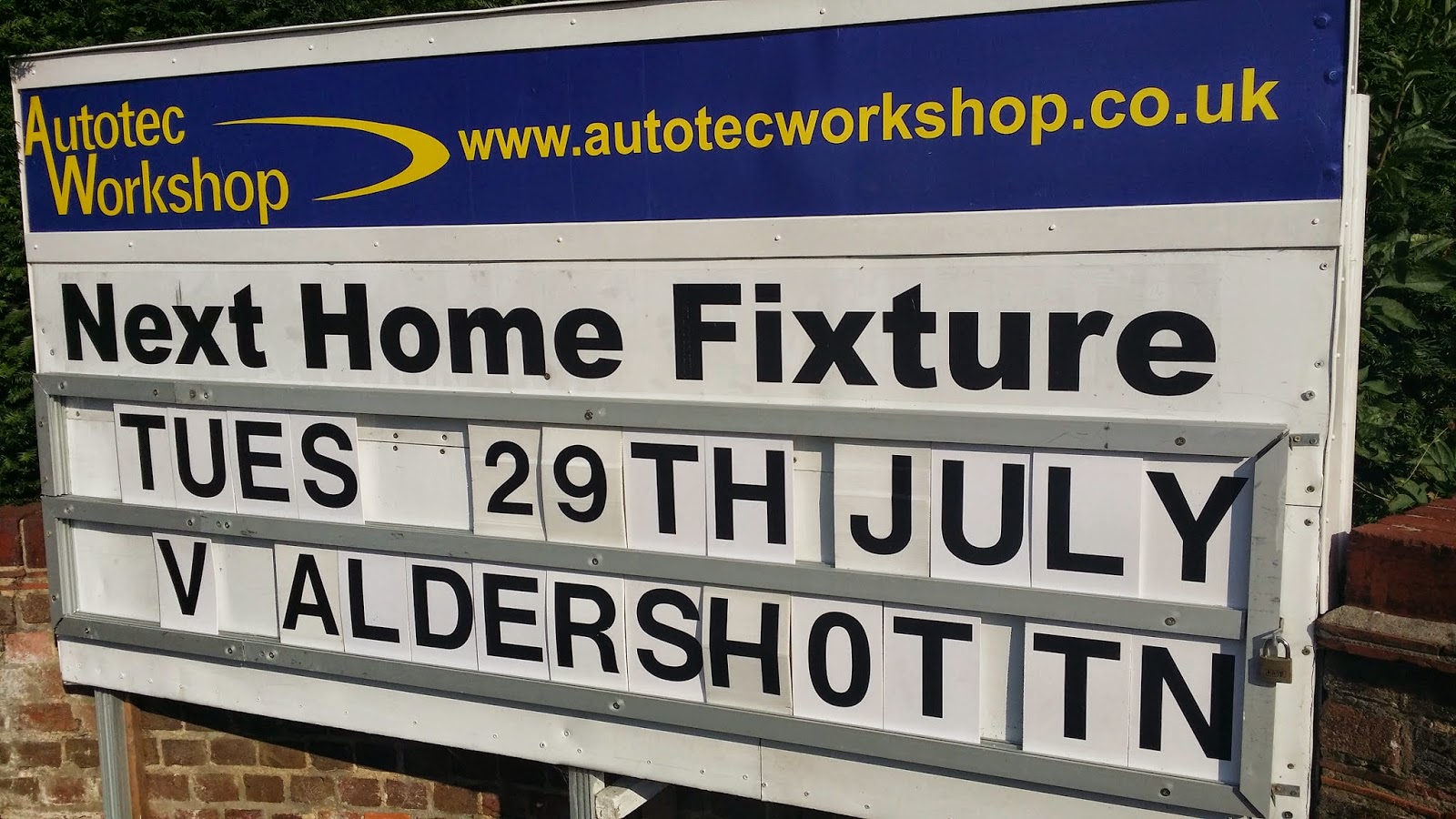 Welcome home Andy Scott….
With medals thrown about like Idi Amin and the Politburo on a three day bender, and the high-point being some bird dressed up as a Tunnocks Teacake, I've had enough and on a steamy night in West Sutton Aldershot will do just fine.
With the heat almost melting the tarmac I stop off for a cold can of Stripe at the Convenience Store on the junction of the A217 – you may know the one. It's next to the Worst Tattoo Studio in the Western World.  If Cheryl Cole had had her arse inked in there I swear to God she would have come out looking like Susan Boyle.
I've taken to cutting through the rec and using the rear entrance these days, not because I'm trying to avoid turnstile  tornado Mark Notton with his cheery "enjoy the game" catchphrase but simply because I like a bit of variety in life. I emerge into the stadium just in time to find that it's one of those rare games where we start off attacking the Colly end, standing me in nicely on the turnstile lottery, and I take up position on the astro for the business in hand.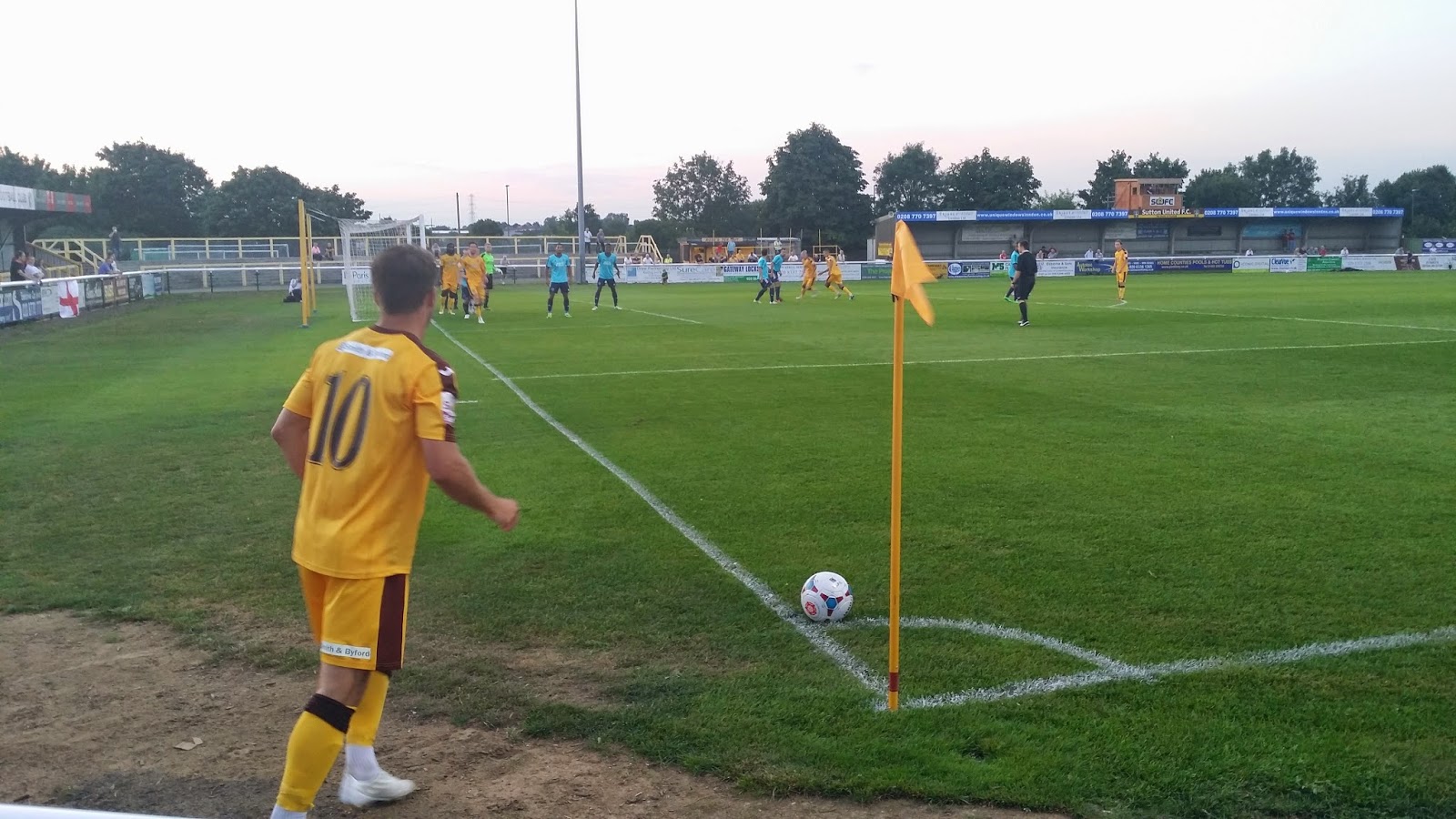 Get it in the mixer!
Team: Lovelock, John, Meade, Spillane, Kontic, Clough, Haysman, Dundas, Wellard, Taylor, Williams plus a wide and ample variety of subs.
We get away to a decent start, I like that lad Meade out in the left back going forward and he's in the game early looking to impress and good luck to him. JT and Marv are both looking sharp and they combine for our first decent chance with Marv crossing in from the right and Jamie heading over under a strong defensive challenge. Marvin then has a blast himself from a good shooting position but pulls it wide and JT seems to be enjoying himself against a lumpy back four who look like they've had a good summer.
Proof comes on 33 minutes when a lovely through ball from Louis John catches the big lads flat footed and Jamie finished with an exquisite lob over the keeper. The rest of the first half is more of the same with Kane again impressing  with some impressive pace and movement and Spills battling away like a good un. At the back we look nice and solid and there's little to trouble Tom in our goal.
Half time, dive though the tunnel gates just before Rambo slams them on me and I am delighted to hook up with Peter Fear's old man who I used to drink with in the Plough 20 odd years ago back in the wild old days of that boozer. I must tell you some of the stories some time….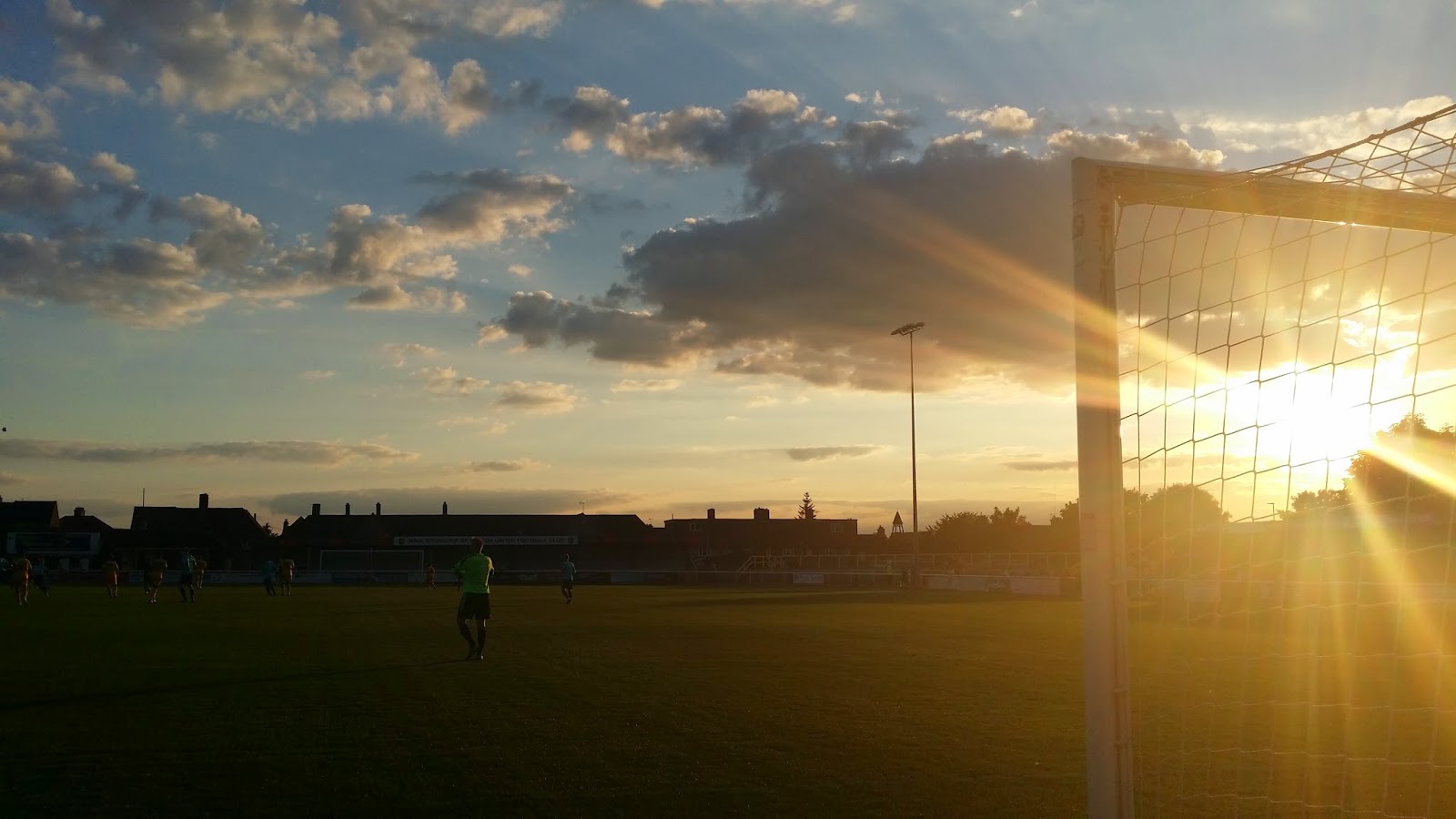 Voted 'Fucking Poncey' by the lumpen proletariat….
Back, out and it's a wander round to the Shoebox for the second half and time to snap some pictures of West Sutton at sunset which are ridiculed as "fucking poncey" by the lumpen proletariat but I will leave you to judge. The half starts a
bit slow so there's time to have a proper look at Duke's "prisoners favourite" basic and compact vintage Nokia.  These
are the same units favoured for their ability to be smuggled in and out of Wandsworth up yer 'arris and if I tell you Dukes is "box fresh" you will know what I mean. You can still smell the vass and clingfilm.
Anyway, enough of that old bollocks.
It would be fair to say that the second half never reached the peaks of the first. That's understandable, a warm night, a parade of subs and an eye on the real deal less than two weeks away and it all makes sense.
We still manage to get some good stuff going and one mazey run from Marv had everything but the final ball. Jessy came on and made a nuisance of himself and looked lively enough and we didn't seem to be in much danger at the back.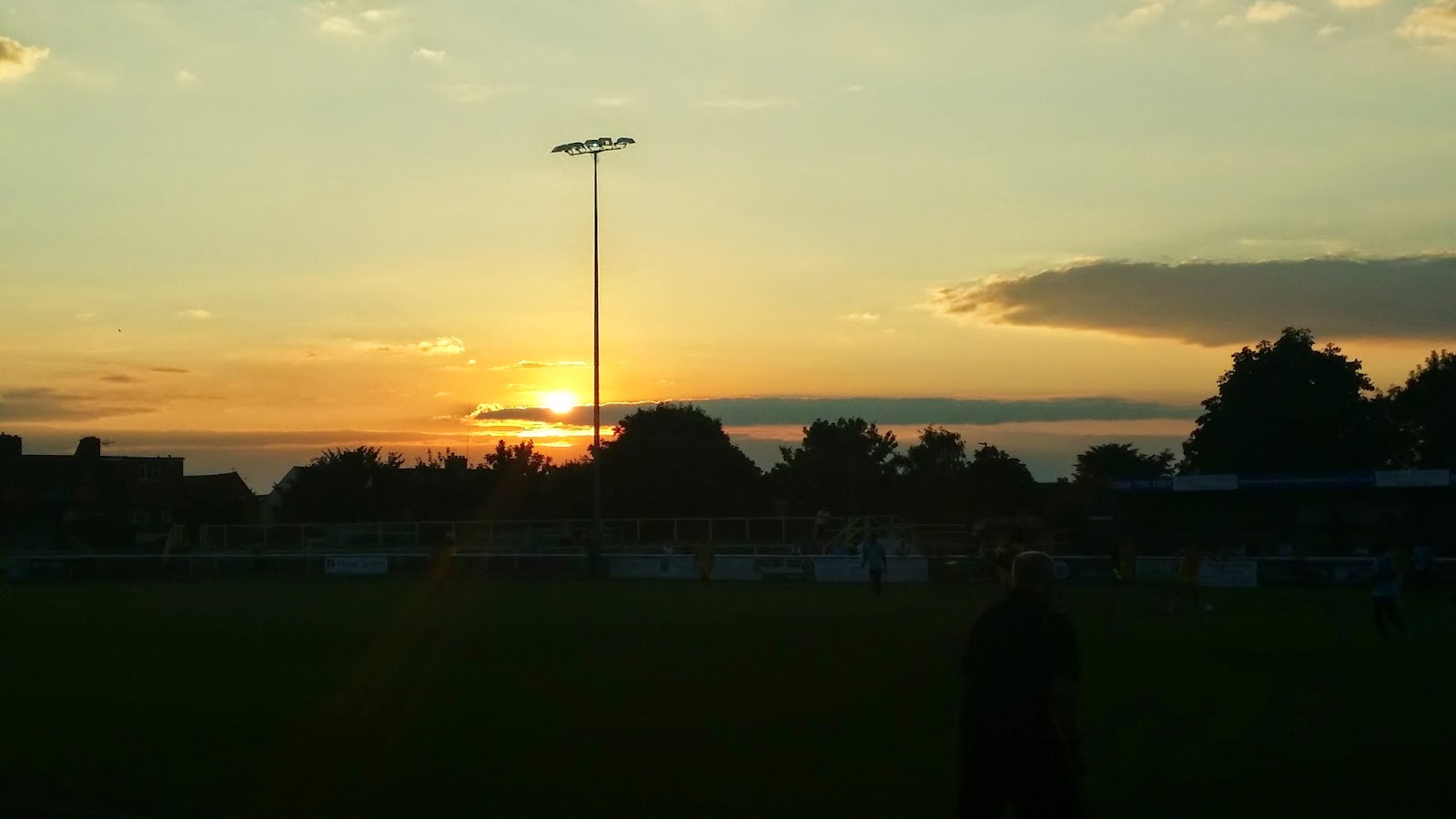 "Don't let the suuuun, go down on meeeee…..oh, you already have. Cheers."
Well, until a dodgy back pass from Claudio undone Puddy who'd come on in goal and the upshot was that the Shots were gifted a chance that was smashed home. Still time for Claudio to almost make amends with a thunderous drive just before the final whistle that skimmed the top of the bar but as the ref called a halt it finished level at one all.
Totts
Attendance 169