Times they are changing.
Well all those dreams have come true. The last 8 weeks down
the lane, have seen some massive, massive improvements, both on and off the
pitch. First off the off the pitch works have made a massive improvement to the
ground, and the club. I myself keeping a close eye on the works over the last 8
weeks, pretty much popping down a few nights every week to take some snaps for
me scrap book, and to well, have a nosey!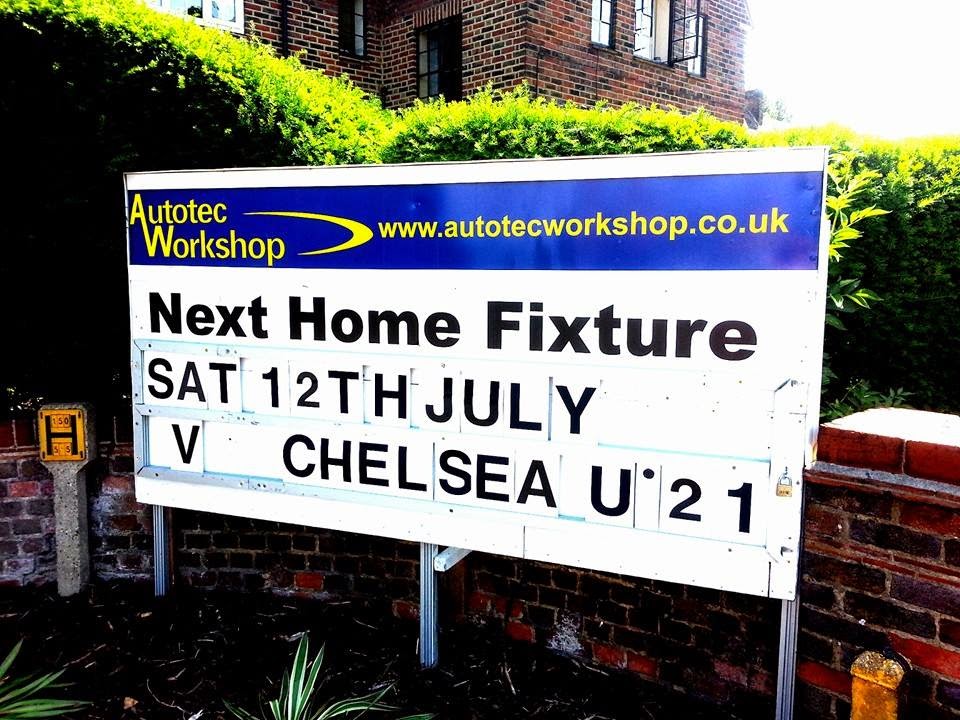 Never heard of 'em…..
Whilst doing little tit-bits of work here
and there over the summer months, a lot has changed, the Collingwood Rec
end curve has been fenced off, and a new covered stand has been built. A new
Perimeter fence has been erected around the ground, some new shiny dug outs
have gone in. The Pitch was scarified back to dust, laser levelled and
re-seeded. The main stand has even had a face lift too, and new covering on the
front and rear face, and the piece de la resistance is the Sutton United
lettering and club crest on the front face of the stand. As we know Dukey boy
is a traditionalist and does not conform well to change, but I for one love the
improvements. We still keep our character, but now with a modern twist. I
reckon we are now ready for Conference Prem foota! So a cheers to Dos, the Management Team, the
Board, and all those involved in the ground reworks, a pukka job complete. Now lets
do well in the league, and make it a season to never forget.
Right then back to the daily duty. Today sees us back
together for some more pre season action, this time we welcome to The Lane, the
Chelsea under 21 Squad. Having carried out a little research on this squad,
there estimated value is just under 14 million of the finest English pounds. So
I'd expect to see some quality on the field.
Mine and Dukey's plan was head down to the ground for just
after midday to get ourselves re acquainted with the new surroundings and of
course the club bar. We were of course in pre season training to, and had to
start our relationship with booze again. However before a drop of booze touched
the lips we headed out into the ground for our first task of the day, to get
the flags hoisted up over the Shoebox. These bad boys had been on order from
the Ultra Firm in Poland, for a couple of weeks, and having worked on how we
would get these bad boys up in the last couple of weeks, the plan went down
like poetry in motion.
With the flags up, a rather hung over looking Mr X and Taz appeared
from the Tea Hut, looking rather worse for wear to put it politely. Mr X filling us in on the night before,
something along the lines of they went up to the Oval to watch the Cricket
(massive mistake) Surrey vs some other team, and they ended up meeting up
with a couple of ladies of the posh sort (how this happened we have now idea)
to which they left the Oval and headed up west, yes quite literally some 24 hour bar located in some hotel, (this is where a mistake becomes a huge one) which had no windows, nor clocks on
the walls. Kind of like those Casinos in Vegas. With the time reaching 3 A.M
the boys headed back off to Sutton in a black cab. So hence the title of today's
update. "Hug me, I need to vomit" was the third thing Mr X said to me today- a legend
in his own right I guess.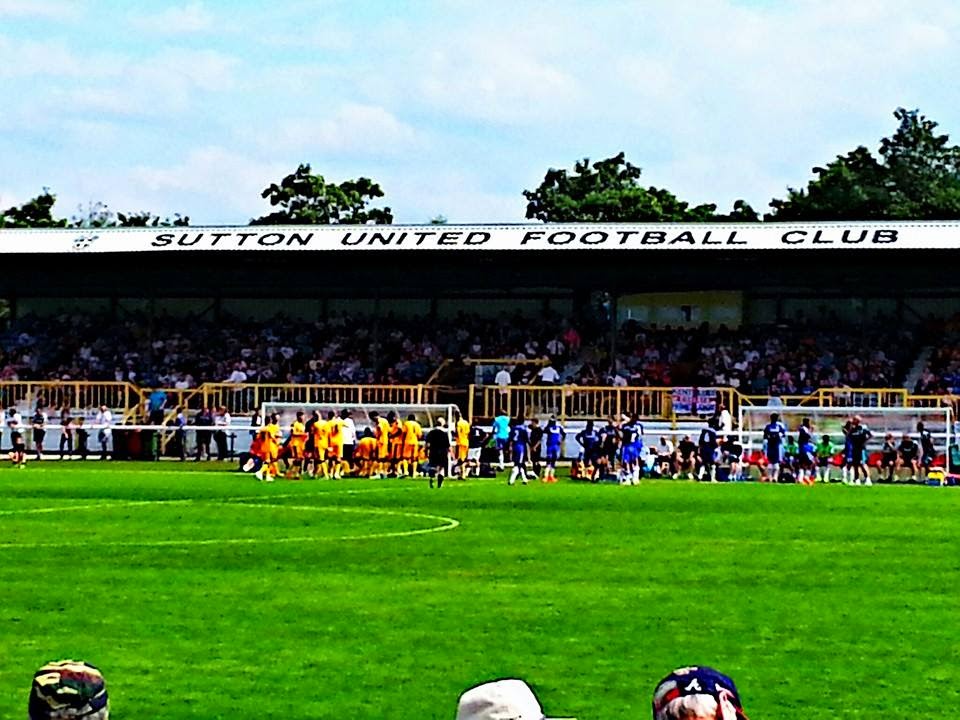 Our name! On the stand! AWESOME!
So myself and Duke left Mr X and Taz to hug themselves in
the Tea Hut and we headed off towards the bar. The usual liquid refreshments
were ordered. Best point out, that when we lean up against the bar, the bar
staff no longer ask us what we want, they just know man, they just know two Bulmer's
and glass, no ice. With a few more stocks
and shares in the club purchased, and with the bar filling up some, I headed
out for a smoke break. One of our fans asking me if today's game was segregated,
erm probably not, and why it would be, was my response, harsh but fair. Back in
the bar, and other members of the firm rocked up, Nick the Greek, looking just
like Taz and Mr X, of dear. A few more pints and a top shelf Gin, and I were
off. Tony Henderson-Smith collaring me earlier into helping him out with a
favour before kick off, so off I went to do my duty to the Queen and Club.
Out on the pitch the place was starting to fill up, you
couldn't have asked for better weather. Being a sun lover myself, this heat was
intense, wish I'd worn my shorts as I was sweating like Ralph Harris in the
Dock. The half way line flag down and Taz doing a fine job of the other one. I
headed off to the Shoebox to catch up with some familiar faces. My old man and
old dear plus my nephew and brother in law had decided to watch this one, it's
a family affair I guess.
Line up for this one is: Lovelock, John, King, Shitta,
Ruddick, Clough, Haysman, Spillane, Wellard, Taylor, Williams.
On the bench: Foot, Dundas, Hoban, Hibbert, Philpot, Munro,
Julian
Kick off under way and with the sun beating down, and the temperature
high, you knew from the off the game was going to be a slow tempo. Both Chelsea and U's taking it easy from the
off, both trying to keep possession and knock the ball around the park, making
the ball do the work. This was no means a high pressing game. Recognising some
faces from our squad from last season, I was having a little difficulty naming
the others, but hey come on, it's my first pre season game. Both Spillane and
Shitta in the middle of the park looking lively and good at times. With Marv and JT up top, also looking decent. Marv looks like
he is heading back to his best, making some decent runs, and keeping hold of
the ball, and feeding off JT. Nice also to see Cloughie returning from his
injury at the end of last season. A
break in the first half for a water break, can't blame the ref really, the
conditions even taking affect on some of the fans too. With the game back
underway Lovelock was put to the test on
a couple of occasions, making some top quality saves, as well as Chelsea
hitting the woodwork. Good to see Lovelock back to his best, given we didn't
really see too much of him in the last few months of last season. A couple of chances for Sutton in the first
half, when Marv when through but failed to finish. The Chelsea under 21's also
creating some fine chances.
In the first half the local wing nut fans came out of the
woodwork as they did last season. Clearly they must have been pissed or on some
kind of class A drugs. Walking around the ground singing "we pay for your hats,
we pay for hats, what a waste of council tax, we pay for your hats" right in
front of the local plod-wing nuts!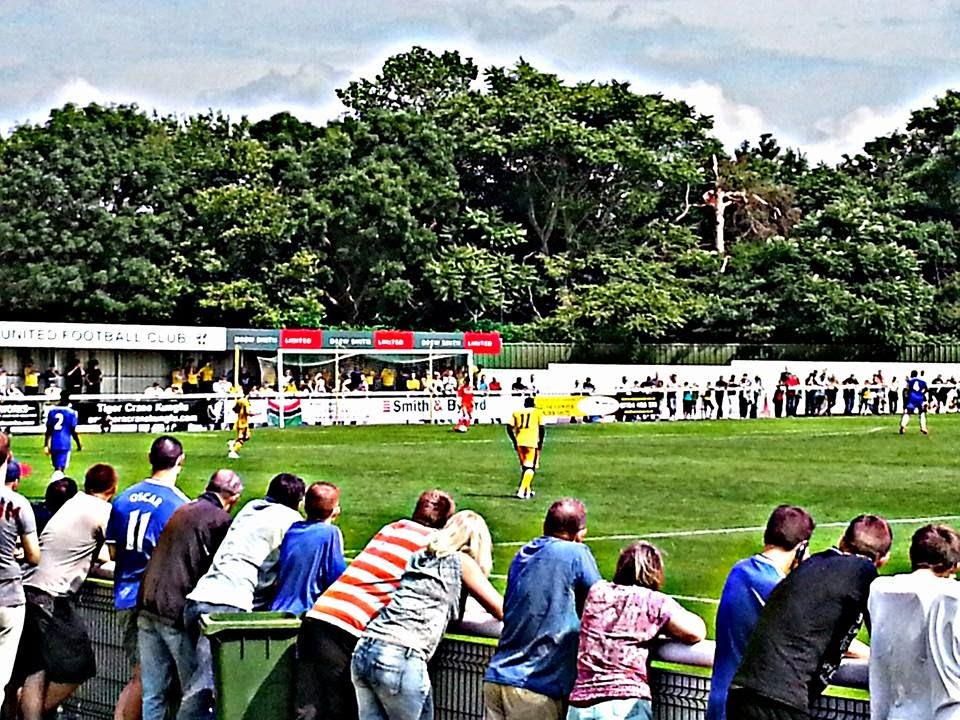 Not much happening….
The second half underway, and it was much of the same as
witnessed in the first half. JT had a fine chance going through and past the
lump of a centre back, but instead of placing his shot, smashed it over the
bar. A number of subs were made by both teams in the 2nd half. This
is what friendly's are for after all, gives everyone a chance for a run out and
get the sharpness back. Even our very
own coach Jamie Lawrence was on the field for a cameo appearance for 20 minutes
or so.
Apologies for the lack of detailed report, but not much
really went down, and well it's a PSF so when the league starts a more detailed
match report will return! Well we had a decent crowd down the lane for this one, if i'm
honest though I expected a few more, but hey-ho you can't win them all over.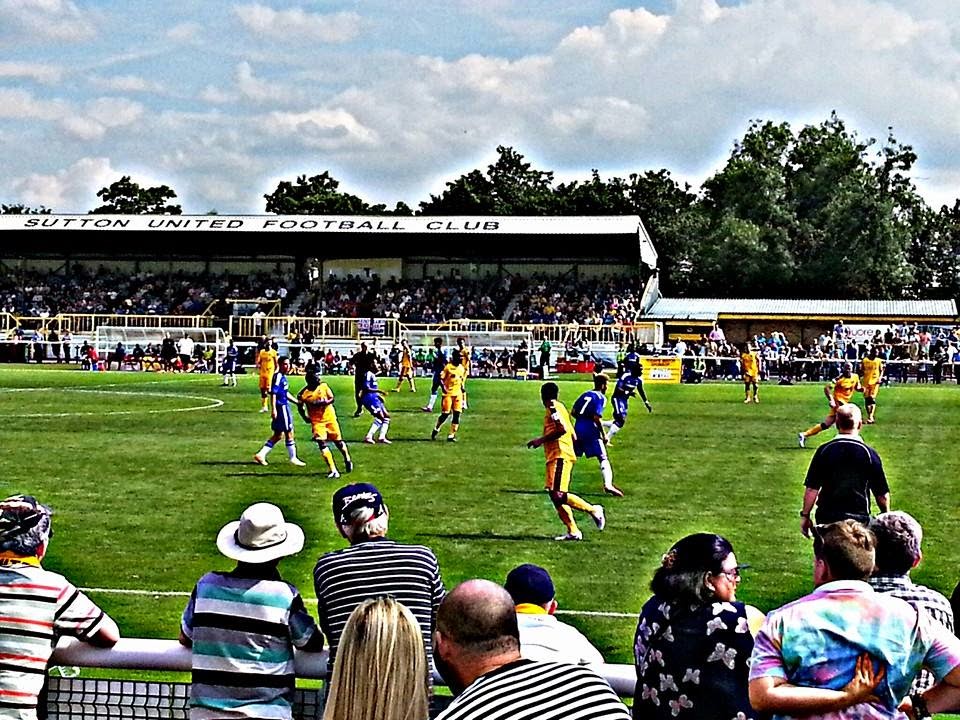 Still not much happening….
Game over and flags down, back to the bar for a couple of
Bulmers. A few of the lads, Taz and Greek decided to call it a night early as
they needed to catch up their beauty sleep or something like that. So they
departed and left us to it. A couple more drinks and another top shelf tipple
for me, and as a group we left the Club, after the thunder and downpours, after
Mr X sent me out into it, to move his sodding car! That's two favours you owe me
now Mr X! So we foxtrot oscar'ed and headed off to our second home the Grapes
at the bottom of the High Street. My stomach making some god awful noises, I
ordered us some grub as did my comrades, namely Mr X, Chalmers, Duke and Wardy.
I finished my grub and pint, and headed off……I had some video tapes I needed
to return.
That was the end of the night for me, but rumour has it the
lads, went on till 1 AM. For Club, Queen and Country as Duke would say…..
Juan