What's that I hear? The old boys from the Coventry game are playing in a little match before we entertain Reading? Oh wait, you want to cover that match and leave the rest of the day to be covered by me?
Yeah cheers mate!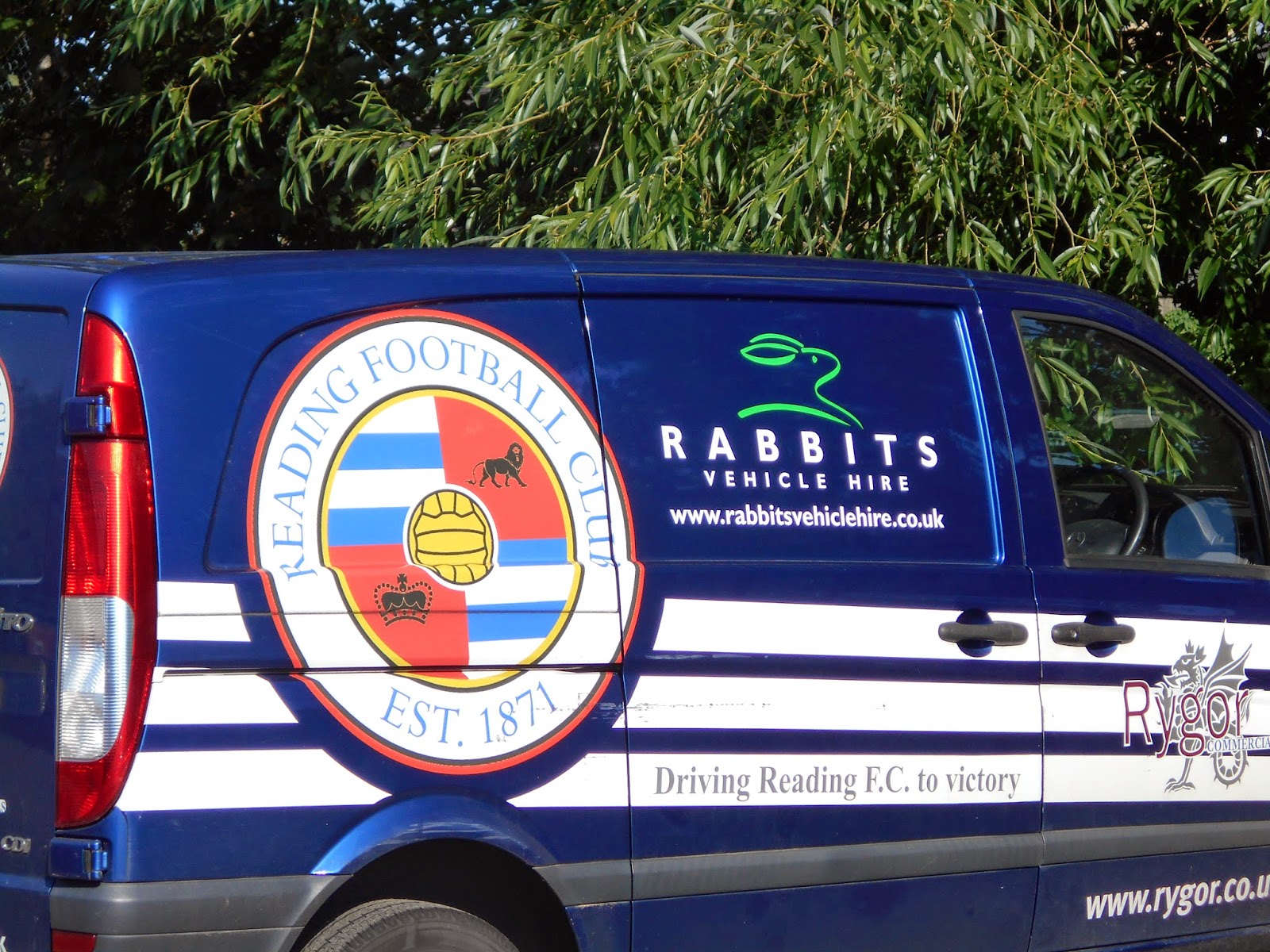 When you lose 4-0, this is a rather ironic sponsor….
With Taz needing to make tracks after the Vets game to do some of the old Mongol rally shite, it was down to me to cover everything else from Saturday. The original main concern was going to be what the weather was like. The smart brainy people at the Met Office had declared that from around midday till after the game a torrent of water was to befall us. Of course the bastards got it completely wrong and the whole day was basked in glorious sunshine. In fact I think I may have got a tad burnt under my chin somehow.
Jumping on the train earlier than normal I met up with the Firm Leader at Carshalton and picked up a couple of stragglers at Sutton, namely Juan and 4 Days. With the sun still shining we headed into the bar to get our first cold cider of the day. The problem with the players bar was like last week against Chelsea in that it was a tad sweaty standing around. But lucky for us the Boom Boom was open and with the seven air condition units that bar was much cooler than the other.
We managed to only have the one drink as the Vets game was due to start at ten to one. Taz will have a blog up about that particular match eventually, to read it at some point click here. The match did end 3-2 to the John Rains XI in a highly entertaining match. I was amazed to see that some people never change and also seeing Nko (Not Efan, according to a certain someone) slot the ball home reminded me of the old days.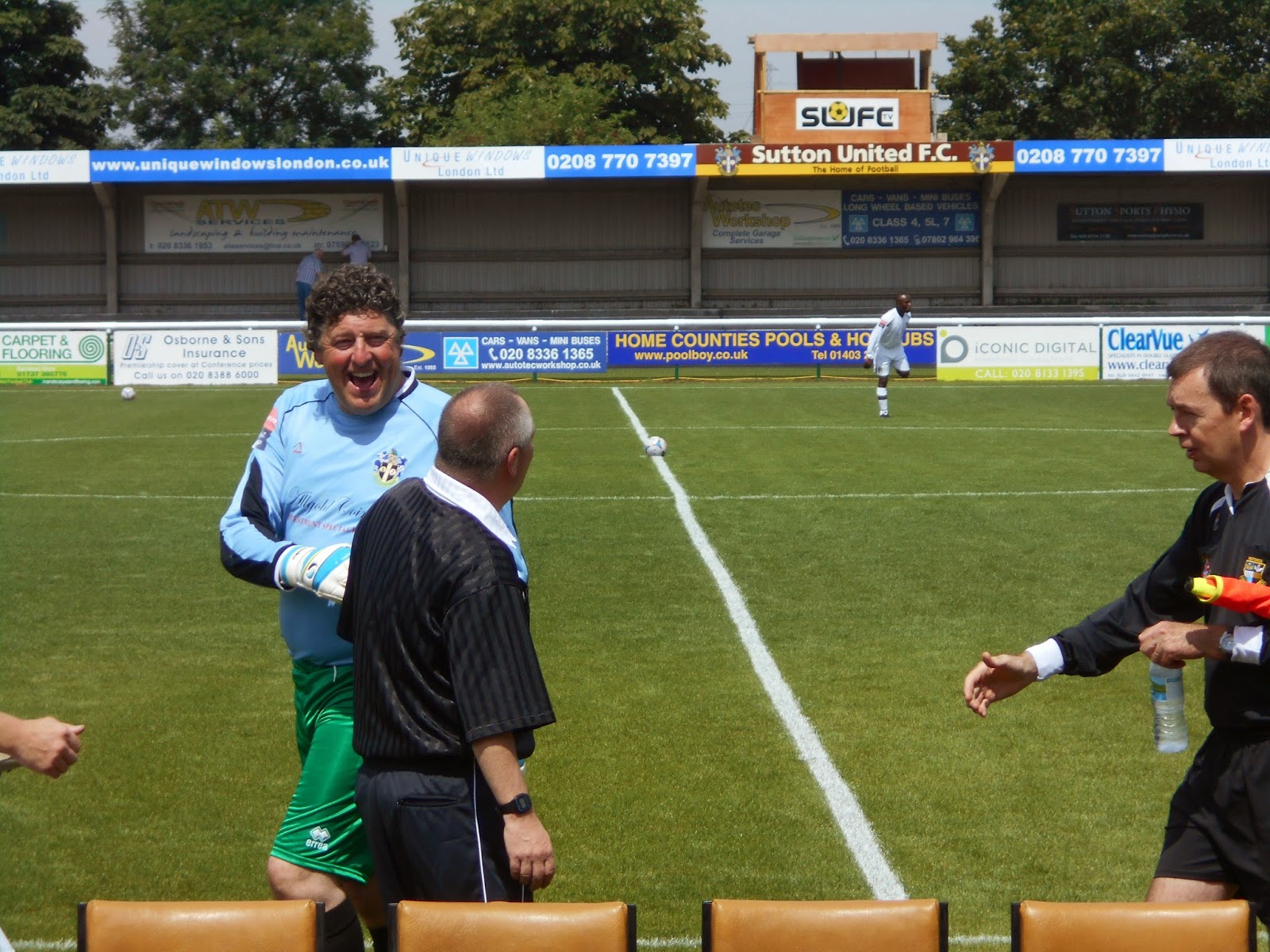 Faaaaack off ref!
Lovelock, Foot, Ruddick, Spillane, John, Clough, Haysman, Dundas, Wellard, Taylor, Williams.
Bench: Hoban, Reindorf, Shitta, Hibbert, Lawrence.
Straight from the off Sutton played with a higher tempo that was not seen in the previous matches. It was only after five minutes that we got to see the cheekiest of chips from none other than our own Cloughie who must've thought he was a bit of a Le Tissier. 1-0! With the heat bearing down on the ground you would be forgiven in thinking that the football would take a back seat, but you would be wrong.
The second goal came around the half hour mark when a free kick from Spillane was nodded in by the back of John's nut. 2-0! The third goal saw a well worked piece of passing between Taylor and Marvin which resulted in a calm left footed effort hitting the back of the net from Williams. 3-0!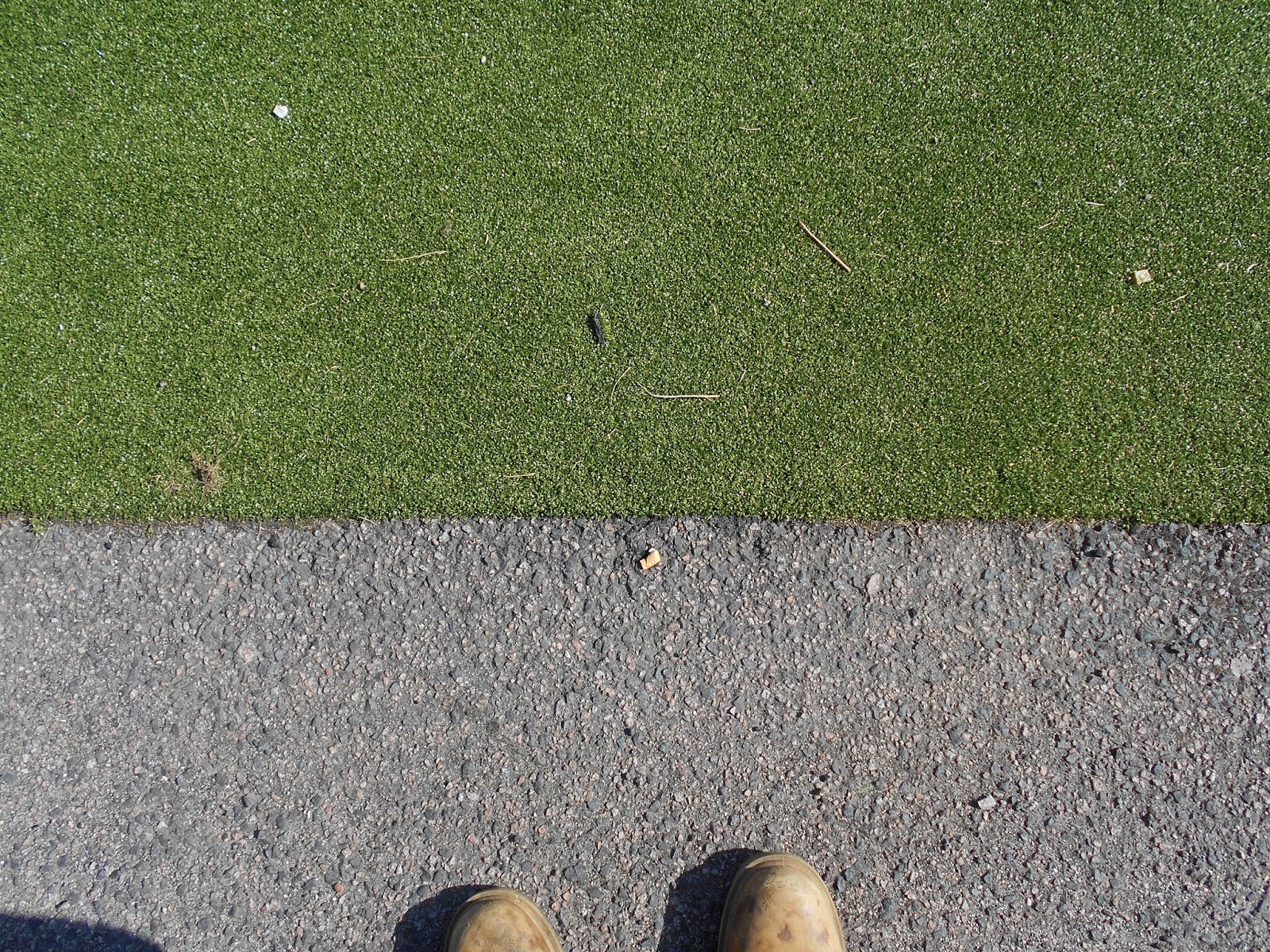 Nope, lost us with this one….
At half time some of us made it to the cool Boom Boom Room for a pint. It was also here that someone apparently had footage of that plane which had crashed in the Soviet Union. Then sparked a ten minute conversation about how a plane would react if it was hit by a missile.
The second half begun to show signs of slowing down with the heat beginning to take effect. This was not to dissuade substitute Jessy (our man from a land Rwanda) who received the ball from Williams inside the box and rifled the ball in between the keeper and the near post. 4-0! After that the game descended into a peaceful kick about like those you see in the park. There was a late robust challenge from Dammy but I thought there was nothing to it really.
On reflection the game really showed the difference between Chelsea and Reading. Sutton were very much the stronger team and had a near monopoly on the aerial battles. I do think that we appear very capable at the moment against younger opposition but I await the proper test in a mere three weeks time.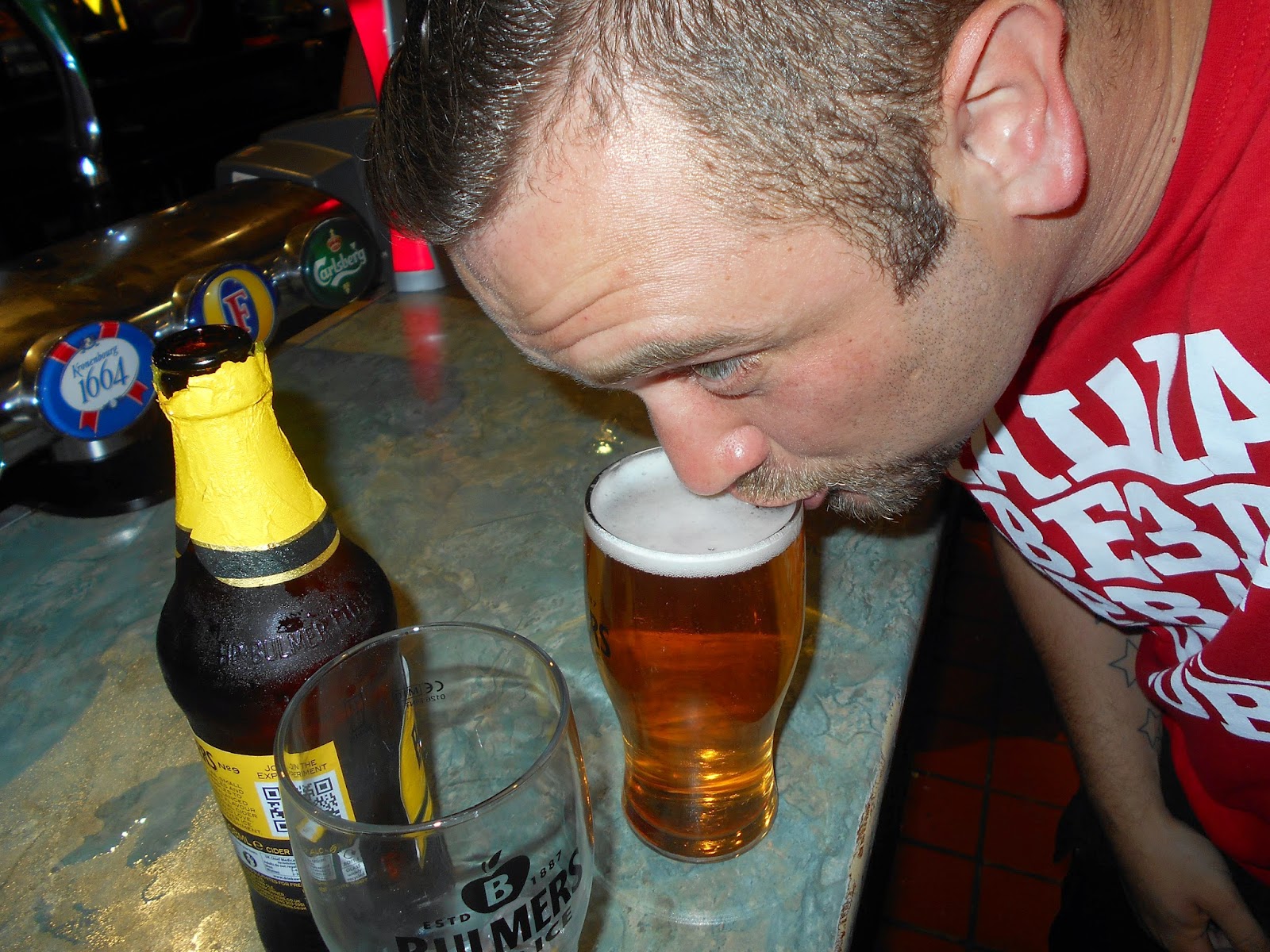 FFS, will someone please get that man a straw!
After the game we headed into the bar and to meet some of the players that were still around. One of our own members had caught sight of Jamie Lawrence walking in. Walking up to him they remarked that how come he didn't get on like he did against Chelsea. Jamie just looked up at him and remarked:
"I played the last twenty minutes at left back!"
Needless to say that the guilty party returned to our party with his tail between his legs, much to the enjoyment of the rest of us. I thought someone who got the Ekoku's mixed up was bad enough but not realising Jamie Lawrence was on the pitch is something else.
After several more beers we decided to head into Sutton and the usual haunt of the 'Spoons. I had only managed to have one solitary sip of my cider before Mr X decided to knock it all over the person next to me none other than the CEO of CES. I tell you now that with the colour of his shorts light enough to see the full effect of the incident…..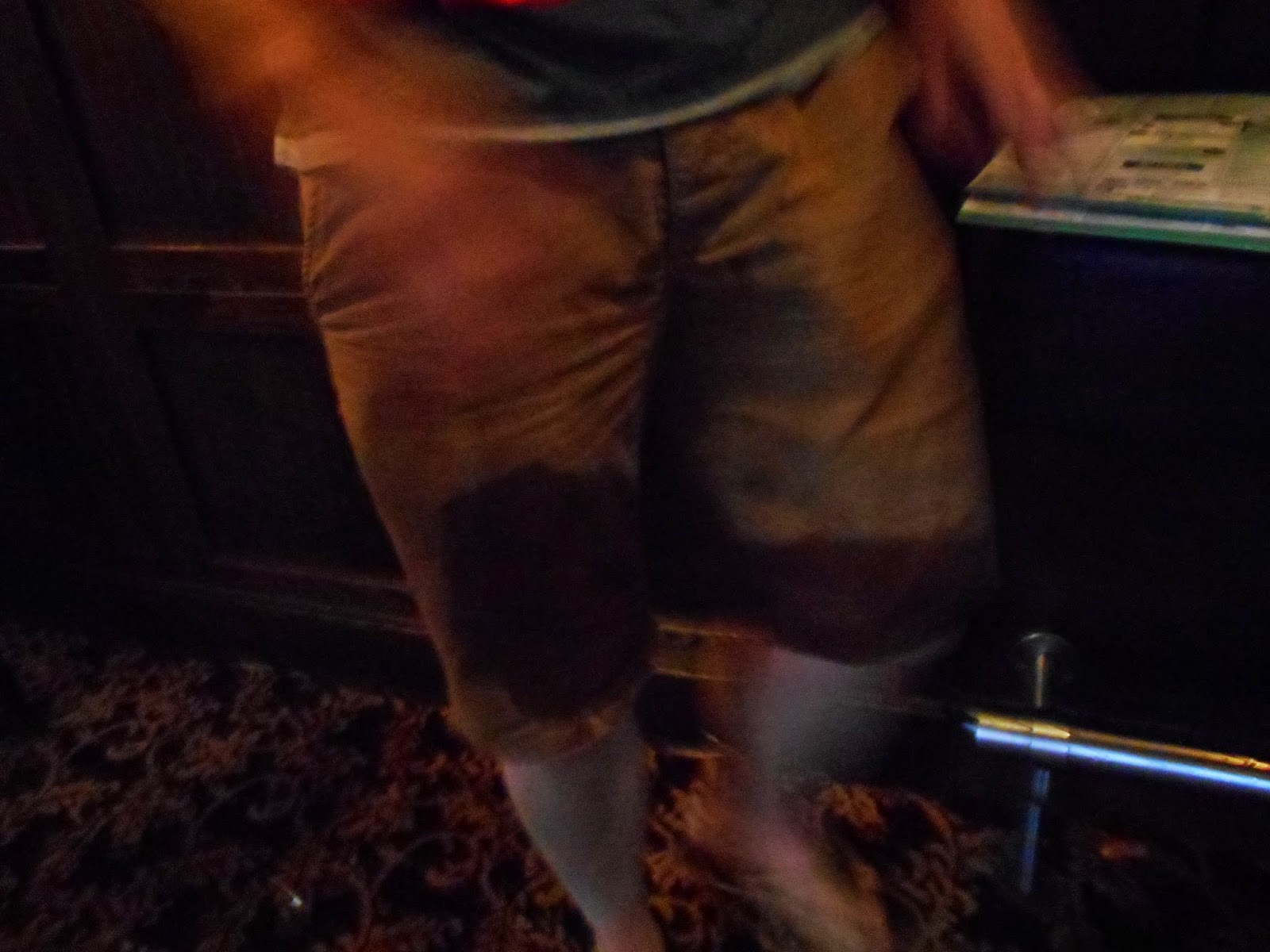 Cider? Give over, pissed yourself….
Feeling hungry some of us decided to go next door to the old KFC. Being a dab hand at ordering I jumped in front of the other two and asked for a trusty Megabox. Surprised by my decision my fellow companions also ordered the same meal. They were pleasantly surprised by my choice and commended me on my leadership. You see what epic lives we lead, sometimes there is nowt better than plain old chips & gravy!
Arriving back to see that 4 Days had left the group we descended in another surreal Gandermonium moment with exchanging middle names (Bernard may have been one of them) to a rather hilarious story from one of our group discussion a tale involving a piece of sweetcorn and a possible STD that had myself rolling around in juvenile laughter.
After Juan & the CEO decided to call it a night the rest of us headed to first the other 'Spoons and then tried and failed to get into the Ivory Lounge (someone was wearing trainers) before finally getting into O'Neil's for a late drink on top of the roof. Two games in two days for some of us, although most fellas I've spoken to are not making the trip to Kingston. But never fear Gandermonium will be there to no doubt write tedious shit whatever the game! But for now I need something…….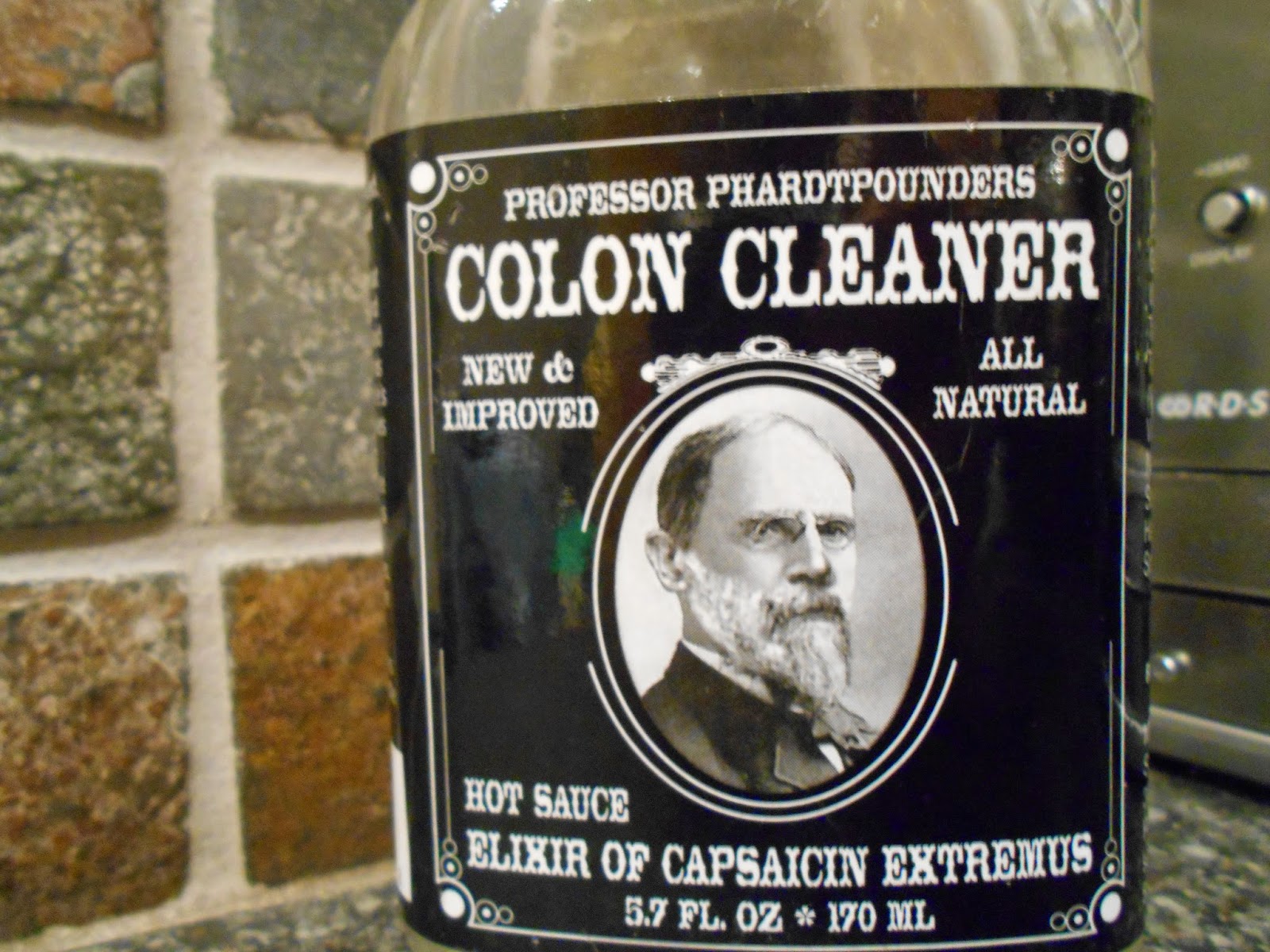 Available at all good pharmacists.
Duke
Att. 242