25 Years. That's a long time. A long long time. So long in fact that 25 years ago, I was only 15.
Oh dear. That makes me old.
Still, 15 year old me didn't do too badly. Despite picking a crap non-league team for his footballing allegiance, he got to see them dish up one of the greatest FA Cup shocks of all time and have the morning of the monday following that game as a minor celeb at school due to him being the only bona fide Sutton fan in the joint.
Shame it was an all boys school really, as it might well have made me more attractive to the ladies as well had there been any about.
No, you fuck off!
Before today's main event of the current U's side taking on another bunch of U21's who represent the bright future of English football, this time provided by Reading, there was a little contest on the GGL turf to commemorate THAT magnificent day back in 1989. Y'know the one. Where we THRASHED Coventry 2-1. Which if you're old, like me, is lovely. Because old farts like nowt best than to go all misty eyed and mumble on tediously about the past.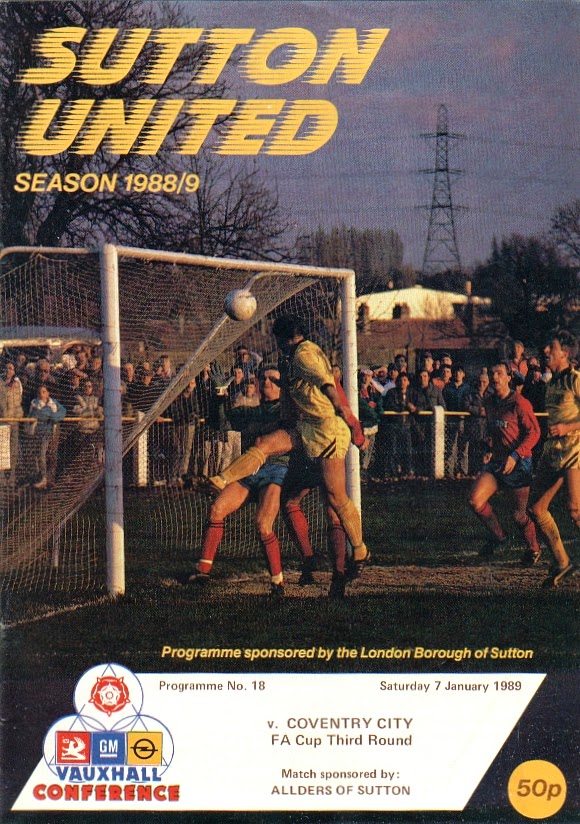 Programme innit.
Lining up today would be pretty much the entire starting XI from the famous win over Coventry, as well as being managed by the one and only Barrie Williams. Dennis, Rains, McKinnon, Golley, Stephens, Rogers….oooh. And if that wasn't enough to get your nostalgia gland quivering, then their oppo would be a John Rains XI containing the likes of Mark Watson, Dom Feltham, Efan AND Nko Ekoku. Plus, best of all, Chris Vagg!
Fucking hell. Just think how many first team appearances there are amongst just the ones I've named? Must be millions, easy. I mean, Tony Rains alone played so many games, some scientist bloke had to come up with a new number to descibe such a vast amount.
Still, despite all this, my saturday starts as normal. Stinking in my pit before dragging myself up having completely sacked off doing what I wanted to do in favour of another couple of hours in bed and jumped on the 407 towards Sutton. Upsettingly, despite the weather bods warning us that we were all DOOMED to be killed to death by lightning, thunder and the sort of rain that would make Noah consider taking a brolly, I stroll to GGL in hazy sunshine sweating my ginger na na's off. The conditions couldn't be more different from January 7th 1989 if we'd tried.
On that day, I and two mates from school had got the bus stupidly early into town and were hanging around GGL by about 11am. A couple of us hopped up onto the wall next to the turnstiles and perched looking out at the shitty, sandy surface the 1987 FA Cup winners would be gracing that afternoon. Well, when I say would be, they already were. Regis, Speedie et al were already out looking at the shit tip that was late 80's Gander Green Lane and shaking their heads. "Not up for it are they lads?" says a copper who's joined us in surveying the scene, albeit from the ground and not the top of the fence. "Now, d'you wanna get down from there before you break your necks?".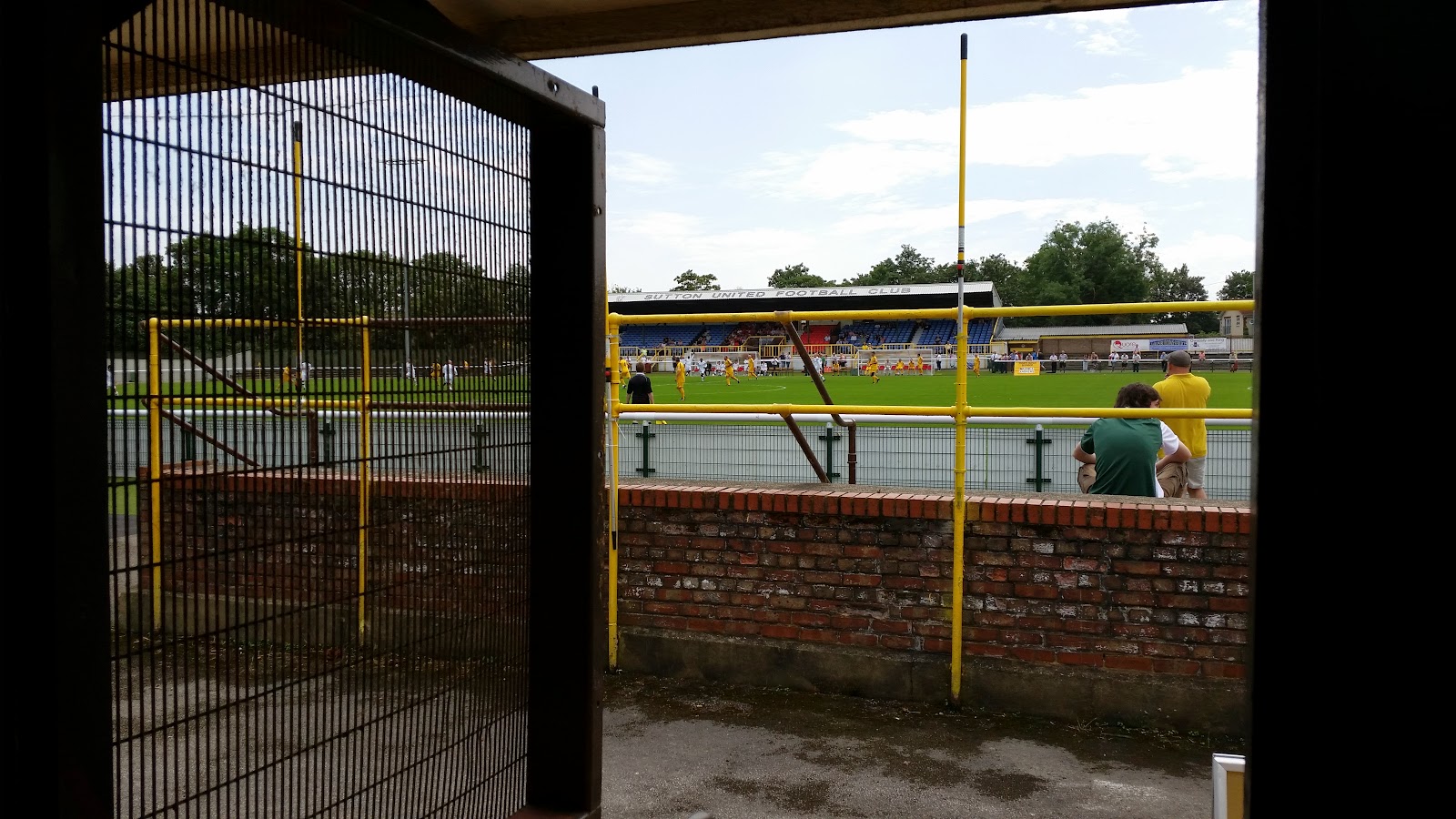 Best seats in the house….
Spoilsport.
And that dear reader is why I'm doing this one. From all the current regulars in the crew, I'm the only one who was actually there on the day. Sometimes being old can make you useful.
Back in the 21st century, Mr X and I have just finished setting up the tea hut as the game kicks off. The Coventry XI is pretty much as it was on that January afternoon. The only absentee I can tell from my little window as I wait for the proper staff to arrive is Phil Dawson. I later find out he'd been replaced by Steve Fowler. As I await my relief, Dukey rocks up and instantly berates me about my current viewing position and about how am I supposed to produce a report of adequate quality because of it.
Of course I tell him that I'll just make some stuff up. What?
As befits the vintage of some of the performers and the somewhat sweaty nature of the conditions, the pace isn't exactly breathtaking. However the Rainsy XI have an early shout for a pen confidently waved away by the ref, whose name escapes me currently. Mike Fork I think it was?
With the staff arrived, I get to settle down on the shoebox and watch the play. What strikes me most is that barring Robyn Jones & Able, the side have visibly aged rather well. And from a distance most look as they did 25 years ago, maybe just with the odd grey hair here or there. Curly patrols the midfield, Hanlan hugs the touchline, Lennie and Macca prowl up top and Able drifts about pinging passes while Roffey & Rains bawl at the backline and Vernon turns like an ocean liner. Now, I dunno when the last time was these lads actually played together as a team, but it really is like they've never been away. It's this familiarity that leads to the opening goal. Macca pouncing on a loose ball to bobble it past the keeper from close range after Lennie has nodded a deep cross back into the danger area.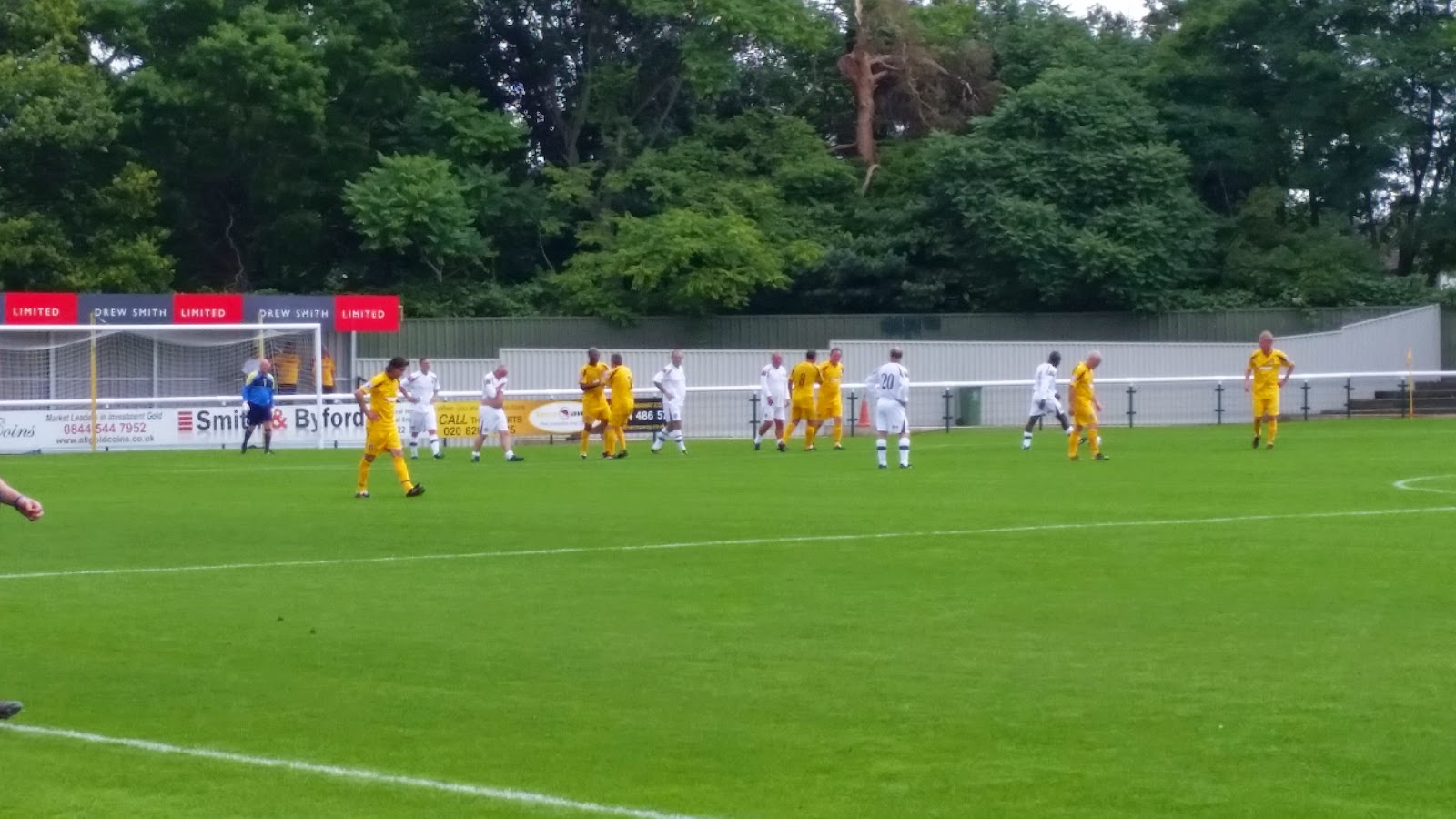 Macca opens the scoring….
"Does that go onto his club record tally?" enquires Dukey, half seriously.
In the aftermath of the goal a few changes are made and some of the older heads from both sides depart, the JR XI bringing on the pace & power of Nko and Efan Ekoku. Christ, imagine having to face those two big fuckers in their prime! It's this combo that shortly before the break leads to an equaliser. A 1-2 in midfield and a ball through sends an Ekoku in on goal. He holds off his man and calmly slots past Roffey.
Now, I say 'an' Ekoku for a reason. Mainly as I'm convinced it's Efan that's scored. And Dukey reckons it's Nko. Naturally, we bicker like 5 year olds for a few moments until the PA announces the scorer. It's Efan! Taz wins! Of course, being the true sport that I am, I leave Dukey to reflect in the embarrassment of his defeat. But not for long. The half time whistle sounds and as the players gather by the dugouts for much needed drinks, the PA sparks into life once more to announce the scorer of the JR XI goal was actually Nko.
Arse.
Well, let's just say Dukey isn't quite as sporting as my good self. In fact, if anything, he's twice as bad a winner as he is a loser. So he stands there, arms aloft in front of the shoebox before delivering a tirade of abuse in my direction. Ending with "And what have you got to say to THAT sunshine?".
Who's writing the report? Me. Who'll be logged as having scored the goal in the report I'm writing? Fucking Efan. So yeah, the scorer of the first goal for the John Rains XI was Efan Ekoku. There!
Sorry Nko, no offence mate!
The second half is soon underway and it's not long before two of the younger subs for the Cup Ledges help them take the lead. A looping cross from the far side has Vaggy and 2 defenders ball watching and Jack Moore, the grandson of long time Chairman Dave Hermitage, stoops to head in at the far post.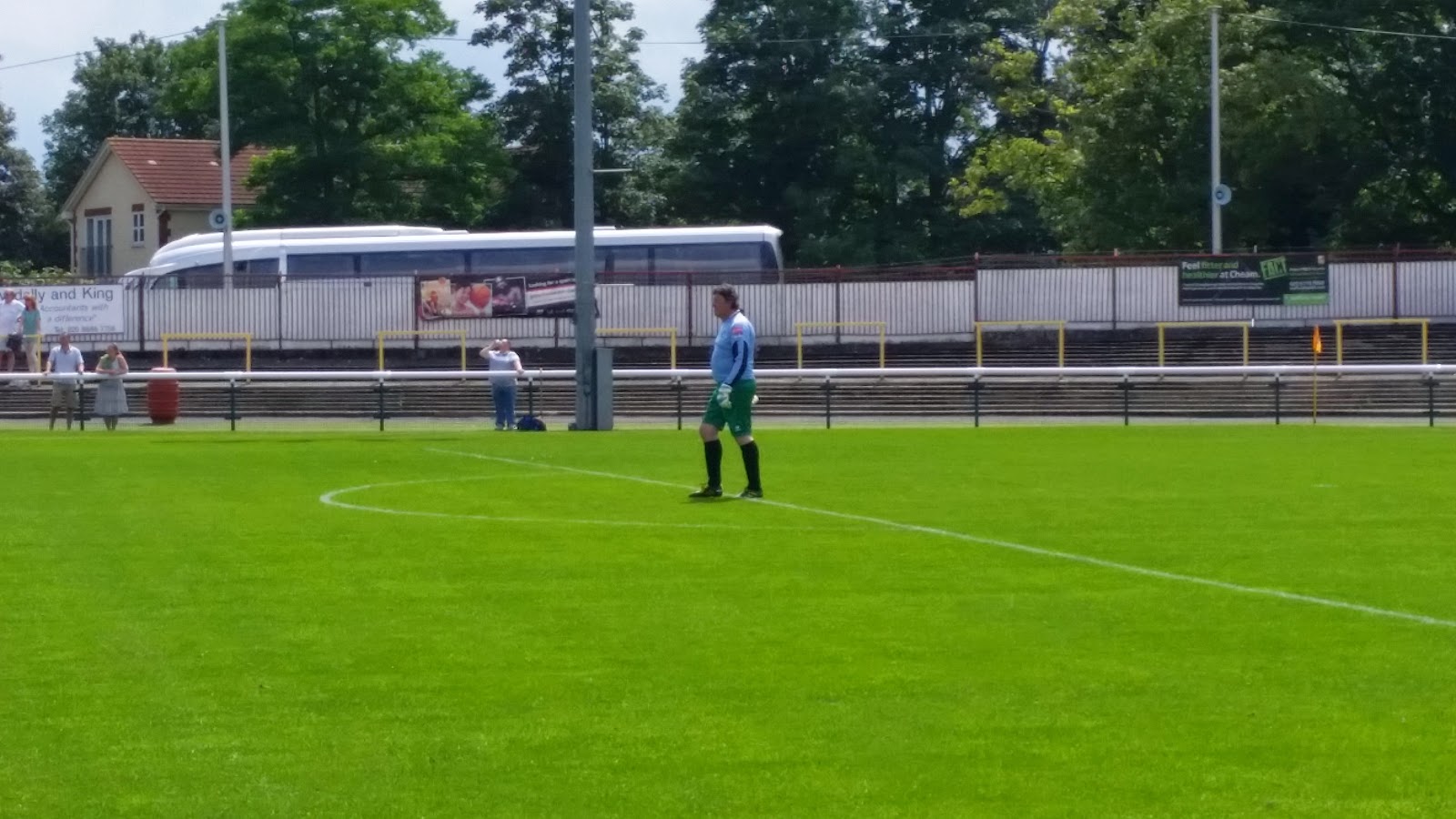 The loneliness of the goalkeeper….
The ever classy Dom Feltham and the enigma that is Mark Watson take the field for the JR's. The former settles into a deep lying role and the latter tripping over the ball a couple of times. Some things never change! This prompts a conversation about Watso and the fact that despite his 1 in 3 strke rate in a Sutton shirt, he's probably more remembered for the misses. Bit of a shame really. Strange to think that his goalscoring for us got him a 50k move to West Ham once upon a time!
Sadly, the Cup Ledges fail to hold onto the rather fitting 2-1 lead they hold, however the JR's equaliser comes from the even more fitting source of Matt Rains, son of bona fide Sutton United legend, John. And it's a tidy finish too, low across Roffey into the far corner from around 12 yards. Very nice.
At this point, we gain a new referee. A Mr P. Doswell of Winchester. We're not sure we like the look of him, mainly as he's not wearing regulation black kit for starters. Is he even qualified? Right who's got the number for the FA?
The equaliser leads to the now slightly younger, fitter JR's pressing for a winner as the older Cup Ledge's trying to use their younger heads to hit on the break. It's the JR's pressure that tells in the end though. 3 minutes from time, Roffey is forced into two decent stops before Paul Thornton bundles the ball in to give the team of the Tache the lead for the first time.
Going behind stings the 89'ers back into life and with time almost up, a quick (well, sort of) break is ended illegally right on the edge of the box. We think it's just inside, but Mr Doswell indicates a free kick right on the 18 yard line. This displeases the ever competitive Tony Rains, who turns to berate the lino, Ross. "Lino! Surely that's a pen!".
Naturally, we join in.
"Rubbish lino!"
"You're blind mate, that's shit!"
"Where'd they dig you up pal?"
The under pressure assistant just shrugs his shoulders. The young Sutton fan no doubt utterly delighted to get coated off by a SUFC demi-god and black cab driver Tony Rains.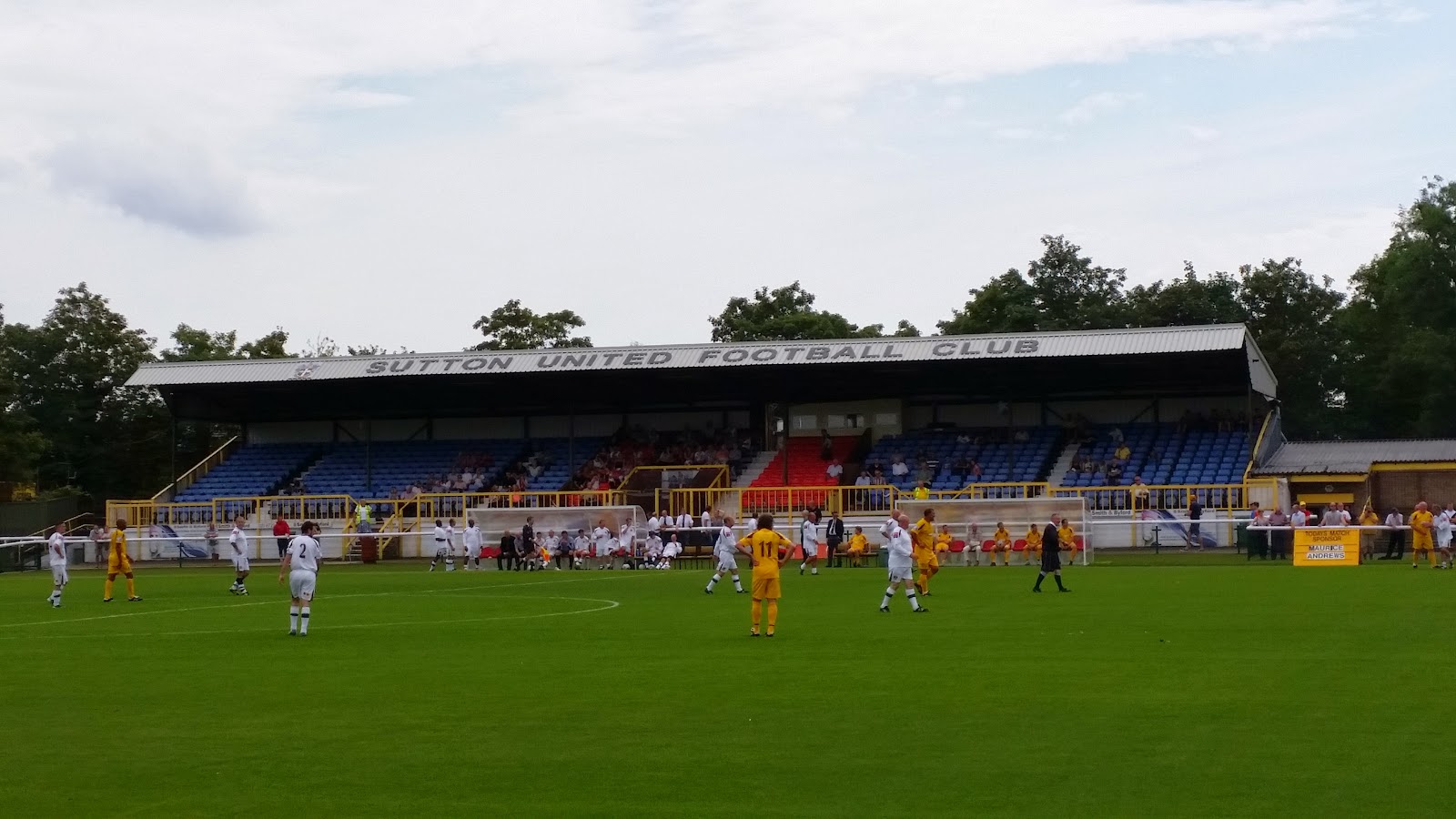 Action action action…..
The free-kick is lined up with Macca and Curly over the ball, Dos trying his best to help manufacture a leveller by pushing the JR's wall back somewhere into Gander Green Lane. Macca dummies and Curly rolls back the years by er……thumping it into the wall. There's no chance to make owt of the loose ball as Dos immediately blows for time, no doubt keeping in mind that in about an hour he's got his own game to worry about so should probably wrap things up sharpish.
Still, it's been a treat to see so many old names & faces once more gracing the turf of our old dung heap. And with the 'Tache Cup' apparently being awarded to the winners, perhaps it could become an annual event?
For me, that's sadly the end of my SUFC time for today. There'll be no schmoozing with legends for ol' Taz or sweating on the terraces watching the 1st team as I've a train to catch and shenanigans up in Battersea to attend instead. Still, I'm sure Dukey won't mind being a real mate by backing me up and covering the Reading game part of proceedings on my behalf?
"Fuck off".
See, I knew he'd be fine about it.