"It's only a game!"
Come on, if you're a football fan of any standing you must have heard this phrase uttered at least once. Usually by a non-fan in response to you moaning about how shit your team were at the weekend. Or how being 12 points adrift of safety is leaving you clinically depressed. Or that the title charge that seemed so unstoppable a few weeks back is now in tatters after you've lost 3-0 at home to the bottom side.
Well, they're right. It is. It's just that we as fans choose to invest a lot of our interest and energy into it. But for most of us who partake and live in the first world, it's largely just a social release. A hobby. Something we do as a bit of a distraction from the jobs we do or the lives we lead. We have so much choice, but we choose to do that.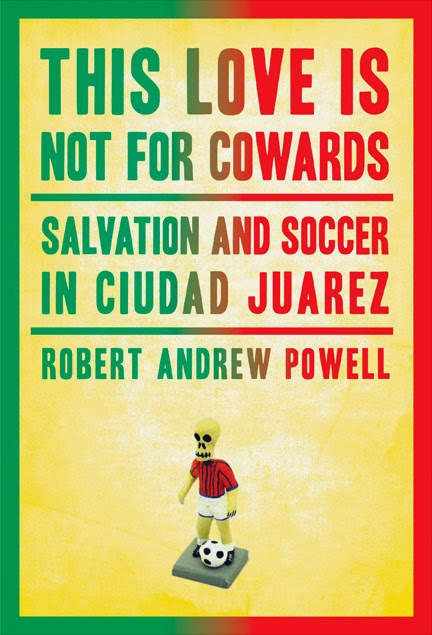 Lil' Skeleton man….
For people elsewhere on the planet in slightly less cosy places than suburban South London though, it can mean so much more. A break from a grinding cycle of poverty & violence. A little ray of hope and joy in an otherwise trying & depressing day to day existence. Try telling them it's 'only' a game.
Like in Ciudad Juárez.
Back in 2008, this city slap on the USMexican border and seperated from El Paso on the US side by the miserable muddy trickle of the Rio Grande saw a shocking upswell in violence as two drug cartels fought for control of an important gateway into one of their biggest markets. The result of the local La Linea mob attempting to fight off the incursion of the Sinaloa cartel onto their turf is a five fold increase in the annual murder rate to over 1500 a year. That's about 4-5 people a day on average. Largely the casualty rate could probably be tied back to the drug trade, but as these guys aren't picky when it comes to collateral damage, plenty of poor average Joe's end up in the crossfire.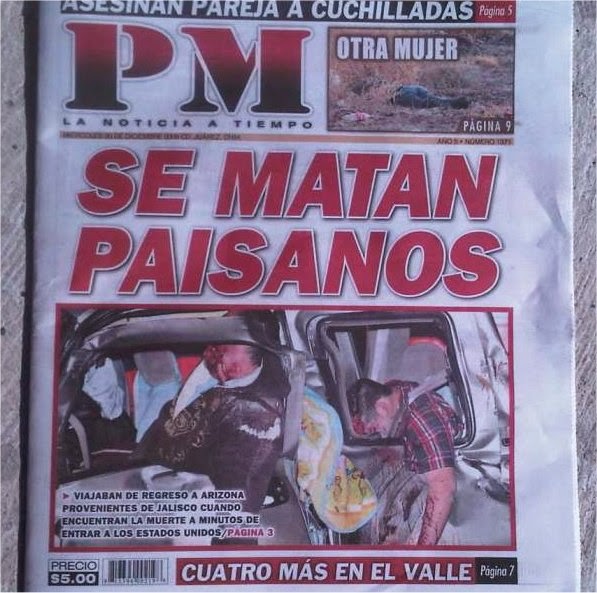 Page 3 isn't much better….
Amongst all this carnage, the local football team the Indios (or Club de Futbol Indios de Ciudad Juárez to give them their full title) provided one of those rays of light by surprisingly managing to lift themselves into the Primera, Mexico's top level just 3 years after being formed. Such was the delight in Juarez at this achievement, that the streets were flooded with locals out to celebrate despite the local cartels warning people to stay indoors that weekend.
A year later & despite this madness seeing the murder rate almost double again to over 2700, journalist Robert Powell decides to move from his cosy Miami home and relocate to the most dangerous city on Earth and follow the story of the Indios.
He arrives halfway through their 2nd season, with the team having scraped by in their first campaign as a Primera club, finishing 4th of 7 in the 2 halves (Apertura & Clausura) the Mexican season is broken down into, but finding that second season much harder & completing the 2009 Apertura bottom of their group without a single win in their 17 matches.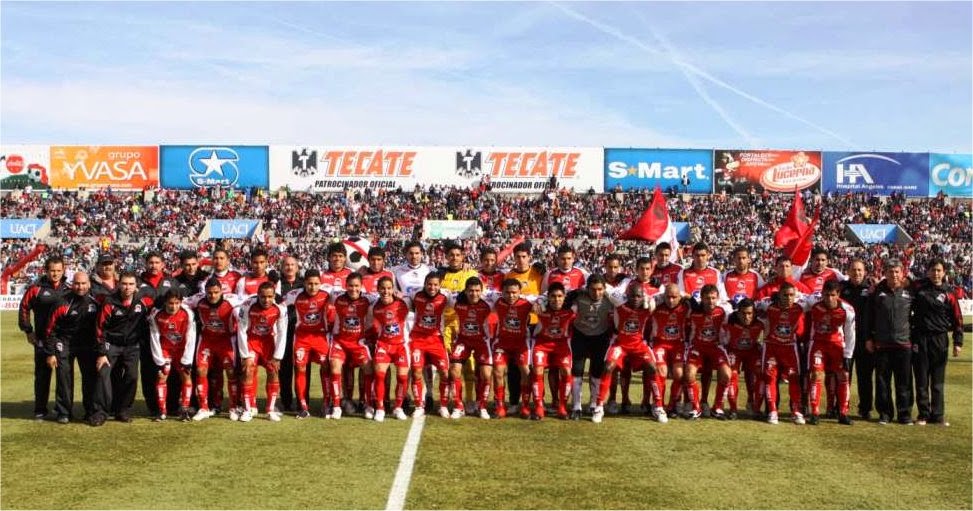 Club de Futbol de Ciudad Juarez. Not very good.
Powell's reasons for picking Juarez or the Indios are never really explained as the story begins with the team preparing for the Clausura campaign and him combining moving into the city to live and mingling with various characters at different levels of the organisation from owner and local construction magnate Francisco Ibrarra, to Defensive Midfielder Marco Vidal, to the members of the team's main fan group 'El Kartel' whose number include an alleged hitman and a Luchador wrestler amongst others.
Still, he makes a decent job of covering all these levels without ever seeming to piss anyone off and combines telling the tale of the Indios seemingly impossible task of avoiding the drop along with the ongoing cycle of mindless violence in the city.
The book has two distinct halves. The first is more the settling into town, getting to know the team, the fans and how the season progresses (badly!) sort of thing, with the second taking a much darker turn as it becomes apparent to all the Idios are doomed as they run up a Primera record 27 games without a win. Here Powell turns more towards the dirty little war being fought between a confusing mix of not only the two cartels, but the government agencies sent in to try & curb it who are themselves rumoured to be tied to the two warring factions. As well as lengthy sections on the real horrors of Juarez and other matters such as the movement highlighting the murder rate amongst women in the city, which has become somewhat fashionable in the USA. This is despite the actual murder rate amongst females being less than that of Philadelphia.
Inbetween all this, the author tries to give a sense of what it is like to exist in this madness, what the team means to those who follow it and to the city in general. Such as it's owner fighting to get funding to keep everything going as he sees the club as an example of what can be achieved in even this dysfunctional environment. Despite this, you get the impression that even if he had the virtually bottomless financial resources of the Abu Dhabi Group at Man City, no one in their right mind would want to sign for a club effectively sat in the middle of a warzone.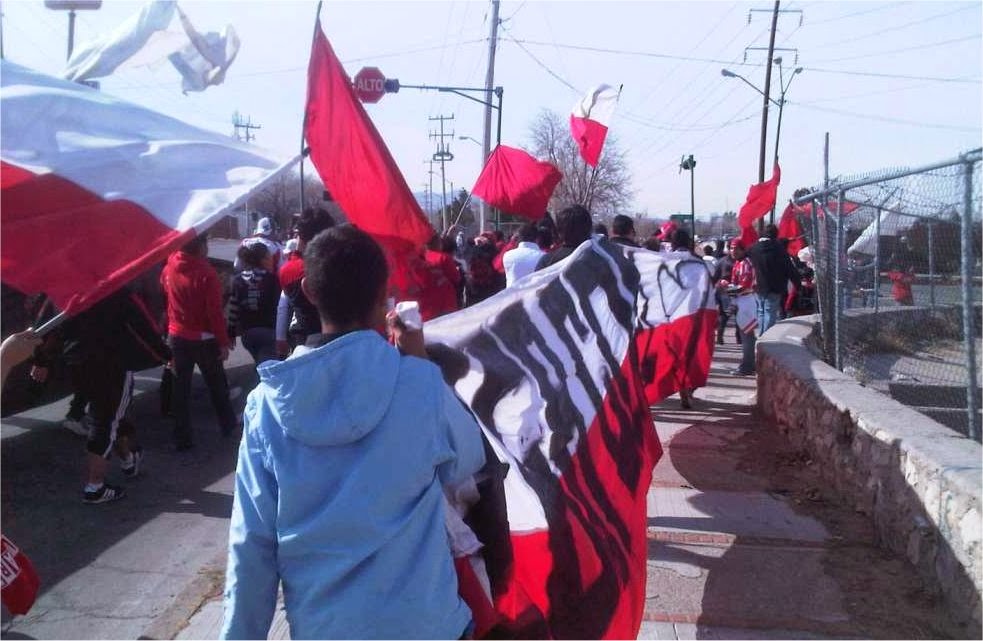 'El Kartel' and the matchday march to the stadium.
Despite the cheapness of life, the people seem to get by with a combination of their faith and a belief that if they do well by those around them, then no bad will come their way. In a city where even decent paid pro footballers drive the most banged up shitty cars so as not to get carjacked and or killed such is the thin line you tread that even the smallest choices can have major consequences. Such as the author's own couple of near misses where he chooses one pool hall over another to watch a Mexico game on TV purely as he's never visited one of them, only to find out the following day the other place gets shot up during the match, with 3 people killed. Or his decision not to move out of his shitty apartment and into a room at the 'El Kartel' fans base a day before masked gunmen burst in demanding to know "where the drugs are".
From a football perspective, the book isn't perfect. Powell appears to know and like the game, but it seems he's written with an exclusively US audience in mind as some of the terminology used is painfully clunky at times. Describing studs as 'spikes' for example. Or a player getting 'flagged for a penalty' to describe a foul before adding that it's inside the area and is er…..thus a penalty. He also doesn't get quite as into it with the fans as I'd hoped he would. Despite doing a ridiculous bus journey down to Monterrey on the opening day of the Clausura season to see them get pumped 4-0, he spends much of the campaign watching games either in press boxes or in separate areas of the stadium. Thus you never quite get a feel for the proper match day experience at the bottom of Mexico's Primera.
In the end, the Indios are relegated (this isn't really a spoiler. It's as plain as day from a couple of chapters in that the side are fucking awful and heading for relegation) and Powell is left wondering whether he's become as indifferent about the levels of violence happening around him as the locals. One such occasion being a murder on his street virtually opposite his apartment leaving him annoyed he can't go do his laundry as his car is boxed in by police vehicles attending the scene.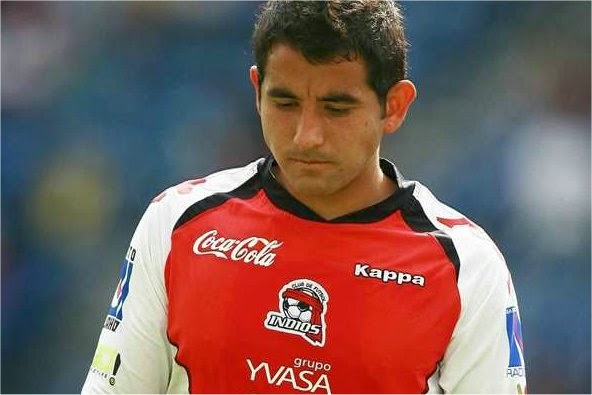 Marco Vidal. Defensive Midfielder and mate of the author….
Overall, the book is a reasonable insight into the arse end of Mexican top flight football and gives a decent overview of the day to day life in what was one of the most dangerous cities in the world. It also proves that even in the worst places, people still have hope and a sense that they have to do the best they can not only for themselves, but their neighbours.
Not a bad read and I'd say it's worth a punt if you can get it cheap on Kindle.
——————
For more about the Author, his website is HERE and contains a large gallery of pics from his time in Juarez. Some of which I've nicked for this review. Ahem.