If there's one thing us Non-Leaguers hate, it's bloody gloryhunters. Be they armchair SKY TV twats who seem to wear a different replica shirt every couple of years and talk down to you because your games aren't on telly or the annoying know nothing once in a blue moon mob who turn up on the odd occasion we have something like a big game.
But then again, can you blame 'em? Being a football fan is a largely unrewarding experience. No one truly wins every week and wins the league or a cup every season. So they go in search of those moments that give them their football highs without having to put in the donkey work. Like watching another 0-0 at fucking Concord Rangers. Or Dorchester. Or….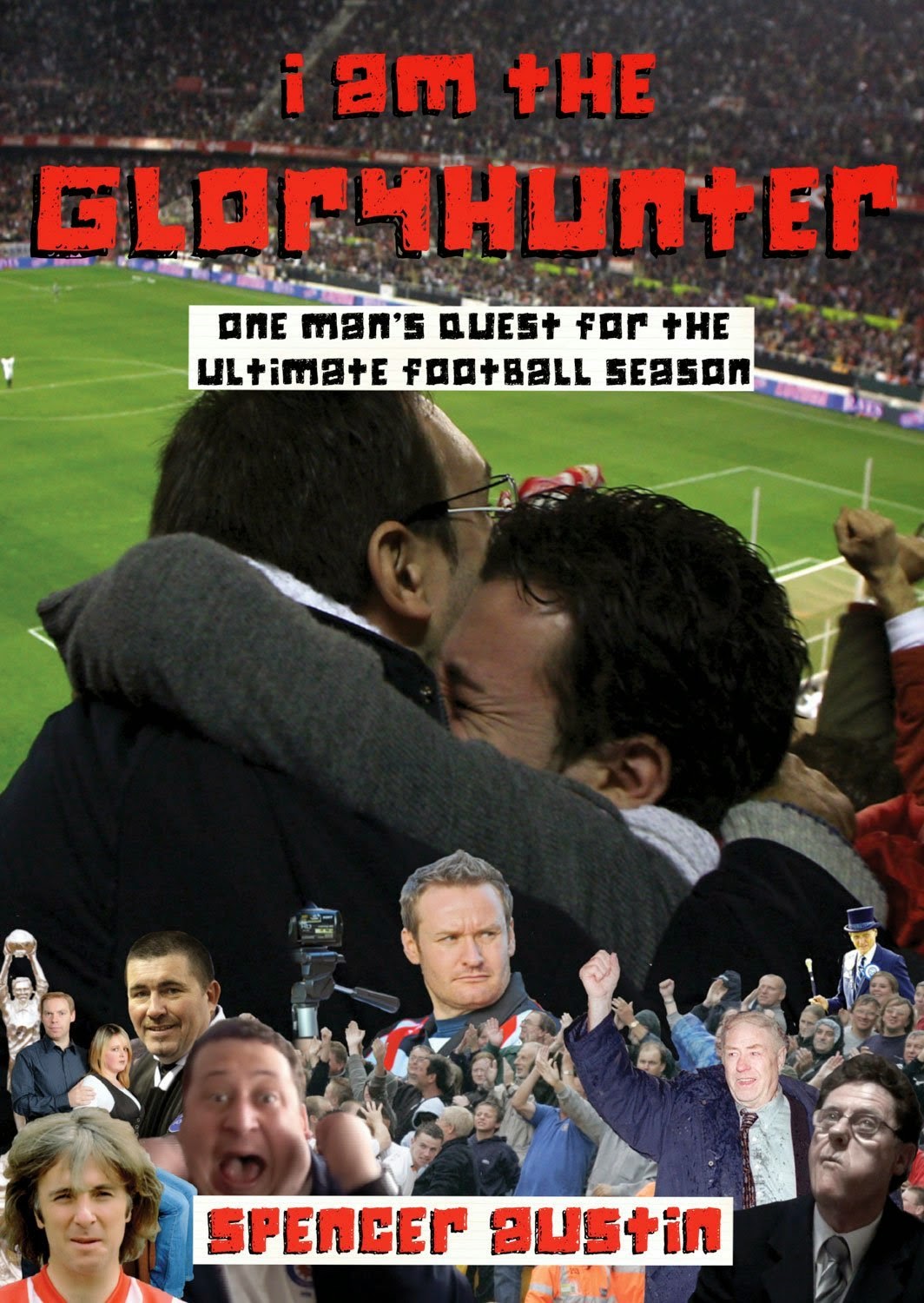 S'abook innit….
Well, some bloke by the name of Spencer Austin drew the same conclusion. Having sacked off dreary old Britain for a life tossing it off around the world, the Spurs fan suddenly had an epiphany watching Spuds win the Carling Cup on telly somewhere in Asia. He missed that moment, that incredible high of a last minute winner or lifting a cup. And to a certain extent, home with it.
But, rather than go back to simply watching Spurs as there's far too much of that largely unrewarding experience we mentioned earlier, he decides to see if England has truly anything to offer him as a home whilst getting to enjoy just the highs of following a football team. He becomes the Gloryhunter.
This entails him putting all 92 FL & PL sides into a hat and pulling one out to start supporting. And he'll do so home & away until they lose. At which point, we instantly becomes a fan of the side that beat them. And so on. Fortunately for him, he doesn't pull out Arsenal and instead finds himself off to Grimsby, supported by a little sponsorship from his mates at ITV with a deal to produce a 5minute web series weekly following his adventures.
Things start slowly as he tries to fit in too many funny metaphors & similies that kind of clog up the first chapter or so. But after this, things settle down and we're on the road to a shit bit of Lincolnshire. Where he gets his car broken into on the first night. From here, he then tries to basically wangle his way into the bosom of the home support as the 2008/2009 season kicks off.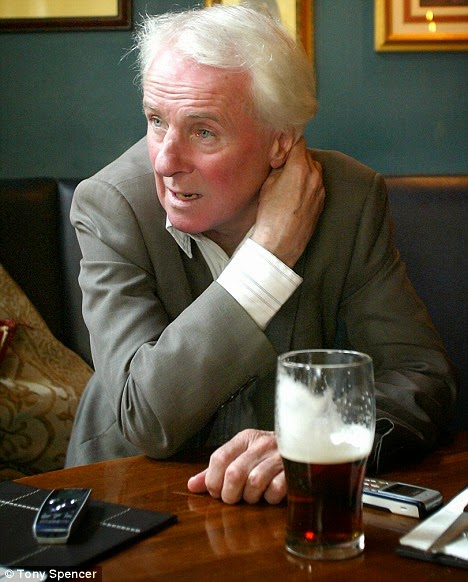 Stan Bowles. Interview fees start at £50….
Overall, the concept is an interesting and amusing one. Although it does have a flaw in that there is a chance he could bounce around from club to club seeing only a game or two at each and never really getting any sort of feel for a place, the team or it's fans. However, it's fair to say that's out of his hands and by and large apart from a couple of fleeting dalliances with Swindon Town and Luton Town, things go fairly well on this front. Although only getting 1 match at Luton is a shame, as 2008/09 was the year they found themselves starting on -30 points and never got off the bottom of League 2 on their way into the Conference. A couple more matches as a Hatter with this as the background would certainly have made a nice addition to the story.
Another hiccup and one that sprung to my mind well before it comes about in the book is the FA Cup. What if he's following some side who gets dumped out by Non-League shite? What does he do then? The answer when it occurs with Darlington's 1-0 defeat at Droylsden is simple. He ignores it. He's the Gloryhunter after all!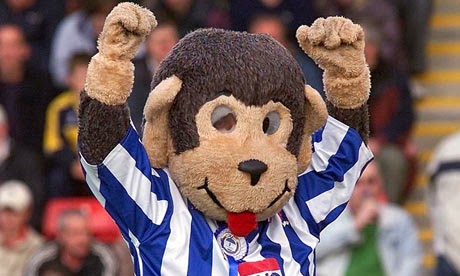 The Mayor of Hartlepool.
In fact, he gets to be on the receiving end of 2 Non-League dumpings on his travels as Blyth Spartans also knock out Bournemouth. So much for Glory.
Along the way, Austin finds he's largely derided by keyboard warriors on internet forums but generally welcomed warmly by regualr fans and by most of the clubs he follows. Naturally, he gets to meet all sorts of nutters along the way, none of which we remotely recognise as being like any of us. Oh no. He get's to meet characters such as Stan Bowles (an interview that he pays Bowles £50 for!) and Hartlepool's H'Angus the Monkey mascot who became Mayor. He also tries to hunt down the greatest XI's for Brentford and Rotherham United (narrowly failing on both counts), is responsible for an engagement, recording a Barry White cover and a man snogging a granny for a £20 bet. Oh and he gets to support Brentford TWICE.
So basically, a bit like one of our awaydays. Apart from the Brentford bit that is. Even we've got our limits.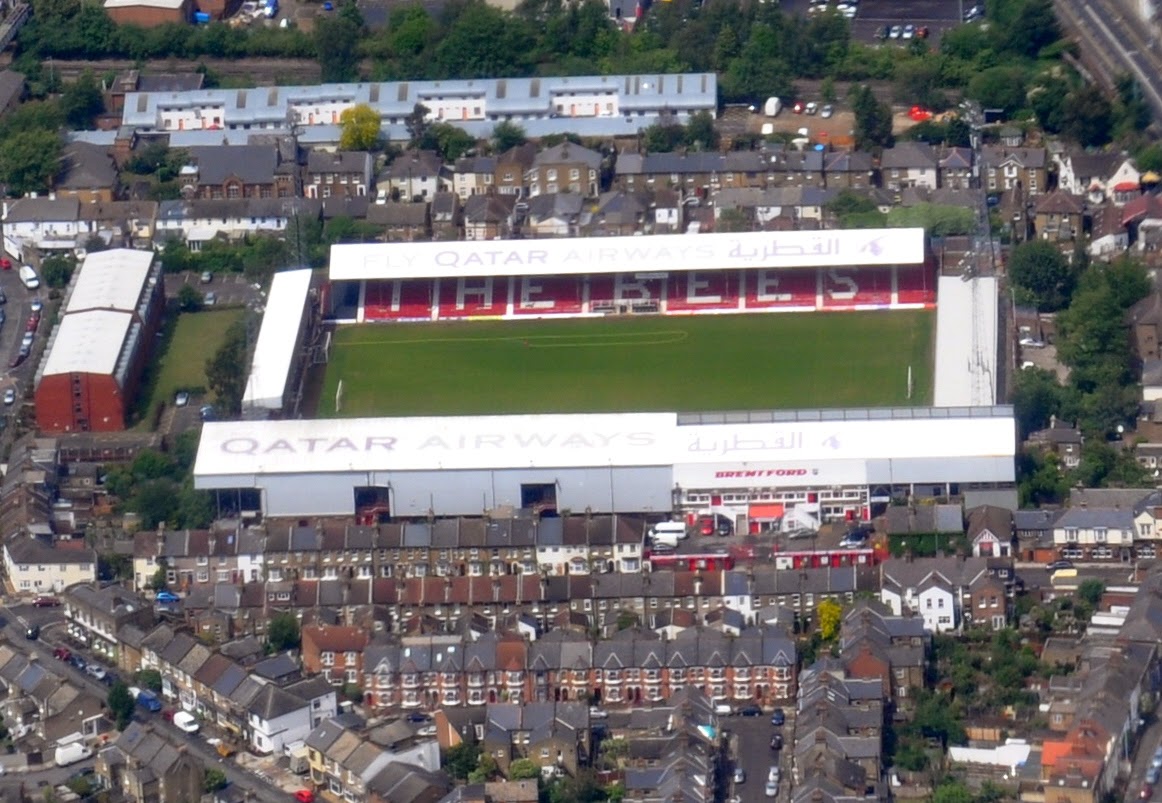 Griffin Park. Features a fair bit…..
'I Am the Gloryhunter' has its moments and is an entertaining read overall despite some holes in the story which are mainly provided by clubs he's either not with for very long andor aren't very open to him being around (Chester being a prime example). But as mentioned above, you can't really blame that on the author as he's always at the mercy of what his latest squeeze allows him to get up to. What is most satisfactory about it all though is that despite the premise of Gloryhunting and making it to the top or a cup final etc, the author never reaches the top levels of our game instead spending the whole time in the bottom 2 divisions. It also has a little Sutton United link in there too, as our former winger Andy Scott is in charge of Brentford at the time and has a brief interview segment.
My only real gripe about the book though is that all the naughty words are asterisked out. Which frankly annoys the fuck out of me. I'm an adult and it's a book about football, let's have it warts and all for crying out loud!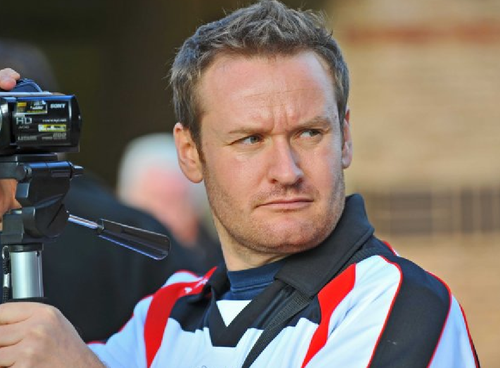 The author and his camera on a stick….
If you're looking for an amusing read that's quite close in style to the shit we do, then you'll probably enjoy this. Deep and meaningful? Maybe not, but it's a laugh and definitely worth a bit of your time.
———————————
Find out more about the author HERE on his website. Sadly, it seems none of the 'Gloryhunter' web series is online any more.