Getting the nod to knock out my first home match report for Gandermonium was a proud moment as you would expect and required some proper and professional preparation and so I went out on an all day leaving do bender in Central London on Friday and woke up Saturday morning hanging by the slenderest of threads.
I've got no excuses and so it was up and at em for the early Little League kick off up at Cheam where my daughters outfit the Hawks failed to lift the league and cup double after getting turned over in extra time as they ran out of steam. The line on the next pitch was being run by one of the chaps who inhabit the shoe box and he was carrying an air of confidence for the afternoon that I found infectious.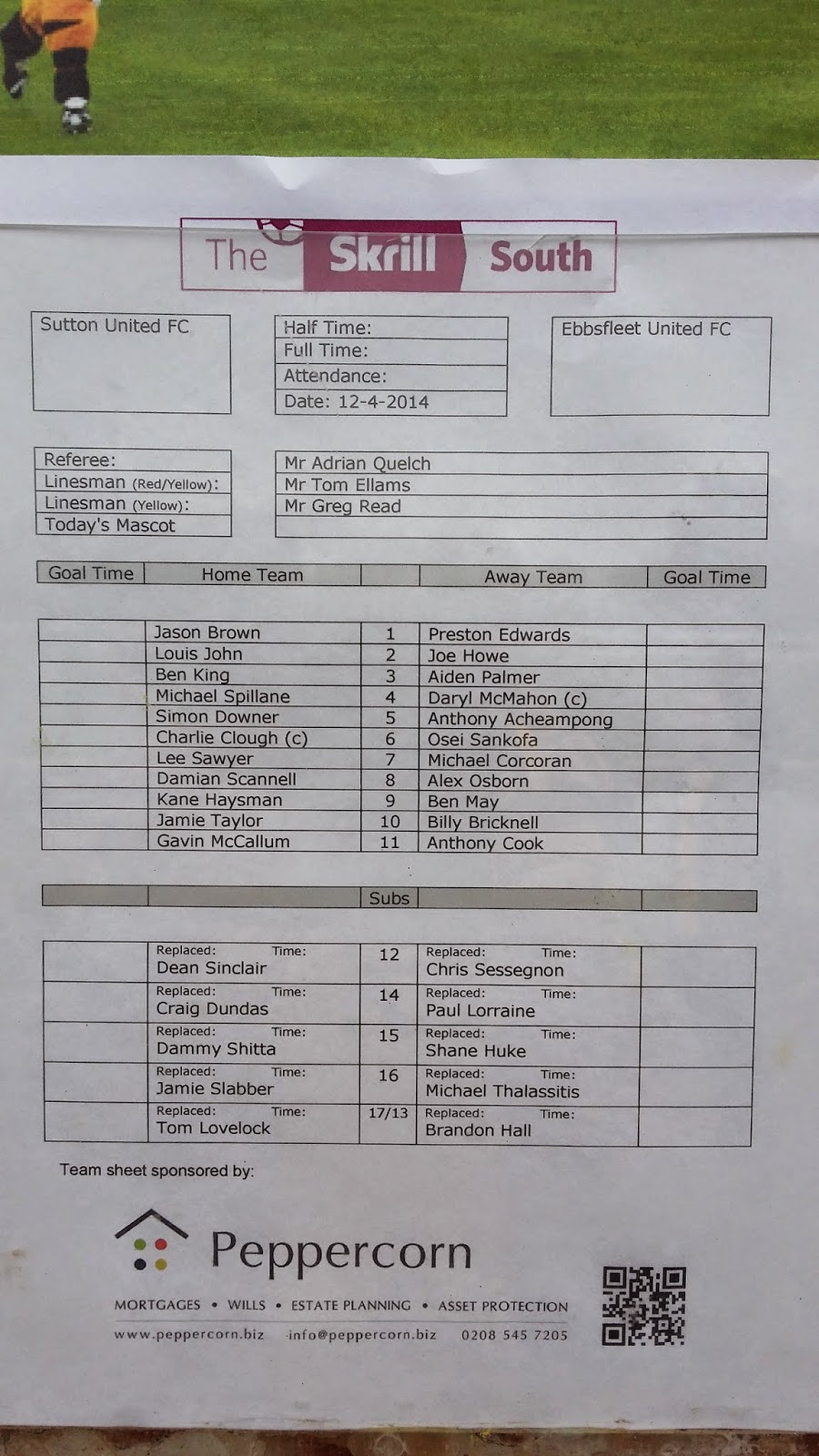 Teams!
Managed to catch a bit of the Braintree Luton first half and after doing my hair and dressing for the occasion it was off on the short stroll up the Lane with an air of expectation as fellow play off contenders Ebbsfleet rolled into town for a game with bundles at stake. The gods were clearly already in play as I piled through the turnstile to hear the Damned's punk classic New Rose blaring from the PA – for south London's undisputed king of ska punk this was an omen laden with heavy duty prophecy.
Down the tunnel and into the bar. Now, I don't drink in the club bar much these days. Nothing personal, it's just that my daughter doesn't like the smell of fat blokes on the piss but with her off shopping in town I was back in what used to be my natural habitat. Some years back there used to be a special constable who could be found sitting at the jump before, during and after the match. One day his hat got nicked and I can only say that I hope that those responsible are fucking proud of themselves.
With an eye on the Luton game I engaged with a few faces around the place. There seemed to be some confusion when one of the Gandermonium staffers arrived dressed as an estate agent . I knew there had been some talk about fancy dress for the away trip to Whitehawk but this looked like a classic case of peaking too early.
Shame there's no Red Stripe but a couple of cold lagers took the edge off the last knockings of the hangover and it was out into the sunlight for the matters in hand. The Hillsborough minutes silence was impeccably observed as you would expect.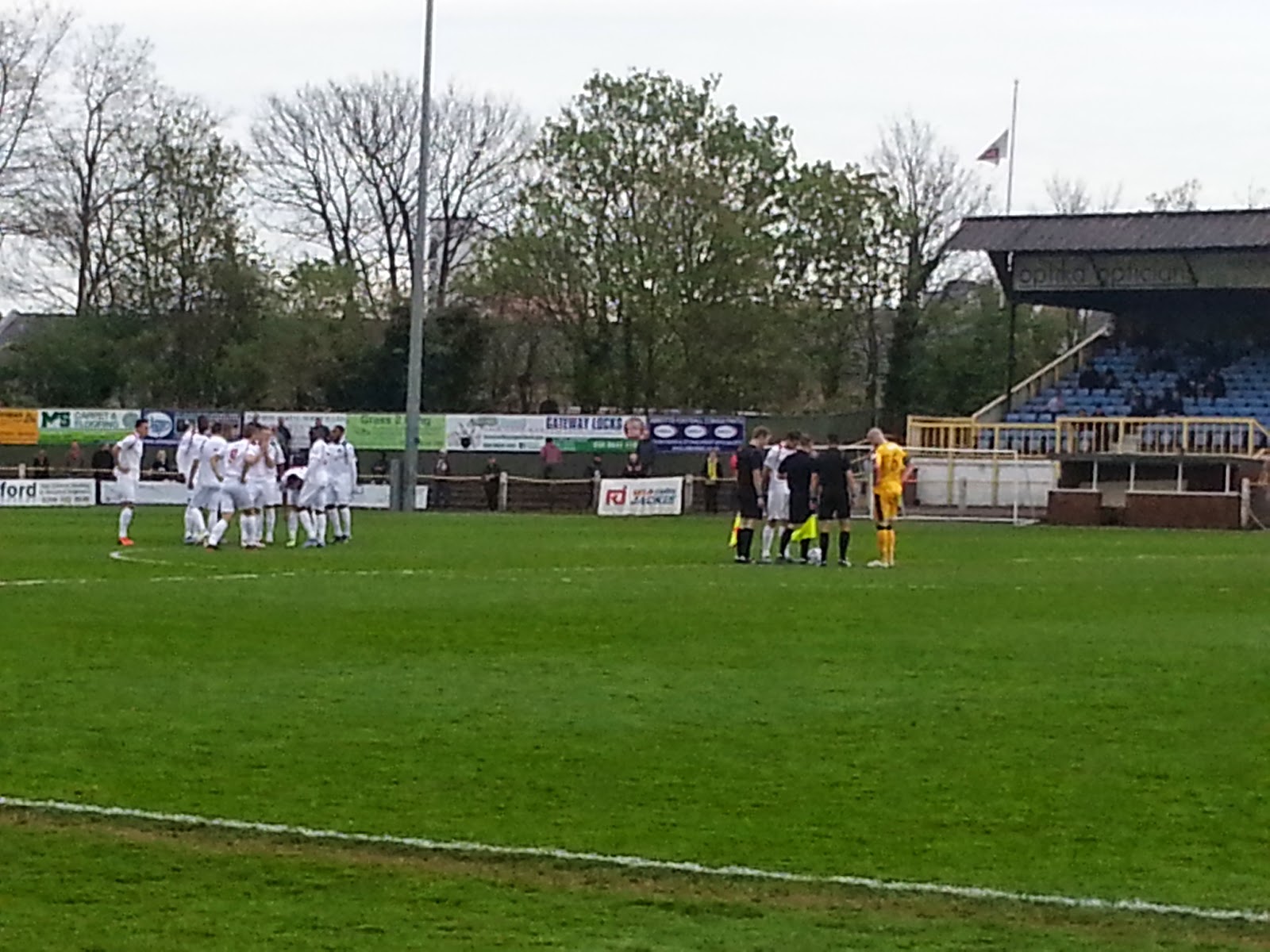 Milling about….
Our squad is battered down to its bones and a bit of shuffling around saw Dundo taking a breather and the return of Micky Spillane to the midfield. The last thing we needed today was any more injuries….
To say the first half was off the pace doesn't do it justice. We resorted to hoofing it about, losing possession and having a bout of collective amnesia as to what style of play has motored this group of players up the table. Luckily, Jason was having a blinder and made at least three blinding saves, including an extraordinary point blank, one on one that was sheer class. Thank fuck as we could easily have been buried in the first 45.
The Fleet fans chants of "you fat bastard" and "whose the wanker in the gloves" aimed at Jason Brown just made them look like fucking morons and no doubt inspired our man to ram the taunts straight back down their throats.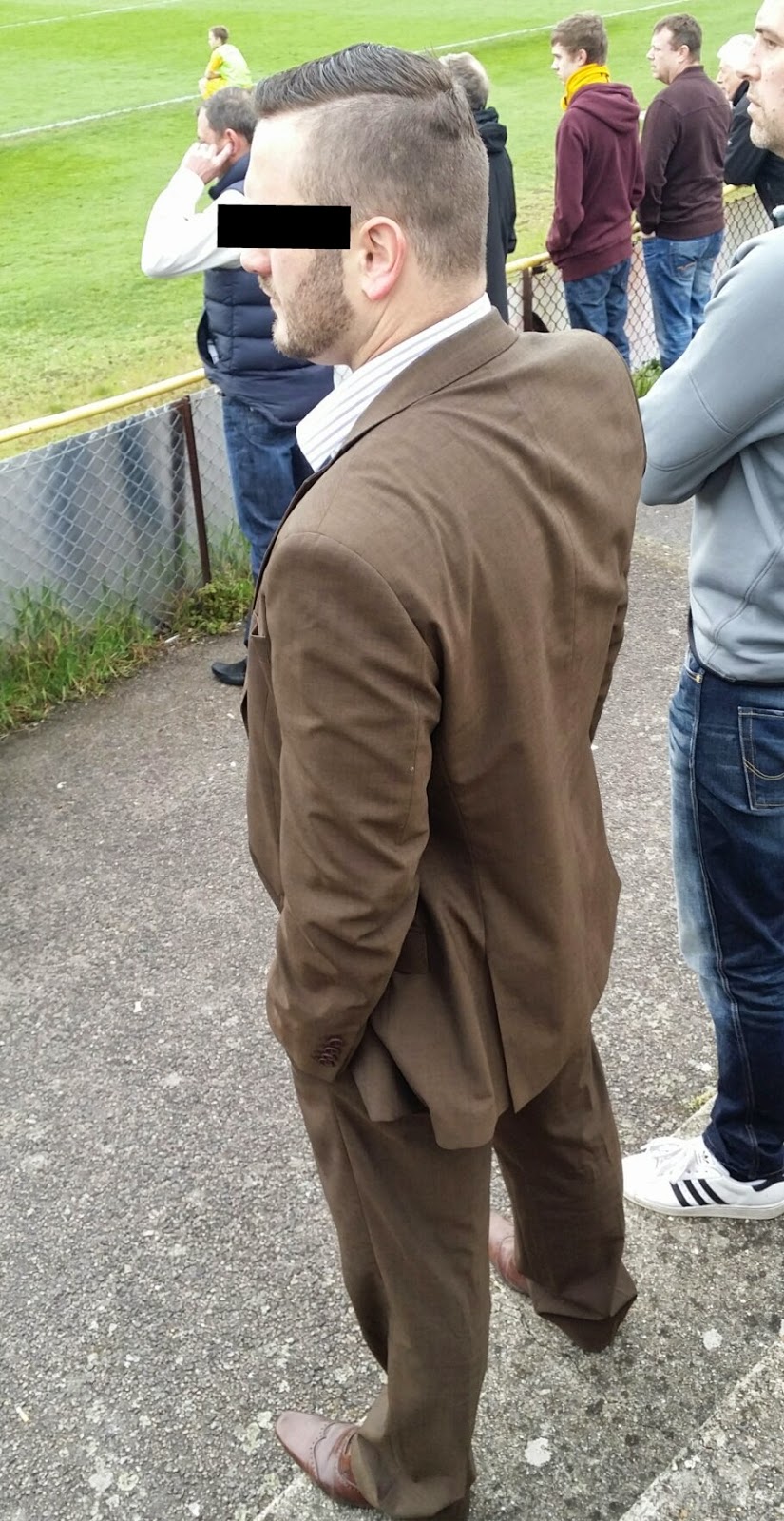 Offender's identity hidden for legal reasons….
But the most significant event in the first half was the grim sight of Cloughie limping off with what turned out to be a serious thigh injury. What a bastard of a thing. There was talk that he got done after the ball had gone but I didn't see that and I'm not one for slinging around random abuse and allegations. Dirty Fleet wanker.
Anyway Dundo came on and we shuffled again and I can only remember two significant attacks in the first half from us – one that Gav blasted over and one that Dundo dragged wide.
Aah well, still all to play for and swerving the HT bar rush it was a cup of splosh from Roses and up onto the shoe box while Teenage Rampage crackled from the tannoy. I fuckin wish mate.
Surely things would look up second half? Si Downer had now reverted to central defence with Leo at right back and off we go again. A free kick just outside our box, rammed hard and low and beating Jason low down and to his right and we are one down. Heads are shaking and breath is sucked in hard but somewhere, someone had flicked a massive switch in our lads brains and we were about to embark on a half hour of pure fucking magic.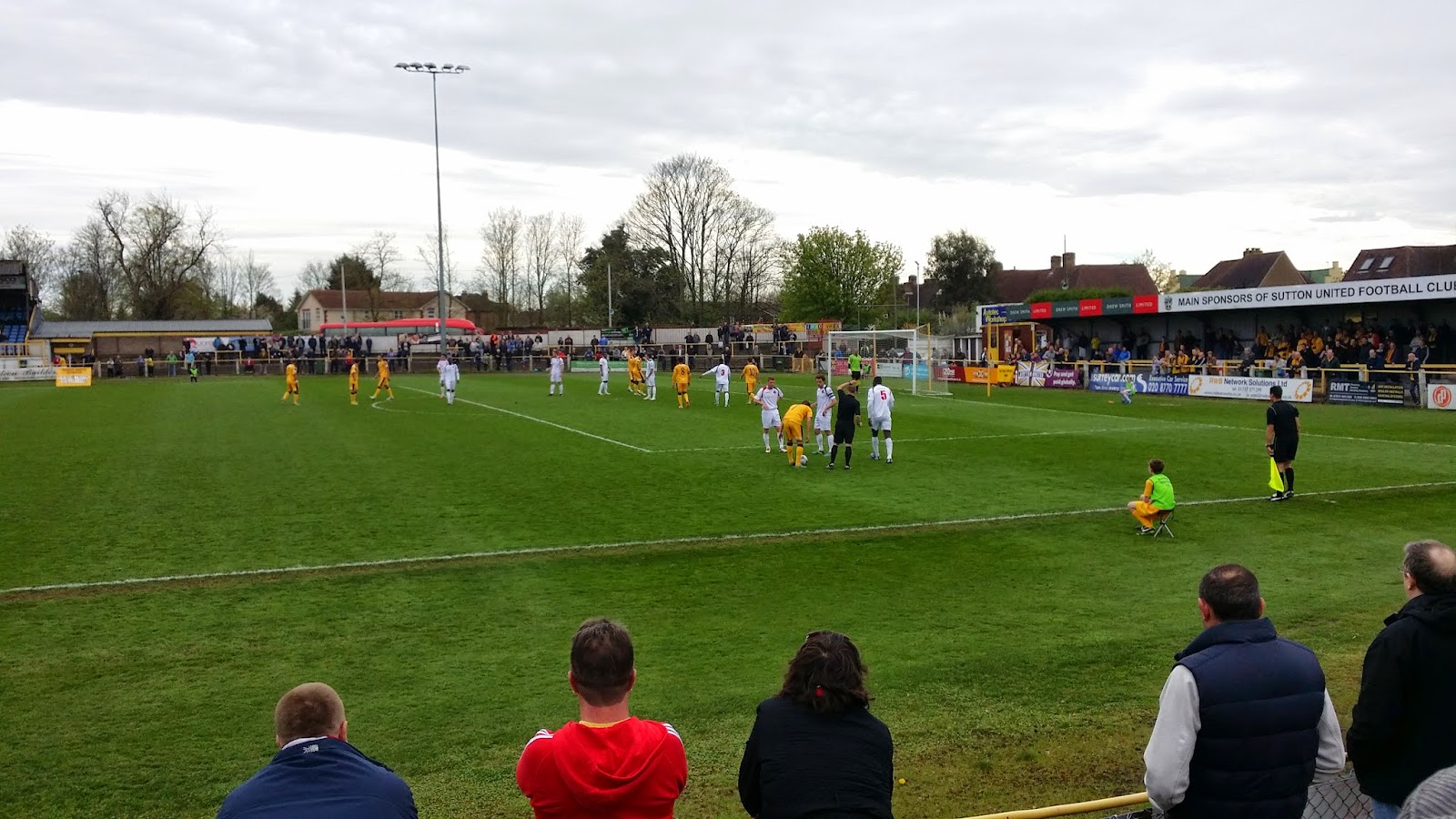 Lining up a free-kick….
Gav came off for Deano and Craig is shifted up front and I really don't think anyone could have called what happened next. First Dundo outmuscled the Fleet defence, the ball is fed out to Jamie T and he rifled home an equaliser that squeaked just inside the post. Absolute bloody magic but more to come don't worry about that.
A couple of unknown loons have by now started stripping off up on the mound terrace and are jiggling their man boobs to an undecipherable chant that went on for the rest of the game. Fair play to em, they were enjoying themselves. And so were we.
Dean Sinclair wins the ball, pings it out to Lee and a first time cross finds the unlikely target of Si downer who finishes in some style. Madness. By now Fleet have folded like a Brighton deck chair and as some of their mob start sneaking out Sutton are rampant.
The superb Kane Haysman plants one on the bar and then shortly after hits the post only for the predator Jamie T to drop to his knees and nod the ball home for his second and our third. Game over and what a recovery from our lads.
Into the bar for a couple of celebratory jars and to witness the accordion driving frenzy of the "strikers are key" draw as it hurtles towards the four grand mark with local pugilist Ricky Boylan and new club skip Damo doing the honours while AB shouts his tits off. Great stuff.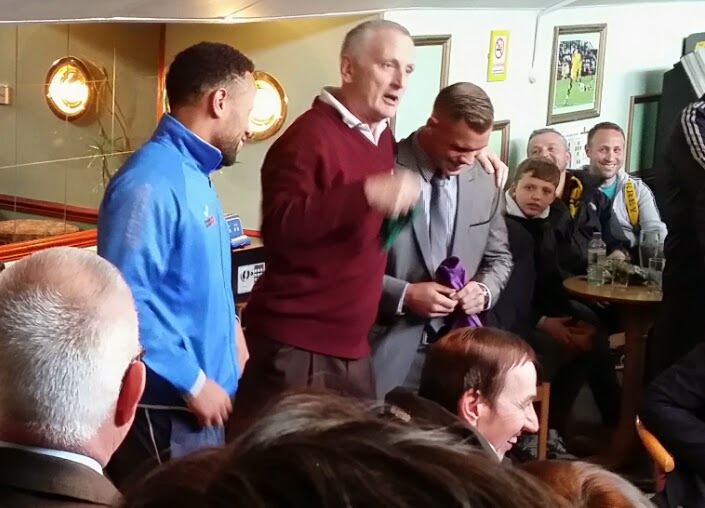 Shouting his tits off….
With Mrs Totts on a night shift I say my goodbyes and slide away, yes, we may well have lost Cloughie for the rest if the season , which is a massive blow , and we are stretched to breaking point but anyone who witnessed the last half hour today will know that this squad has the two key ingredients in bucket loads – skill and backbone. On to stortford.
Totts