M-I-C-K-E-Y M-O-U-S-E Murder Squad! Murder Squad!
Today was the day a certain dream ended. And yet another dream continues to flourish as we fast approach the end of another crackin' season under our lord Dos.
This week has the boys have really put a shift in and get six points for their troubles. Even though I'd stated before the Dorchester game that thirteen points out of fifteen were what the doctor ordered. Not quite there but nine points and still undefeated in 2014 is what we are up to now. Also after the win against Havant we now find ourselves back in the hunt with Sutton finding themselves second in the table.
In all the discussions that could be found in Taz's "I don't know who you are" blog one little tittle bit was missed. This was the fact that Saturday could go down as one of the el clasico's of the Gandermonium booze cruises. All that is required are two very special requirements for the Firm and its followers to possibly end up at one of Maidenhead's premier gentleman's establishments. The first is to see us rise to the summit of the table with a win. The second also important event is to receive word that George Borg`s Enfield Town have beaten that other team in the borough and guaranteed their relegation from the Ryman Premier.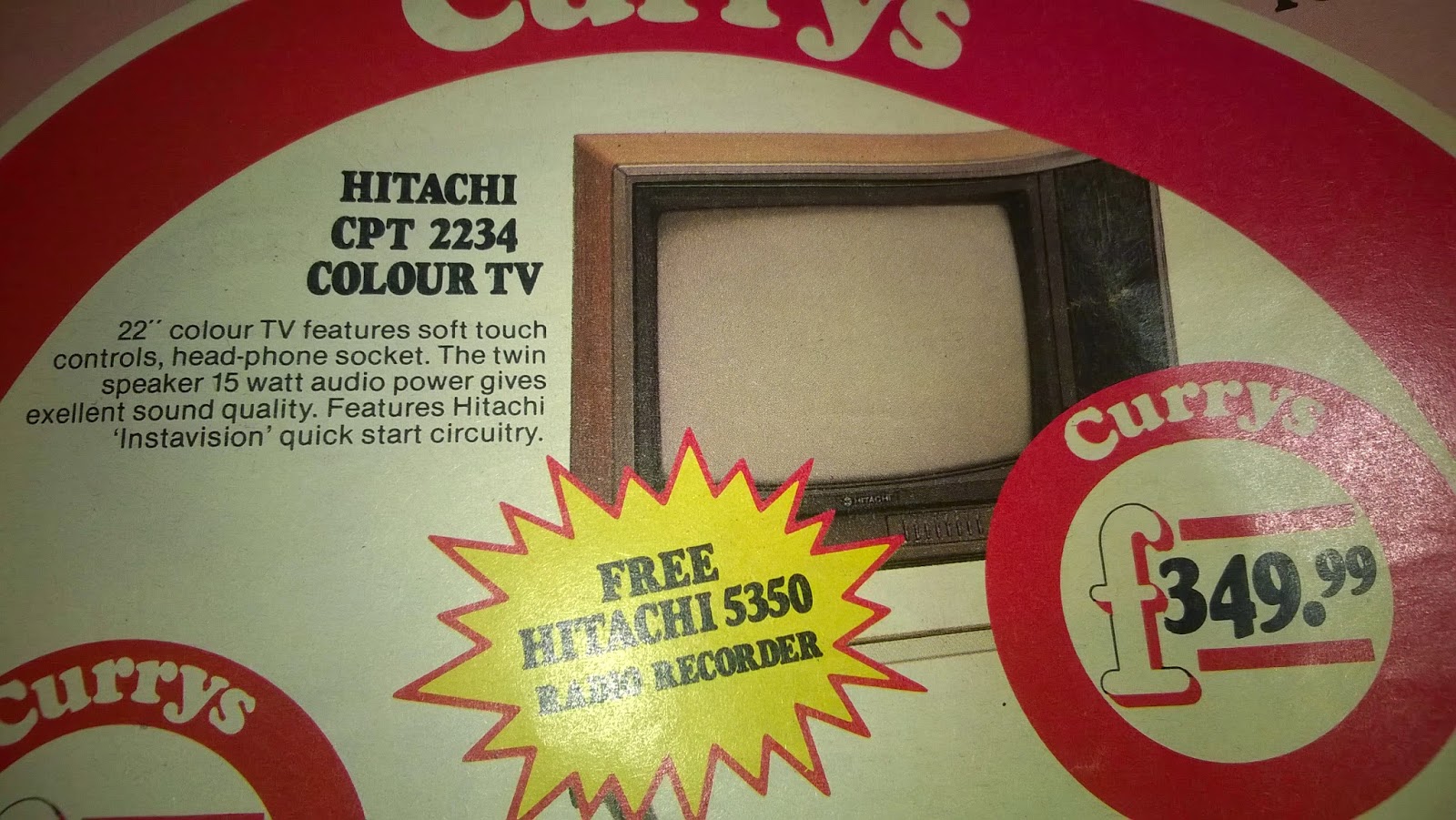 That's a bargain and no mistakin'…
After looking at the various forums of our nearest rivals for the league, I see that they still both see us as the biggest threat to their chances. Its the big game on Tuesday with Eastleigh visiting Bromley yet still the talk is still about not counting us out of anything. I'm still amazed as to why opposition fans would comment on other forums like that twit from Hayes last week, but whatever floats your boat I assume. Carrying on from the near relegation of Carshalton I made the mistake of looking at their own forum and I thought our own one was depressing! Something did make me laugh though and I thought I would share it with you and that is after they were discussing about the game against Enfield Town being a family fun day. One fella did comment that he had seen this:
"on Diaper's Twitter feed before the weekend that @Gandermonim and the Sutton FC crew laughed the twat off it"
Anyway on to the meat and gravy stuff, and onto the match at Maidenhead United (DICK count:17). They themselves are currently lying a point inside the relegation zone and have played a game more than most around them. They have recently beaten Dorchester, a feat that we were unable to do over two games. In fact if you compare our record against the bottom teams to those at the top, you can see a stark difference between them.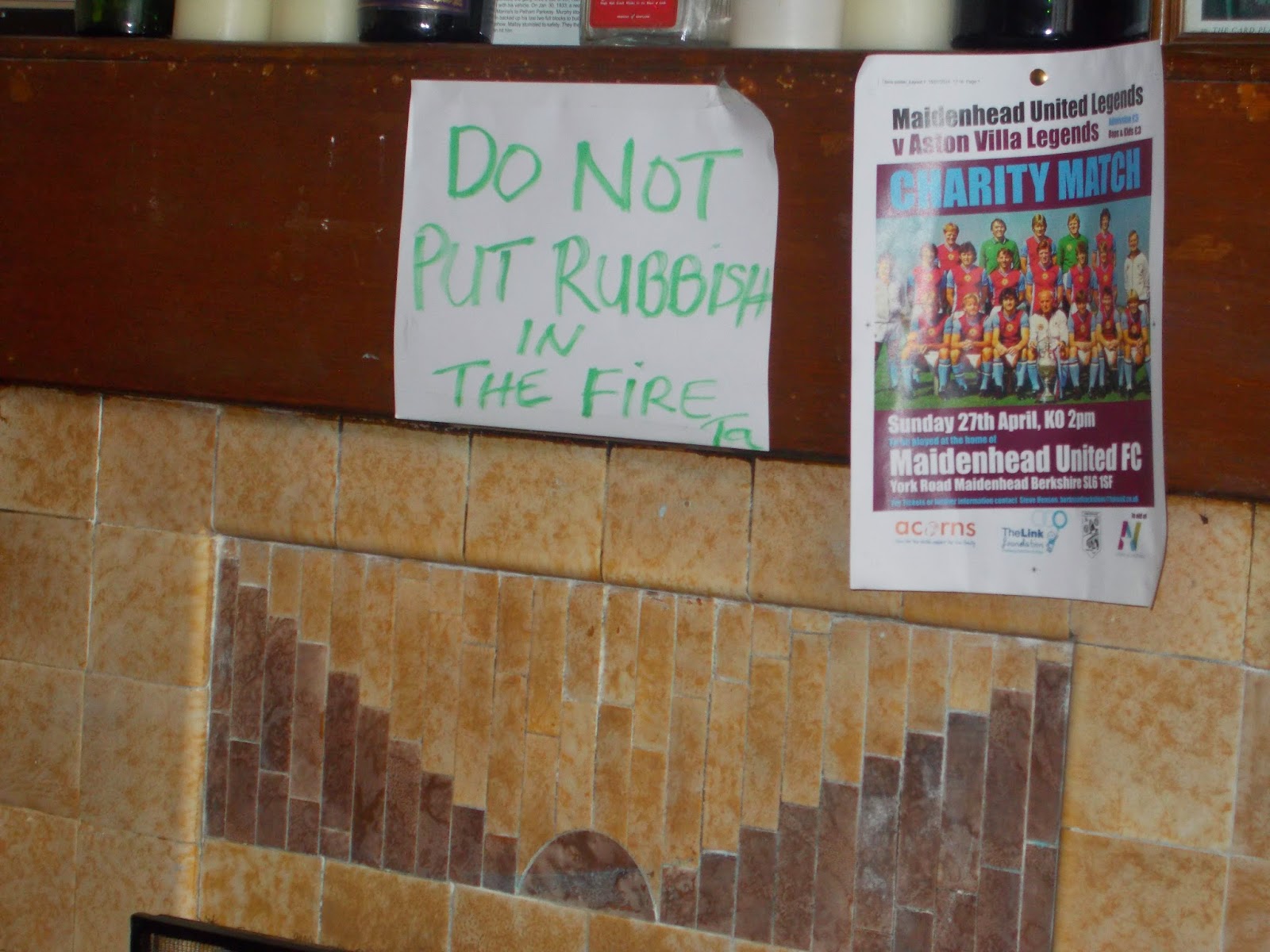 Guess Carshalton will have to find somewhere else to dispose of their team…..
After rising early and checking that I was still as sexually attractive as you all know that I am I left my house just after the half hour mark and headed towards the start of most of my journeys Carshalton station. Withdrawing a ton and picking up some smokes I contemplate making a beeline to the café for a cheeky brew.
Forgoing this I walk up to the station, purchasing a one day travel card along the way. The 0911 rolls in and we are off up town. Along my travels at work this week I've managed to acquire a genuine catalogue from 1984. You know its old because on the front it has "Curry's are electrical" displayed like a neon sign in bold typing. Some of the gear in has some of the boys close to tears as we all begin to reminisce about the good old days. I mean does anyone remember the old remotes that were on leads? Fuckin' magic!
Arriving at Farringdon we jump onto the underground for the few stops towards Paddington. There was plenty of time in this little journey for me to start to cough up at least have a lung as I tried to get over the effects of a little infection from earlier in the week. Arriving at Paddington we decided to get the tickets and some of us went for breakfast. Whilst this was happening the rest of us left were then approached by the local police force. After first trying to determine who we were he then to get the numbers of how many of us were going to the game. All this time his mate was writing down everything we were saying. I still wonder if we ever made it into an official report. There were plenty of Nigel's around the station as I believe they were getting the half past towards Wales.
Surprisingly the trip to Maidenhead is only just over half an hour and with only one stop at Slough we were there in no time. Getting off on the other platform had a couple of us confused as to where to go. Some fella in front of us took his time trying to get through the gate, the fact that the gate was open didn't sway him from trying to find his ticket. Out in the open we saw that as per usual nothing opens in Maidenhead until twelve so off to spoons we went.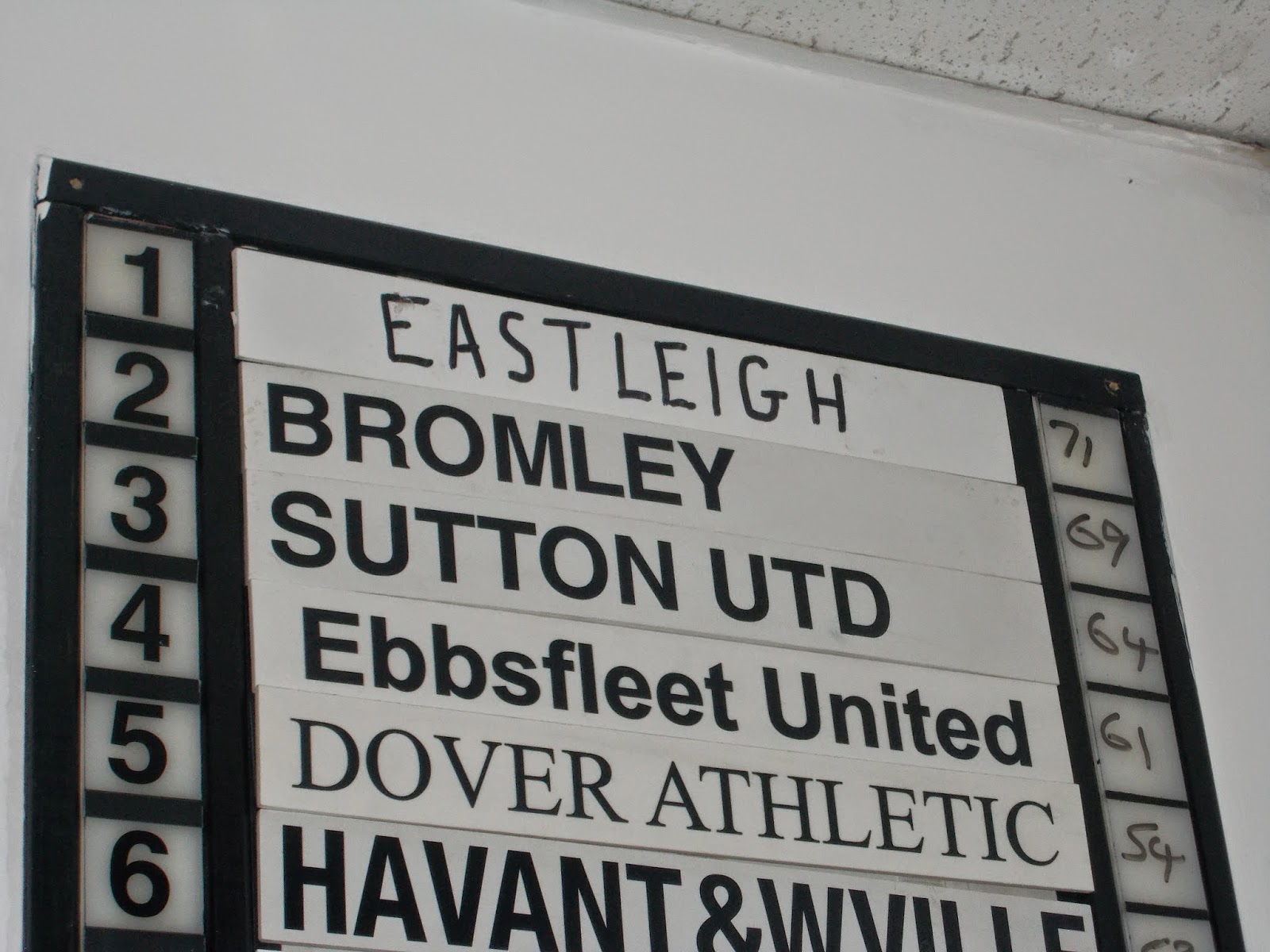 Needed updating…..
The first pub of the day was "The Bear" and to mine and Dr Bell's surprise they actual served Green Goblin. Heading upstairs the eight of us sat on the comfy seats and the bullshit that we were known for began in earnest. I'm not quite sure how we got onto the topics but in between trying to name all the world cup winning goalkeepers we also begun to name goalkeepers that have died. Strange yet that is how we roll, sometimes.
Another bottle later and we decided to move on to pastures new. I volunteer to wait behind for Wellie who had just arrived at the international headquarters of Three. The little walk was a little longer than we thought but we final arrived at next destination "The Ark". Now this boozer was very much a Irish pub and definitely looked like it done a few IRA collections in its time. The pub dog also smelt like something I would pick up in old Chicago's. So after my red berry Bulmer's we all decided to leave, not before the national anthem was played before the Davis Cup match on tv, oh the irony!
The next step on our magical mystery tour was "The Grenfell Arms" where we met another group save of Sutton supporters. With more than a dozen fans in this very middle class establishment, our attention was draw to the fact that England were on the telly. It ended up being 9-0, but I managed to miss eight of the goals. The only real topic was all about how female goalkeepers are not very good with their hands. This is surprising as women normally are very good with their hands.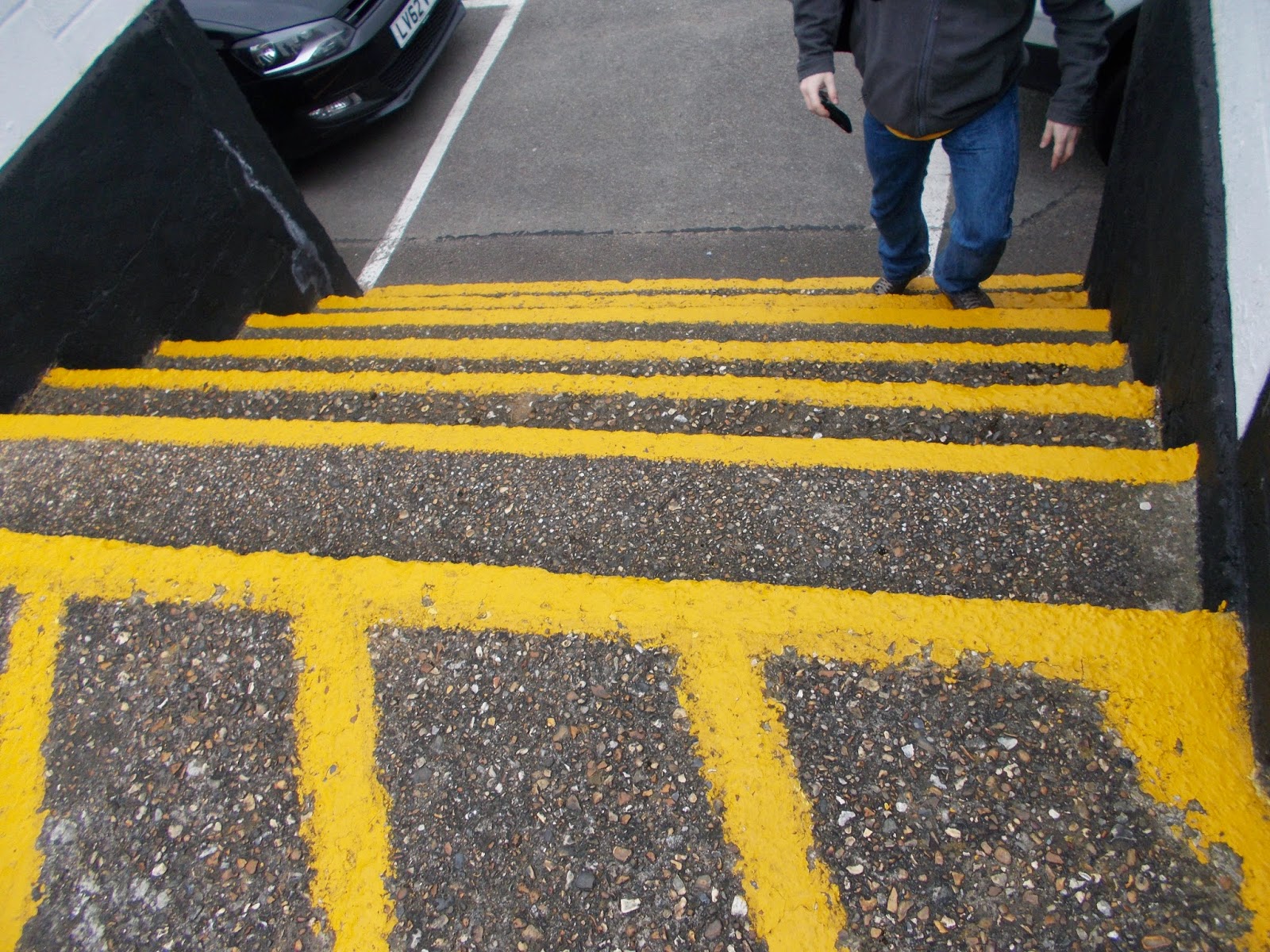 STEPS!
There was a little walk towards the club and as the time had slightly slipped away we decided to delay going to "The Anchor" until after the game. £10 to get in and a cheeky little vodka & orange was needed for my five-a-day and finally we all headed out to the pitch for this forthcoming attraction. The team that was selected for battle was:
Brown, John, King, Sawyer, Downer, Clough, Sinclair, Haysman, Dundas, Taylor, McCallum
Warming the Bench are: Scannell, Shitta, Cheklit, Lovelock
Walking over to the far end, near where some pointless chair have been installed and next to some prat with a loud radio we begun this contest. Sutton did seem to start brightly and we were quickly rewarded when less then ten minutes on the clock with one of the deftest and littlest lobs over the keeper from Taylor had the ball drop into the net. 1-0! With large spells of the half saw Sutton maintain control of the game and without some questionable tactics from the home team it really should've been 2-0 and goodnight Vienna. A strong penalty shout after some tugging against Dundo was missed by another referee lacking the nouce to impose himself on the game. Just like last week, moments before the referee blew his whistle the game was level. This time Downer was caught in possession and even though he caught up with the geezer in the box, he just simply played it across to another fella who was unmarked and he slipped the ball into the corner of the goal.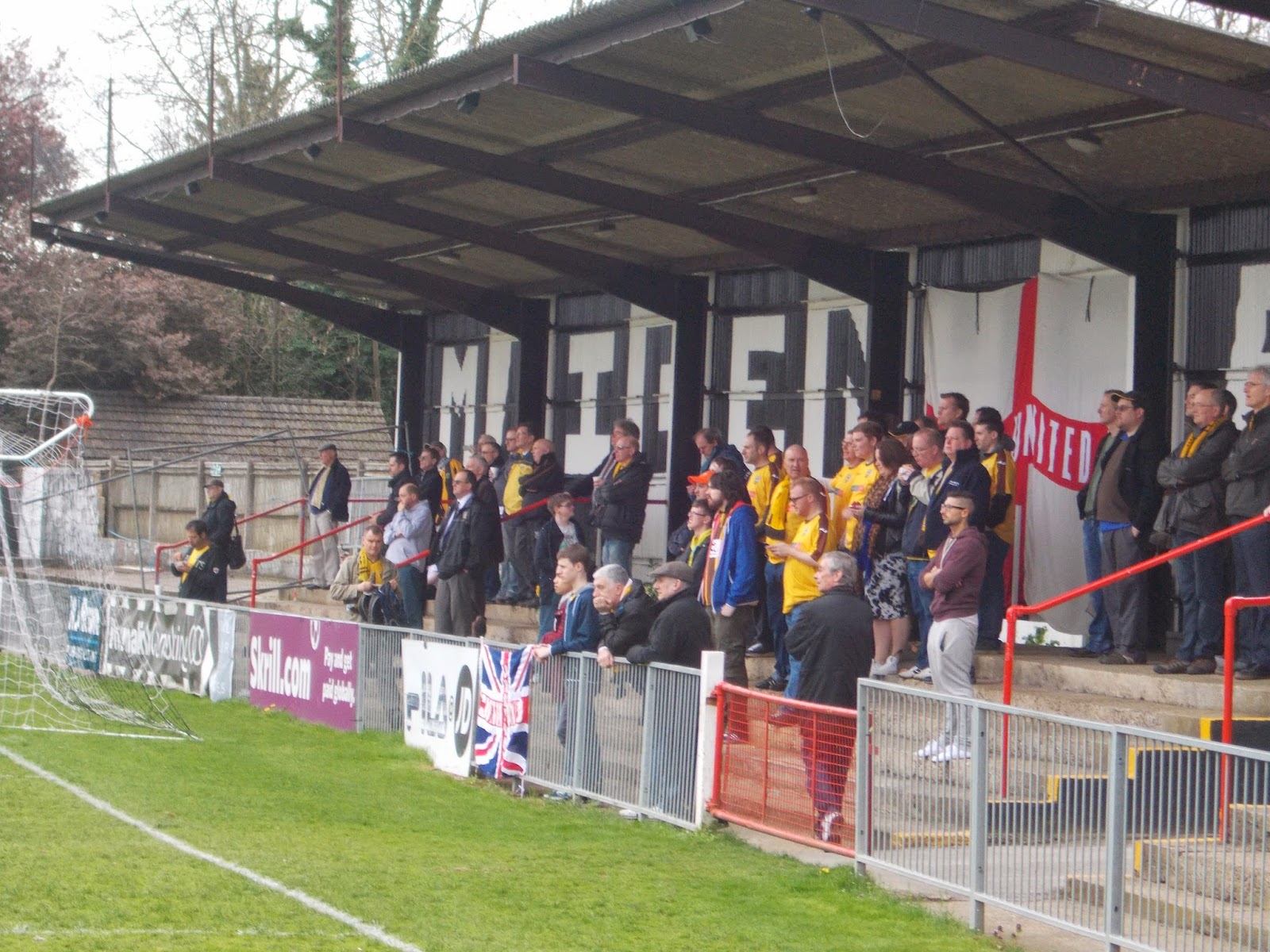 Away hoardes…..
Forgoing a cheeky half time drink, me and Dr Bell decided to get some munch from the tea hut. We both plumbed for the Maidenhead burger, £3.20 of Burger, Bacon, Cheese and Onions. added to this was copious amounts of black pepper and a glug of Piri Piri hot sauce. I will have to say it tasted not bad for a slipper and I took my place behind the goal. We were informed that Eastleigh were drawing and the Scum were losing, so this meant the Honeypot was still on for the Firm.
The second half took a bit of time to get going with both teams not putting their feet on the ball. Around this time a number of unknown faces appeared next to us. They were clearly unknown when several seconds later, after a cigar had been passed around, a scream of "Come on Maidenhead" , emitted from the group. Wrong end fuckin' supporters were here! Taz did tweet this and after a reply from the loyal group of the GMOSC boys, he was informed that these fellas were Reading fans and they called themselves the MMS. Apparently it was short for 'Maidenhead Murder Squad' or as GMOSC put it 'Mickey Mouse Squad'.
Our attention was back on the game when after some quick feet the ball fell to Taylor who's deflected shot was turned into the net. 2-1! Our joy was not to last long as after Scannell had replaced Haysman, Maidenhead were level with a controversial goal. From when I was standing I couldn't tell what was happening but it did appear that the fella was offside and still he slid the ball across for a simple tap in. Cheklit was brought on for Sinclair to give us more attacking options. We also brought Charlie forward in an attempt to win the game and yet this was to our downfall. A short corner was not picked up and Green had plenty of time to smash the ball into the back of the net.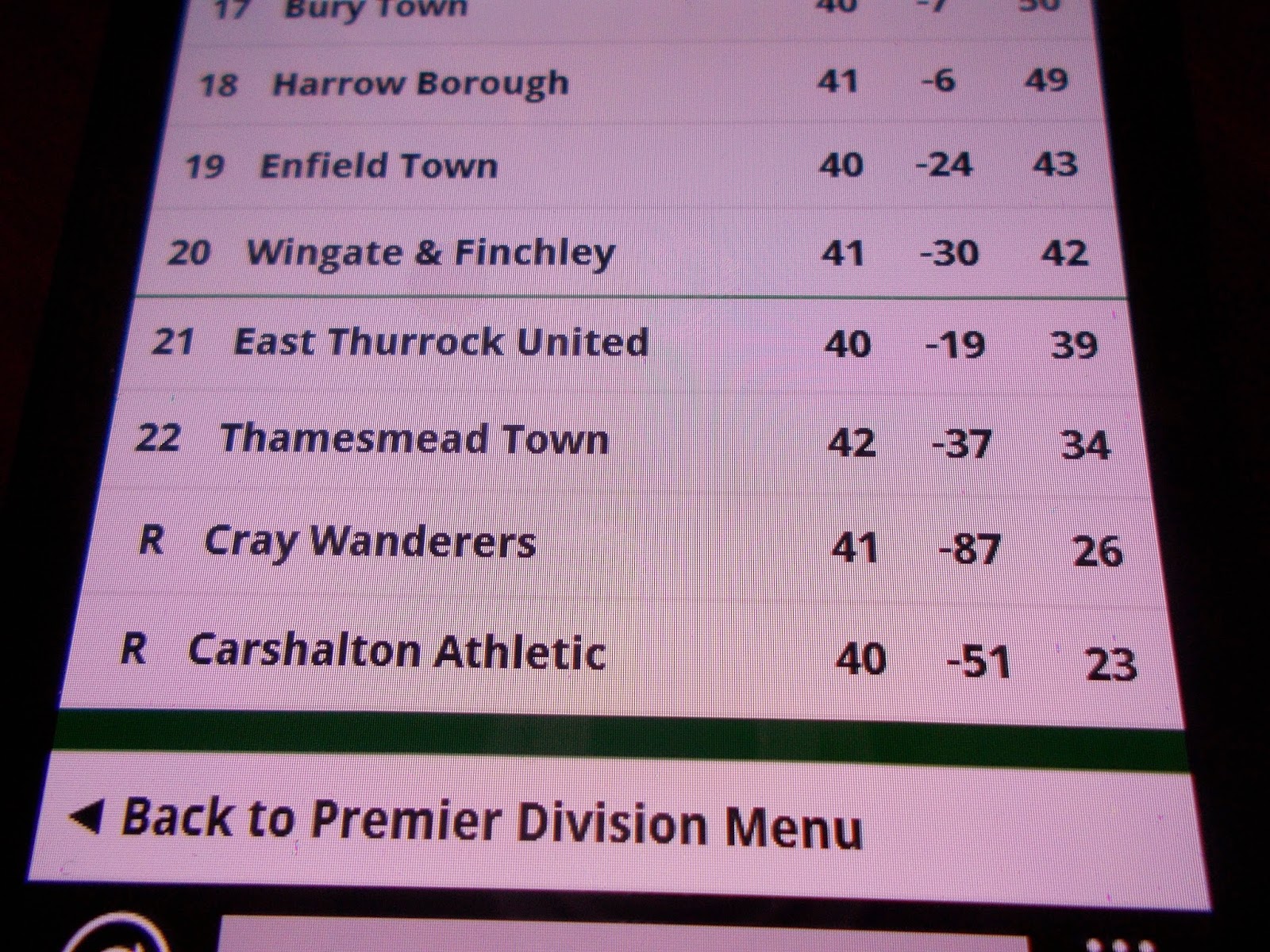 If Carlsberg did league tables…..
With no time left on the clock our faint title challenge was over, coupled with the antics of the Reading fans next to us, our disappointment was clearly seen throughout the terrace. After the game the feeling of disappointment was shown on all our faces. We decided to leave Maidenhead with our tails between our legs. Of course we needed to stop off at the other Weatherspoons for a cheeky one first. Even me trying to tell Mr X about the Chorley score didn't cheer him up much. Someone also managed to lose their Indiana Jones hat, I wonder who that could be?
Inside the spoons we drowned our sorrows and tried to cheer ourselves with looking at the Ryman league tables that confirmed that the Scum had been relegated. It was outside having a smoke that Mr X came up with the idea that for a little variation we would do the sort of same idea we had for the Havant away game this season. And that was to stop off at every single tube station from Paddington to Victoria. So much for the Honeypot experience, maybe another year.
Getting some beers for the half hour train journey we headed to the station platform. It was here that once again we saw the Micky Mouse Squad across the platform. Being loyal Maidenhead fans they were clearly going back home to Reading. It also does appear that the rumours were true and that one of that party was indeed wearing a set of genuine crocodile boots! What a wingnut!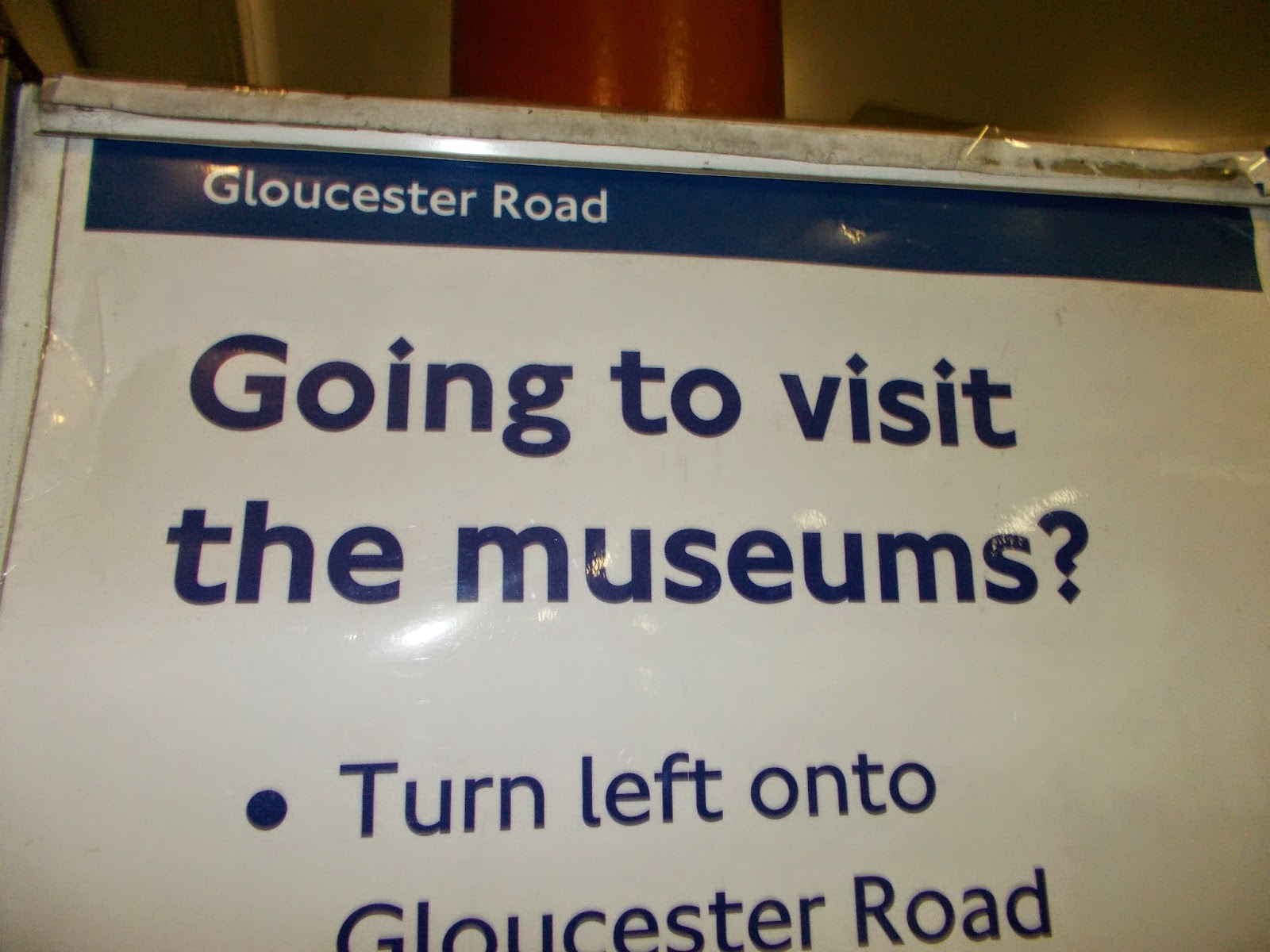 Not unless it has a bar…..
Our first stop on the underground drink-athon was Bayswater where the Bayswater Arms came a calling. Not much happens around these times, either that or I just can't remember anything. Notting Hill and High Street Kensington followed with drinks at "The Old Swan" and "The Britannia". Around this point we lost the CEO of CES and before the last stop and Totts decided to call it a night and head back South. I think it was all that talk of the old days that sent him home with a tear in his eye. It wasn't the £250 microwave from 1984 that I tried to convince him to buy.
Our final stop was Sloane Square were after being left behind me and Mr X ended up is some swanky mews that just screamed money at you. God, how the other half live sometimes! Finally catching with those that left, we found "The Fox & Hounds". Apparently Taz had been in a similar pub before, and for a little place it definitely was a bit of us. As per usual it was here when we met a couple of fellas that go down to the Boom Boom every once in a while. It was after this that we decided to head back to Victoria.
The end of the night was near so after making an executive decision I decided to relieve myself in the spoons toilet. After looking from the balcony I saw that everyone had disappeared, so what was I to do? Get another beer of course! A quick bottle of fuckin' expensive Coruna later and I was on the train home. I won't get into the argument I had with Burger King over them not doing any gravy, but lets just say I lost. Well that will do for now as I've other pressing matters to attend to. See you all at Ebbsfleet!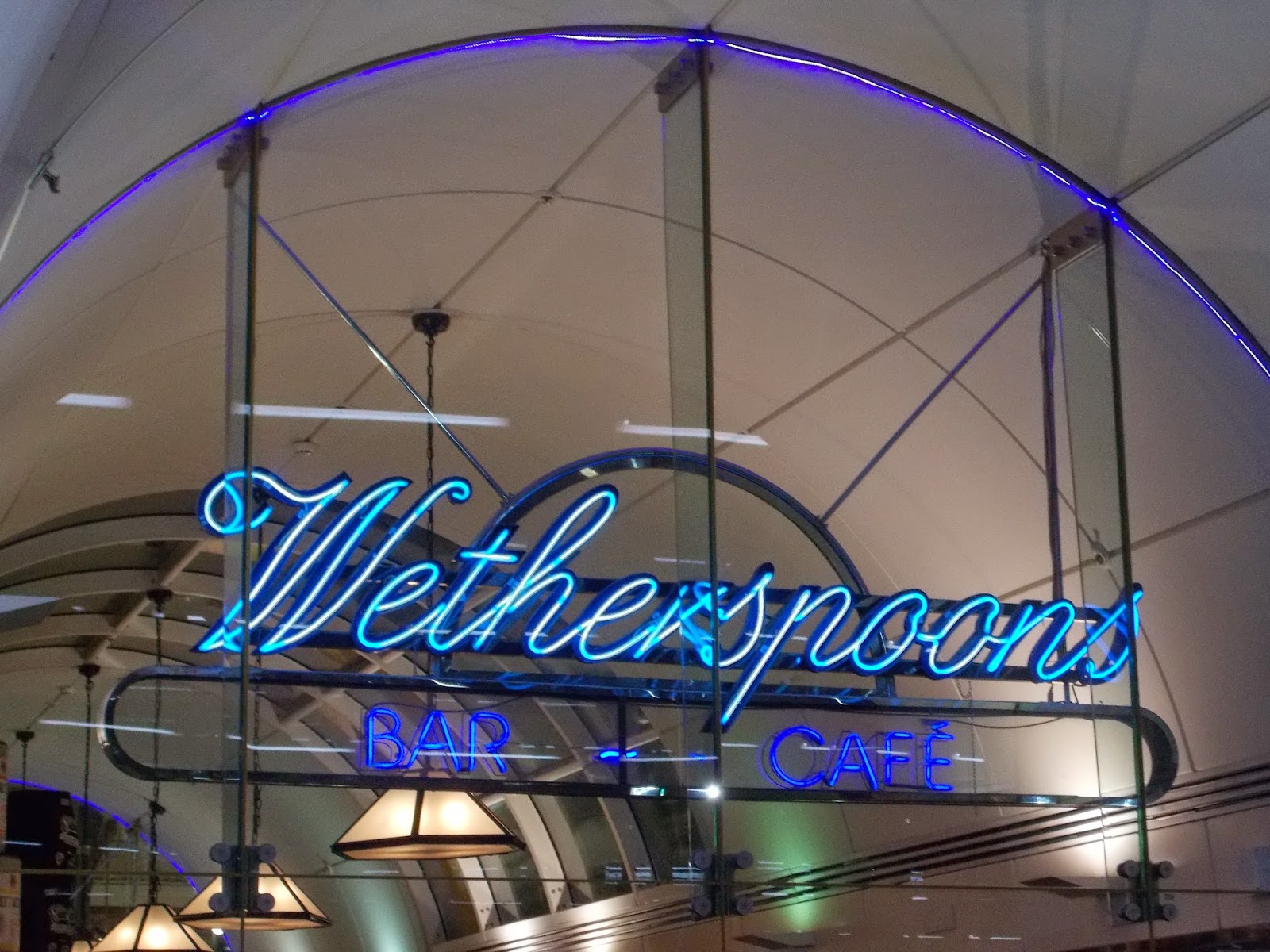 Us? In a pub? With our reputation?
Duke
Att. 356