Here we go ladies & gents. We're finally coming out of the last bend and we can see the finish line off in the distance, down the end of the final straight of season 20132014. And what a bend it's been, with three home games inside 6 days and a visit to Maidenhead still to come making 4 matches in a 7 day week. And to think those Premier League ponces cry about having to endure half that. Some people need to open a nice can of 'Man the fuck up' methinks.
With the fixtures coming thick and fast, I'm back in the chair for this Thursday night clash to give Dukey a break so he's fresh for bringing you the drunken stupidity of saturday. See, Dos isn't the only one who has to rotate his squad! We were going to use Totts off the bench for the Wood game, but Juan declared himself fit late on. No matter, his Ska Punkness will get a guaranteed run out between now and Whitehawk.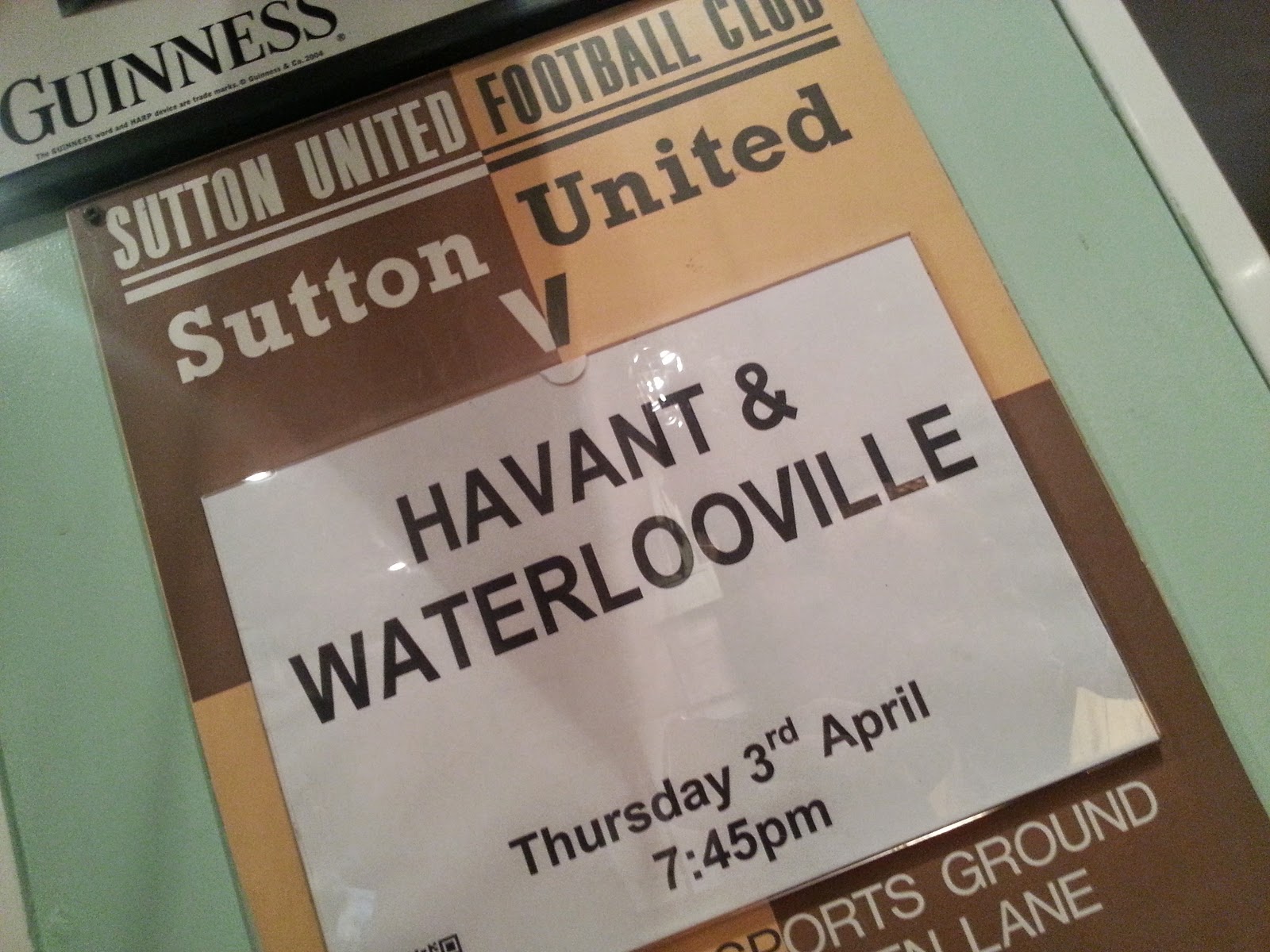 Insert obvious joke here about playing two sides at once…
Tonight's oppo have had plenty of catching up to do what with the mildly damp winter we've had to endure and a run to the semi finals of the Trophy where they got dumped out by near neighbours Gosport over the two legs. Which was doubly disappointing for them as they (allegedly) definitely hadn't already booked their hotels etc for Wembley oh no. Because that would be tinpot. Wouldn't it Mr Brock?
They've largely caught up now, but have found the going tough with 4 wins and 3 defeats in their last 8 outings. With such a tight schedule and so many games being played and our own lot looking a little jaded over the past couple of weeks, I half expected to watch 22 blokes stroll about tonight, occasionally stopping to have a bit of a wheeze and a cough before requesting some oxygen and biblical amounts of deep heat.
Having tipped out of work dead on half five and done a Superman style quick change in the disabled bogs on our floor, I double timed it down to Blackfriars and a train to Tulse Hill. Where for a change, I didn't bump into ex-U Lewis Gonsalves. Unlike on Tuesday! I'm guessing Dulwich weren't playing or training tonight then? Either that or he was hiding. Then a quick choo choo to DippyLaLaLand and I exit the station to find Dukey lurking with intent. Intent to ponce a fucking lift no less. He gives me some old bollocks about car pooling, helping the environment and cutting his carbon footprint, but I know it's basically so he could have a couple of cheeky pints.
Car parked at GGL, we hit the bar and it's a Cider for him and a shandy for me.
Here we natter about the usual bullshit, including if Enfield win tonight they can send the Scummers down with a win on Saturday, rumours about clubs booking Wembley hotels before they needed them and other such titbits. Then a Scottish sounding gentleman nearby politely enquires as to the cost of a home shirt. Naturally, we help him out and we carry on talking shite. After a while, we get chatting to him again and we get one of those nice 'odd neutral' stories. Turns out he's from Livingstone and supports Motherwell. And the reason he's here tonight is that he somehow got challenged to go and visit as many sides as he can that either share colours with his beloved 'Well or have some sort of connection to a popular striker of theirs by the name of John Sutton.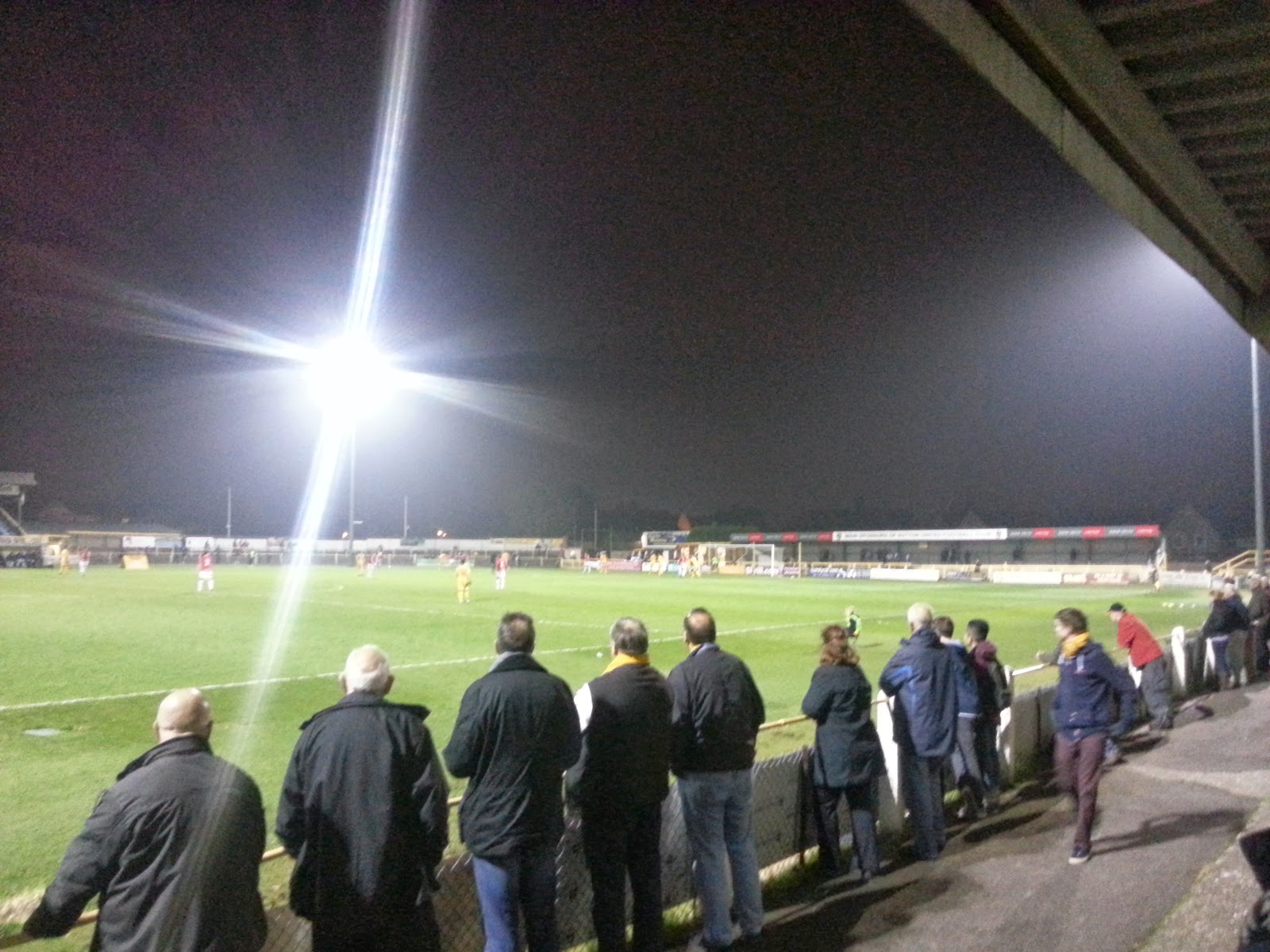 Another seething mass of humanity at GGL
He'd rocked up at GGL feeling quite pleased with himself thinking he'd nailed a double banker. Sadly, we had to inform him that our kit involved chocolate and not claret like he'd hoped. Although we at least passed muster on the Amber front and of course had the 'Sutton' bit down to a tee. Nick the Taff then pipes up with the question undoubtedly on all of our minds about this little endeavour of his.
"Just how pissed were you when you agreed to this?"
He shrugs. "On a scale of one to ten? About fifteen"
Played sir. Played. The state at which ALL the best brilliantly stupid ideas are formed. Naturally, we then try helping him out by naming other clubs that we know who wear Amber. Banstead and Merstham don't quite tickle his fancy, but Three Bridges definitely gets his attention as it sounds 'exotic'. We refrain from telling him there's no bridges there that we're aware of, let alone 3. Or that it's not remotely exotic.
This is all getting a bit weird. I'm off outside! Which brings us to the key moment of our report. The question everyone wants answering "Any chance of stopping talking shite and telling us who's fucking playing Taz?".
So be it….
Line Up: Brown, John, King, Spillane, Spetch, Clough, Scannell, Haysman, Dundas, Taylor, McCallum
Subs: Sinclair, Shitta, Downer, Sawyer, Lovelock
As per normal, we end up shooting towards the open Rec end and not for the first time this season, before we've even got round to the far side we've caught our oppo cold and find ourselves a goal up. MacCallum causes problems and clips a ball in over the top for Taylor. He takes a touch, steadies himself and slides the ball across the 6 yard box for Kane Haysman to fire us ahead. Thankfully, Mr X's shout of "Go on Gav!" alerts me to this opportunity as I walk into the dead zone behind the disabled shelter and I just manage to dart round in time to see the resulting goal.
From here on in, we have an ok few more minutes before we get slowly pushed back by a lively looking Havant side. The tiny Kabba and not-so-tiny Oli are asking questions of our defence and they start winning what turns out to be the first of many many many corners over the course of the evening. Despite the pressure, the game to's and fro's a bit but without really producing any serious chances. Then with not long until half time, some trickery from Gav puts him into the box. His low blast across the face of goal evading Scannel on the far side by a gnats cock. We're left rueing the miss a couple of minutes later when corner number 167 for the visitors brings them level.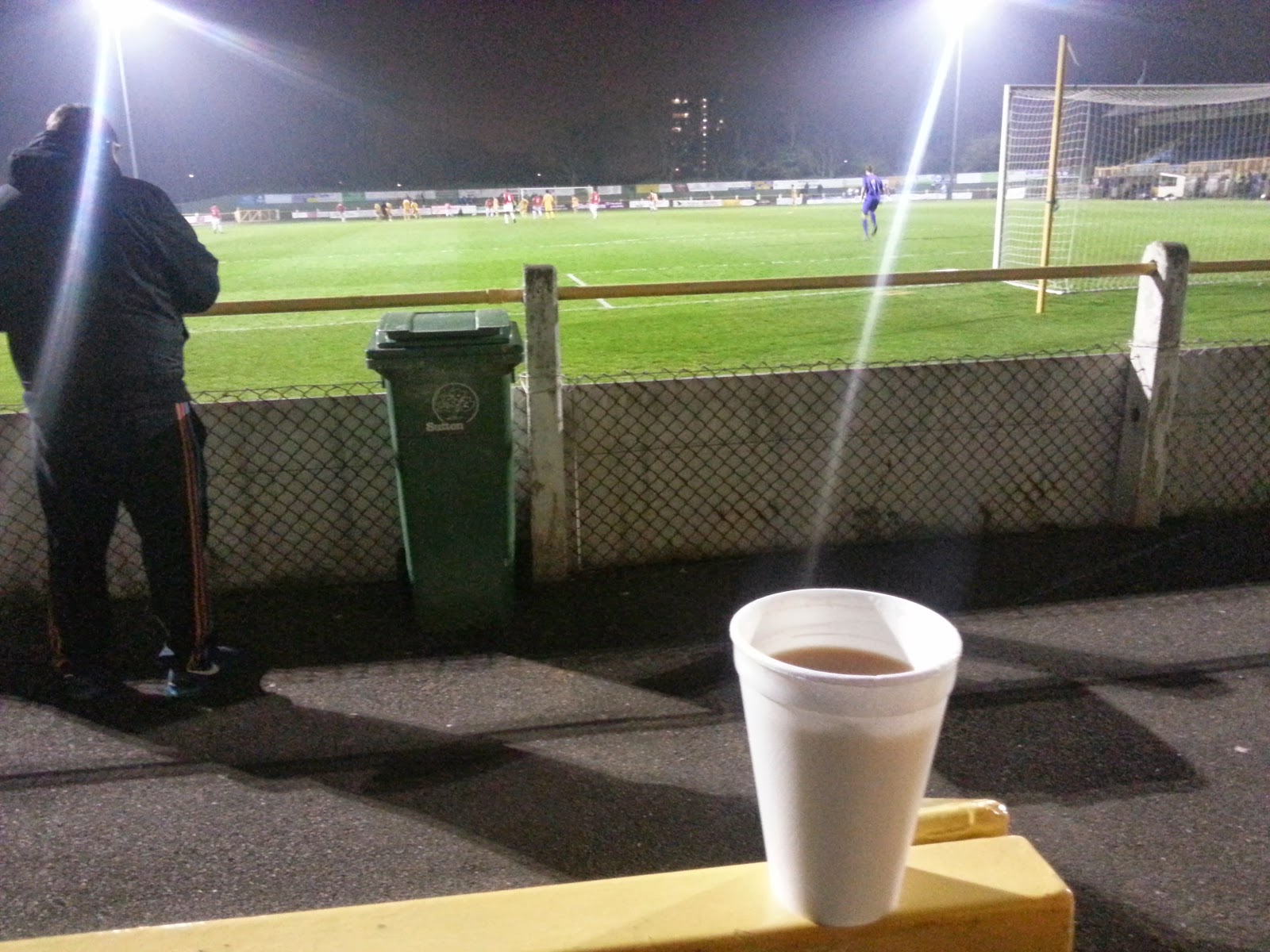 Tea. We love tea. Not as much as beer, but we still love it. And chips.
It's swung in from our left and perfectly picks out a towering figure at the back post and his header is powered into the top far corner. Unfortunately, that towering figure is Mickey Spillane who's wearing a Sutton shirt and that top far corner he's just buried his header into is OUR top far corner. Cock it.
So we trudge off level at the break and yours truly heads for Roses and an important meeting with a cuppa and a steak pie. During it's consumption, Greek enquires as to what obscene garden ornaments Mr X and I are planning to buy for his new abode. I decline to answer on the grounds that I may incriminate myself.
The second half sees the useful Oli withdrawn for the visitors, but it does little to disrupt their attempts to claim all 3 points in their chase for a play off spot and seemingly a new world record for the number of corners won in a single football match. Their first of the half is weakly cleared and is returned with interest in a wickedly dipping drive from 25 yards that spanks the angle of bar & post with Brown looking on no doubt thinking "Oh dear, not much I can do about that one". We're looking a little tired to be honest and our attempts at clearing our lines are largely falling to people in red shirts meaning the ball just keeps on coming back at us, invariably leading to yet another fucking corner. From another of which, we almost nut in a second for them, but this time Jase is alert to the danger and smothers it on the line.
It's not totally one way traffic though. We've managing the odd threatening burst forward and just before the hour mark Jamie Taylor does superbly to hold off his man in the box but fires a presentable chance over the bar from the angle about 8 yards out. He's clearly not pleased with this as a minute or two later, he's ghosted between 2 defenders at the near post to plant a firm header into the bottom near corner from a delightful Scannell cross. Boom! This pleases us greatly. Mainly as we're winning again, but also because a few of the visitors have been, how shall we say, diving about and squealing like fannies?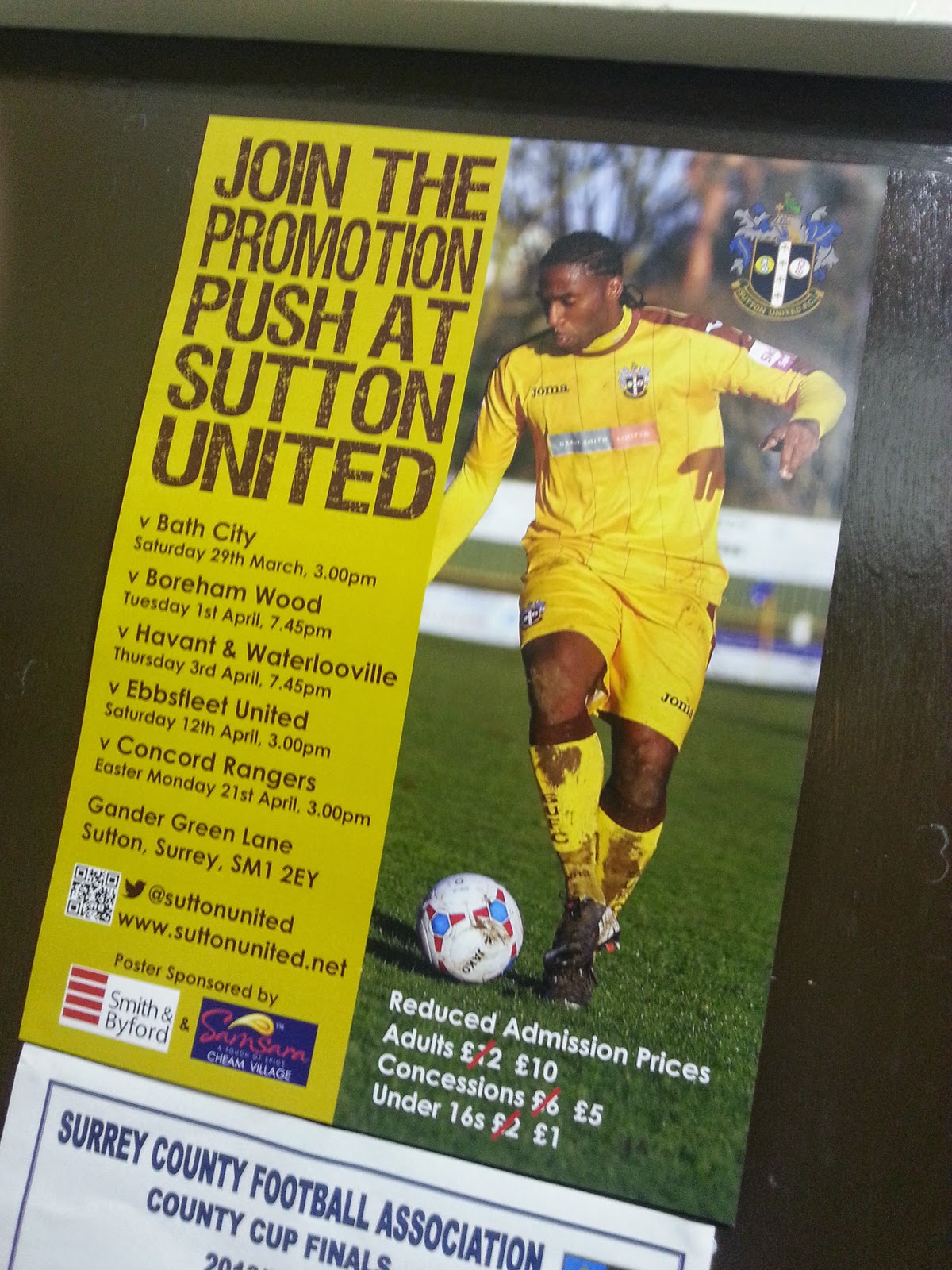 Uh oh. Getting serious…..
With a lead to defend we naturally find the last 30 minutes quite nerve racking. Mainly as our clearances still have all the legs of a double amputee marathon runner and the visitors keep on racking up the corners. All of which are delivered with a rather annoyingly decent degree of accuracy. Thankfully though the lads stand strong and once more led by El Capitano Cloughie, manage to preserve our lead.
As the minutes tick by, Havant commit more men to the attack and we start to find more space in their half. Dundo gets lumped up top to add some muscle as Taylor departs for Sinclair. And as usual, the big D man brings his Jamaican influence to proceedings by chilling everyone the fuck out with a killer third goal.
MacCallum again torments the visitors defence with some shimmies, stepovers and stud drags of the ball about 20 yards out before stabbing a little ball into space. Dundo takes his touch and makes no mistake, firing past the keeper before setting off to dust that ol' sleeve down in celebration. Dundo got ya.
We see out the last few without too many scares, although not without another 37 corners added to the Hawks tally before the final whistle.
With Roses all tided away, it's back to the bar for a celebratory shandy and a look at the scores on the flat objects used to close the entrance of something such as a room. Here we're delighted to find Enfield have indeed won tonight meaning that another victory on saturday over our delightful neighbours should have the fat lady not so much singing, but in the green room post-performance stuffing her face on the buffet. We also have a bit of a stare at the Skrill South table, shaking our heads at the 4 points we dropped at Dorch & Hayes. Mainly as winning one of those would currently see us top the table, albeit on GD from the Beasts who have 2 in hand on us.
Bollocks. Just as we'd all come to terms with our outside title hopes having ended, these useless bastards have once more given us hope by not pissing off into the distance and putting it to bed yet. Fuck it, I guess we'll have to have another go at it then eh lads?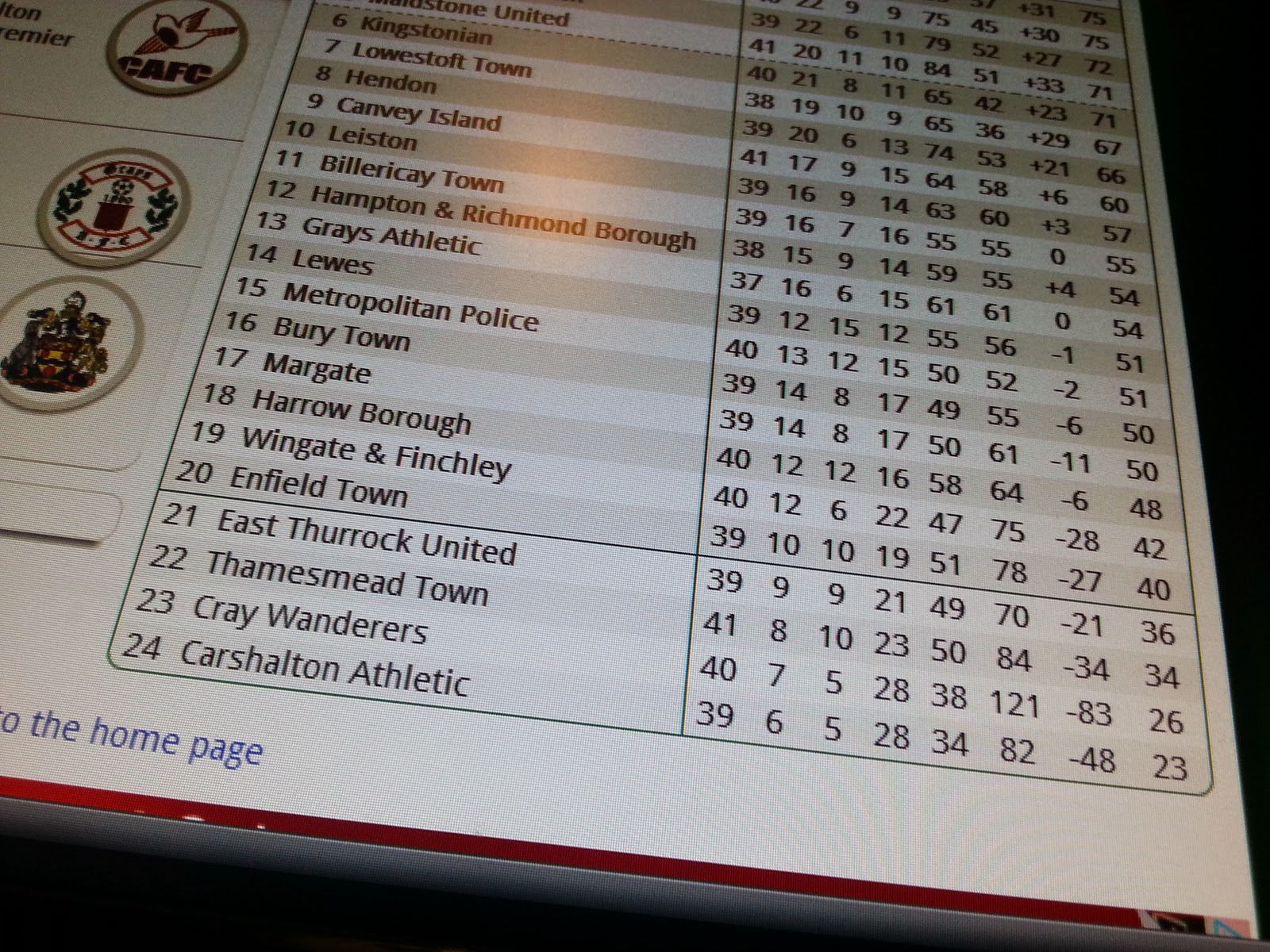 We find it funnier looking from the bottom up….
Shandy finished, I prise Dukey away from the bar before Mr X can persuade him to have one more for the road, the pavement & the zebra crossing as well and we head off into the night knowing an Eastleigh slip up on saturday could see us top for the first time this season. At which point, we'll be wanting our mummies.
See you at Maidenhead folks.