Well that was a kick in the teeth and then some. Its a bit like every once in a while you find a golden egg. And when you bend down to pick up this golden egg someone comes behind you and kick you right up the arse! It also might've been the earliest I've ever returned home as the clock showed that it was still Saturday.
But first lets be having a bit of info on our hosts today. And to also introduce what I will be calling Duke's Info on County Kups or DICK count. So what is Dorchester's dick count? Well its a respectable 12. Well what else do we know about them? The first fun fact is you could always see the stadium near that roundabout on the A35 where you took a left to head towards Weymouth. Another highly interesting little tit bit is that the stadium is technically owned by our future sovereign.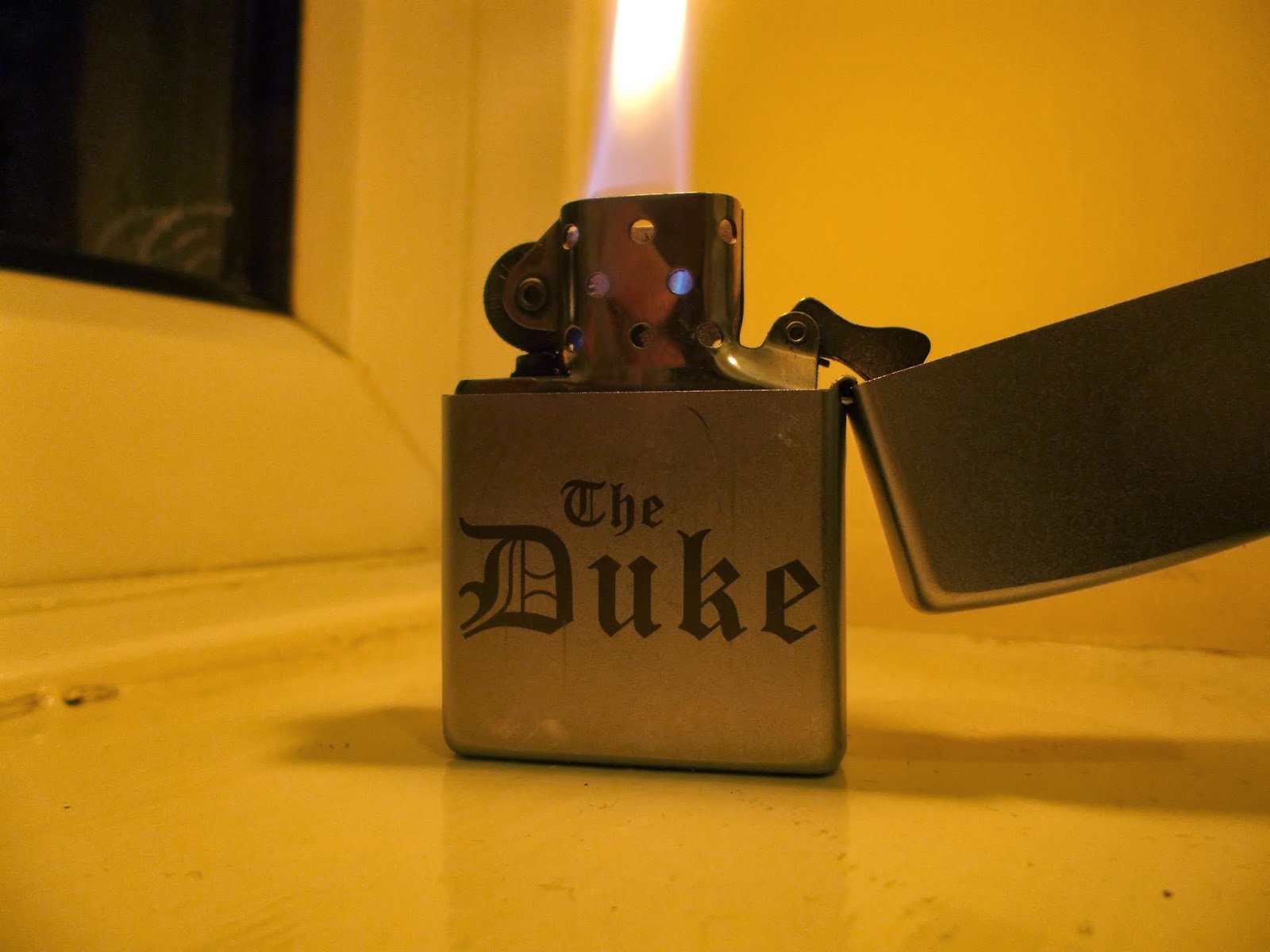 Fire! Do do doooo do…..
Not to put too finer point on it but our hosts currently lay bottom of the league but a mere three points from safety. Today is also what some in the social media world have dubbed "battle of the blogs" other in the printed media have called "conflict of the comments" and one old man described "pieces of piss". I'm talking about not only is there this blog but you never know but our friends from Dorchester known only as The Same Old Few might even contribute their own to today's game. So I say to them:
"You empty headed animal food trough wiper. I fart in your general direction. Your mother was a hamster and your father smelt of elderberries."
Surprisingly the usual text around arrived early, well not that early it was still on Friday but at least it wasn't late at night. So instead of trying to write a thesis on the difference between Till Death Us Do Part and All in the Family, I could actually plan ahead for once. So once I'd angle-grinded the lock off my wardrobe and nearly setting alight some of my "adult" literature I decided to fill up my Zippo with lighter fluid. Now a word to the wise for you kids, if your "Cup Runneth Over" it is not the best idea to check to see that said lighter actually lights! Ouch! I also had time to select a suitable flat cap for the journey. The weather report shows that it going to rain so I dust off the old Harrington jacket and pull out the desert boots for battle. But anyway enough of the downs and downs of Duke's life and on towards our trip to Dorset.
With two free coaches taking a shed load of freeloaders down to game it was down to us hardcore beer drinking, fag smoking, fun loving Firm members to take the train. Well at least some of the way. The alarm goes off a half past five, I hit the snooze and awake an hour later. A brisk walk via the cashpoint and the local corner shop I arrive at the station. Of course I've forgotten to top up my oyster card so an actual ticket has to be purchased. There was also a shout from the guard of "Dorchester Away?" I don't even know how this fella knew who I was but anyway I'm on the platform and I look around looking for the Editor-in-Chief. Where is he? The time read 0729 and the train is due at 0732. Now some might say luckily just as the train arrives I clock the little fella running to the stairs to join today's festivities.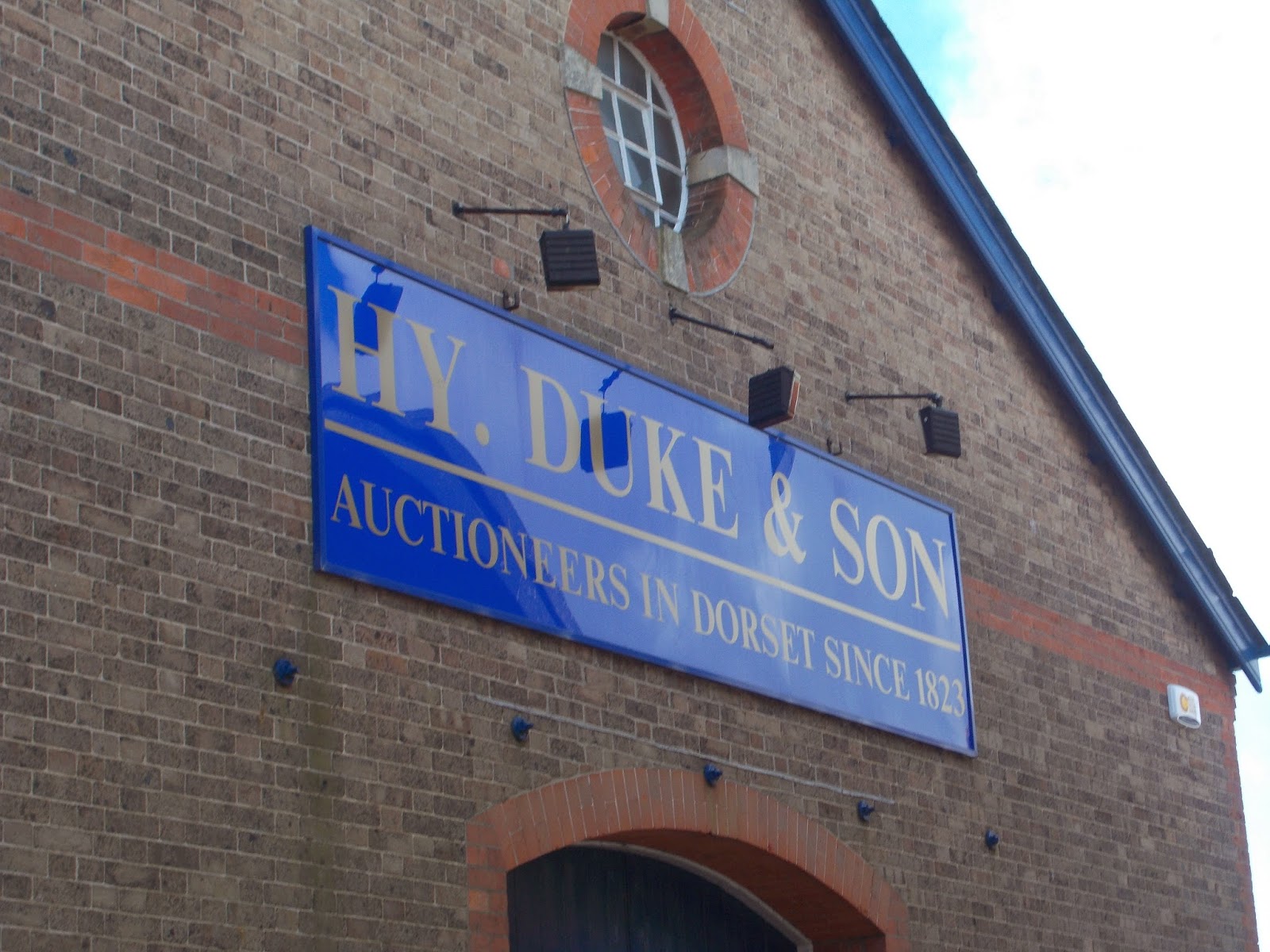 He takes this same shot every fucking year….
With the train further down the platform then it usually is we jog towards the last carriage and onto the first leg of our journey. You would think that having a free coach ride would lessen the participants of the booze cruise, but no, there was due to be more of us than normal. After locating more people on route eight of the nine people sat next to each other. The train hit Clapham Junction at around ten to eight and surprisingly Mr X was waiting for us for a change. The problem with going to Dorchester is that for the last few years there is always rail replacements and this year was no different.
The train was due to terminate at Southampton Airport where we would then hop onto the coach until we picked the train up again at Bournemouth. Even though it was still early and before nine o'clock some of us decided to pick up some beer for the journey and to ones shock she was also needed to prove her identity even though she is now at least thirty years old! Still sober much of the conversations were either the pessimistic attitude of some of us and the events of last Saturday. I'm still no wiser why we were talking about testicles on silver platters but these are strange days getting only stranger.
At the airport there was just enough time to sneak out a quick snout as one not heeding to our advice was caught short and had to use the little girls room. The packed coach was a hum drum affair with a little circulating air our only respite from the heat. Sitting at the back of the bus like the cool school kids used to do the Firms summer trip to Yugoslavia was again on top of the list as the day was still very much AM. Arriving at Bournemouth station and with twenty minutes till the train we all decided to hit up ASDA and get some bottles for the train. I was very much undecided so picked a bottle of Weed and a bottle of berry Rattler to wet my whistle. With many of us trying to use the self service counters its remarkable that all of us need the attention of the attendant to verify our purchases. During this time our E-I-C somehow missed that there was £30 left in the change counter by someone before him. That makes £50 now in the last two matches that we've managed to not pick up.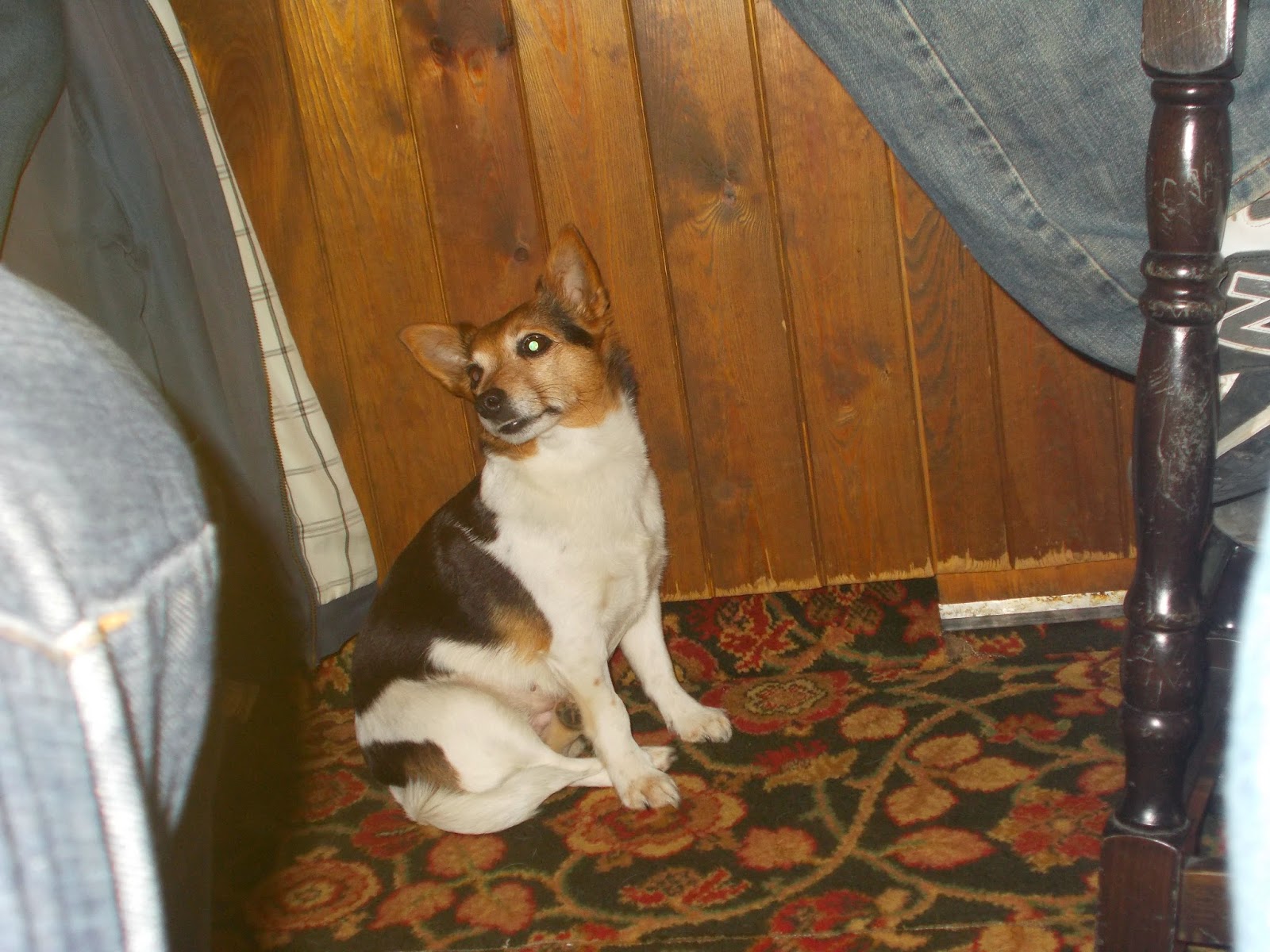 CUTE PUB DOG!!
Back on the final leg our journey the beers were cracked open and our tongues became looser. Who would've thought that it still wasn't even eleven o'clock! The berry Rattler was nothing like the stuff from Truro but the Weed was lovely. Finally reaching Dorchester South station our advance party of Mr & Mrs Burgess were already there and the elegant eleven were about to hit the town. Now the look around the station has had a bit of a face lift over the years and the now named Brewery Square looks like one of those poncy place up town with their posh "Zizzi" and "Wagamama" to name but a few. There was even time to pay homage to my namesake as this annual pilgrimage requires.
The first pub of the day was "The Junction" where we regaled in the video of yours truly using some of his best chat up lines on the train down there. After two rounds we headed to the second pub "The George" where we saw the start of the Chelsea Vs Arsenal game. When I say we saw the start we saw the first quarter of an hour where Chelsea scored three goals and referee Marriner some how give a confusing red card to Gibbs. This is not the best pub in the world and Mr X did try to convince me that the blog should be titled "Why do we always go to The George" but I managed to change his mind with more larger. Once again I was handed a moody drink that was meant to be Cider but judging by the bits that were floating around it could be convinced that it was something like post use toilet cleaner.
We left as soon we could and headed around the corner to "The Blue Raddle" a well know boozer that we have been to before and finally a better pint of cider. It was here that two little dogs (not that kind!) got our attention and the Firm became more raucous as we awaited the game. A further pint at Goldies and the time to head towards the ground became apparent. Watching Chelsea stick a sixth in the net and the fact there was now at least a dozen members present a plan of operations was needed. After Mr X had rang a cab company up it was announced that there was only two cabs available and that a round trip was needed for one of them. I did manage to grab the second cab and happily made the club in plenty of time.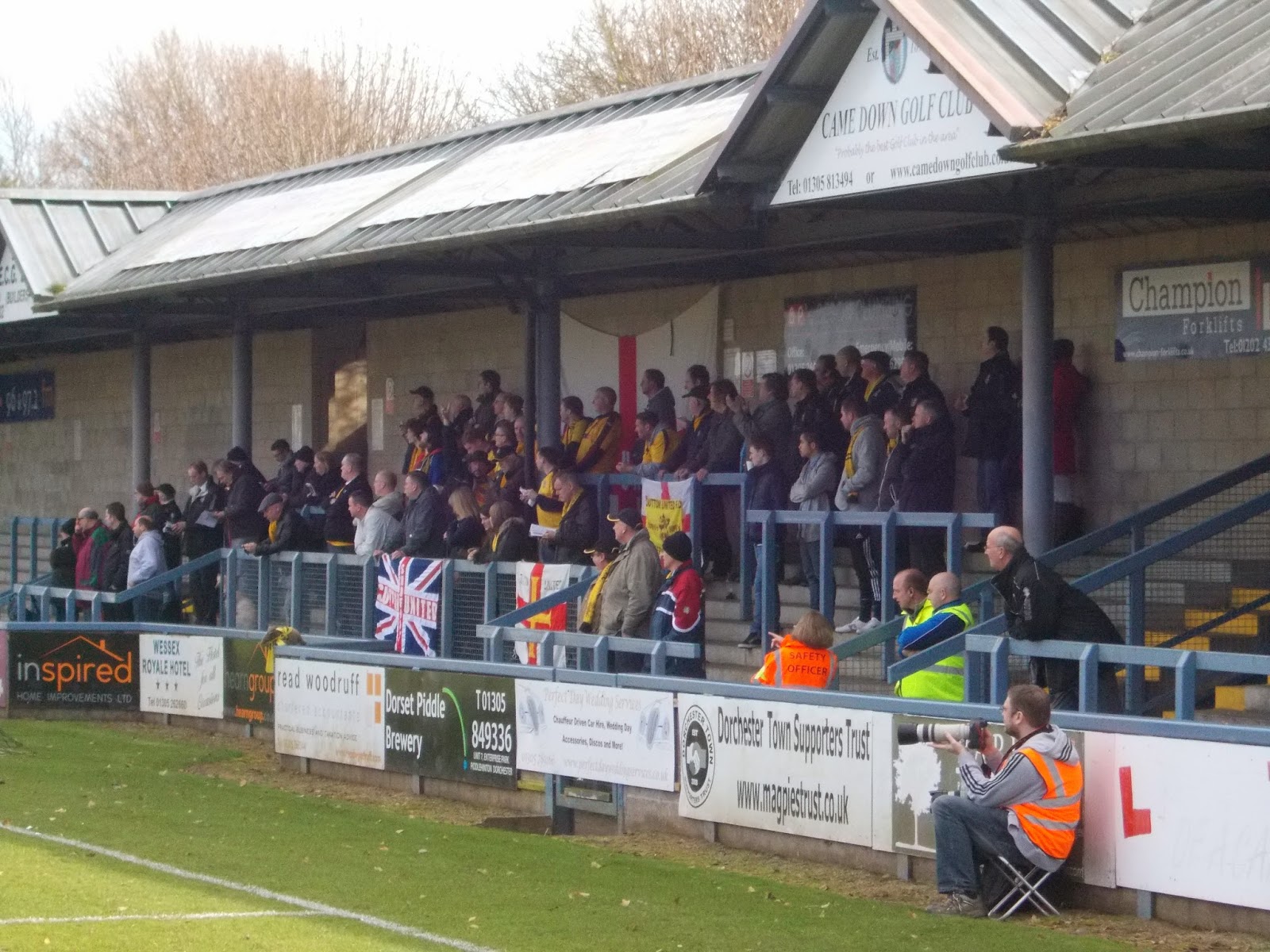 The away end, full to bursting….
After being forced to purchase a ticket before entering the bar I arrived to see most of those that had taken the coach ride. They did seem slightly merry for a non drinking coach ride but who was I to complain? Apparently nothing much happened on the coaches but I'll leave that for someone else to discuss another time. With the clock fast approaching three o'clock we headed out towards the ground for the game. The team today was going to be:
Brown, John, Binns, Spillane, Downer, Spetch, Scannell, Sawyer, Dundas, Taylor, McCallum
Bench: Sinclair, Shitta, Haysman, Cole, Lovelock
Now usually I have to wait for the official match report to be published on-line to work out exactly what happened and if it just wasn't some acid flashback. I see from around the ground that a lot of the advertising has been taken down and without our support today there would be no fucker here. Its always a shame to see a club die a slow death. With the support behind the goal singing to their hearts content the only interruption was from the over zealous stewards who didn't agree with the position from where we were smoking our snouts. The first have began to drag and the frustrations could be seen on the faces around me. A lot of us have been a part of the Amber & Chocolate army for a many a year it appeared today might disappoint. With Dorchester as an attacking outfit non existent but defended robustly we never seemed to find a play that broke it down.
After slipping a cheeky pint at halftime we headed towards the other end. This time the fans appeared to be more GGL like with them spreading more out around the end and I decided to retreat in a fit of disappointment towards the smoking area where once again I was on the wrong side of the barrier and accosted by the stewards. The second half saw us finally begin to wake up and several half shots were now created. The best shot of the game fell to Sawyer who after another shot was saved by the keeper his shot was not hit cleanly enough and it was easily swept away by the defender who was just in front of the line. Several weird yellow cards also happened with even though I would disagree with Sinclair's booking in the box, I can see why someone would give it. But WTF was Spillane booked for? From where I was all I could see was that he tried to take a quick free kick with the Dorchester forward not retreating away from the ball. The ball hit him and the ref blows his whistle and shock! Horror! Spillane is given the card. I later found out that he was booked "Deliberately kicking the ball at a player", all I can say in the words of Dr Bell, Bollocks!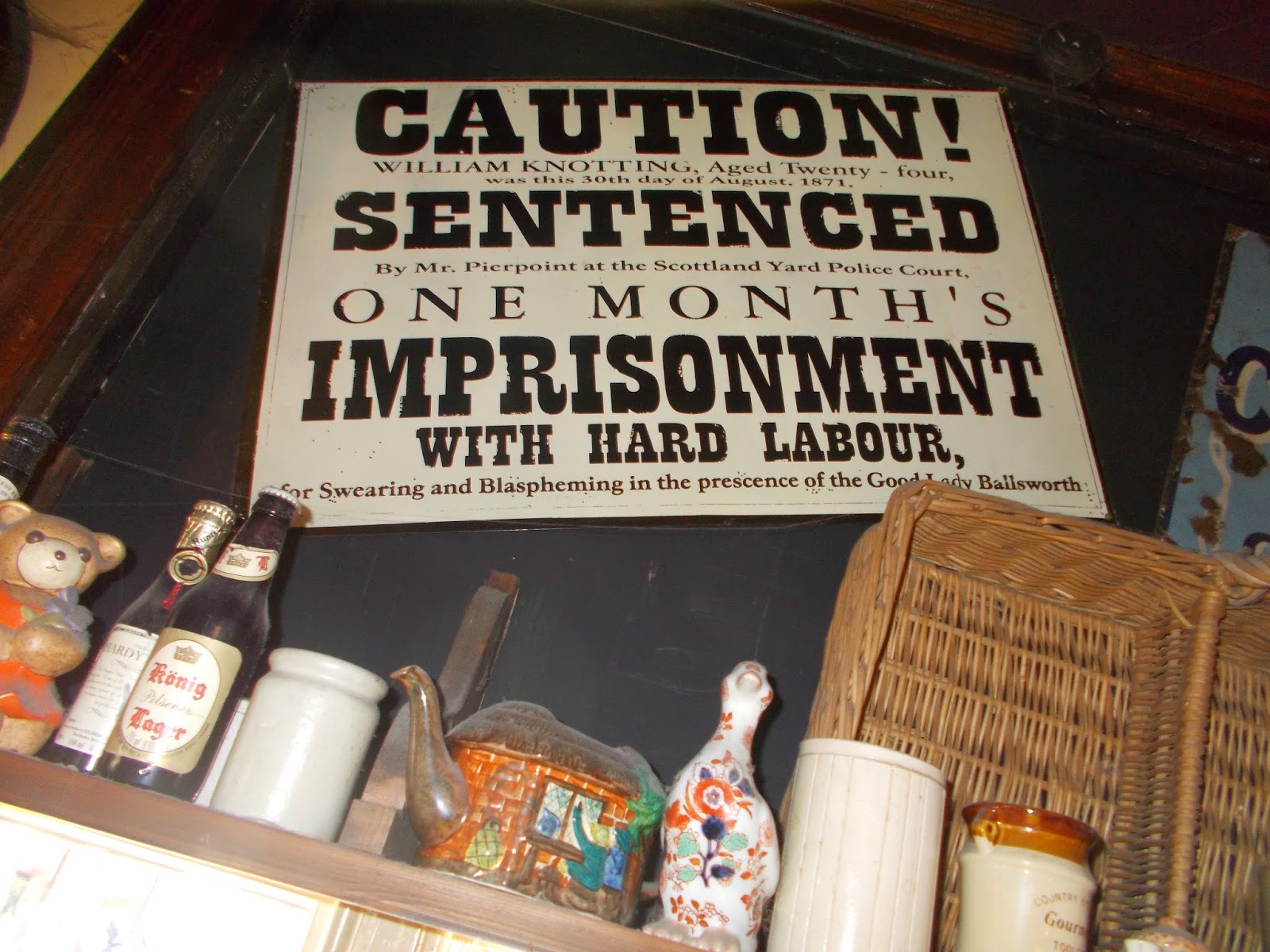 Swearing & blaspheming is illegal? Shiiiit…….
At the end of the day, its night, but I would never lie to you. I was disappointed with the point as with the recent performances there is beginning to see a lot of belief in the team that our lord Dos has created. I didn't say at the time because I've only just decided it but I would be happy with thirteen points out of the next fifteen to maintain championship winning form so it is belief that we are still there or thereabouts in the mix. A point is still a point and we are still undefeated in 2014 so a win at Woking on Tuesday is more of a must now then ever.
After three further rounds of drink and watching Mr X get the Dorchester keeper 's name wrong and watching his reaction we decided to hit the local Tesco for some takeaways. But first there some minor issues with the stewards about some stickers that were put up around the ground. The Gandermonium junta have instructed me to leave it at that and no doubt it will not even be mentioned after today (Oops!) but I'll tell you the steward I spoke to, refused to believe that his own fans never done such antics. That is until I showed him some proof! Saying goodbye to the Same Old Few and stocking up we headed back towards the station. Even after someone relieving themselves and another trying to take a shortcut over a fence into the rich part of Dorchester, we were somehow all still present and correct. A walk to the fountains at Brewery Square produced some of the funniest action that the Firm are known for. It was at this point we realised that we maybe a bit past the limit to be let in at any reasonable establishment and an earlier train was our ticket out of here. Saying goodbye to the Burgess couple and watching one of our members walk around with his jeans around his ankles even I thought it was time to get out of Dodge.
The first leg of our return journey was to see us consume all of the food that we brought earlier. The litre of Jacque's that I brought proved to be a bit of a handful and the four pack of Brazilian lager was left untouched. I was amazed as the bus driver confiscated all our carrier bags yet some managed to be snuck onto coach. Some members decided it was best to grab forty winks, but I thought it was best to spend my time trying to blind those members that were awake with the flash of my camera. I'm amazed how grumpy some people can get in these situations.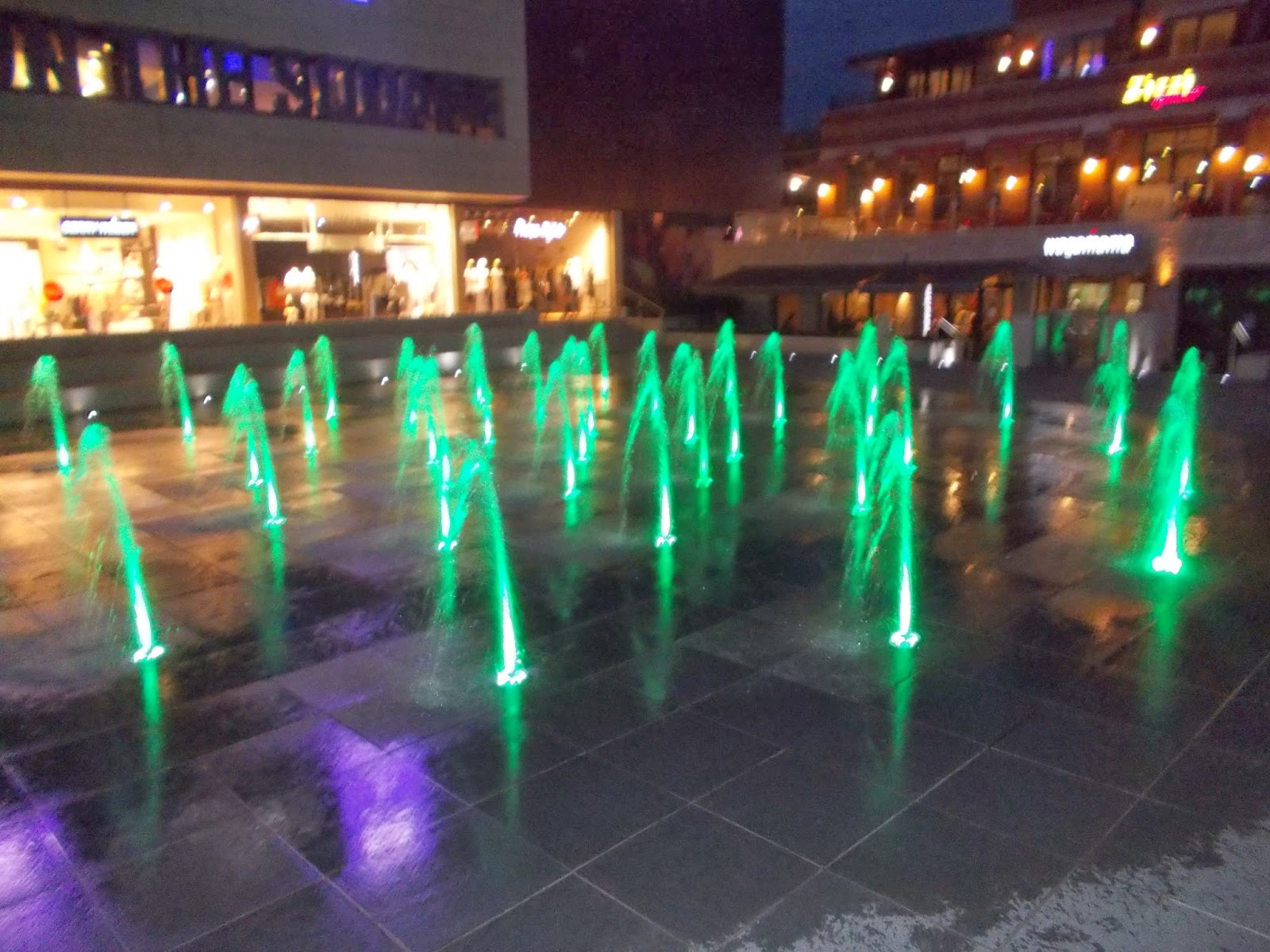 A nice water feature. No one ran through this.
After some suggestive action with my mini Lincolnshire sausages by a certain someone and once again meeting someone on the train who used to live in the borough, former drinker of the Red Lion pub in Cheam I think, the final trip back to civilisation passed off without incident. It was decided by those still sober enough that from Clapham Junction that homeward bound was the best bet. Most of the trip home was taken up by some members talking to a bemused female commuter sandwiched between us an the rest watching the Welsh Wizard first sitting on my knee for a while before slipping off and being trapped on the floor. It was only the looseness of his bowels that had us relenting our pin and getting him out of the way and opening all the windows around us.
Arriving at Carshalton I decided to alight and after saying goodbye to those members still heading on to Sutton I made tracks home. The Welsh Wizard decided to hit the Hope and Dr Bell went towards the Pigeon Club. There was still time for me and the E-I-C who were in conversation at the bottom of the hill to be interrupted by another local nutter. I'm not too sure but this Tooting/Chelsea supporter was clearly missing a few bolts! I mean would you rather do a booze cruise or say spend some time in something like for example the New Forest?
Well there you have it, another Firm booze cruise ends. Even though it was still a little earlier finish than normal I reckon the fact that we started earlier counts the other way. Sometimes the amount of laughter on a beano is something else. Its Hayes & Yeading on Tuesday down at Woking and the hope of getting our campaign back on track. There is still some debate about who is going to do this, but lets face it, who cares! Stay frosty people.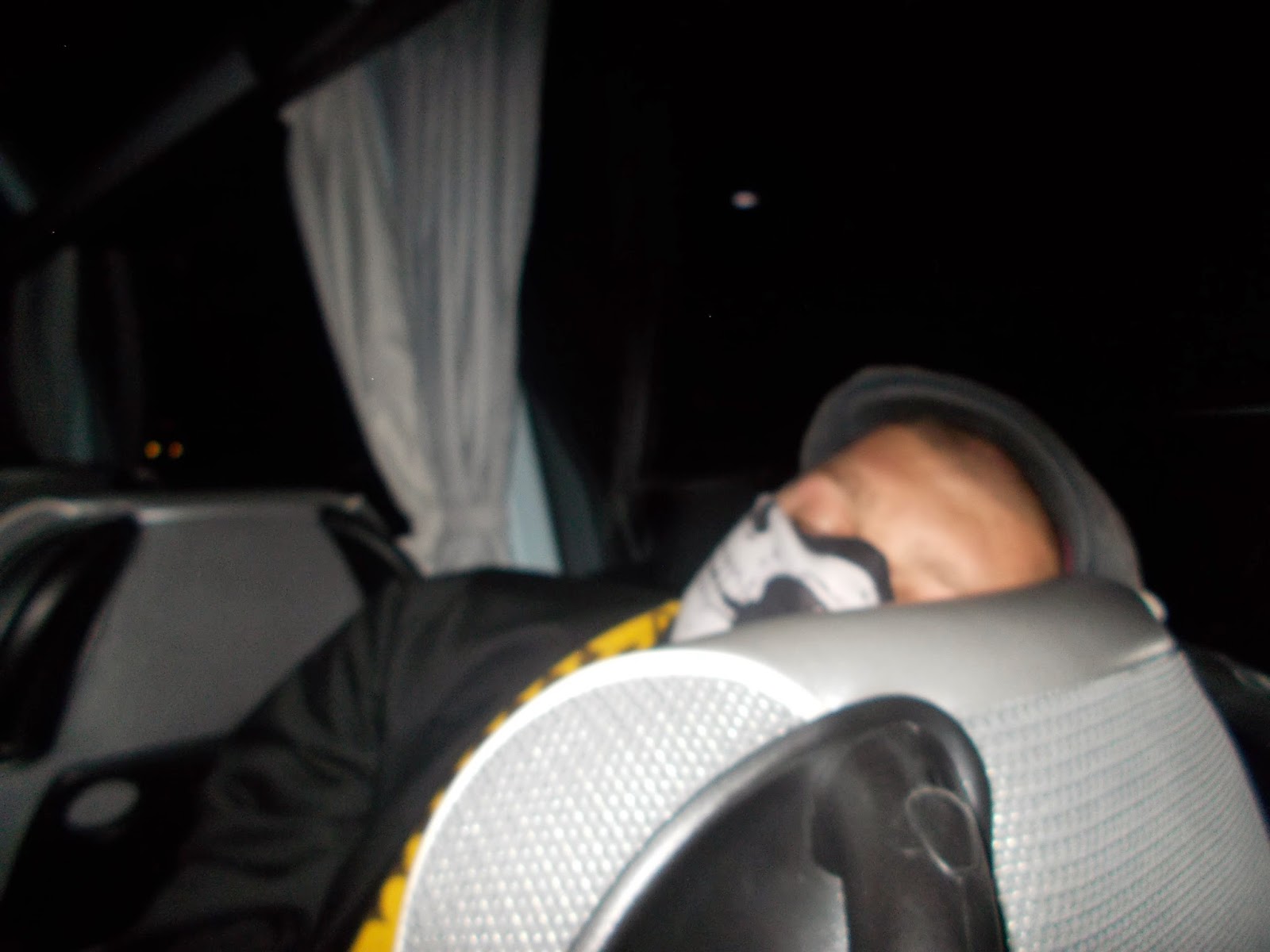 Rock-a-bye Dukey on the bus…..
Duke
Att. 456