A later start on Saturday morning for the fans travelling
via the Coaches put on by the Board for the trip down to Dorchester. Myself
being somewhat of an eager beaver when it comes to Saturday mornings, my
internal alarm clock decided to wake me up at the crack of dawn. Which wasn't
such a bad thing after all, as the night before I had failed to get the gear
ready for the day's adventure. Bag
grabbed off the hook, and I threw in the latest copy of GQ magazine for some
light reading material for the journey, as well as the two flags lent to me via
the Editor in Chief, and I was pretty much set for the journey.
I shouted up to Papa Juan to see him in a weeks' time as he was off on his Holidays once more, the life of retirement eh. Grabbed the keys to the Fiat 500 and set off down the usual route. On my way down I saw young Johnnie on the cobbles, so offered him a lift to save his legs.
Arrival at he club around 09:30 I thought to myself we would
be the only souls hanging around in a car park, but no, there was pretty much
30 or so bodies waiting for the Coaches to arrive. Familiar faces then started
to appear, some looking hazy, some bright, some still half asleep. Within a
couple of minutes half the squad turned up and made haste to board their Coach
for the trip, complete with Directors, and other upstanding official members of
the Club. Within 10 or so minutes the players coach was off on its way.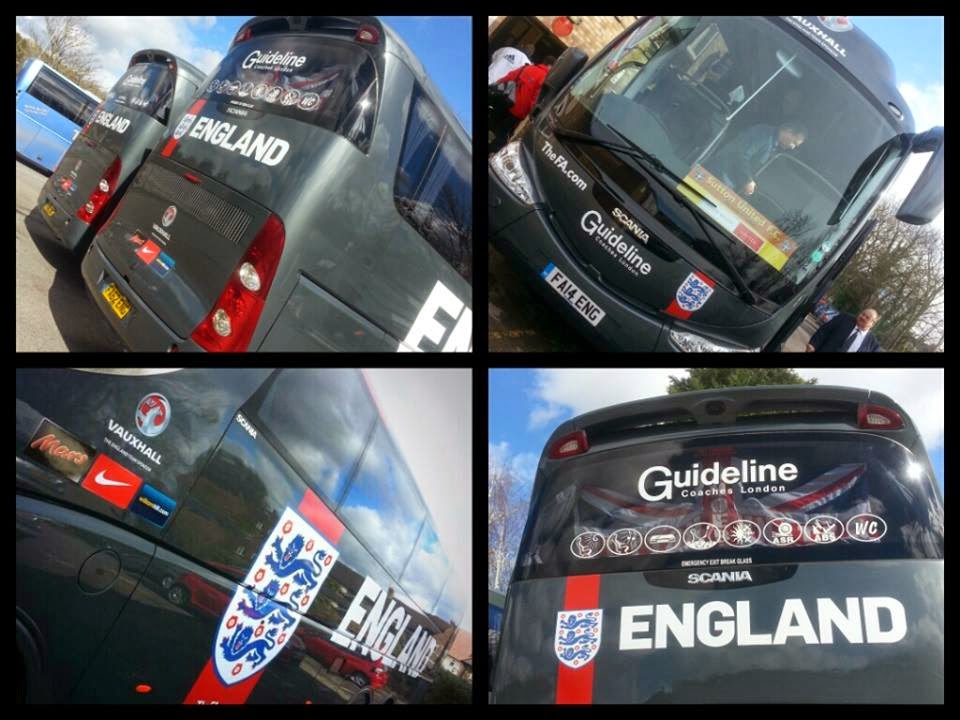 Travelling in style!
Now other Coach revellers started to appear out of the
woodwork, and we were practically ready to go, however we had one small
problem, we only had one Coach in the car park, and well it looked a tad small
for all of us to get seated. Then with a glance over my shoulder, then comes in
the England U21 60 seater coach, complete with decals, proper smart, a bit of
me this is. I think the majority of fans in the car park thought the same thing.
Boarded in minutes we were set, so off we went, myself located in the back
seat, with my mission complete-to raise the SUFC flag in the rear window. One
thing occurred to me though, where was Totter? We had come up with a plan
during the Gosport game, but where the bloody hell was he? Scanning through my
phone is suddenly occurred to me I didn't have his number, oh shit!
Making our way through the back suburbs of Sutton and on
through Worcester Park High Street, some of the looks we witnessed from car
drivers and pedestrians staring at the England Coach as it passed through the
streets, priceless! I guess it's not every day you see an England Coach pass through
your manor.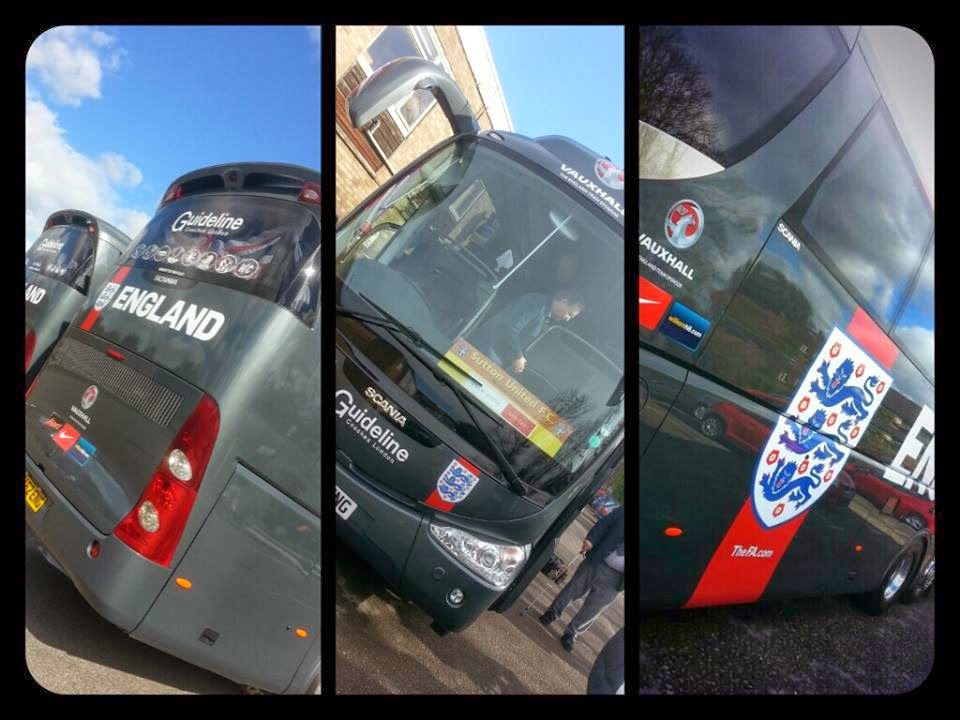 We think Juan was impressed with the transportation…
Within ten minutes we were on the A3, and making good
progress, flying in fact. With no comrade Totter to keep me company and discuss
today's game, I reverted to my musical collection found on my phone, and
selected the very best of Metallica, an excellent choice to get you in the zone
for a game of football. Completely deaf to
all those around me I felt a tap on my shoulder, and it was none other than
Scouse Neil, and he bought me a little gift, a tin of Sainsbury's Finest Dry
Cider, excellent. I knew he wouldn't let me down! Now there is one huge
difference to knocking back a pint of two of cider in a pub, if you need the
loo, you can just go. On a coach however it's a different story, you just have
to cross your legs and hope and pray!
The players coach comes out of nowhere and goes steaming
passed us at full pelt and takes the lead, it looks as though we've got
ourselves a Coach convey. With my twitter application on my phone now working a
few tweets are exchanged from the leading coach party.
Passing Basingstoke, I continue to peer out the back window
to take a couple of pics, and would you Adam and Eve it the Southampton Coach
is giving it the full beans past us, obligatory snap taken, one for the scrap
book. Our Coach convey is now in full swing.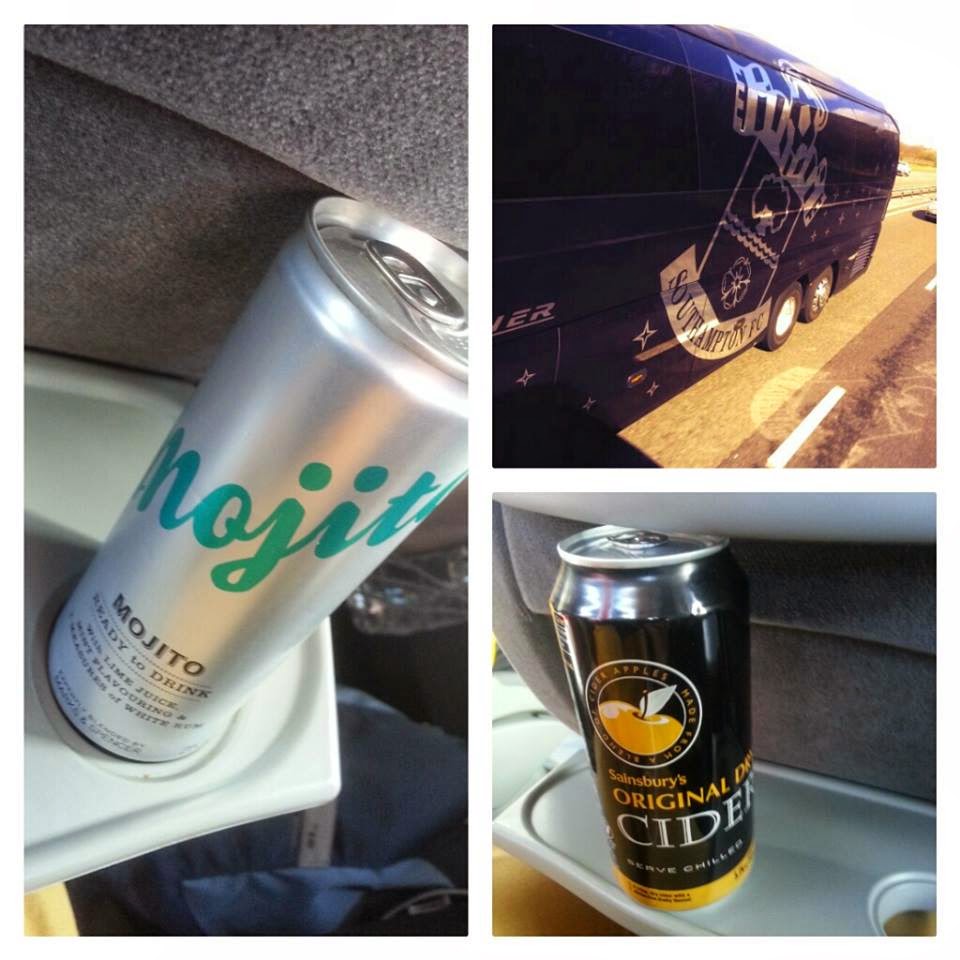 Bus wankery broken up with some bus boozery…..
Passing Basingstoke we pull in as
planned into Rownhams Services on the M27. A break of 30 minutes is gladly welcomed;
my bladder at this point is at full capacity, ready to blow at any point. I kid
you not; I've never run so fast in my life, and so pleased to see a Urinal.
Penny spent, I grab a sarnie from the shop, had to re-mortgage to buy it. Four
Pound and 20 pence for a bit of dry bread and cheese, what a rip off!
Now this is where I manage to catch up with Totter and have a quick gas with him. Tott's reckons
the background of the Coach would make for a decent selfie picture. With phone
in hand he takes a decent snap, and lets me know that he will of course throw
it up on Twitter. However modern day technology baffled Tott's and he deletes
the picture. All the gear and no idea!
Just as we are set to depart another team Coach pulls in for a pit stop, and who is I hear you ask. None other than, Corby Town who are due to play just down the road today.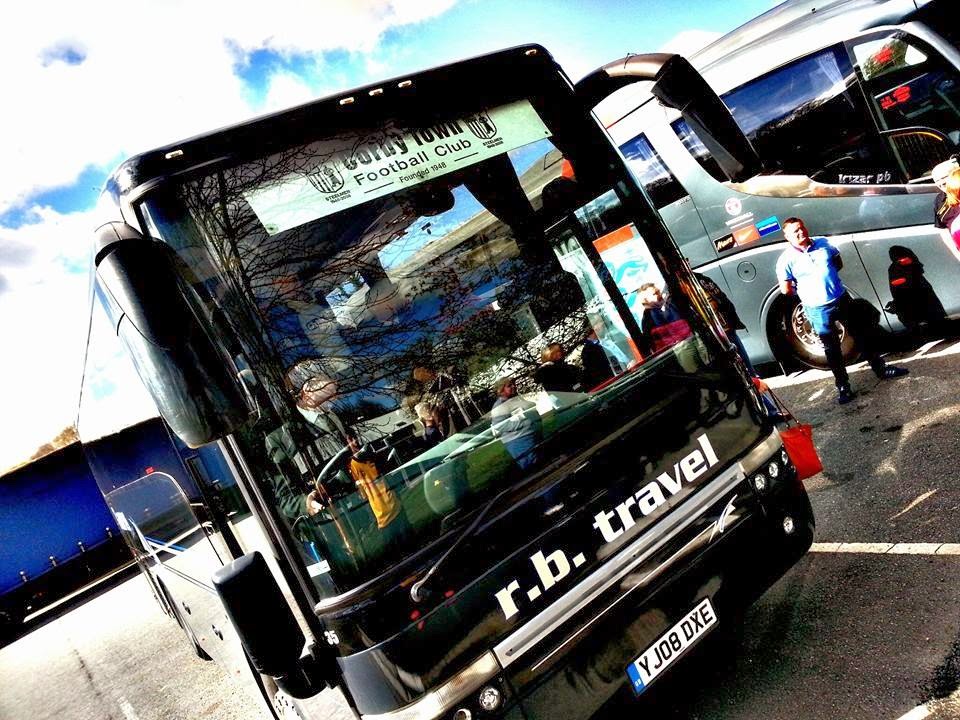 Another bus. We're quite worried about Juan now!
Back on board we are set to go, Scouse Neil offering me up
with a Mojito for the last leg of the journey, I accept his offer, it would be
rude to say no. Back in my seat and this tin of fizzy pop from the mini bar is
going down well. Within the hour we arrive at our destination, and make our way
into the Bar, first purchasing our tickets for the game. A couple of ciders are
the order of the afternoon, which go down easy. Nothing quite beats a crisp
pint. 20 minutes pass and the Motley crew turn up, looking a tad pissed pre
kick off.
I won't cover any details of the game, as Duke is covering
that aspect. So post match with a departure time of 17:30 as indicated by the
driver a few members of the Coach party head over to the bar for a swift one,
and a few others head of to the local Tesco's for supplies. We are ready to
rock and roll, when I realise there are a few heads missing from the allocated
seats. These missing heads are in the bar, and still in Tesco's, so the driver
gives us a quick tour of the car park, and the missing few take their seats and
we are off on our return leg home. The return journey was very quiet, most
people catching forty winks, myself included, others making most of the supply
top up at Tesco's. No names, but those few who did were a tad worse for wear when we
arrived back at Gander Green Lane.
Coach Watch now complete!
Over to the Duke, where you will find all the details and
the events which took place on the trains, buses, and pubs throughout the
day.
Juan